You're heading to Disney's most lavish resort! Yay! But, what room do you choose? There are so many options (one of which cannot be found anywhere on property), so how do you choose?
Disney's Riviera Resort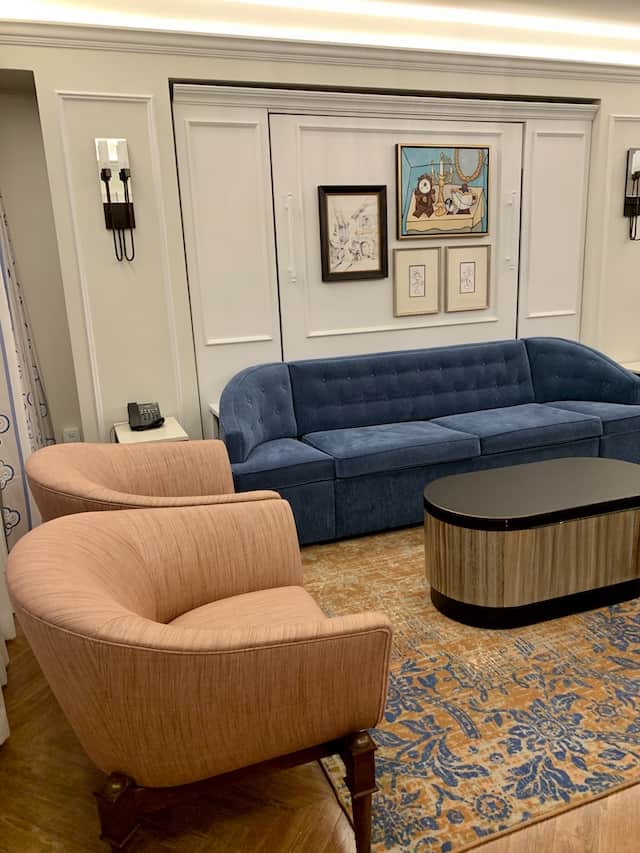 Disney opened Riviera Resort in December of 2019 as the newest Disney Vacation Club accommodation. When I first saw photos of the resort grounds and rooms, I knew I had to stay there!
The elegance and architectural detail immediately drew me in. The ambiance from the outside fountain areas and gardens as well as the marble details and beautiful chandeliers inside made me feel like I was visiting the actual French Riviera.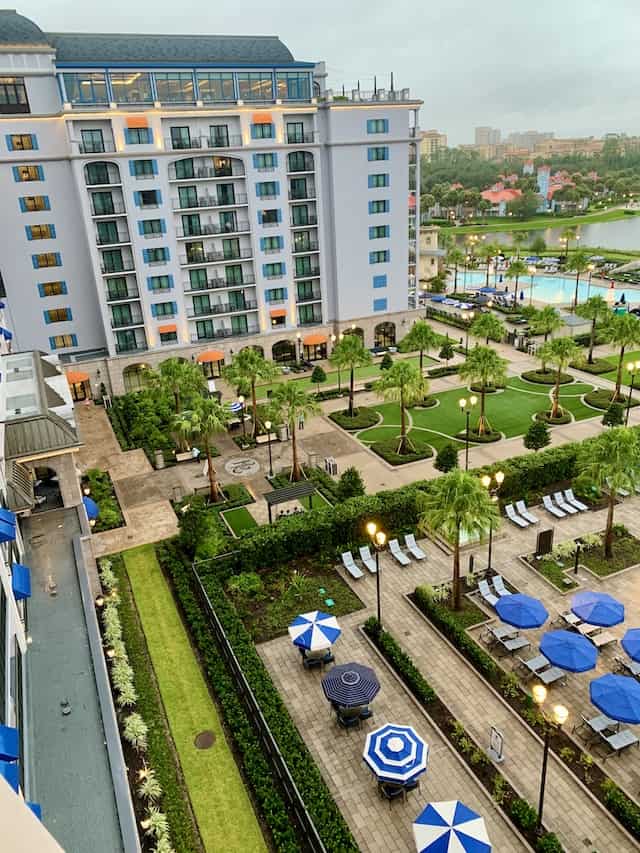 Riviera has since become my favorite resort to stay at. I love everything about it from the rooms to the restaurants. Here is a full guide to the resort to help you in your Disney research endeavors. I have stayed in the tower studio, deluxe studio, and 2 bedroom villa. Since a 1 bedroom villa is the same as the 2 bedroom without the second room I have a very good idea of what those look like as well.
For the purposes of this article, I'm going to look at the pros and cons of each room type. Unfortunately, since I have not stayed in the grand 3 bedroom villa (Disney, call me if you need it filled for the night!) I cannot include that in my review. The photos look stunning, though!
Tower Studio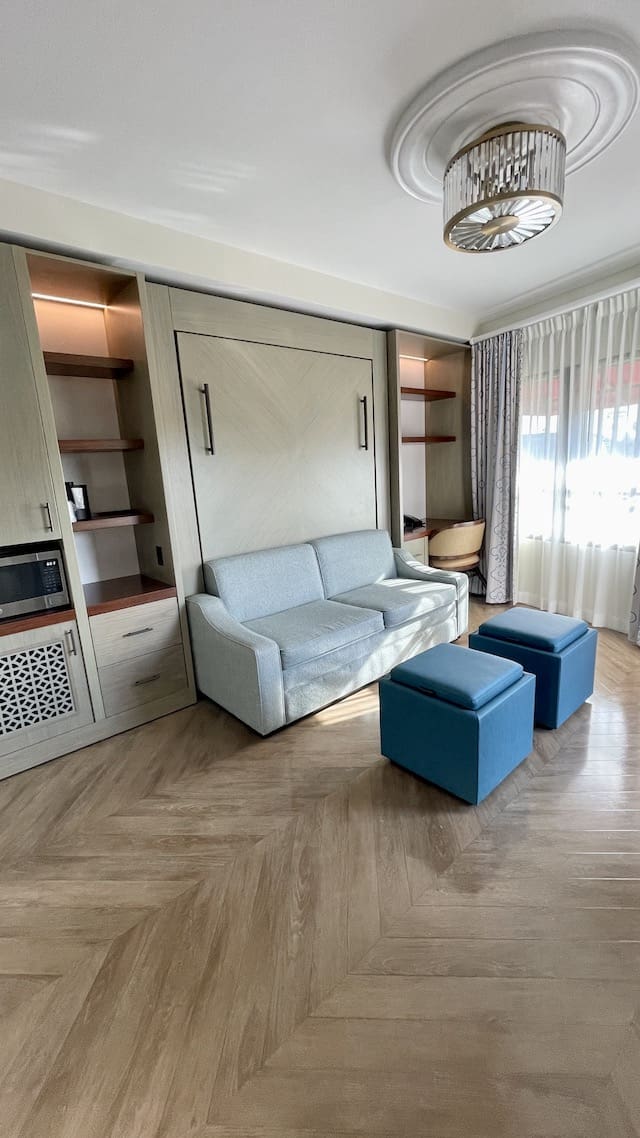 The tower studios are the most unique room accommodations in all of Disney World. They are the only rooms on property that sleep a maximum of 2 people (plus an infant under 3). The couch becomes a queen bed, and Disney cleverly uses all the space. You will find a microwave, drink cooler, coffee maker, and some basic cutlery. A small desk and chair along with shelving gives you space to do some work and keep your room organized.
The bathroom is roomy which is perfect for getting ready for the day. Ashley wrote a detailed review of the room, which you can read about HERE. My husband and I loved our stay in the tower studio! There are only 24 available in the entire resort.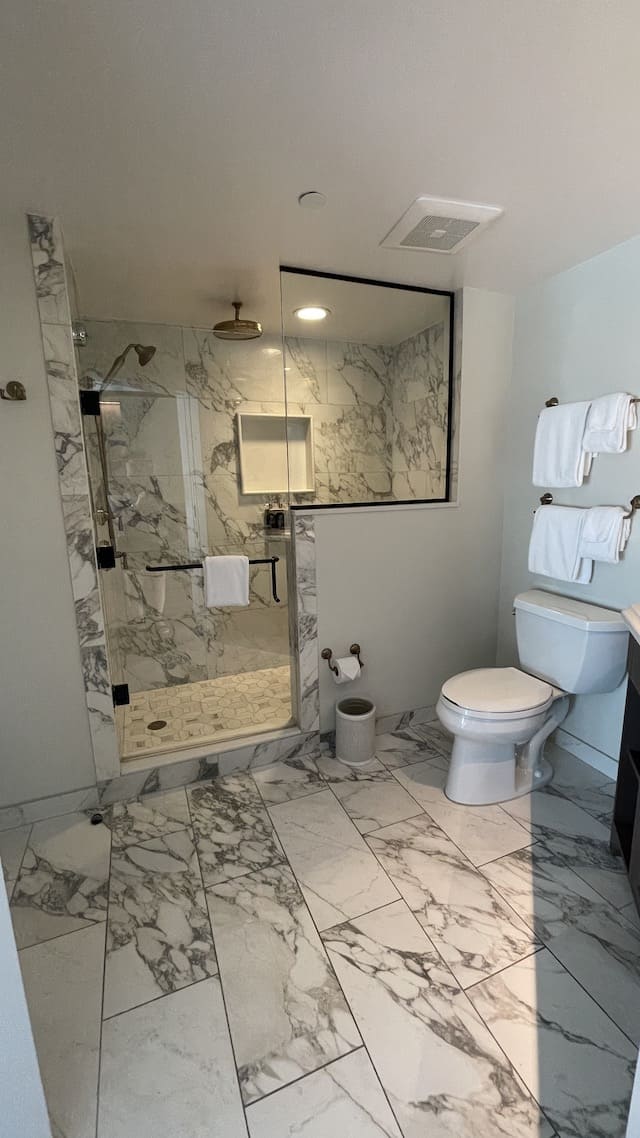 Pros: very unique room type; cheapest option at Riviera; great for solo or couple trips
Cons: can be too small especially if you bring an infant along; no dedicated dresser; no kitchenette; located in only one portion of the resort
Deluxe studio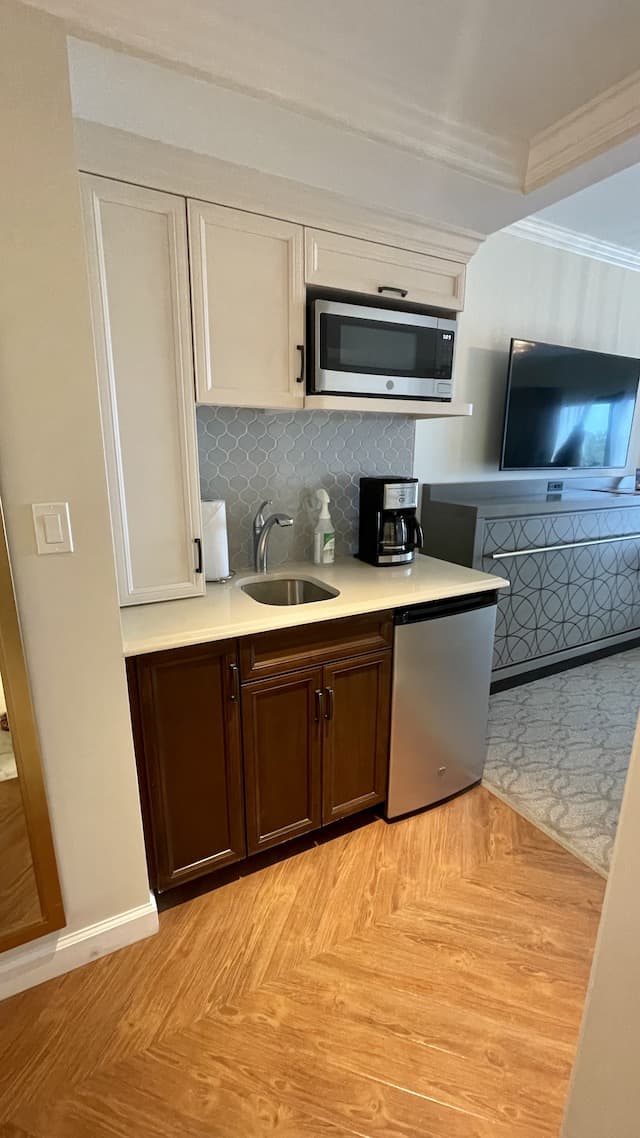 Deluxe studios sleep 5 with 2 queen beds and a small pull-down bed. One is a dedicated bed while the other is a couch-turned-murphy bed.
One great thing I love about the deluxe studio at Riviera is that it has two separate bathroom spaces separated by a pocket door. One side has the toilet and a stand up shower. The other side has a vanity a shower/tub combo. You can also find this layout at the Grand Floridian and Polynesian (although Polynesian spaces are completely separate). This gives more privacy and an extra shower!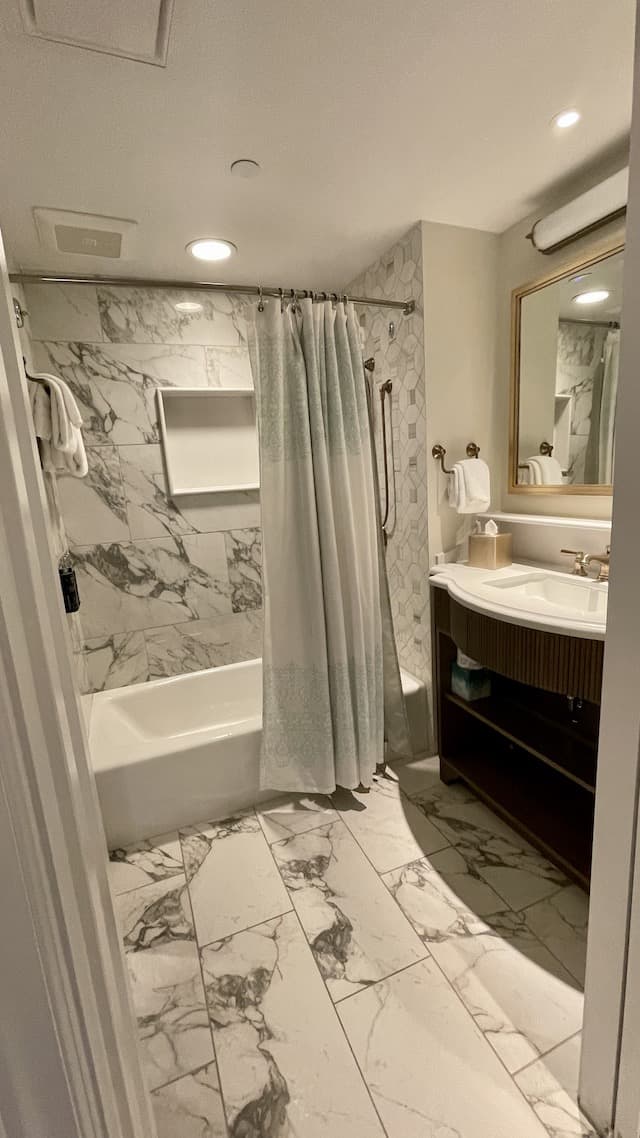 There are 38 dedicated studios (we will get into that when we talk about 2-bedroom villas). Each studio does have a kitchenette with some good storage and counter space. One other thing I really love about the studio is that there is a small alcove with a place for your luggage!
Pros: feels bigger than most other studios on property; two bathroom spaces; some standard views have excellent views of Epcot fireworks
Cons: more expensive than other studios on property; harder to get due to the smaller number available
1-bedroom villas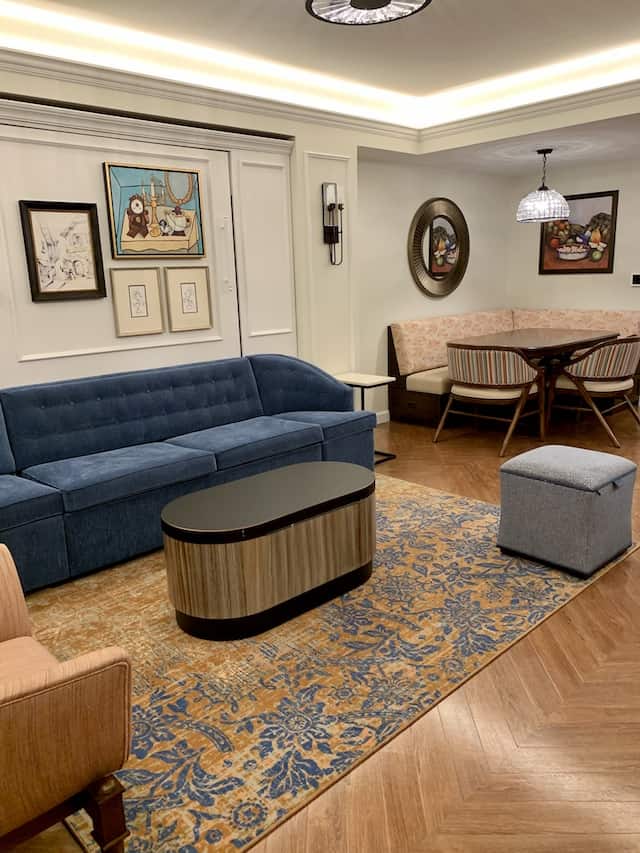 If you need a bit more space than a studio, consider the 1-bedroom villa. Both the studios and 1-bedrooms sleep up to 5 adults, but the 1-bedroom has so much more space. There are 29 dedicated 1-bedrooms at Riviera Resort.
As you walk in the villa, the kitchen/dining area and living area are right there. There is a full kitchen that includes a refrigerator, oven, dishwasher, sink, and anything else you could possibly need to prepare meals. There is also a stackable washer and dryer! I don't know about you, but I hate walking back and forth to the laundry rooms.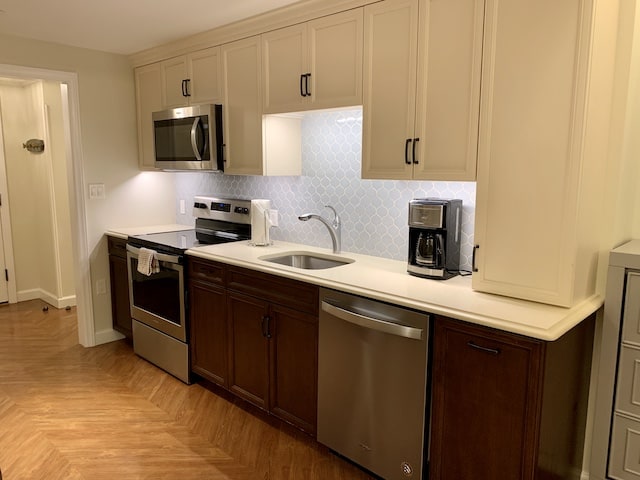 The couch and television stand both have pull out beds, and there is a dedicated bedroom with a king size bed and full bathroom.
Pros: more space than a studio; fully-equipped kitchen and laundry; king size bed; claw-foot tub and stand-up shower
Cons: only sleeps 5 (I would love a 1-bedroom that slept 6!); studio is a better option if you don't plan to be in your room for meals and relaxing
2-bedroom villas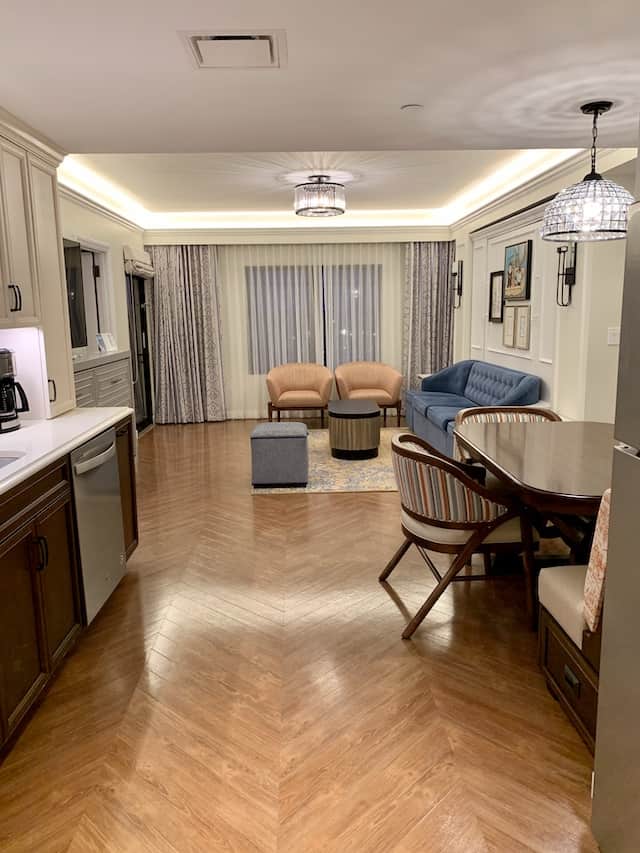 For larger groups, look no further than the 2-bedroom villa. We usually travel in a group of 8, and I prefer the bigger villas compared to 2 studios. Seriously, do yourself a favor and just get the bigger villa!
The 2-bedroom feels like an apartment. They have a hallway with a storage closet and stackable laundry. You have your kitchen/dining and living spaces. Then there are two separate bedrooms – each with their own bathroom. The second bedroom is essentially a studio without the kitchenette.
The bathroom in the master bedroom is massive! One section has a vanity, toilet, and stand up shower. Separated by a pocket door, the other section has a claw-foot tub and a larger vanity. It's gorgeous!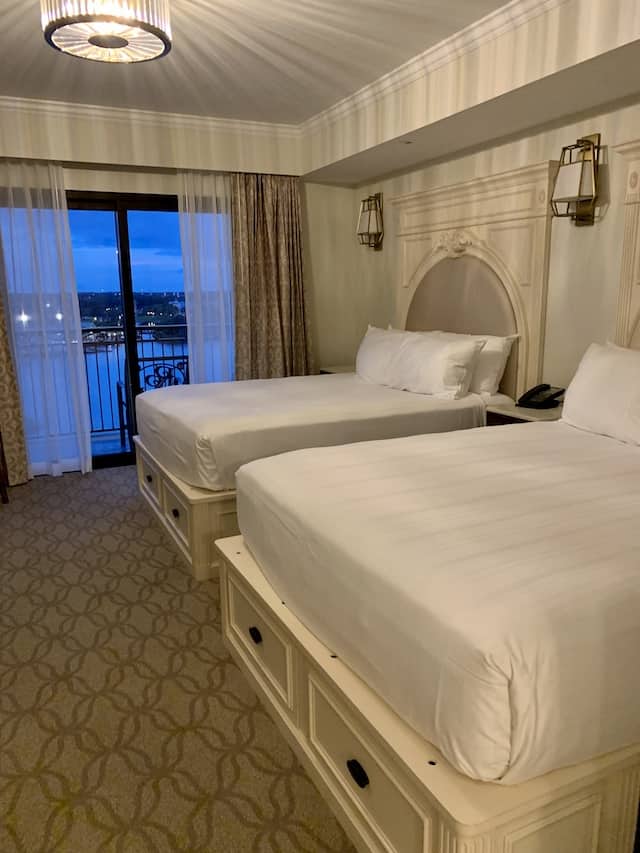 There are 90 dedicated 2-bedrooms and 148 lock-off 2-bedrooms. The lock-offs have a studio and a 1-bedroom. So be aware that if you do book a 2-bedroom villa part of it may be "separated".
Pros: beautiful rooms; plenty of room to spread out; more storage space; feels like a home and not a hotel
Cons: may get a lock-off villa…and that's it because they are amazing!
3-bedroom grand villas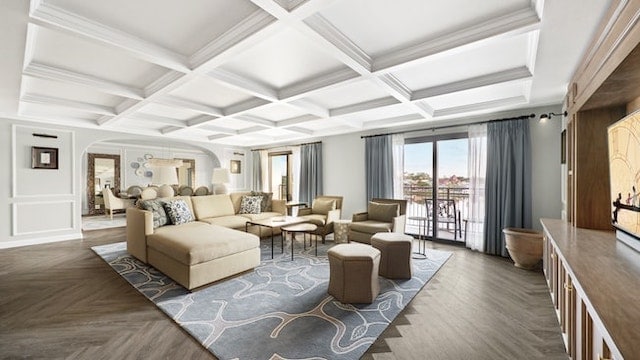 As mentioned earlier, I cannot speak about the grand villas because I have never even toured one. However, the pictures and videos I have seen…WOW. There are only 12 in the entire hotel, and all are preferred.
These sleep 12 adults and have much larger living spaces. The kitchen is also much larger with larger appliances and more counter space. Additionally, there is a much larger dining table in its own separate space. Two of the bedrooms have two queen beds and the master (what I presume is the master) has a king bed.
If you have ever stayed in a 3-bedroom grand villa, please share your pros and cons with us in the comments below!
Final Thoughts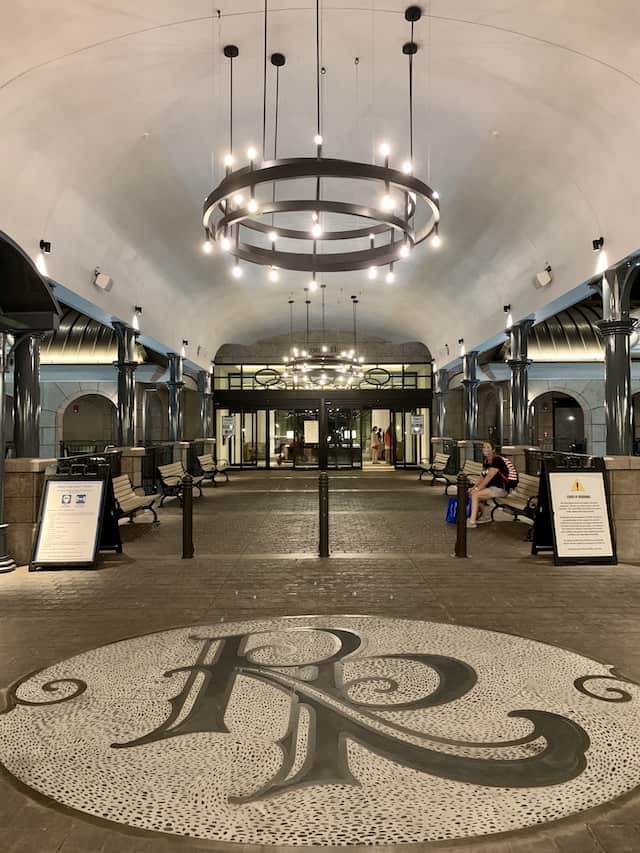 Depending on your party size and needs, you may be limited to which room you can stay in. For example, when I travel with my family we are "stuck" with a 2-bedroom (as if that's a bad thing). If you are traveling solo or with one other, I would absolutely jump at the chance to stay in a tower studio. These are so unique and cannot be found anywhere else on Disney property.
You really cannot go wrong with any room at the Riviera. I absolutely love everything about this resort and try to stay here as often as I can!
Have you ever stayed at Riviera? Which is your favorite room type? Let us know in the comments below and on Facebook.