Are you curious as to whether the Keys to the Kingdom Tour is worth the cost for you and your travel party? Here is a review to help you determine whether it is right for you.
What is Keys To the Kingdom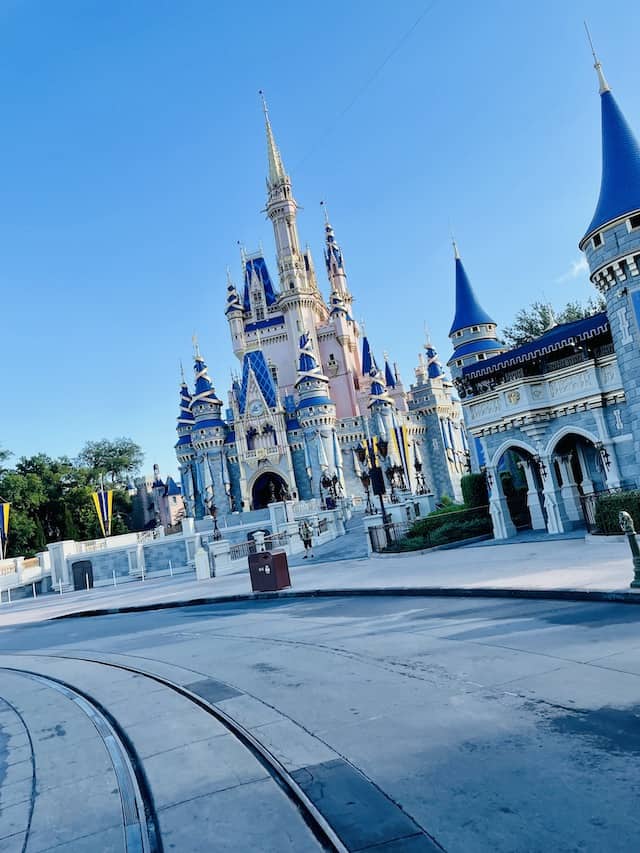 The Keys to the Kingdom Tour is a walking tour of the Magic Kingdom in Walt Disney World. It provides guests with a look at the rich history of the Magic Kingdom, including its creation, growth, and development as well as a look at countless details hidden in plain sight!
It also provides a look at the behind-the-scenes workings of the Magic Kingdom. This includes access to backstage areas and the famous Utilidors, the "tunnels" that run beneath the Magic Kingdom.
Important Information to Know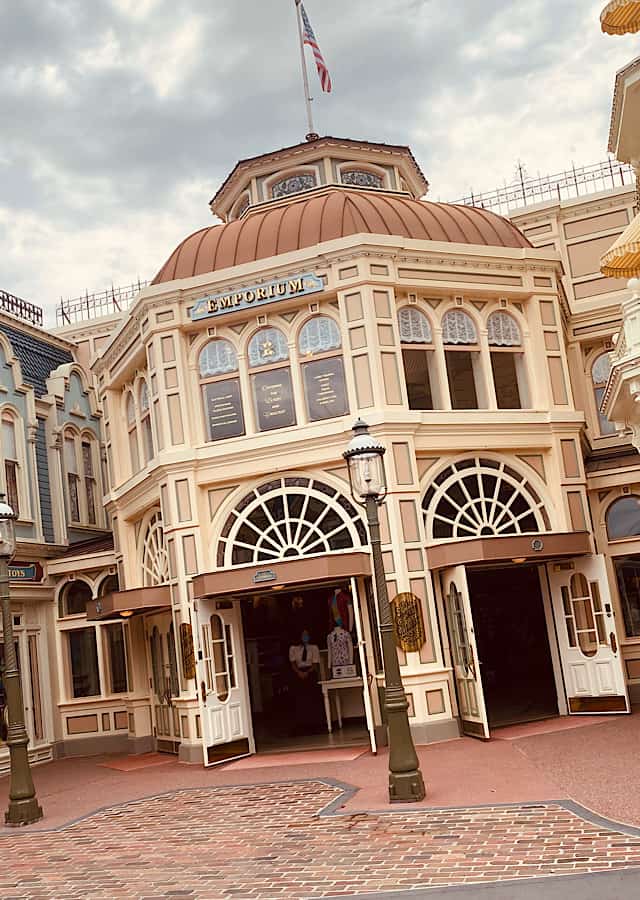 Disney's Keys to the Kingdom Tour is not particularly inexpensive. It costs $114 per person, plus tax. However, there are some discounts available. For example, Annual Passholders currently get 15% off the cost of the tour.
This tour is not for every Guest. It is an adults-only experience. Guests must be at least 16 years old to participate in the tour. A photo ID is required at check-in. So, if you are traveling with children younger than 16, this tour is not for you unless you would like to split up for a large part of your day.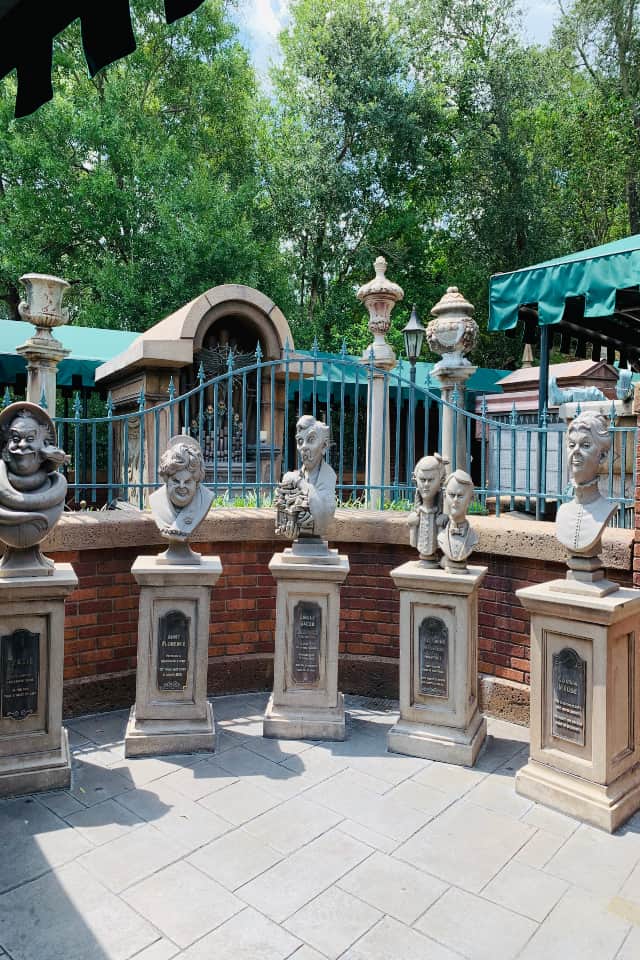 The tour has limited capacity. I believe it will accommodate somewhere around 20 guests per time slot.
My particular tour had only 18 guests as there were a few no-shows. Most of the participants were couples, friend duos, or mother/daughter duos. One pair was celebrating a Sweet 16th birthday with the Tour as a gift, which I thought was a beautiful idea. There were a few parties of one as well.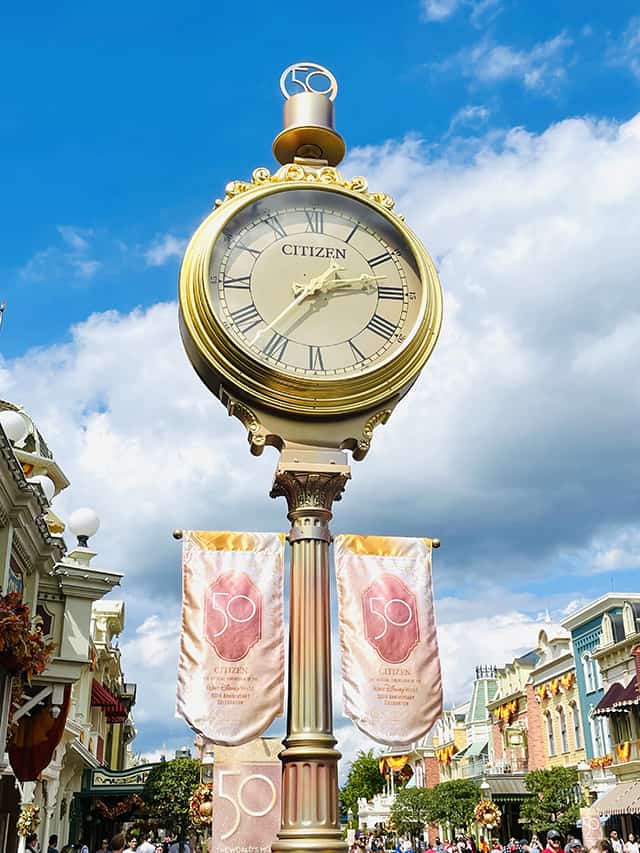 Disney's Keys to the Kingdom Tour is approximately 5 hours in duration. However, it can run a bit longer depending on the day. Weather, questions from guests in the group, or behind-the-scenes happenings may add a few extra minutes here and there.
On the day I took the tour, ours ran about 30 minutes over. We did encounter a rainstorm as well as a slowdown or two here or there. However, if you take the tour, it is best not to plan anything time-sensitive immediately following your tour just in case.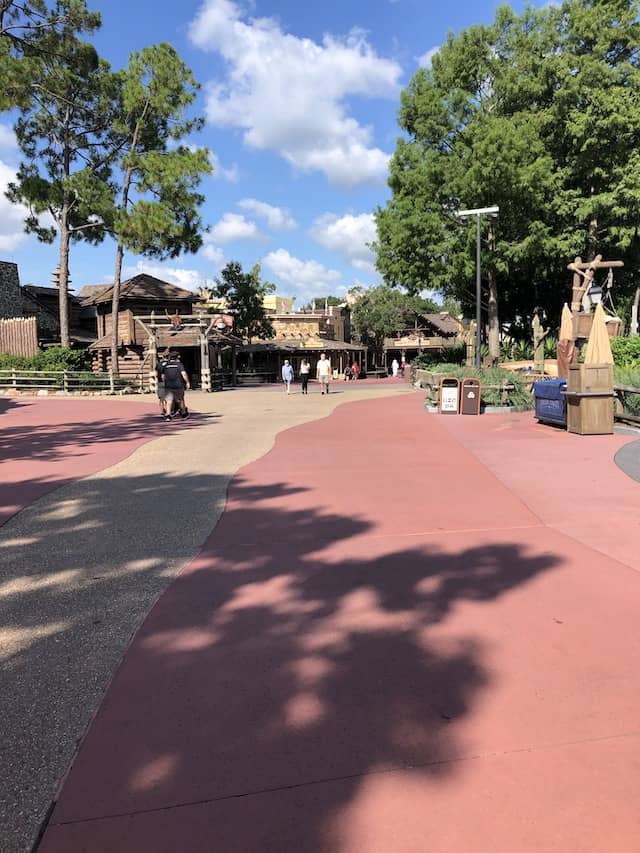 Disney's Keys to the Kingdom is a walking tour, and it does require a lot of time on your feet! You should definitely wear walking shoes if you decide to participate.
I used my Apple Watch to track the Mileage. I had just participated in the Springtime Surprise Expedition Everest 5k the evening before the tour. I tracked the tour at just over 3 miles of walking. So, essentially, it was a second 5k. There was also plenty of standing to do. Your mileage may vary depending on the day you go.
Of course, it is not 3 continuous miles of walking. The time on your feet is broken up with several breaks to enjoy attractions, eat lunch, or use the restroom.
What is Included?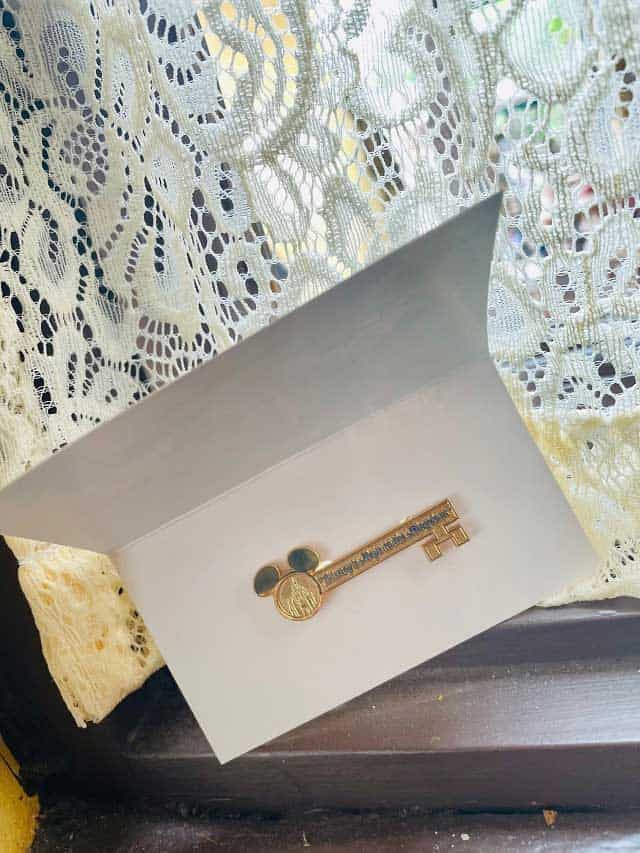 Included in your $114 cost is the tour with a dedicated Cast Member as your guide. You also get lunch served from Pecos Bills, one of Walt Disney World's quick-service locations. In addition to behind-the-scenes access, the tour does include access to two classic attractions. You will ride the Jungle Cruise and the Haunted Mansion.
Guests on the tour also receive a Keys to the Kingdom Name Tag. And, as a special gift, Guests also receive a special Keys to the Kingdom pin to take home or to trade.
Review of the Tour!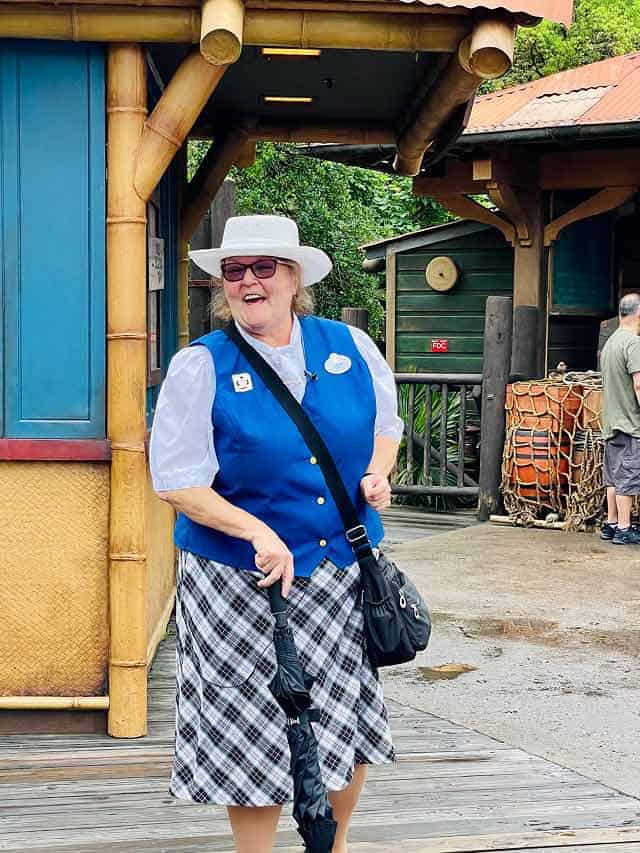 I thoroughly enjoyed my Keys to the Kingdom tour. A dear friend invited me along, and since it is something I have always thought I would enjoy, I could not turn down the chance to go.
I had an amazing time, highlighted by the fact that I went into it without much research into what we would see and do that day, so almost everything was a surprise for me aside from the fact that I knew we would go backstage.
I would highly recommend the tour to anyone who has a good working knowledge of Disney World and would like to expand upon that knowledge with fun facts and tidbits. Also, I would also recommend it to anyone who loves behind-the-scenes glimpses and who longs to walk through the Utilidors, which is what attracted my friend to the tour.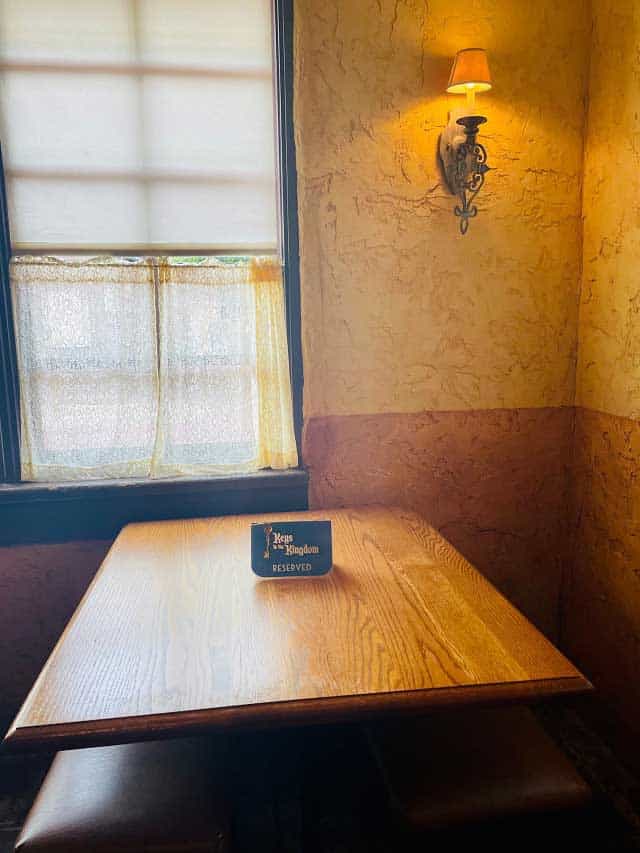 However, if you do not like standing and walking, if you are short on time, or if you would rather not know what goes into making the magic, and you are just there to see the Magic Kingdom as a guest, then you should skip this one. You should also skip it if you would rather go on a deep dive of internet rabbit hole research into the history and inner workings of the Magic Kingdom than get a five-hour delivery from a tour guide.
I also don't think this is the best choice for a Walt Disney World Newbie (unless you are an Enneagram 5 and just really love soaking in all the information about all the things). To me, it is something to be explored by those who have seen it all from a Guest's perspective and want to know more rather than those who are learning for the first time. It would be a little like taking Algebra before you learn to add and subtract.
Did it Ruin the Magic?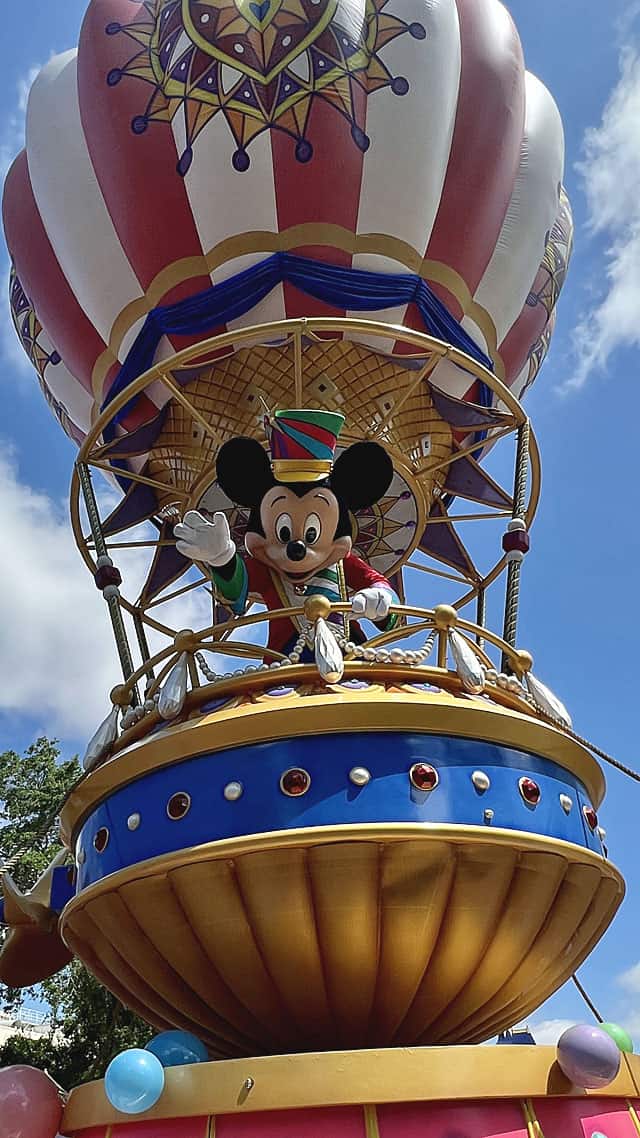 Disney's Keys to the Kingdom Tour Absolutely did NOT ruin the magic for me. In fact, I would say it achieved the opposite effect. The tour made things all that much more magical for me after seeing exactly what goes into staging the show that is a day spent in Walt Disney World. In fact, it changed my perception of some things.
I have always been a bit of a parade avoider. I never liked standing still watching things move by me when I could be enjoying attractions. However, after learning more about what goes into the Festival of Fantasy parade, I am now much more appreciative of it and will happily watch it any day and time.
A Breakdown of the Tour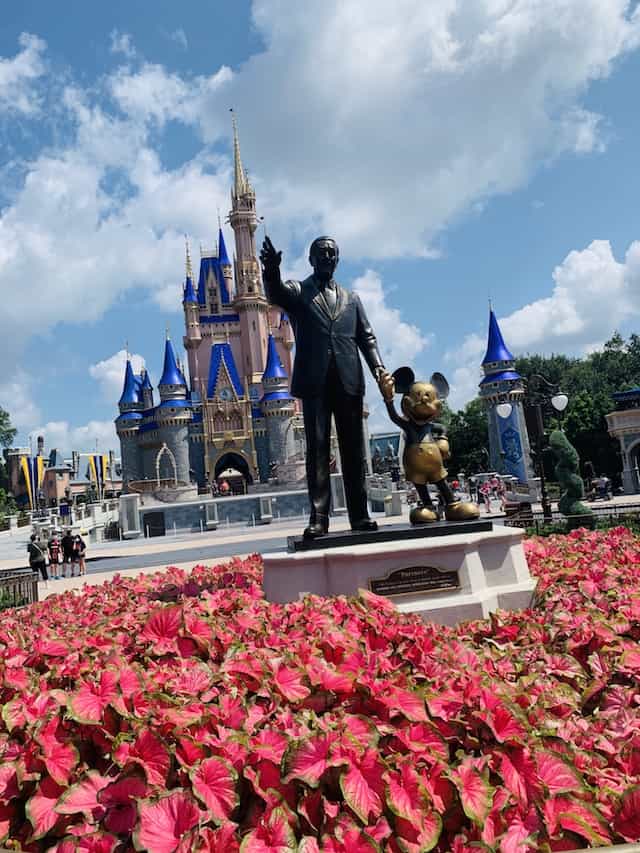 If you think you may want to participate and want some more details, here is a breakdown of exactly what happens on the tour. However, there are no major spoilers here.
I will stick to planned events and small tidbits. I do not want to ruin any of the magic behind the magic for those who want to take the tour or for those who would rather not know.
Check-in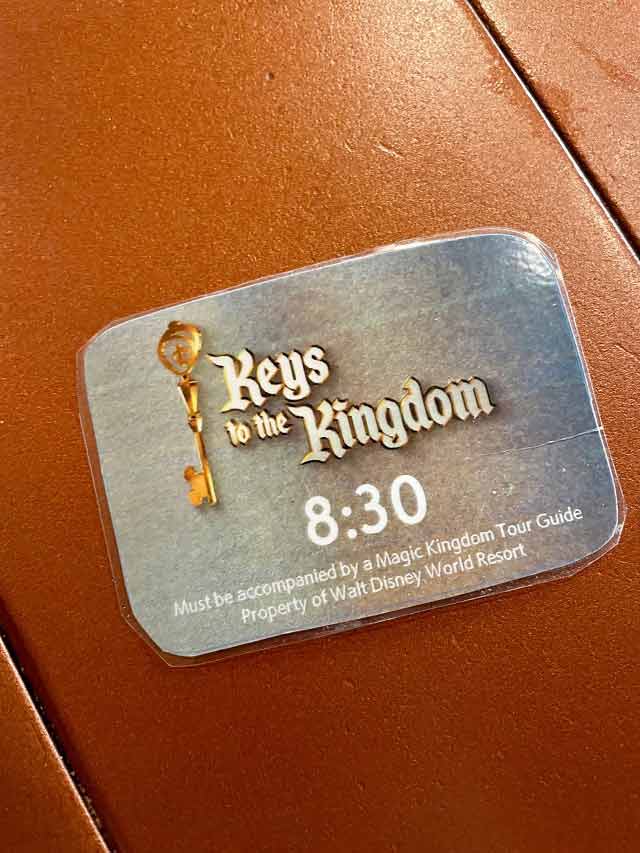 The day started with the check-in process. Check-in is at Town Square Theatre, the same place where you can meet Mickey Mouse! Our check-in began at 8:15 for our 8:30 start time. However, we did not actually begin the tour until a few minutes after 8:30 to be sure the no-shows were really no-showing. Guests were served bottled water while we waited.
During check-in, Guests select their lunch. As I mentioned, lunch is from Pecos Bill. Cast Members happily provided menus and ingredient lists so everyone could be sure any dietary needs were met.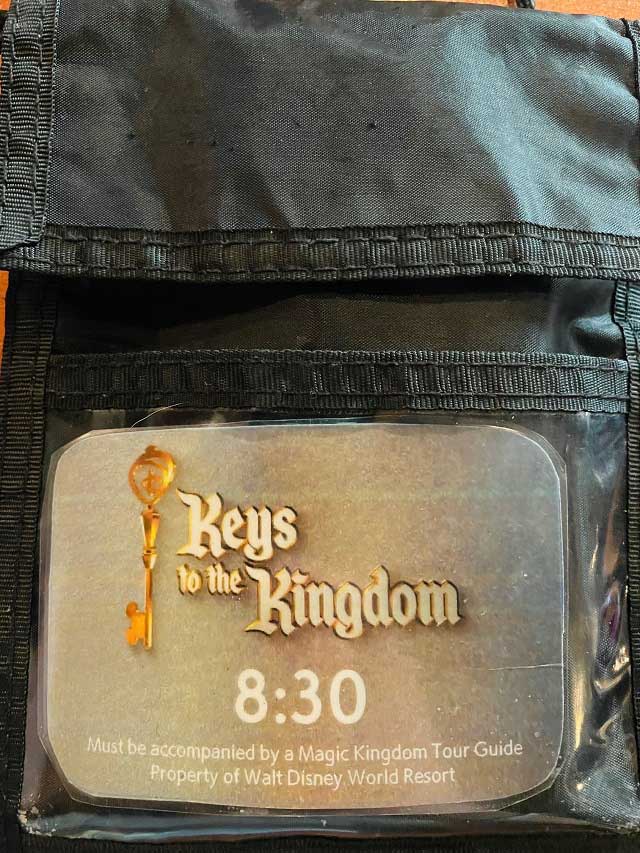 Guests also receive audio equipment. This is a set of headphones so that the tour guide can be heard over the noise of the parks and at times when participants must walk from place to place in a line. That way those in the back can hear as well.
I find the type of earpiece used uncomfortable. It is the type that fits over the ear. However, I got used to it. Every now and then the connection for the audio was disrupted, but for the most part the equipment worked well. I liked that I could adjust the volume as needed and could hear everything clearly.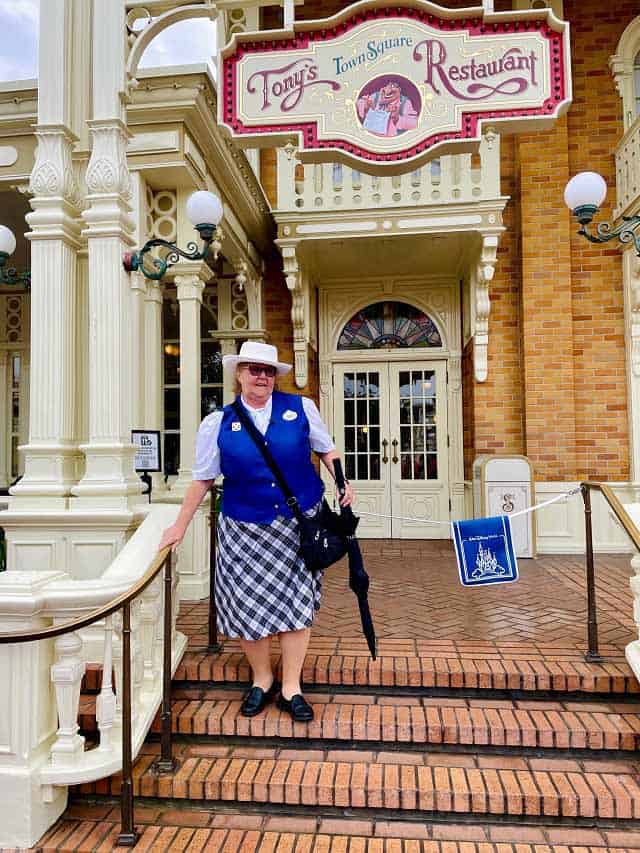 We met our Keys to the Kingdom tour guide Lynn in front of the check-in area. Keys tour guides must work their way up in Walt Disney World.
Ours had been working in Walt Disney World for many years and is a life-long fan of the parks. It was her childhood dream to become a Cast Member, and now she is among the most knowledgeable in the parks.
Main Street, USA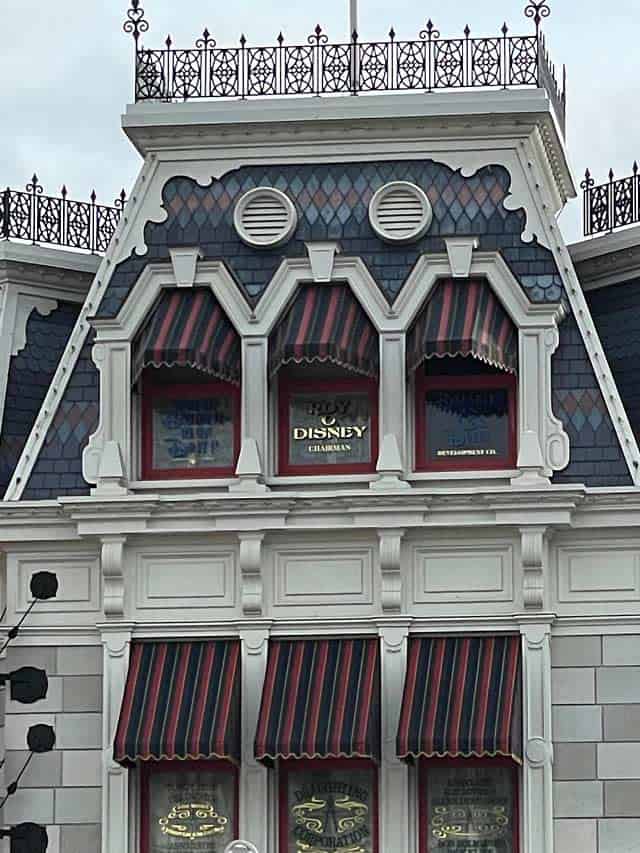 The journey began with a walk down Main Street, USA, which is fitting. Here, we learned a good bit of Disney History, particularly about the imagining and construction of the park.
It is this part of the tour where you will see and learn about many of the park's details that are hidden in plain sight. For example, we learned the significance of the writing on the windows lining the street. I now have a favorite Main Street window (is my Disnerd showing?)
Adventureland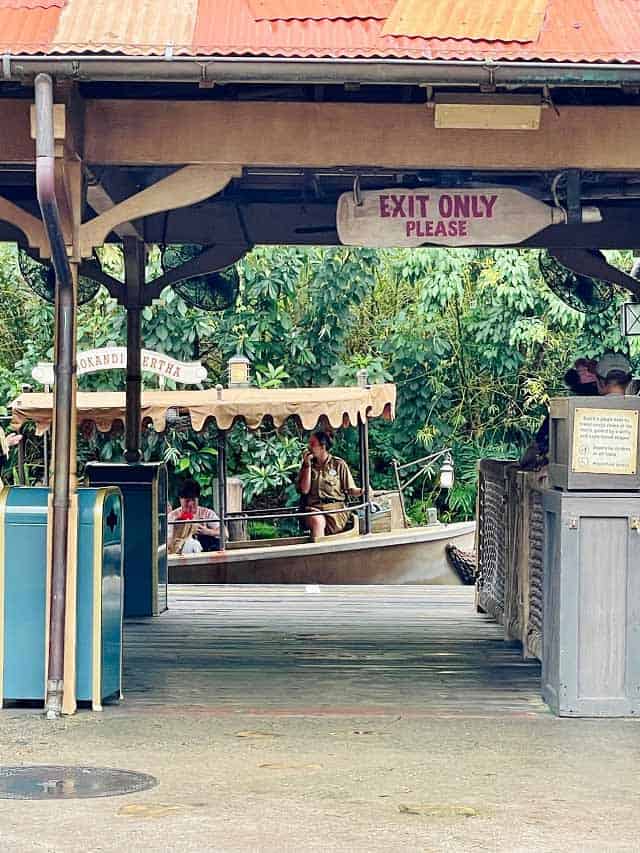 After a quick break, our journey continued in Adventureland with more fun facts. I was surprised when our guide asked if we would like a ride on the Jungle Cruise because I had no idea it included attractions. We entered through a different part of the queue (the exit) and hopped on a boat piloted by a skipper who does not typically conduct Jungle Cruise Tours. This is because our Keys Tour Guide took over the commentary.
Instead of the campy skipper's script, we were treated to facts and history surrounding the attraction itself, including the story behind the sunken boat on the attraction and some fun facts about the water the little elephants squirt. Of course, we could not ignore the Jungle Cruise lines entirely. And all of us participated in an iconic line, which you may know yourself, as we passed under the waterfall.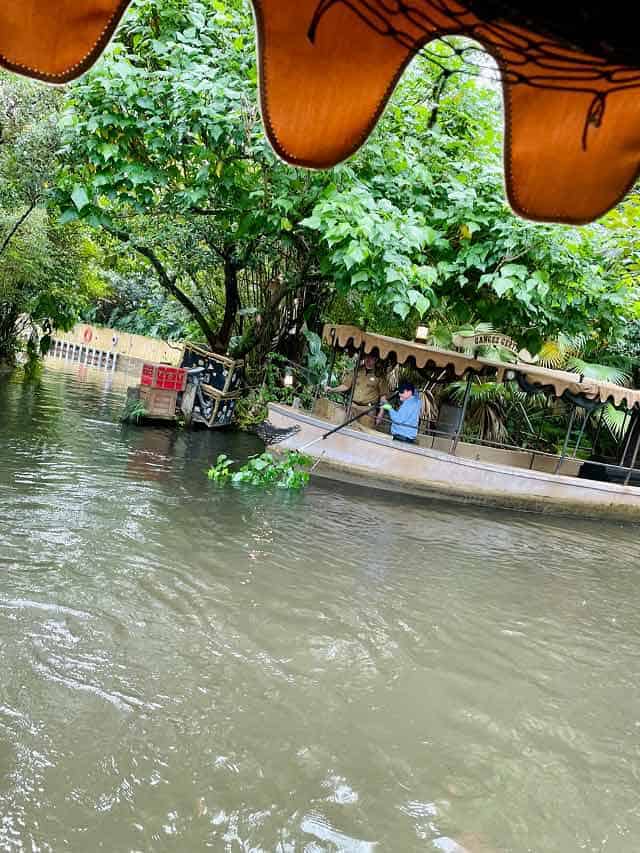 Additionally, our vessel had to stop so that a maintenance crew could come and take care of a fallen tree limb as we neared the exit of the Jungle Cruise. We asked our skipper if she had any Jungle Cruise worthy jokes, and she entertained us with a series of "Hybiscus jokes," and laughingly asked if that meant she was ready to be an official skipper now.
Frontierland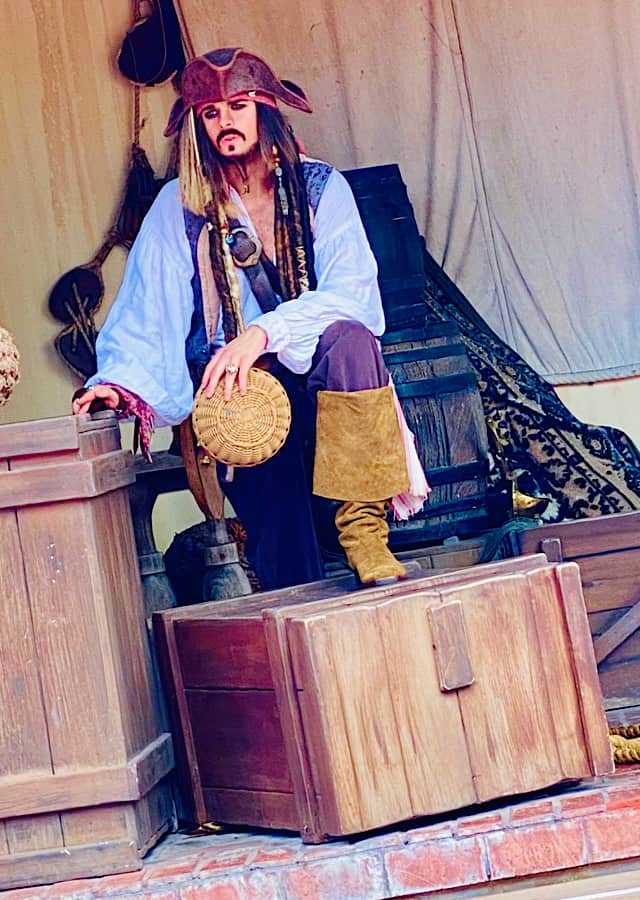 After a break, we moved into Frontierland. However, after a run-in with Captain Jack Sparrow, we realized the skies were darkening with storm clouds.
We ducked into Tortuga Tavern and waited out the rain and sat and listened to the stories planned for that part of the tour. Honestly, I don't think anyone minded the break for our feet. Plus, all present knew the parks well enough to know what was being spoken of.
Backstage!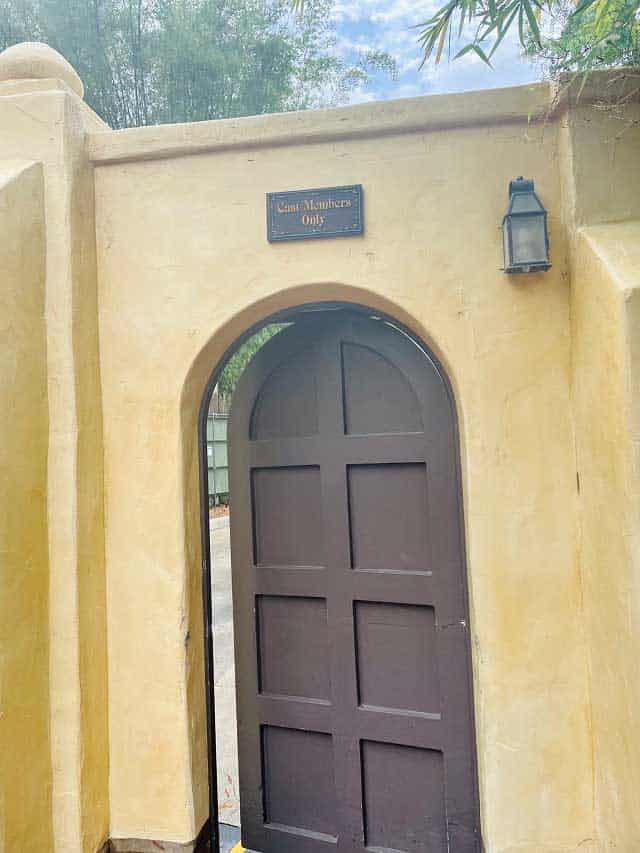 The rain let up, and it was time to head to the backstage area! We made our way through a door marked "Cast Members Only." Once you are backstage, there are no photographs allowed whatsoever, and all of us honored that stipulation. So, I will leave you only with this little glimpse of the shutting door.
The part of the tour was extremely interesting, especially because we learned so much about props, attraction show buildings and maintenance, the Festival of Fantasy Parade, and one of my very favorite things, The Electrical Water Pageant. However, I will leave the details to those who embark on the tour.
Festival of Fantasy Parade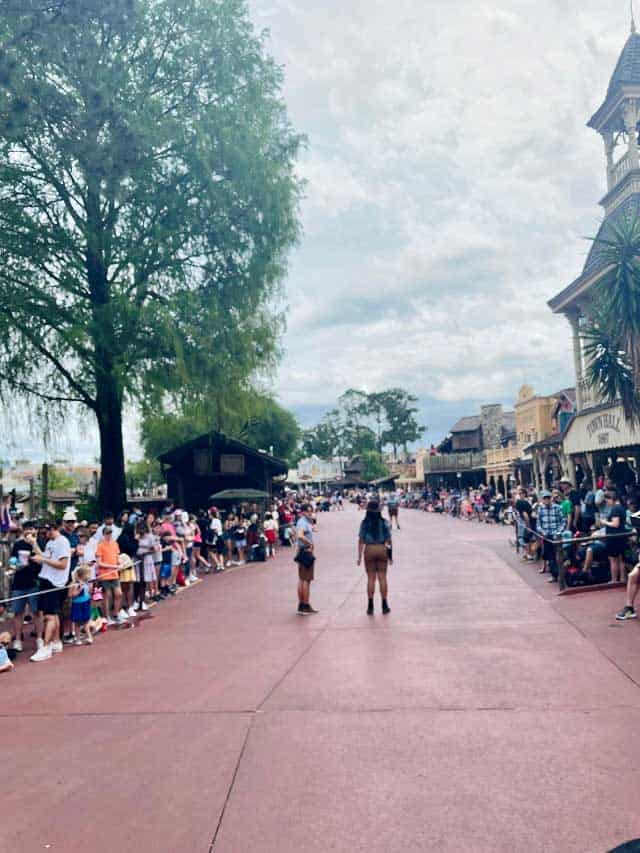 When we hopped out of the backstage area and returned to Frontier Land, the streets were roped off, and Guests had amassed for the Festival of Fantasy Parade. Our guide gave us the happy surprise that we would be walking down the middle of these empty streets just before the parade. My friend and I were delighted to be leading the Festival of Fantasy.
Tour Guide Lynn also taught us that if you walk down the middle of the street with a VIP guide and begin waving that people just assume that you are important and wave back. And, just as she said, when we waved, the whole world waved back. If you ever want to feel famous for a few minutes, this is the way.
When reached our stopping point, we were able to watch the parade we had just led while we waited for lunch to be served. It was perfect timing because everyone was getting hungry!
Lunch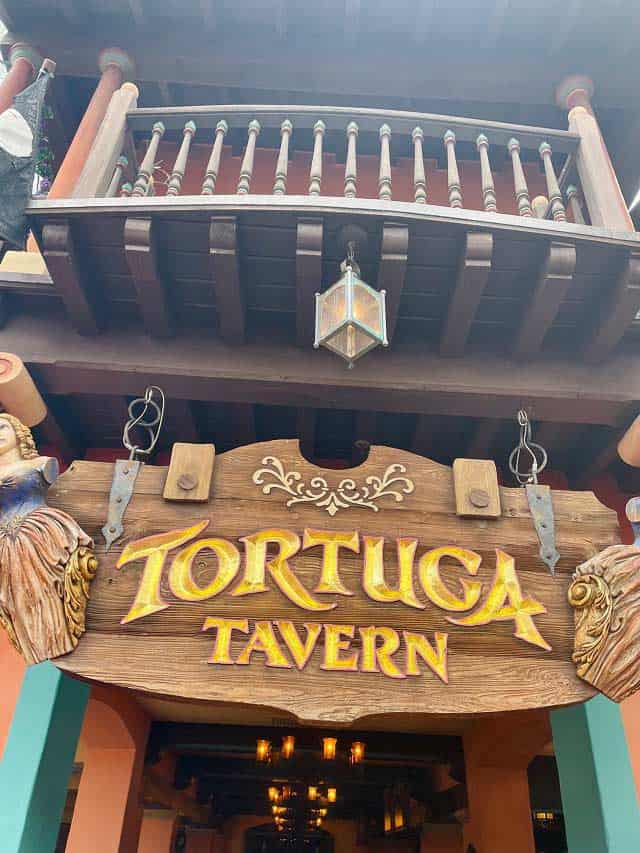 Cast Members laid out our Lunch in a special dining area in Tortuga Tavern. They put place cards at the tables with our meals, and our Keys to the Kingdom pins were inside the place cards.
They also set up a miniature version of the Pecos Bill's toppings bar for us, which was a fun touch. There was certainly plenty for all.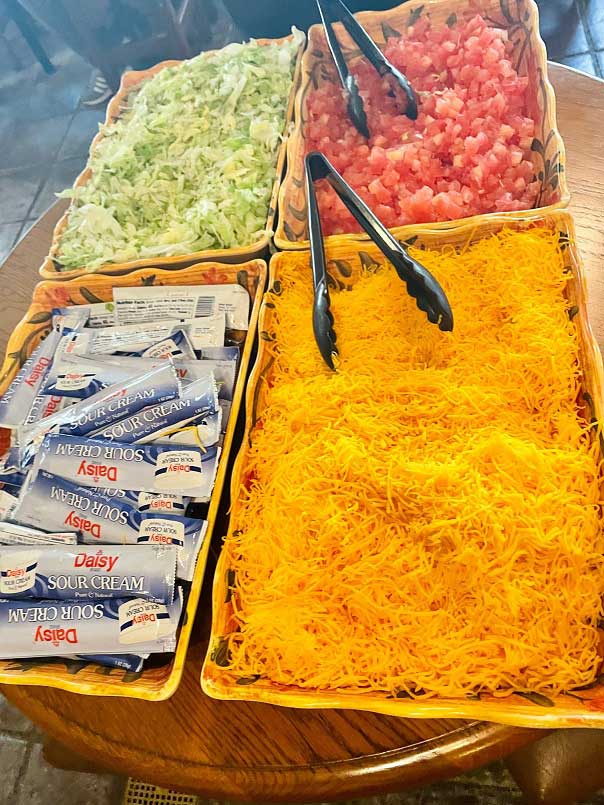 Despite my many trips to Walt Disney World, I had never eaten at Pecos Bill before, so this was a fun treat for me, as one of my Disney goals is to try every restaurant in the Parks. My family usually picks Sleepy Hollow or snacks for lunch.
I know many of our KtP Writing Team like Pecos Bill. I was not disappointed. To me, it was a lot like a Del Taco.
I had the soft taco trio. The meat was seasoned, but not spicy, which is just how I like it. After a quiet lunch, we continued our journey. Now it was time for a walk through Liberty Square.
Haunted Mansion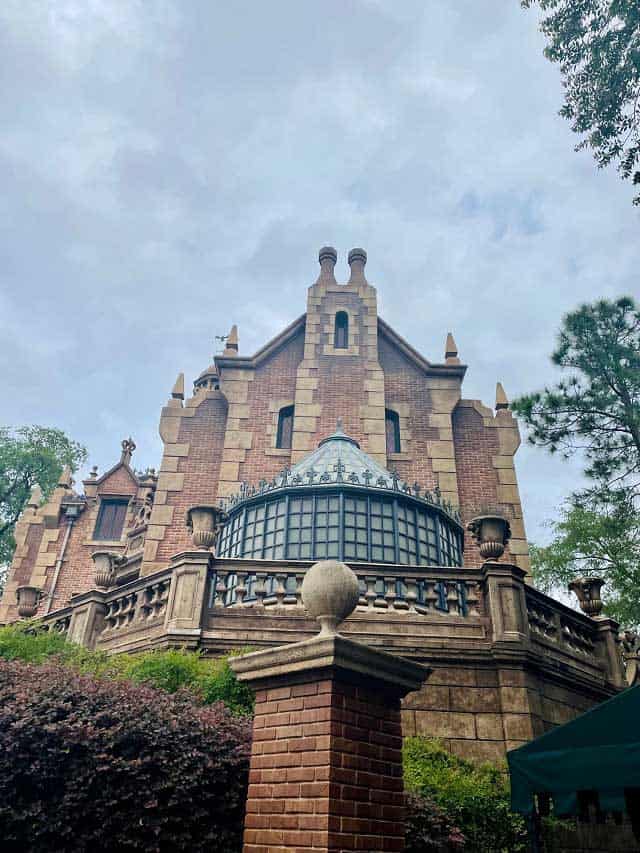 The stroll through Liberty Square was nice since we had just eaten a pretty large meal. We learned some information about the various buildings and attractions and ended up at the Haunted Mansion!
We entered, again using the Exit, and listened to Lynn point out some tidbits about the classic attraction. She used the walk through the ride queue to provide the information because this time we would be riding quietly and enjoying ourselves.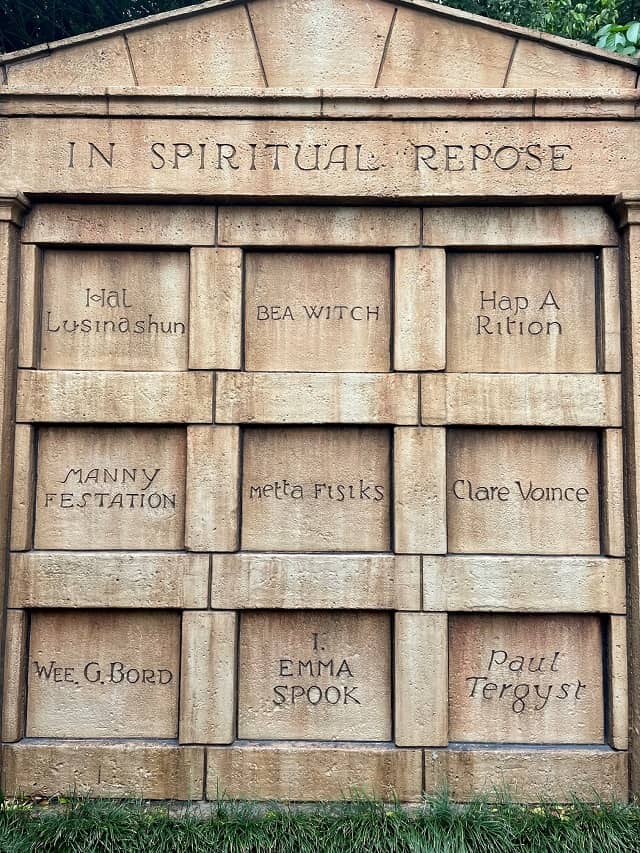 After all, unlike Jungle Cruise, it would be difficult to preserve the ride experience for other Guests if we had tour commentary the whole ride through. And so, we took our newly gained knowledge to our Doom Buggies and enjoyed the ride. We got stuck, but not evacuated.
The Utilidors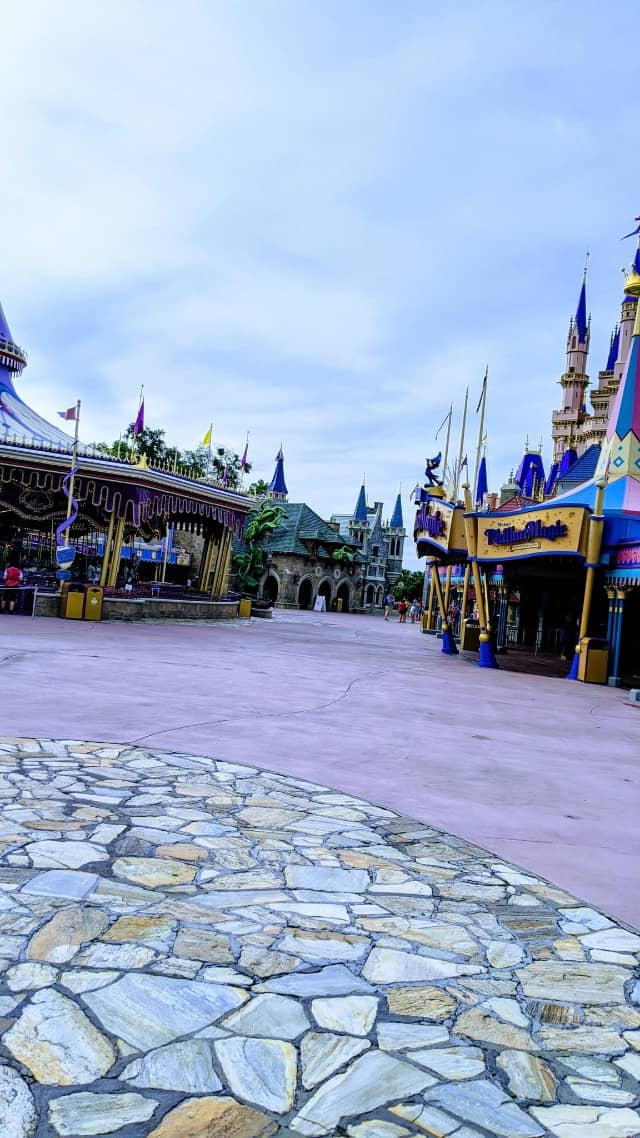 Next, we headed to Fantasyland. But, instead of visiting Fantasyland, Tomorrowland, and Cinderella Castle from the surface, we would tour the area beneath them. It was time to head to the Utilidors!
The Utilidors make up the first floor of the massive structure that is the Magic Kingdom. Everything is built on top of them! They exist so that Cast Members can move seamlessly from place to place unseen by park Guests.
Like the backstage area, photography is not allowed in the Utilidors. Also, the inner workings of them will have to be left to those who decide to visit them someday via the tour (or to those who become Cast Members and see them first hand).
The End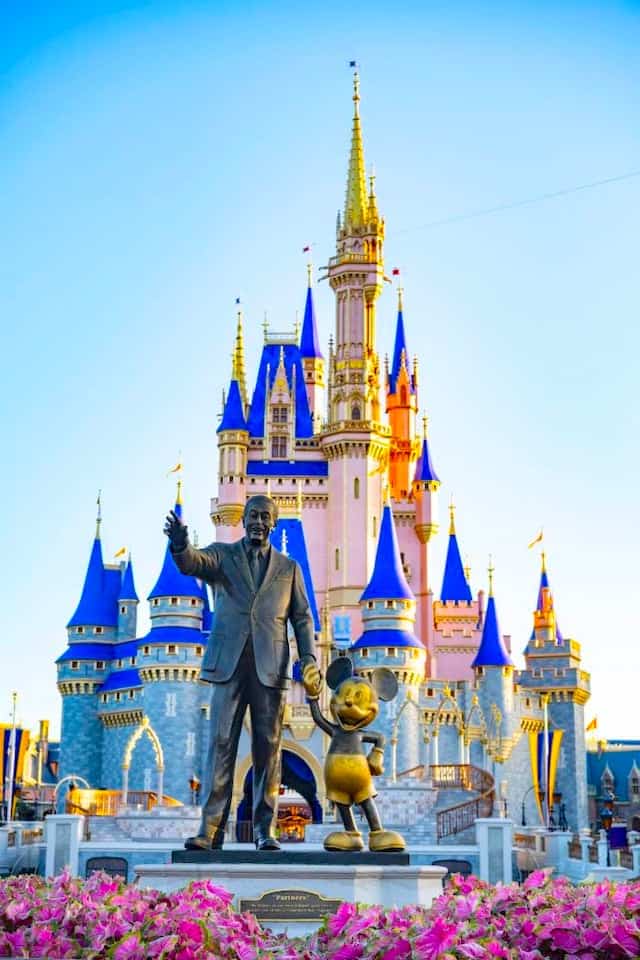 Our journey ended in the backstage area again where we learned information about the fireworks and Tinker Bell's flight. We also had a chance to ask questions and get answers.
I was worn out as the tour came to an end, partly from the 5k the night before and partly from the tour itself. I was grateful we could head to the resort for a nap. I had made plans to do some park hopping after the tour, but those plans fizzled out quickly.
Overall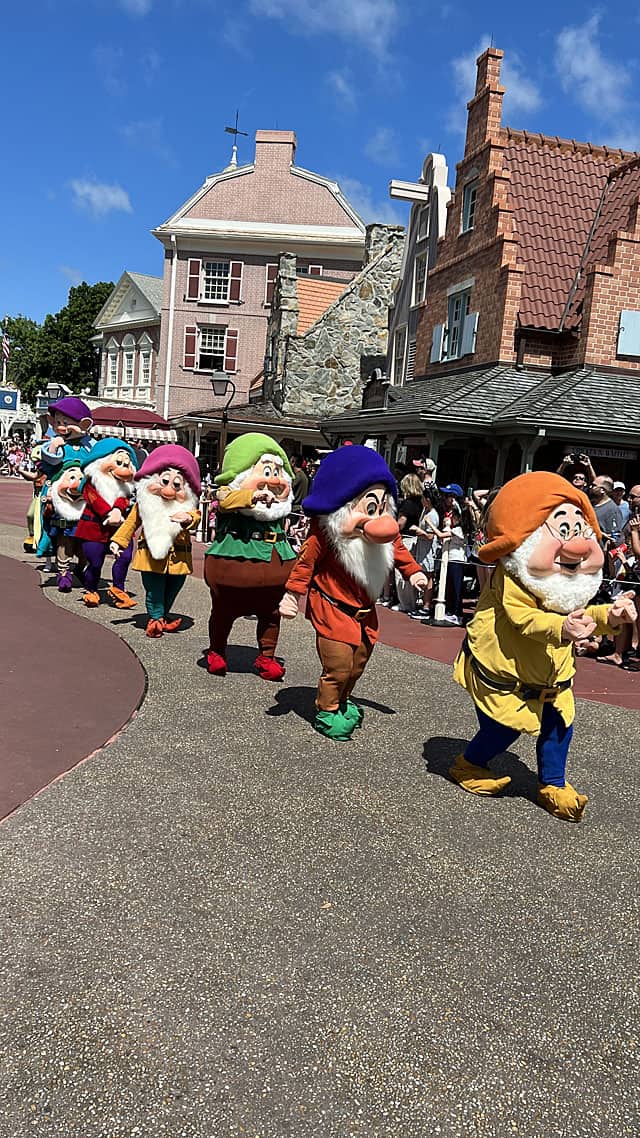 Overall, it was a great experience, and for me, it was completely worth it. I don't think I would have wanted to take time out of a family vacation with my children who are too young for the tour to do it on my own. But, I definitely loved getting to enjoy it with one of my Disney friends!
If you have the opportunity to go on Disney's Keys to the Kingdom tour and think it would be fun for you, by all means, go! It would make a great treat shared with other die-hard Disney fans on an adult-only trip. Marisol shares her thoughts on the tour HERE.
Have you ever been on Disney's Keys to the Kingdom Tour? Is it something you want to do someday? Let us know in the comments or join our friendly crew to continue the conversation on Facebook.