Wondering how to make a short Disney trip work? Maybe with multiple children of varying ages? It was no small feat, but here is how I survived a quick trip to Disney with my big family.
Big family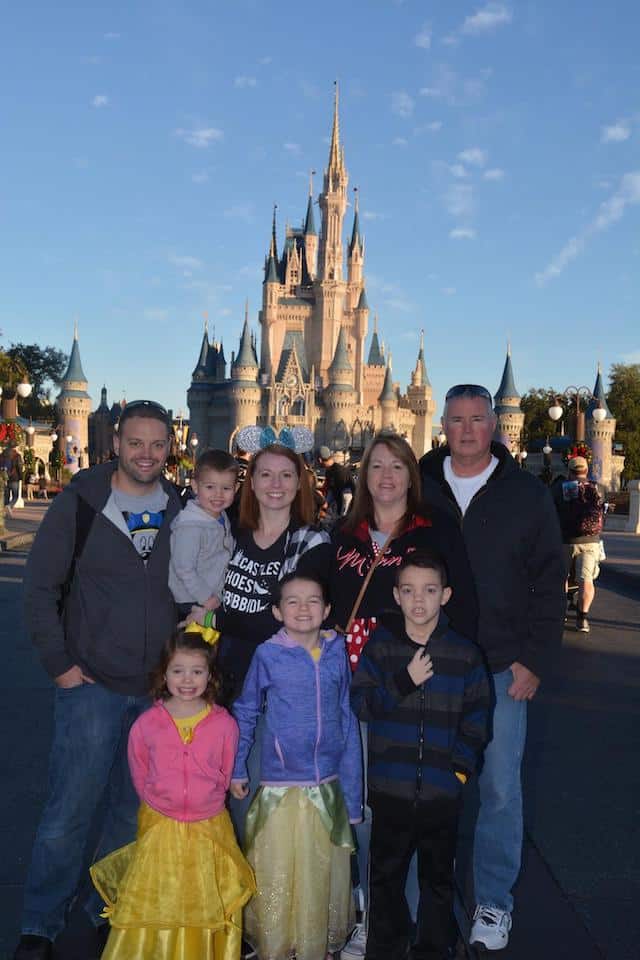 Over the years, I (Monica) have taken many different kinds of trips. I have been on long vacations with multiple generations, quick trips by myself, and quick trips with just one of my kids. However, I recently embarked on a new kind of adventure: a very short trip with all (4) of my kids and husband.
You may remember the amazingly low wait times that occurred in late August/early September. Having some major FOMO, I began wondering if I could take my family. Everything from school and work schedules to the logistics of making it work in the parks were all factors that I needed to consider when planning.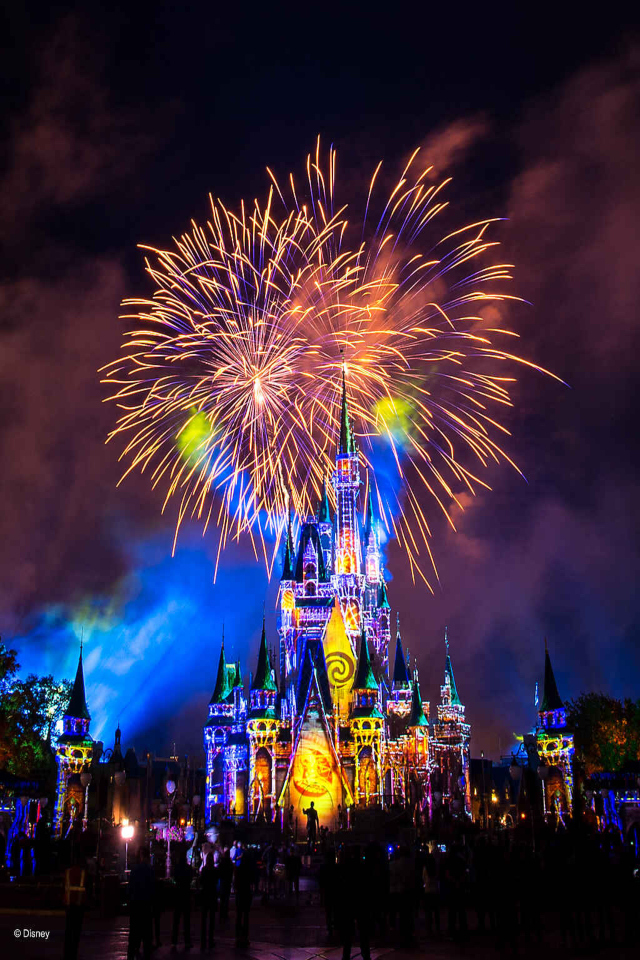 Not only that, but around that same time Disney shared that Happily Ever After would be retired once Enchantment debuted. I was determined for us all to see it one last time!
Here's how I made it all work and what our time in the parks looked like. I've got also got some helpful tips and tricks to help you plan your quick trip.
Schedules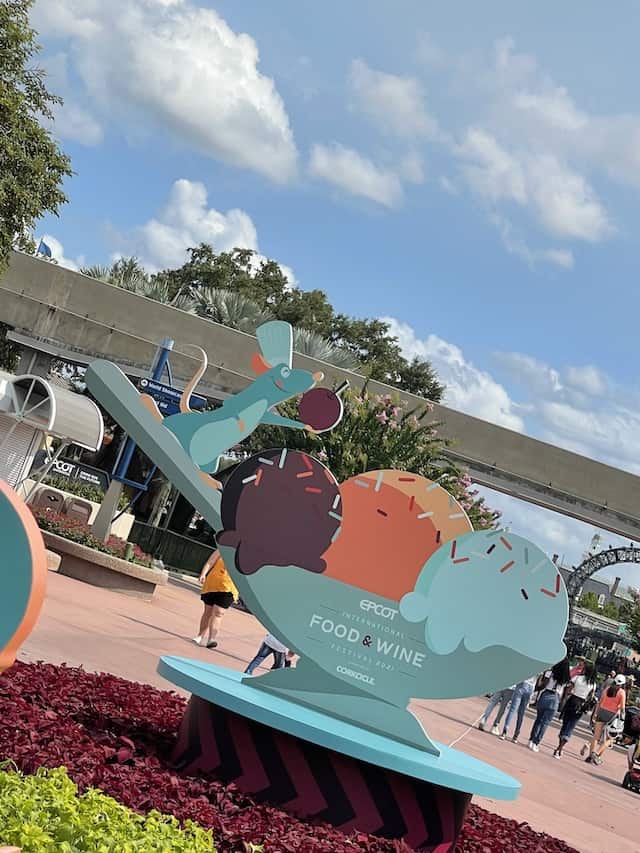 I first began thinking about a trip in mid August. Seeing those amazing wait times really had me wishing we could experience them as well! You may remember most attractions were under a 30 minute wait, and by the end of the month most were 10 minutes or less. Not only that, but Rise of the Resistance allowed Guests to use the standby line which had never been done before.
I also knew we needed to get there before October 1 when Enchantment debuted.
So I began looking at my calendar. I knew it would need to be a rather quick trip (due to my kids' school schedules) unless I wanted to do go over Labor Day weekend and get one extra day. Labor Day Weekend is historically one of the busiest times of the year. Knowing we wanted to maximize on these low waits, this weekend went out the window fairly quickly.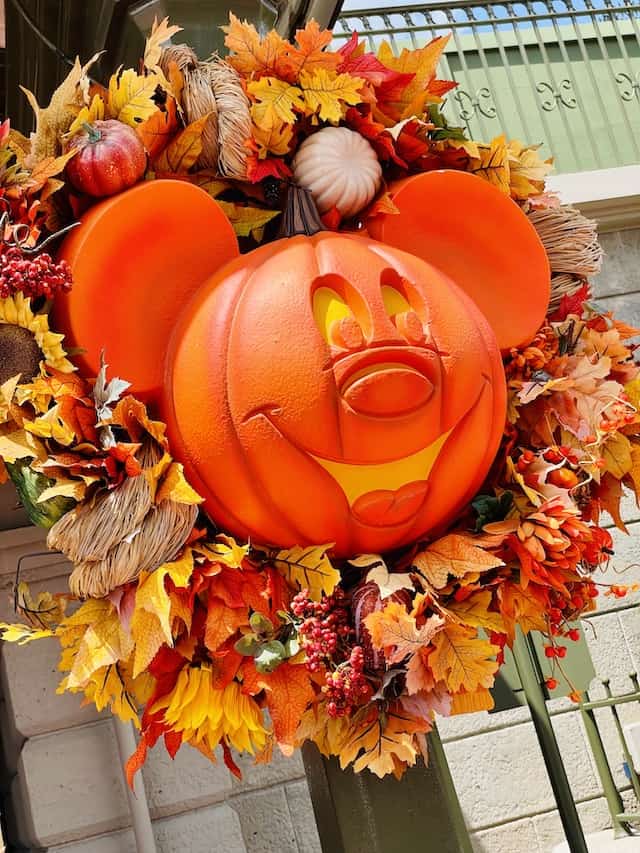 So that left me with a few weekends in August and most of September. My husband's work schedule includes him working every other weekend. Well, there goes another 3 weekends that won't work!
This essentially left with me with the last weekend in August and the last weekend of September. Ok so now I had a few dates to work with and could start looking at flights and hotels.
This leads me to my first tip: Be flexible! Unfortunately, I was not flexible which cost me several possible dates. I had school and work schedules to consider, and you may as well. In that case, it's ok to cancel previously scheduled engagements or miss a day of school to make a quick trip work.
Cost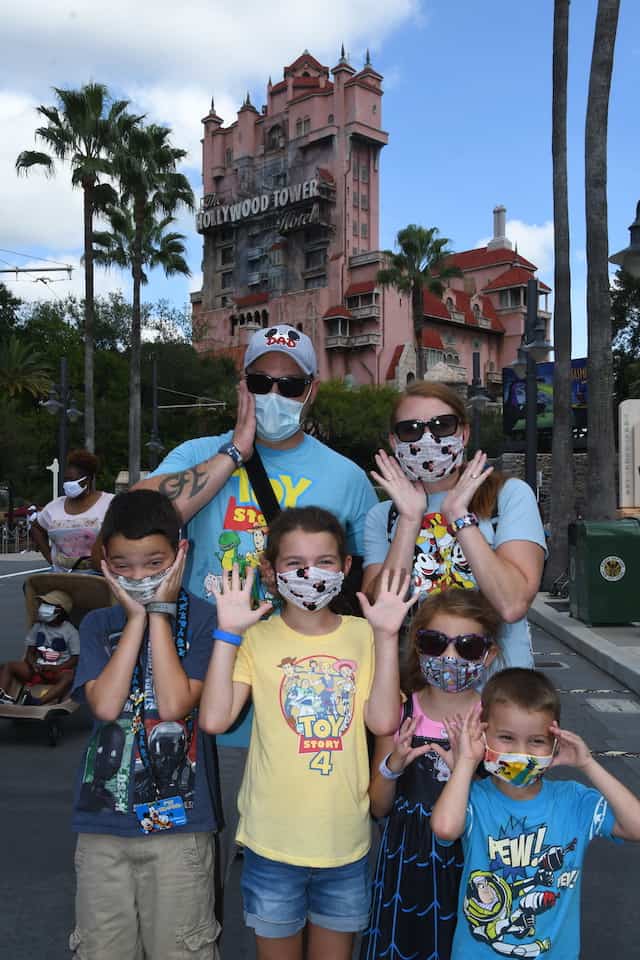 Being a large family, we are on somewhat of a budget when we visit Disney World. Our next "big" trip is in December (where a budget kind of goes out the window) so this quick trip would just need to be the bare necessities. We try to rent points when possible, take advantage of any military or Annual Pass discounts, and share meals where we can.
Taking four kids to Disney is not cheap, but we make it work. And I was determined to make it work for a short trip, too!
Flights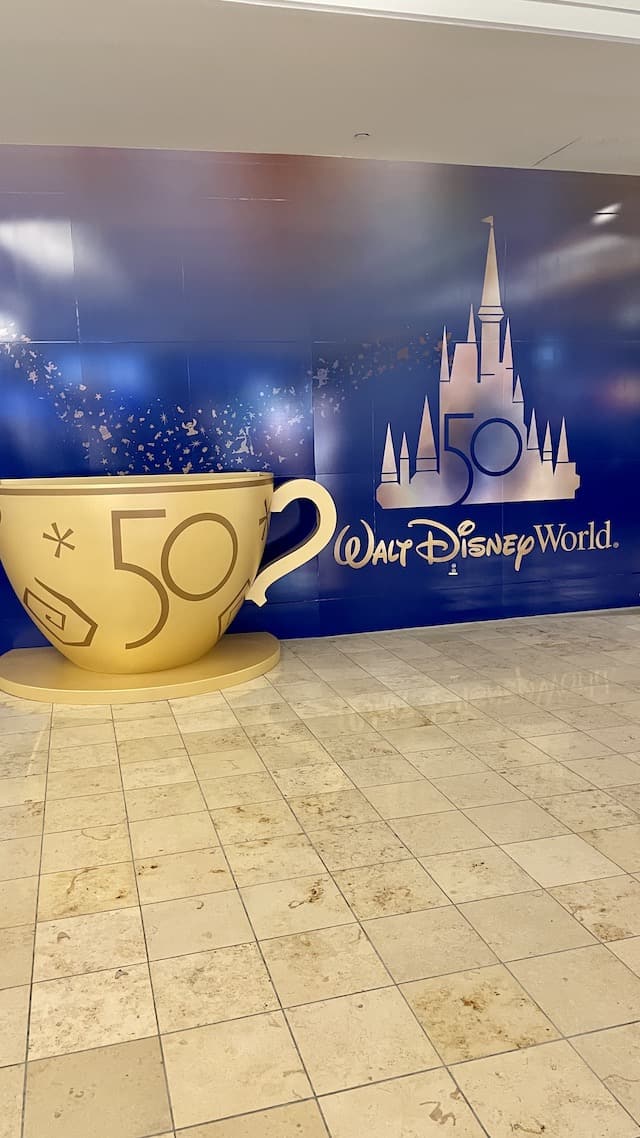 First was the flight. We live in Indiana so driving would eat up a large chunk of a 2 day trip. I checked multiple airlines to find a flight that would a) get us to Disney either late Friday night or early Saturday morning, b) would get us back home late Sunday night, and c) be affordable enough for 6 people.
I was able to get a flight on Spirit Airlines for $20/person on Saturday morning. We would arrive at Disney World around 8:30 am and be ready for fun! I could not pass this up for 6 people, and since we we were only staying one night we had two personal backpacks. No need to pay for luggage!
Tip: Many airlines will typically drop prices a few weeks before a flight. If you are persistent (and flexible) you may be able to find great deals on flights.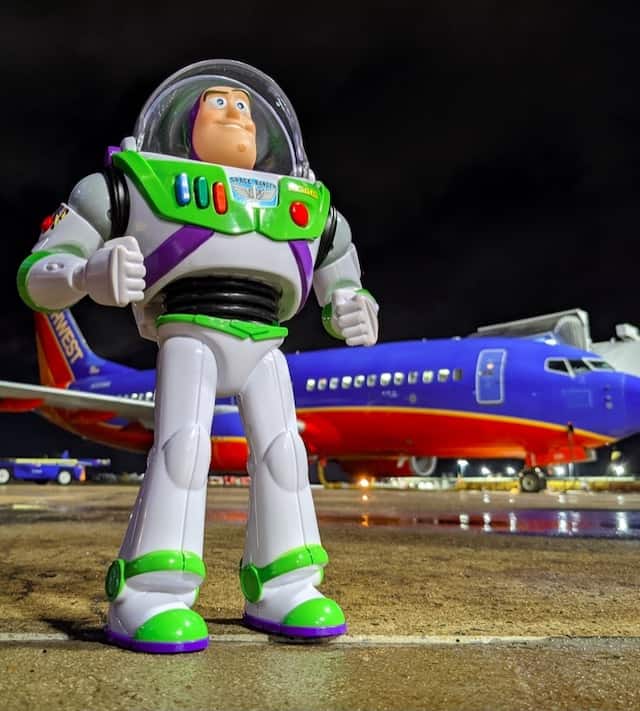 Next was our return flight home. Southwest is my "home" airline. It's where I have a credit card to accumulate points, and their schedule from Indy/Orlando always has great times so I usually book through them. Sunday nights are always a great time for me to fly home for cheap. I found $50/person flights leaving Orlando at 9 pm so I booked that as well.
I got round trip airfare for 6 people for less than $450!
Hotel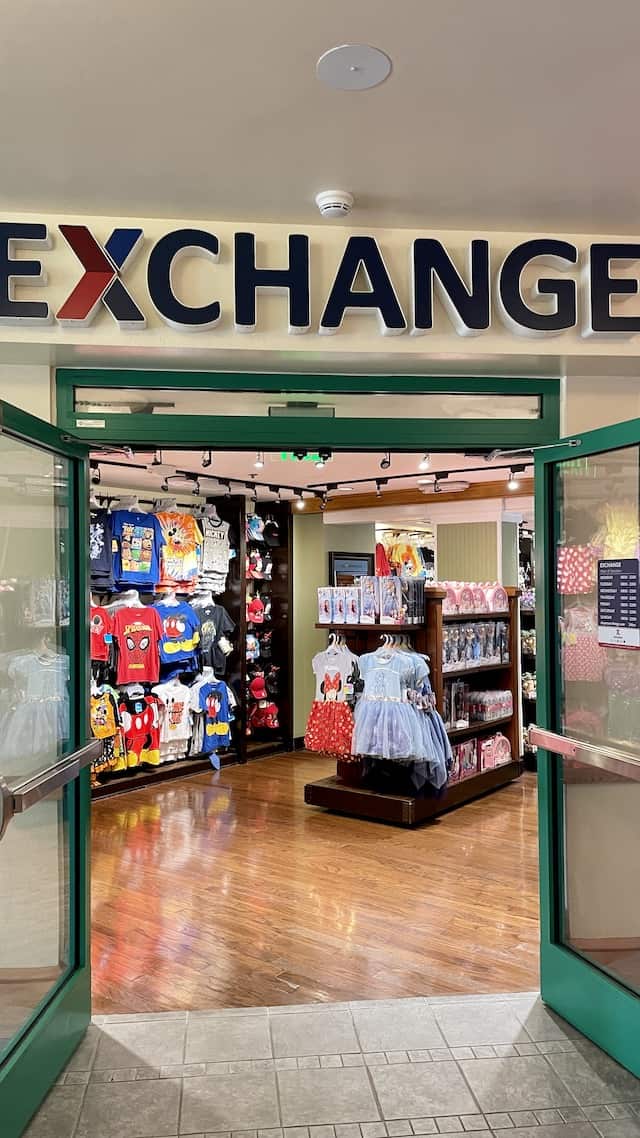 Now that I knew our dates, I was ready to look for a hotel. We love to stay onsite (and love renting points even more), but I was on a budget so I began to look at my options. Could I rent points? Should I book a suite at Art of Animation or All-Star Music instead? Two rooms at Pop Century?
In the end I decided to book at Shades of Green for a few reasons. You may remember I am not a fan of the transportation system at Shades, but for a quick 2-day trip I could make it work. It's a 10 minute walk to the Polynesian and monorail, and we would only need to get there at night and leave the next morning. These rooms are also bigger than the value rooms which helped make my decision even easier.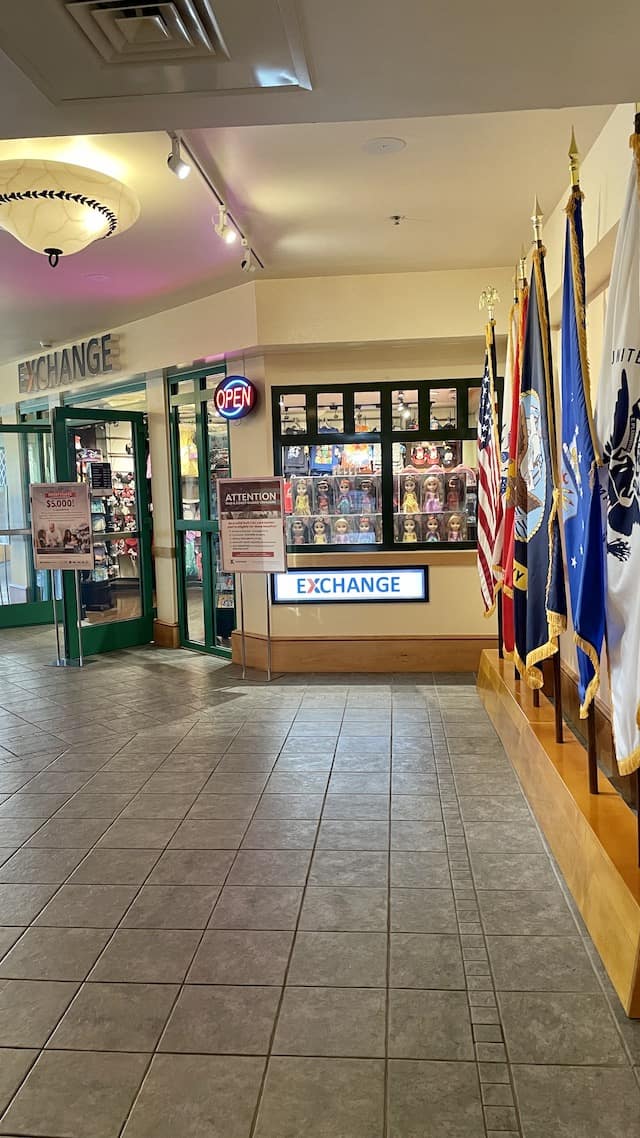 But even better than that, it is so cheap. At less than $150/room it was a no brainer! Renting points likely would have cost $200-$300 per studio (and we would need two), and a suite at AoA or Music was close to $500.
We literally only used the hotel to sleep and shower that night, so it worked out perfectly.
Tip: Don't be afraid to think outside the box. If you have a car, staying offsite for a fraction of the cost might be the difference in being able to take the trip. Can you book two rooms next to each other? For a long trip, don't suffer for the sake of saving a bit of money, but for a quick trip, less than ideal circumstances are easier to manage.
Tickets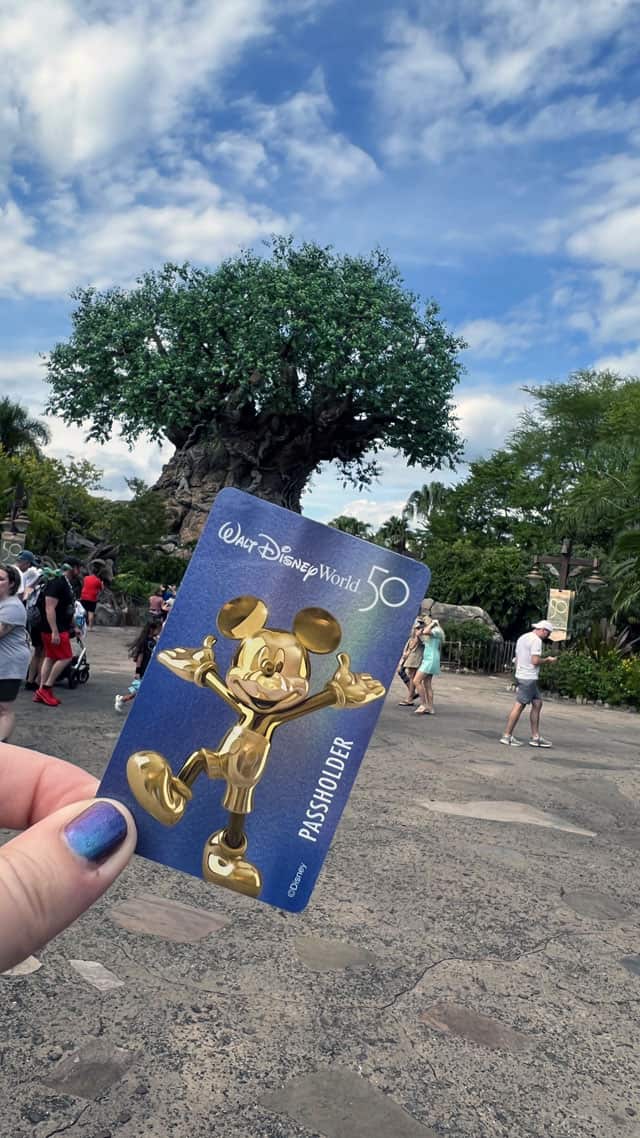 The last factor I had to figured out when planning was theme park tickets. Being an Annual Passholder, I was already taken care of. Now I just had 5 more people to consider! Knowing we only had two park days, hopping was a must.
Two of my children still had two days left from our 2020 Military Salute Tickets, and it was like Walt Disney himself was telling me that the cards were falling into place for this trip to happen.
In the end all I really had to purchase was a 2-day park hopping ticket for 3 of my family members. This ended up being the most expensive part of the whole trip: almost $1,000. Disney theme park tickets are definitely not cheap, but knowing I had gotten such a great deal on flights and a hotel made this an easier pill to swallow.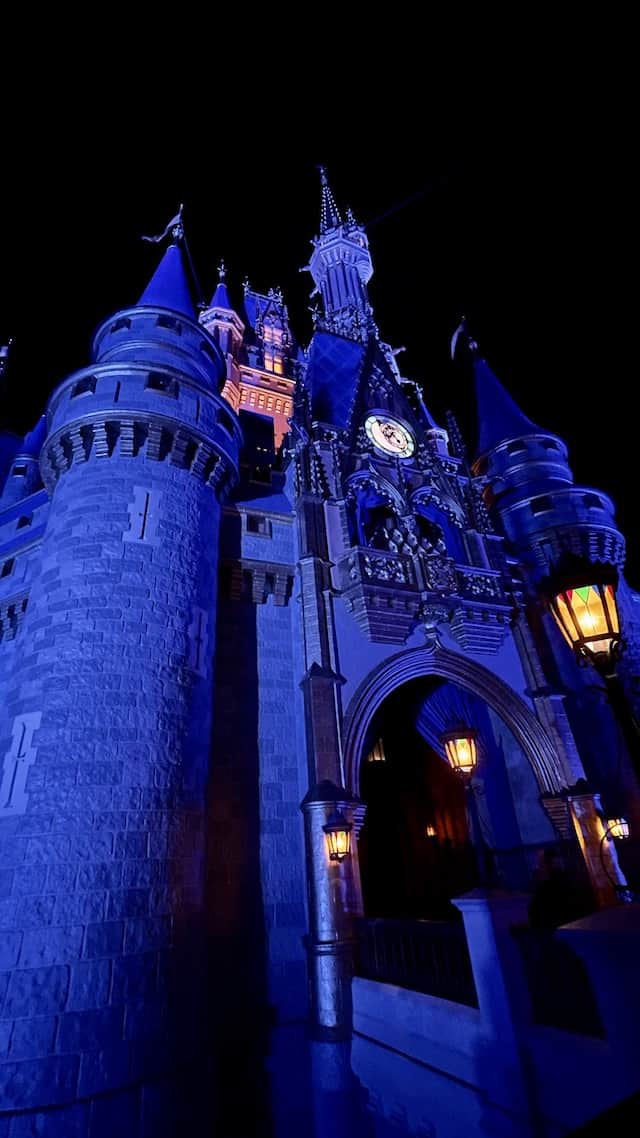 Tip: If park hoppers are too much, consider only buying one-park-per-day tickets. You may not get to see and do everything you want, but it could save you a substantial amount of money.
Tip #2: If this trip will be one of many in the span of a year, consider Annual Passes for one or more people. It may be more up front, but depending on how many trips you have planned you could break even or even come out ahead.
Tip #3: Take advantage of gift card deals and discounted tickets through various companies to save some money on tickets. Many stores will run a promotion during November/December.
Logistics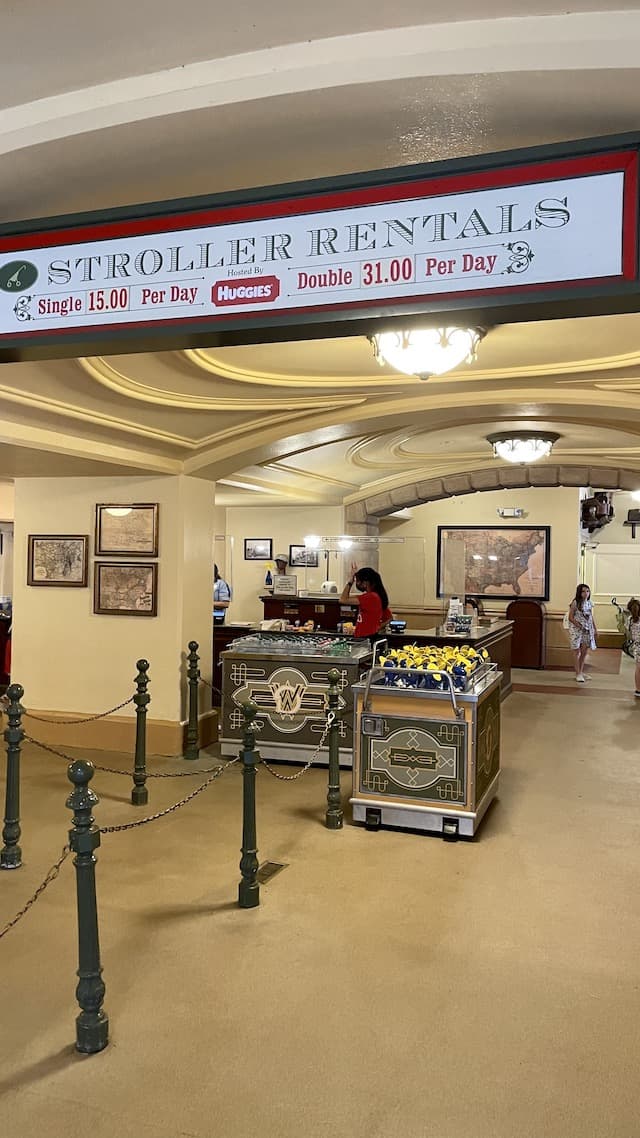 We just had a few other logistics to figure out: transportation to/from the airport, strollers, and how our days would look. I decided to forgo reserving any table-service meals in the interest of saving time and money in the parks.
Shades of Green is not eligible for Magical Express, so I had a private car service arranged to get us back and forth. As an added bonus, they were willing to pick us up and drop us off at the parks! Since we only had a couple backpacks, renting a locker would keep our clothes safe and save us a trip to and from the hotel.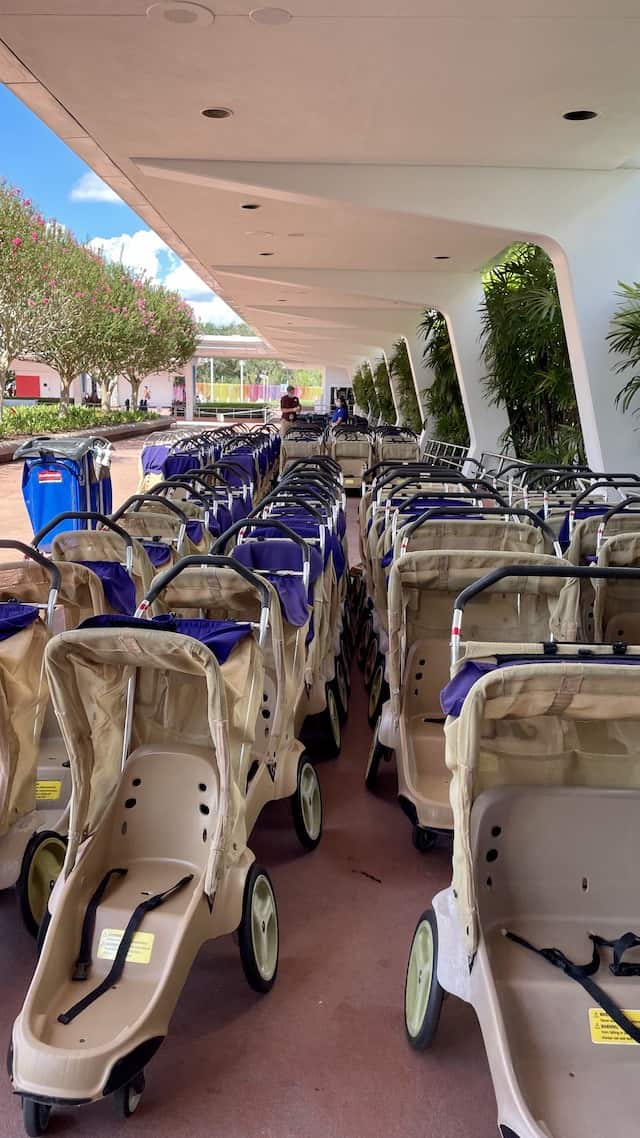 Two of my children still like to use strollers at Disney World, but they don't need them at airports and other places. We decided renting a double stroller for each day of our short trip was worth the price.
Tip: Keep your stroller receipt if you park hop! You can grab another one at the next park at no extra cost.
Expectations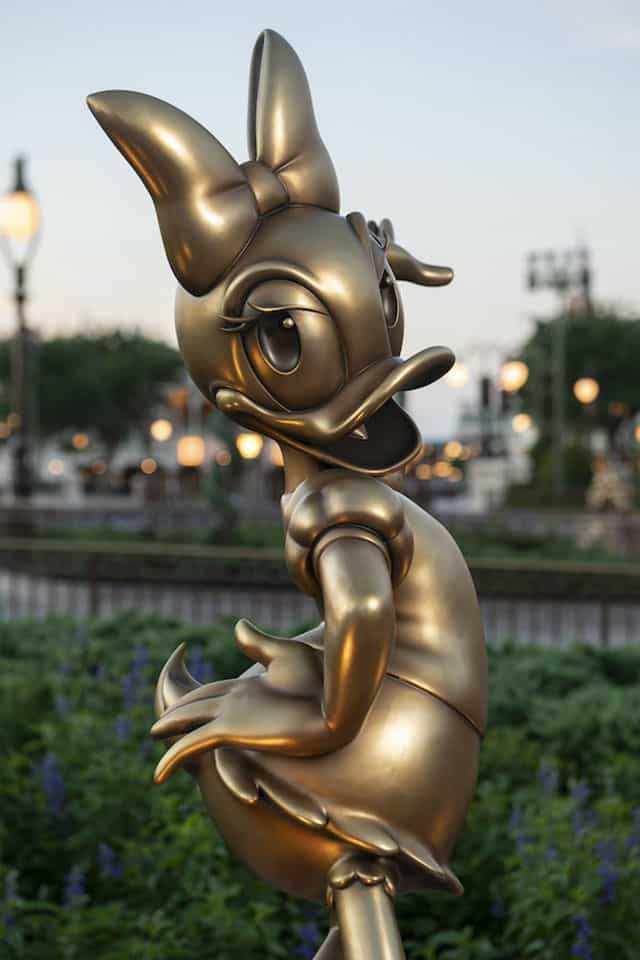 One of our top priorities was seeing Happily Ever After, so we knew we needed to be in Magic Kingdom Saturday evening. Rope dropping Hollywood Studios is the best method for getting a lot done, so we knew we needed to be there on Sunday morning. That left us to fill in the blanks.
We decided to go to Magic Kingdom on Saturday morning, hop to Epcot to enjoy Food & Wine, and go back to Magic Kingdom that night. Sunday morning we would spend at Hollywood Studios and then hop to Animal Kingdom at 2:00. At 6 pm, we would be picked up to go to the airport.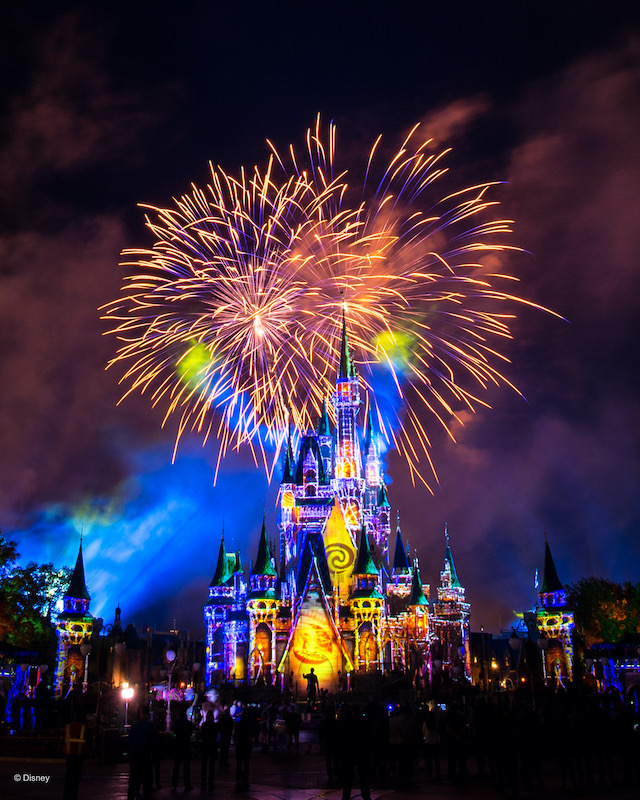 Tip: Get your must-do activities scheduled first and then fill in the rest. In our case, Happily Ever After could only be viewed on Saturday night, and our only rope drop morning would be Hollywood Studios.
Also, it's important to have appropriate expectations for a short trip. Looking back, we should have just skipped Epcot completely. By the time we got back to Magic Kingdom for the fireworks Main Street was already packed and it was hard to find a spot.
Day 1: Magic Kingdom, Epcot, Magic Kingdom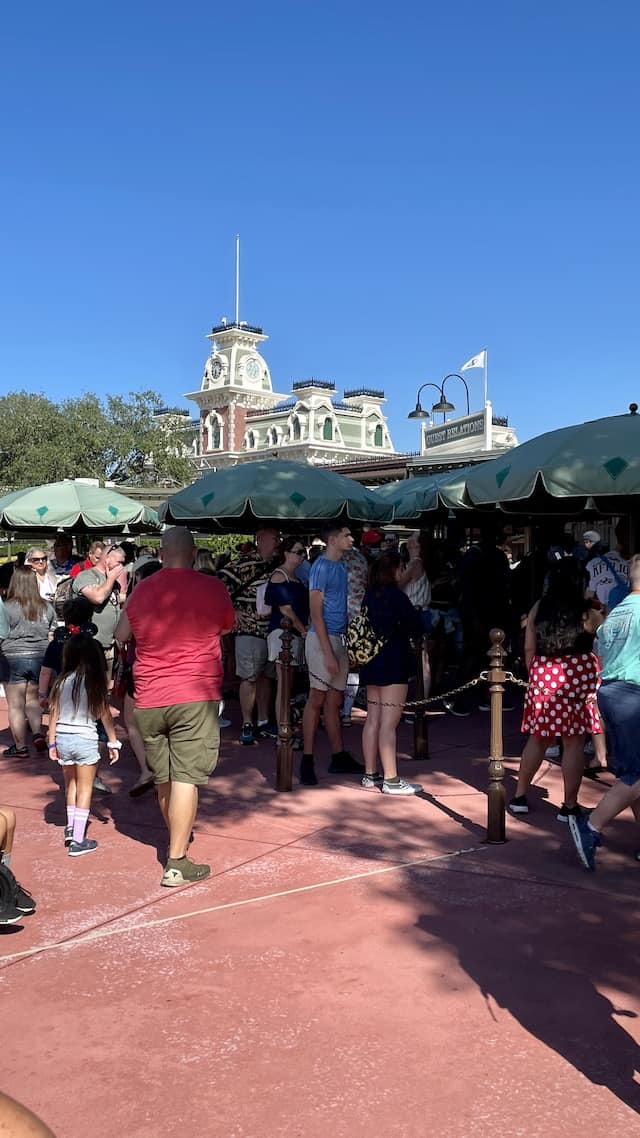 My kids are pretty seasoned Disney travelers, so we know what they like to do, what to skip, and how to work in quick food/AC breaks. Our flight took off a bit later than expected so we got to Magic Kingdom about a hour after we planned. Not only that, but I had to activate my Annual Pass renewal, and the line at Guest Relations was very long.
So while I waited in line outside the park, my husband and kids scanned in and rented the stroller and locker. It was not ideal, and I was surprised how many people roll into Magic Kingdom at 10:30. I am a rope drop person, but again, I had to adjust my expectations.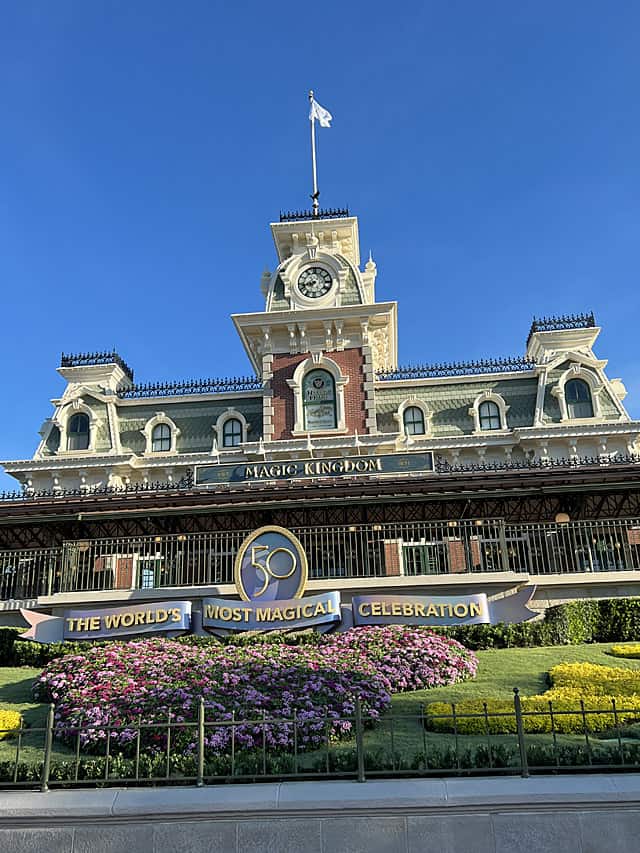 Overall, wait times were definitely not the same as we saw in August and even the first half of September. I was beginning to fear we had scheduled our trip too late in September to enjoy the parks with minimal crowds.
We worked through the majority of the attractions we wanted to do before heading to Epcot at 2:00 pm. At Epcot, we rode Test Track, Frozen, and enjoyed the Florida Blue Lounge. We worked our way through the food booths for Food & Wine and headed back to Magic Kingdom at 7:00 pm.
The problem was it took forever for the monorail to arrive at Epcot. I have never seen anything like it! It really put a delay in our plans, and we didn't arrive at Magic Kingdom until after 8:00 pm. With the fireworks beginning shortly and the crowds packed in on Main Street we had trouble finding a spot for the kids to be able to see the show.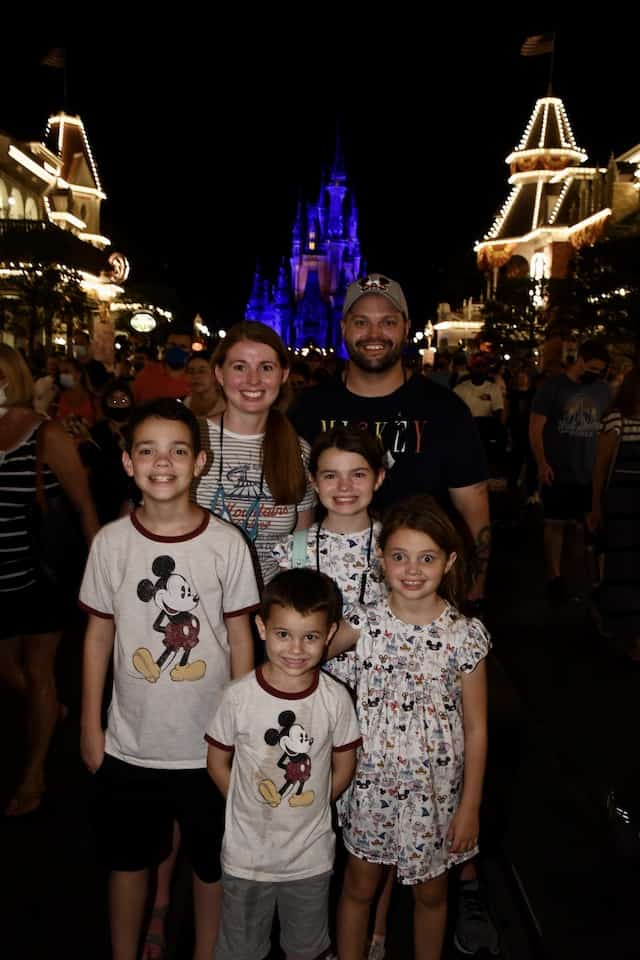 This is why I mentioned above we needed to have realistic expectations. We wanted to eat at Food & Wine, but we wanted to see Happily Ever After more. I should have kept that in mind when planning.
In the end all was well! We saw Happily Ever After one last time and rode Big Thunder Mountain Railroad at night which is a family favorite. We took the monorail to the Polynesian and walked to Shades of Green.
Day 2: Hollywood Studios and Animal Kingdom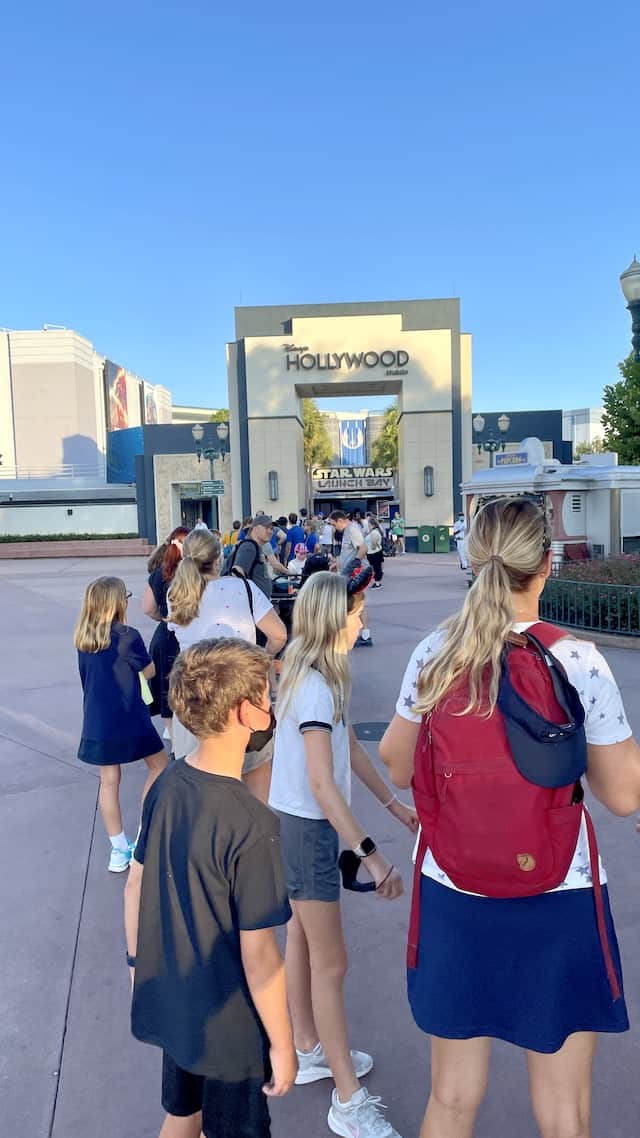 With a solid 7 hours of sleep and showers, we were ready to rope drop Hollywood Studios! I won't divulge too much because I already covered how we rode almost every ride without a wait.
I will say this day went much smoother than the previous day due to the fact that we got there early. We even had time to find a last-minute reservation and have lunch at Mama Melrose.
At 2:00 pm we headed to Animal Kingdom. The waits were short here as well, and we enjoyed many of our family-favorite attractions like Flight of Passage and Expedition Everest! One special landmark was also reached during this trip: my youngest was finally tall enough for the 44″ attractions! We got to enjoy so many rides with all of us for the first time, and that was really special.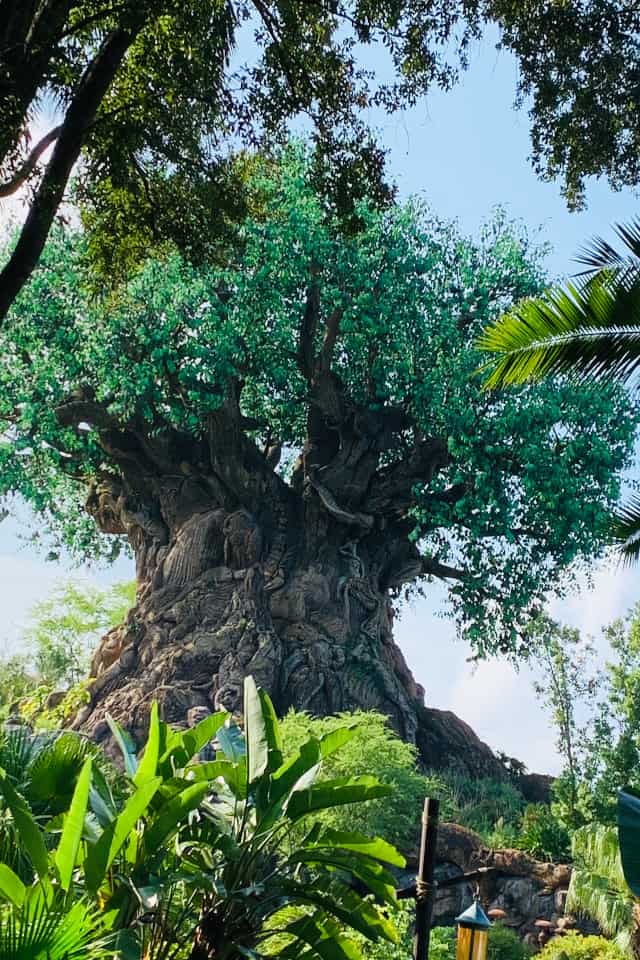 Tip: Rope drop is your best friend. We were done with everything before noon and had a few hours to relax and enjoy ourselves knowing we accomplished everything we wanted. We were not able to say the same about Magic Kingdom, but that's ok! Realistic expectations.
At 6:00 pm we headed to the airport. Our flight home was uneventful, and we still made it to school on time the next day after getting home so late.
Was this quick trip worth it?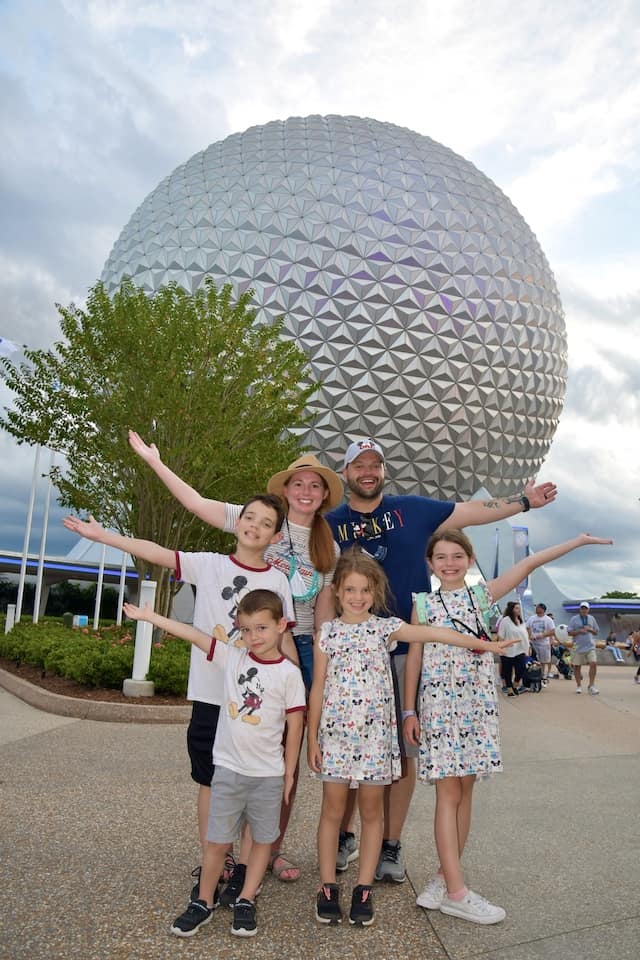 I learned some valuable lessons during our two day trip. The first one being that yes, it is possible! Two weeks of diligently checking hotels, flights, and my calendar and I got it to work. I can't tell you how many times I would check and decide there was no point in trying. I am glad I persisted.
My second biggest takeaway is to set realistic expectations. We usually take mid-day breaks, but I knew this trip would be different. It may not seem fun to work that food break in or watch a show to get off your feet for a few minutes, but these are very important. They gave us a chance to recoup and be ready for more fun without leaving the park. That Florida Blue Lounge really came in handy in the hot sun!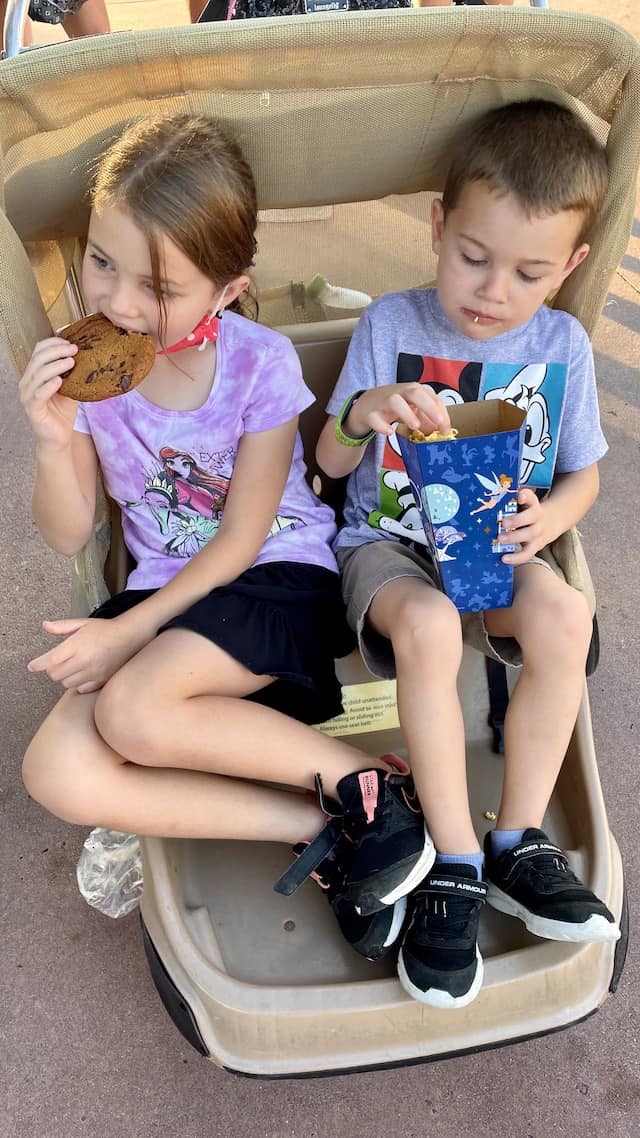 Speaking of expectations, my youngest daughter was not happy that we didn't get to ride Splash Mountain. It was a good lesson for her that we don't get to do everything we want at Disney. We accomplished what we wanted, with the biggest thing being Happily Ever After. Everything beyond that was a bonus.
It made me feel very grateful that we are able to take our kids on this trip no matter how short it was. Being able to visit Disney is a privilege that I don't take lightly. Working through all the planning and logistics was worth it to have a fun weekend with my favorite people in the world. We return this Christmas for a much longer vacation! Would you like to see how that goes for us?
Have you ever taken a quick trip to Disney before? How did you plan it? Join the conversation in the comments below and on Facebook.