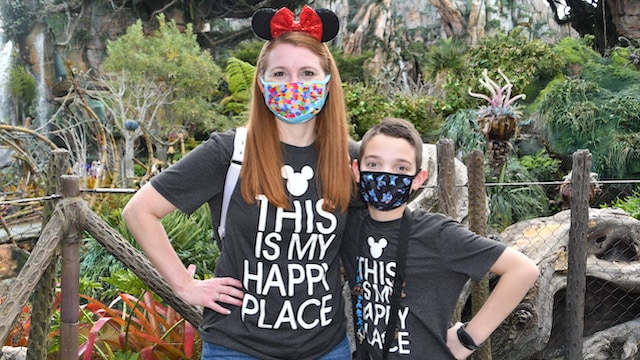 My son asked for a special Disney trip to celebrate our birthdays! How could I say no? I'm sharing all we did, where we stayed, where we ate, how we managed the Valentine's/President's Day crowds, and more in this trip report.
Birthday Trip!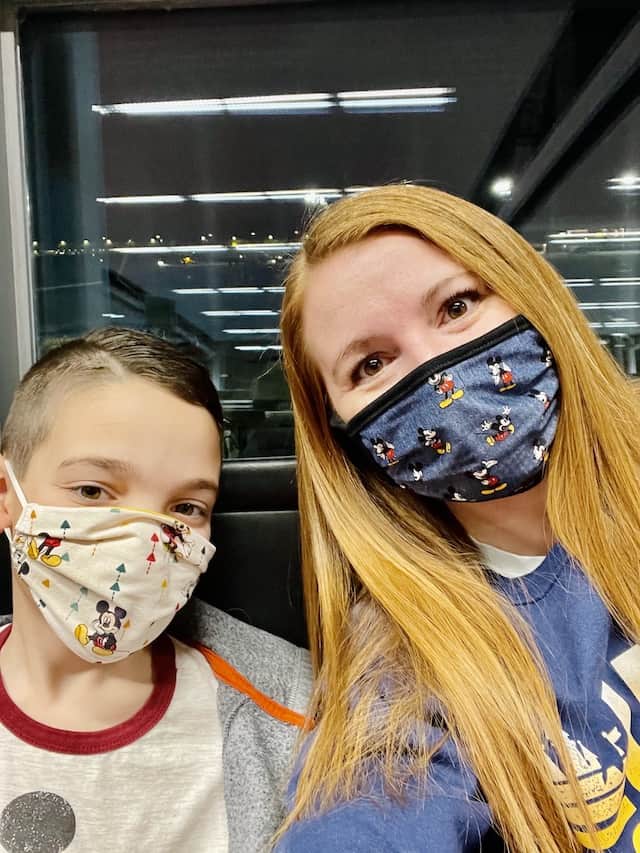 My son and I are birthday buddies, as we say. His birthday is the day before mine! For the past 6 years, him and I have gone on a special birthday date – usually lunch, a movie, and Chuck E. Cheese. This year, however, he asked if I would take him on the ultimate birthday date for his 11th birthday: Disney World!
How does one say no to that?! I have no idea, and believe me when I say I jumped on the chance to take him without his 3 other siblings.
To plan for our special vacation, I didn't have to do much compared to other trips. I figured quick-service food would suffice for most meals so we wouldn't have time constraints. We planned the attractions we wanted to experience and used Character Locator's touring plans. I booked flights, one night at Bay Lake Tower, and two nights at the Dolphin hotel!
Wednesday, February 10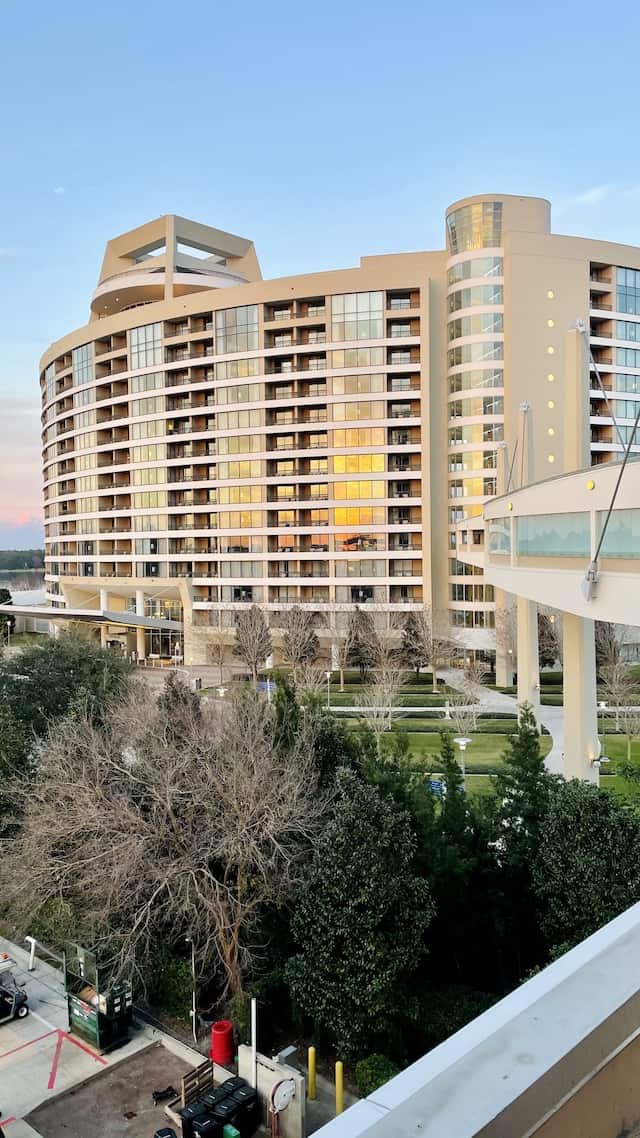 We landed in Orlando around 10:30 am and hopped on the Magical Express. My son loves to swim, and he really wanted to enjoy the pool and warm weather in February. Knowing deluxe resorts have the best pools on property and I wanted to be close to Magic Kingdom, I set out to rent points at Bay Lake Tower. I have done this several times before and since I was within 2 months of travel, I found a great deal on points from a private renter.
If you would like more information on renting points, check out my guide HERE. Ashley also shares some great benefits of staying at DVC resorts HERE.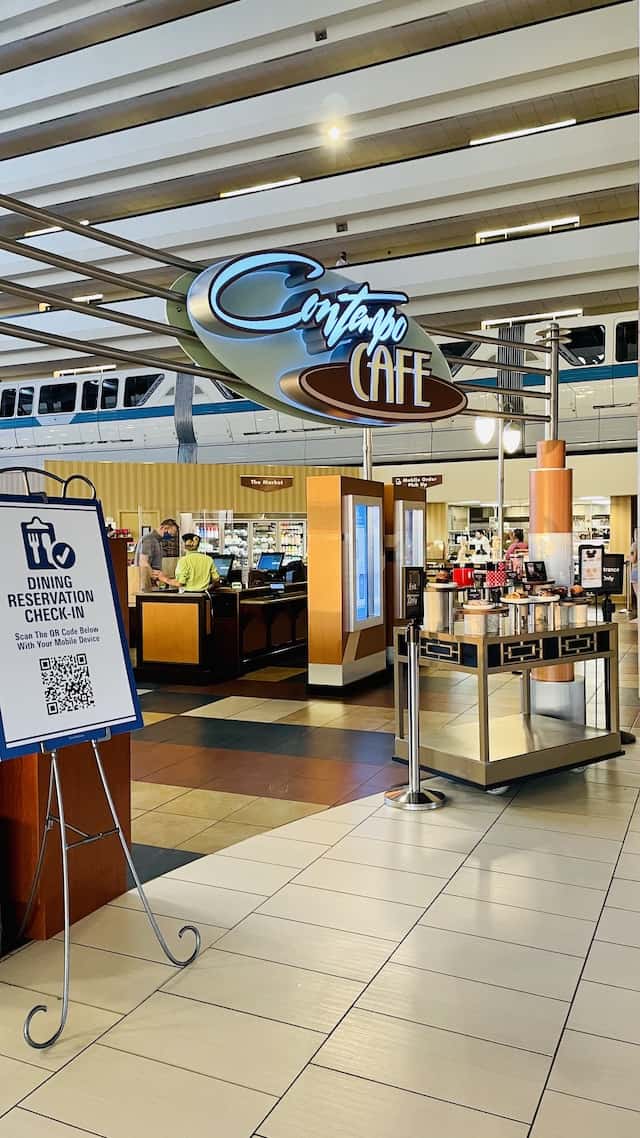 We got to Bay Lake Tower right around lunch time so we grabbed some food at Contempo Cafe. Overall, not a terrible place to eat. You can read my full review to see what we ordered!
We then used a car sharing service to get to the Character Warehouse. If you've never heard of this before, it's basically an outlet store for Disney merchandise! They had a lot of leftover Food and Wine Festival merchandise, apparel, plush dolls, pins, and more. I managed to grab a few pairs of Minnie Ears, a Pandora Magic Band, and a t-shirt among a few other knick-knacks.
Pirate tip: Be sure to plan for about an hour of waiting time before being able to enter the store. They use a virtual queue to manage physical distancing.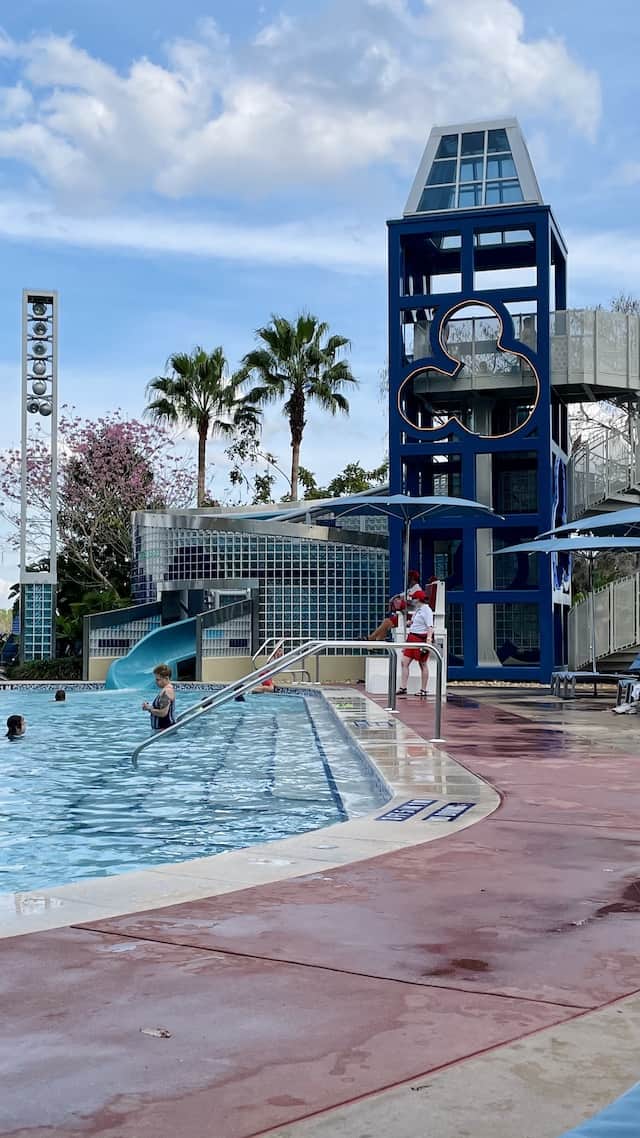 After we got back to Bay Lake Tower, we decided to check out the pools! First, we swam in the Bay Cove Pool, which is the DVC feature pool. After a dinner break at Contempo Cafe (again), we swam in the feature pool over on the Contemporary side.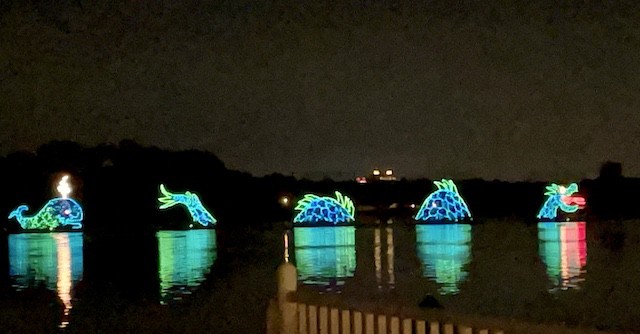 Finally, we finished off the night by enjoying an almost-private show of the Electrical Water Pageant! The water parade comes through the back side of the resort, and there were not many other people on the pier with us. It was great!
Thursday, February 11 – Magic Kingdom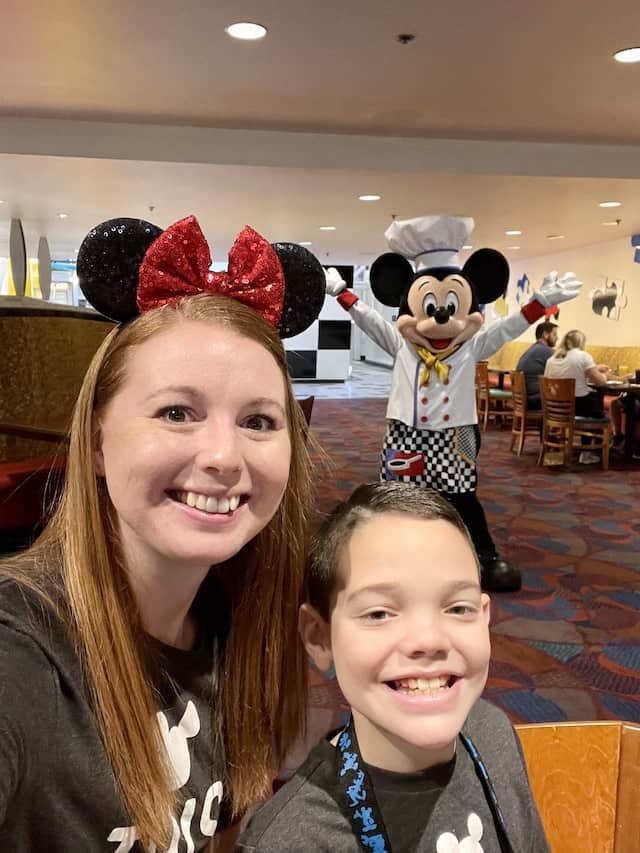 Our stay at Bay Lake Tower was coming to an end so before heading out, we took our luggage to bell services. I was surprised to learn that they would move to the Dolphin hotel for me! I assumed they would not since it's not technically a Disney hotel.
We officially began our day eating with Chef Mickey and his pals! It was very convenient just walking over to the main building at the Contemporary. Even though there aren't many character meals these days, I have to experience one during every trip!
We were on a bit of a time constraint because our reservation was at 7:30 and the park "officially" opened at 9 am. This meant they would likely start letting Guests in around 8:15 or 8:30. We sped up the process a bit more by making sure we had the earliest reservation possible and paying for our food at the beginning of the meal. As soon as we ate and saw all the characters, we used the private walkway to head to Magic Kingdom.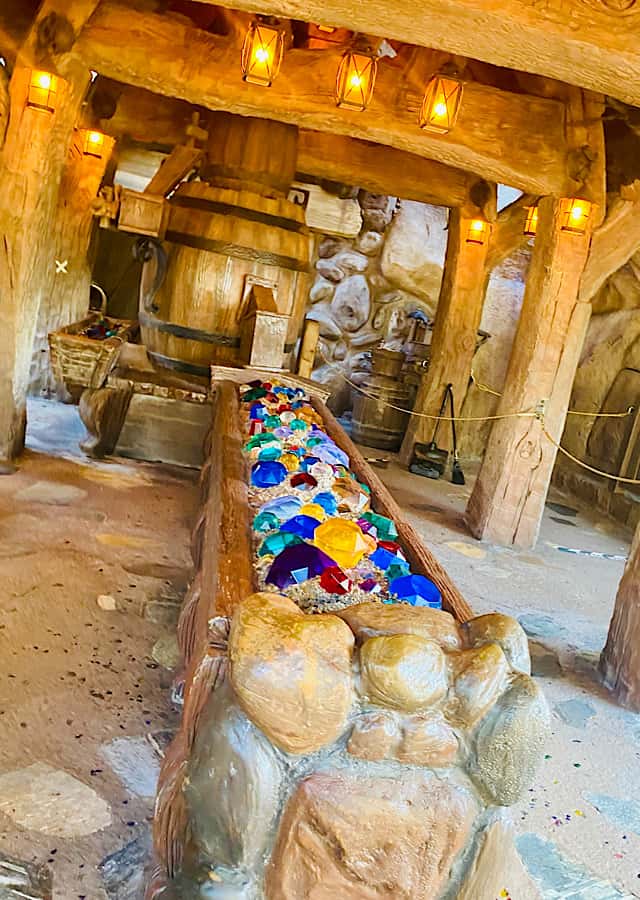 My son and I made it through temperature screening, bag check, and into the park at 8:30. We met up with Kenny the Pirate and headed towards Seven Dwarfs Mine Train first. We were quite disappointed to be held there in the queue until 8:55. By being held there, it allowed all the other attraction queue lines to fill up.
This set everything off by about 30 minutes. After riding Seven Dwarfs, we rode Peter Pan's Flight, Big Thunder Mountain, and had a little snack by 10:15. We rode Haunted Mansion next and then said our goodbyes to Kenny. Luke always enjoys the Tomorrowland Speedway so we headed toward Tomorrowland for a drive and some lunch at Cosmic Ray's. We made sure to get in for lunch before the big crowd, and we slipped out as most people were coming in!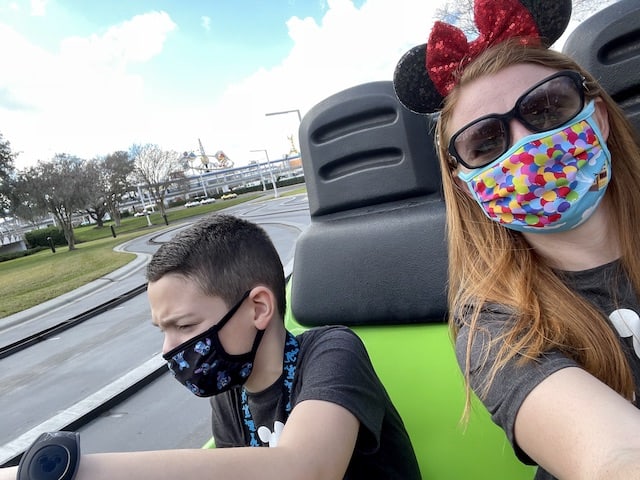 Next, we rode Buzz Lightyear and Space Mountain and then waited the 40 minutes for Pirates of the Caribbean before leaving the park. Overall, our wait times at the park were minimal because we had a good plan and knocked out the big rides in the morning.
Thursday, February 11 – Animal Kingdom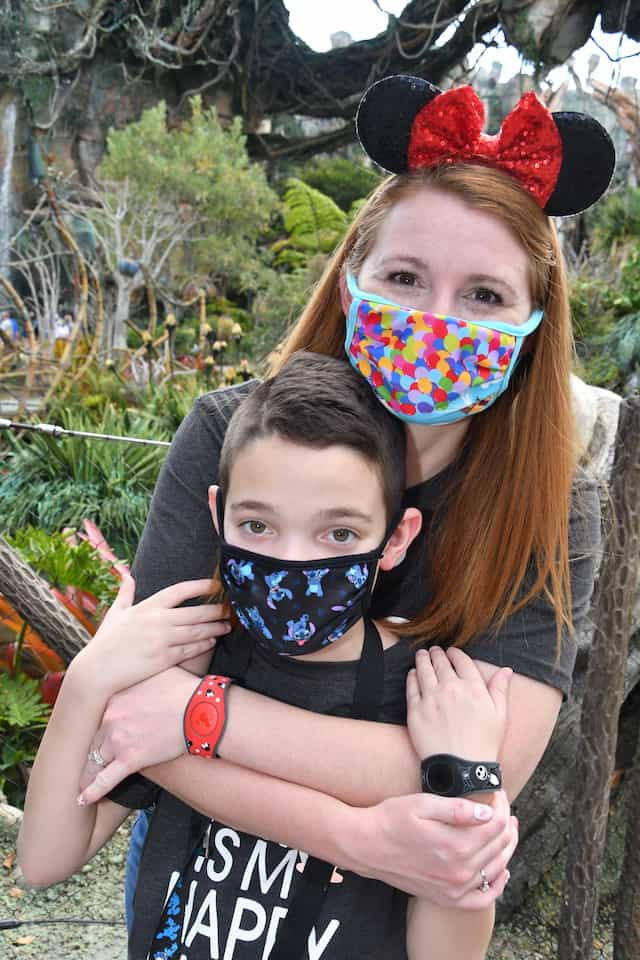 We took a bus to Animal Kingdom and arrived a few minutes before 2 pm. We headed straight for Flight of Passage where I was delighted to see the wait time was only about 25 minutes! The queue line only took us about 15 minutes to get through, and soon we were riding on our favorite ride in all of Disney!
My son is obsessed with Joffrey's donuts so we stopped in Asia and took a break. Walking from one end of the park is no joke! We always love sitting behind Drinkwallah on the water to rest and catch a cavalcade or two. It's quiet, peaceful, and shaded.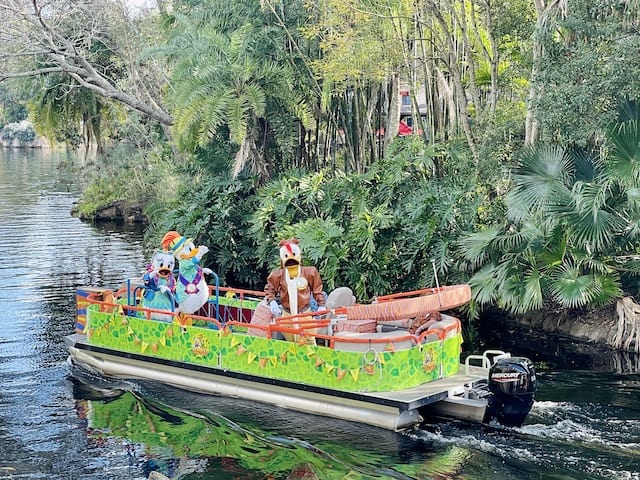 Next, we headed over to Expedition Everest to ride our other favorite ride. This ride had no wait. If it wasn't for Expedition Everest and Flight of Passage, we wouldn't have even visited Animal Kingdom on this trip. We finished all we set out to do by 3:30 pm and headed to the Dolphin hotel to check in.
The rest of the day was spent swimming! He really wanted to swim knowing the next day would be a lot busier. We also walked over to the BoardWalk and grabbed some pizza for dinner. I had really hoped to go back to Magic Kingdom for the evening, but the pool was calling our names!
Friday, February 12 – Hollywood Studios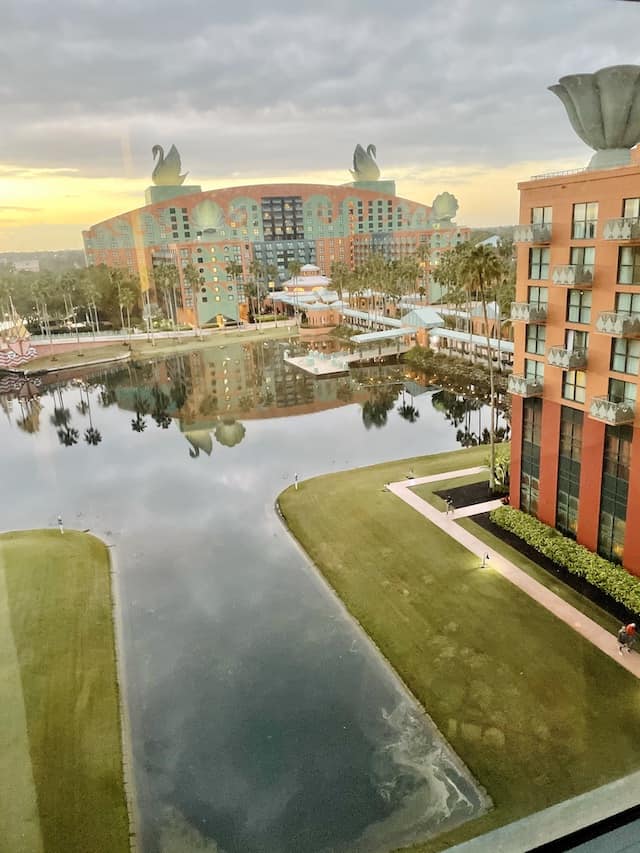 Friday was my son's 11th birthday! First, we successfully grabbed a boarding group for Rise of the Resistance! We ate breakfast in our room and started the walk towards Hollywood Studios.
Here are my thoughts on the Swan and Dolphin hotel. Overall, they are nicer hotels. They are not Disney themed but are in a great location and are much more reasonably priced than other BoardWalk resorts. I paid less than $200/night with my Annual Passholder discount, and I would have paid double that for a cash reservation at Beach Club or BoardWalk. Being able to walk to Hollywood Studios and EPCOT is a major perk as well, but transportation to the other parks can be a pain.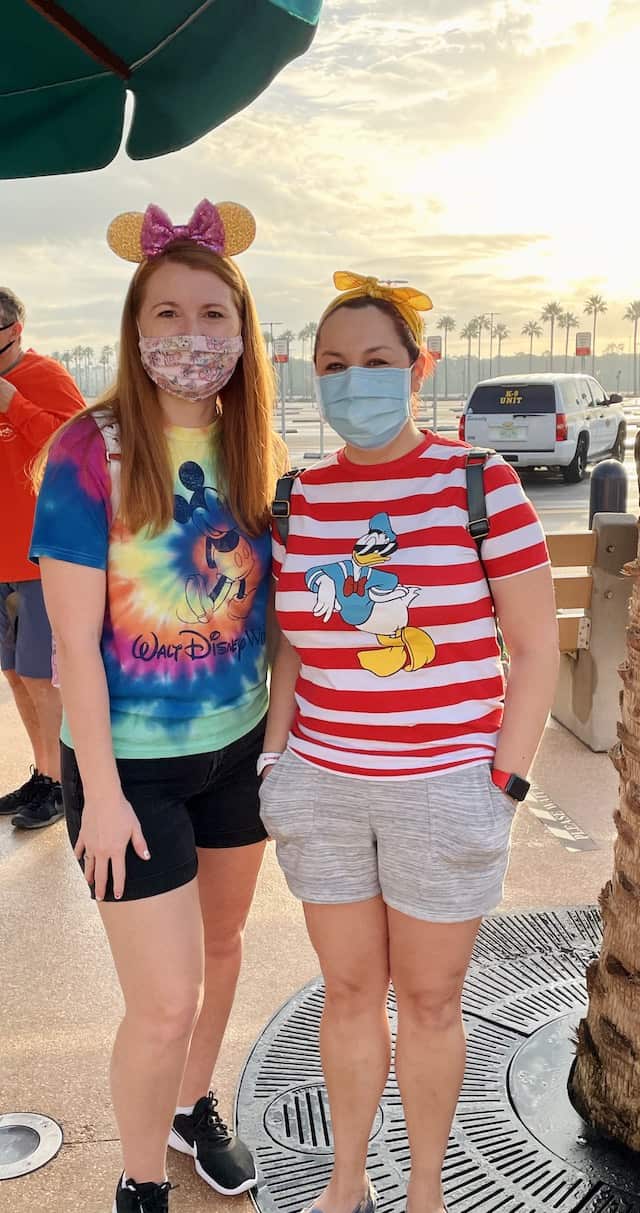 We arrived at Hollywood Studios around 7:45 am for a 9 am opening. The Skyliner begins running a little over an hour before official park opening so getting there before those Guests is a huge advantage. We were led to temperature screenings and waited there until about 8:10. I ran into fellow writer, Marisol, and her family while we were waiting there! It is always nice to see these great friends at Disney!
After entering the park, we went straight to Mickey and Minnie's Runaway Railway. We were on the ride by 8:20 am and then headed straight to Slinky Dog Dash after that. We waited about 20 minutes there to get that done before 9 am. Finally, we completed Toy Story Land by doing Toy Story Mania!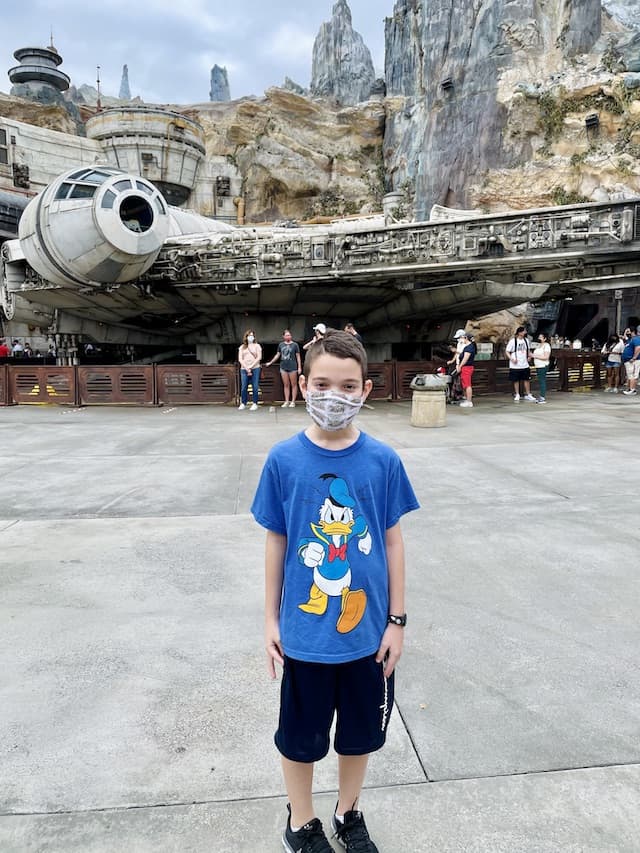 By 9:20 we were in Galaxy's Edge in line for Smuggler's Run. By this point, the queue was already 30 minutes and shortly after we jumped in, it bumped to 50 minutes. We got through shortly before 10 am and then met up with another KtP Writer, Susan, and her husband!
The four of us rode Rock 'n' Rollercoaster and Tower of Terror before grabbing lunch at Sci-Fi Dine-In Theater. Our family had dining reservations for our April 2020 trip that didn't happen, and my son has been really wanting to try this place out.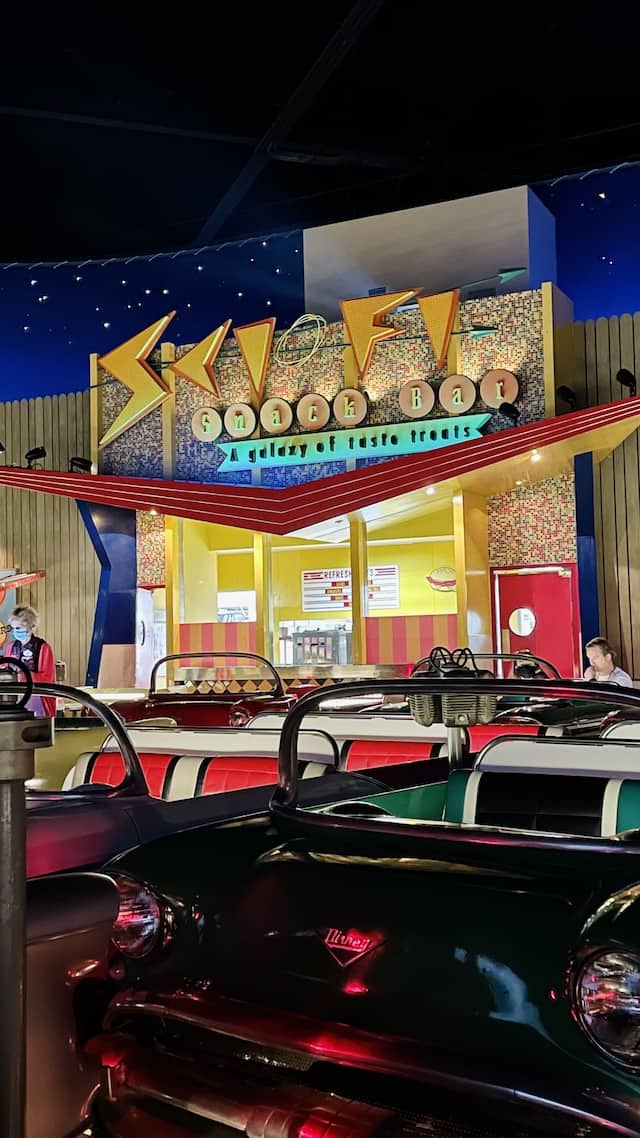 I do want to say that I had a much different experience than Kenny did (which you can read in the link above). Our food was amazing! The burgers and fries were both hot. The shakes tasted great, and we even got a free hot fudge sundae for the birthday boy! We really enjoyed our meal there, and the atmosphere is very unique.
After we ate, it was time to ride Rise of the Resistance! I know my son didn't want to ride it, but it was my birthday trip too! After that, we built his lightsaber at Tatooine Traders. Read all about our experience HERE.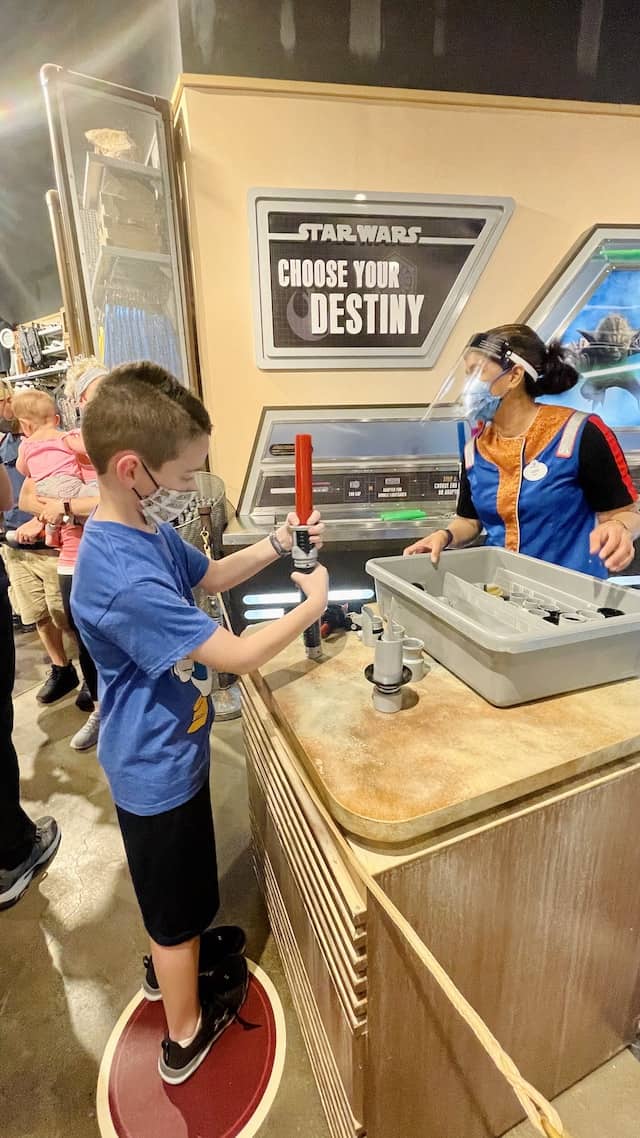 By this time, it was 2:00 and we were ready to head back to the hotel for a short break before heading to EPCOT. We took the friendship boat back to the Dolphin and rested for about 30 minutes.
Friday, Friday 12 – EPCOT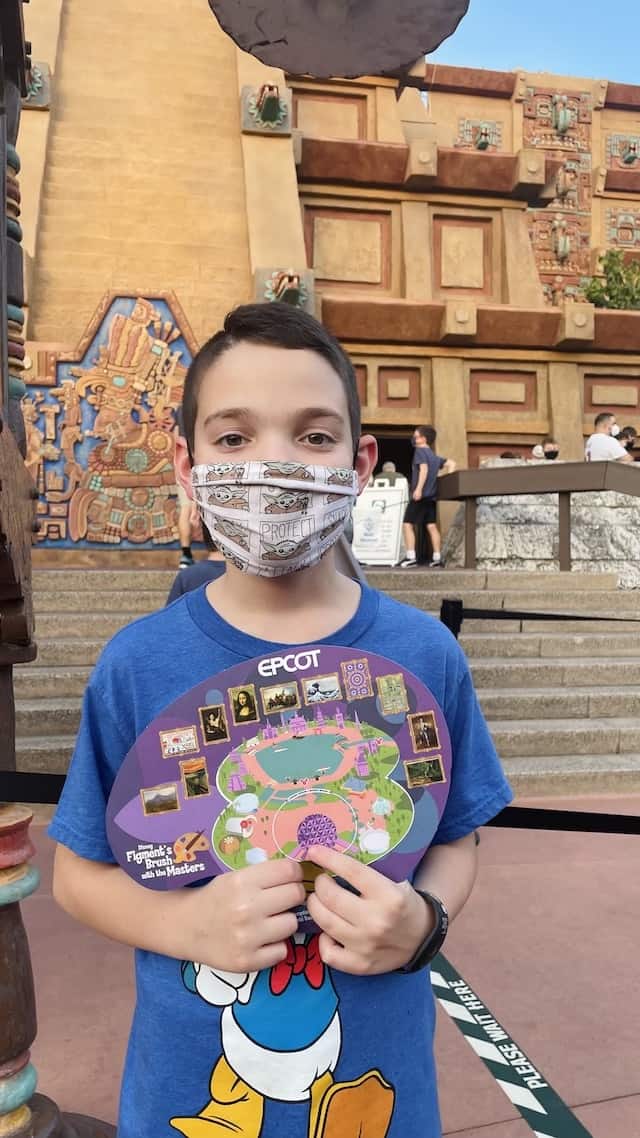 My son and I entered EPCOT at about 3 pm. We immediately grabbed our Brush with the Masters scavenger hunt map! This is a neat activity for kids (or adults!) to do during Festival of the Arts. Just be careful as the stickers may fall off the back! We had to go back to International Gateway to grab a new one.
We then explored all the pavilions looking for the Figment paintings! Marisol and Susan were also at EPCOT that day as well so we enjoyed more time with them. Once we completed the scavenger hunt, we got a stamp on the map and a 3D puzzle as a prize.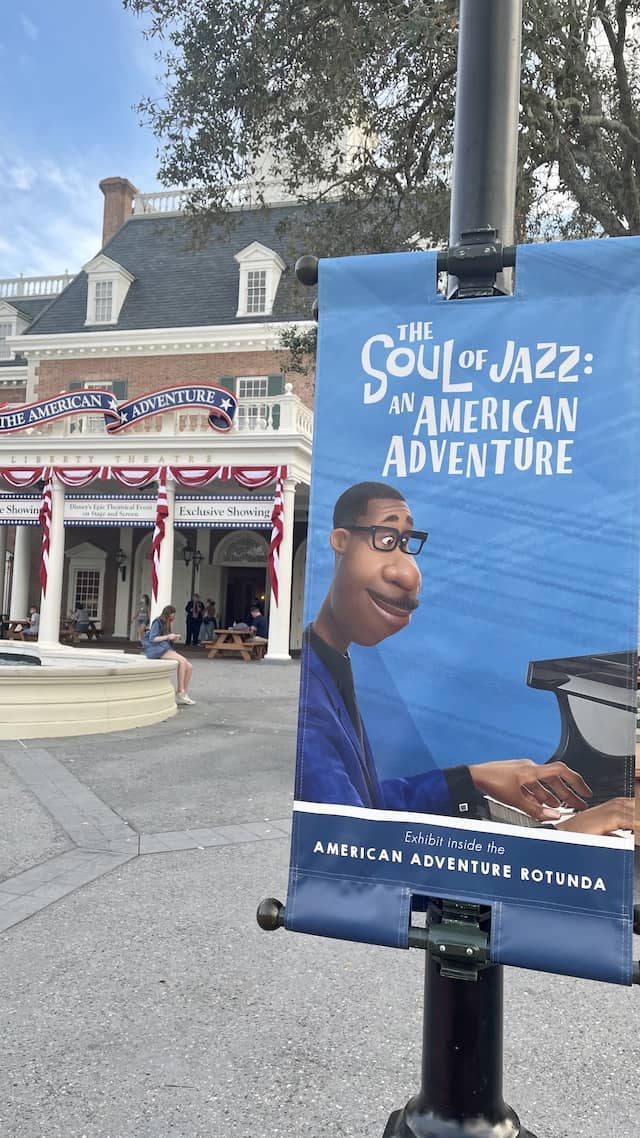 During our time in the World Showcase, we also watched the Jammitors, Mariachi Cobre, and Voices of Liberty! I love all the entertainment at EPCOT. I also had the opportunity to check out the Soul of Jazz exhibit in The American Adventure.
For dinner, we went to Sunshine Seasons. I have had some decent meals there in the past, but this dinner was the worst I've ever had there. My son took one look at the pizza and decided he would just wait for another Joffrey's donut. I ate the kids drumstick but wasn't happy about it!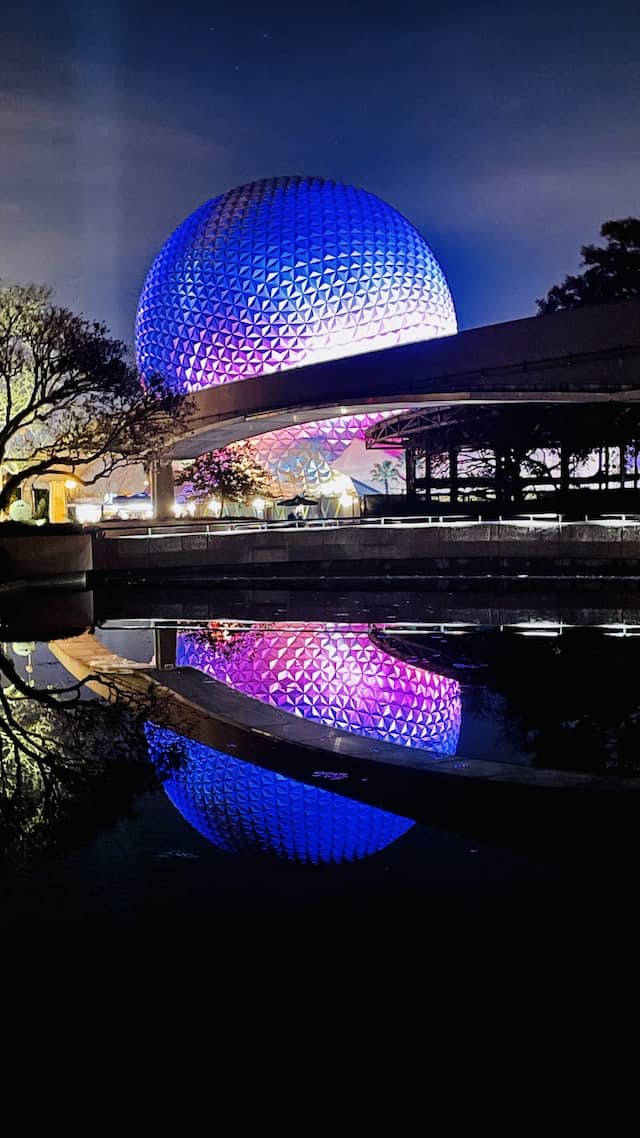 After dinner, we rode Soarin' (my favorite ride at EPCOT), Spaceship Earth, and Test Track. I intended to do these rides last because I had secret plans to hop to Magic Kingdom once EPCOT closed! It was easy to hop on the bus at the front of the park and get there around 8:30 pm.
Friday, February 12 – Magic Kingdom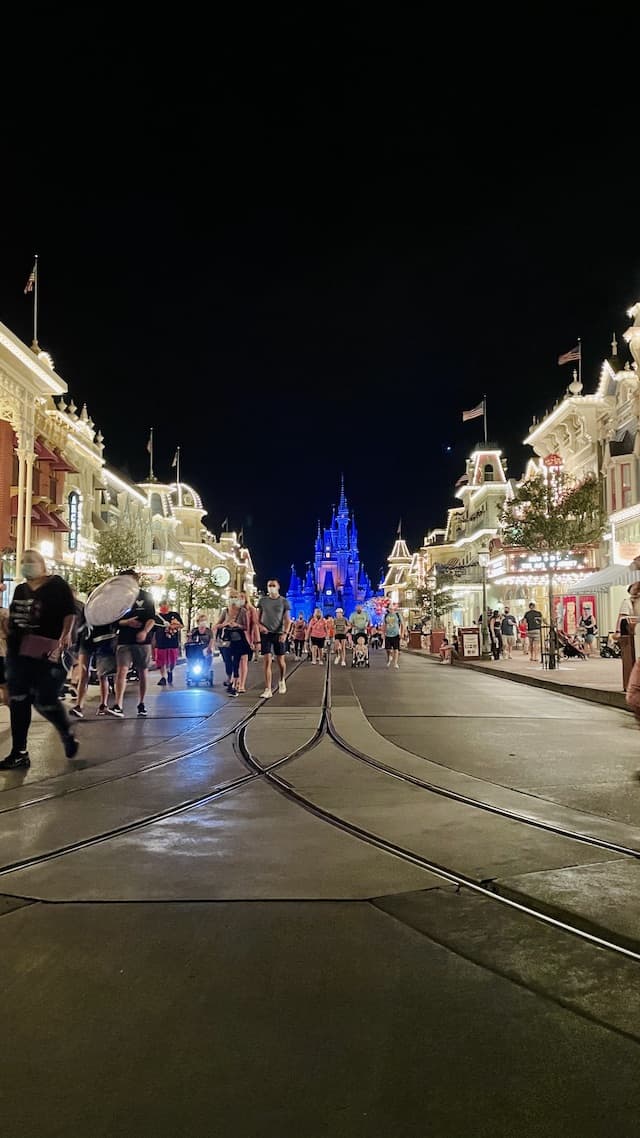 I don't really know what I was hoping to accomplish at Magic Kingdom that night other than try to suck all the magic out of that day that I could! It was my son's birthday, and the park closed at 10 pm that night. I figured we could have a bit more fun!
The parks were quite crowded all day as this was the start of Valentine's Day and President's Day weekend. We started out by sitting on Main Street for a few minutes and just watching our surroundings. I love standing there with the lights on all the storefronts, the people walking around, and the Castle all lit up at the end. The ambiance on Main Street at night cannot be beat. It is one of my absolute favorite parts of Disney World.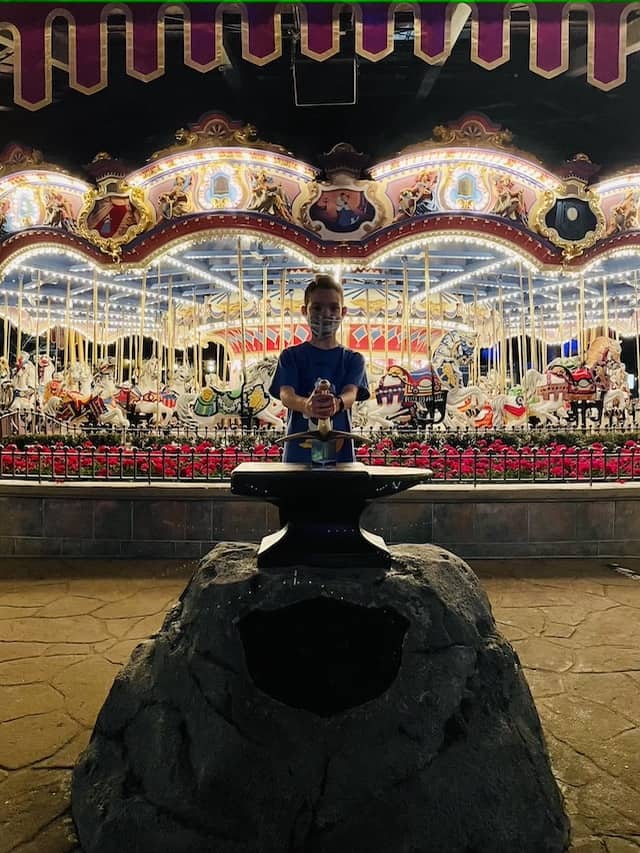 We then rode Tomorrowland Speedway, headed toward Barnstormer, and ended the night at Seven Dwarfs Mine Train. Having only completed three rides that night, I was starting to second guess my decision to go to Magic Kingdom after a really long day to only do three rides.
After closing, we took a bus to Yacht Club and then walked the ten minutes to the Dolphin hotel. My feet were blistered, and our legs were exhausted. We got back to our room at 11:30 and crashed. Little did I know how grateful I would be that we went to Magic Kingdom that night…
Saturday, February 13 – Magic Kingdom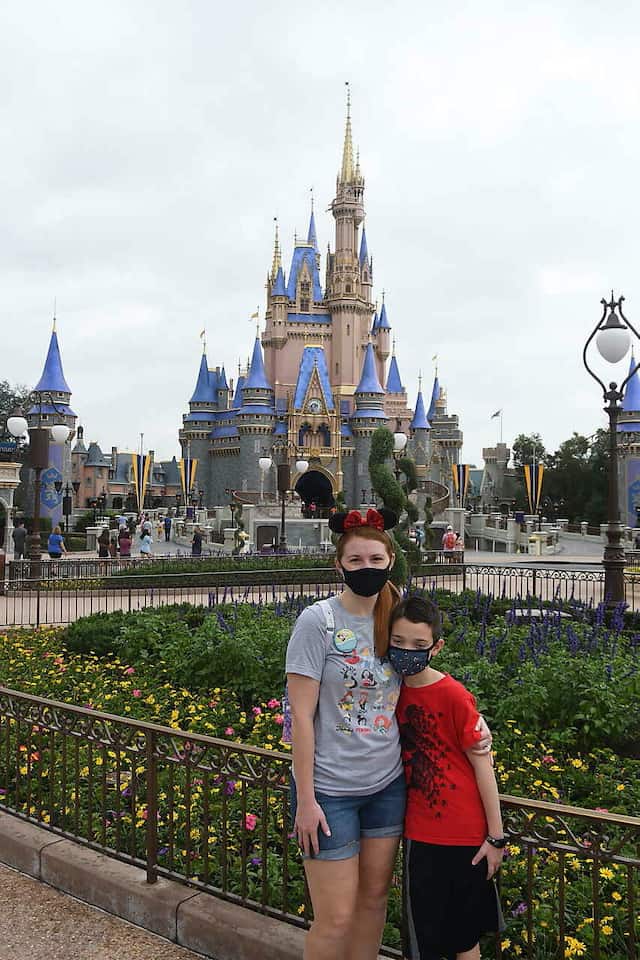 Saturday was my birthday! We were originally supposed to enjoy a relaxing morning at the hotel and maybe grab breakfast at Primo Piatto, but I couldn't stand the thought of not spending my birthday in the Magic Kingdom.
After entering the park that morning, we were disappointed to see the rides were not running before official park opening again. Splash Mountain has a habit of not opening on time, but we decided to take our chance since we did not ride it on our first day there. The line for Big Thunder was not nearly as long so we thought if Splash was delayed we could hop in line for Big Thunder.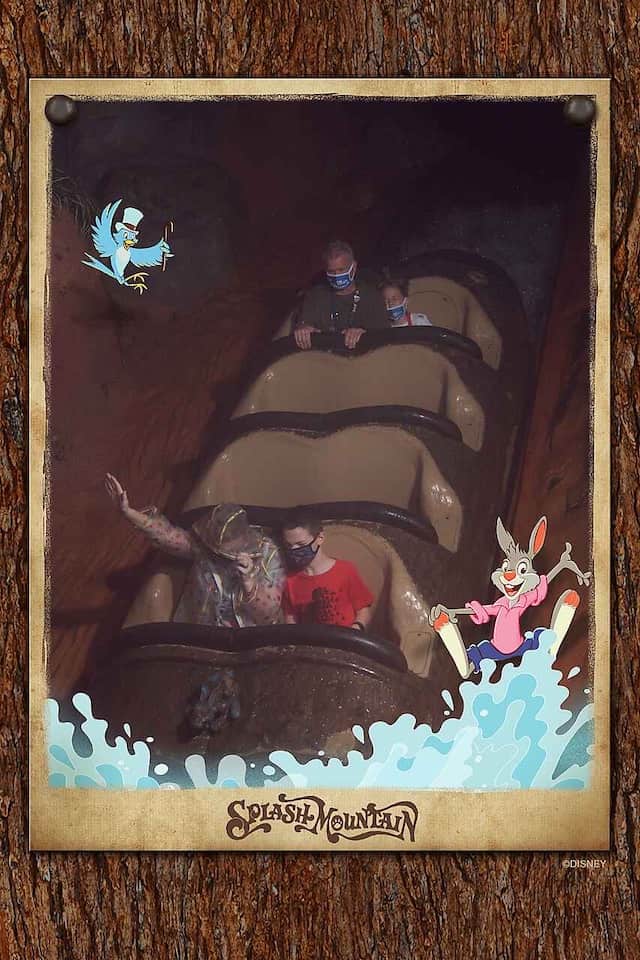 Thankfully, Splash Mountain loaded right at 9 am, but by the time we got off it was raining pretty steady. We headed to Pecos Bill's to wait for the rain to let up a bit, but it only got heavier. Thinking once we got to Haunted Mansion and did an indoor ride the rain would die down, so we headed there. It did not slow down, and on the way out of the ride we were ankle deep in puddles!
By this point, we were both over the rain. It was not letting up, our feet were drenched, and we had to leave for the airport at noon anyway. So we headed back to the Dolphin to dry our shoes and catch the uber.
Let me tell you, people say a rainy day at Disney is better than a sunny day anywhere else, but I'm not sure I believe that! We were both so ready to be home. Travel days are stressful enough as it is. While I'm glad I spent my birthday at my happy place, I was also so relieved to be back home.
Final Thoughts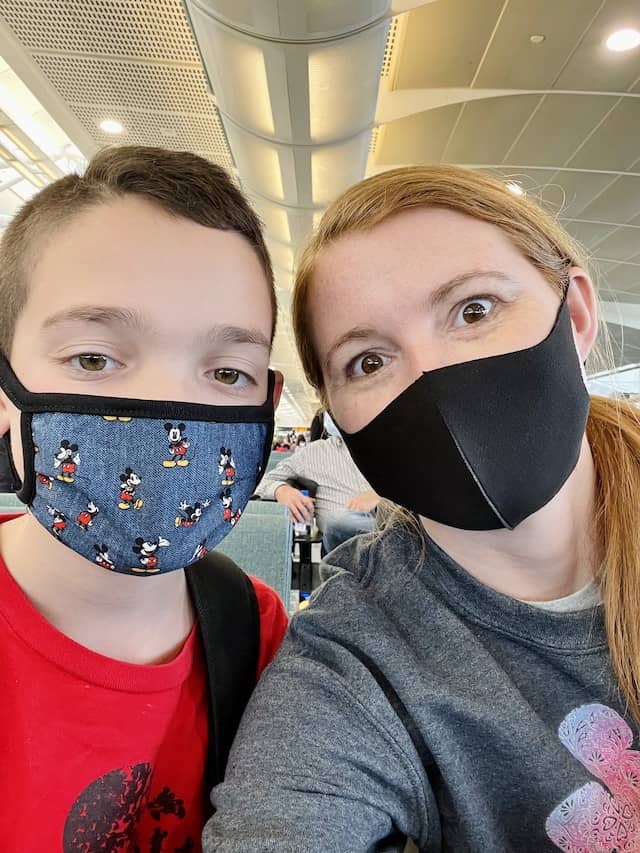 Our birthday trip was a lot of fun. We had a lot of special bonding time and shared some sweet memories I will not soon forget. Thankfully, we missed the majority of the busy crowds by leaving on Saturday morning, but we could still tell there was a large influx of people compared to Thursday.
Having a good touring plan is essential, especially during the weekend. And, especially during busy travel periods. Using Character Locator saved me a lot of time waiting around in lines!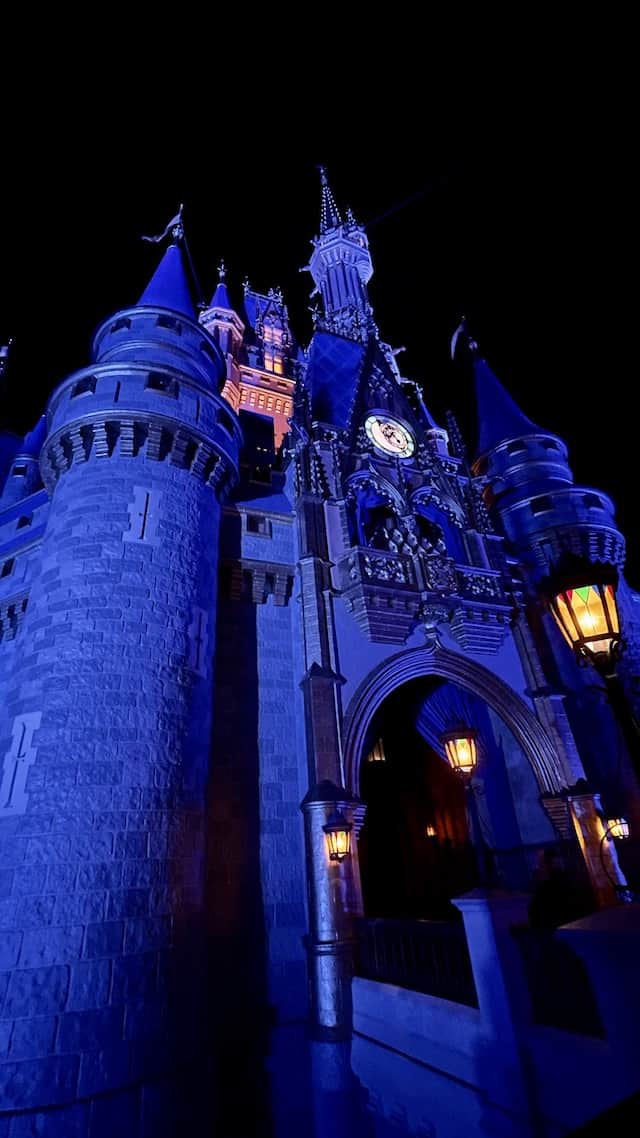 We really enjoyed Bay Lake Tower and kind of wish we had stayed there the entire time, but having the ability to walk to Hollywood Studios was worth moving resorts. It put us at a major advantage and allowed us to complete 4 headliners within the first 2 hours. I am a big fan of avoiding bus transportation at rope drop!
We recently celebrated other birthdays in our family using these tips HERE. Now, my daughter has asked for a special birthday trip in June… I may have started something here!
I hope this report helped you in some way or another! If you have any questions about my trip feel free to ask them in the comments below or on Facebook!