A soulful exhibit has arrived at EPCOT. Here is what you can expect to see at The Soul of Jazz: An American Adventure.
Soul of Jazz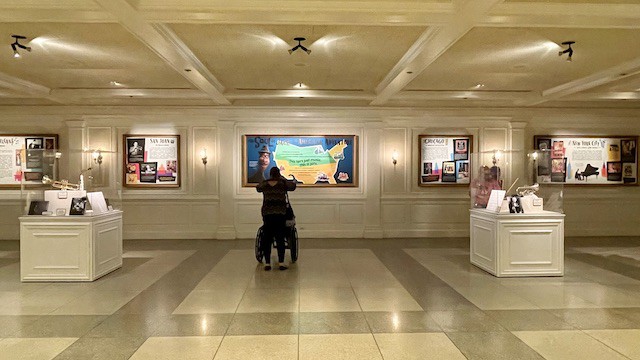 Back in January, Disney announced a new exhibit would be arriving at The American Adventure in EPCOT's World Showcase.
Guests can explore the colorful and surprising history of jazz. Join Joe Gardner, the star of Disney/Pixar's Soul.
If you haven't seen Soul yet, the film follows Joe, a middle school band teacher, as he gets the opportunity of a lifetime to play in the best jazz club in town. However, he winds up in The Great Before – a place where new souls get their personalities before they go to Earth. Joe teams up with 22 to return to his life on Earth. Along the way, he shows 22 the beauty of living and answers some of life's most important questions.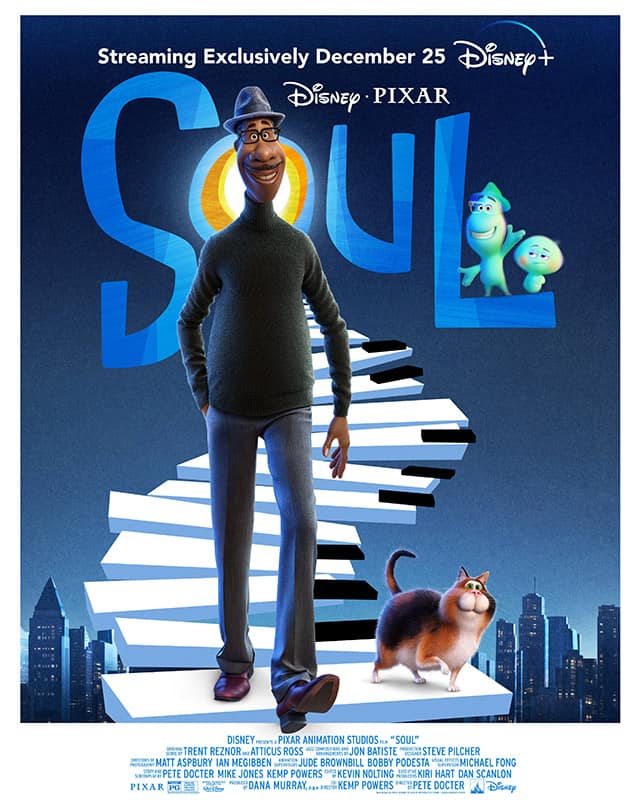 In the exhibit, Guests get a musical tour of North America, including stops in New Orleans, New York City, San Juan, and more. Disney is actively working with jazz museums across the nation to make this exhibit a possibility.
The exhibit opened on February 1. It will remain open past February, but we do not have an end date at the time of publication.
The American Adventure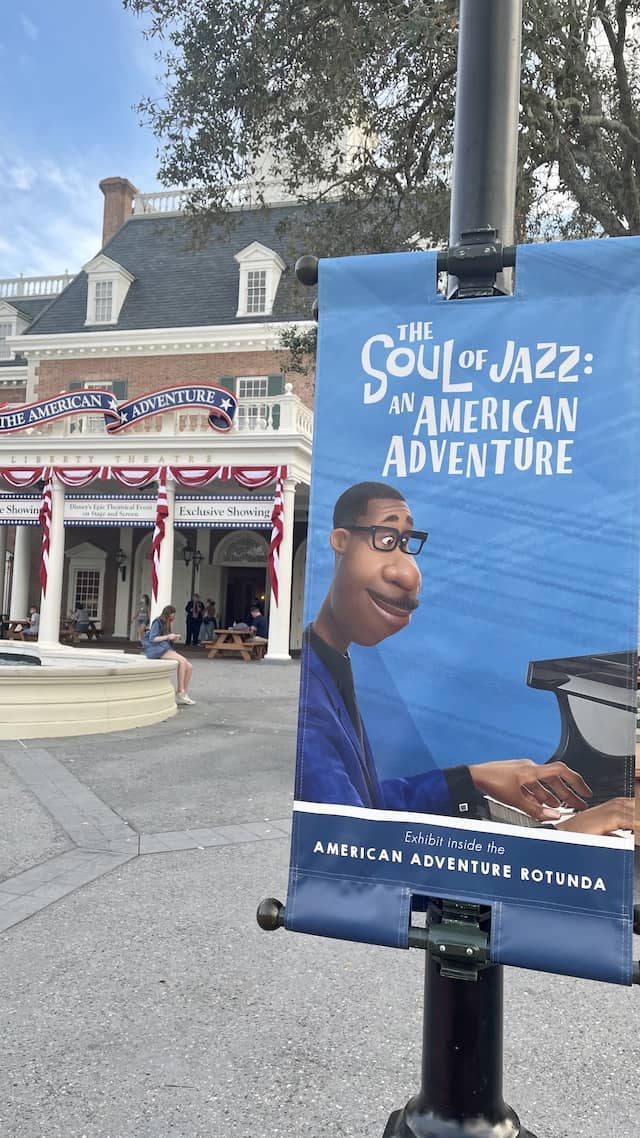 When I was making my plans for EPCOT and Festival of the Arts, I knew I wanted to check the exhibit out. The details in Disney's announcement were pretty vague. I was expecting an exhibit where I could interact with various elements. Maybe there would be some fun videos playing on a screen or overhead jazz music or something.
The first thing I noticed when I entered the area were the Soul of Jazz banners hanging outside. They feature various characters from the film.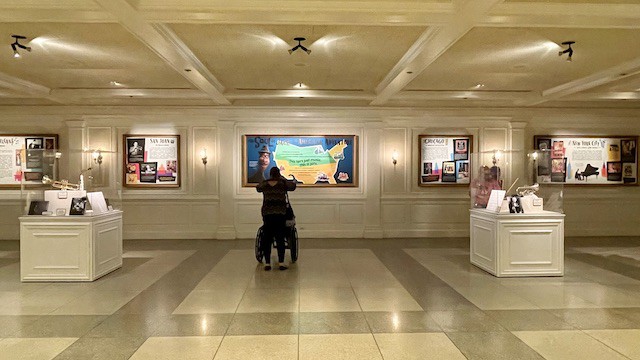 When I entered The American Adventure, I was completely surprised. First, because it was so empty. With the Voices of Liberty performing at the American Gardens Theater for the festival, there was no crowd gathered around waiting for a performance.
Second, the exhibit itself was nothing more than some information on the walls and a few display cases. I was expecting something more. Knowing this would not be a short-running exhibit, I was hoping for something a bit more permanent.
Here is what you will see at the exhibit.
The Soul of Jazz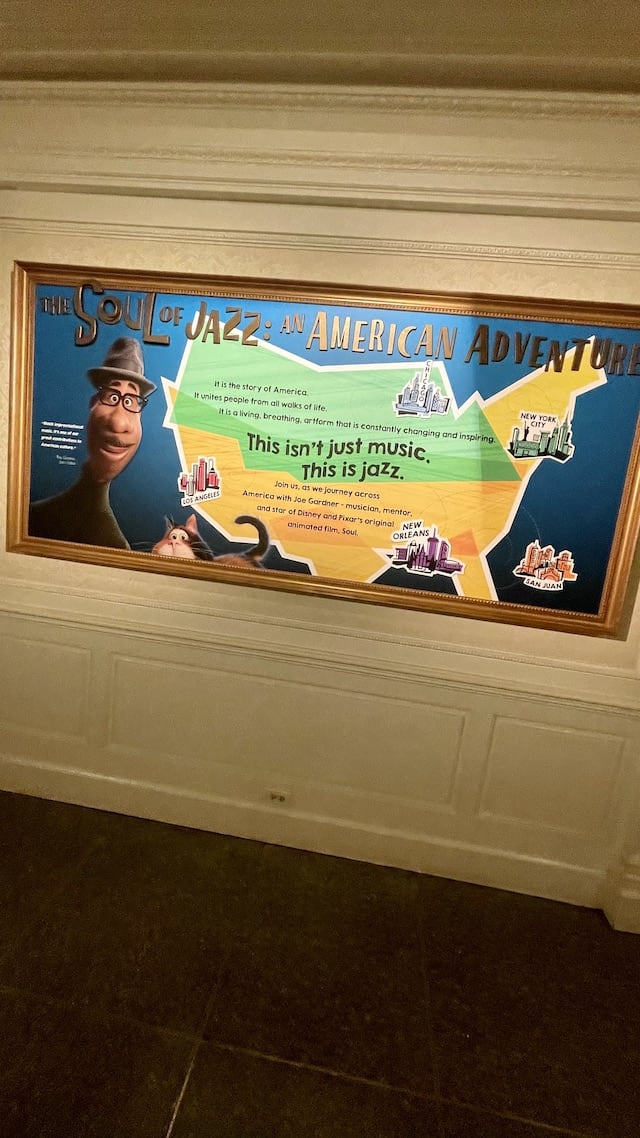 The feature sign in the middle of the wall feature Joes from Soul and an introduction to the exhibit. The sign reads, "It is the story of America. It unites people from all walks of life. It is a living, breathing, art form that is constantly changing and inspiring. This isn't just music. This is jazz. Join us as we journey across America with Joe Gardner – musician, mentor, and star of Disney and Pixar's original animated film, Soul."
There are also skyline sketches of the cities we will experience in the exhibit. Los Angeles, Chicago, New Orleans, New York City, and San Juan all play an important role in the history of jazz.
City History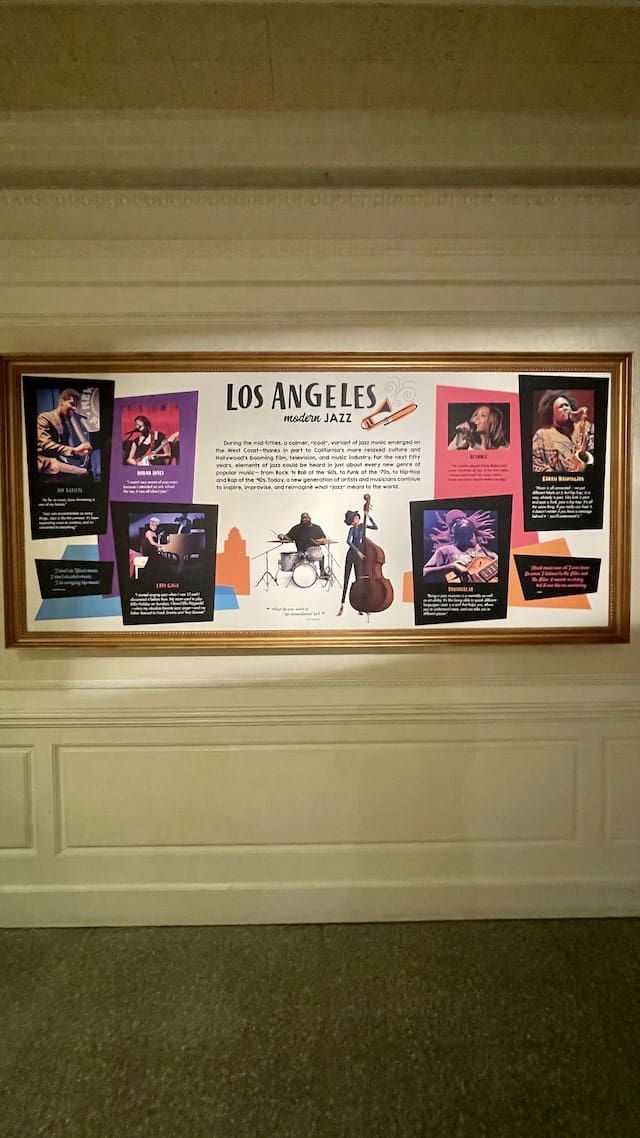 Displays featuring each city mentioned above cover the rest of the walls in the exhibit. Each display gives a brief history of that particular city and how it contributed to the jazz movement. There are also photos of famous jazz musicians, quotes, and more from each city.
To give you an idea, here is what the New Orleans display says:
The Birthplace of Jazz
Like its people, the city of New Orleans is a mosaic of cultures, ideas, and most of all – music.
The beginnings of jazz can be traced back to the iconic area of New Orleans, Louisiana, called Congo Square. During the 1800s, enslaved Africans and free people of color gathered here every Sunday to socialize, sing, and dance. What resulted was an exciting new style of improvisational music with strong hints of African, Caribbean, French, and Spanish influence. The roots of almost all modern American music were inspired by these spontaneous Sundays.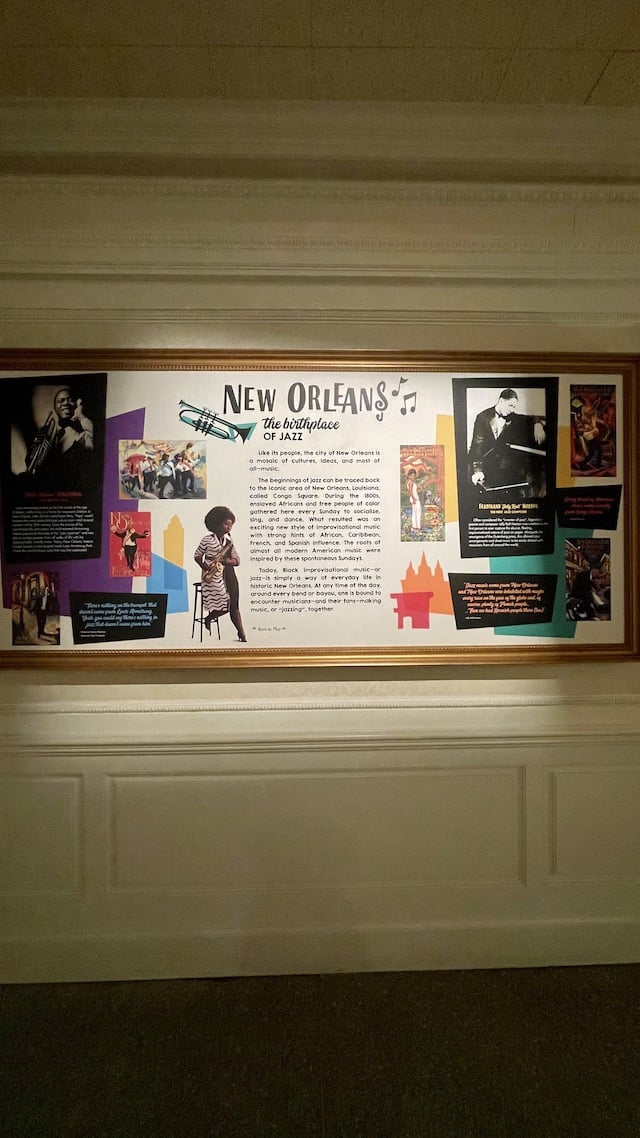 Today, Black improvisational music – or jazz – is simply a way of every day life in historic New Orleans. At any time of the day, around every bend or bayou, one is bound to encounter musicians – and their fans – making music, or "jazzing", together.
Biographies of Louis Armstrong and Ferdinand Morton, along with quotes and pantings also cover the display. This gives Guests the opportunity to explore the roots of jazz in New Orleans more deeply.
Display Cases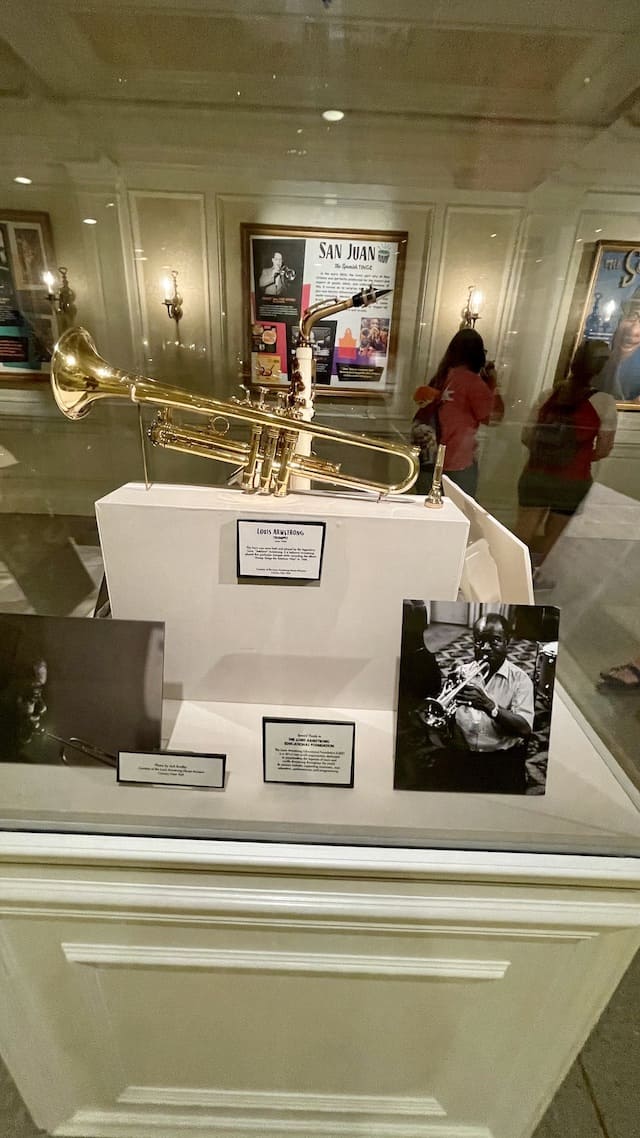 There are two display cases for the exhibit as well. The contents of the display cases show off really neat artifacts from the jazz community.
First, there is a trumpet that Louis Armstrong used. There's also some photographs of him using said trumpet. The Louis Armstrong Educational Foundation helped make it possible for Disney to display the instrument, which I thought was pretty great!
Additionally, there is also a saxophone displayed used by Charlie "Bird" Parker in the display case.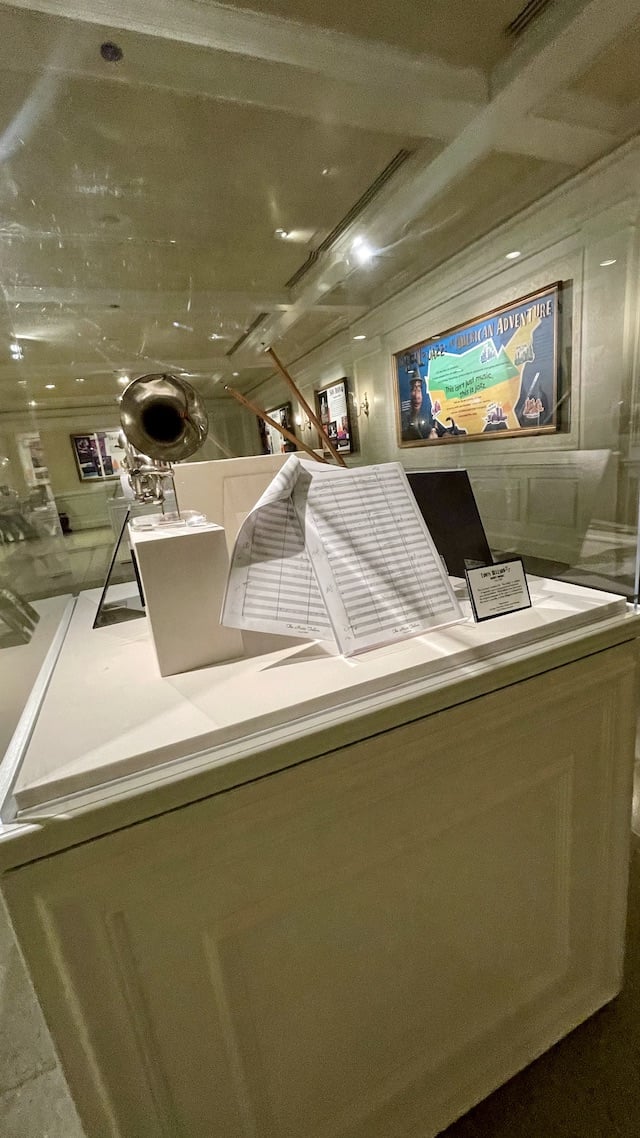 In the other display case, you can find sheet music from Jelly Roll Morton, drumsticks used by Gene Krupa, and more.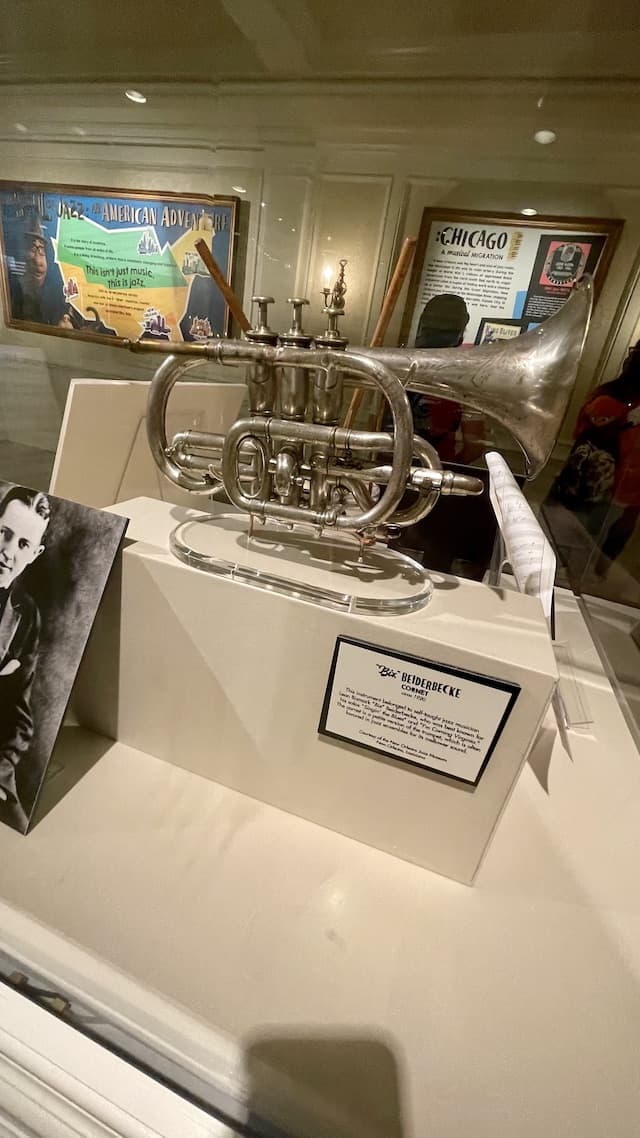 I thought the contents of the display cases helped bring the information on the walls to life. I appreciate that Disney found the opportunity to celebrate jazz and how it contributes to American culture, but the exhibit as a whole felt "one-dimensional" to me.
Maybe if there weren't so many health and safety concerns to think about, they could have incorporated some interactive elements or something. Even a video or music would have been made it better.
Soul Merchandise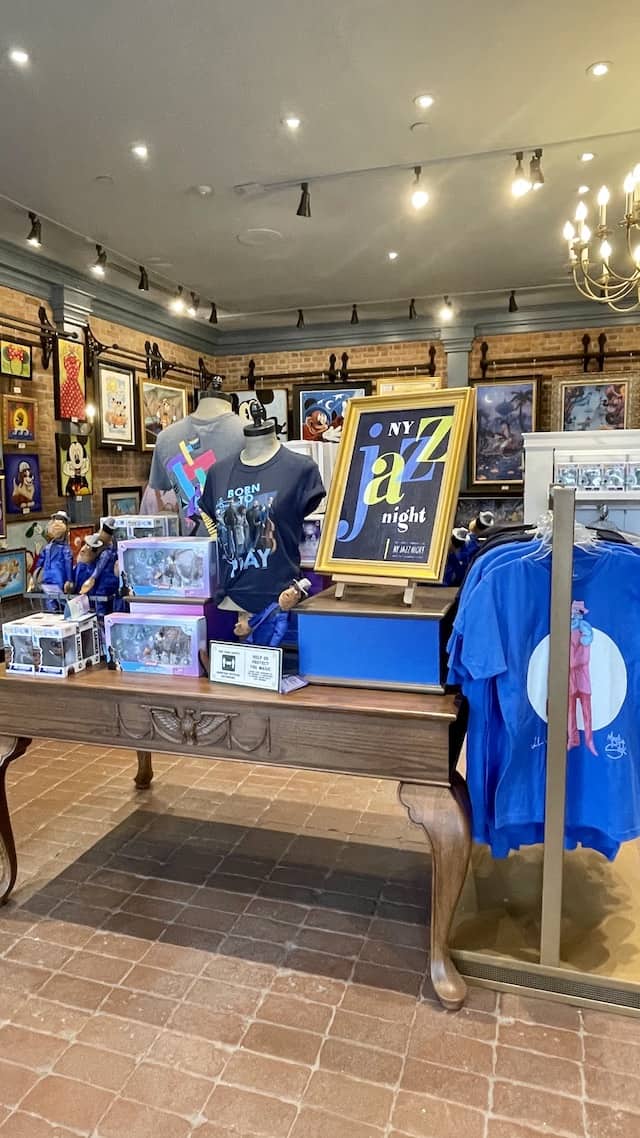 Next door, you can purchase some great Soul merchandise to take home. Located in Heritage Manor Gifts, you can find t-shirts, Funko Pops, plush dolls, figurines, and more. Let's take a look.
When you first walk in to the shop, you see the main display. There are a few t-shirt options on display as well as Joe in plush form and Funko Pops.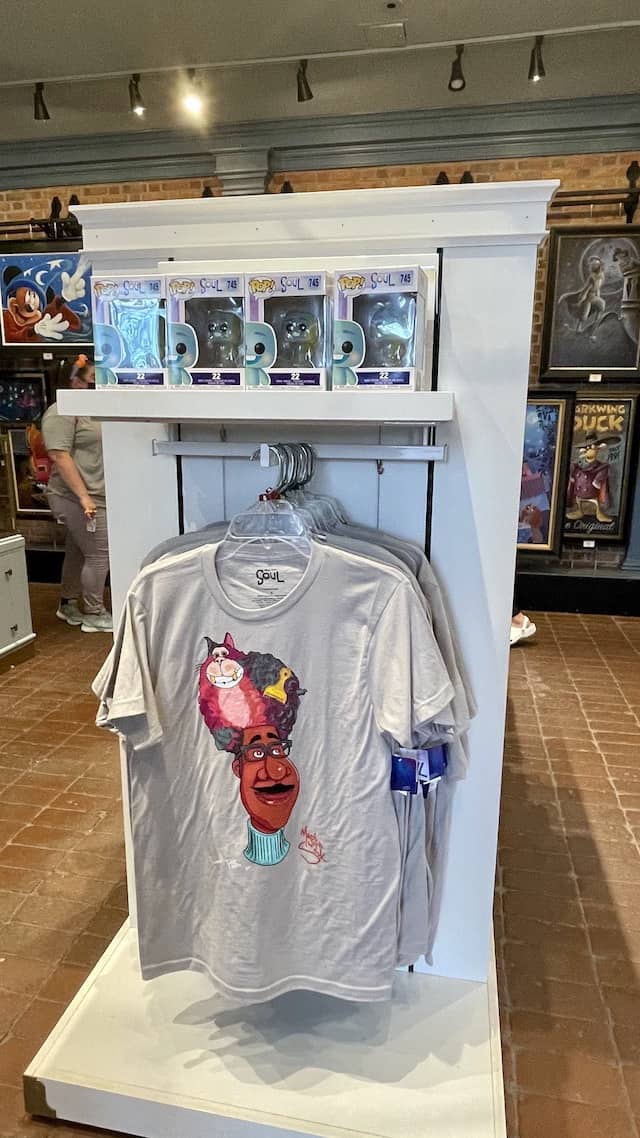 Behind the display, a gray t-shirt with Joe and Mr. Mittens is on display as well as 22 Funko Pops.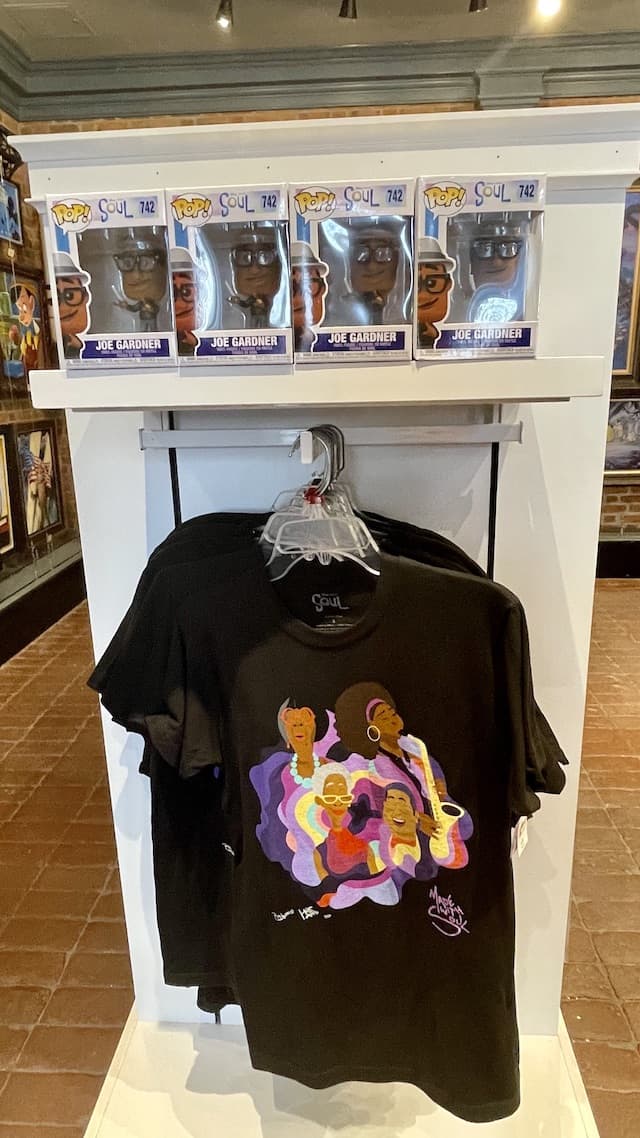 On another display, Joe Funko Pops and a black shirt with film characters can be found.
My Thoughts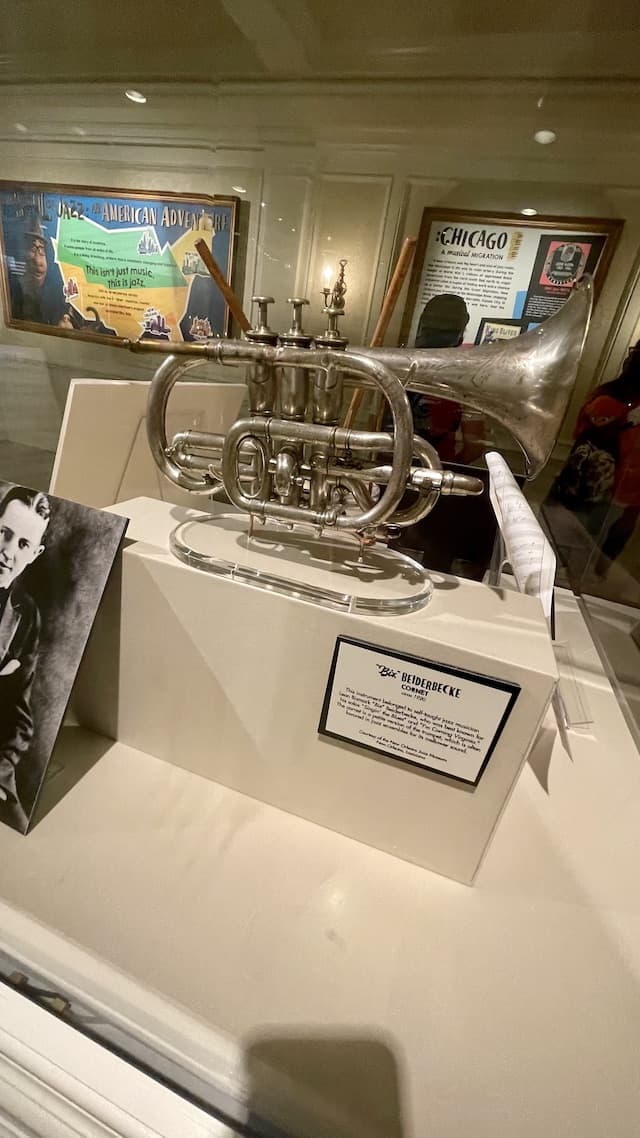 I'm glad to have been able to experience The Soul of Jazz exhibit in The American Adventure. However, I was really expecting something more. I think with a bit more effort, Disney could have really made it into something spectacular.
I loved reading information about the roots of jazz music and getting to see some neat artifacts of famous musicians. To see more about how Disney is celebrating Black History Month, check out our article HERE.
I hope you enjoyed the tour of this exhibit! Share your thoughts with us on Facebook.