EPCOT's International Festival of the Arts is well under way. Check out the complete guide for this year's festival so you won't miss a thing.
Festival of the Arts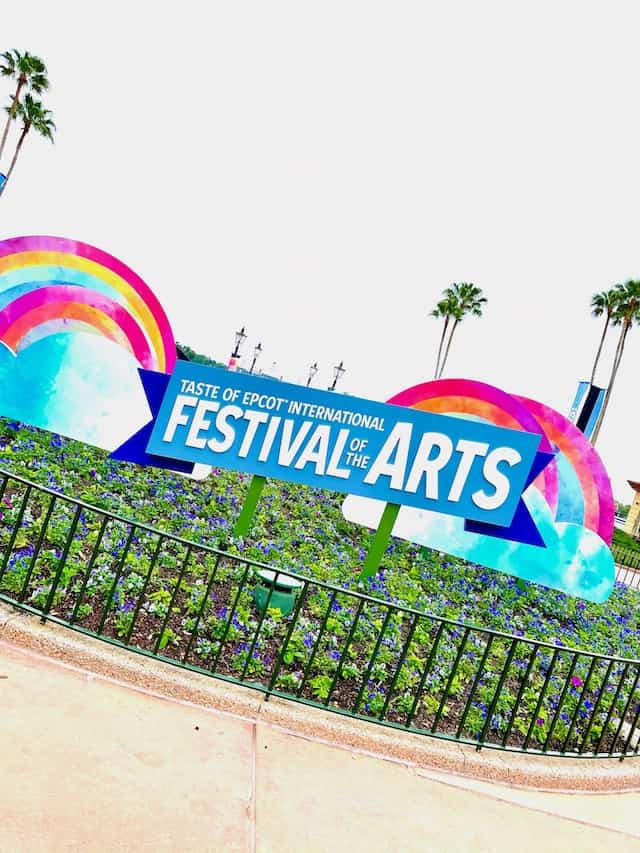 The International Festival of the Arts began January 8th and runs through February 22nd. You can read all about the special offerings about this unique festival HERE.
This is such a fun, immersive festival that allow you to step inside the scenes of iconic paintings. Visiting artists create masterpieces before your very eyes. Sit back and relax to great performances by the JAMMitors and Mariachi Cobre.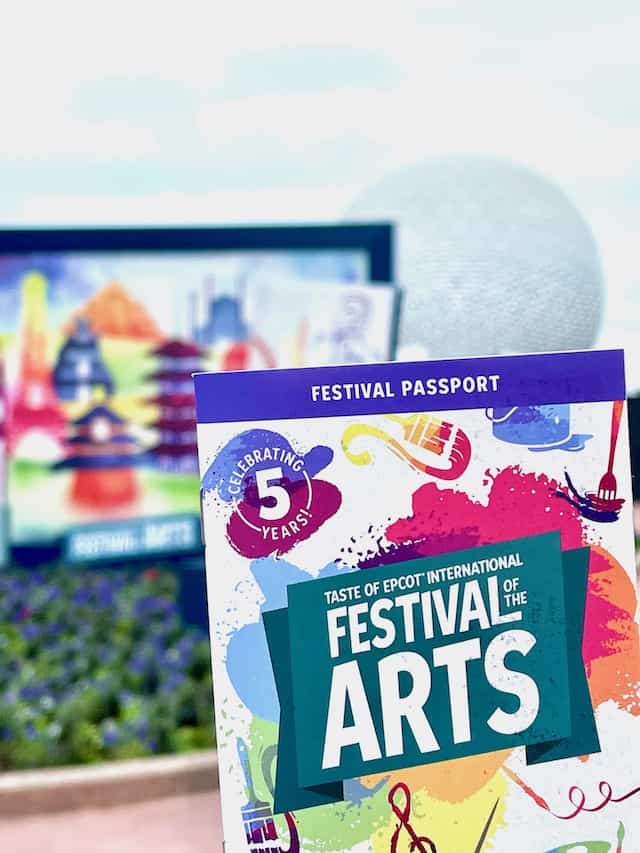 I recently had the opportunity to visit the 2021 International Festival of the Arts. This was my first year in attendance, and I absolutely loved it. The first tip is definitely to grab your Festival Passport.
This is an invaluable tool so that you will not miss out on ALL of the fun offerings of this year's festival.
Be sure to pickup your Festival Passport when entering EPCOT to be able to enjoy all of the fun offerings.
Food Studios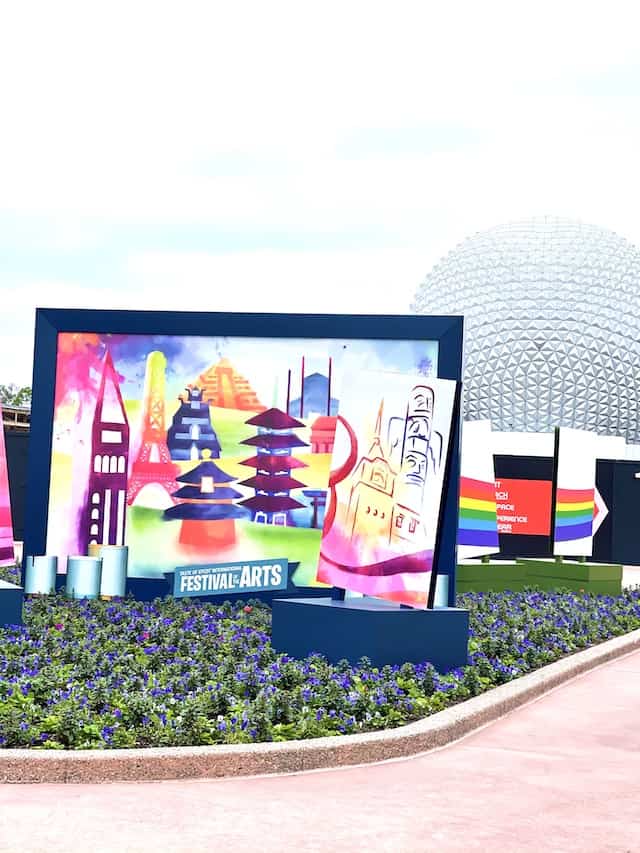 Throughout EPCOT and the World Showcase, Guests are invited to dine at various Food Studios. "Feast on dishes made with artistic flair with the new Vibrante & Vivido Food Studio and returning favorites like Pop Eats!"
Pop Eats Review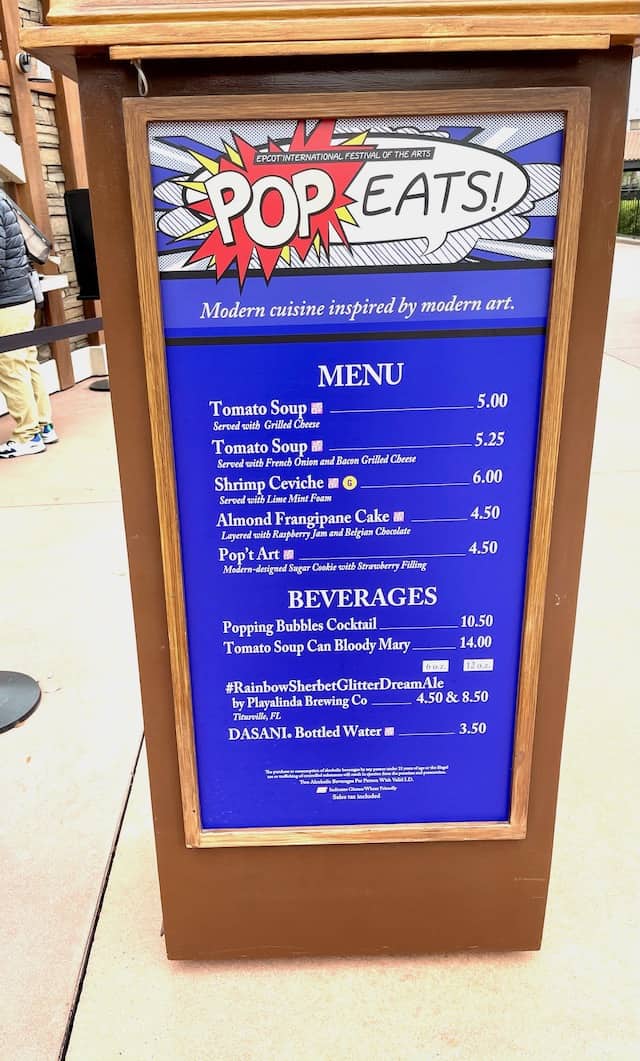 For lunch, I was interested in the Pop Eats menu. It was a bit chilly for our day traveling around the World Showcase. The tomato soup with grilled cheese sounded very warm and inviting on this blustery day.
I very much enjoyed the pairing of the savory tomato soup with a frothy cream topping. The grilled cheese sandwich was a bit too buttery in my opinion, but it was grilled nicely and paired well with the tomato soup.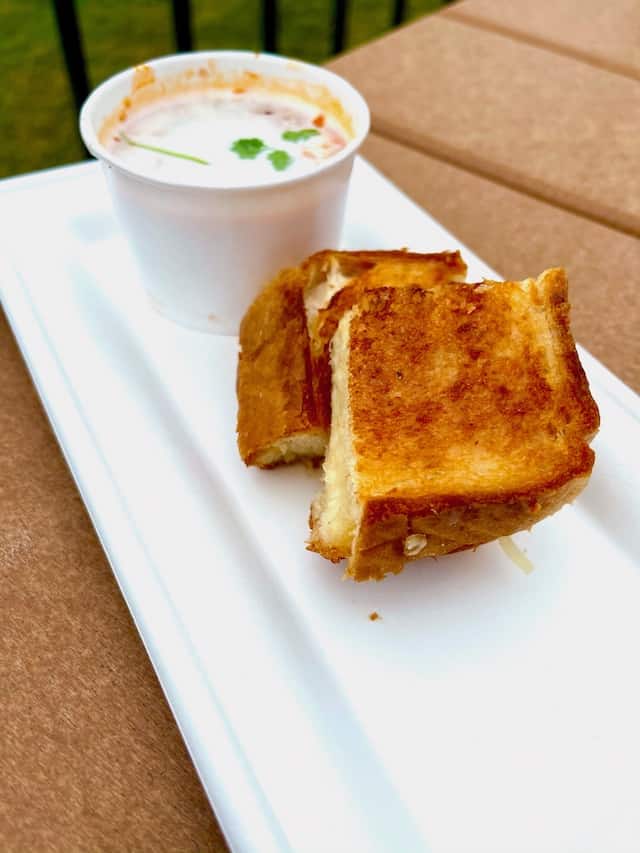 For dessert, I sampled the Pop't Art modern-designed sugar cookie with strawberry filling. It was very similar to a Pop-Tart but so much better. The cookie was fresh and light. It was filled with warm strawberry filling that was a perfect amount of sweetness.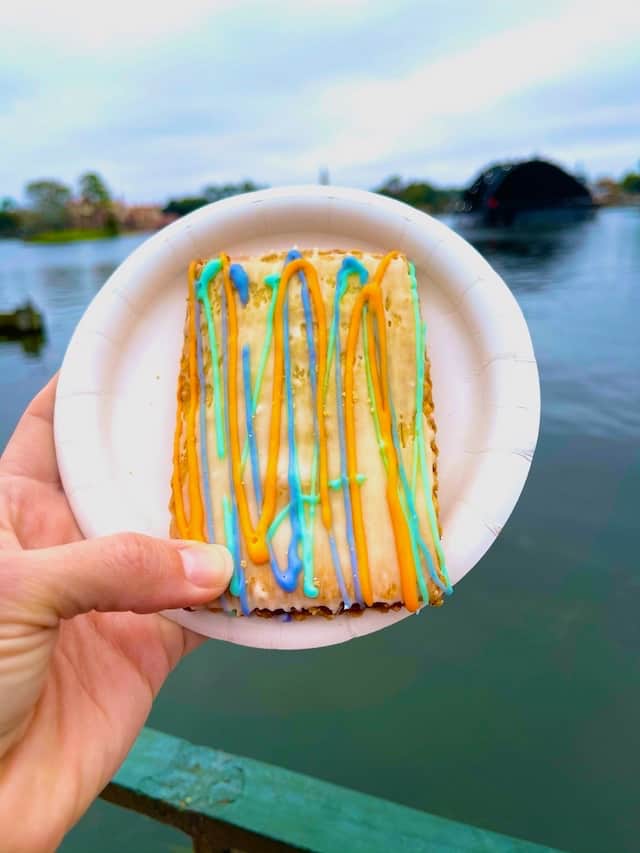 I greatly enjoyed the look of this treat, but the icing added a bit too much sweetness to this already sweet sugar cookie in my opinion. This is a great snack option to share due to the sweetness.
Refreshment Outpost Review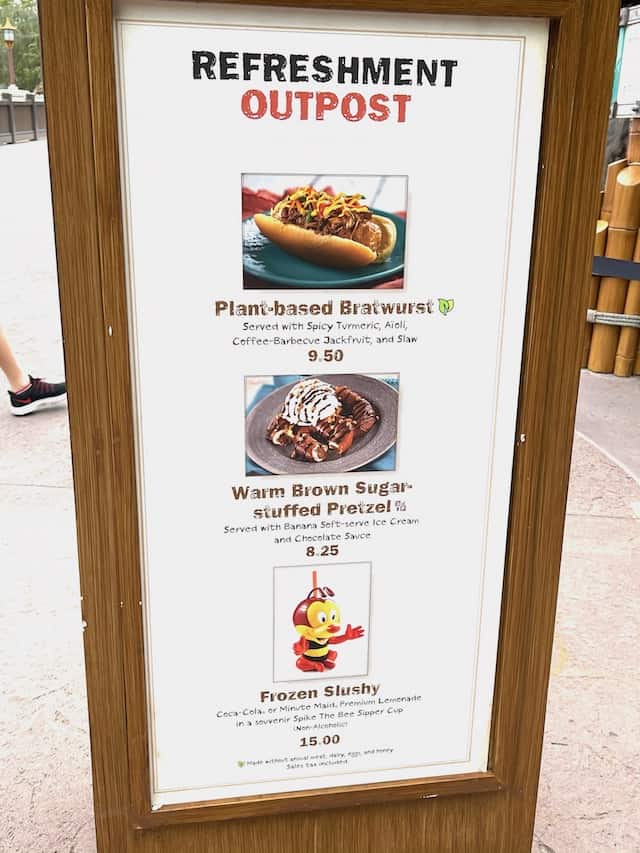 During my journey around the World Showcase, I found my way to the Refreshment Outpost. The Warm Brown Sugar-stuffed Pretzel was calling my name. I was so excited for this treat. Unfortunately this was not the sweet treat that I had been longing for.
The pretzel was at room temperature instead of being warmed. It was then topped with banana soft-serve ice cream and chocolate sauce. There was something odd about using a fork and knife to have to cut into a pretzel and then pair this with ice cream.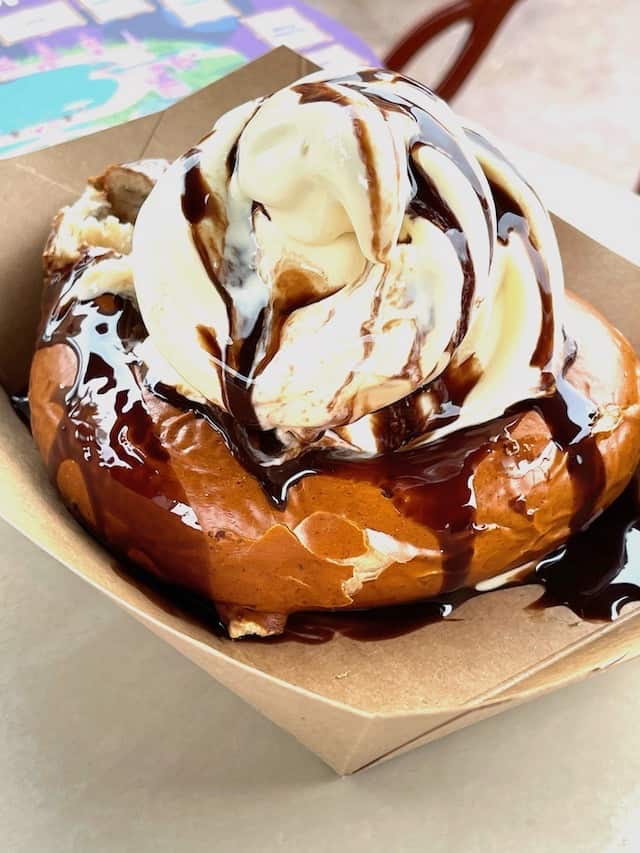 Now I am not ready to write-off this snack just yet. If this pretzel had been warmed as noted on the Festival Guide, this could have been an incredible snack option.
You can check out a full list of Food Studios HERE.
Chalk Full of Character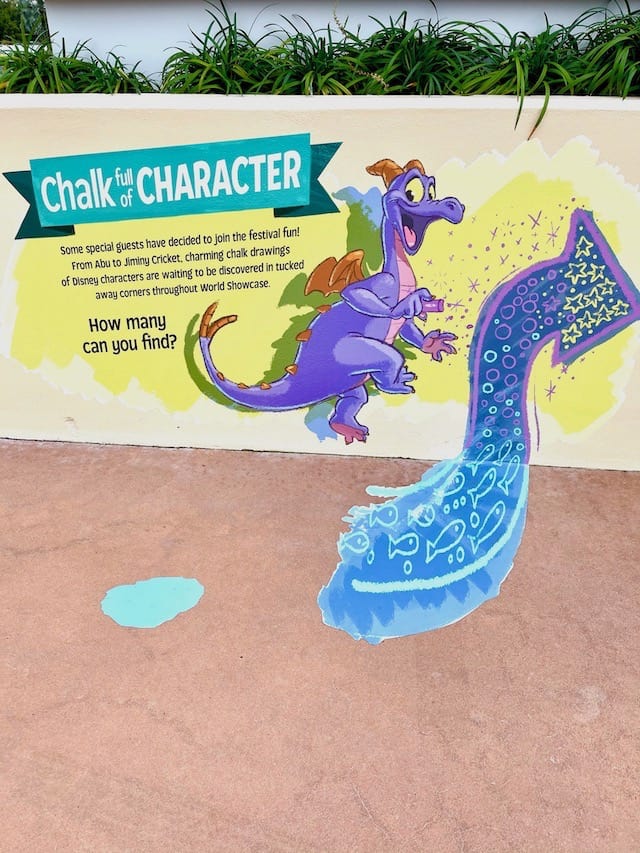 "Some special guests have decided to join the Festival Fun! From Abu to Jiminy Cricket, charming chalk drawings of Disney Characters are waiting to be discovered in tucked away corners throughout the World Showcase."
My kids love to hunt for Hidden Mickeys when we visit the Disney Parks. This was a fun game for them to play as we journeyed around the World Showcase to see how many characters they were able to discover.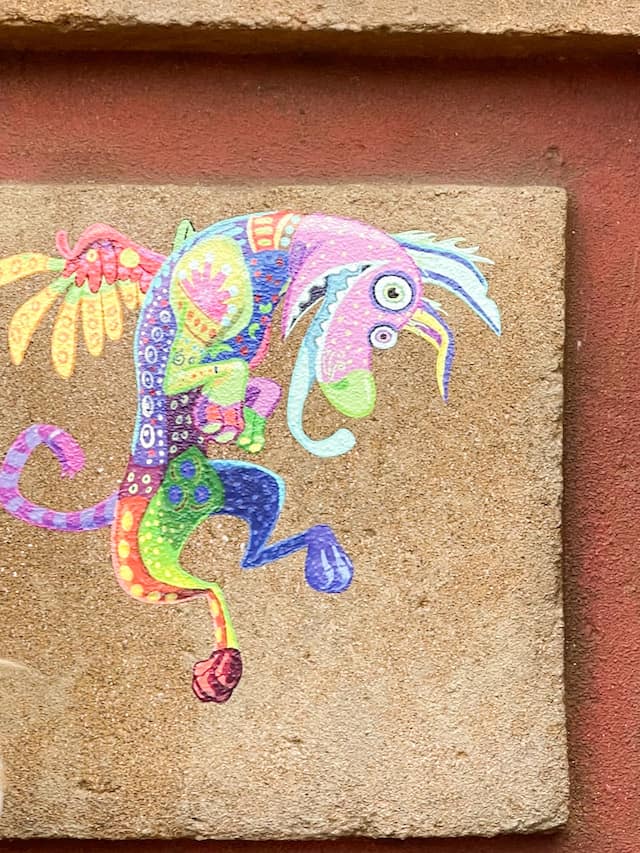 We were able to spot Dante while we were entering Mexico Pavilion. The vibrant colors and creativity made these characters so much fun to spot.
We also loved looking at the Chalk Art found along the sidewalks between Future World and World Showcase. Various artists lend their talents to creating visual masterpieces. Check out this beautiful Minnie Mouse.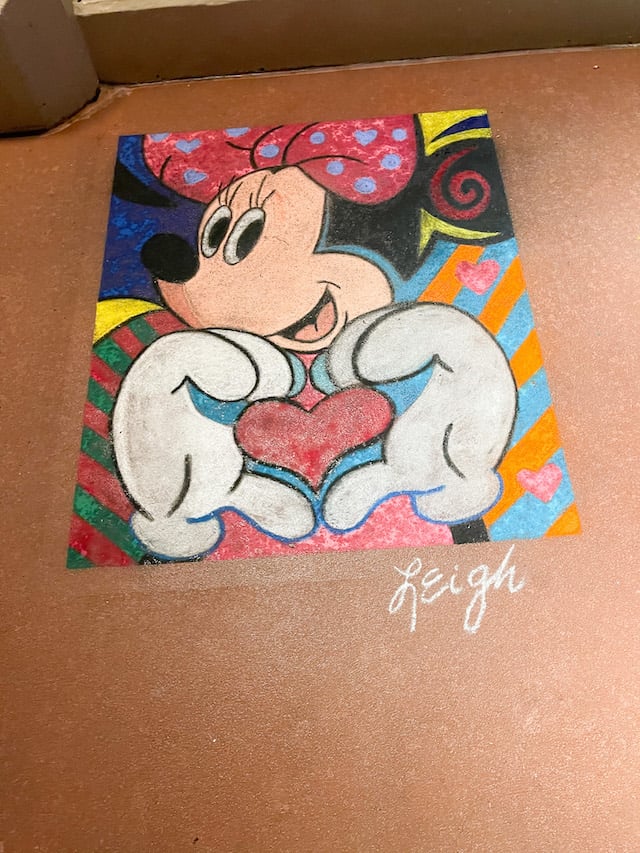 Figment's Brush With the Masters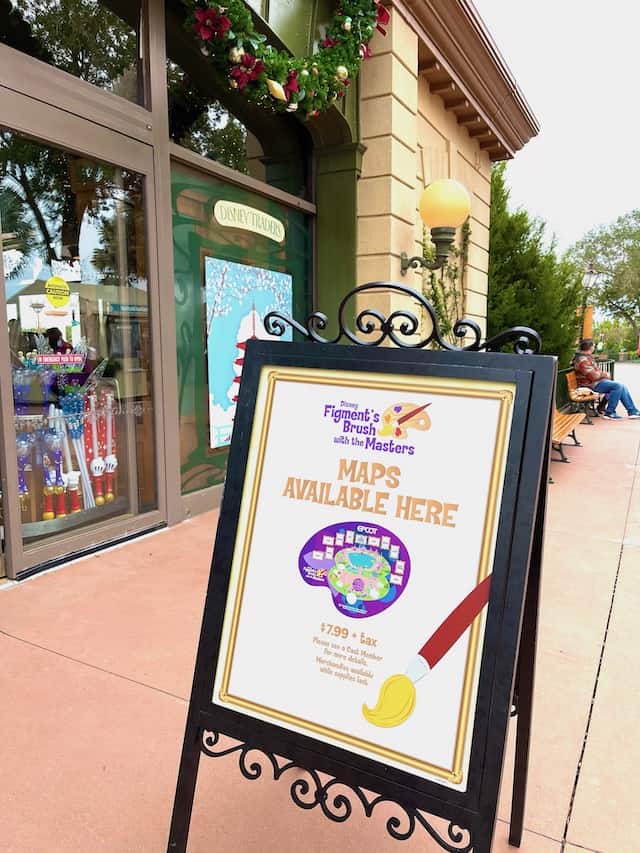 You can help Figment learn about art as you enjoy this fun, scavenger hunt. Simply pick up map for $7.99 at participating locations in EPCOT including Disney Traders and World Traveler.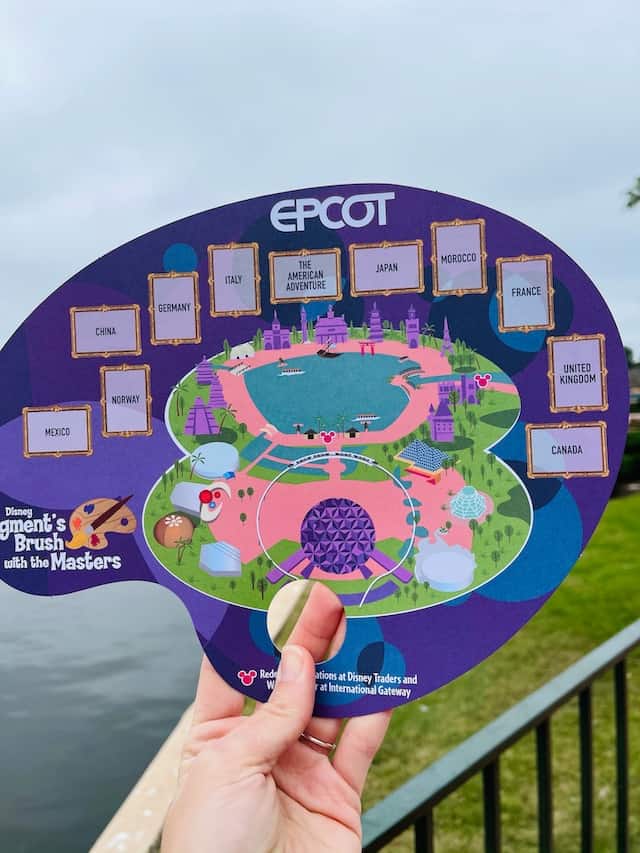 As you travel around the World Showcase be on the lookout for Figment to be featured in a few of the most well-known portraits. Once you spot him, use the corresponding sticker to note which land you discovered him.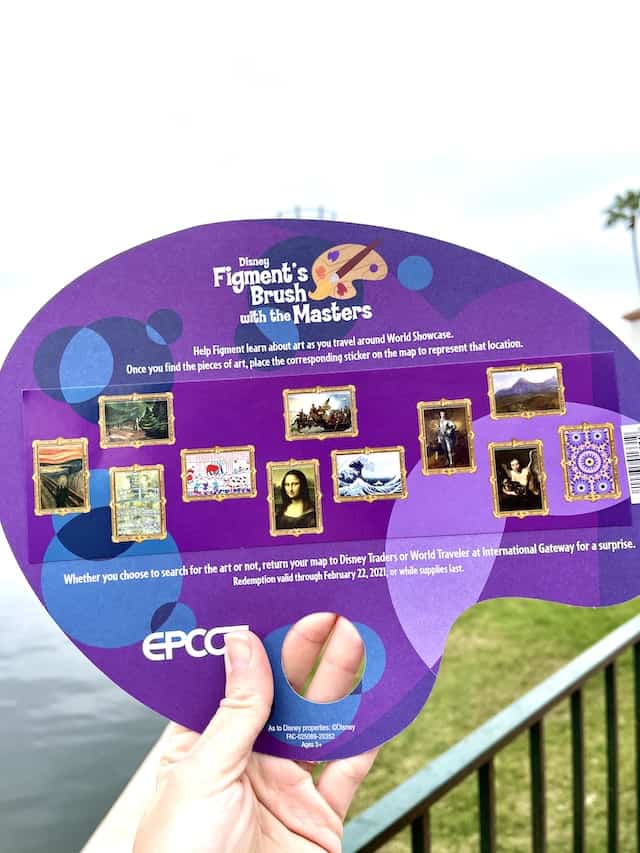 At the end of your hunt, you will be gifted either a unique paper craft featuring one of the following: Mickey Mouse, Donald Duck, Chip 'n Dale, or our pal Figment.
I have enjoyed many of the scavenger hunts during other EPCOT festivals. I will note that this year's scavenger hunt was a bit more difficult. A few of the scavenger hunt portraits were featured inside buildings. Due to COVID social distancing protocols, we waited in a few lines simply to enter buildings to find our pal Figment.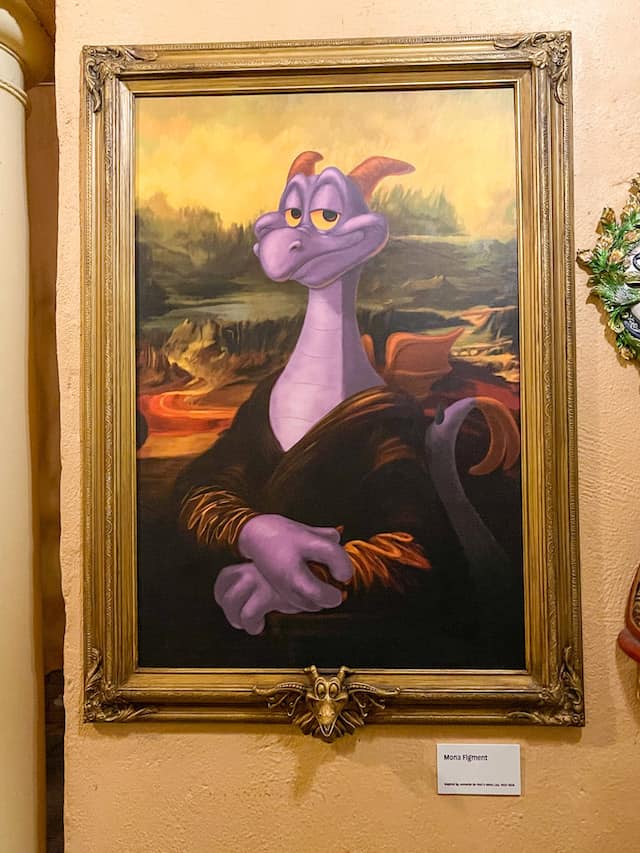 It was still a fun scavenger hunt, but something to consider if you happen to be visiting EPCOT on a busier day.
Join the scavenger hunt for figment by picking up your map at participating locations including disney traders and world traveler.
Animation Academy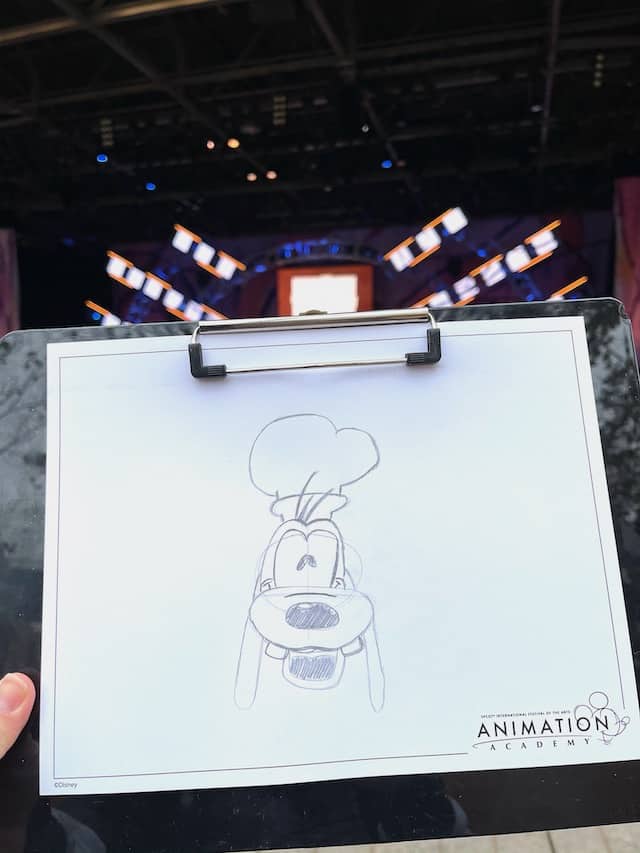 I was excited to participate in the Animation Academy while at EPCOT. The day that we visited, we participated in the second class of the day at the America Gardens Theatre. The character featured for this experience was Goofy.
Earlier in our trip we had participated in the Animation Academy in Animal Kingdom. This was such a great experience, I had high hopes for our class at EPCOT. I was a bit disappointed, our resident animator seemed a bit nervous and the steps were a bit rushed particularly for the younger artists.
I would personally recommend the Animation Experience at Animal Kingdom rather than during the Festival of the Arts if you are visiting both Parks during your upcoming visit to Walt Disney World.
America Gardens Theatre Entertainment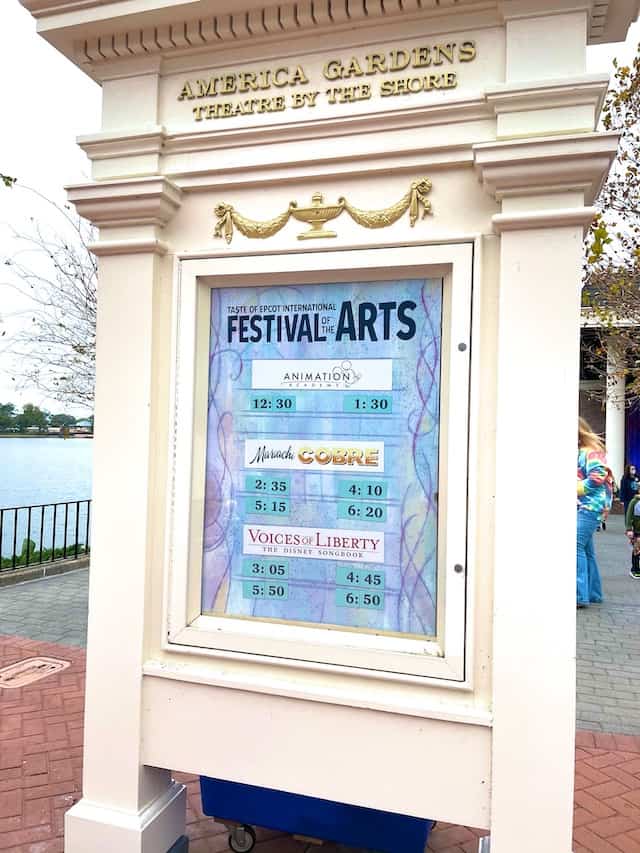 At the America Gardens Theatre, Guests may enjoy 3 great entertainment options. The above mentioned Animation Academy, the Voices of Liberty, and the Mariachi Cobre.
The Voices of Liberty celebrate the many great Disney composers in performing a variety of Disney songs. This is such a great way to sit back and relax after a full day of traveling around the world.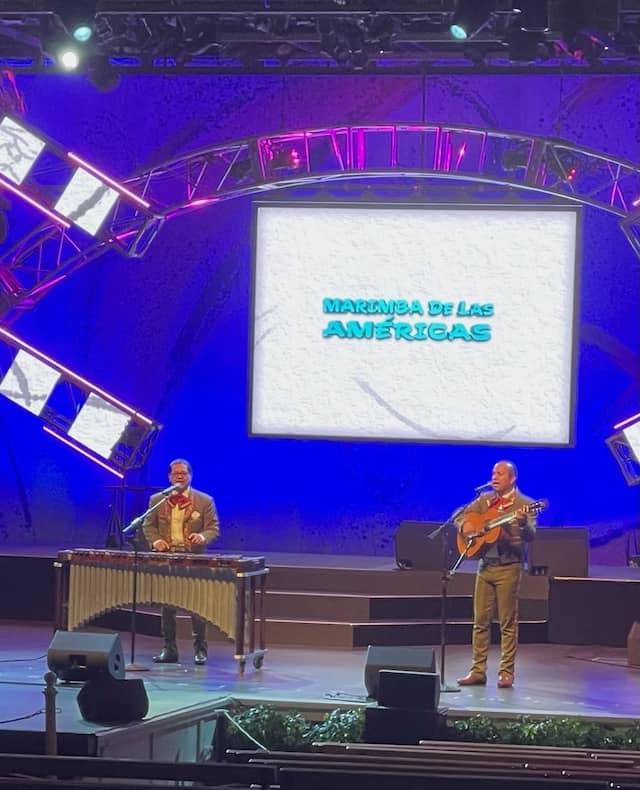 Also at the America Gardens Theatre, enjoy the warm melodies of Mariachi Cobre. I was so excited to enjoy this great group once again.
Throughout the day enjoy great offerings at the America Gardens Theatre with the Animation Academy, Voices of liberty, and Mariachi cobre.
World Showcase Events Pavilion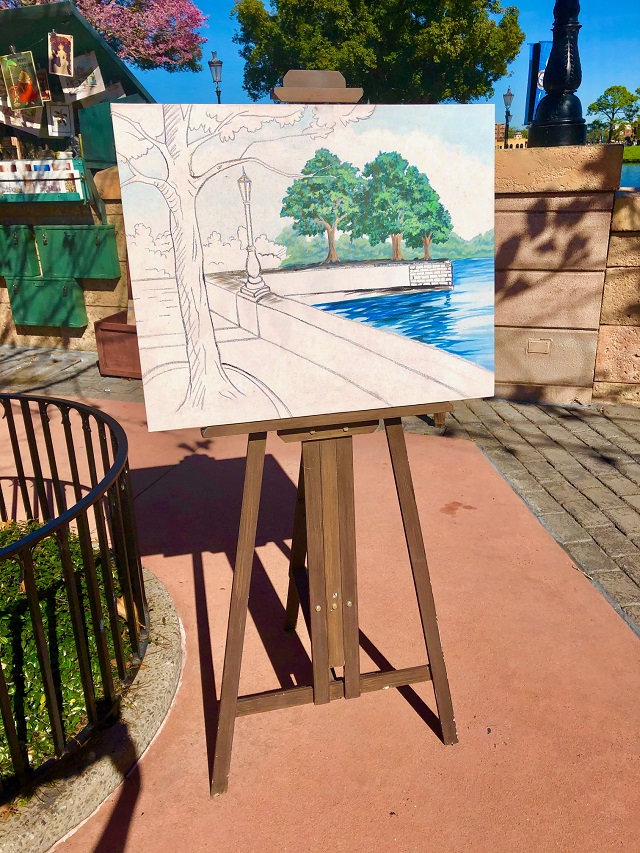 Daily Guests can enjoy 2 great entertainment options at the World Showcase Events Pavilion. Be sure to check out the Art Defying Gravity shows that truly pair strength and art perfectly.
Enjoy the sounds of classic Disney music from EPCOT pianists. On select days (Sunday, Thursday, Friday, and Saturday), Guests can enjoy Visual Art in Performance. These visual artists can create a colorful Disney characters in no time at all.
JAMMitors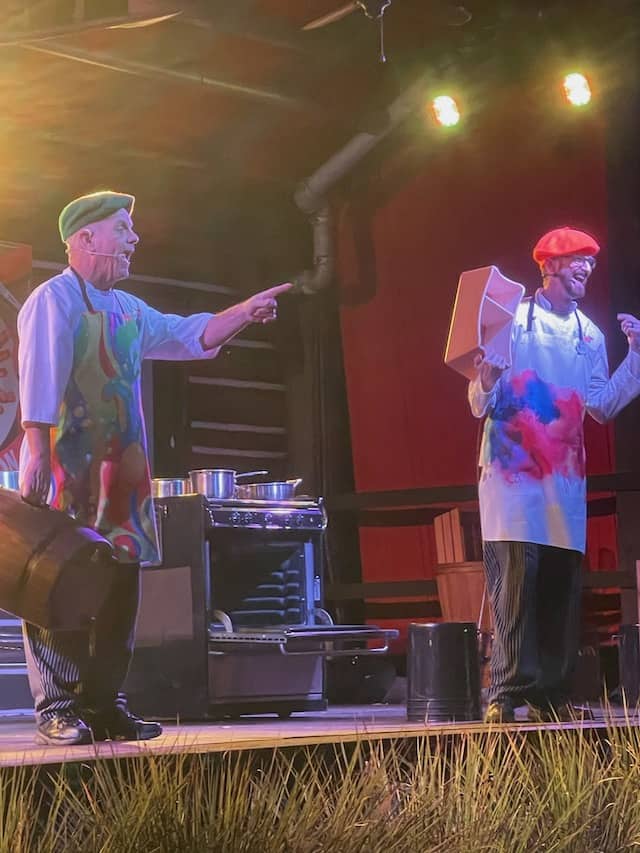 During COVID, my family loved watching the JAMMitors. My kids were overjoyed to find them performing at the Canada Mill Stage. From the great "Dad-jokes" to the high-energy performance, this is truly a "can't-miss" entertainment option.
Artful Photo Ops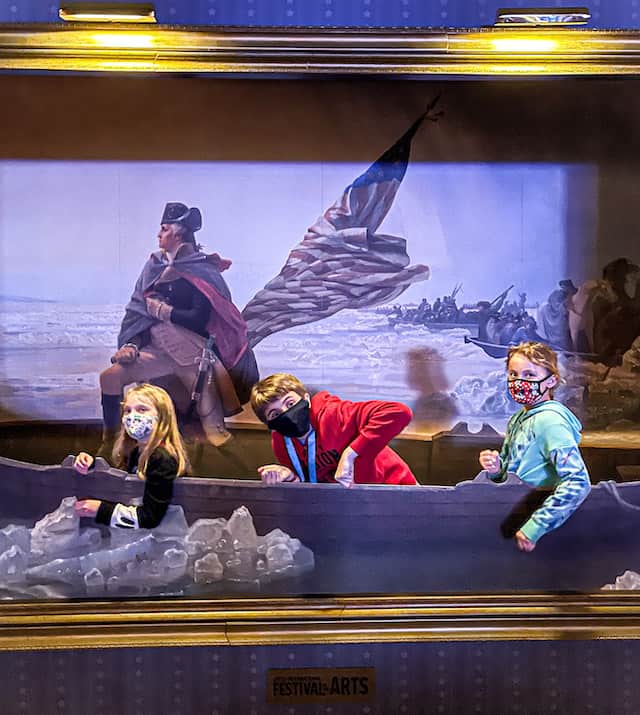 Have you ever wondered what it may be like to step into a portrait? You will find so many great portraits that you can be a part of. From Washington Crossing the Delaware to your own favorite scenes from Peter Pan, there is a photo op for every artist.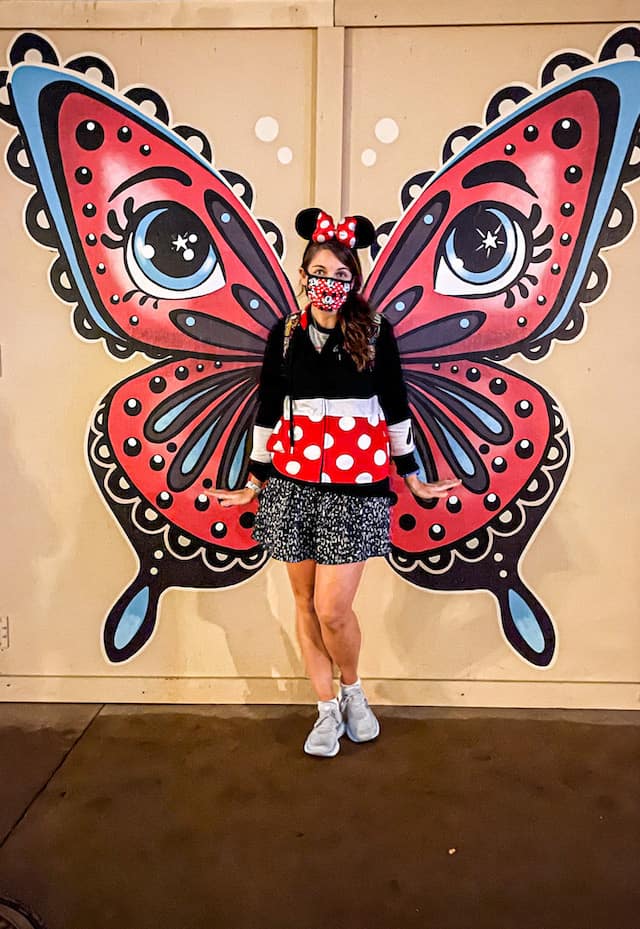 You can even snap a great selfie or photo op with these cleverly painted walls. Look like Figment or become a beautiful butterfly. There are so many fun featured walls all throughout EPCOT.
Expression Section
Roll up your sleeves and let your inner artist shine at the Festival of the Arts. Simply stop by the Expression Section located at Future World West near The Land.
At this location choose the color paint that you would like to use and grab your paint brush. A large paint-by-number mural is available for young Picassos to leave their mark.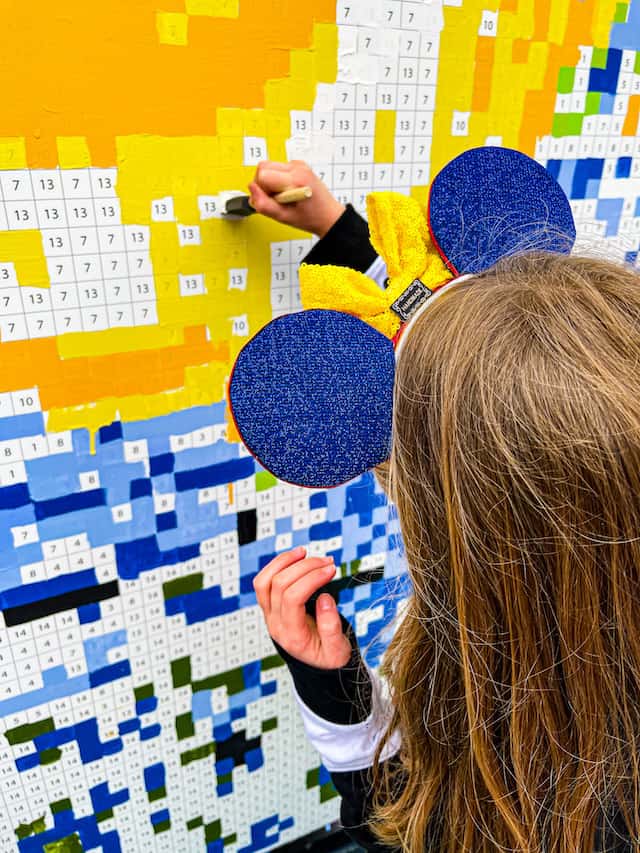 Stalls have been created to allow groups to enjoy this hands-on activity together. Every other stall is blocked off to maintain social distancing. You are able to paint 4 blocks that correspond to the numbered paint you have selected.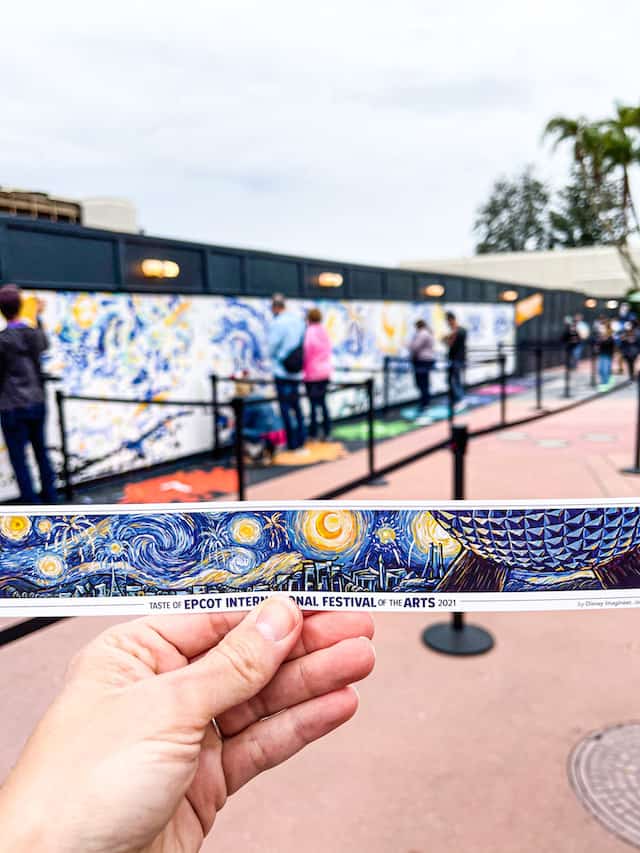 This is such a fun activity for the entire family. At the end you may throw away your paint brush and paint cup. In return you will receive a photo of what the completed mural will look like.
Artists both young and the young at heart can roll up their sleeves in this giant paint-by- number mural. Be sure to visit this location before 5:00pm at Future World West.
Spin Art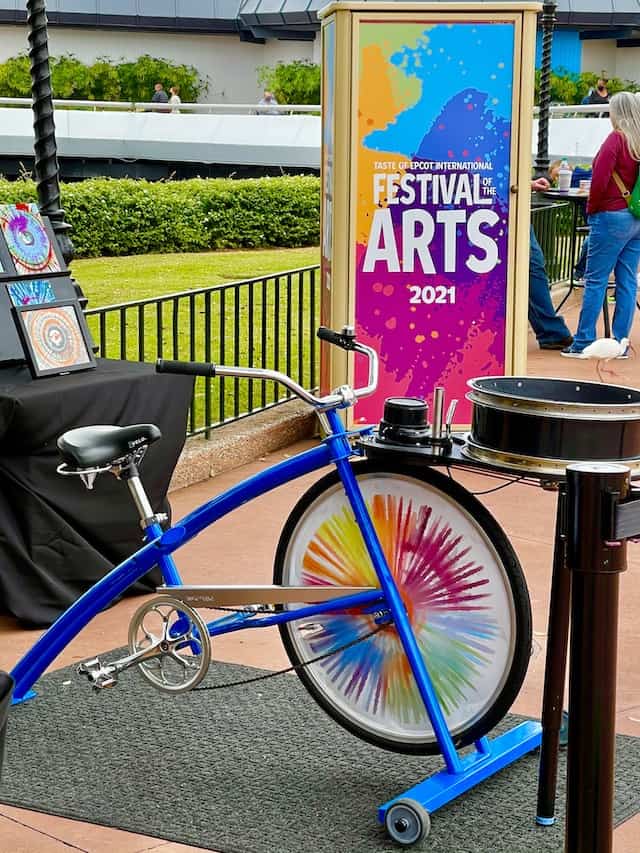 Want another fun way to create your own piece of art? Check out Spin Art which is located in Showcase Plaza near Disney Traders. Take a new spin on art with this fun concept. Guests can choose 4 colors for their artwork and write their name on their canvas.
Take a spin and watch the colors fly. This is available for $19 for the 8×10 canvas or purchase both the canvas and a frame for only $23. Not only is this fun, but you will also have a fun souvenir.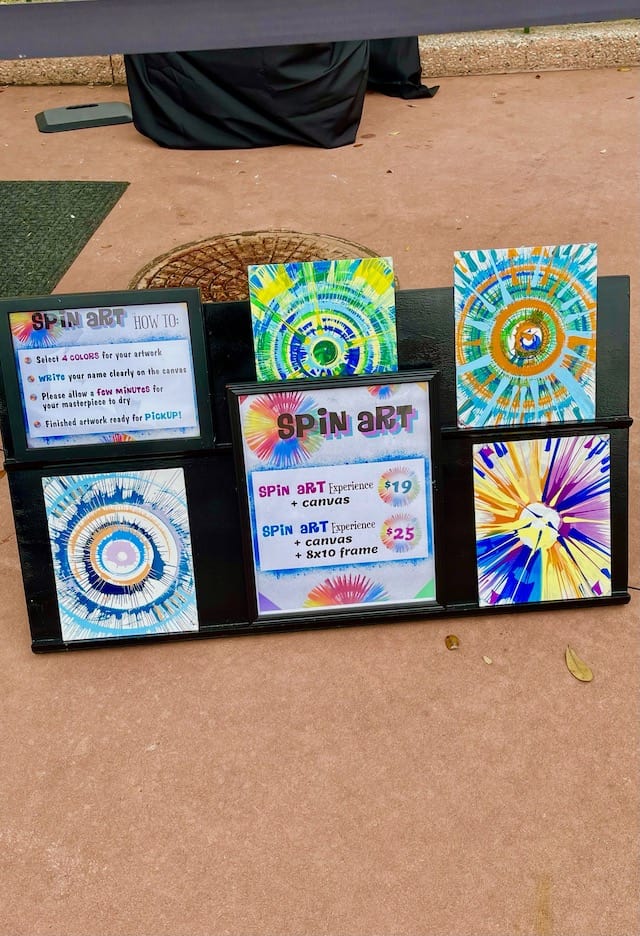 Merchandise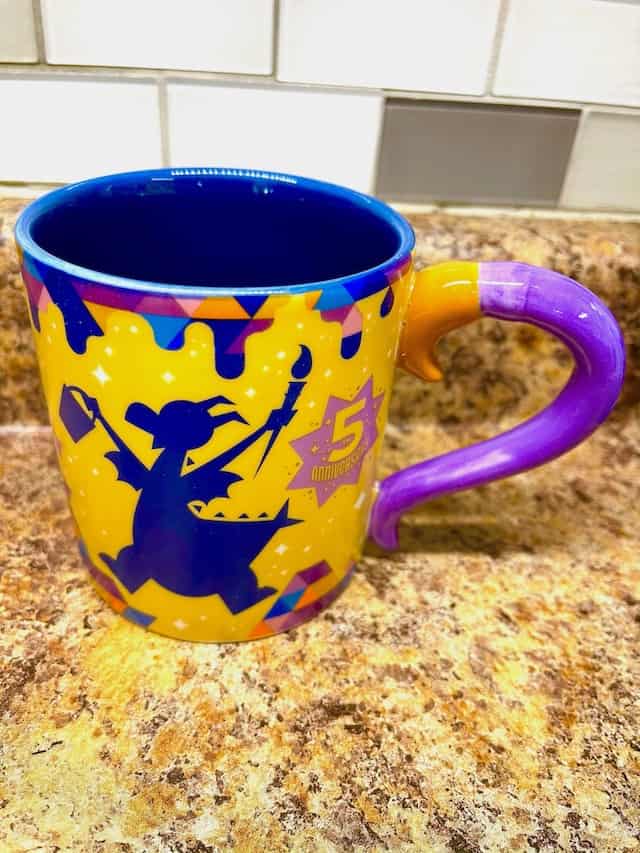 You can check out the great merchandise available at the Festival of the Arts HERE. 2021 marks the 5th anniversary of this fun festival and Figment is cleverly featured on this great merchandise.
Guests may also find beautiful gallery exhibits all throughout EPCOT. To assist with Festival merchandise Package Delivery has returned, but only at EPCOT. Find out more about this limited service HERE.
Review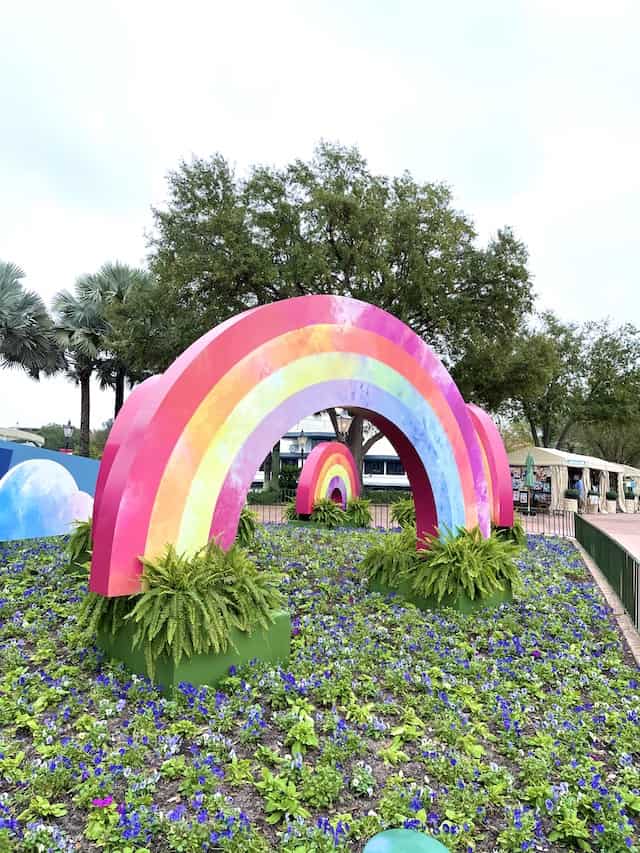 With this being my first time visiting the Festival of the Arts, I greatly enjoyed it. This was a fun way to enjoy EPCOT with such a fun creative flair. I hope this review may be helpful for you to decide what you may want to include in your future touring plans of this great festival.
You can also check out Kate's review of the the 2020 Festival of the Arts HERE.
Have you visited the International Festival of the Arts in the past? Will you be visiting this year? What is your favorite part of this great festival? Share your thoughts with us on our Facebook Page.