Did you know you can build lightsabers at two Hollywood Studios locations? Both offer different experiences and different price points. Here's all you need to know about the budget-friendly location!
Lightsabers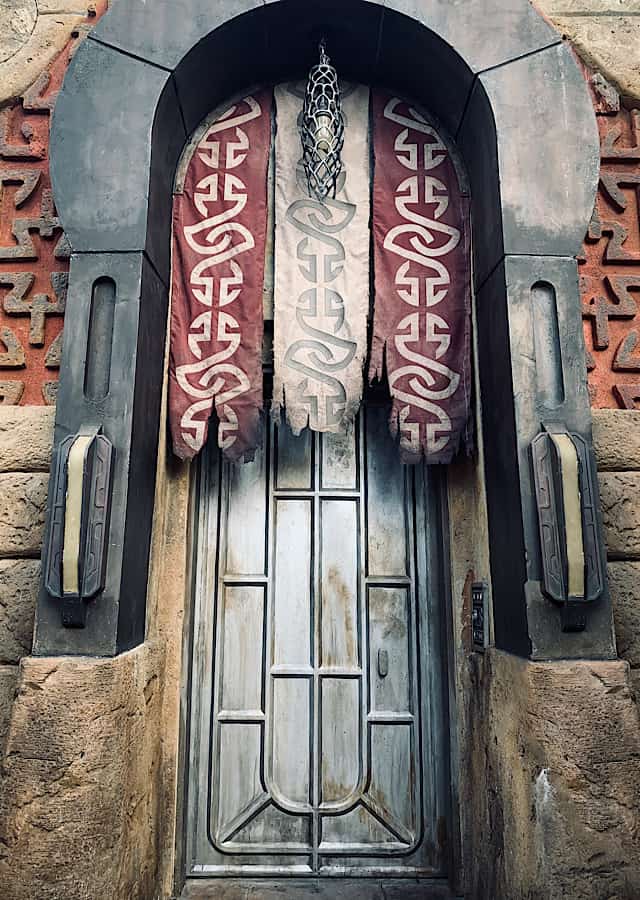 Lightsabers are the perfect souvenir for Star Wars lovers. There are two options for creating custom lightsabers at Hollywood Studios. First, there is Savi's Workshop in Galaxy's Edge. Not only do you build the lightsaber, but you also bring it to life with the power of kyber crystals.
You choose from 1 of 4 available hilt themes. Plus, you you receive a pin to identify which theme you chose. Then, you go through the entire process to build your custom lightsaber. This comes at a hefty price of $199 plus tax.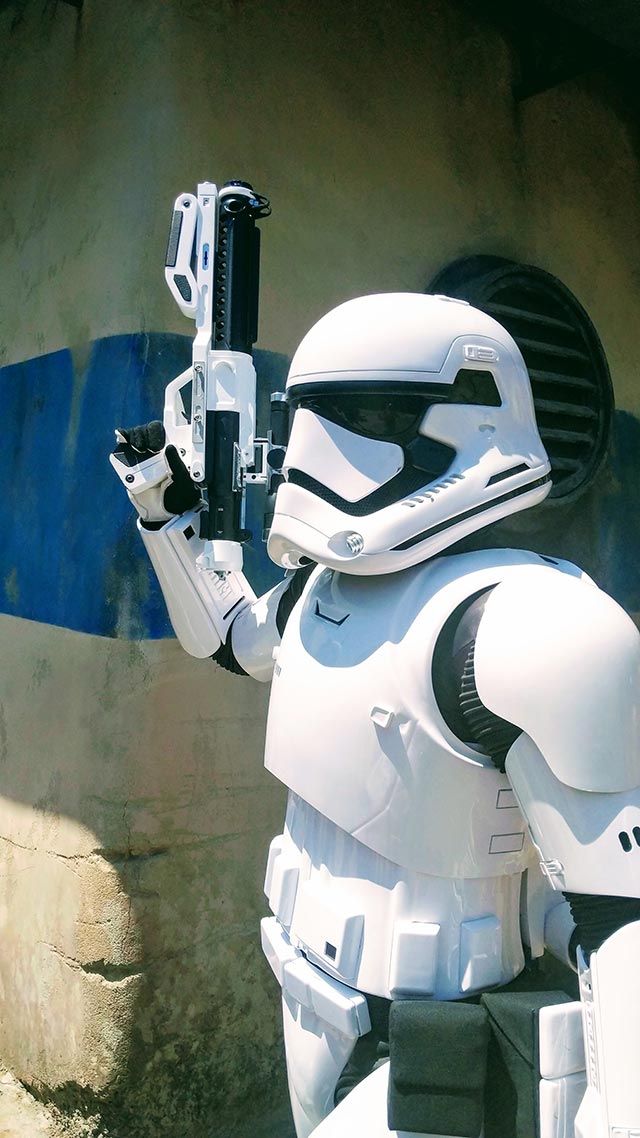 Reservations are highly recommended because this experience is extremely popular and adjusted to allow for more physical distance between parties.
If you are like me and were a bit shocked to see the price of a lightsaber, you will be happy to know there is a cheaper (much cheaper) option nearby!
Tatooine Traders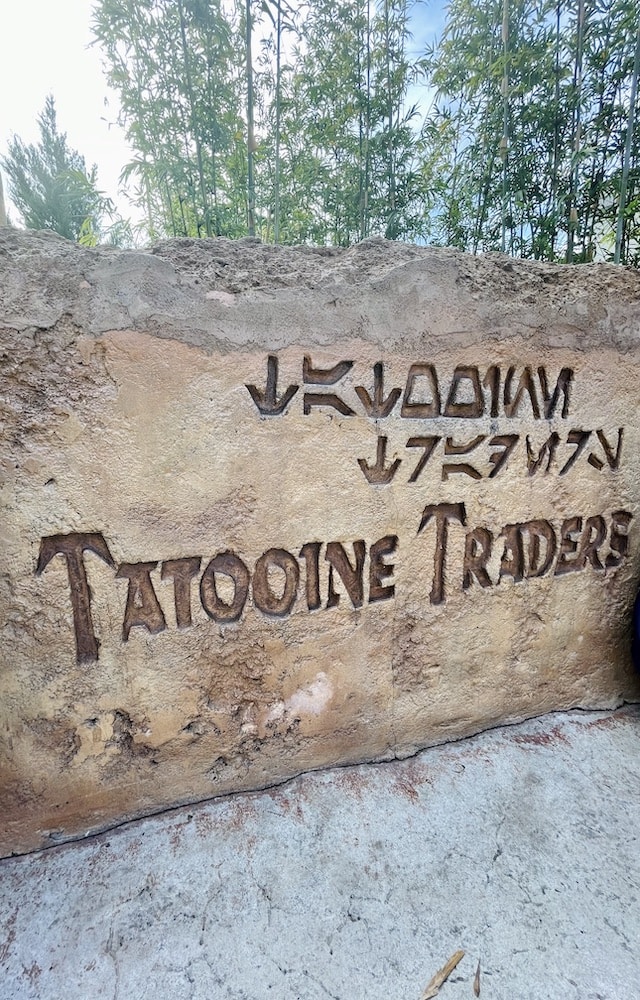 The gift shop is located outside of Galaxy's Edge near the Star Tours attraction. You can find apparel, figurines, gadgets, books, and more celebrating all things Star Wars.
Tatooine Traders is also home to the budget-friendly lightsaber building experience. Back in 2015, my husband and then 5-year old son built lightsabers here before Galaxy's Edge was even built.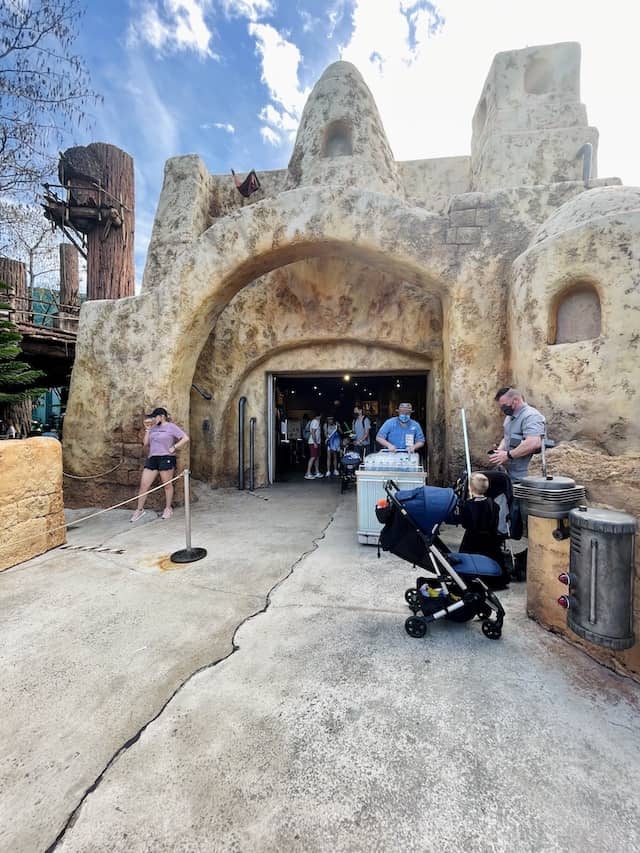 When my son told me he wanted to build another lightsaber for his birthday trip, I started to do a bit of research. Honestly, I wasn't even sure if they even still had this experience because of Savi's Workshop in Galaxy's Edge.
I was delighted to see this was still an option, and it was still reasonably priced! Knowing that he actually plays with the lightsaber (hence why he wanted a new one 6 years later), I didn't want to spend the money on one at Savi's Workshop knowing it could get beaten up.
As an added bonus, reservations are not required to build a lightsaber at Tatooine Traders so I wouldn't have to work it into our touring plan.
Health and Safety Precautions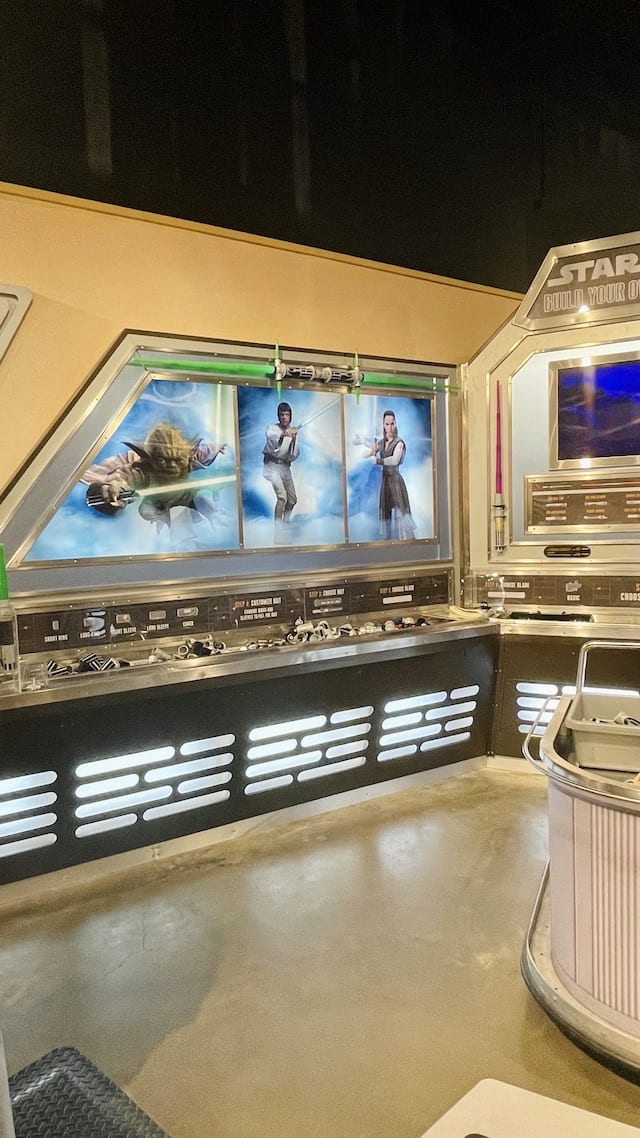 My son and I arrived at Tatooine Traders as the last stop of the day at Hollywood Studios. We had just finished lunch at Sci-Fi Dine-In Theater and rode Rise of the Resistance. I knew we wouldn't want to carry the lightsaber around with us so I made sure to do it once we were ready to leave the park.
Currently, there are two stations set up for building the lightsabers. We had to wait about 5 minutes for a spot to open up. Right now they have ropes set up to keep Guests from coming behind the counters and touching the pieces.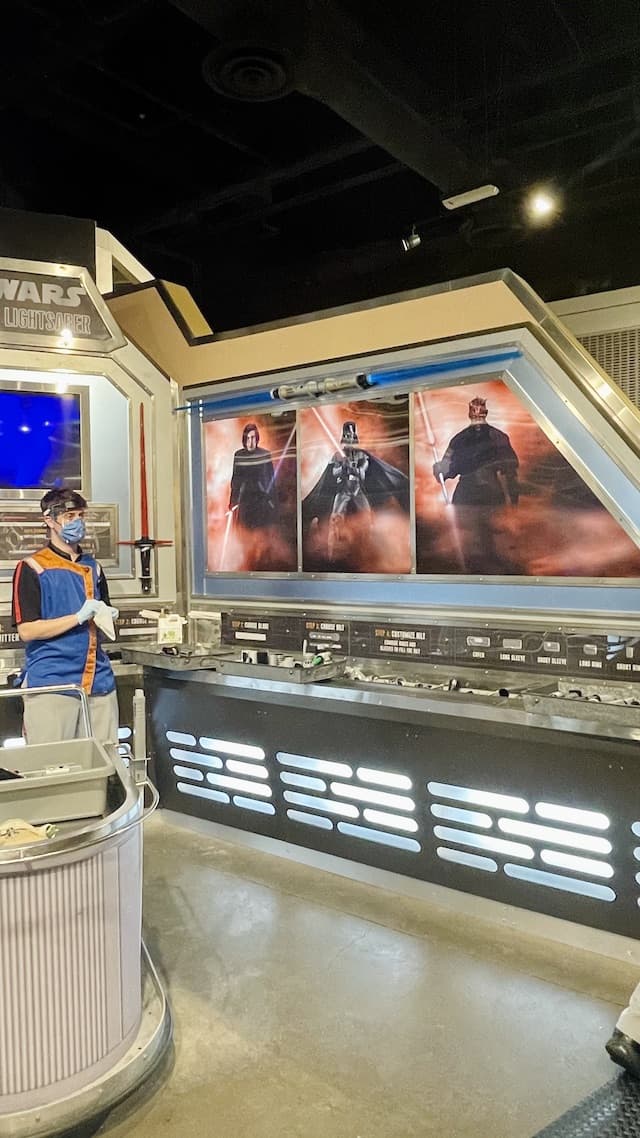 The pieces are also grouped together in a bin for that party to use. Once the Guest is done building their lightsaber, the entire bin goes back to a Cast Member who wipes each piece down. They had a few sets rotating so that a fresh bin of supplies was ready to go for each new person.
I really appreciated the extra precautions they are taking for this experience. By keeping Guests out of the bins and wiping all the pieces down between each experience, I felt confident that we wouldn't be getting any germs.
Steps for Building a Lightsaber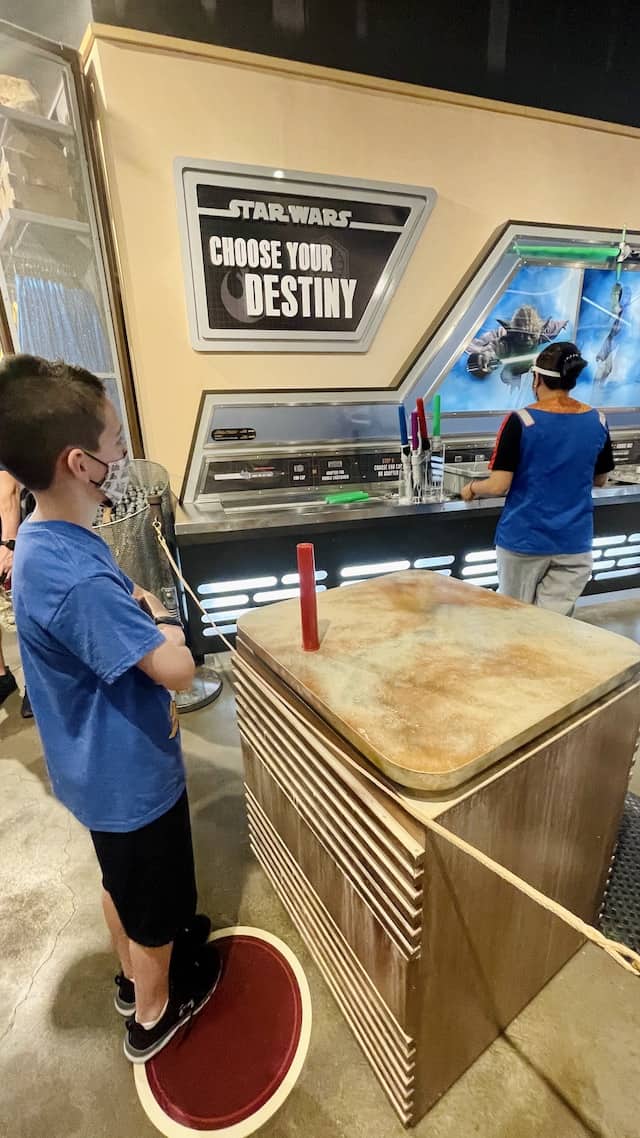 After a few minutes of waiting, it was my son's turn to build his lightsaber! First, the Cast Member asked if he wanted to build a single-bladed lightsaber or a dual one. He chose single.
First, you choose an emitter for your lightsaber. These hold the actual blade in place, attaching it to the hilt.
Step 2 is to choose the blade color of the lightsaber. My son choose red. The other options are blue, purple, and green.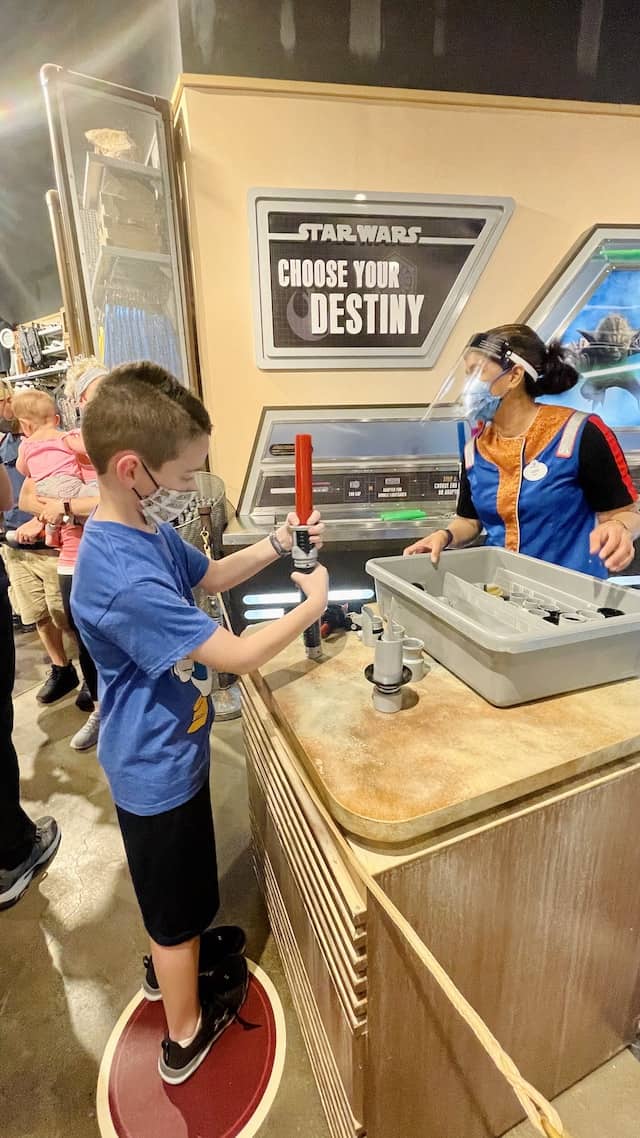 The next step is to choose the hilt.
Then, you customize the hilt by combining rings and sleeves to fill the hilt. He got to play around with the different pieces to see which combination he liked best. The Cast Member was very patient with him as he worked on this step, helping him fit them on properly as needed.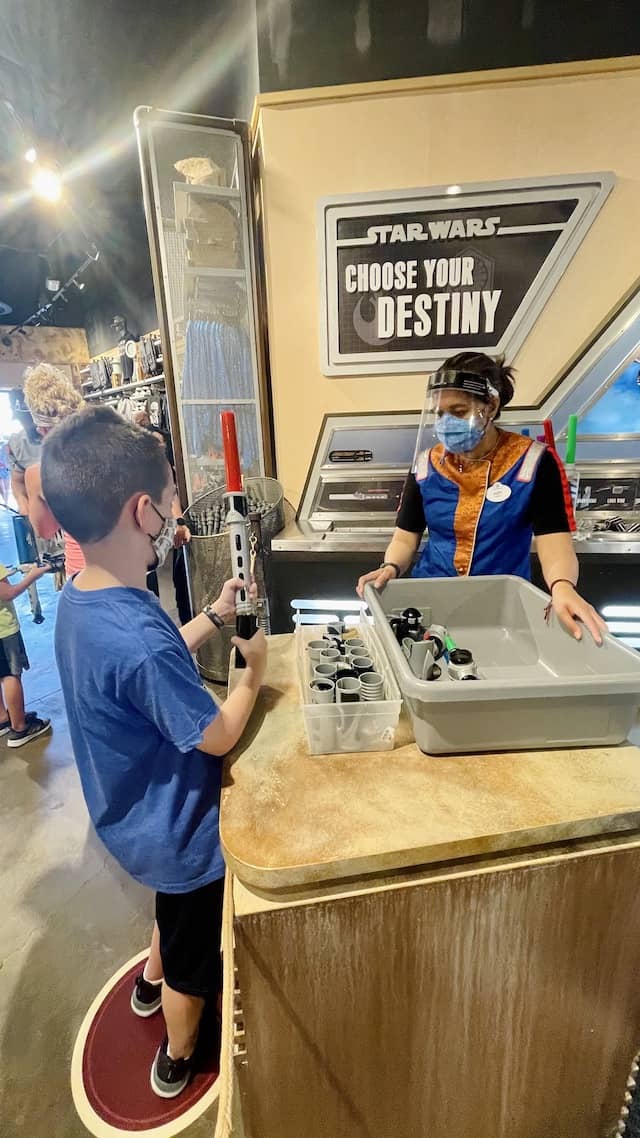 Finally, step 5 involved choosing an end cap or adapter. And that's it! The entire process only took 5 minutes. Perfect for this mom who doesn't understand Star Wars and wanted to hop over to EPCOT! My son is a no-frills kind of dude so he appreciated that it wasn't a long drawn out process either.
If you want a more theatrical experience with a storyline, I think Savi's Workshop would probably be a better option. There, the "Gatherers" usher you in to build your lightsaber, but you must protect the shop's secrecy to avoid being discovered by the First Order.
Other Star Wars Merchandise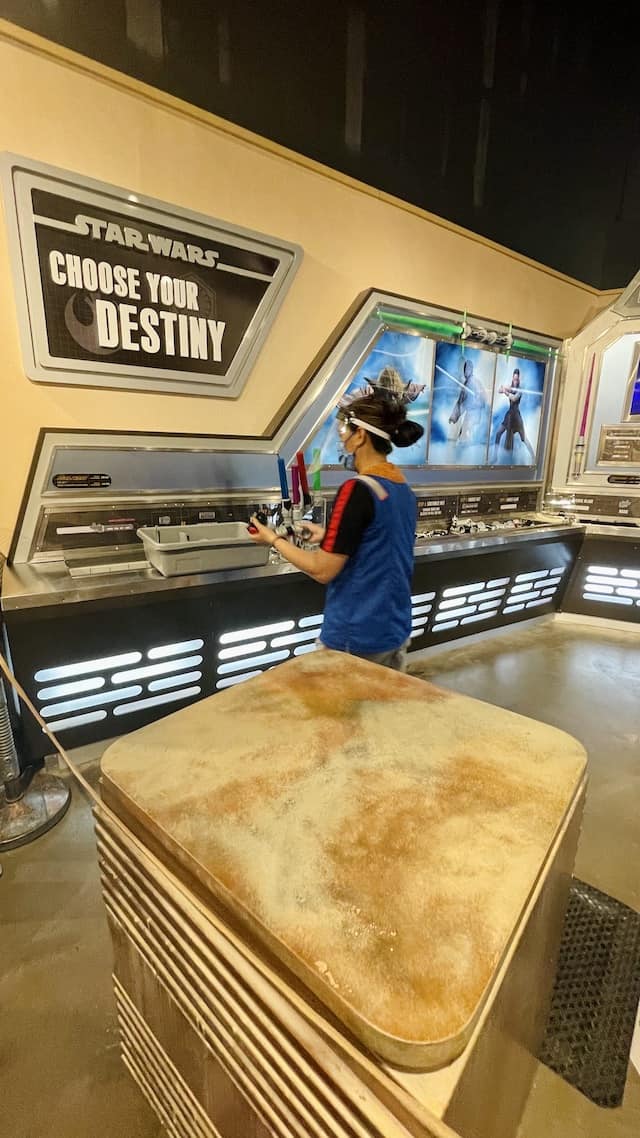 After we completed building the lightsaber, the Cast Member gave the used bin to another Cast Member to wipe down. We then walked around a bit to check out some other merchandise before checking out.
There is plenty of apparel, including t-shirts, Spirit Jerseys, hoodies, and more.
Shop for Baby Yoda merch to your heart's content in Tatooine Traders, and you can also find lots of little gadgets, books, figurines, and more.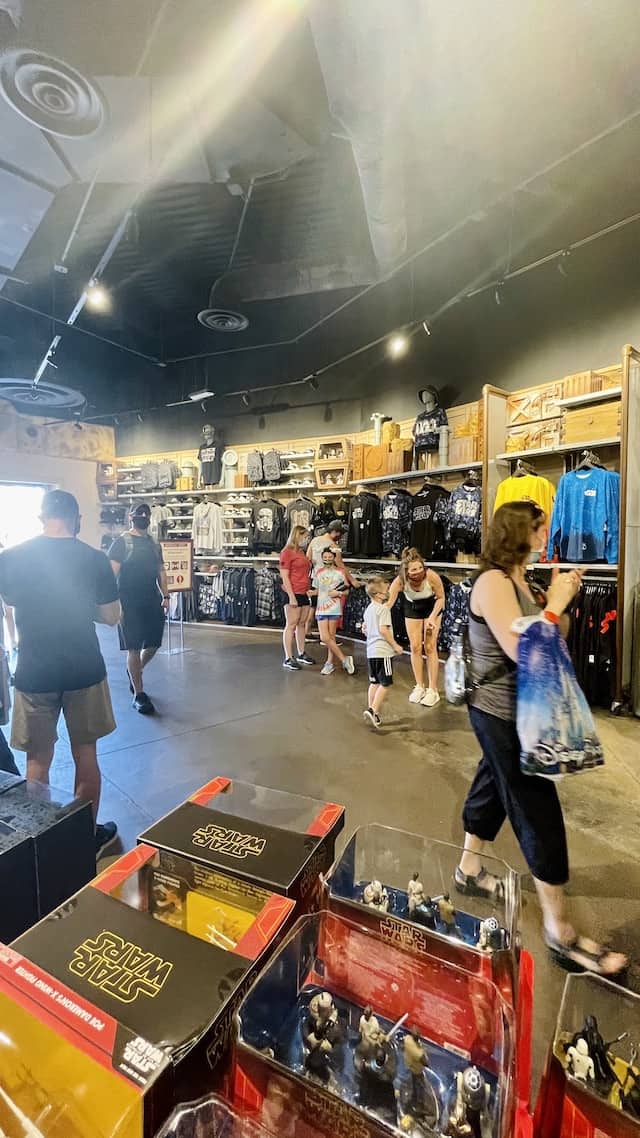 You pay for the lightsaber with your other Star Wars merchandise. These are originally priced at $30 for the single blade and about $45 for the dual lightsaber. Discounts do apply, and I was able to purchase it for $20 with my 30% Annual Pass discount! Compared to $200 for a lightsaber at Savi's Workshop, we were both very satisfied with the experience (and price) at Tatooine Traders!
Have you ever built a lightsaber at Tatooine Traders? Share your experience with us on Facebook! You can also join our friendly KtP Crew and continue the discussion there.
Are you planning a vacation? Reach out to our trusted travel agency sponsor Authorized Disney Vacation Planner
Mouse Class Travel
!