Get details here on all the exciting ways Disney World's Resorts celebrate the 50th Anniversary with decorations, merchandise, treats, and more.
Staying Inside the Magic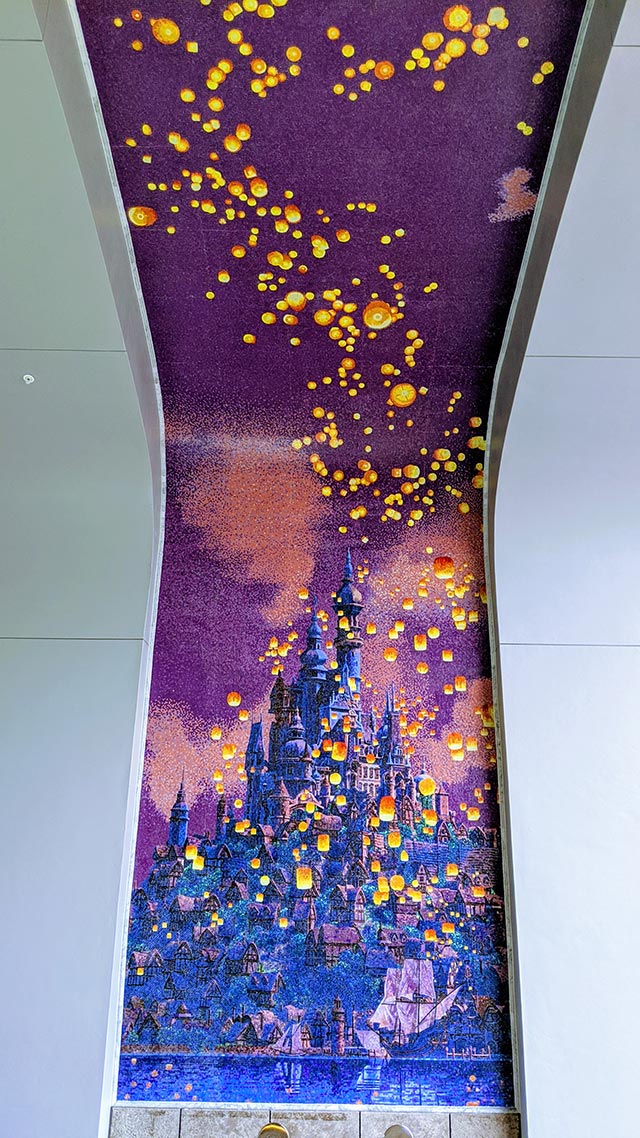 Disney Resort guests experience Disney magic 24/7. Be on the lookout for dazzling decorations, tasty treats, family-fun activities and new park benefits.
Guests are immersed by The World's Most Magical Celebration when you stay in the magic!
As soon as you arrive at a Disney Resort hotel, you are part of the 50th anniversary celebration of Walt Disney World Resort! For this reason, look for magical touches sparkling day and night.
Merchandise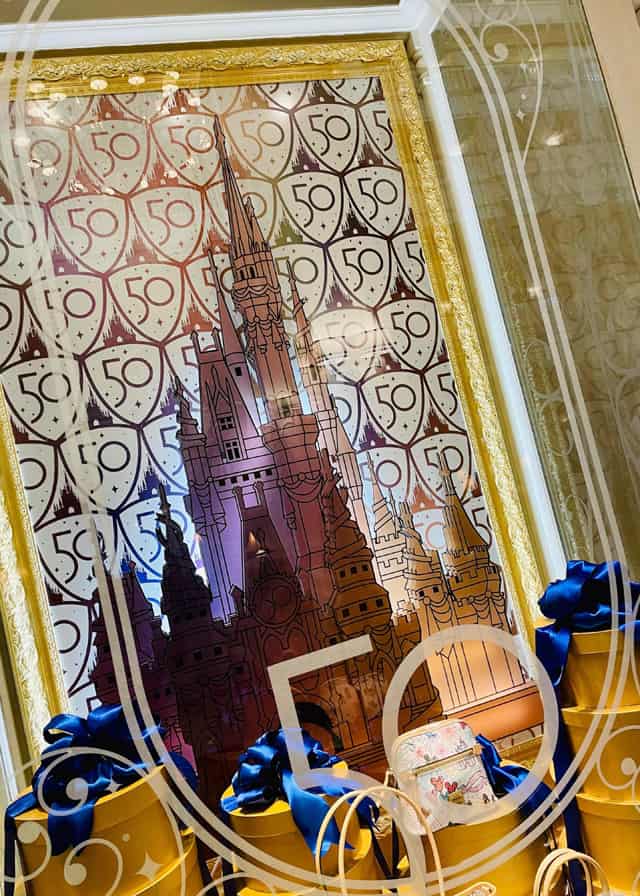 Disney World introduced several new stunning 50th Anniversary collections! Check out each fantastic collection HERE. In addition, go HERE to see where to purchase them. Check shopDisney too since items have been popping up there as well.
When staying at Fort Wilderness Resort and Campground, Contemporary Resort, and Polynesian Resort, be on the lookout for 50th merchandise at each Resort!
Quick Service 50th Treats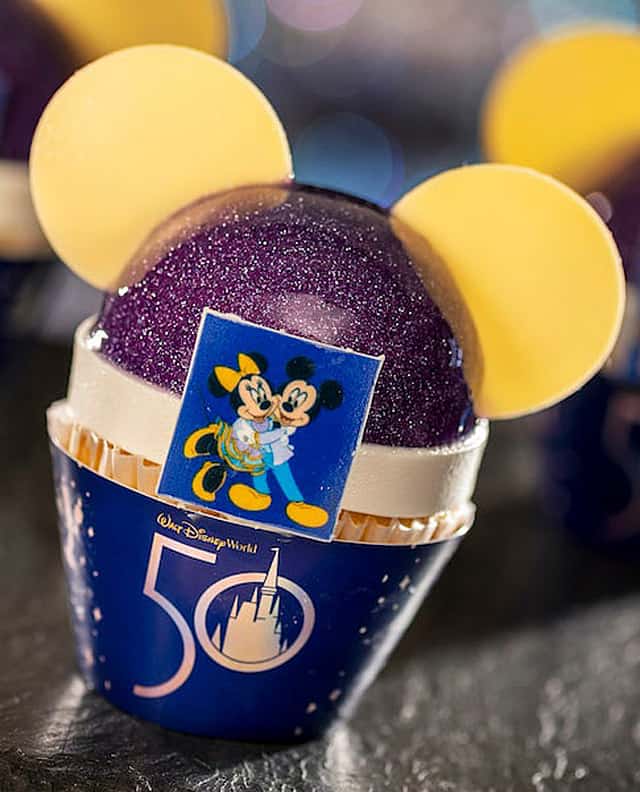 Disney chefs created new, delicious 50th anniversary menu items. Many of these are inspired by Walt's favorite dishes. EARidescent magic is a part of every celebration, including treats. Each special offering is available at dining locations below:
The Mara, Disney's Animal Kingdom Lodge: Chocolate Mousse with a cardamom financier
Contempo Café, Disney's Contemporary Resort: 50th Anniversary Peanut Butter-Banana Pie. Sweet tart shell filled with peanut butter mousse and banana sauce topped with chocolate glaze and chocolate décor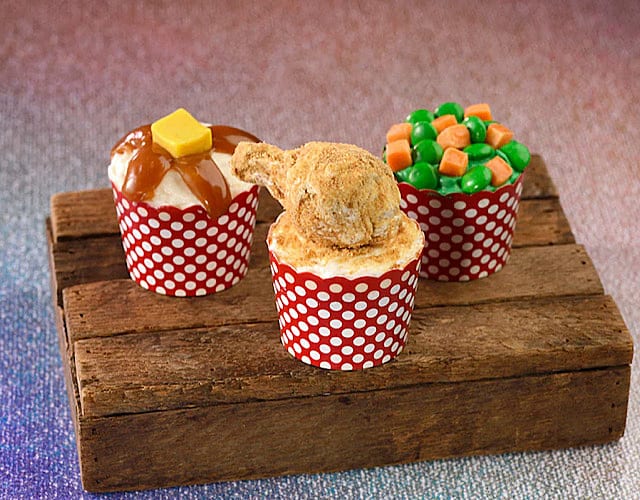 P&J's Southern Takeout, Disney's Fort Wilderness Resort & Campgrounds
Chicken Dinner Cupcake Trio (pictured above)

Fried chicken-apple fritter, apple pie moonshine filling, and vanilla buttercream ​
Peas and carrots-strawberry moonshine custard, white chocolate frosting, and M&M'S Mini "peas" ​
Mock mashed potato-SNICKERS mousse cupcake, caramel buttercream, and STARBURST "butter"
Gasparilla Island Grill, Disney's Grand Floridian Resort & Spa: 50th Anniversary Mickey EARidescent Cupcake – Vanilla cupcake filled with lemon curd topped with blueberry mousse and enrobed in an EARidescent glaze (shown above)
Capt. Cook's, Disney's Polynesian Village Resort: 50th Celebration Cupcake – Vanilla cupcake with DOLE Whip center, tropical fruit salsa, and pineapple macaron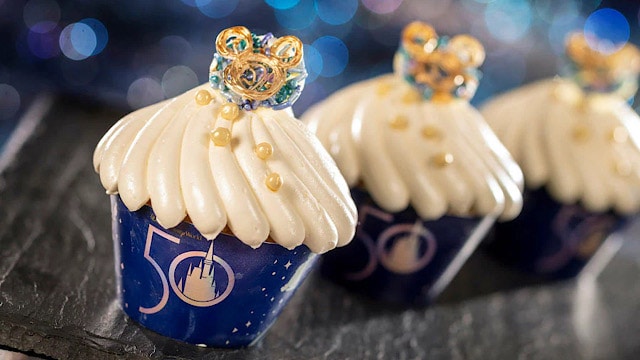 Le Petit Café, Disney's Riviera Resort: 50th Celebration Cupcake – Vanilla cupcake, cake-flavored mousse, and caramel-buttercream icing. Garnished with crisp pearls, 50th anniversary sprinkles, and a whimsical gold Mickey. (pictured above)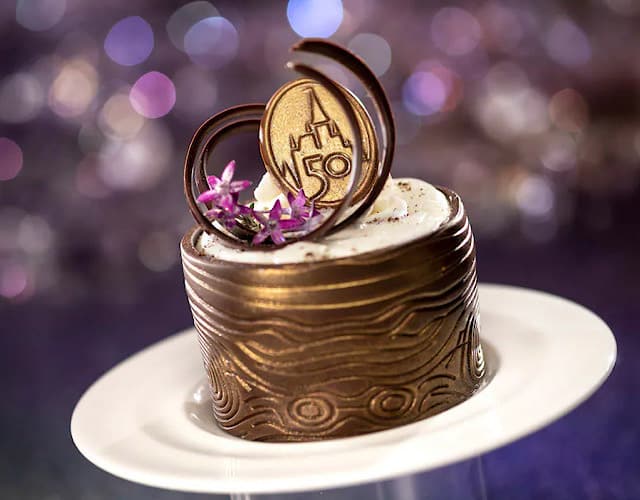 Roaring Fork, Disney's Wilderness Lodge: Petit Stump Cake ​– Chocolate cake with birthday cake buttercream filling surrounded by chocolate "bark" fondant. Topped with 50th anniversary chocolate coin (shown above)
Geyser Point Bar & Grill, Disney's Wilderness Lodge: Lemon Meringue Pie – House-made tart shell, lemon curd with a toasted meringue
The Market at Ale & Compass, Disney's Yacht & Beach Club Resorts: 50th Celebration Tart – Birthday cake mousse dome on top of a milk chocolate mousse-filled vanilla tart shell with mini chocolate crisp pearls, buttercream, fondant, and chocolate décor
Table Service at Disney Resorts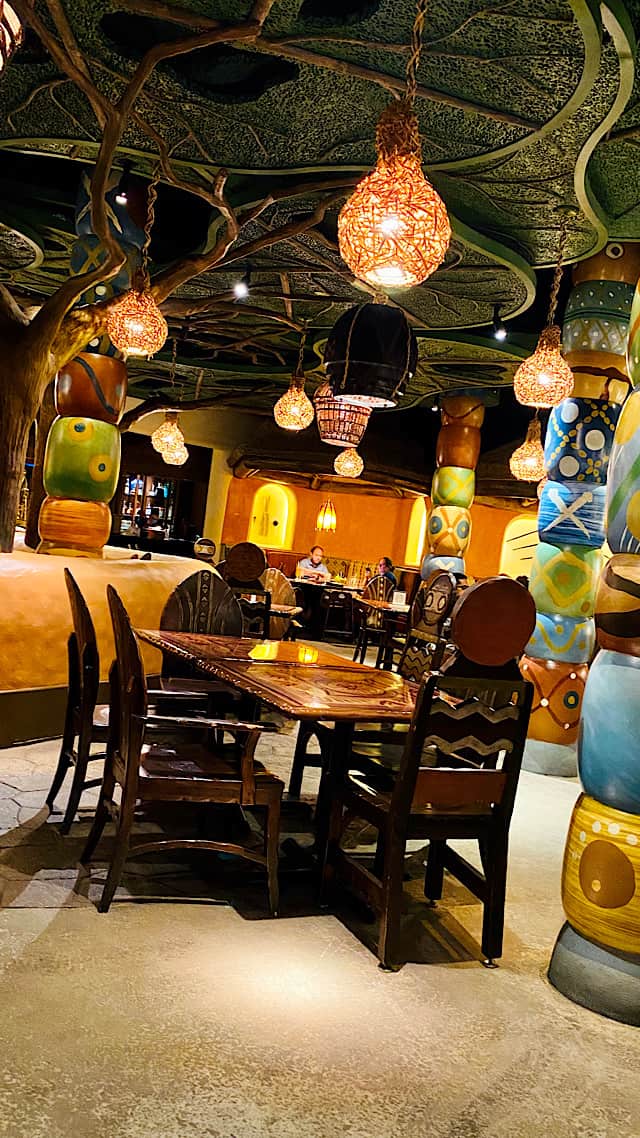 In addition to quick service locations, Disney has tasty 50th treats at various table service locations.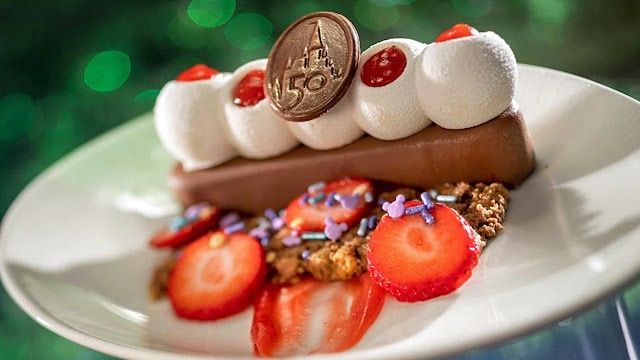 Sanaa, Disney's Animal Kingdom Lodge: African Triple-Chocolate Mousse – Dark chocolate from Ghana, milk chocolate from Madagascar, blond chocolate from France, chocolate-almond biscuit, and strawberries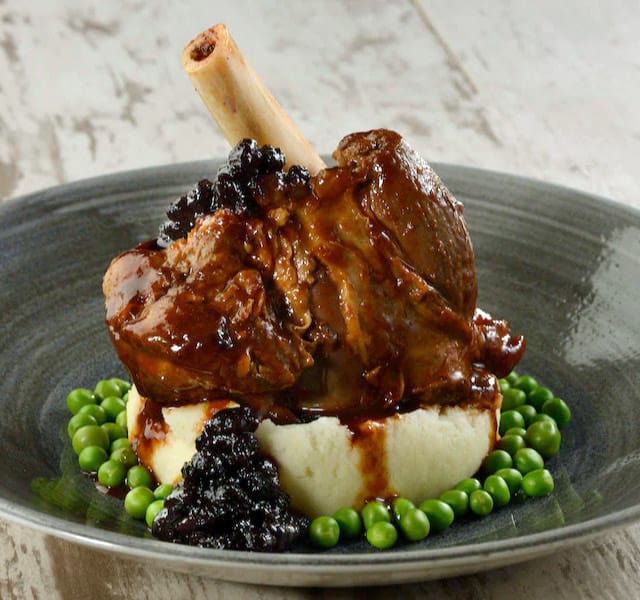 Toledo–Tapas, Steak, and Seafood, Disney's Coronado Springs Resort
Braised Lamb Shank with olive oil-potato purée, rosemary-roasted garlic gravy, huckleberry jam, and English peas
Almond Cheesecake – Marcona almond, lemon curd, pistachio sponge, meringue, cherry gelée, fresh raspberries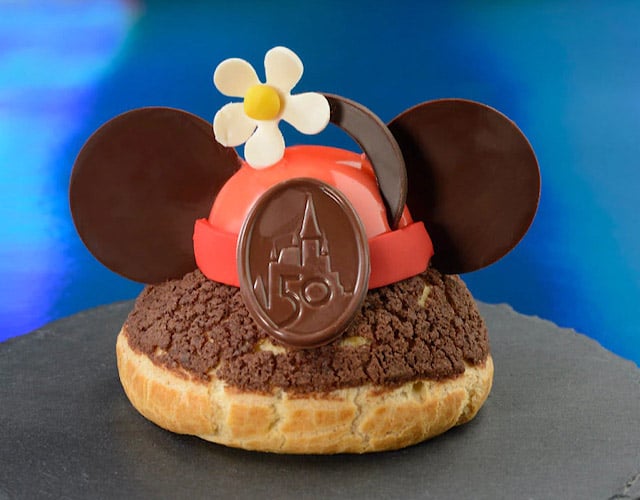 Grand Floridian Café, Disney's Grand Floridian Resort & Spa: Vintage Minnie's Brown Betty Profiterole – Crunchy-topped cream puff filled with one of Walt's favorite flavors of cinnamon-spiced apples and Chantilly cream (shown above)
Olivia's Cafe, Disney's Old Key West Resort: Spam-Cheddar Biscuits with white gravy and drizzled with honey
Topolino's Terrace – Flavors of the Riviera, Disney's Riviera Resort: Vanilla and Citrus Crème Brûlée – Morello cherry compote, strawberry cream, sugared beignets, chocolate meringues, 50th Anniversary chocolate stamp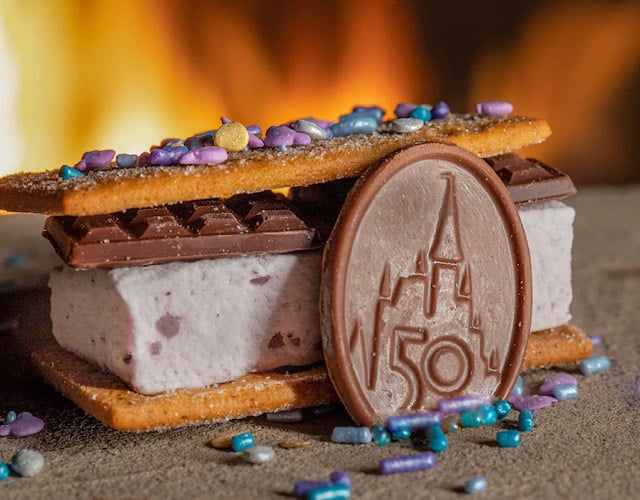 Last, be on the lookout for 50th Signature S'mores with blueberry marshmallows. This beautiful dessert has a 50th logo chocolate medallion and EARidescent sprinkles. These are available at select Disney Resort hotels. Check out the picture above. Yum!
50th Coffee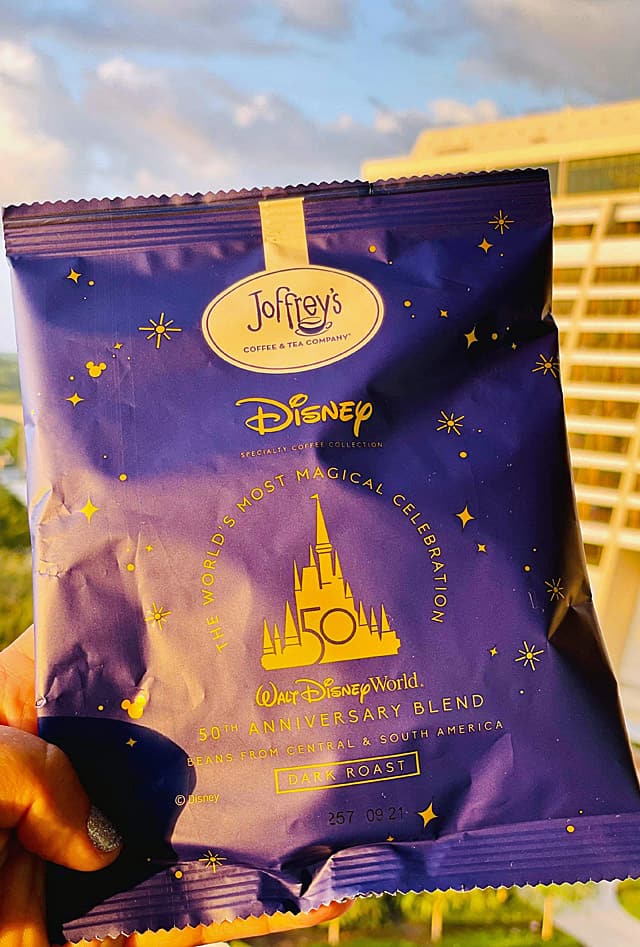 Additionally, coffee lovers will find a new blend during the 50th celebration. In resort rooms, DVC guests can brew packages. Because each packet make 8 cups, they can be real money savers. We were given 50th blend, regular and decaf Joffrey's coffee packets. Joffrey's isn't my (Susan) favorite coffee. In contrast, I preferred the regular blend over the 50th.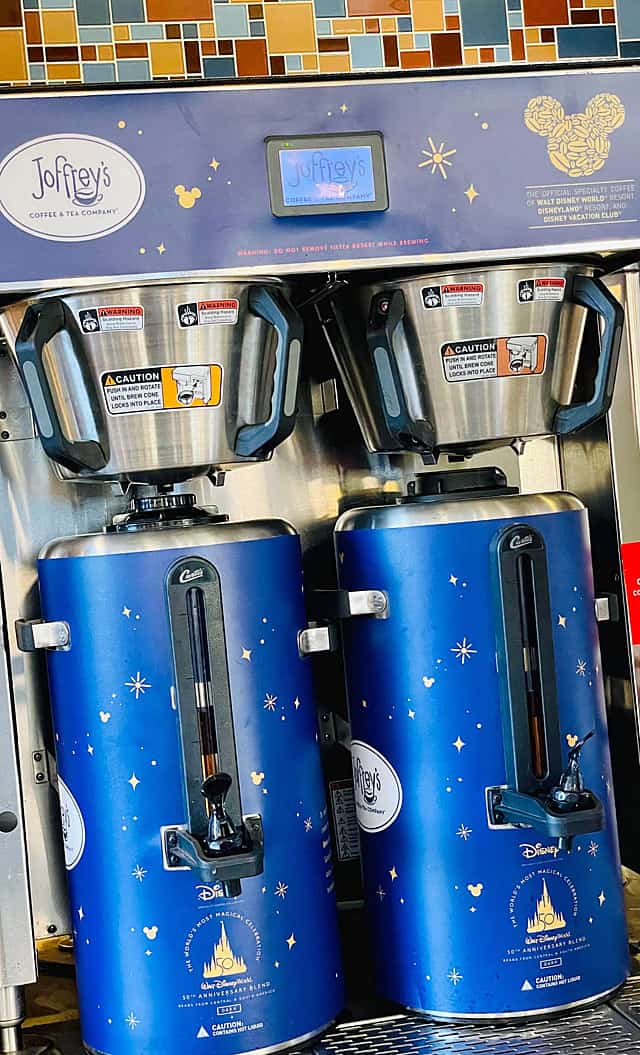 At quick service locations, check out the 50th self-serve stations. Be aware that this is a dark blend. I didn't care for the more bitter flavor.
The 50th Anniversary dark blend is the only coffee served at quick service resort locations.
Steakhouse 71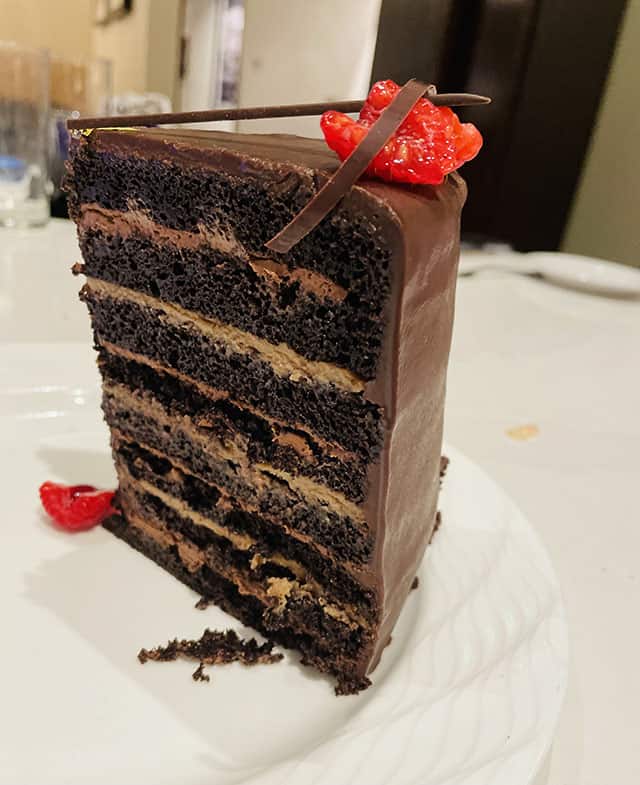 One of Disney's newest restaurants, Steakhouse 71, located at Disney's Contemporary Resort offers a special menu and event for the 50th. It features an amazing dinner menu. Not only that, Steakhouse 71 serves delicious dishes at breakfast and lunch too.
The decor is modern and minimalist. Although, I do miss the fun decor at The Wave restaurant. Last month, KtP writers really enjoyed the meals. There's something for everyone and reasonably priced (by Disney standards).
California Grill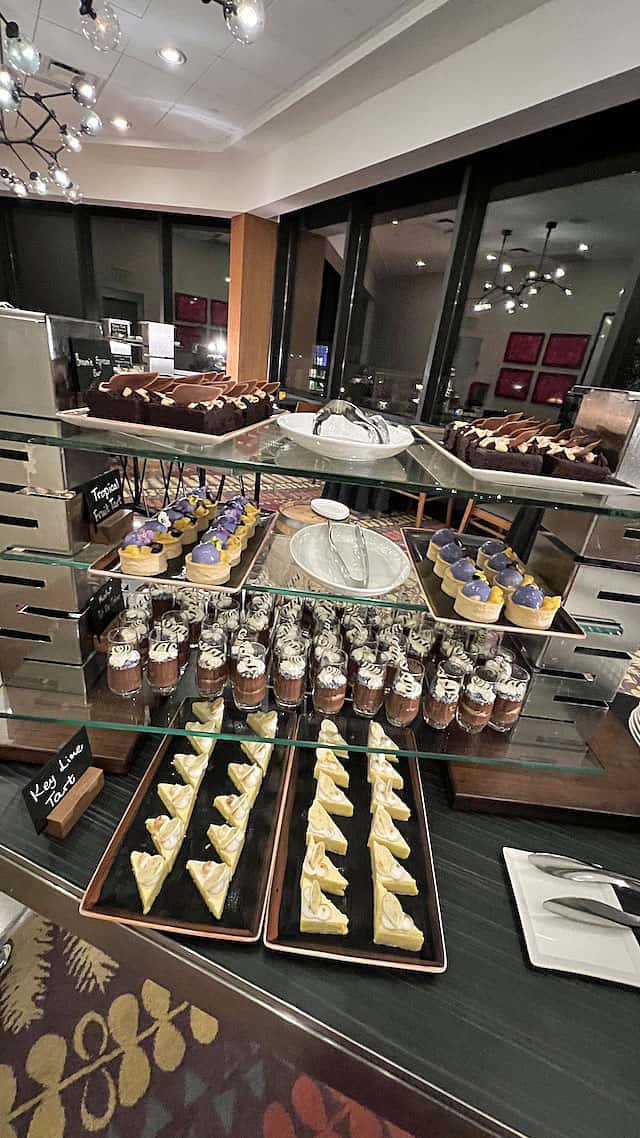 As part of The World's Most Magical Celebration, California Grill at Disney's Contemporary Resort is offering a limited-time, three-course menu with dishes inspired by past favorites and market-fresh creations.
Note: The 50th Anniversary meal is the only thing currently on the menu.
In addition, guests can book Celebration at the Top of the 50 at Disney's Contemporary Grill. KtP Writer Maggie and myself tried this private party serving small bites and desserts along with unlimited drinks. Although it's pricey, we really loved it. Check out the million dollar view in my review above!
Scavenger Hunt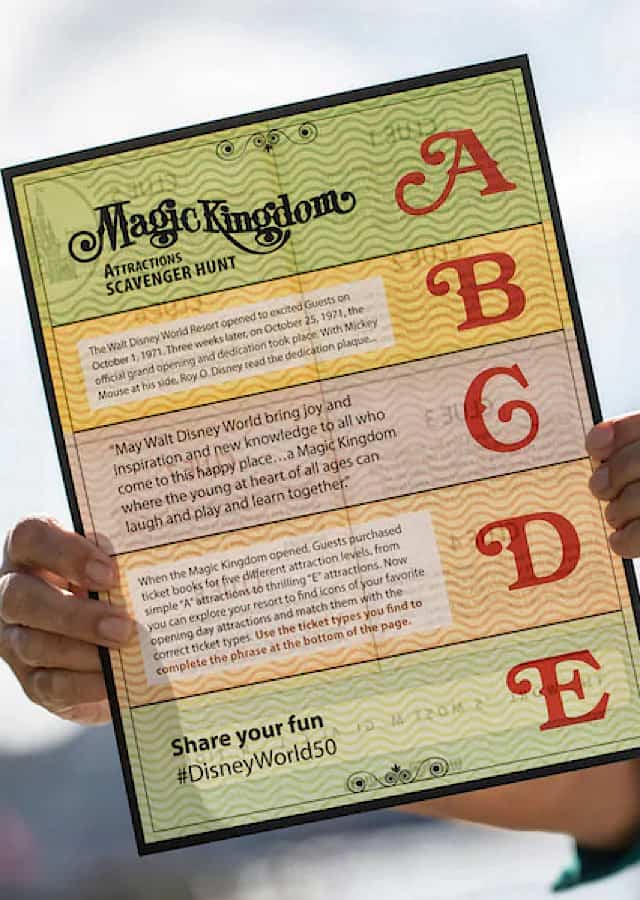 Resort guests can participate in a brand new scavenger hunt. It's themed to classic opening day attractions. I (Susan) love the iconic ticket theming like those used originally in 1971.
The 50th-themed clue sheets can be picked up at the Resort hotels Check out the clues below to get an idea of what you'll be looking for on this family friendly activity.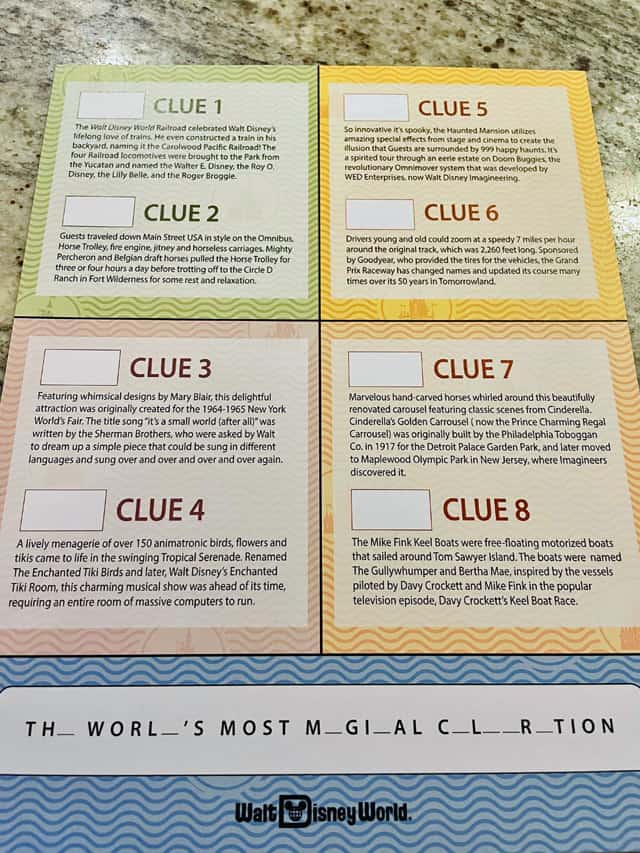 Guests staying under the stars at Disney's Fort Wilderness Resort & Campground can enjoy a unique scavenger hunt. It celebrates the history of this special resort and its 50th anniversary this year!
Themed Pool Parties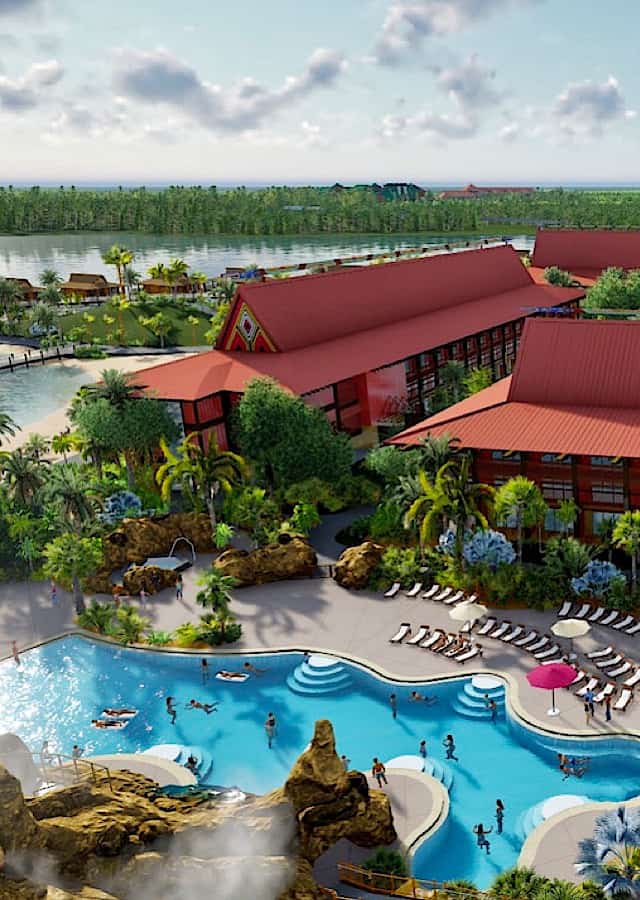 We're not done yet! Check out themed pool parties below during Disney World's 50th Anniversary:
70's Pop Culture – celebrating the decade it all started!
Magic Kingdom – highlighting the theme park along with classic attractions.
Heritage Resorts – showcasing activities themed to resorts.
Electrical Water Pageant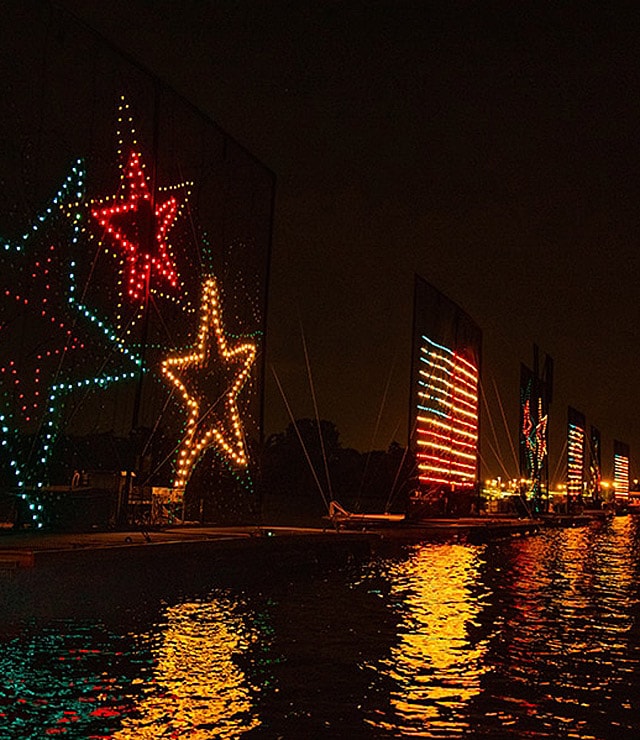 Few things are more nostalgic than the the Electrical Water Pageant. Of course, it lights up the waterways at Walt Disney World Resort. Now, for the 50th, Disney adds a towering castle, swirling pixie dust and a version of "The Magic is Calling."
Each song is recorded in the iconic electro-synth-magnetic sound of the show.
Mugs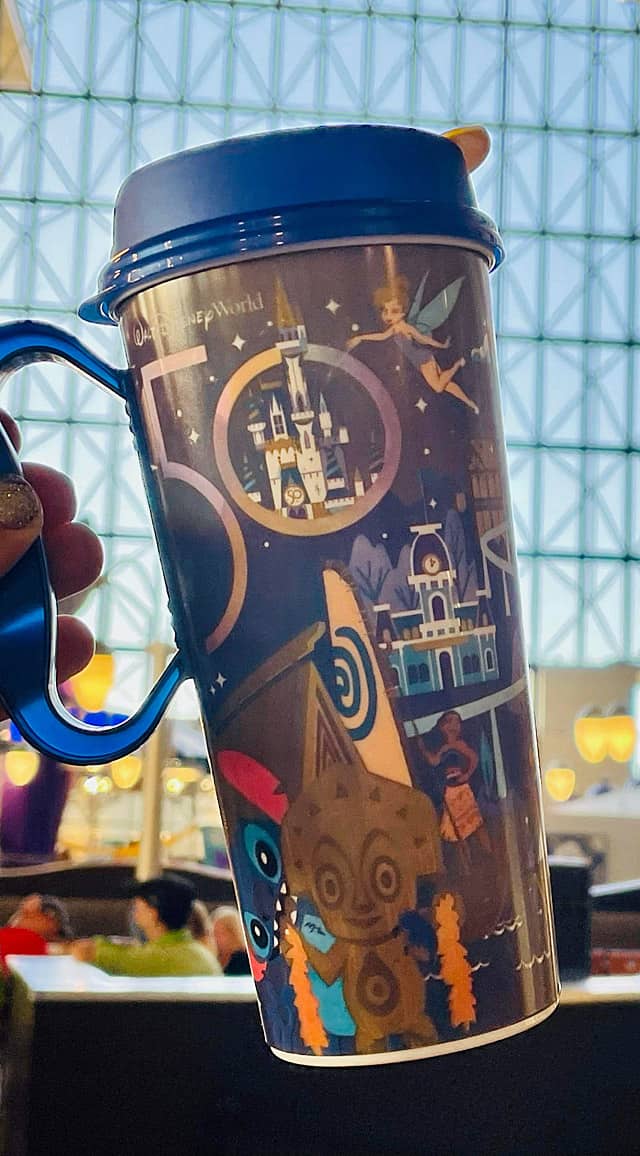 At Disney Resort hotels, you'll find two new versions of collectible and refillable mugs. Both feature designs inspired by the 50th anniversary celebration.
Each mug includes creative art highlighting favorite characters, attractions and resorts from Disney Parks. Not only that, but look for Beacons of Magic in the designs!
Transportation Makeovers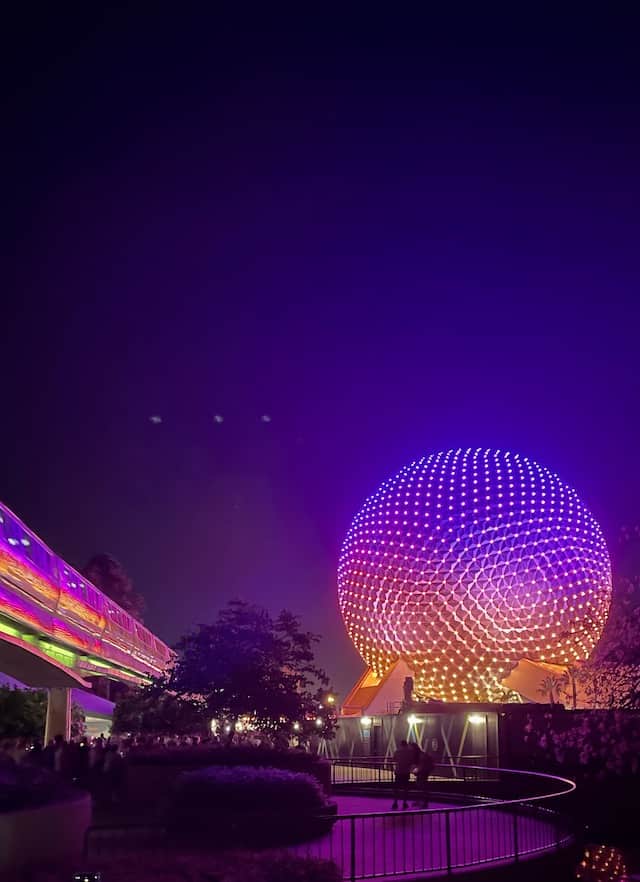 If you visit the Disney World Resort, you'll notice Disney's onsite transportation has extra pixie dust! For example, new 50th artwork is featured on select Disney buses, skyliner cabins, and monorails.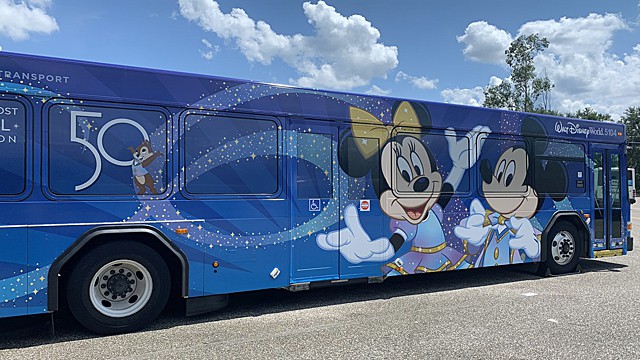 Characters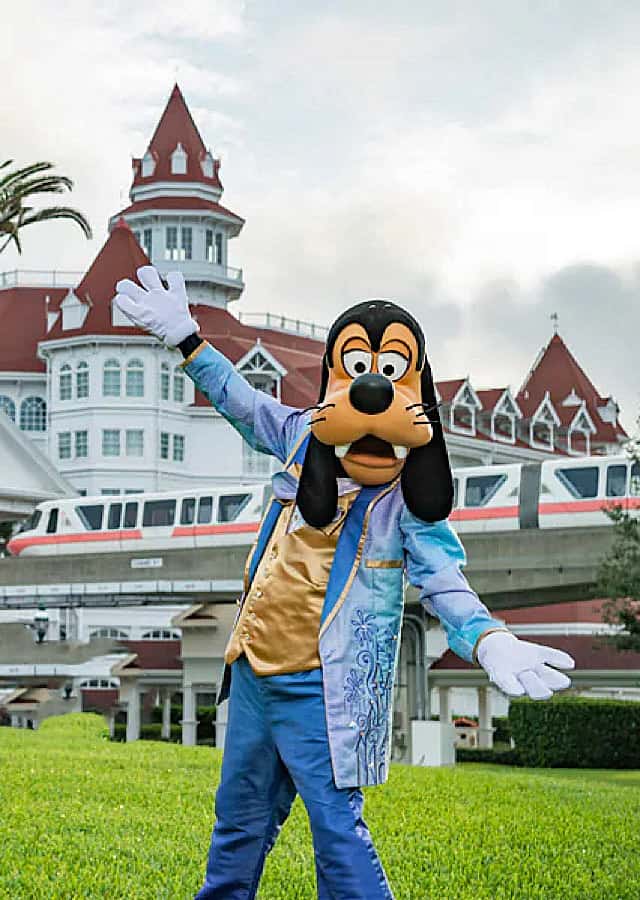 During the celebration, keep an eye out for surprise appearances by favorite Disney pals! They're decked out in their EARidescent best. You won't find a schedule. Instead, they just pop up randomly at Disney World Resorts.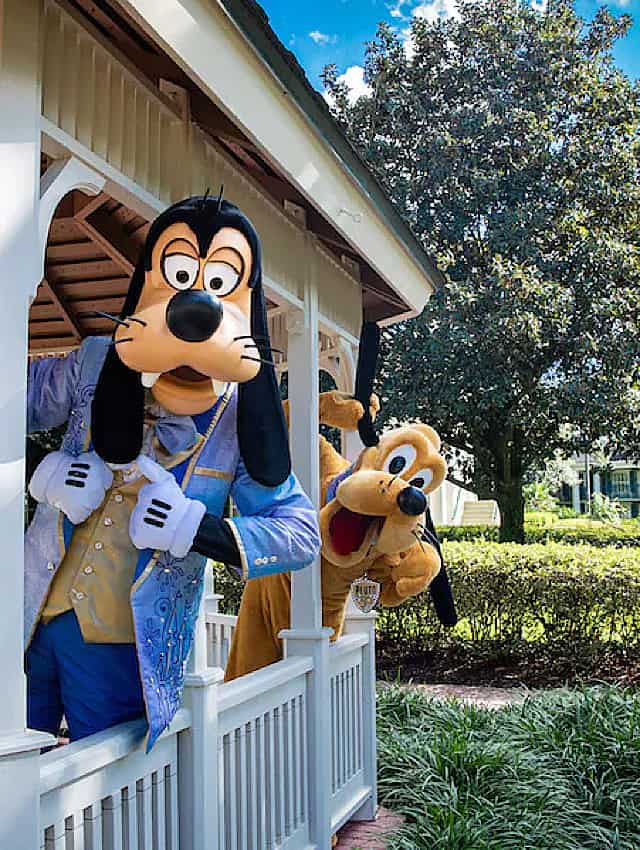 Early Theme Park Entry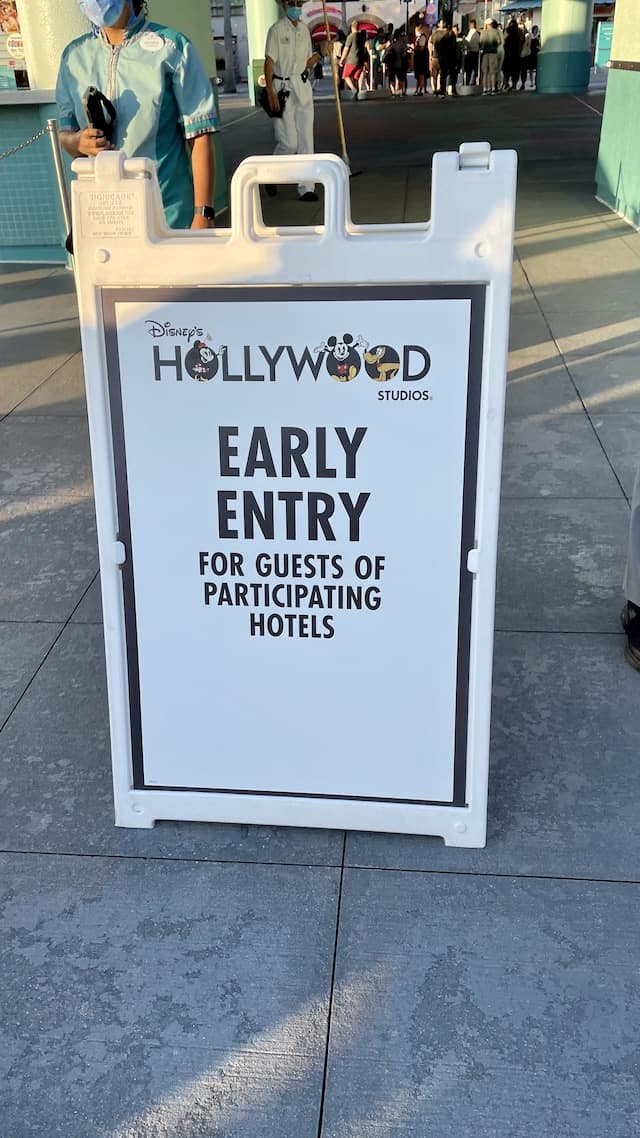 New early theme park entry benefits for Disney Resort hotel guests are amazing. Be among the first guests each day to enter theme parks.
Guests staying at a Disney Deluxe or Deluxe Villa Resort hotels enjoy extended hours on certain nights in select theme parks. This is a wonderful perk!
Special 50th Touches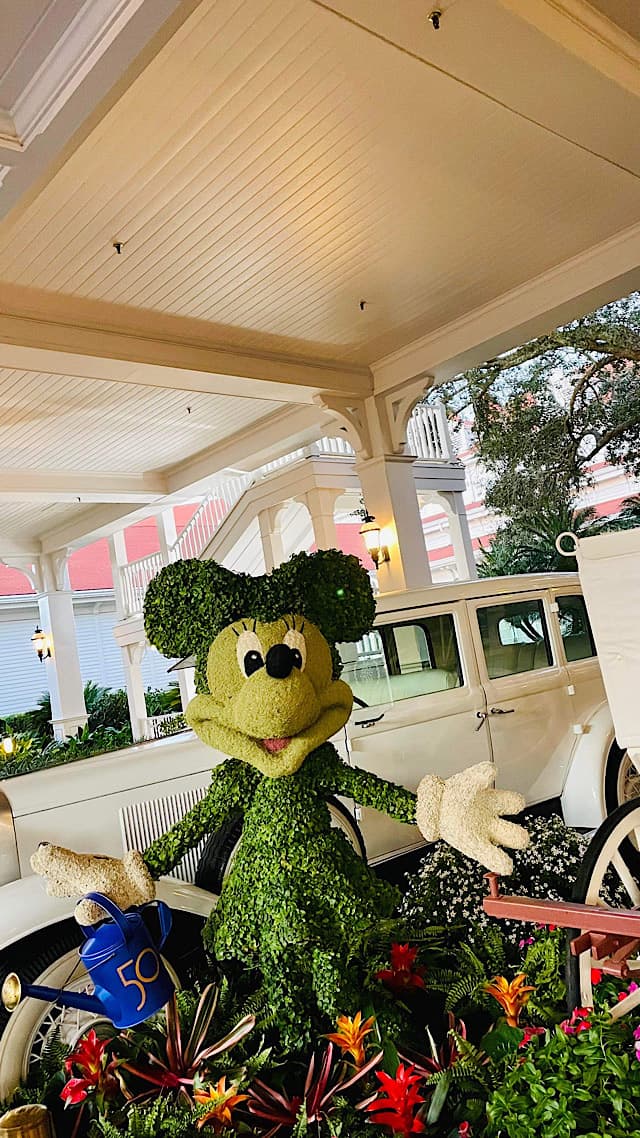 What makes Disney magical is the extra touches found at Disney resorts and theme parks. Just look at the adorable Minnie topiary above. She even accessories with 50th items. Minnie is ready for fun!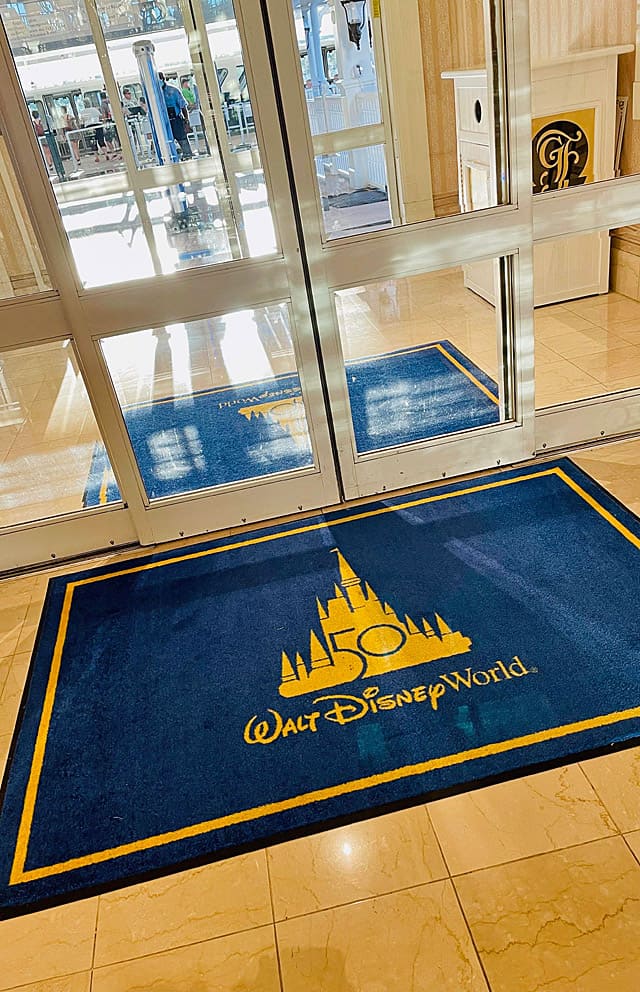 Entryways are filled with the 50th logo, and you'll see 50th banners everywhere.
I (Susan) hope you're having as much fun reading about the 50th as I'm having writing them. If so, please check out our other articles in this All Things 50th series below by clicking on the theme park name:
What are our thoughts on the Disney's Resort celebrations for Disney World's 50th Anniversary Celebration? Please share your comments below or continue the discussion on our KtP Facebook Crew page.