For Disney World's 50th Anniversary, EPCOT is coming to life like never before with exciting magic for all to enjoy!
The New Faces of EPCOT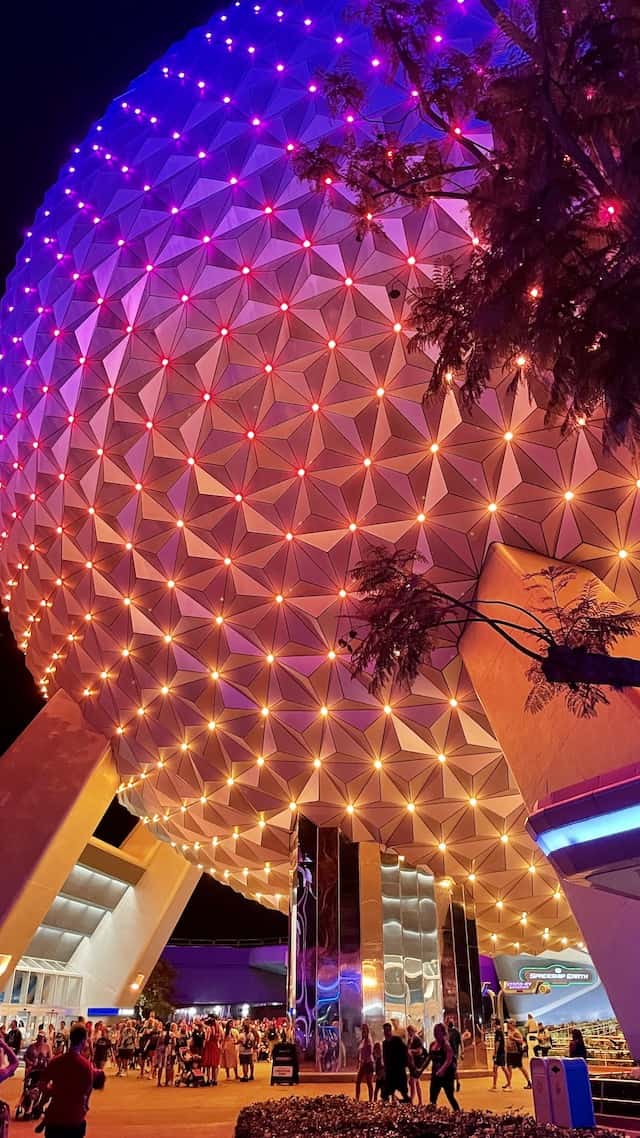 Disney's EPCOT theme park has been experiencing a major transition for some time. Just look around as you navigating all the crazy walls. Now, however, Disney's 50th Anniversary brings all kinds of new things to EPCOT.
These include unique experiences, decorations, themed treats, and exclusive merchandise. For information on all the Disney World theme park 50th celebrations, check out our guide HERE.
Harmonious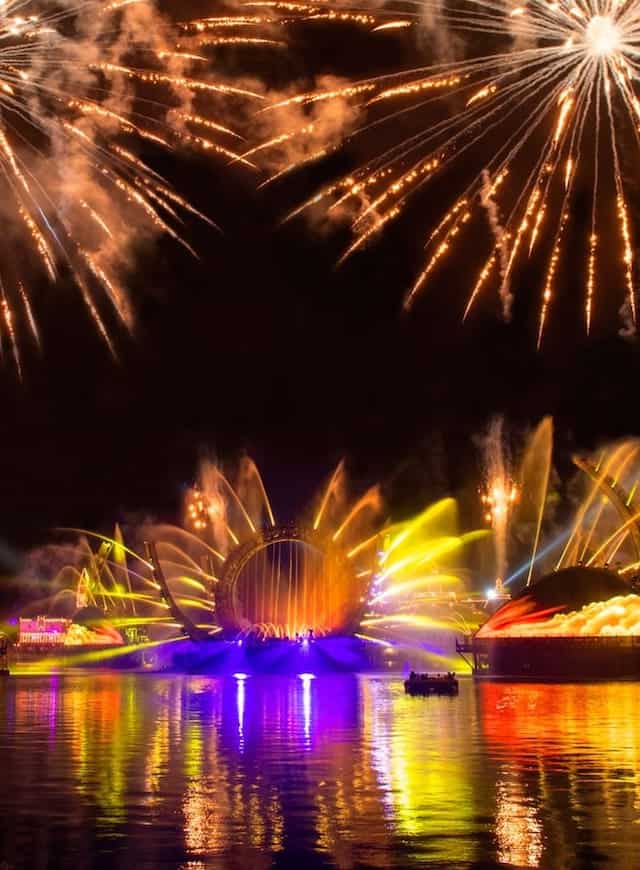 The nighttime spectacular "Harmonious" is like nothing guests have ever encountered. It's a multi-media spectacular of fireworks, songs, lasers, and lighting presentations. Before this, I (Susan) wasn't a fan of EPCOT nighttime shows. However, that all changed with Harmonious.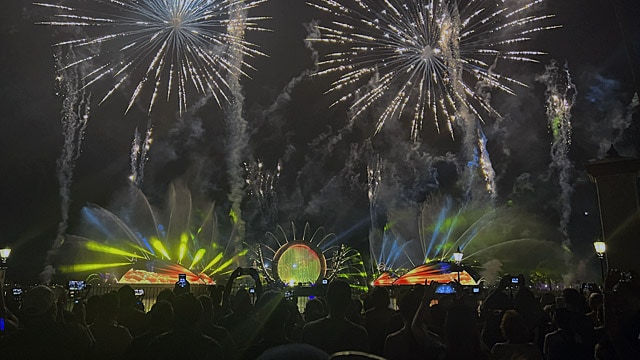 Surprisingly, Harmonious gave me chills! Not only that, but I also felt the incredible heart of each performance in an amazing way. With Harmonious, Disney celebrates music inspired by people around the entire globe. Guests experience familiar visuals and songs reinterpreted by a culturally diverse group of 240 artists.
Harmonious is nothing short of spectacular!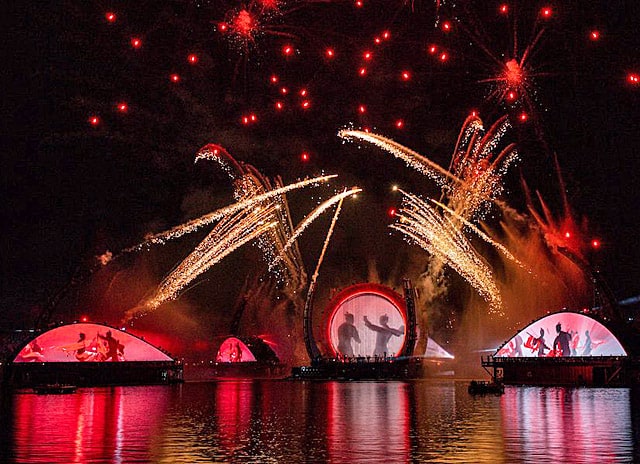 Harmonious is the largest nighttime spectaculars ever created for any Disney theme park. It includes floating set pieces, choreographed fountains, lights, and lasers. Although I'm not a fan of the huge barges, they're worth it for the fabulous show!
Check out behind the Harmonious scenes below:
While you may be impressed with this video, nothing compares to seeing Harmonious in person! I hope you'll check it out on your next visit.
Sculptures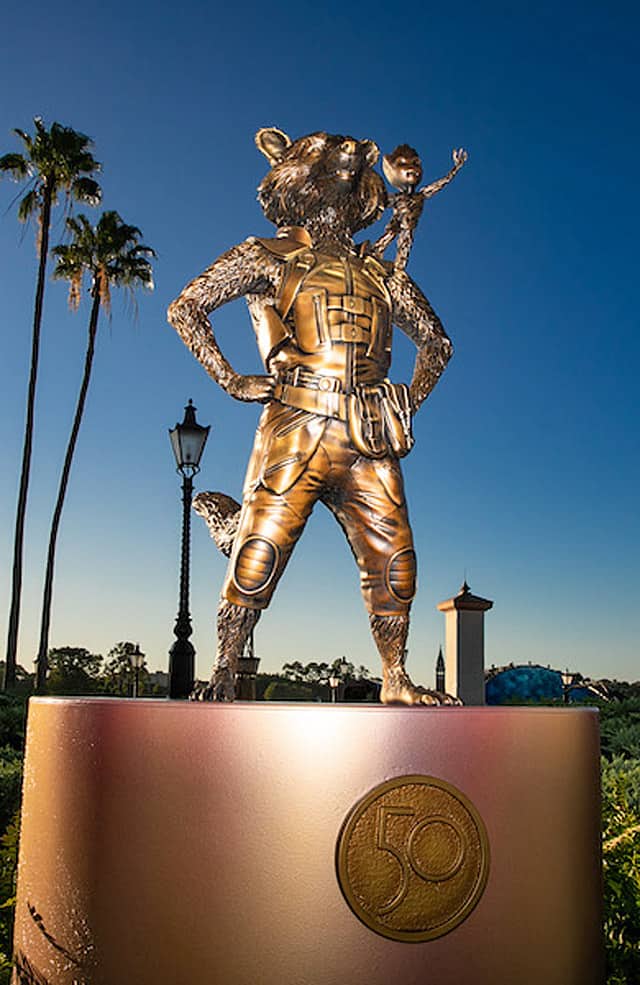 Then, search for the Disney Fab 50 Character Collection golden sculptures. These are located throughout each Disney World theme park. At EPCOT, be on the lookout for: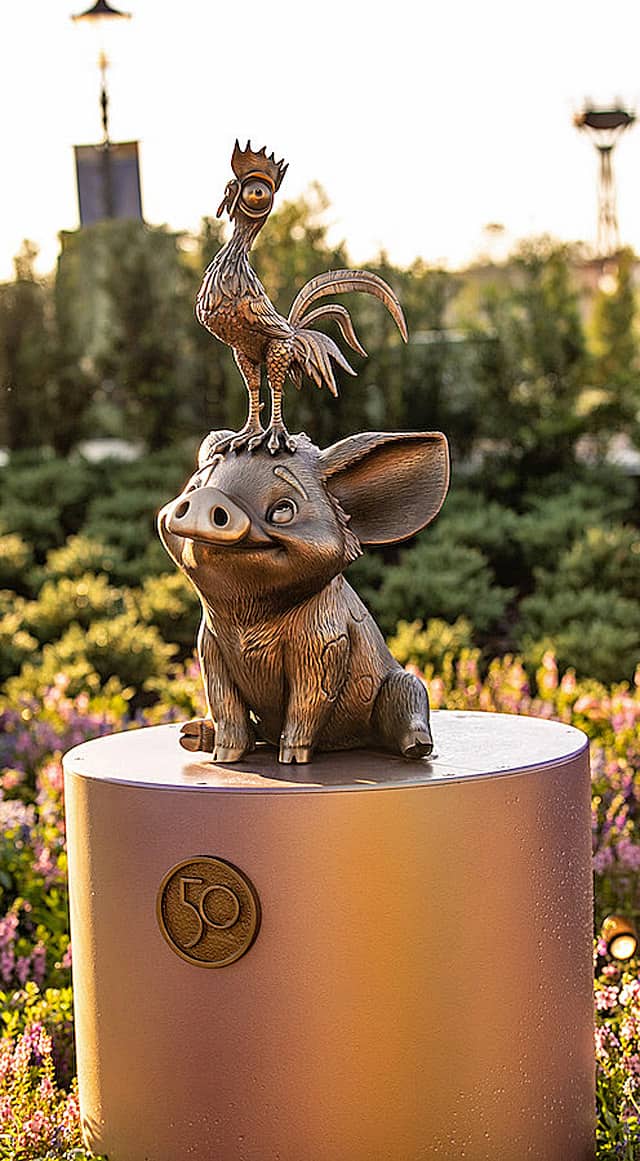 Tasty Treats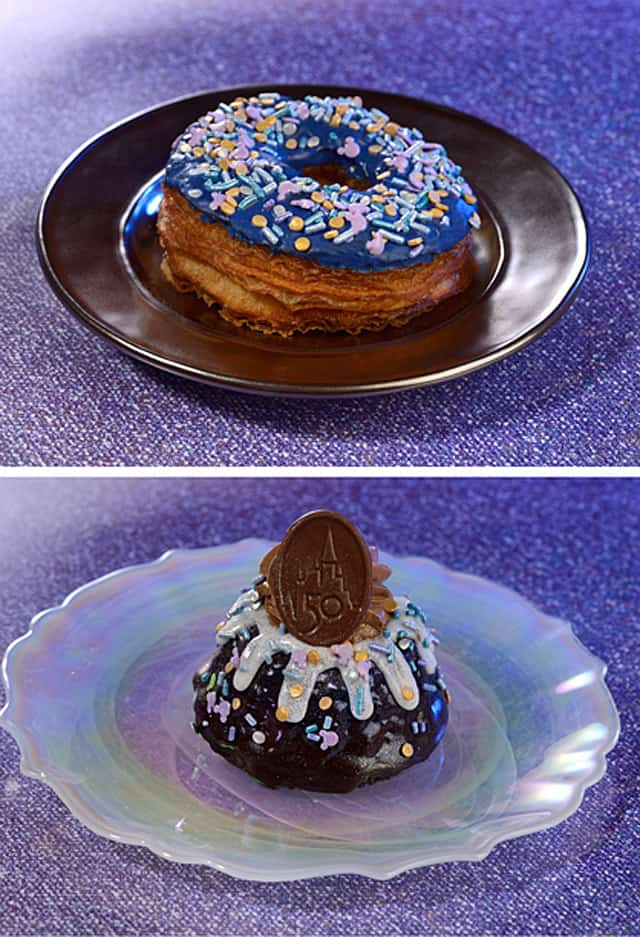 For the 50th Anniversary celebrations, Disney offers over 150 new dishes and drinks. When visiting EPCOT, check out these tasty treats:
Coral Reef Restaurant
Key Lime Tart with toasted meringue, EARidescent shimmer, sprinkles, and chocolate garnish
The EPCOT Experience
EARidescent Croissant Doughnut – Croissant doughnut with blue icing and sprinkles
Le Cellier Steakhouse
Chocolate Mousse Bar – Dark chocolate mousse, caramel cookie pieces, milk chocolate shell, and chocolate shortbread cookie
San Angel Inn Restaurante & La Hacienda de San Angel
A festively decorated chocolate pyramid filled with Mexican chocolate mousse and toffee served atop a traditional Tres Leches Cake and accompanied by ice cream
Nine Dragons Restaurant
Boba Blue Magic – House-made butterfly pea flower ice cream and blue lychee jelly topped with creamy milk cap, blueberry popping boba, crunchy toffee, and a fortune cookie
Teppan Edo
Yuzu mousse cake with Kinako crumb adorned with gold flakes, matcha cream, chocolate rocks, and sparkling Yuzu sauce.
Via Napoli Donkey Cart & Gelateria Toscana
Blue and white 7-layer cake topped with chocolate ganache and gold dust
Tutto Italia Ristorante & Via Napoli Ristorante e Pizzeria
Vanilla and blueberry panna cotta, white chocolate, and gold dust
Sunshine Seasons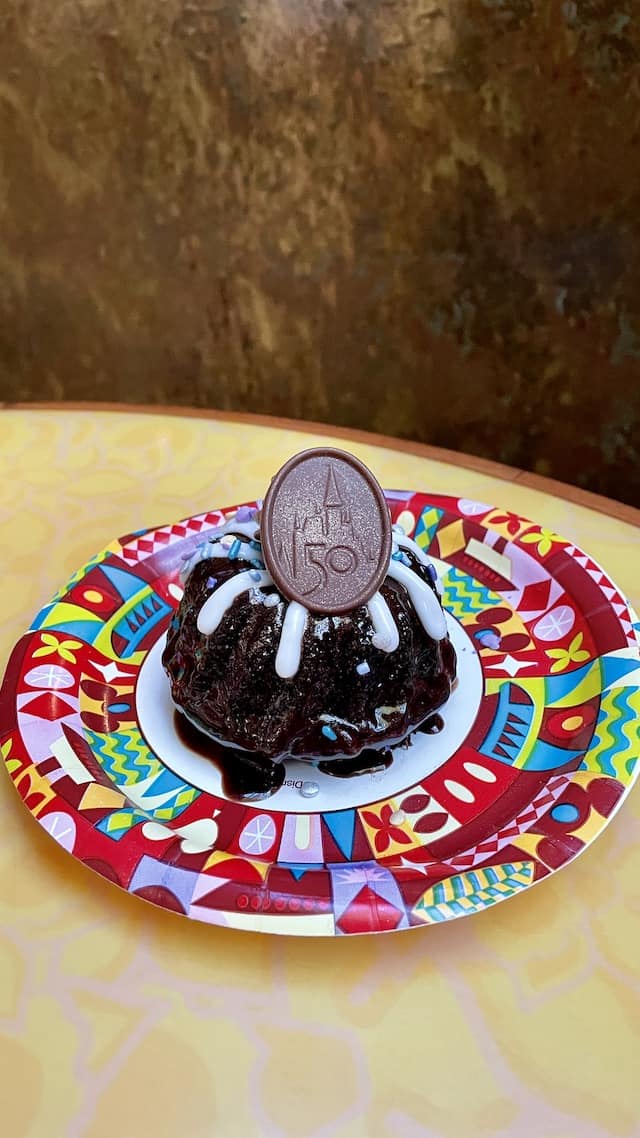 Mini Chocolate Bundt Cake – Mini chocolate bundt cake with chocolate ganache, sprinkles, and icing dusted with EARidescent shimmer and chocolate 50th anniversary garnish. To find out our thoughts, check out the Sunshine Seasons review HERE.
Beacon of Magic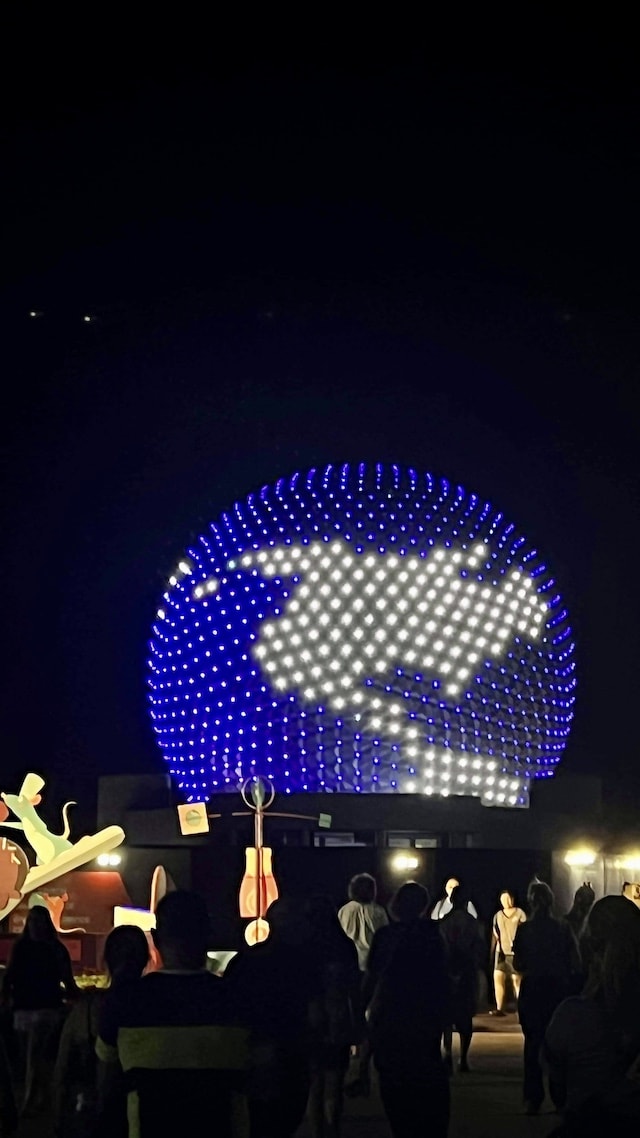 Then, as if by magic, Disney World theme park icons transform into Beacons of Magic at night. At EPCOT, Spaceship Earth is my absolute favorite!! Watching it transform into so many various light displays thrilled by heart! My (Susan) favorite is the depiction of Earth in blue and white lights. It's just so spectacular!!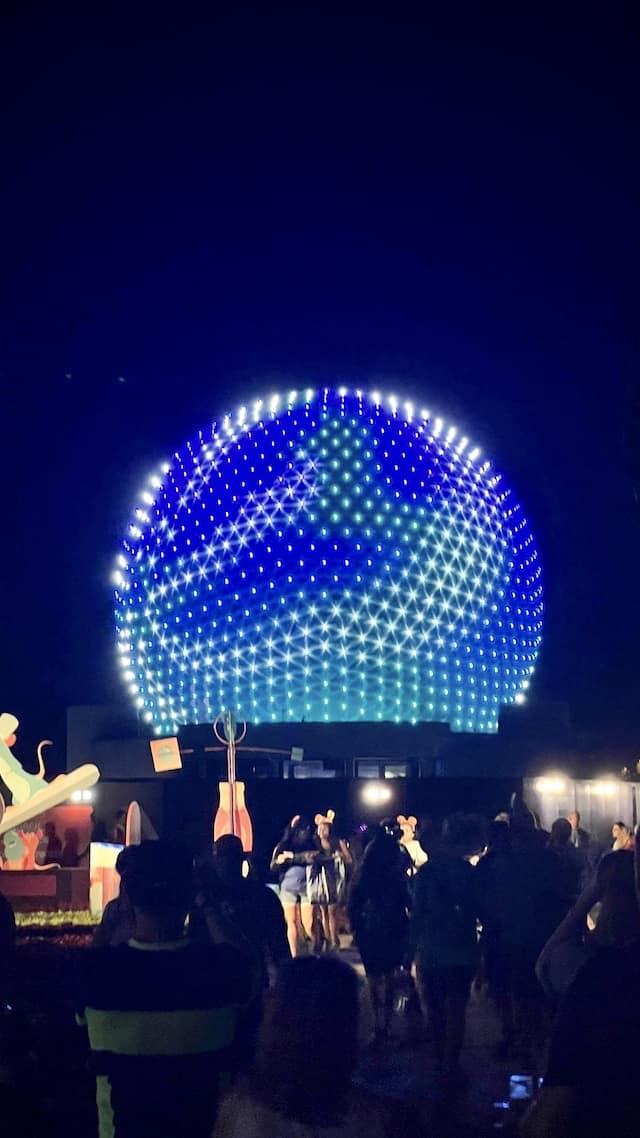 As part of the park's transformation, you'll see lights shine from within Spaceship Earth's reflective panels every evening. We're so excited that this change that will last beyond the 18-month 50th Anniversary celebrations.
New Neighborhoods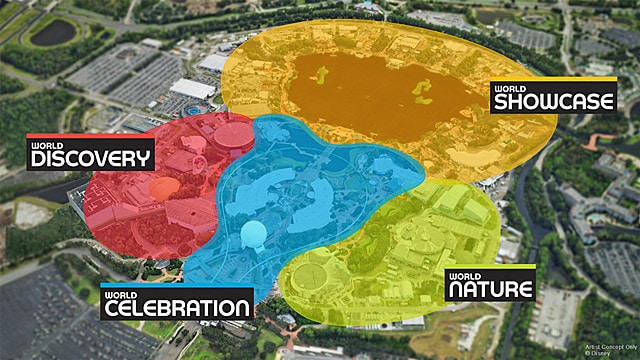 EPCOT recently announced four new neighborhoods. New to EPCOT, check out the World Showcase, World Celebration, World Nature, and World Discovery. Each of these highlight the transformations taking place at EPCOT.
Creations Shop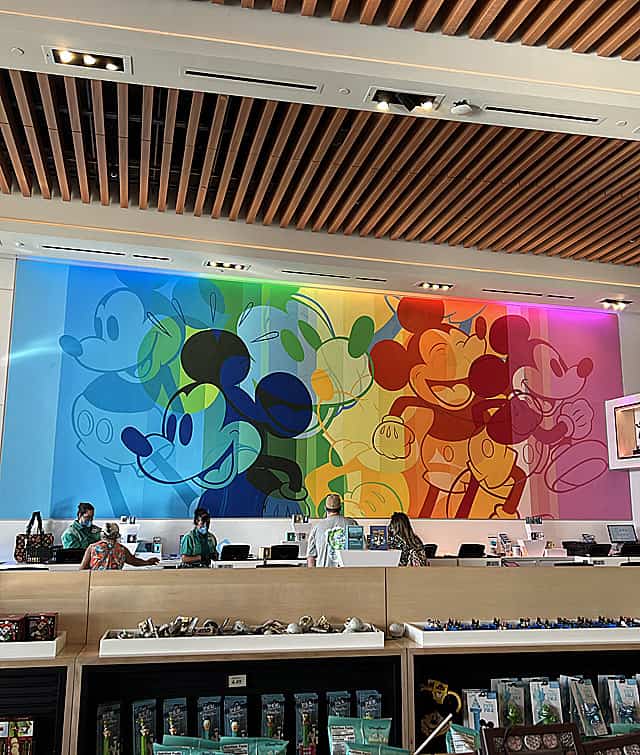 Also, check out the newly opened Creations Shop. At the Creations Shop, guests find unique merchandise collections in a modern, yet retro shopping area.
Instead of feeling like you're in a theme park here, guests feel more like they're inside an upscale shopping location.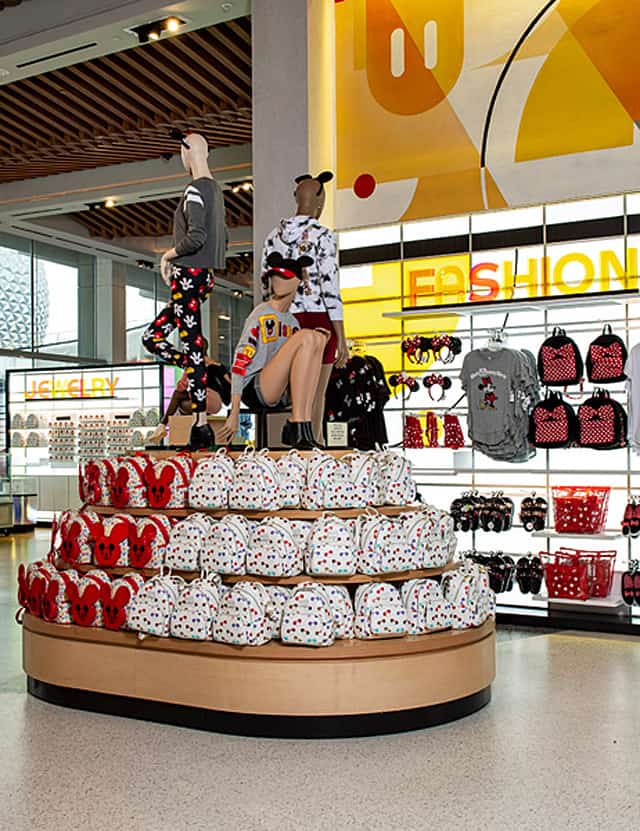 Disney Imagineers used one-of-a-kind art installations, souvenirs and a contemporary architectural design to bring the story of EPCOT and Disney creativity to life here.
My (Susan) favorite decor here is the giant Mickey mural. If you're looking for Disney's Food and Wine merchandise at EPCOT, take a look at all the photos HERE.
The Magic is Calling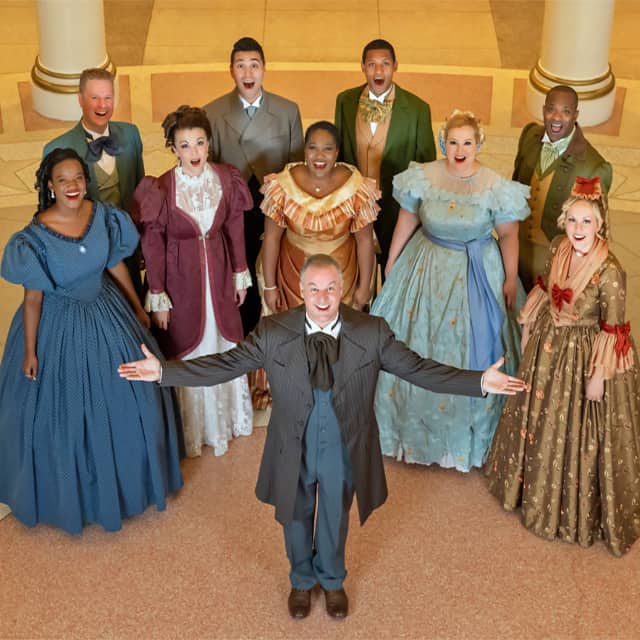 New for Disney's 50th Anniversary, "The Magic Is Calling" is heard across Walt Disney World. Now, guests can listen to versions of the anthem performed by the legendary Mariachi Cobre and Voices of Liberty at EPCOT. See a behind-the-scenes look here:
EPCOT Performers Returning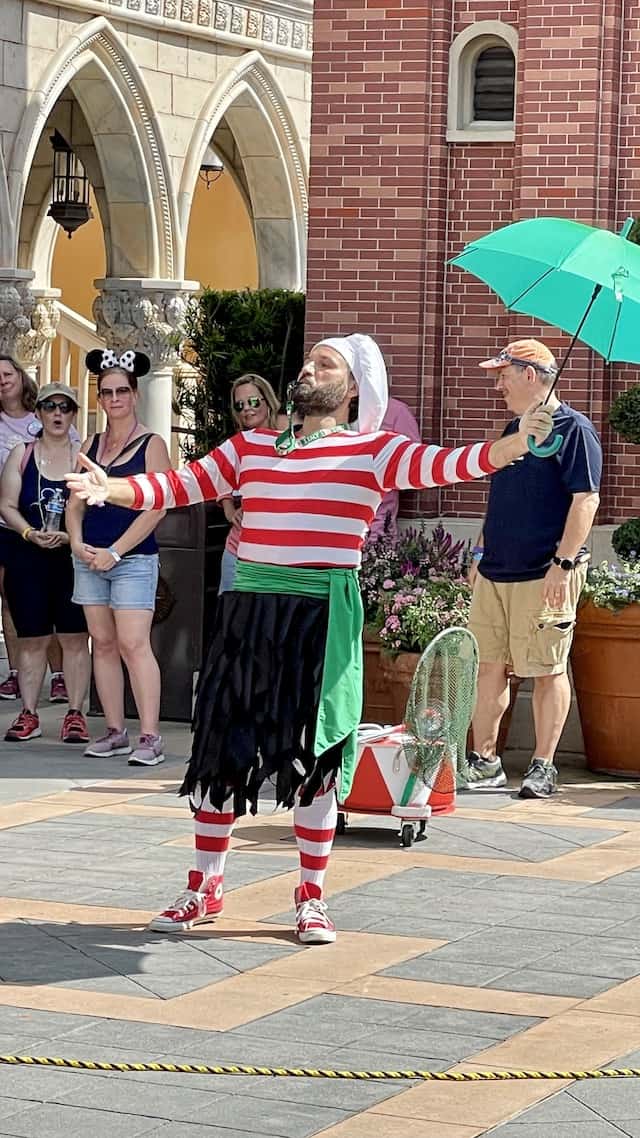 Some of our favorite live entertainment experiences are back! At EPCOT, World Showcase travelers can enjoy out Canadian rhythms of Alberta Bound. Next, check out the antics of Sergio in Italy. Last, take in the percussion sounds of the Taiko drummers of Matsuriza in Japan.
Hopefully more will return soon!
France Expansion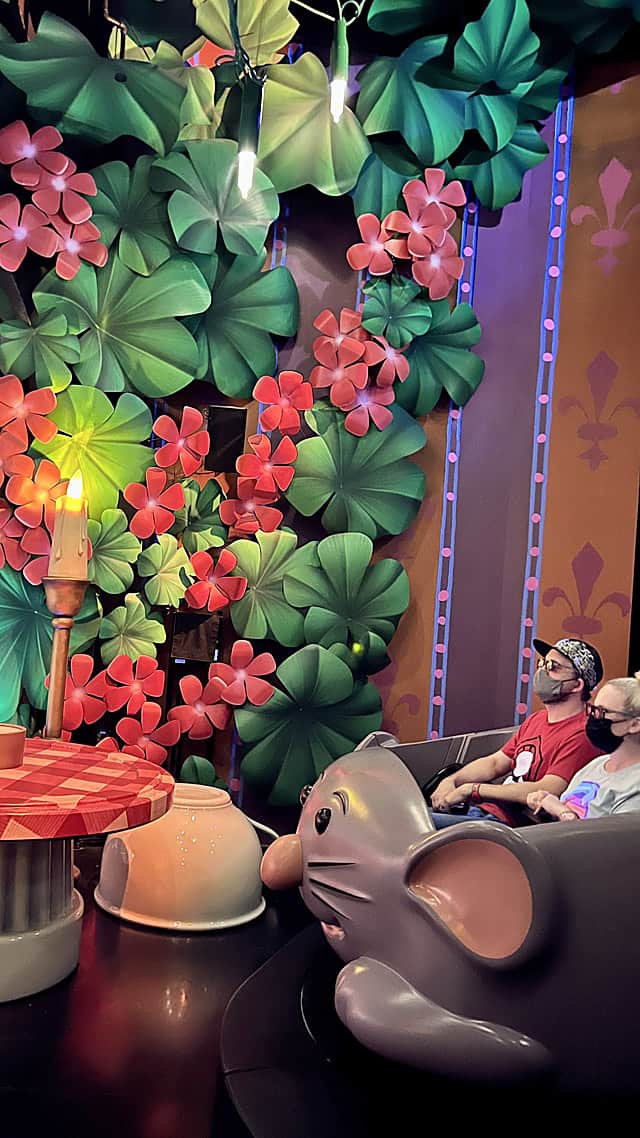 EPCOT's newest attraction, Remy's Ratatouille Adventure, is a hit with guests! Based on Disney and Pixar's Academy Award-winning "Ratatouille." Remy's Ratatouille Adventure attraction is a fun "4D" experience for the whole family. Be sure to sign up for a boarding group the day you're planning to ride it!
Coming Attraction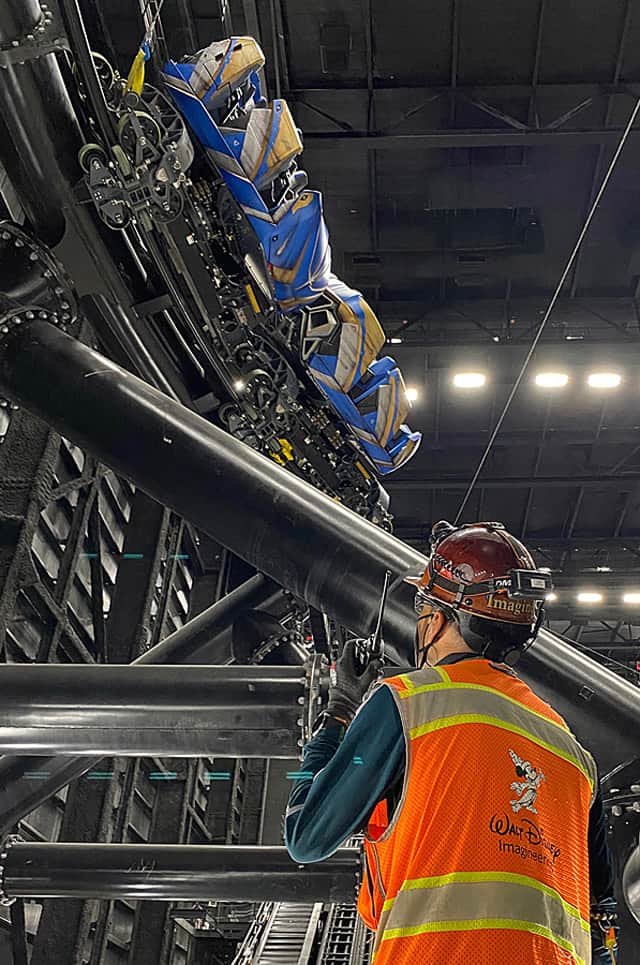 And, there's another significant milestone in the transformation of EPCOT coming during the 50th anniversary celebration – the debut of Guardians of the Galaxy: Cosmic Rewind in 2022! This attraction transforms guests to the first "other-world" showcase pavilion.
Look for this new attraction in EPCOT's World Discovery neighborhood. "It's a thrilling new family-friendly attraction taking guests on an intergalactic chase through space and time."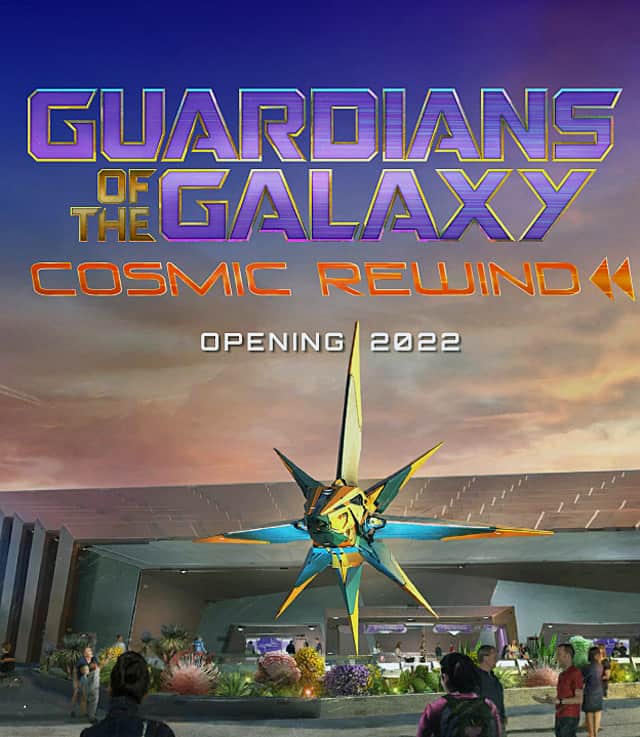 Interestingly, the Guardians of the Galaxy roller coaster features the first reverse launch on a coaster in Disney history! It's one of the longest enclosed coasters in the entire world. I (Susan) can't wait to experience it!
I (Susan) hope you're having as much fun reading about the 50th as I'm having writing them. If so, please check out our other articles in this All Things 50th series below by clicking on the theme park name:
What are our thoughts on all of the EPCOT transformations and celebrations happening for Disney World's 50th Anniversary Celebration? Please share your comments below or continue the discussion on our KtP Facebook Crew page.