I scream, you scream, we all scream for Beaches & Cream! See what makes this simple concept a huge hit with families.
Beaches & Cream Soda Shop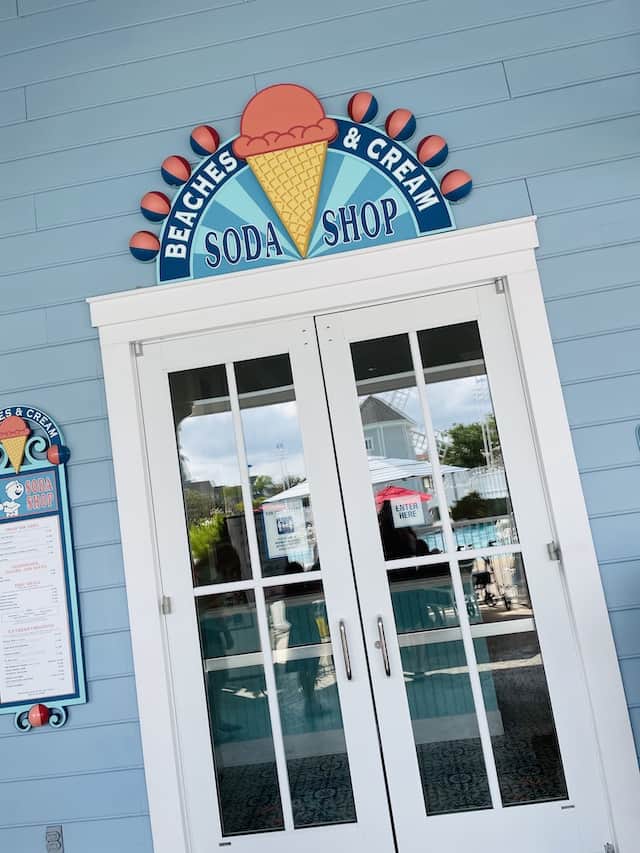 As soon as I read Jamie's review of Beaches & Cream Soda Shop in Walt Disney World, I knew that I (Katie) really wanted to take my whole family. Definitely check out her review to learn about some of the sandwiches and the famous Kitchen Sink Sundae that everyone talks about.
Beaches & Cream Soda Shop is just what it sounds like: a soda shop-style restaurant, complete with a Juke Box. Its menu offers a variety of items from the grill in addition to very popular ice cream options for dessert! It also happens to be one of my recommendations for the best Disney restaurants for kids that are not character meals.
Where is Beaches & Cream Soda Shop?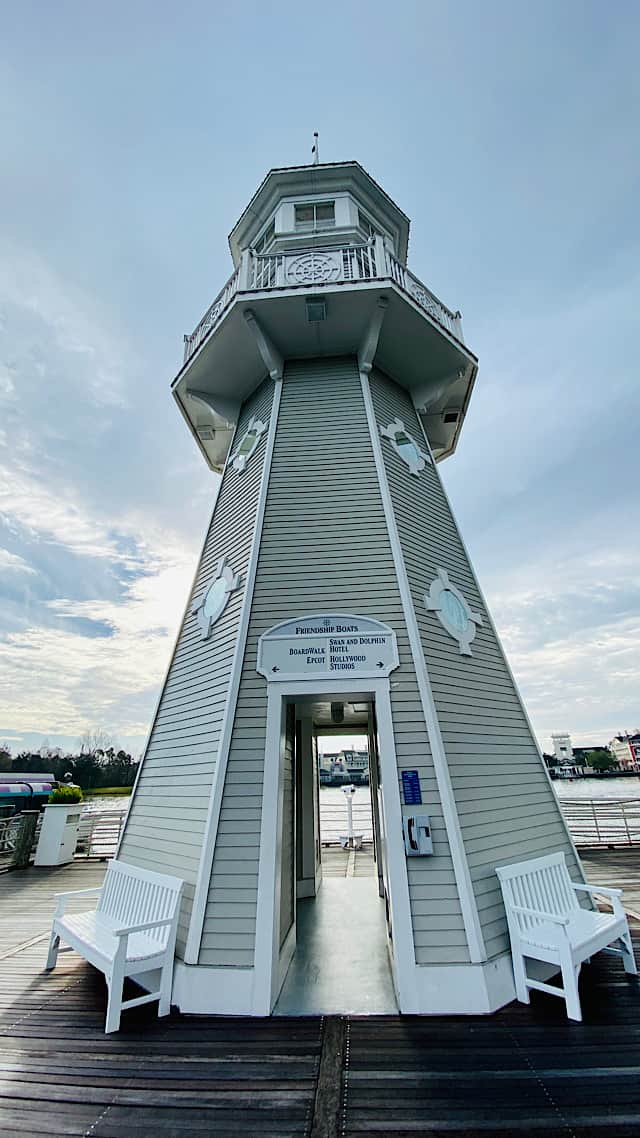 Beaches & Cream is located at Disney's Beach Club Resort. Once you arrive, you can go to the Main Lobby and head past Cape May. You will find it shortly thereafter. It is across from Stormalong Bay, Beach Club's extremely popular pool. If you need another landmark to help you find your way around, it is next door to the arcade.
Disney's Beach Club Resort is easily accessible from several locations across Walt Disney World. It is an Epcot area resort, meaning it is within walking distance of Epcot's International Gateway.
Therefore, Guests of Walt Disney World who are visiting Epcot for the day can easily exit International Gateway and walk or take a boat to Disney's Beach Club Resort to enjoy lunch or dinner at Beaches & Cream.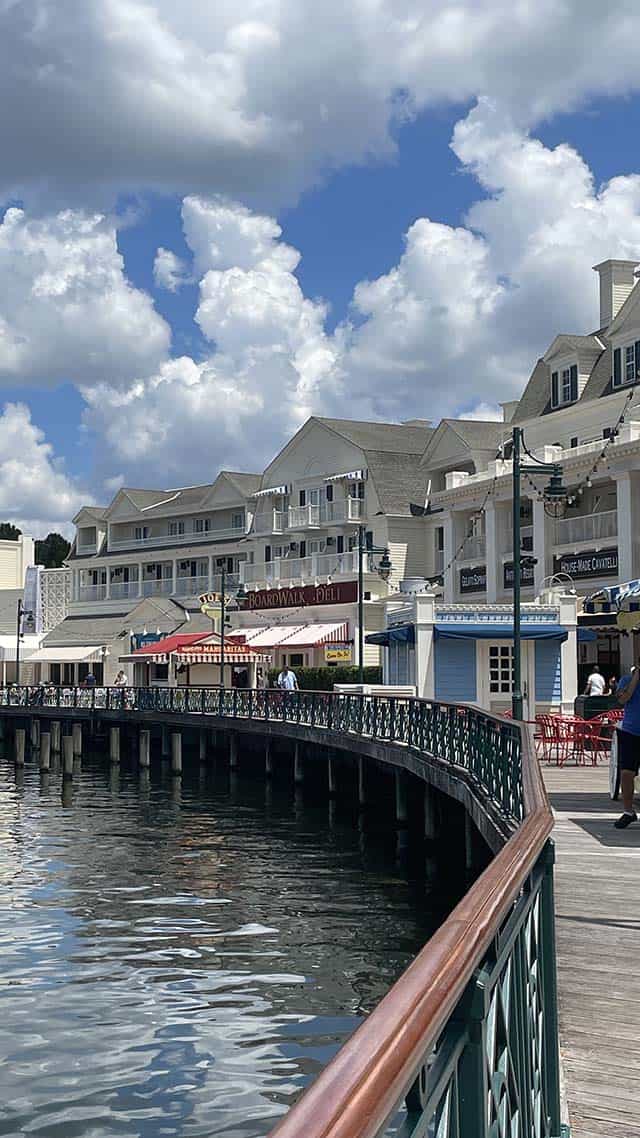 The restaurant is also easily accessible for any Guest at an Epcot area Resort. This includes Disney's BoardWalk, Disney's Yacht Club Resort, and the Walt Disney World Swan and Dolphin Resort and Walt Disney World Swan Reserve.
Guests visiting Hollywood Studios can also access Beaches & Cream easily by air or by sea. It is just a Skyliner Ride away! Simply Skyline all the Way to Epcot and then follow the signs to Disney's Beach Club Resort directly from the Skyliner Station.
Alternatively, Guests can take the boat from Hollywood Studios to Disney's Beach Club Resort. When you finish your meal, you can return to Hollywood Studios or park hop to Epcot easily.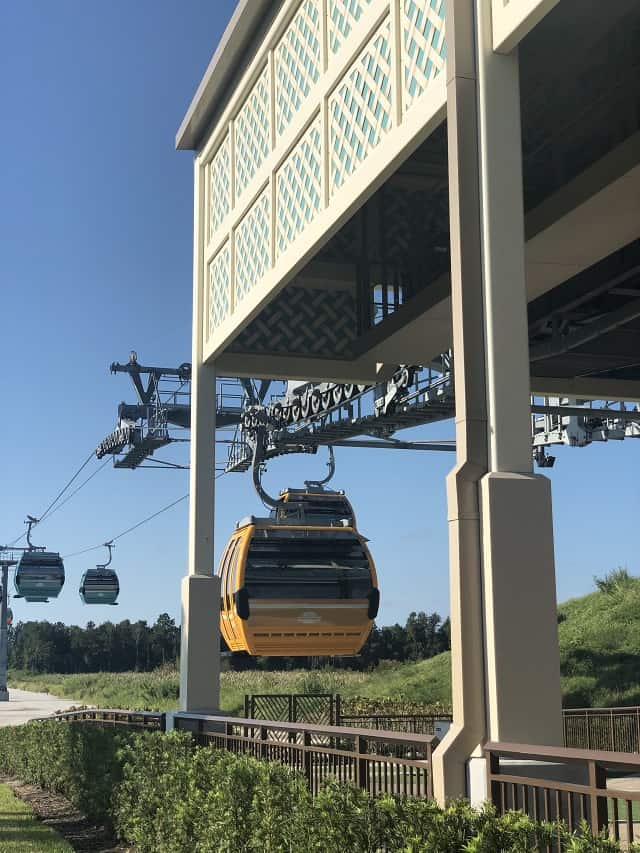 Finally, Guests staying in Skyliner resorts can also get to Beaches & Cream easily. Anyone staying at POP! Century, Art of Animation, Disney's Carribean Beach Resort, or Disney's Riviera Resort can skyline to the Epcot Skyliner Station and head straight to Disney's Beach Club Resort on foot.
Getting to Beaches & Cream from other locations can be tricky if you do not have a car or use rideshare as it will require a transfer at some point. However, nothing is impossible. Even so, if you do want to dine at Beaches & Cream, I highly recommend you plan for it to coincide with your visit to Epcot or Disney's Hollywood Studios for ease of access.
A Word of Caution for Reservation Times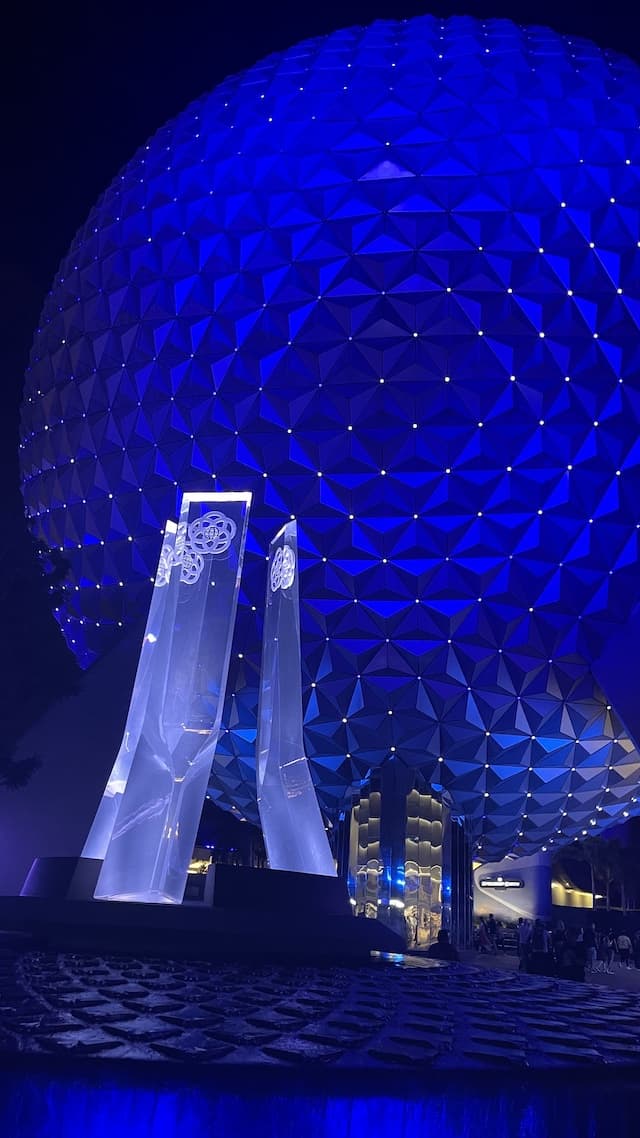 If you do walk from inside of Epcot to enjoy dinner at Beaches & Cream Soda Shop, I have one word of caution for reservation times. Make sure your meal will end before Epcot closes if you plan to utilize Epcot bus or Monorail transportation to get back to your resort or if your car is parked in the Epcot Parking lot.
I say this because once I had dinner there with Kenny the Pirate and Jordyn, and we did not leave the restaurant in time to get back to Epcot. We either needed to bus to Disney Springs and then back to Epcot or Bus to Magic Kingdom and Monorail back to Epcot, or we needed to use a rideshare service to return to the Epcot parking lot.
Food Options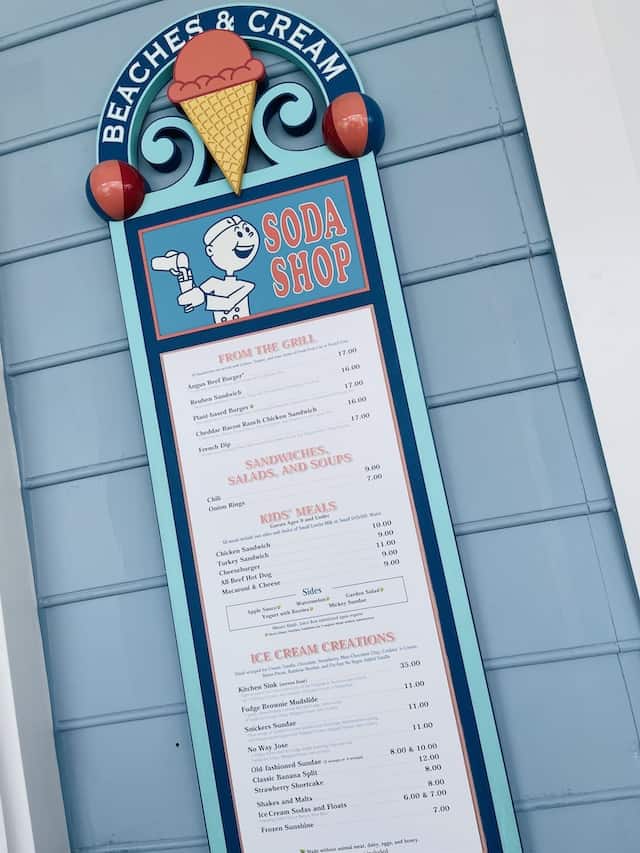 As I said, Beaches & Cream has some great food options. My husband and I have stopped by just for dessert, and you can too if you want to have a sit-down ice cream experience.
However, know that there are quick-service ice cream options right around the corner including a Beaches & Cream to-go window. Alternatively, you can visit Boardwalk Ice Cream. And for some of Dinsey's very best ice cream, you can head to France in Epcot.
However, remember that Beaches & Cream is more than just ice cream. My husband and I recently dined there with some of our dear Disney besties and all of our children. Everyone had a great time and enjoyed our simple, but filling, entrees.
Chili Cheese Tots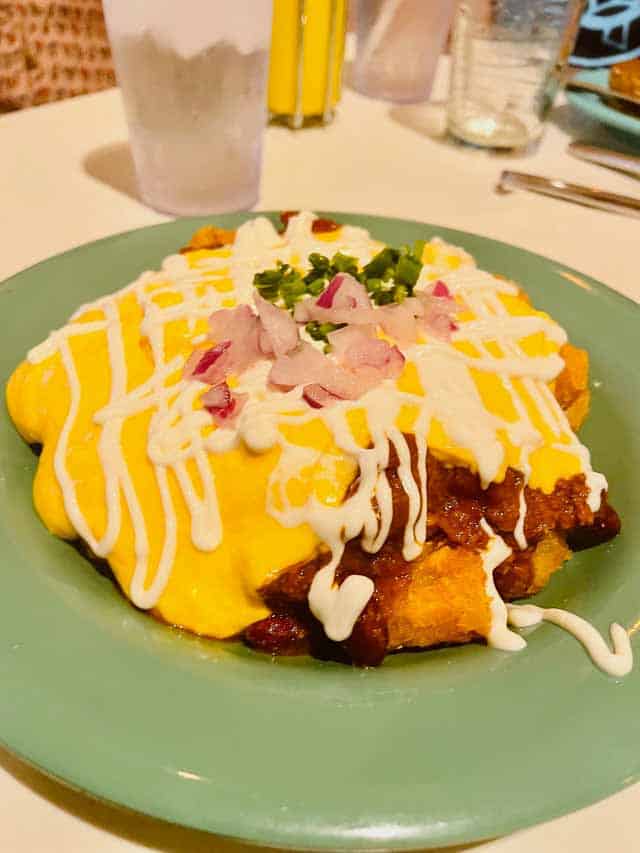 The Chilli Cheese Tots are always a hit with friends I have visited with over the past year. I have had these as an appetizer, but on this particular trip, my husband decided to try them as an entree.
They come loaded with cheese, chili, sour cream, chives, and onion. If you want a salty indulgence, this is a fun and prettily presented dish to share as an appetizer or have in place of a meal.
Adult Entrees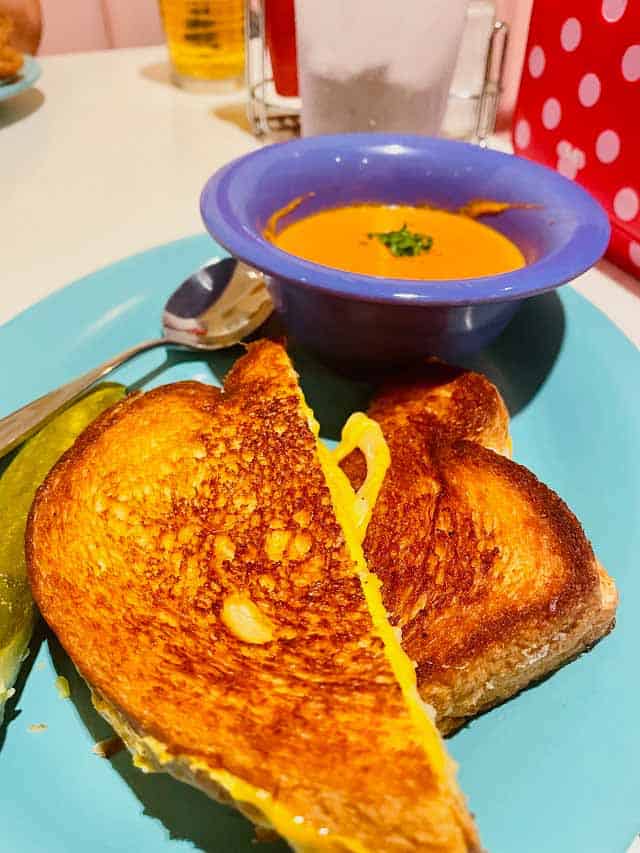 We tried several things. For my entree, I ordered a grilled cheese sandwich with tomato soup. This is a combination of comfort food that Disney does well at restaurants and food festivals alike. As an added bonus, when I have tomato soup, I can pretend that I have consumed something healthy.
This grilled cheese was creamy, cheesy, and delicious. The soup was tasty but not remarkable. It was good ole tomato soup. The only grilled cheese/soup combo I like better in Disney World is over at Woody's Lunchbox in Disney's Hollywood Studios.
But with outdoor-only seating, it can be tough to enjoy Woody's in the Florida heat. Beaches & Cream has the benefit of air conditioning.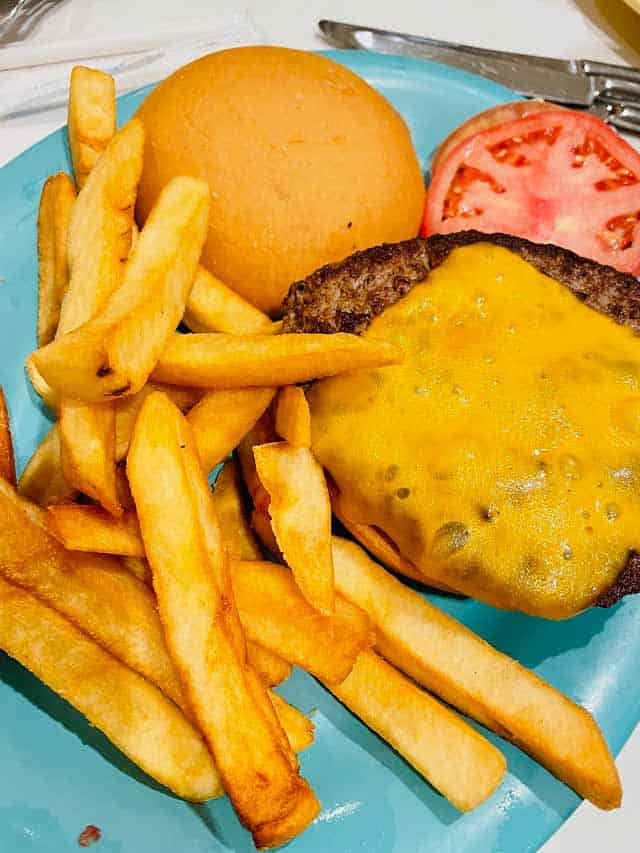 Next up, one of my dining buddies had the burger. Beaches & Cream Soda Shop serves standard table service Disney Burgers. If you like them, you will like this one. It's good, but it isn't going to be the best you have ever had.
I have heard that burger patty thickness is important to people, so I will say it has a medium-thick patty, so if you like the very thin ones you find at fast food places outside of the parks, this is not for you. It is also not super thick like the one you will find at Steakhouse 71, which is one of Disney World's Best Burgers.
You should also know it comes with steak fries. The fries at Beaches & Cream are not my favorite. I prefer the battered fries like you can find over at Wine Bar George.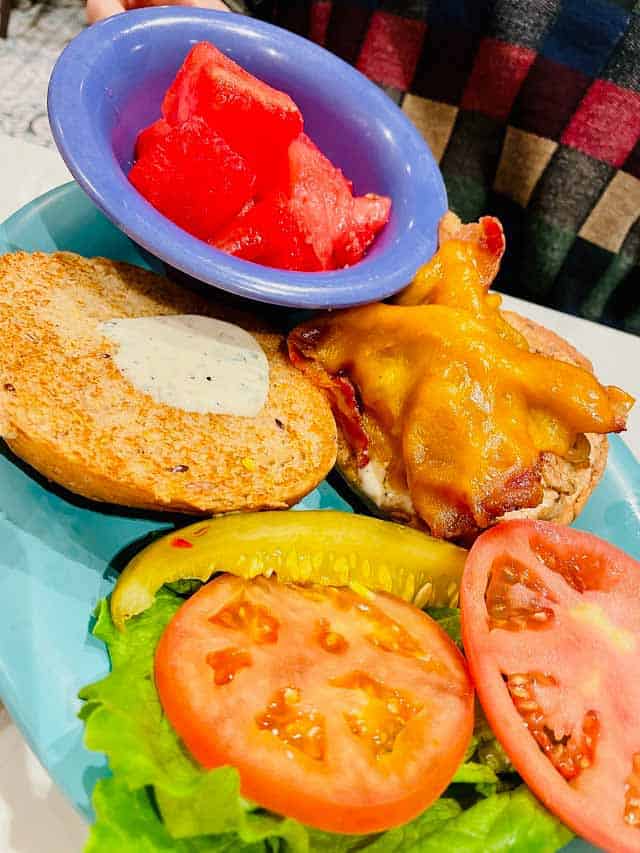 Even so, if you like steak fries, they are pretty good. If you are not into steak fries, there are sides you can substitute for them with such as tots and fruit.
One of my friends also had a chicken bacon ranch sandwich. This sandwich had juicy chicken and good flavors! However, as Jamie mentioned in her review, it is a little messy. Still, it is a good alternative for anyone who would prefer poultry to beef.
Kids' Entrees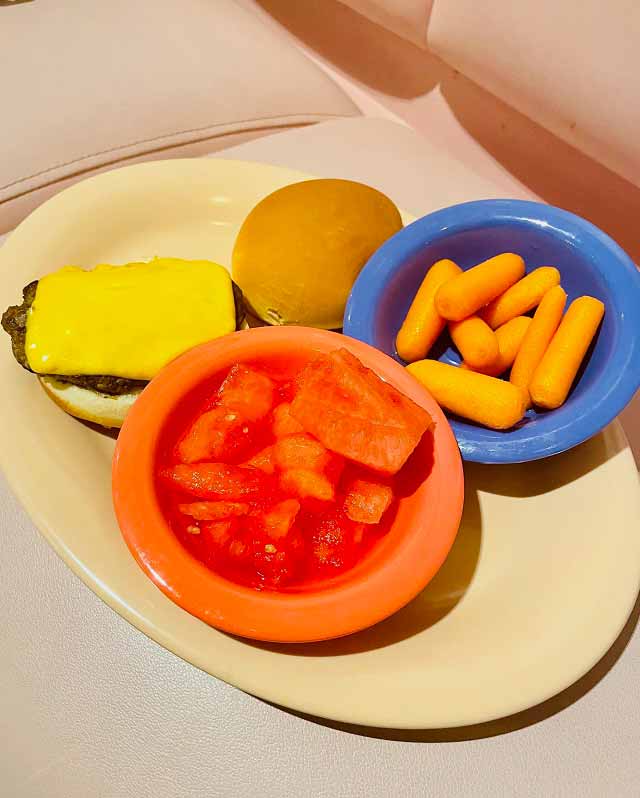 Each kid's entree comes with two sides. You can order ice cream as one of the sides, and it will come out after the meal.
Two of the kids ordered kids' cheeseburgers. Our kids are not steak fries people, so they selected watermelon and carrots as sides or watermelon and ice cream.
The burgers were standard Disney kids' burgers. The watermelon was good and juicy. And it was nice to have veggie options for kids instead of all carbs and applesauce.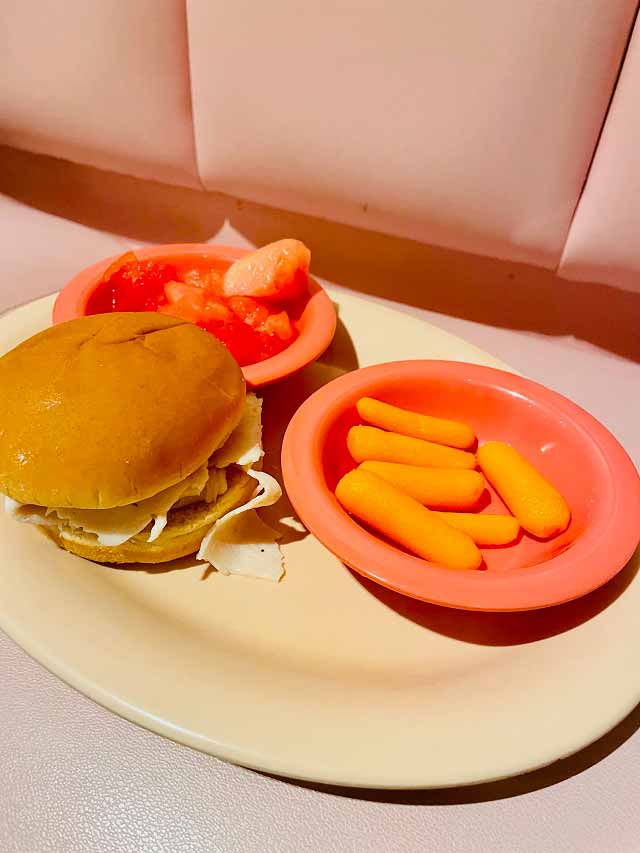 Two of the children also ordered turkey sandwiches. These had thinly sliced cold cuts on a bun. Our little ones also ordered fruit and veggies or fruit and ice cream with these.
They gobbled up everything. We heard no complaints from the kid's table, which is always blissful for parents.
Dessert
For dessert, we love to share a No Way Jose. This decadent dessert is a delicious combination of ice cream, peanut butter sauce, chocolate sauce, and chocolate and peanut butter chips all topped with whipped cream and a cherry. It is huge, and definitely a good size for sharing, but one of our travel pals ordered a whole dish for himself.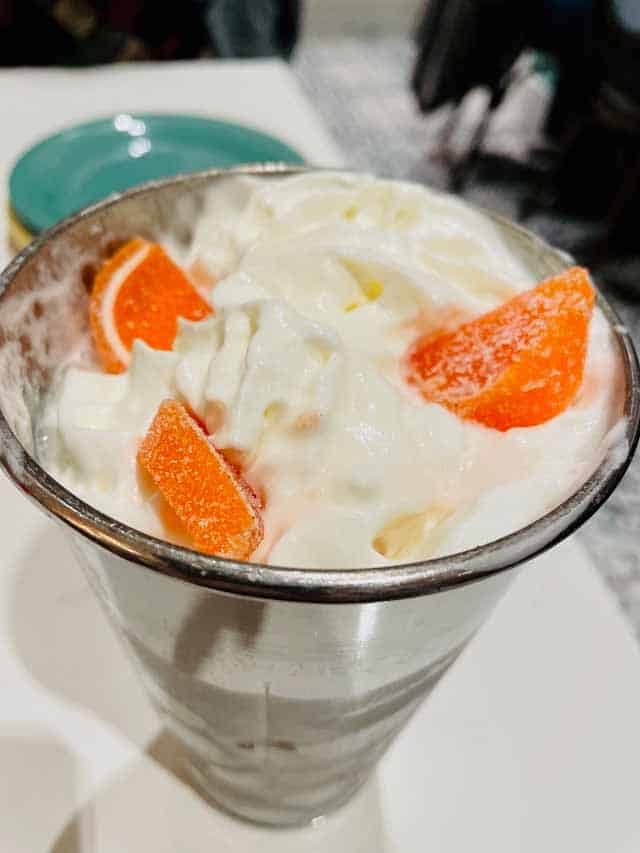 Two of our littlest travelers split a Frozen Sunshine. with their meal and did not order additional dessert. This drink is one I have had before and absolutely love because it is light and refreshing.
It is essentially a rainbow sherbet float. It is sure to delight those who want a cold creamy treat that sits a little lighter than traditional ice cream.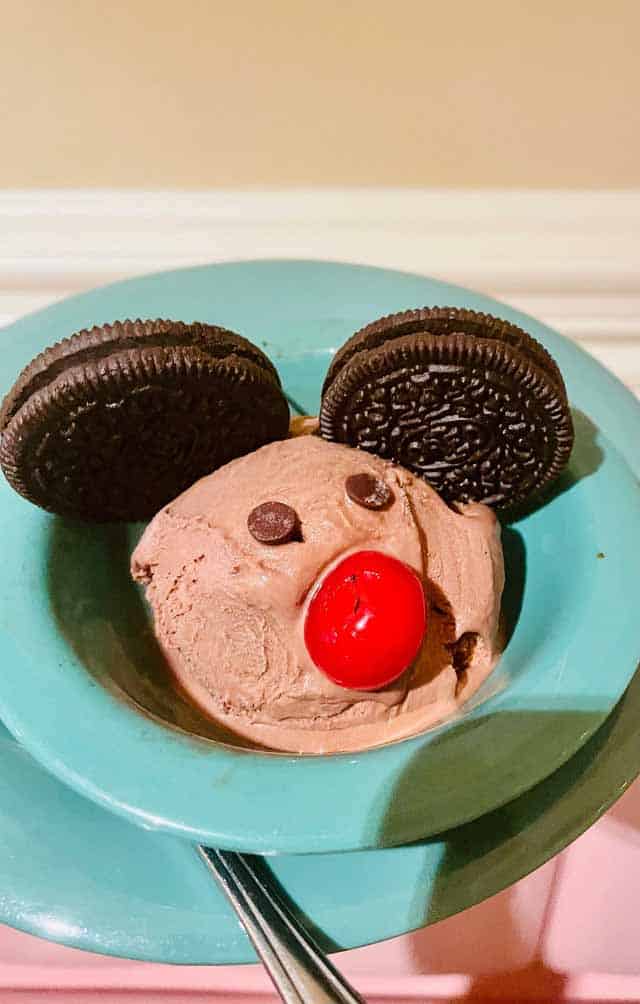 Finally, as I said, the kids' meals come with two sides. Two of our little travelers with us ordered sundaes as their sides. They selected chocolate ice cream, as they tend to do.
These cute little ice cream scoops come dressed up as mice with chocolate cookie ears and cherries for tails. They also save us a little bit of money because they are included in the meal if you select them as a side.
Spirits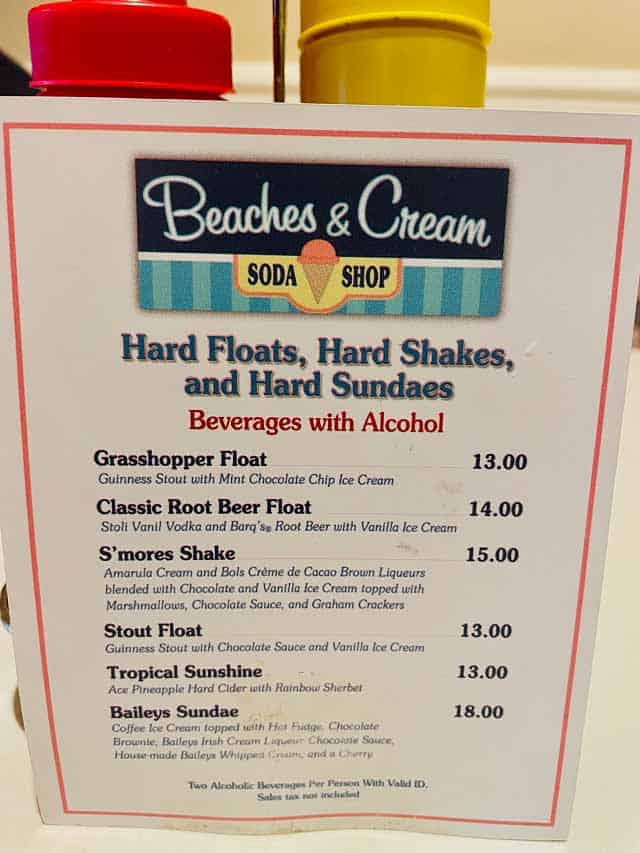 If you want libations with your meal, Beaches & Cream Soda Shop has got you covered there as well. There are several alcoholic beverages to select from.
Since it was a special occasion, I ordered a Tropical Sunshine, which is Frozen Sunshine in its alcoholic beverage form. It was a fun drink if you are craving something sweet with a bit of a kick to go with your diner-style food.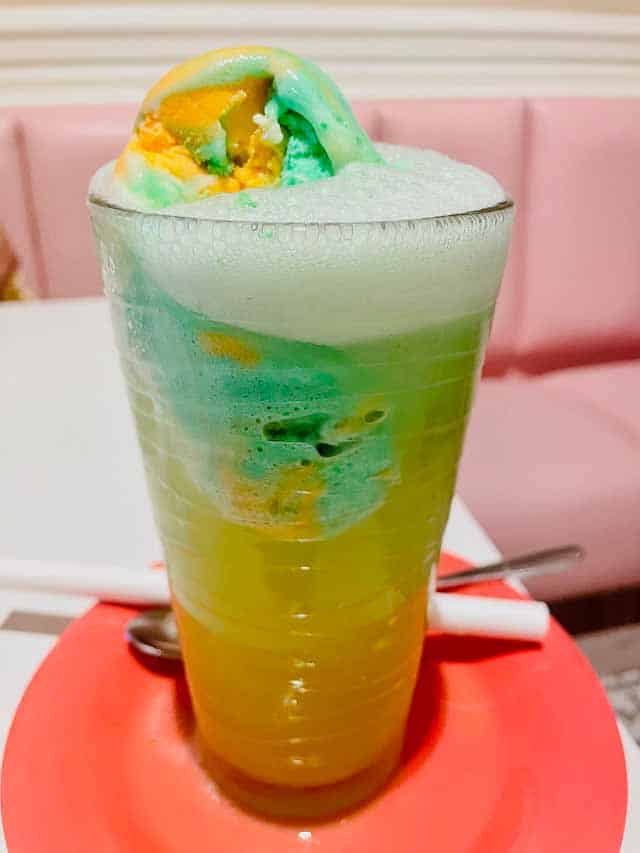 Beaches & Cream also offers a relatively standard beer and wine menu and a few additional cocktails. My friends had beers with their meals.
Overall
Beaches & Cream was a lot of fun for our families. We planned it for our Hollywood Studios/Epcot Day so that it was easily accessible by boat, Skyliner, or International Gateway. We booked a reservation around the 6:00 hour so that we could return to the park afterward and enjoy a little more magic.
People tend to appreciate the simplicity of Beaches & Cream. It is a place your non-adventurous eater can enjoy.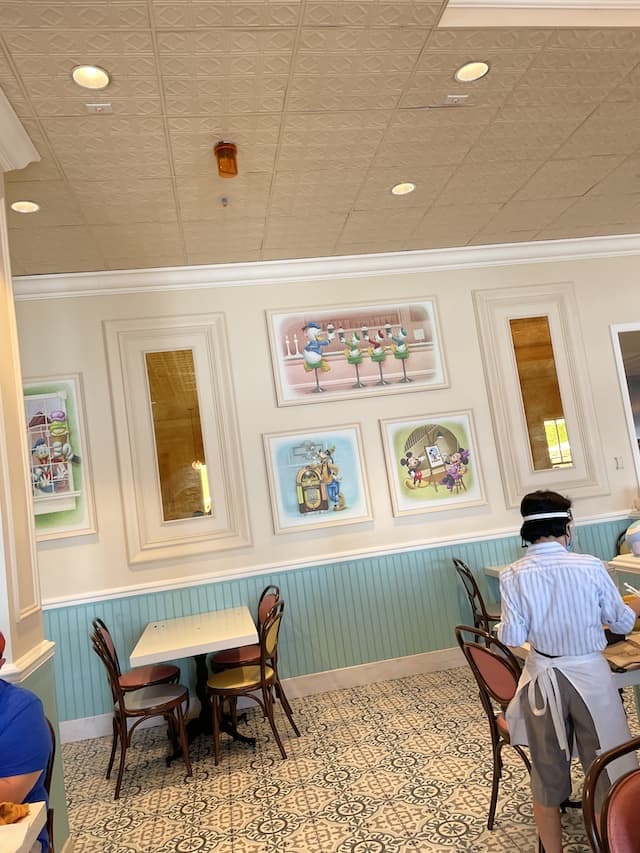 If you are looking for something beyond a sandwich, you will not want to book Beaches & Cream, especially since there are so many adventurous options available in Epcot. However, if you want classic American diner-style food and yummy ice cream, you should check it out!
Do you love Beaches & Cream Soda Shop at Disney's Beach Club? Is it on your must-eat list? Let us know in the comments or join in the conversation on Facebook.