Sometimes theme park crowds are too much and you need a break. EPCOT has so many out-of-the-way and uncrowded spots to do that.
EPCOT Crowds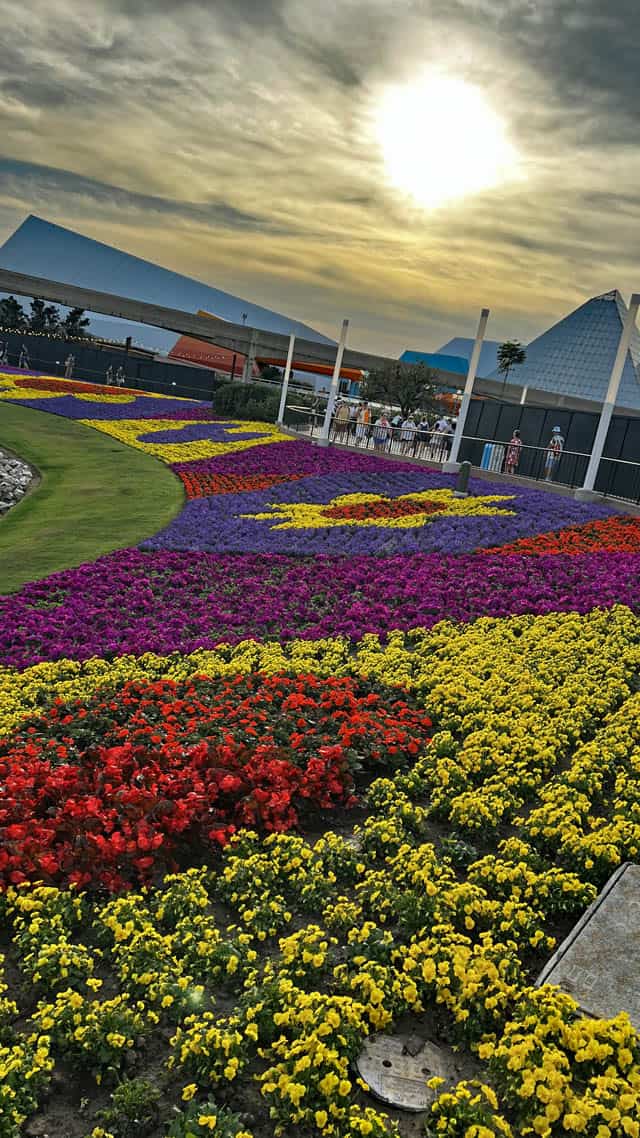 There are so many unique things to explore while visiting EPCOT. Whether you're looking for authentic global merchandise and cuisine or wanting to experience amazing attractions, there is something for everyone here. EPCOT is broken up into different "worlds" or areas: World Celebration, World Discovery, World Nature, and World Showcase.
However, these areas become overcrowded, especially during the weekends. These crowds may take away from taking in all EPCOT has to offer. Sometimes, you just need to get away from the crowds for a bit without going back to your resort. No worries! Take a look below at some of my (Susan) favorite places to relax while at EPCOT.
World Celebration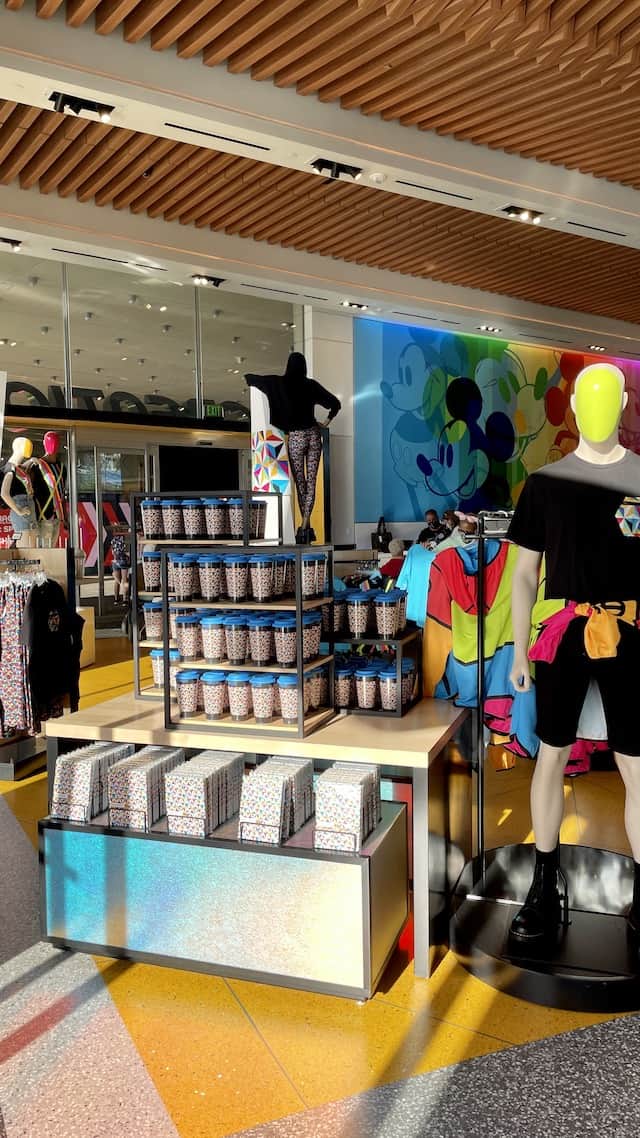 Disney describes EPCOT's World Celebration as a space to "connect with a global community." You'll find the following here: Spaceship Earth attraction, Connections Eatery, Connections Cafe, Club Cool and Creations Shop.
To escape crowds at World Celebration, look for benches and seating in between the restaurants (Connections Eatery and Connections Cafe) and Creations Shop. You'll also find benches and sometimes shade behind Creations Shop on your way to Test Track. This area is rarely crowded.
World Discovery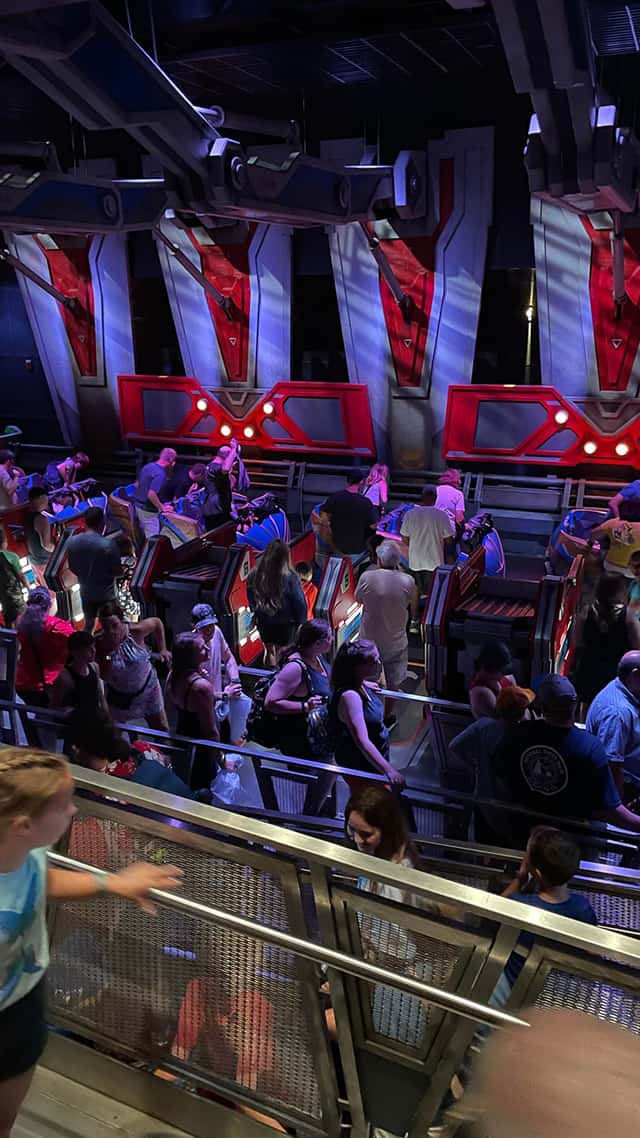 At World Discovery, Disney invites guests to "explore the wonders of science and technology." You'll find several exciting things to do including Test Track, Mission Space, and the out of this world Space 220 restaurant and lounge. The area in front of Mission Space and Space 220 has short walls great for sitting on and taking a break.
Don't miss the new Guardians of the Galaxy: Cosmic Rewind attraction at World Discovery. This thrilling storytelling coaster invites guests on an intergalactic chase through time and space to help the Guardians of the Galaxy.
It features Disney's first ever reverse-launch! A great spot to take a breather here are the benches just outside this attraction's exit.
World Nature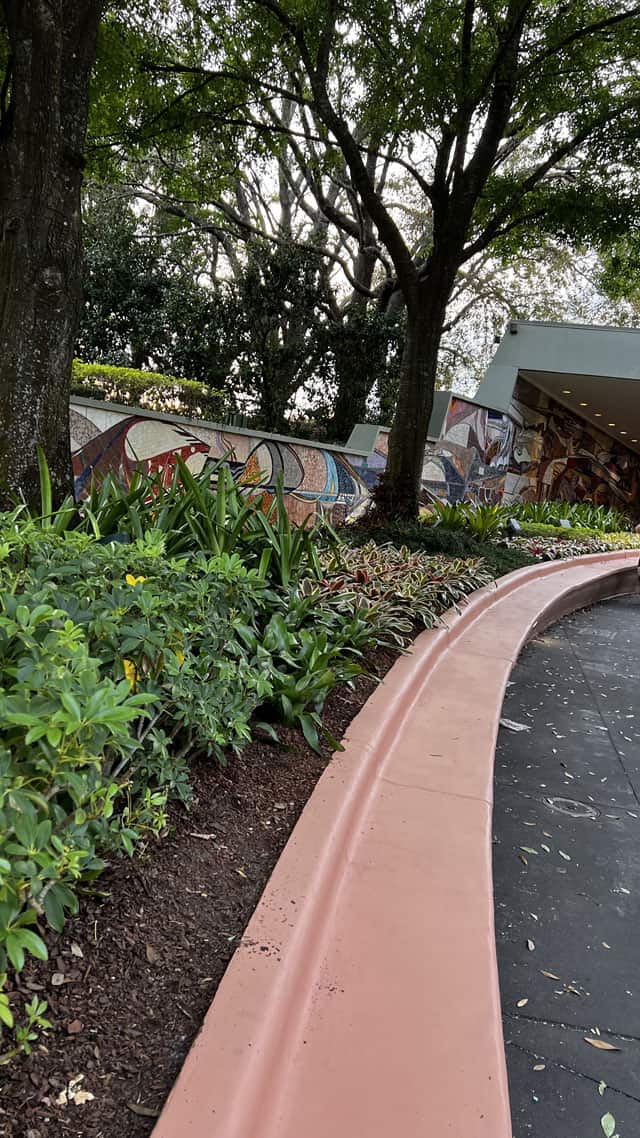 One of my favorite attractions at any Disney theme park is Soarin'. On this relaxing attraction, feel the thrill gliding in the air and be swept from one stunning scene to the next. While Soarin' isn't escaping the crowds, it can help you cool off and de-stress.
Take a look at real life Soarin' locations HERE and how to experience a Soarin' tour HERE. You can't miss the seating along the entire sidewalk as you walk toward The Land Pavilion. A great thing about resting here is this seating is often shaded by trees.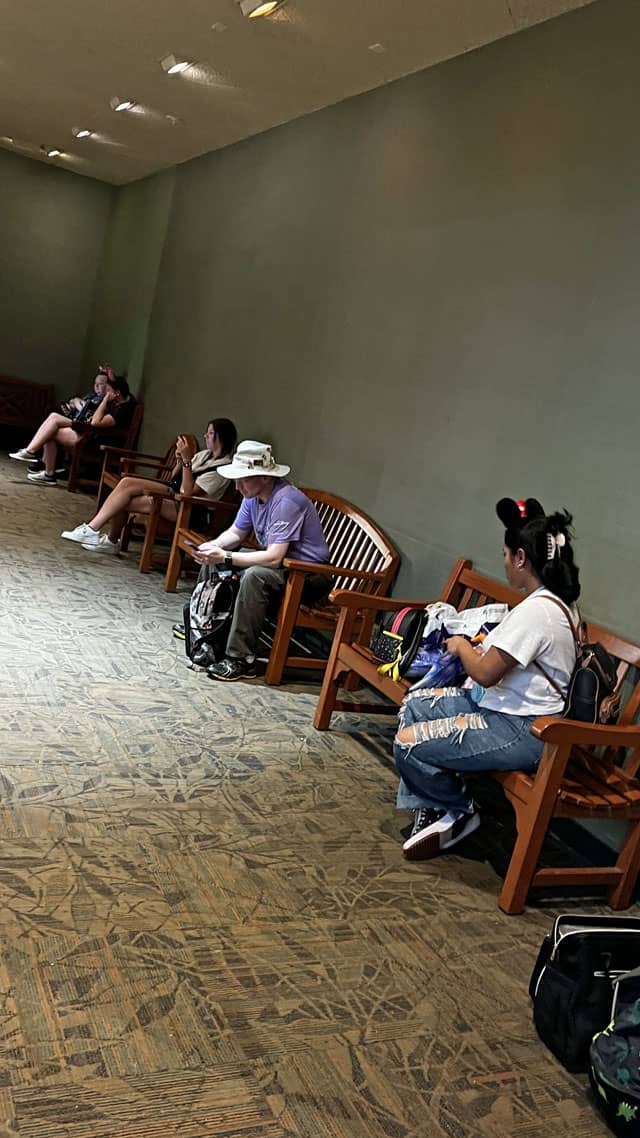 If you need to rest inside, find the restrooms located upstairs and downstairs at The Land Pavilion. There are out of the way benches located outside each of them.
At World Nature, you can take a ride with Nemo on the and walk through the wonderful Seas with Nemo and Friends aquarium. This large aquarium area is rarely crowded and a wonderful spot to get away from the crowds. For a unique view of this aquarium, dine at The Coral Reef.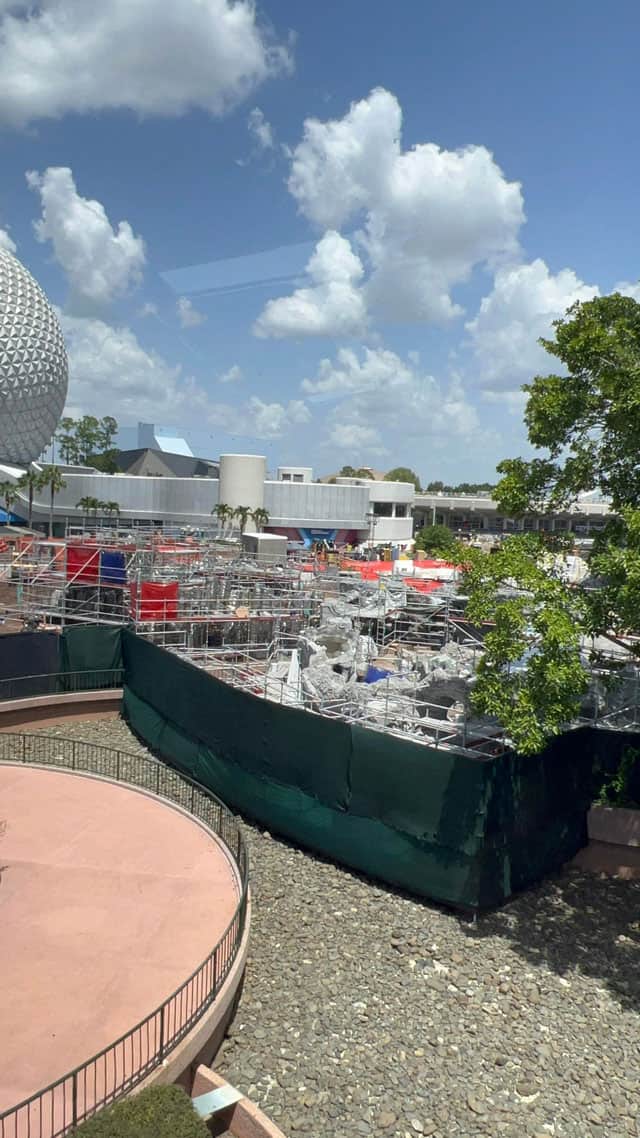 A Moana-themed walk-through attraction called Journey of Water is under construction and the reason for so many EPCOT walls. This immersive exploration trail will be in the heart of EPCOT's World Nature neighborhood.
We reported the opening timeline of Journey of Water, Inspired by Moana HERE. When it opens, there will be plenty of places to relax and take in all of the amazing details.
World Showcase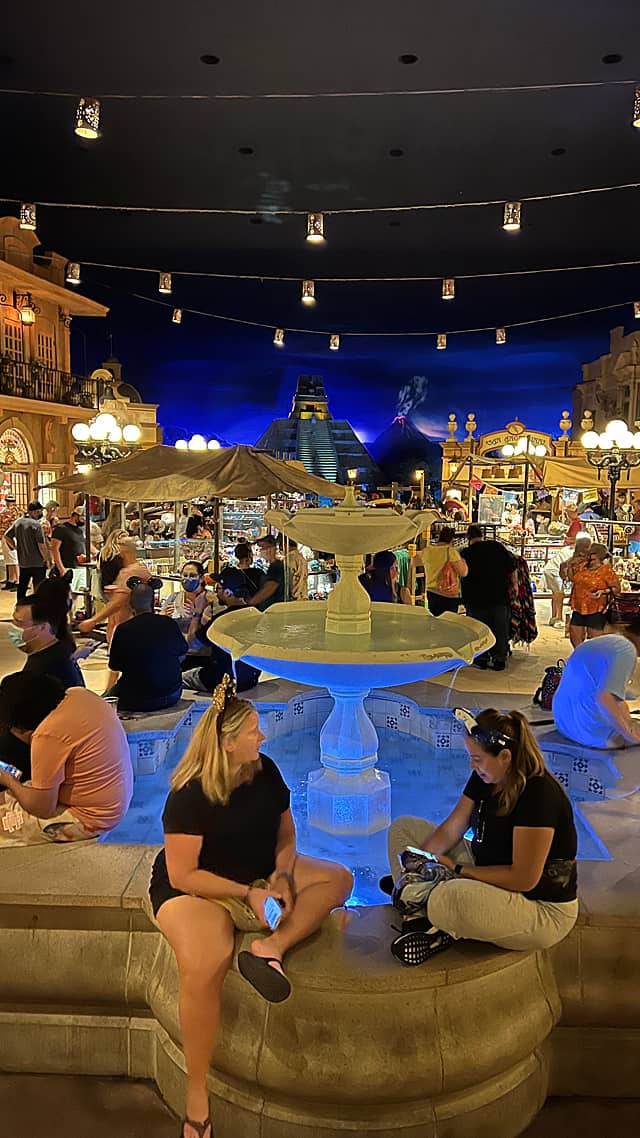 My favorite spots at EPCOT are the World Showcase pavilions representing 11 unique countries. Almost all of these fabulous pavilions has out of the way seating. At each restroom, there is usually seating nearby.
Mexico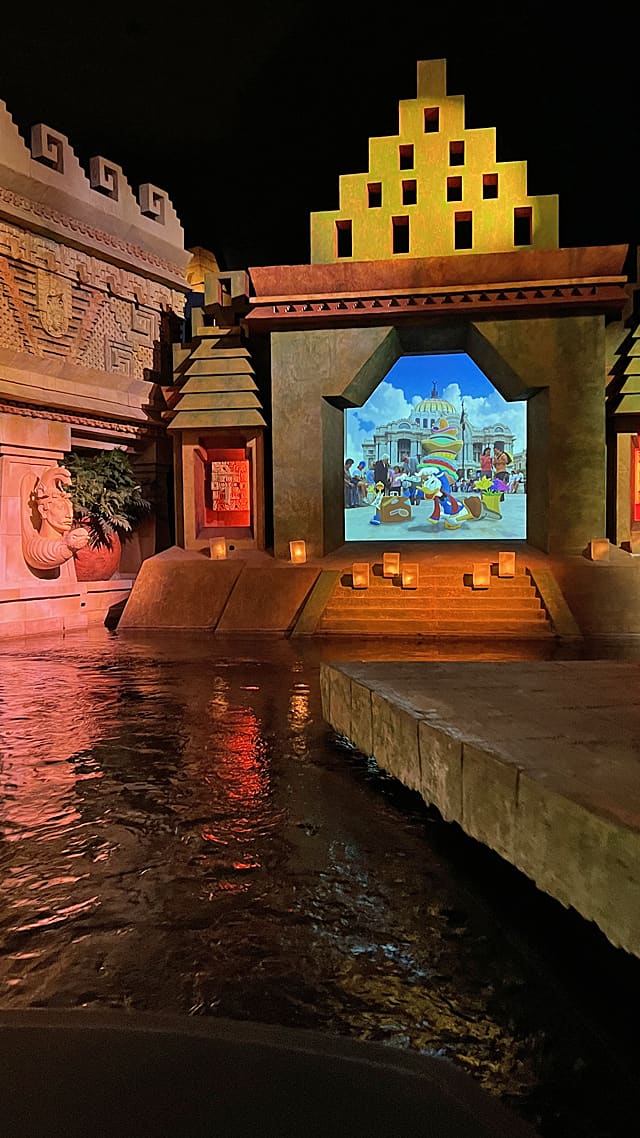 Let's take a walk around the World Showcase starting at the Mexico Pavilion to share my favorite places to escape EPCOT crowds. First, Mexico is one of the more crowded pavilions.
While I love the outdoor night market inside it, there are almost always heavy crowds. The best spot to get away is riding the Gran Fiesta Tour boat ride.
Norway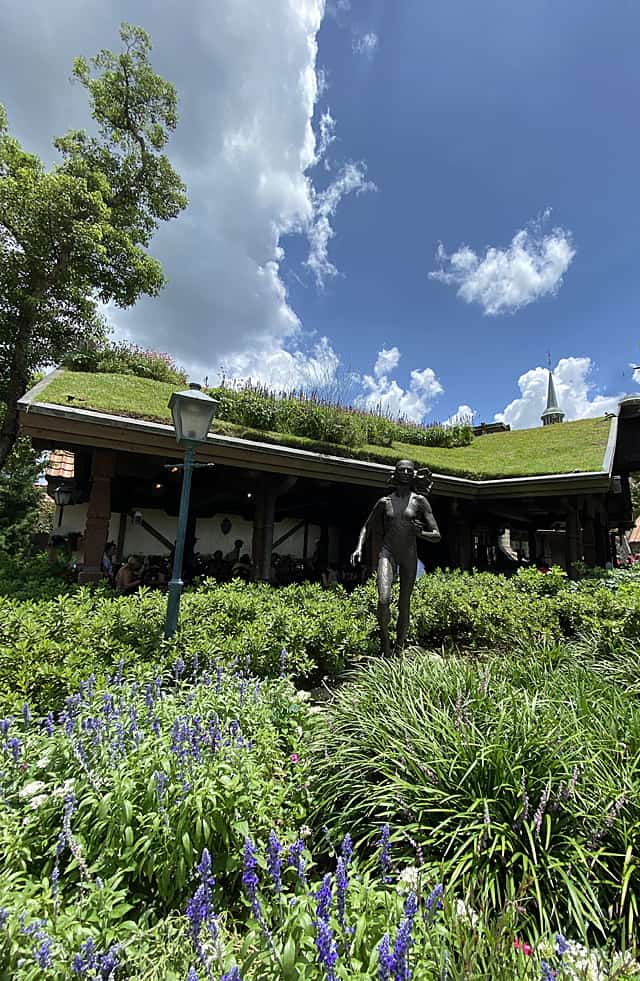 Next, at Norway, chill out with royal sisters Elsa & Anna from Frozen at their charming summer cabin. In front of their meeting location, there are several short brick walls great for taking a rest. If you prefer to stand, this area is less crowded than the rest of the Norway Pavilion, too.
China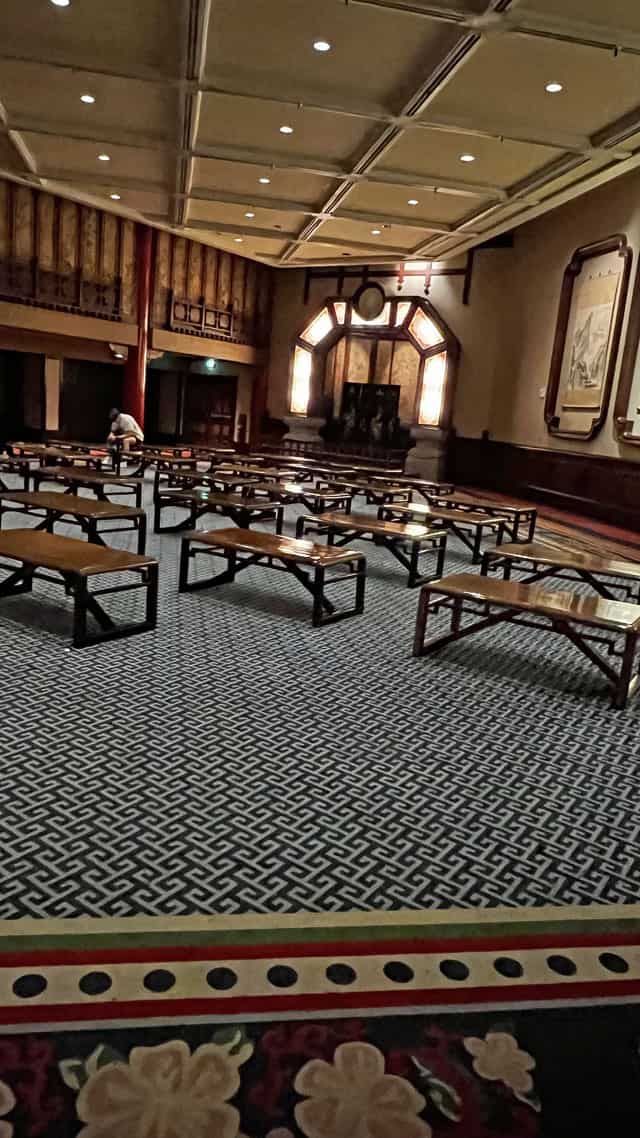 Third, journey to China to find authentic merchandise and dining options. Not only that, but there is a cool Reflections on China film shown inside the Hall of Prayer for Good Harvest building. This spot is also the best for a quiet resting spot.
Check out the rows of benches just outside the theater as well as ample space to stand or sit at the front of the building.
Italy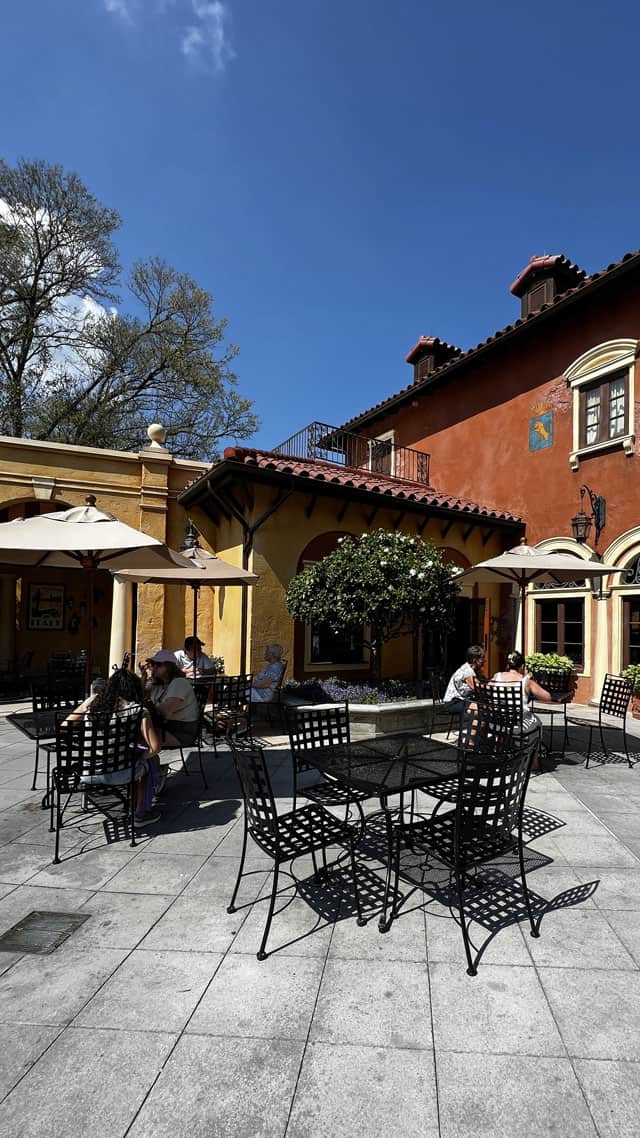 Walk back to Italy's courtyard for ample space to get away from the crowds. This is a beautiful area with some shade available.
Some of the Italy shops have shaded benches located right outside them.
American Adventure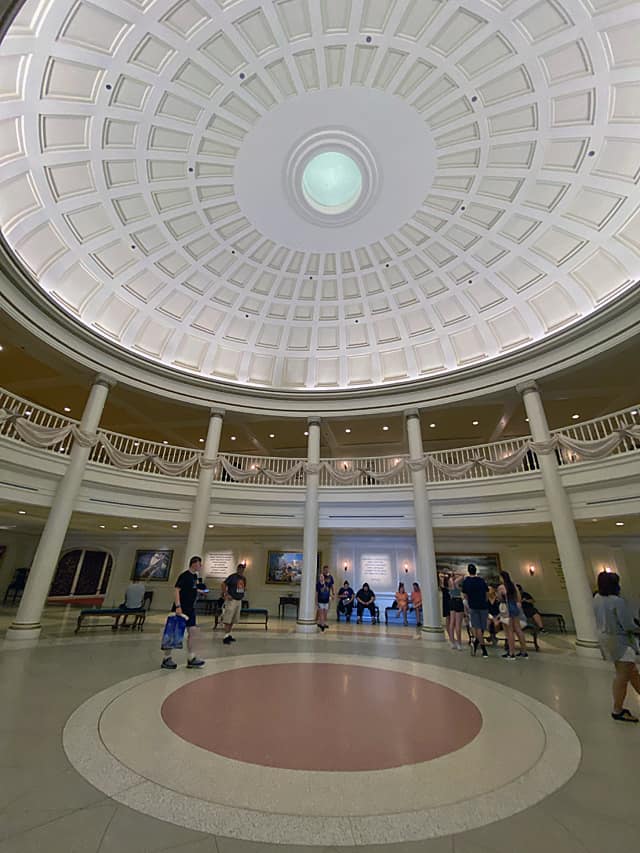 One of the benefit of taking a break at America is air-conditioning. That's right, inside the American Adventure Pavilion, the rotunda (lobby area) has the absolute best air-conditioning and space to spread out.
This is a favorite spot of mine to get some down time. If you're looking for an outdoor location, there's an out of the way small street to the left of the Regal Eagle.
Japan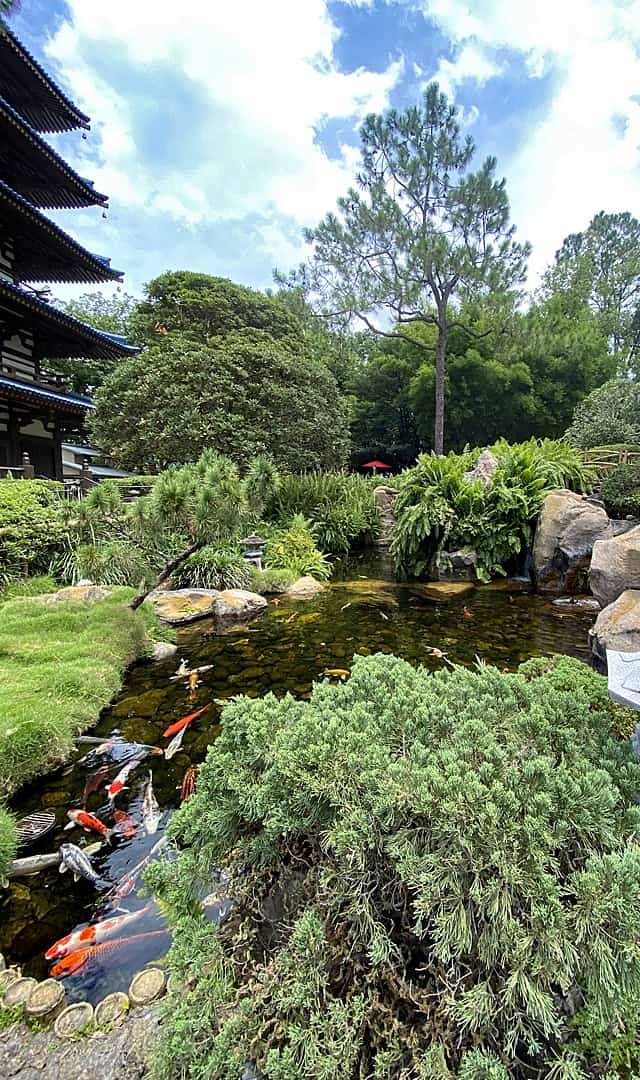 Epcot's Japan Pavilion offers a lovely retreat away from the busy path of tourists. I (Susan) hope you'll check out the gorgeous winding paths of gardens intertwined with amazing koi ponds.
You'll feel like you've left the theme park and entered into a relaxing oasis. There is also out of the way seating behind Katsura Grill.
Morocco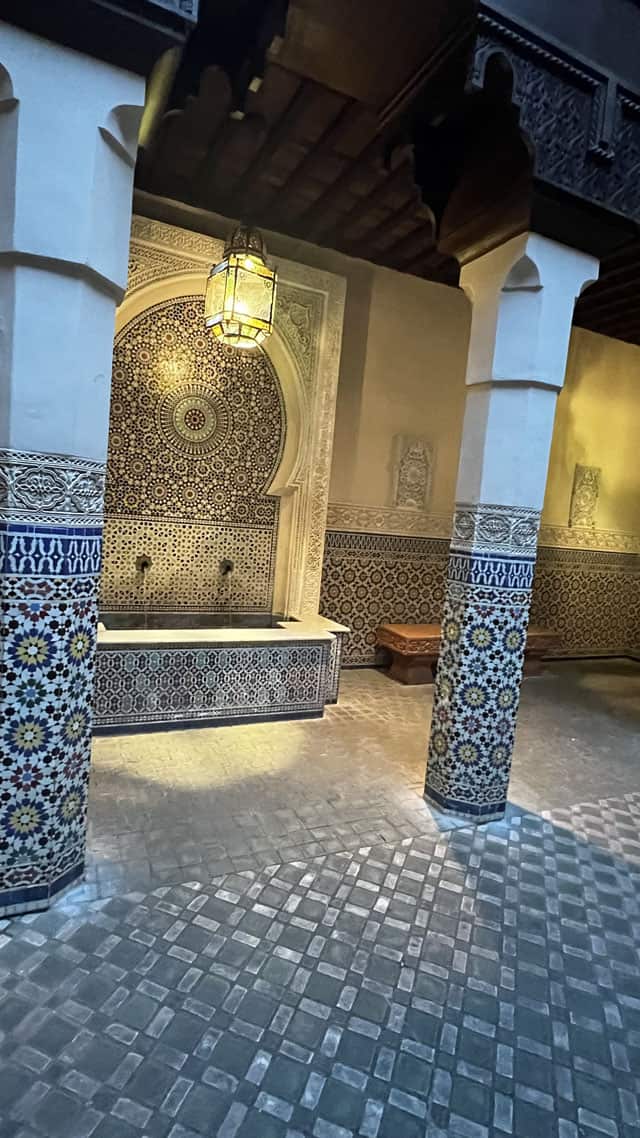 From the narrow paths and markets to the hand-laid breathtaking tile, the Morocco pavilion is an especially immersive experience at World Showcase. When you see the ornately tiled fountain, keep walking to the courtyard area for a beautiful secluded area.
And don't miss the tables at the back of the Morocco Pavilion as well.
United Kingdom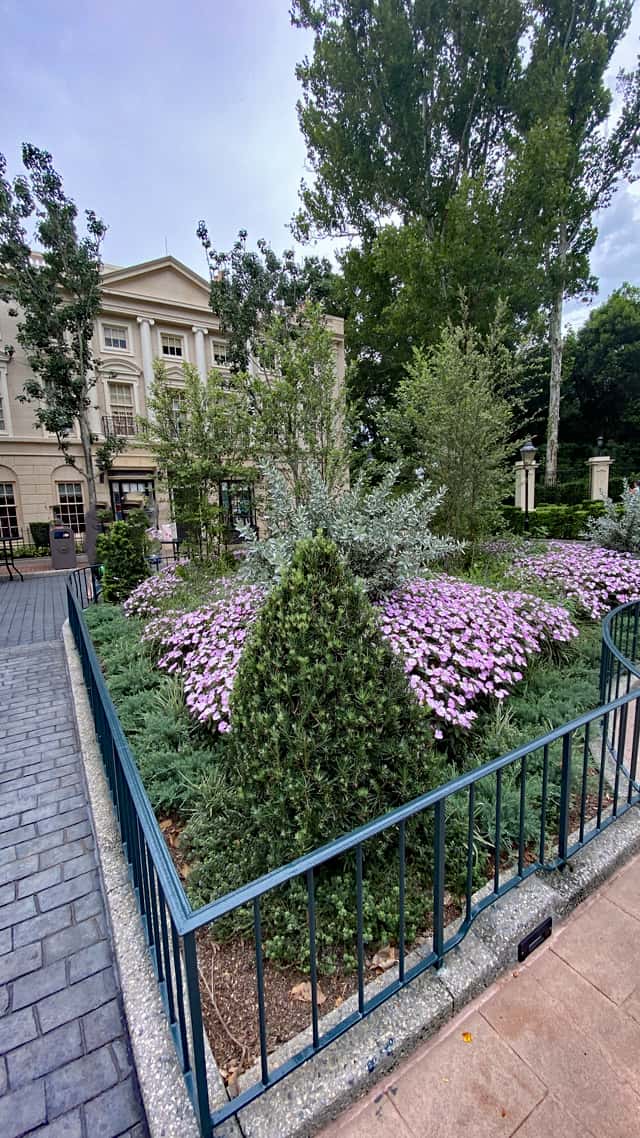 Another of my favorite resting spots is behind the United Kingdom. This courtyard is modeled after Hyde Park with a charming gazebo and a boxwood hedge maze modeled on the one at Somerleyton Hall & Gardens.
In this perfectly manicured English formal garden, there is seating available and at times, entertainment, in the gazebo.
Canada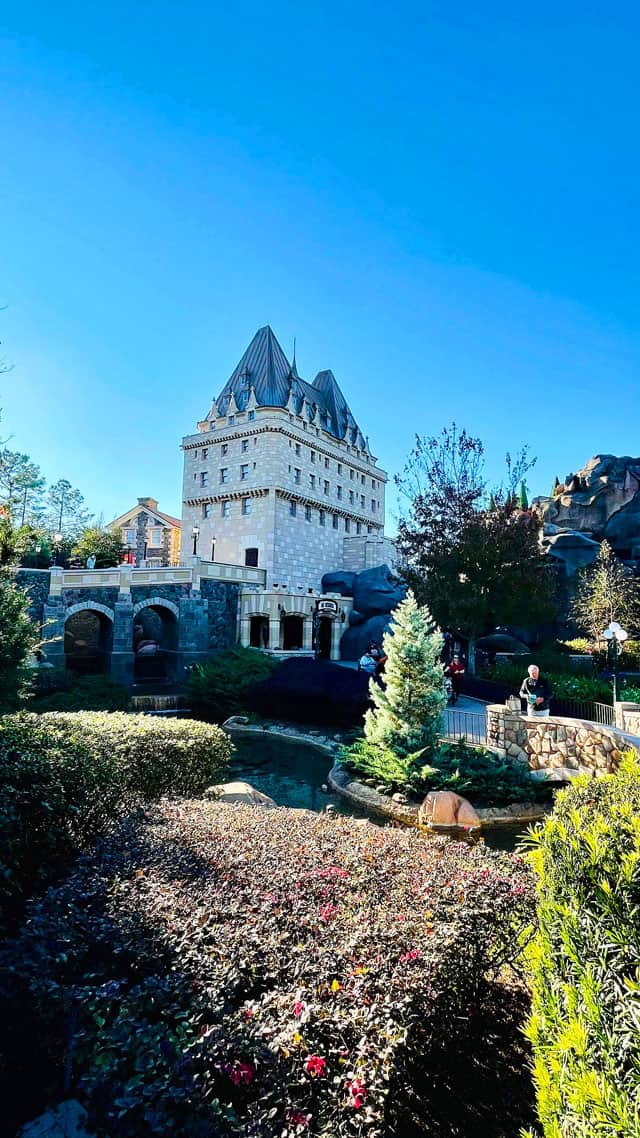 When visiting the Canada Pavilion, be sure to take in the amazing gardens. Disney finds inspiration from the Butchart Gardens in Victoria, British Columbia. There are seldom many people taking the path to take in all of the beauty here.
Have you found yourself needing a break from EPCOT crowds? If so, did you go to one of these spots or have another place to relax? Please share your thoughts in the comments below and share this with a friend who loves EPCOT.