Connections Eatery in Epcot might just have the lunch or dinner menu you are looking for. Here is a review of some of the delicious options available.
Connections Eatery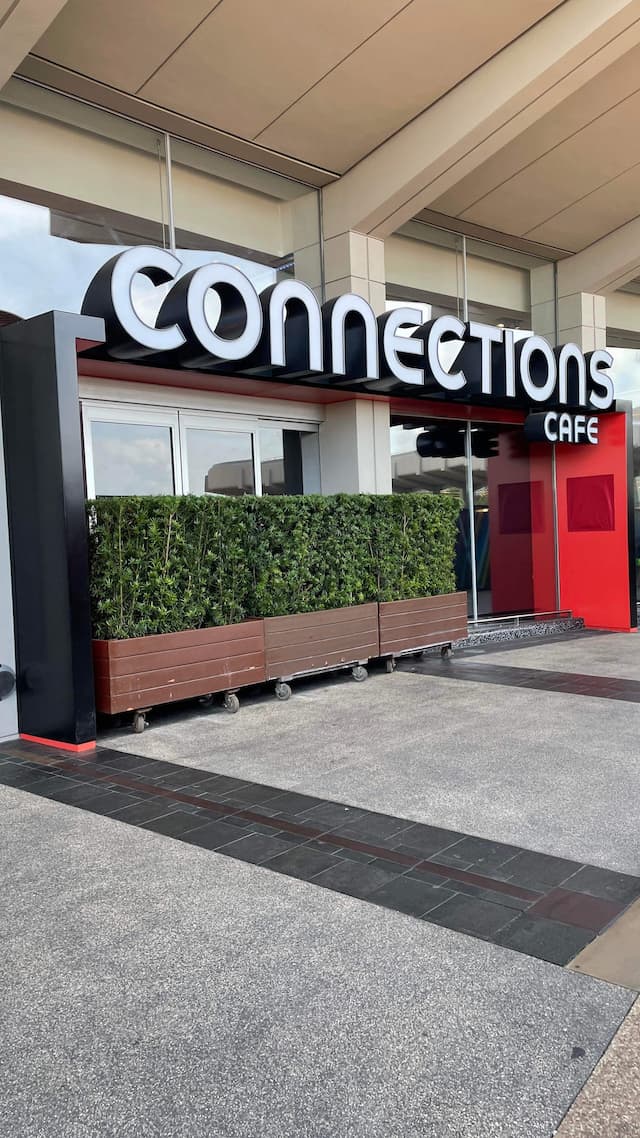 Connections Eatery is a relatively new quick-service restaurant in Walt Disney World. It is part of Epcot's reimagining and now stands finished. You can find it in World Celebration, which is one of the new areas being created from what was once Future World. If you are in Epcot, you will see it near Creations Shop and Club Cool. You may remember when Electric Umbrella stood in the area prior to the massive overhaul that is in progress at Epcot.
Connections Eatery is also connected to Connections Cafe, which is a Starbucks. You can order some of your favorite Starbucks coffee creations while you are there if you like.
While I was visiting Connections Eatery, I got to enjoy several menu items. I used Mobile Ordering to select an order window and submit the order in advance. This allowed my little girl and I to head to one of the very best spots to meet Mickey Mouse and grab an Encanto Magic shot while we waited for our return window. When the time came we scooted over to meet our friends and have a lovely lunch!
Seating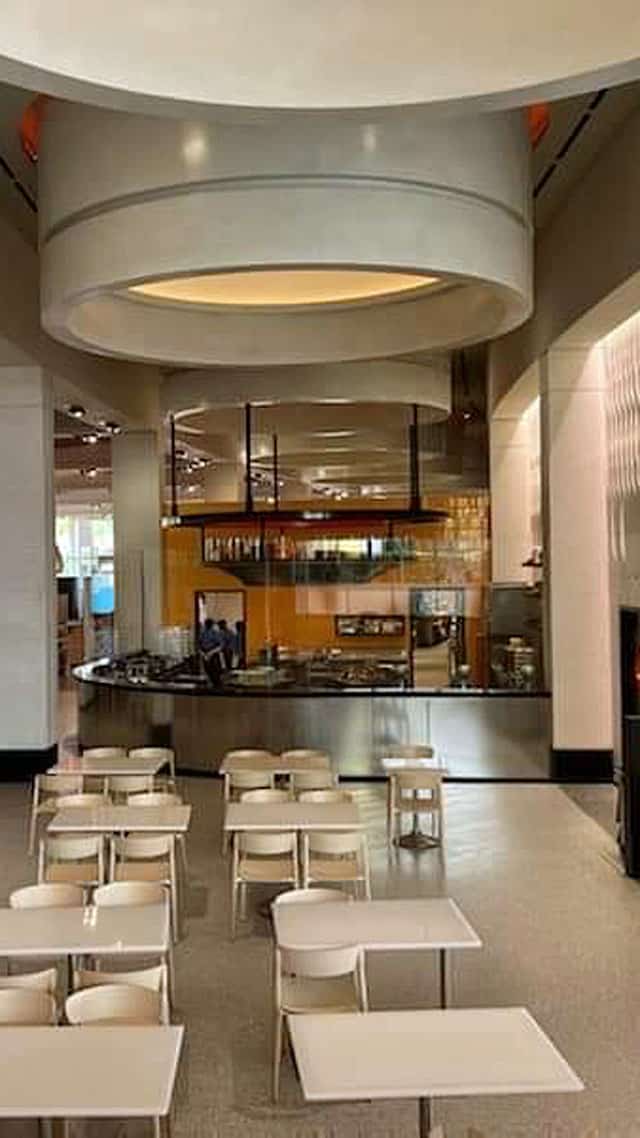 There is quite a lot of seating in both Connections Cafe and Connections Eatery, which is great because it is a popular spot, especially around peak lunch hours. Seating is first come, first served like other quick service locations. All of the seating is indoors, and it is gloriously air-conditioned.
It is a touch on the loud, echoey side, but that is to be expected at most quick-service restaurants around Walt Disney World. To read a review of one of Disney's most peaceful quick service options, click here.
Five-Cheese Pizza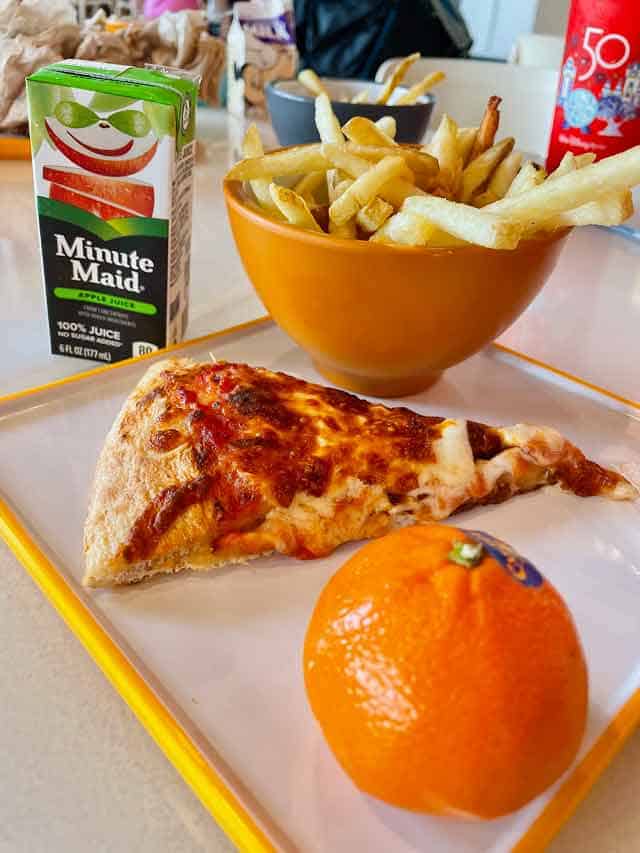 My little one ordered the five-cheese pizza. Even though she ordered the kid portion, it is the same pizza adults who order the dish receive: pizza with San Marzano tomato and basil sauce and a five-cheese blend. I really appreciate it when the kid's version of a dish isn't just a saltier version of the adult entree. The meal came with a slice of pizza, a fresh mandarin orange, fries, and juice. It was actually quite a lot of food for a little one, and it would probably feed an adult. The fries were standard Disney fries, which my family happens to enjoy.
The pizza was nothing like the quick-service pizza you find at a lot of the resorts. It has more of a hand-tossed crust. Pillowy, bubbly, and cheesy, it is some of the better quick-service by-the-slice pizza on property. I can see it being something that is better the fresher it is. It certainly is not going to be what you want to grab if you are hoping for Chicago or New York quality pizza, but it is still pretty good.
UPDATE: This pizza has been replaced with a new kind.
Niçoise-style Salad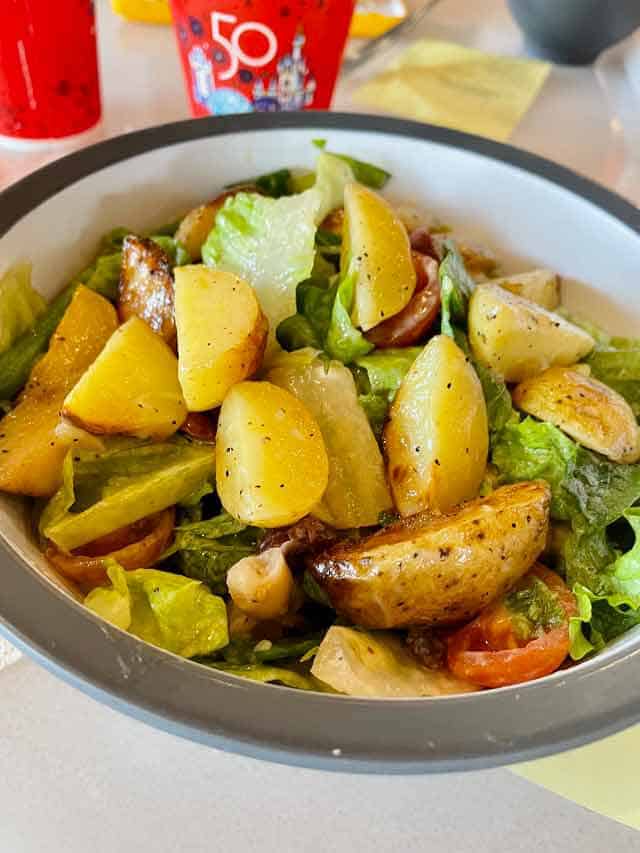 The Niçoise-style salad is comprised of Crispy Mixed Greens, Wedged Potatoes, Tomatoes, Green Beans, Olives, White Beans, and Dijon Vinaigrette. It is such a simple, yet fun salad, and I genuinely found it delightful. Mine was not short on any of the ingredients. I loved how the flavors worked so well together. This is a salad that I definitely want to eat again, so I hope it has a place on the menu for a long while.
A lot of people say they miss the meat on dishes that do not contain any like this one, but this is not a dish where I felt anything was missing at all. For me, it was filling and flavorful all on its own. The white beans gave it a nice protein boost. This salad definitely provided the right kind of fuel for a busy day exploring Epcot.

I love that Walt Disney World serves options that make your body feel nourished. Whether you prefer to stick to a plant-based, nutrient-rich diet all the time, or whether you just need to give yourself a break from traditional theme park food, it is lovely to have healthier options. To read about some of my other favorite salads, head here.
Liege Waffle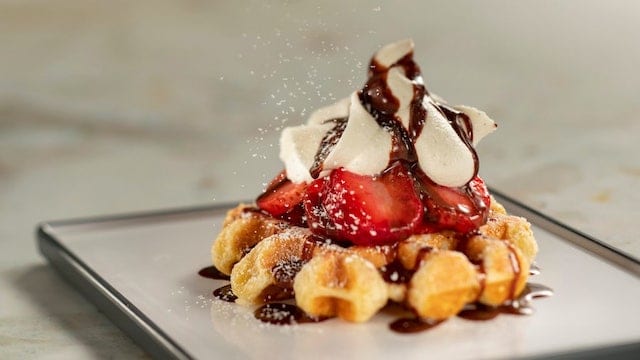 The liege waffle is a lovely dish that some people eat as a meal and some people eat as a dessert. It is nothing like the classic Mickey waffles you find around the parks. This waffle is Brioche Dough with Pearl Sugar, Strawberries, Whipped Cream, and Chocolate Sauce. It is golden and nearly crisp with pops of sugar. It does contain yeast, which is important to know if you avoid that in your diet.
Donna also had this waffle and created a review that you can read here for another perspective. The waffle is served in both Connections Eatery and Connections Cafe, so you can order it at either counter. However, if you order it at Connections Cafe, you receive it without all the toppings for a lower cost.
Apple Pie Gelato Shake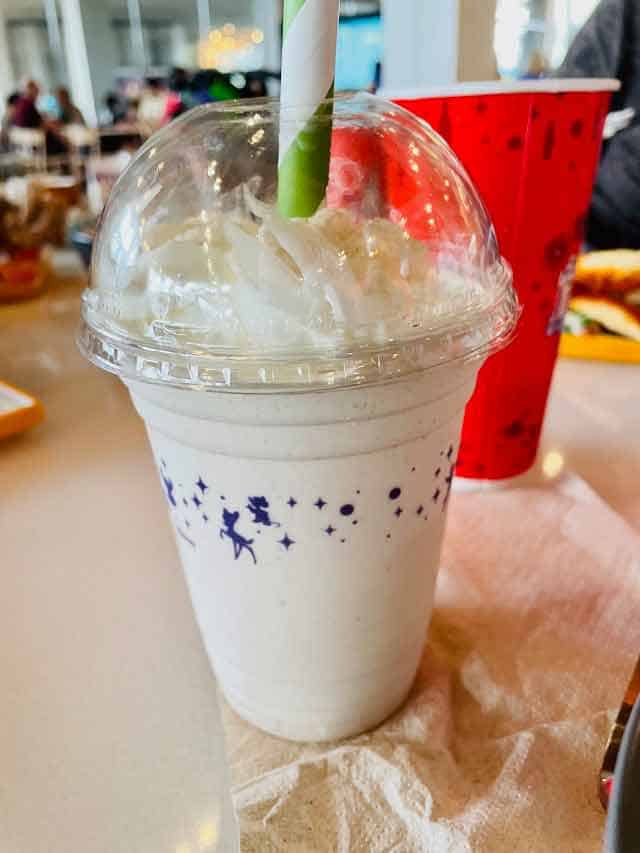 The last thing I tried is the Apple Pie Gelato Shake. This is exactly what it sounds like-apple pie gelato in shake form. I found it to be delicious and just the right amount of frozen and sweet to enjoy on a hot day exploring Epcot. It was light for a shake and not overly sweet the way some things can be.
This shake is something I would love to order again, but Disney has so many delicious sweet frozen options that I have to pace myself. I do think it will eventually make its way back into the rotation someday.
Overall Impressions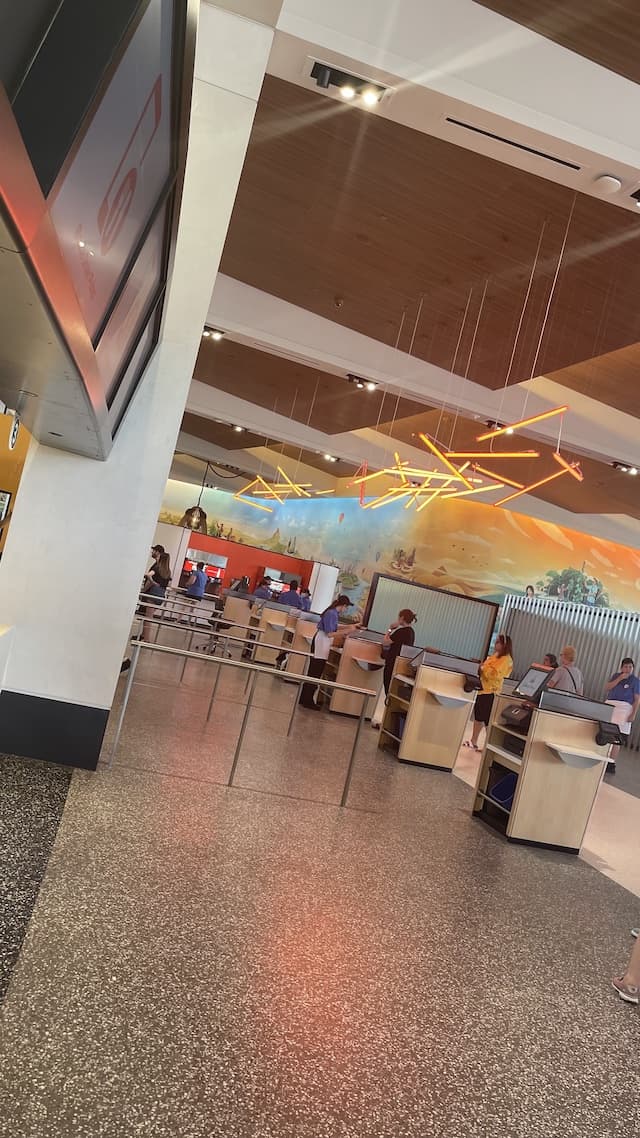 On the whole, I find Connections Eatery and Connections Cafe to be a lovely piece of Epcot's reimagining. I appreciate that while the menu does offer burgers and pizza, it also has a variety of unique, imaginative items. There are options to please picky eaters and foodies alike!
What foods have you enjoyed at Connections Cafe in Epcot? Are any of the food items on your wish list? Please, let us know in the comments or join our friendly crew to continue the conversation on Facebook.
Are you planning a vacation? Reach out to our trusted travel agency sponsor Authorized Disney Vacation Planner
Mouse Class Travel
!