Where can you find fantastic views of Magic Kingdom, a nice spot to recharge, and some great seafood? Here is our review of Columbia Harbour House.
Columbia Harbour House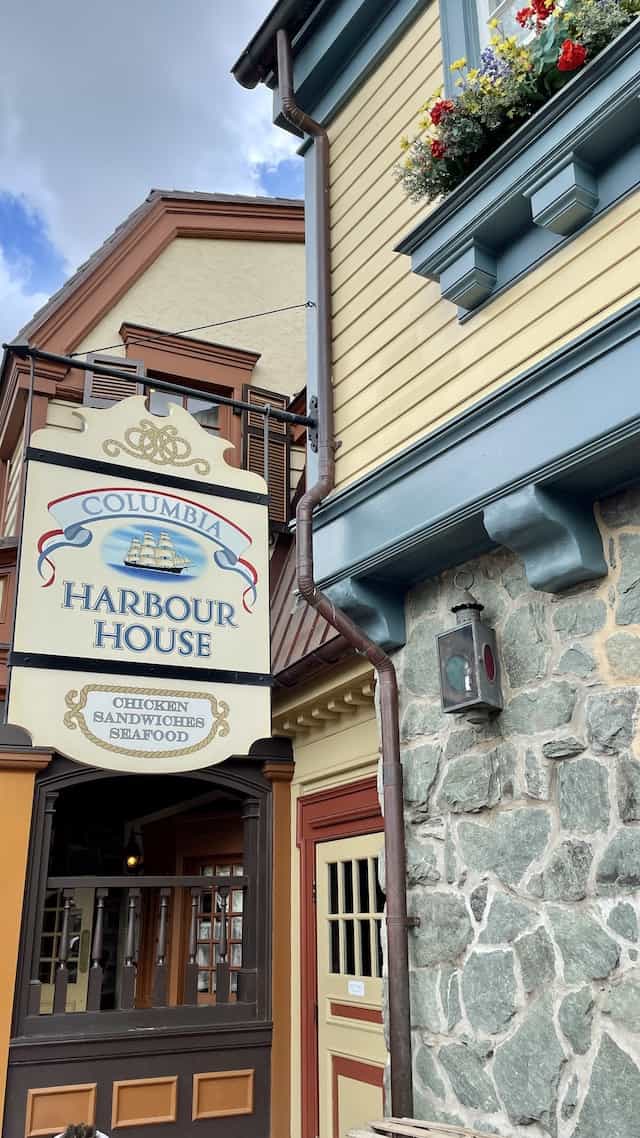 When many think of dining at Magic Kingdom, they think of castles and Main Street restaurants. There are so many food options that it can be overwhelming trying to remember where all there is to eat. Usually I have tunnel vision and snack on cheeseburger spring rolls all day, but recently I headed over to the quick-service restaurant, Columbia Harbour House.
Below I have outlined everything there is to know about the restaurant. I included where to find it, theming and food options, along with why we enjoyed it so much.
Location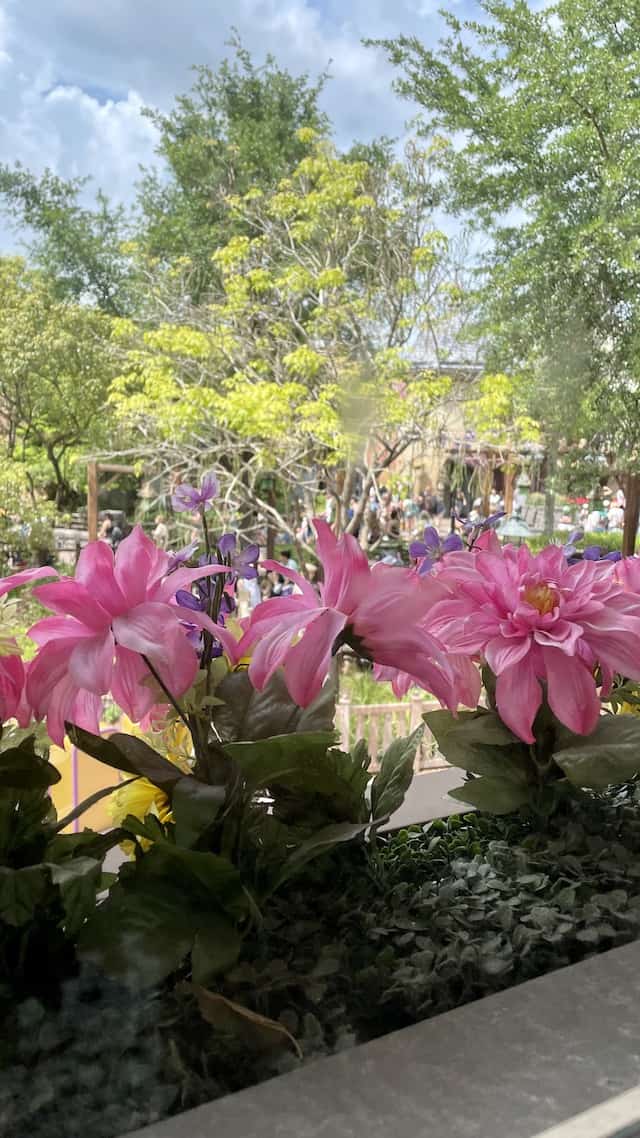 Columbia Harbour House is located in Liberty Square. Other food options in the area include Liberty Tree Tavern, Sleepy Hollow, and the Liberty Square Market. If I'm in the area I typically head to Sleepy Hollow for corn dogs and Nutella waffles.
However, sometimes it's good to get out of your comfort zone, right? To get to Columbia Harbour House, walk up Main Street towards the castle. Follow the bridge on the left side to enter Liberty Square. You will pass Sleepy Hollow and Hall of Presidents on the right and Ye Olde Christmas Shoppe on the left. Once you reach the Liberty Belle make a right and Columbia Harbour House is on your right. It's directly across from Haunted Mansion and Memento Mori.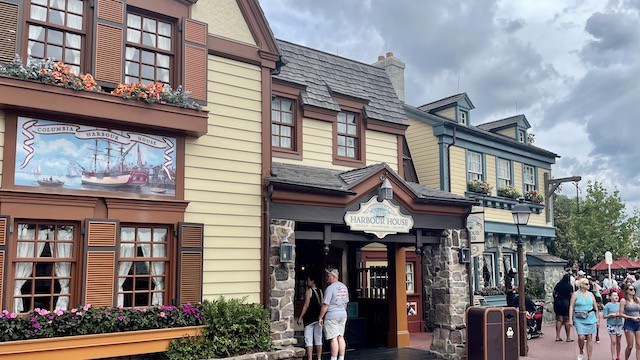 If you are coming from Fantasyland, follow the pathway in between it's a small world and Peter Pan's Flight, follow the curve around Rapunzel's Tower, and continue into Liberty Square. It willl be on your left.
From Frontierland, head towards Liberty Square like you are heading towards Fantasyland. You will see the Liberty Belle on the water on the left and Liberty Square Market on the right.
Theming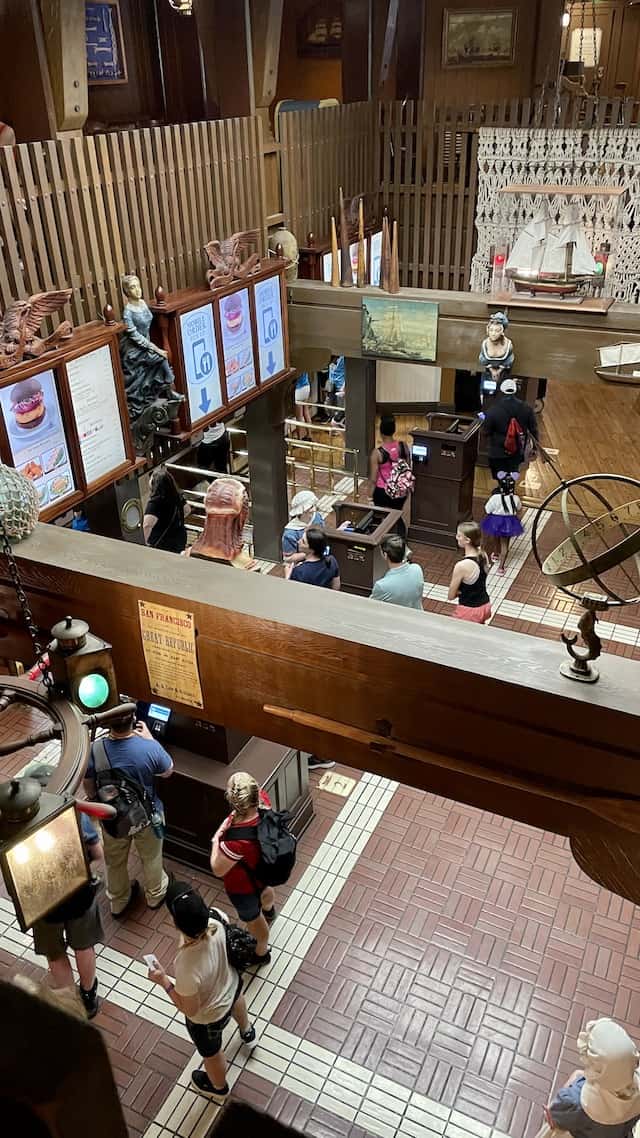 Eating at Columbia Harbour House is like sailing on a seafaring ship from the 1700s! From the outside, it looks like a common Colonial cottage with stone walls and columns along with wood accents and chains. There are also some barrels for holding the supplies you need to take on your ocean adventures.
Once inside, the restaurant transforms into a 2 story ship! You'll see oars, plaques, posters, globes, beams, clocks, and statues all around you. There is a giant chandelier near the registers that looks like a helm. The floors are made of hardwood floor parks to resemble a ship. There are even brick fireplaces throughout the restaurant.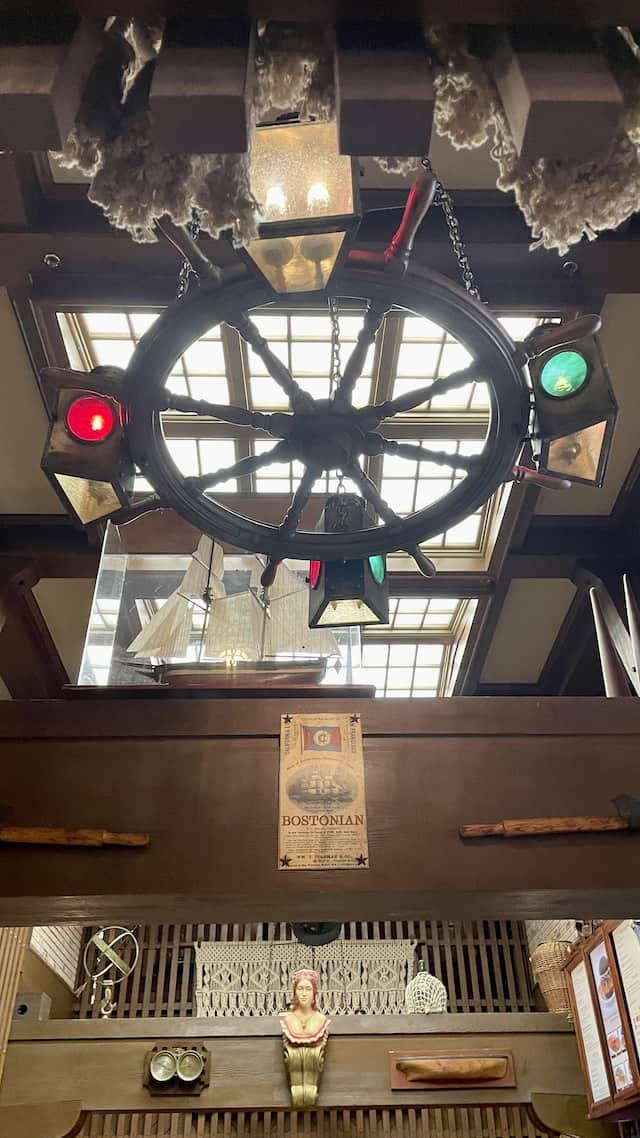 Oil lamps adorn the walls to provide extra lighting. I will admit the inside of the restaurant is a bit dark on the first floor. The upstairs has more windows which provide better lighting.
Overall, the theming of Columbia Harbour House fits in nicely with the Colonial-era restaurants and attractions nearby.
Excellent Seating Options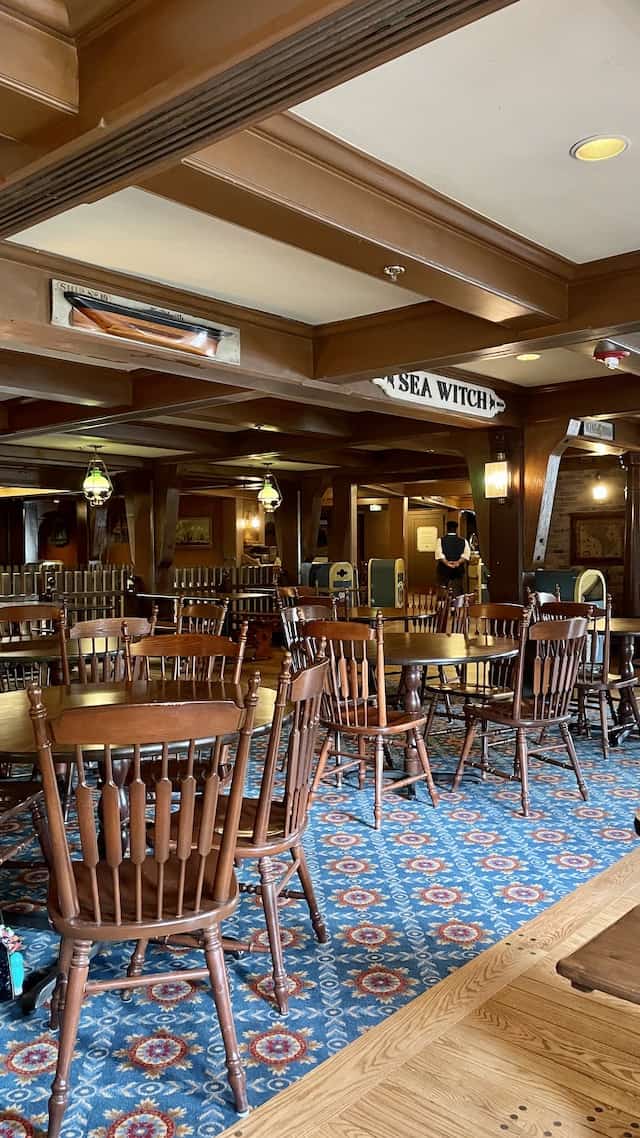 One of the things I love most about Columbia Harbour House is the seating arrangement. When you think of Magic Kingdom quick-service, you may think about a loud cafeteria set up like Cosmic Ray's or scarfing down your hot dog from Casey's over a trash can.
Columbia Harbour House has so much seating! As I mentioned above, it has two floors. The first floor is where you can order and pick up your food, but there are also plenty of tables and chairs. I really love the second floor more, though. It allows you to get away from the hustle and bustle of the register area. It is much more quiet and relaxing upstairs!
There are also stunning views of Rapunzel's Tower and Haunted Mansion when you go upstairs. I really love just sitting up there to enjoy the peaceful views of a bustling Fantasyland walkway. As an added bonus, if you get a table near a wall you may be lucky enough to get a USB outlet to charge your electronics! Genie+ really drains my battery, so it's nice to have this option without using my own charging device.
Menu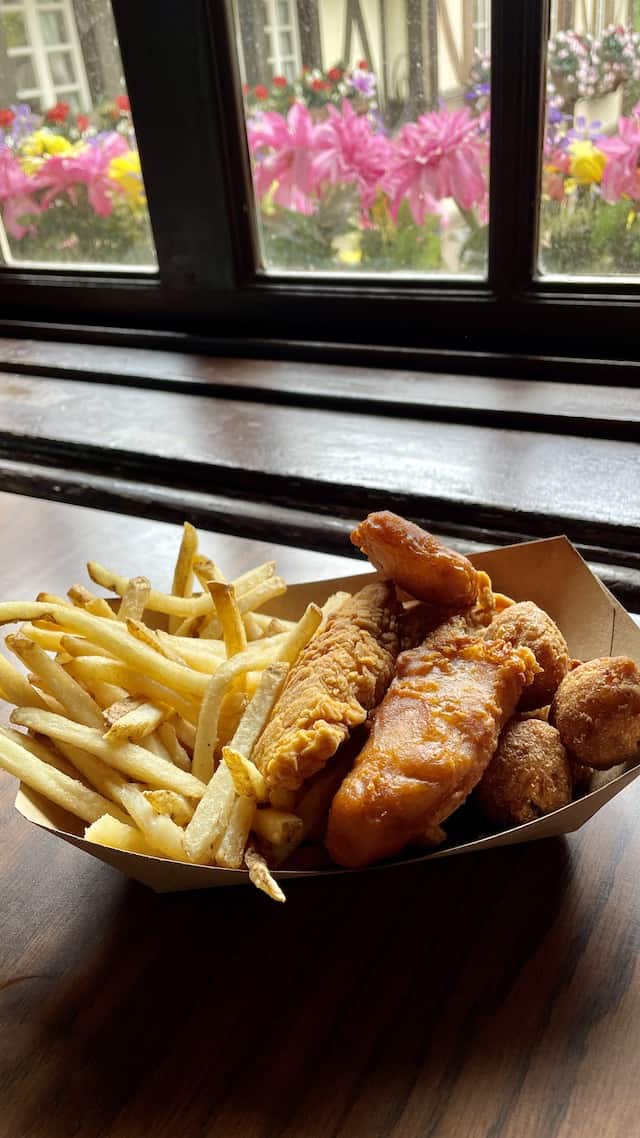 As you may have guessed, Columbia Harbour House serves New England-style seafood. Menu options include lobster roll, fried shrimp, fried fish, shrimp skewers, grilled salmon, chicken strips, and salad. Sides include but are not limited to: New England clam chowder, French fries, and hush puppies.
The kid's menu consists of Uncrustables, shrimp skewers, grilled salmon, fried shrimp, and chicken strips. If you do not like seafood, you can still find some options but know that it may be slim pickings.
On a recent visit, myself and fellow KtP writer Donna enjoyed lunch at Columbia Harbour House. I decided to get the trio platter which includes fried shrimp, chicken strips, and fried fish. It also included fries and hush puppies. At $14.29 I think this is an excellent value. I received two pieces of fish, two chicken strips (standard Disney chicken strips), several hush puppies, and several pieces of shrimp. They did not skimp on French fries either.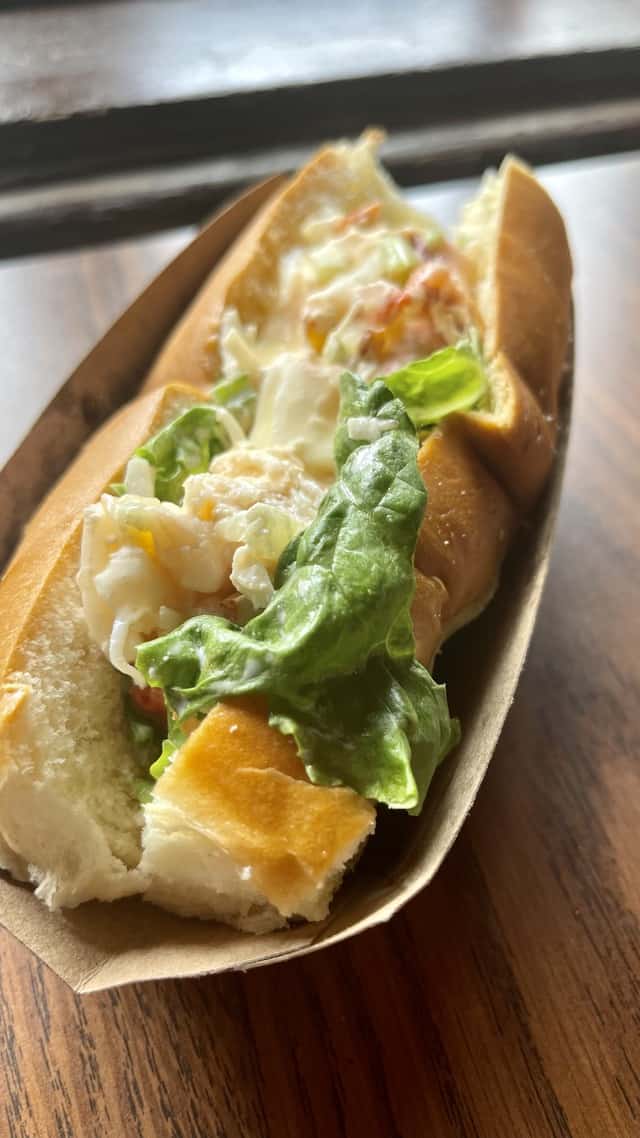 Do not expect anything other than standard quick-service fried food from Magic Kingdom. While everything tasted fine, it did not taste exceptional. However, if your goal is to fill up or share a meal for relatively cheap, the trio will definitely check off all your boxes.
Donna ordered the lobster roll with a side of plain white rice. She shares that looks can be deceiving with the lobster roll. It appeared the bun may be hard, but she was pleasantly surprised to take a bite and discover a soft bun. The sandwich itself was packed with lobster meat. The touch of mayonnaise and the meat checked off all her taste boxes.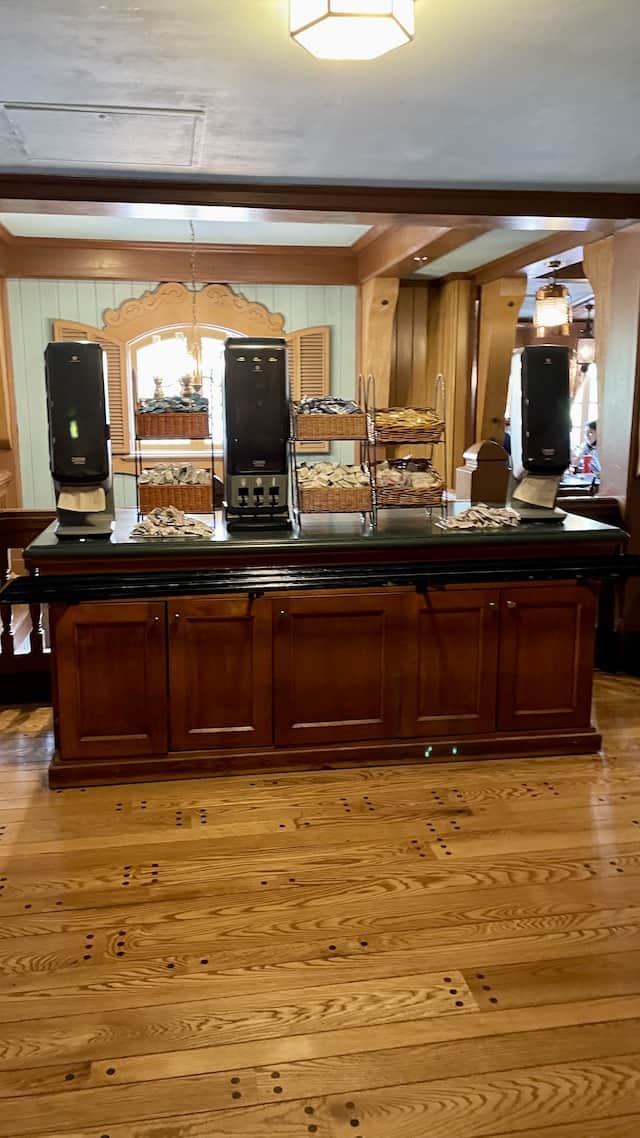 The rice was bland but edible, but the real star of the meal was the lobster roll. Donna loved how filling the dish was, and at $16.99 this is another great value for how big the sandwich is.
Additionally, there are plenty of condiment areas on both floors which will save you some time and steps if you forget to grab napkins, cutlery, or ketchup after picking up your food. Mobile order is available here, but I do not think it's necessary to pre-order several hours in advance. It doesn't get that busy even during peak days.
Final Thoughts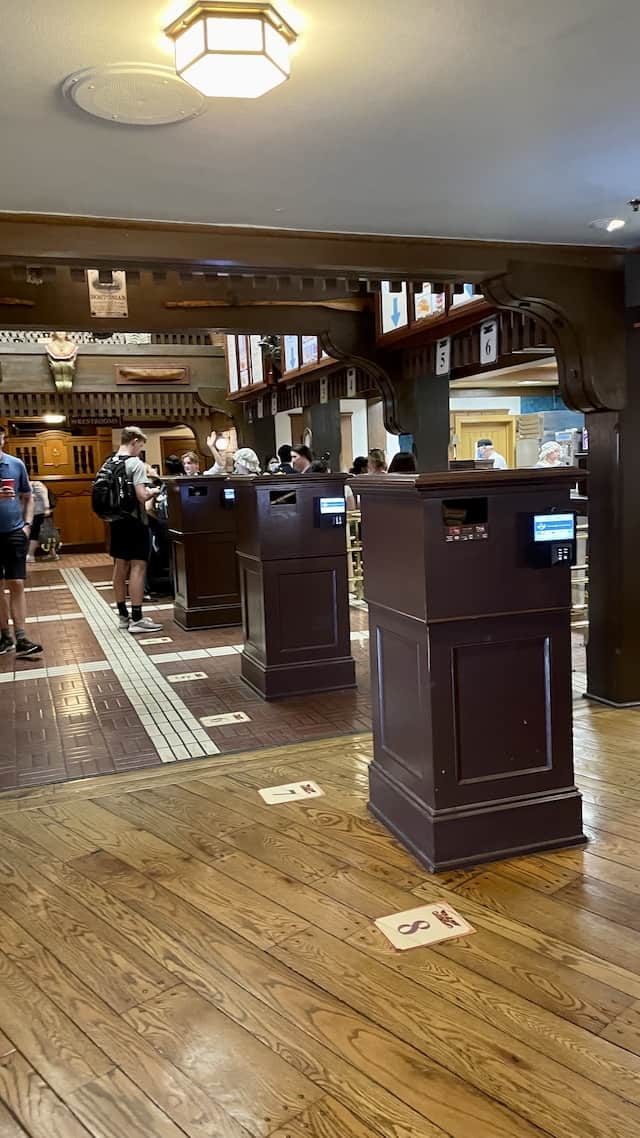 Overall, we really enjoyed our meal at Columbia Harbour House. It's nice to get something "different" in the theme parks, and you can't beat quick seafood. The quantity of food you receive is a great value for how much you pay. Combine that with a quiet spot to recharge (both yourself and your electronics), and it's definitely a hidden gem in the Magic Kingdom.
Do you love Columbia Harbour House? Let us know in the comments below and on Facebook.