LATEST VIDEOS
Subscribe to my Youtube!
LIVE - Just Mousing Around
Just Mousing Around - LIVE
LIVE - Just Mousing Around
Are you planning to visit Mickey Mouse during your next trip to Walt Disney World? You will not want to miss the best place to meet Mickey Mouse with low wait times.
Return of Character Meet and Greets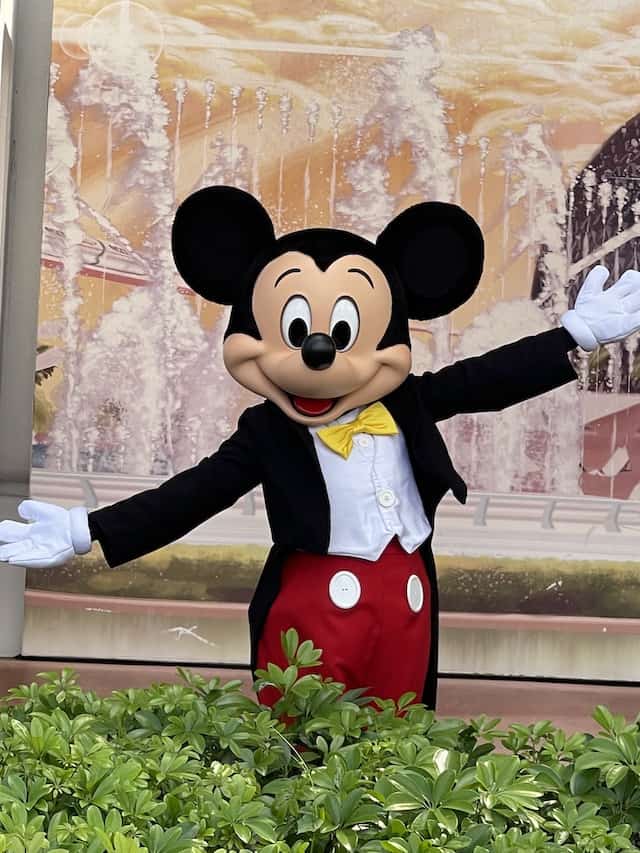 When the Disney Parks reopened, many things were a bit different. One of the biggest changes was with character interactions. For quite some time, Guests could see characters at "pop-up" locations throughout the Disney Parks and take a distanced photo with them. No lines were formed for these interactions. Next, Dinsey introduced a more "formal" character interaction with "Character Sightings."
These Character Sightings were a bit different than the traditional Character Meet & Greets. First, these were not up close meets where you can get an autograph and hug them. Second, these were socially distanced with a rope separating Guests from their favorite Disney characters. These were still magical, but something was missing. We all still wanted to hug and get autographs from our favorite characters.
The best news is that the ropes have been lowered and Guests can enjoy non-distanced character interactions and even hug their favoirte Disney characters. This, of course, increased wait times at all but one location at Walt Disney World.
Mickey Mouse Meet & Greet Locations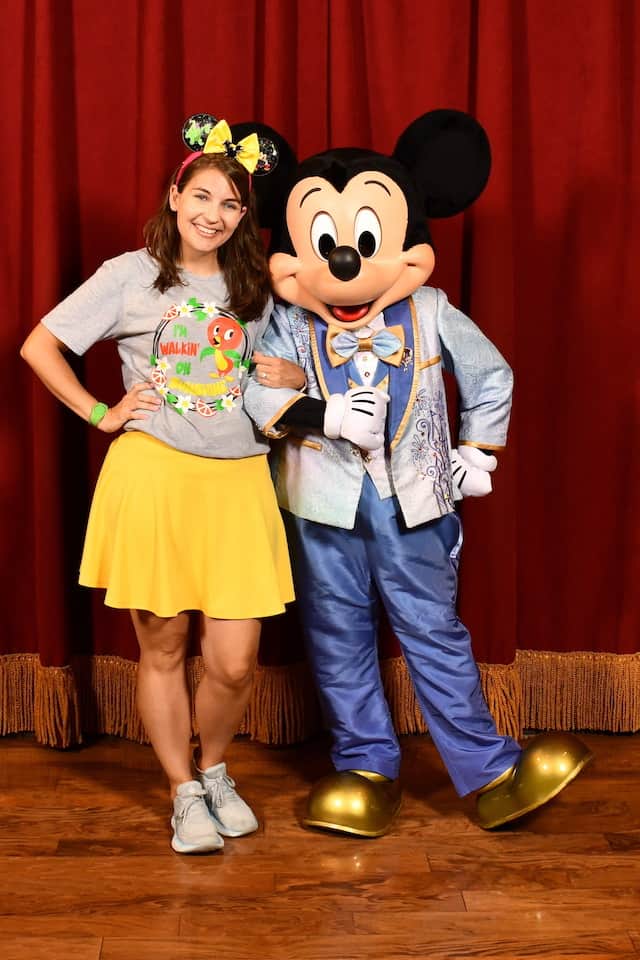 Prior to the return of traditional Character Meet & Greets, the wait times were quite low for Character Sightings. It seemed a bit strange to have a 5 minute wait or simply walk right in to see your favorite character. With the return of non-distanced character interactions, came surging wait times.
Currently, there are 3 locations to visit Mickey Mouse at Walt Disney World Parks. First, at the Magic Kingdom, Guests can meet Mickey Mouse at the Town Square Theatre in his 50th anniversary finest. Wait times at this location average at around an hour.
If the wait times were not bad enough at this location, this location does not offer a PhotoPass photographer. Instead, they offer an automated photo camera box. High wait times and the automated photos greatly affect this character interaction.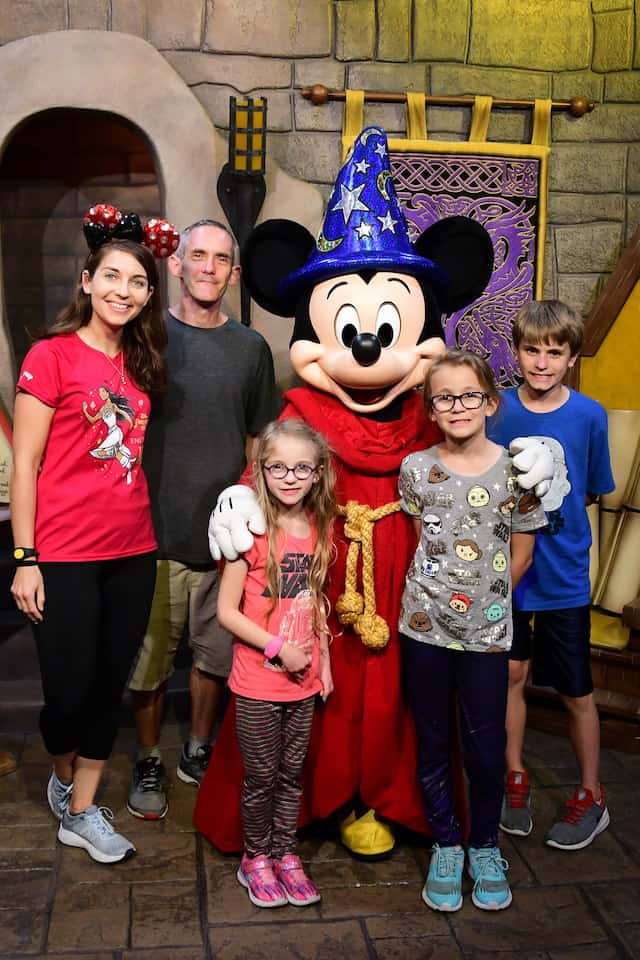 At Disney's Hollywood Studios, Guests can visit both Minnie Mouse and Mickey Mouse at the Red Carpet Dreams. This is a great location to meet 2 characters for one wait time. Mickey Mouse greets Guests in his Sorcerer Mickey attire while Minnie Mouse is ready for the red carpet in a beautiful pink ball gown. This location also boasts great wait times of 45 minutes to up to 70 minutes throughout the day.
High wait times of close to an hour or longer are typical at both Magic Kingodm and Disney's Hollywood Studios for meeting Mickey Mouse.
At the time of this writing, Mickey Mouse is currently unavailable to greet Guests at Disney's Animal Kingdom. He will return to greet Guests in the near future. Check out the timeline for his return HERE.
Best Location to Meet Mickey Mouse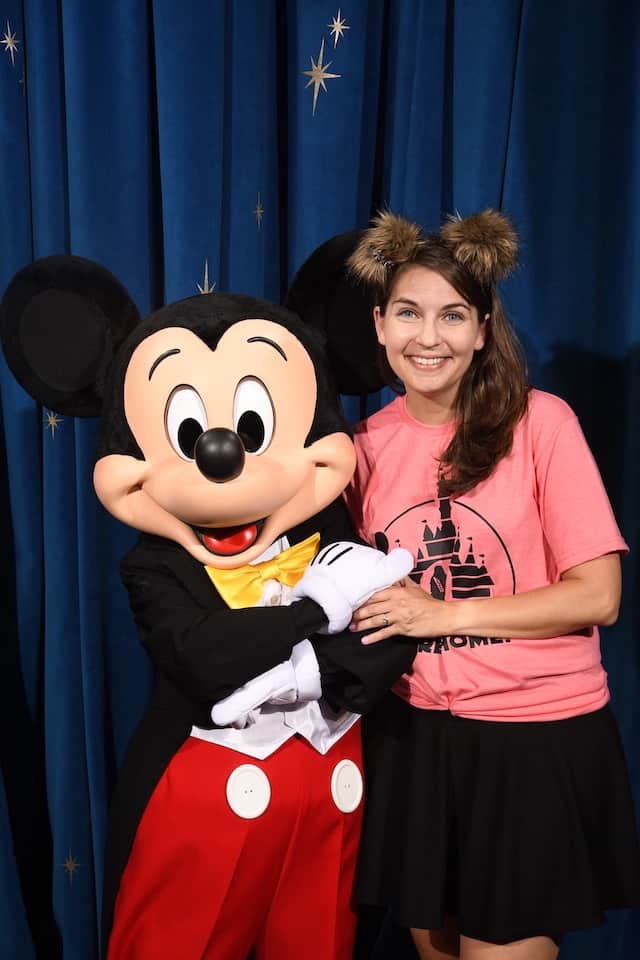 Do you want in on a little secret? We stumbled upon the best location to meet Mickey Mouse with low wait times and offers great photos as well.
Many Guests may not be aware that you can meet Mickey Mouse at EPCOT at the Disney and Pixar Short Film Festival. This location is just to the left of the Journey into Imagination with Figment attraction. While other parks had wait times of over an hour to meet Mickey Mouse this location had a 5 minute wait.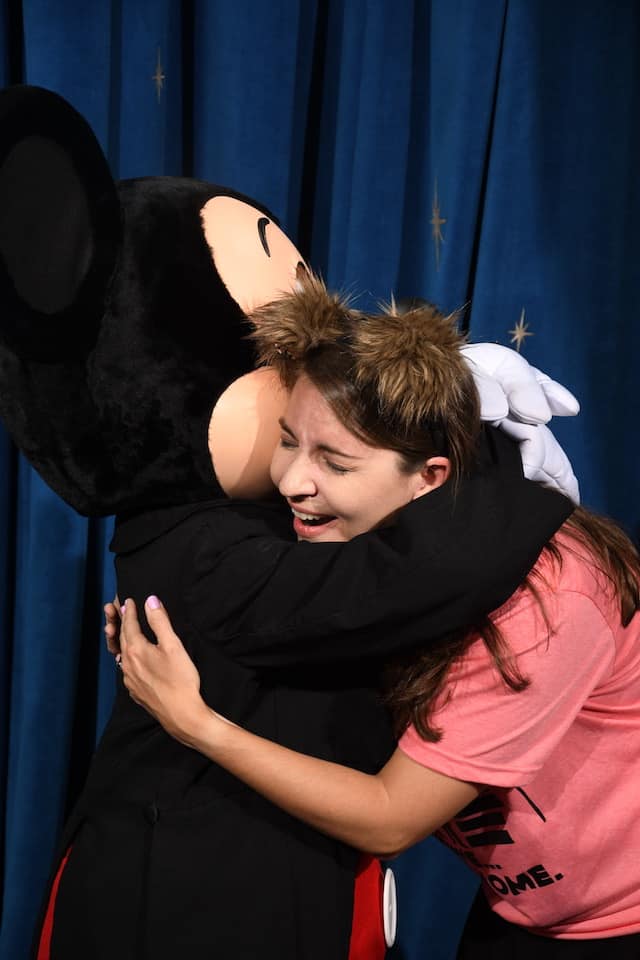 As we stepped inside, we saw Mickey Mouse in his classic tuxedo. After a very short wait, this was our first time seeing Mickey Mouse now that the ropes have been lowered and Mickey hugs have returend. I (Donna) thought that I could hold it together when I had my first Mickey hug, but I cried happy tears.
The best interaction with Mickey Mouse is at EPCOT at the Disney and Pixar Short Film Festival.
Thanks to the low wait time, I didn't feel rushed as when we visited Mickey Mouse at the Magic Kingdom later in our trip. The HUGE benefit of this location is also a PhotoPass Photographer. He was on hand to capture this magical expereince. This was simply the best location to meet Mickey Mouse in my (Donna) opinion.
What do you think? Which Park do you think is the best to give Mickey Mouse a big hug or a high five? Would you be willing to wait an hour to meet Mickey Mouse? Share your thoughts with us on our Facebook Page.

Are you planning a vacation? Reach out to our trusted travel agency sponsor Authorized Disney Vacation Planner
Mouse Class Travel
!