I (Jaelyn) took every form of Disney transportation on one singular park hopping day. Here's what I learned and how you can use my experience to improve your next Disney trip!
The Background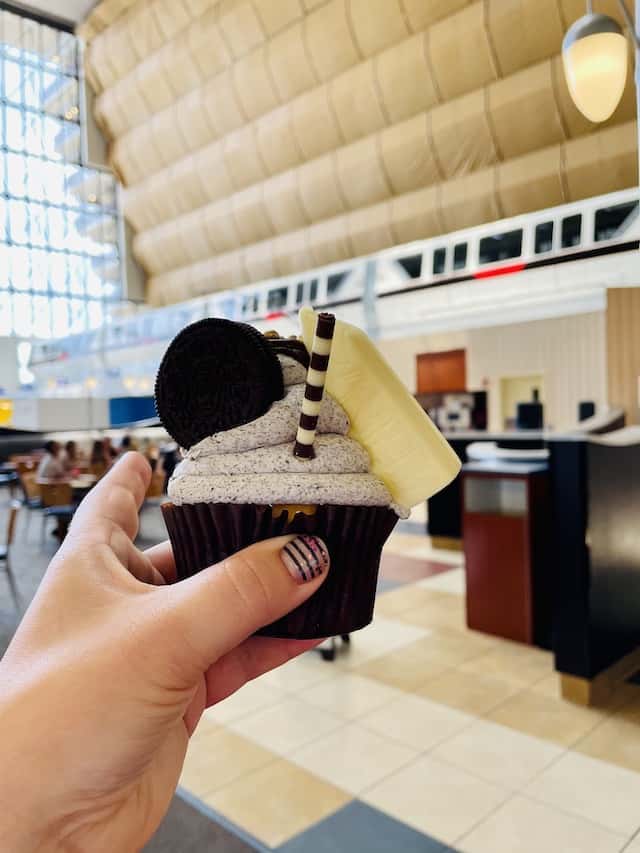 On the eve of Walt Disney World's 50th anniversary, my family and I had grand plans. We wanted to visit three different parks in one day. Additionally, we had a character meal planned at Topolino's Terrace at Riviera.
Our day started at the Boardwalk Villas and continued on to Hollywood Studios, Riviera, Epcot, the Magic Kingdom, and finally back to Epcot to experience Harmonious fireworks. Over the course of this day, we took friendship boats, the Skyliner, the monorail, a Disney bus, and our own two feet.
We walked over 26,000 steps this day and truly got a good flavor of the pros and cons of each transportation method. Follow along with our journey and learn from our experience so that you can choose the best transportation options for your next Disney visit!
Friendship Boats are scenic, relaxing, and great for families with strollers…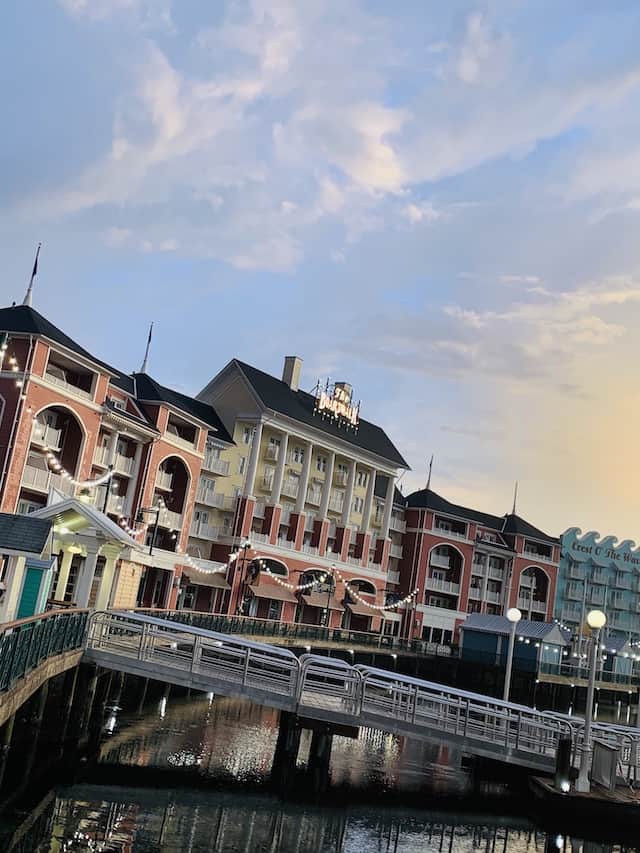 For our trip, my family was booked at the Boardwalk in a studio room. The Boardwalk is in the Epcot area of resorts and is the perfect location for hitting up Epcot and Hollywood Studios.
We planned to take advantage of the early theme park entry for resort guests on September 30th at Hollywood Studios. The park opened at 9 a.m. with Early Theme Park Entry happening at 8:30 a.m.
Because the friendship boat launch was steps away from our hotel room, we waited to head down to the boat area until 8:00 a.m. A boat happened to be docking right as we walked up, so the timing was perfect.
We brought a City Mini Double stroller along for my two young children and were able to push the stroller right onto the boat. This was a huge perk, and we loved not having to fold up our stroller while traveling.
The ride itself was scenic and relaxing. We had amazing views of Crescent Lake as we traveled to the Yacht/Beach launch, the Swan/Dolphin launch, and then onto Hollywood Studios. The entire ride took less than 20 minutes.
But, Friendship Boats are certainly not the fastest way around property!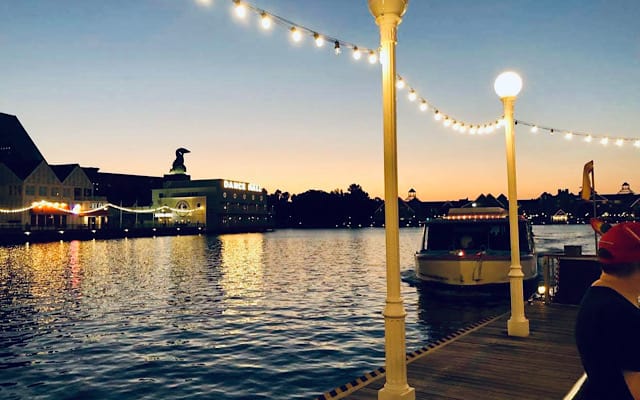 Though the ride was relaxing and very enjoyable, we could have made it much quicker to Hollywood Studios by walking. Additionally, we could have likely cut down our time by walking over to the Swan/Dolphin launch instead of riding around all of the resorts on Crescent Lake.
We entered into the park right at 8:30 and were able to participate in Early Theme Park Entry and started the morning off by queueing up for Slinky Dog Dash. My husband and son had about a 15 minute wait in line before riding. We could have likely been on the ride sooner if we had walked to Hollywood Studios instead of taking the friendship boats.
However, we were still able to do Slinky Dog twice with rider swap, Toy Story Mania twice, Alien Swirling Saucers twice and grab a quick bite to eat at Woody's Lunch Box all within the first 60 minutes of being at the park.
The Skyliner provides speedy transport from place to place…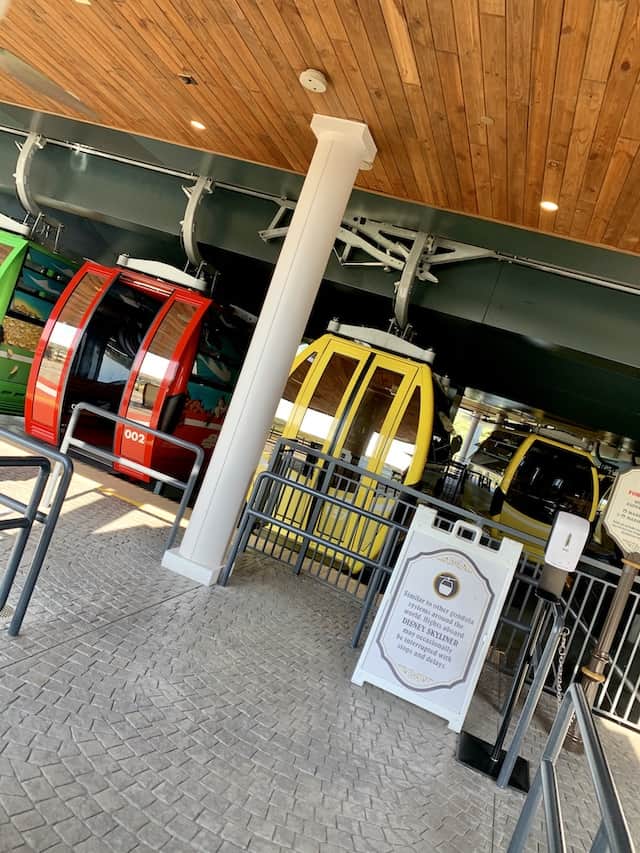 If you are looking to make a quick trip between Epcot and Hollywood Studios or from one of the above mentioned parks to a Skyliner resort, then there is no better option than the Skyliner for speed.
This transportation system opened in the fall of 2019 and connects Epcot and Hollywood Studios to Pop Century/Art of Animation, Caribbean Beach, and Riviera resorts.  Each gondola can hold 10 individuals (or 6 when a stroller, wheelchair, or other accessibility vehicle is used).  Single strollers can be rolled right into the gondola, but double strollers must be folded.
We took the Skyliner from Hollywood Studios to the Riviera resort for a late breakfast at Topolino's Terrace. The entire ride was speedy and easy. Boarding was simple and we enjoyed the views of property as we soared high above the resort. We also had our own gondola for our party, which was comfortable and convenient.
But, be prepared to unload and reload…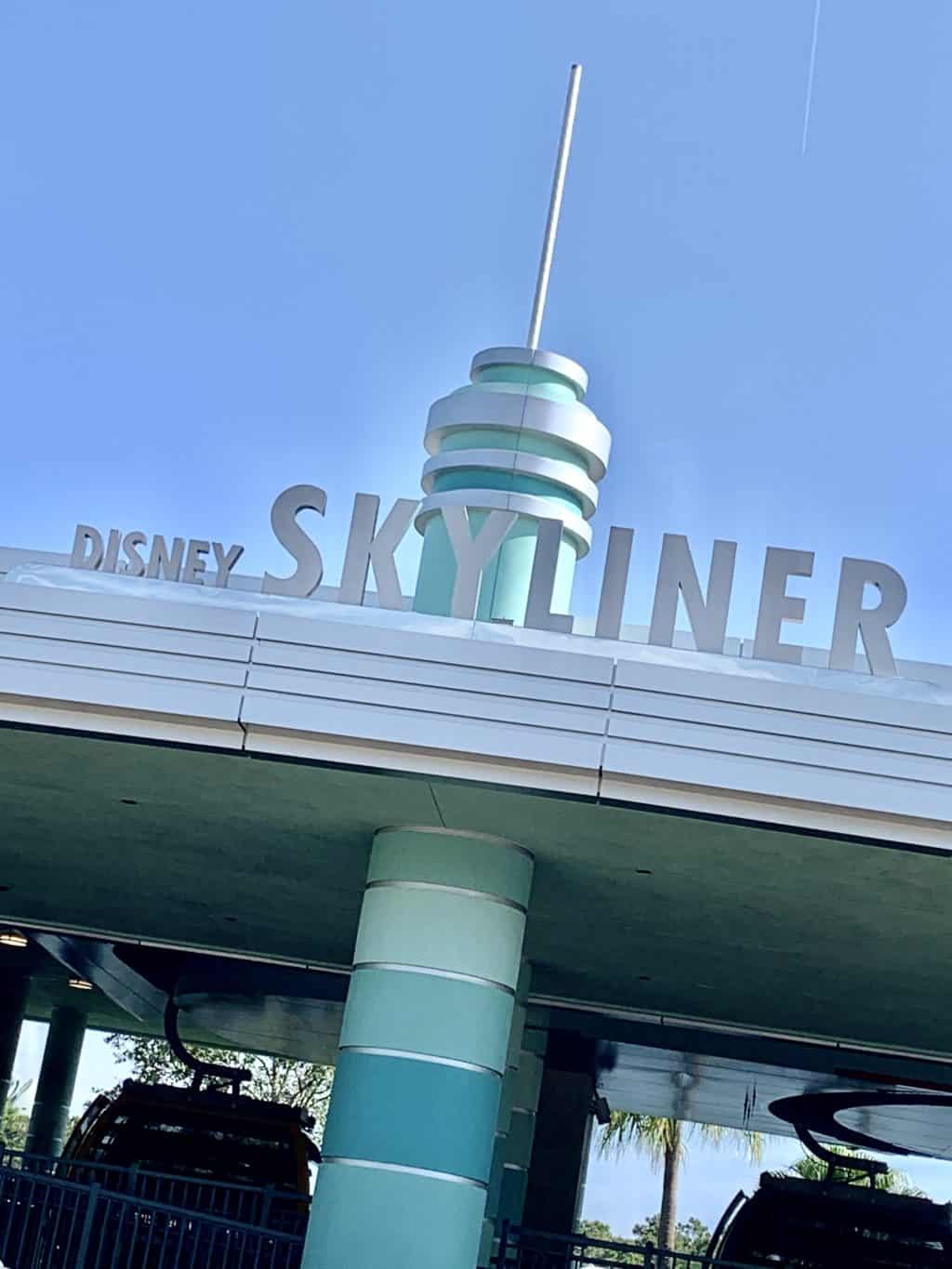 Taking the Skyliner from one location to another might involve loading, unloading, and reloading.  We took the Skyliner from Hollywood Studios and had to exit our gondola at the Caribbean Beach station and reload to transfer to the Riviera.  This added some additional time to our trip and required us to unfold and refold our double stroller a few times, which isn't always easy or convenient. 
And be aware if you are afraid of heights!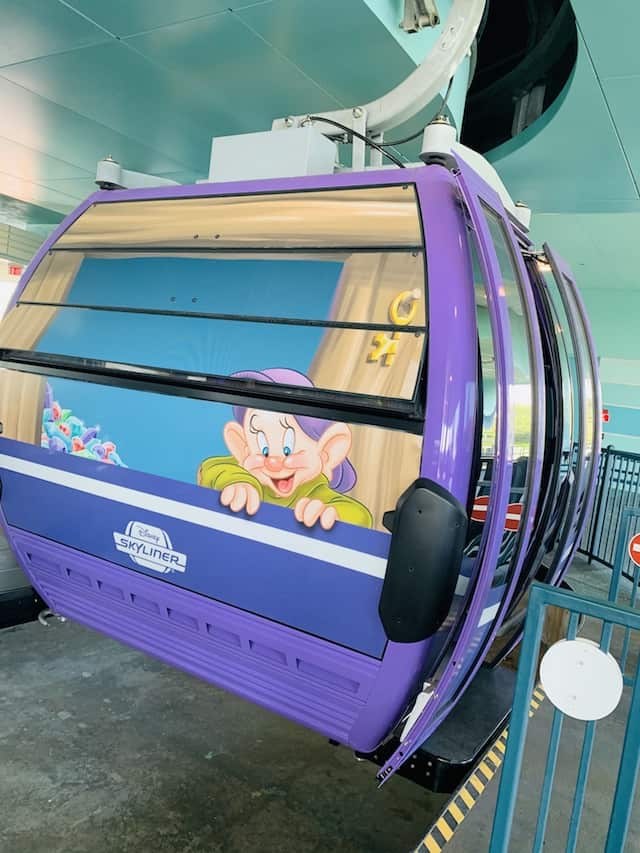 Another important detail about the Skyliner is that it does truly travel high above the ground!  If you have anyone in your group who is afraid of heights, this might be an important consideration to keep in mind.  Our journey took us over some water areas, trees, and near busy roads, which can definitely make individuals who are concerned about heights a little nervous! 
We also had a "turn" in our Skyliner ride from the Riviera to the International Gateway Station at Epcot, which made my husband a little nervous!  Luckily, we were never stopped in our journey, but I know this sometimes happens on the Skyliner.
Walking is always a top option…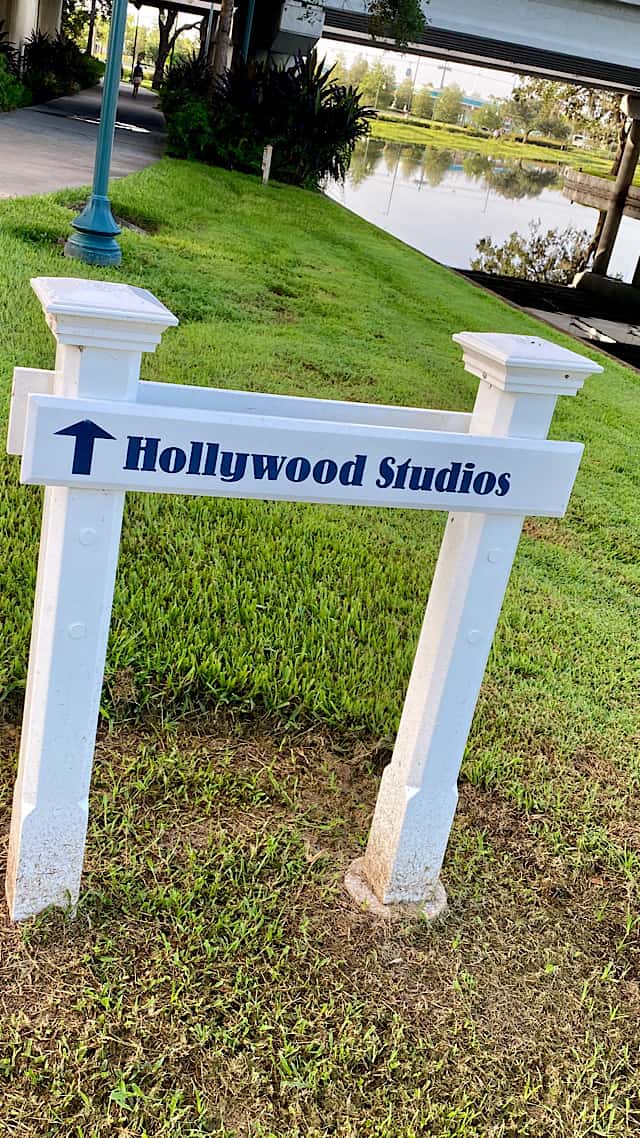 After getting off the Skyliner at the International Gateway, we headed back to the Boardwalk to take a rest and allow my youngest to grab a nap. It wasn't yet 2 p.m., so we were unable to hop into Epcot yet. We completed the easy five minute walk from the International Gateway to our Boardwalk hotel room.
Walking requires no wait time, no folding and unfolding of strollers and other gear, and requires minimal crowded quarters or uncomfortable seating interactions that may take place on public transport.
But can be tiring after a long park day!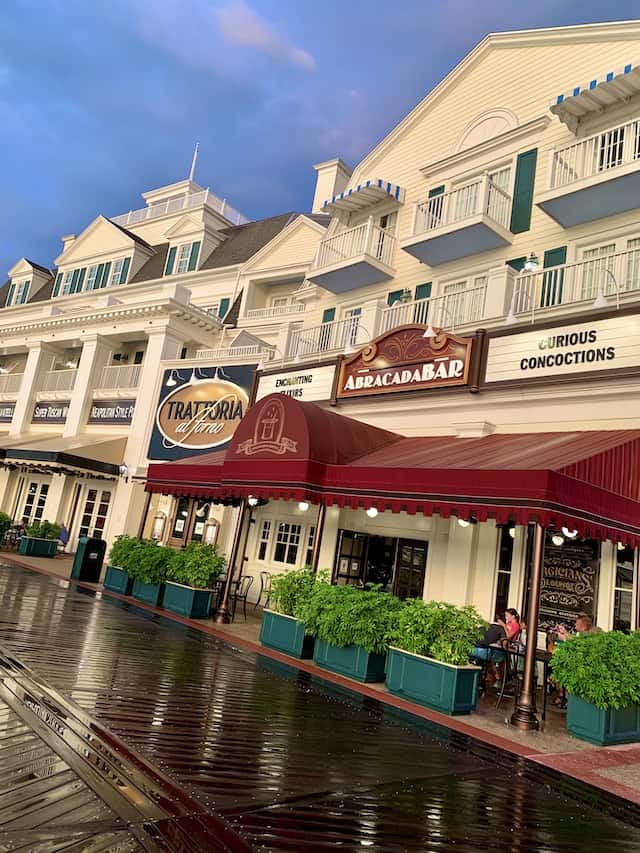 During our Disney trip, we averaged well over 20,000 steps per day. On this particular park hopping day, we walked over 26,000 steps. Any additional walking can feel especially grueling after walking countless miles throughout the parks.
Additionally, sometimes the walking terrain is not flat and easy, which can make the exertion feel even more difficult! Walking over the hill to the International Gateway can feel extra tiring!
We waited until 2 p.m. and then walked into Epcot for some shopping and to re-ride some of our favorite attractions.
The monorail is a convenient way to travel from point A to point B…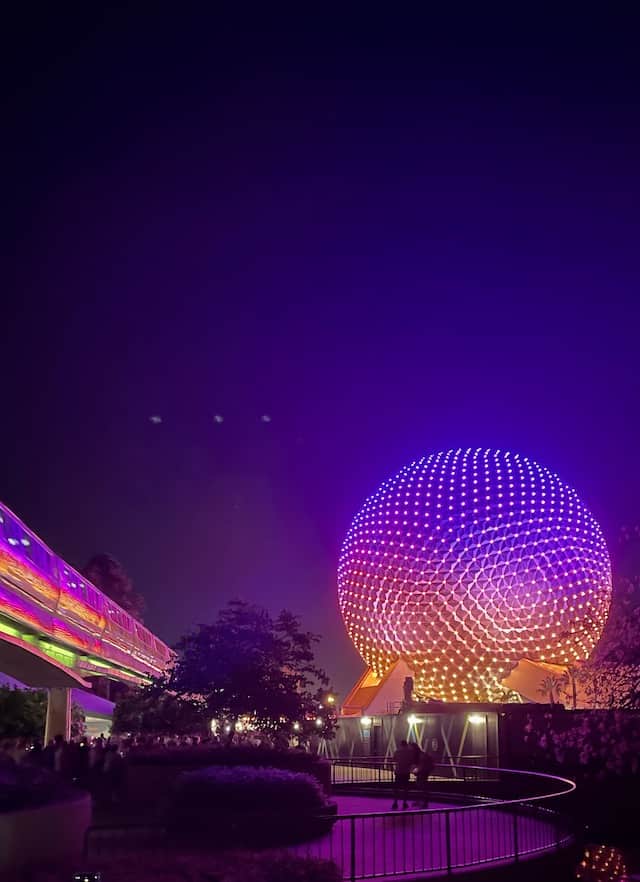 After our time at Epcot, we planned to go into the Magic Kingdom for the evening. There were no fireworks scheduled for the public on the night of September 30th, so we assumed wait times would be low. Additionally, we wanted to do some shopping prior to the October 1 celebration date.
We caught the monorail from the front of Epcot and rode on to the Transportation and Ticket Center. From there, we transferred and hopped onto the Express Monorail into the Magic Kingdom.
We did need to fold down our double stroller because of its size and because of the crowd during that particular time, but strollers are certainly allowed to be pushed into the monorail, which is very convenient for families with young kids.
But, make sure you get on the right line!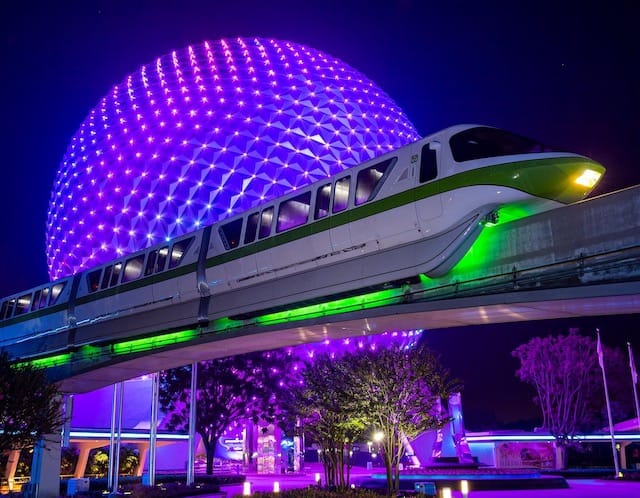 Epcot has one monorail line that runs from Epcot to the Transportation and Ticket Center (TTC). At the TTC, though, you can gt on one of two lines: the resort line or the express line. The express line runs from the TTC directly to the Magic Kingdom and back. The resort line runs from the TTC to the Polynesian, then the Grand Floridian, then the Magic Kingdom, and then the Contemporary resort in that order.
If you are planning to head to Magic Kingdom and get on the resort line, you will be extending your ride longer than needed, so be careful!
Additionally, hopping from park to park requires a transfer, which takes up a little more time. However, there is no better way to get between Epcot and the Magic Kingdom.
Disney Buses come frequently…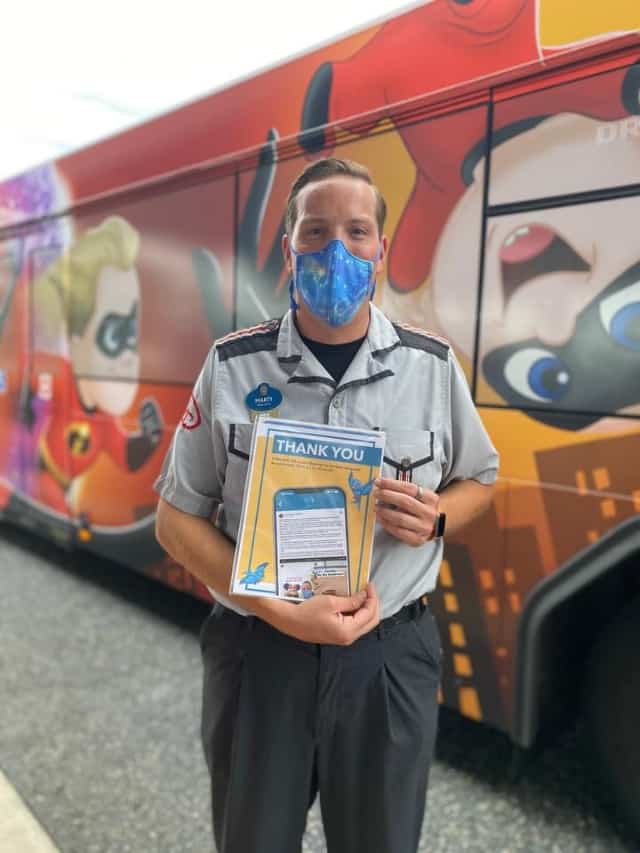 After spending a few hours shopping and riding some of our ride highlights at the Magic Kingdom, we took a bus back to the Boardwalk. Disney buses come frequently to the parks to pick up guests, which is great.
I don't think we waited more than maybe 10 minutes our entire trip for a bus to show up to take us to our desired location.
But, buses can be full, crowded, and slow moving.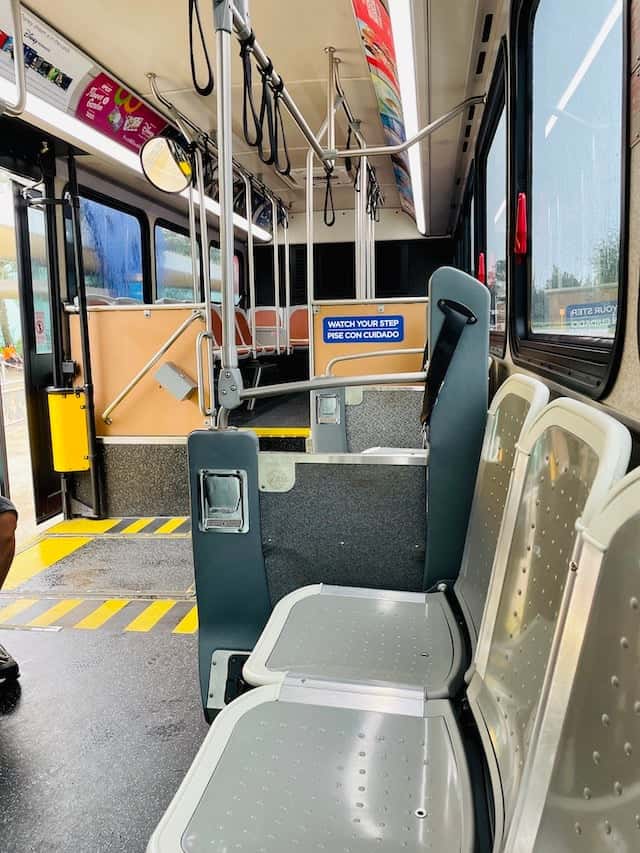 Disney buses can often be full and crowded and have standing room only, especially at busy times of the year or at park opening and closing. Buses also sometimes have multiple stops, particularly in larger resorts.
Another issue with buses is the inevitable traffic. With the Skyliner or monorail, there is no traffic to contend with in the sky. Disney buses must deal with cars, stoplights, and other road traffic, which can extend the travel time.
The best way to get around might depend on your location…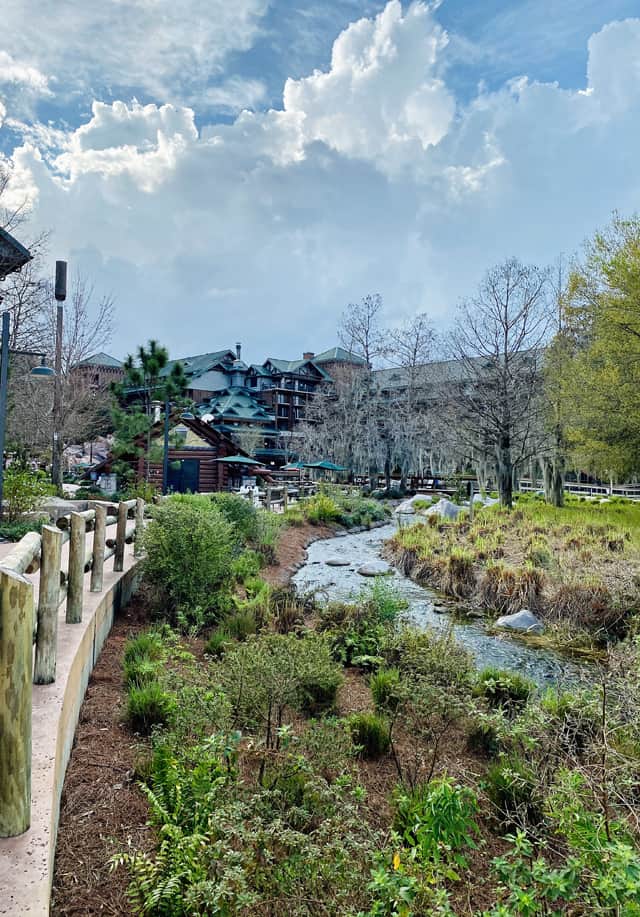 Ultimately, getting from place to place the best way might just depend on your location. Some options might not be feasible depending on your location. You can't, for example, take the Skyliner from Epcot to the Magic Kingdom.
Or, if you are staying at Animal Kingdom Lodge, you don't have many choices for transportation besides the bus system.
But, it is hard to beat your own two feet!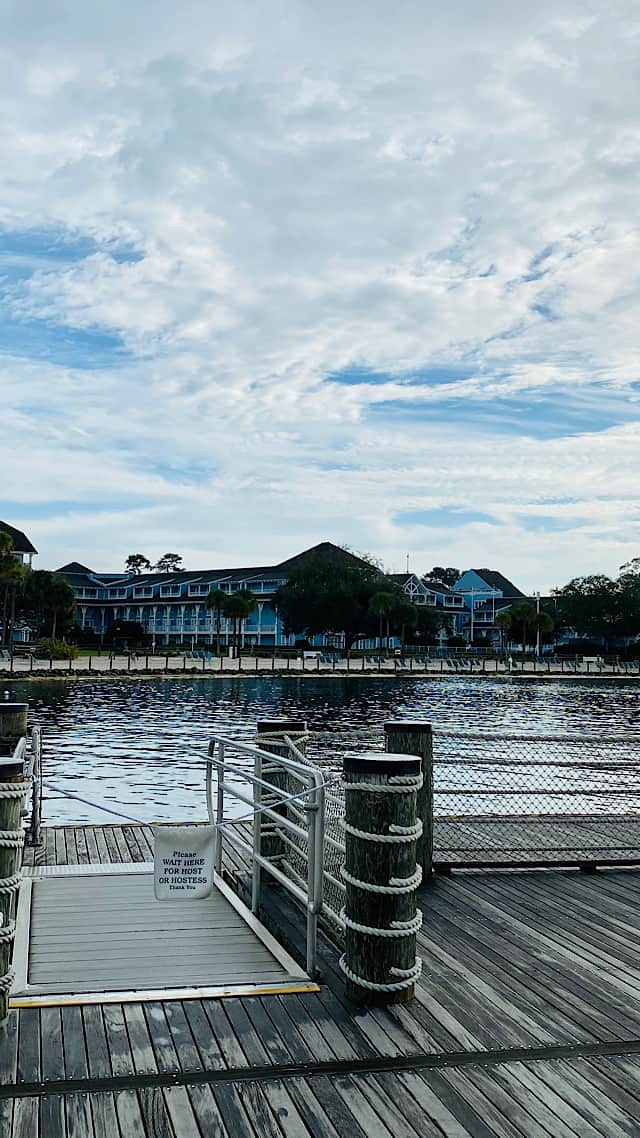 After all of my experiences, my best advice is: if you can physically walk from one point to another, it is almost always going to be your best bet.
Walking allows you to control your pace, your destination, and doesn't require you to contend much with traffic, crowds, and uncomfortable social situations. If your resort is within walking distance to a park, this maximizes your time as well.
At the end of this day, we walked back into Epcot 10 minutes before park closing to catch the Harmonious fireworks on their second run. We would not have been able to do this if we weren't within walking distance to Epcot.
What do you think is the best way to get around the Disney parks? What are your experiences with Disney transportation? Comment below or on Facebook to share your thoughts!
-Jaelyn Winkle
Are you planning a vacation? Reach out to our trusted travel agency sponsor Authorized Disney Vacation Planner
Mouse Class Travel
!