EPCOT area resorts are excellent choices to experience all the park has to offer and bring more magic back with you after the day is done. The two closest to the International Gateway are Disney's Beach Club Resort and Disney's Boardwalk Resort. I put them head to head to find which one is better!
Location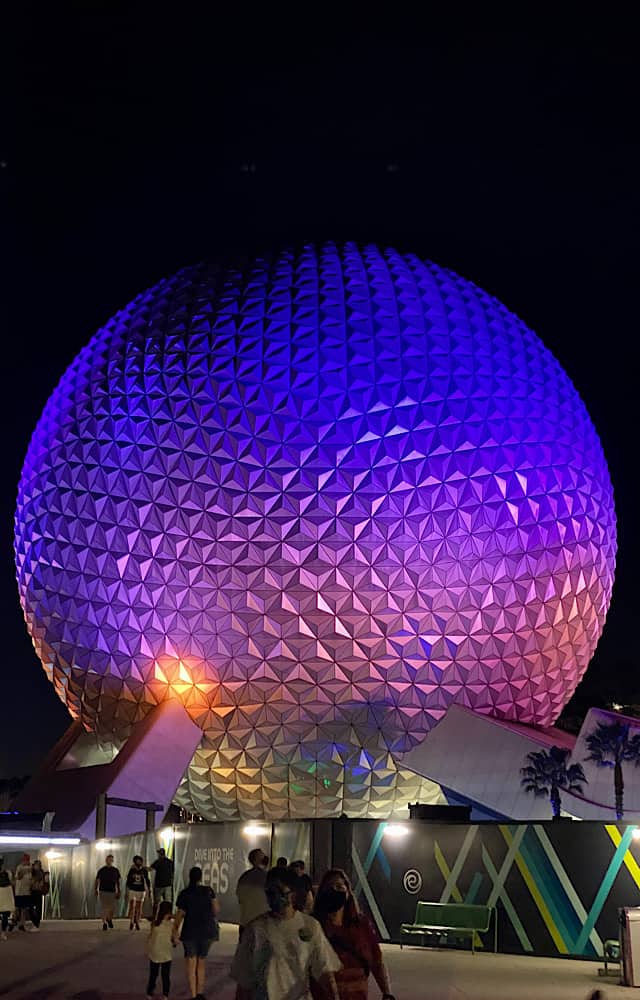 Both of these Disney Resorts are EPCOT Resorts since they are virtually in its backyard. One of my (Susan) absolute favorite things about staying at EPCOT resorts is the easy access to not just EPCOT but also Hollywood Studios.
If you're looking for a resort with ease in getting to these theme parks, you can't go wrong either way. Check out our Boardwalk and Beach and Yacht Club guides.
Location winner: Tiny edge to Beach Club for the DVC rooms being right across the bridge from EPCOT. It took us 3 minutes to walk there. Boardwalk would be about 5 minutes if you are on the Inn side.
Getting Around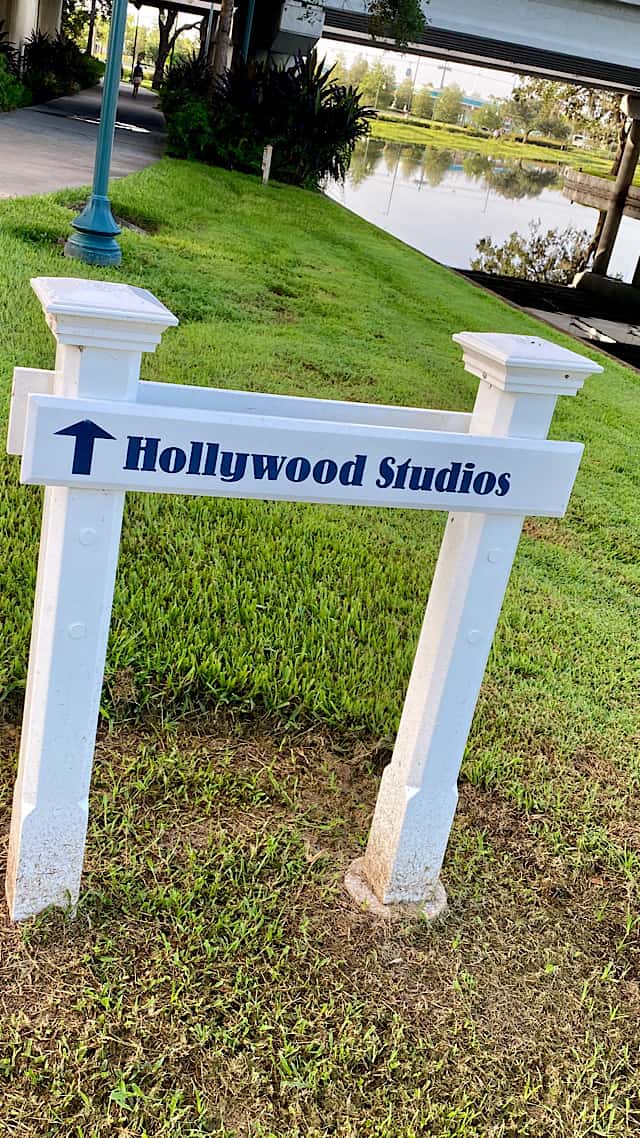 This is another very close category since transportation is nearly identical. For Magic Kingdom and Animal Kingdom theme parks, catch Disney buses. Both of these locations offer covered walkways and bus stops. Only value resorts have uncovered bus stops. For EPCOT and Hollywood Studios, there are several options. Walking is the most advantageous way to rope drop.
Note: According to Google Maps, the walk to Hollywood Studios from Beach Club is 1.4 miles, and the walk from Boardwalk Resort is 1 mile.
With all the park walking, Hollywood Studios may be too long for some. In comparison, EPCOT is 0.3 miles away from the Boardwalk Resort, and 0.2 miles from Beach Club. It felt like our DVC Studio was shorter than that even since we walked the back side of the DVC building.
Taking the skyliner to Hollywood Studios is another convenient option. The distance to the skyliner is the same as EPCOT's International Gateway entrance. Keep in mind that the skyliner shuts down for inclement weather. If this happens, Disney provides buses to and from both of these resorts.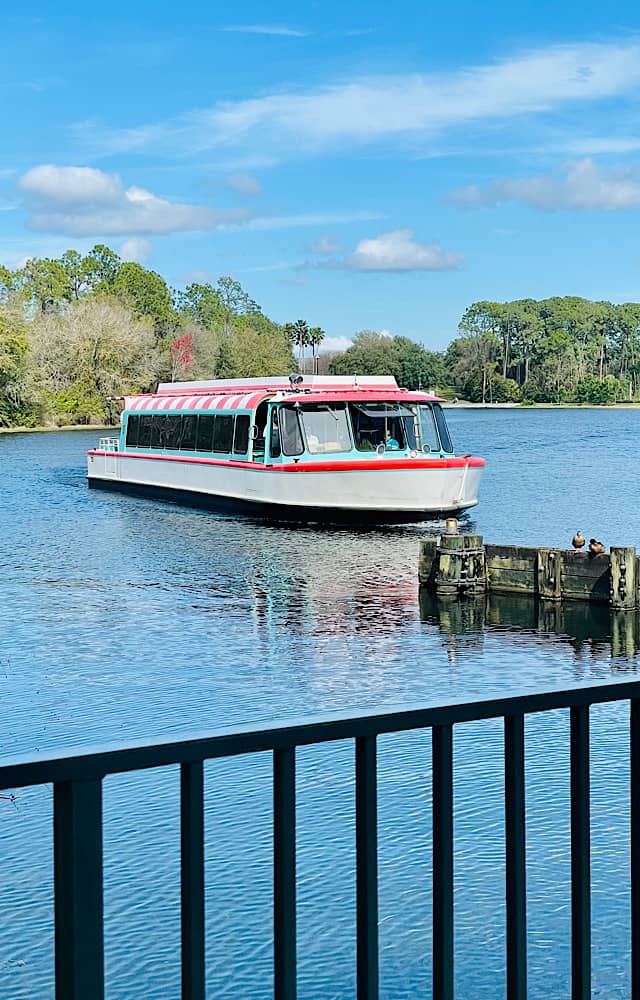 Finally, there's the wonderful Friendship Boats that transport guests to both EPCOT and Hollywood Studios. We love this form of transportation for a relaxing ride. Plus, everything looks different from the water view. Check out our complete guide to Disney Boat Transportation here.
Getting Around Winner: Slight edge to Disney's Boardwalk Resort for being closer to Hollywood Studios. We love taking the scenic walking trail to beat the skyliner and boat guests.
Rooms and DVC Area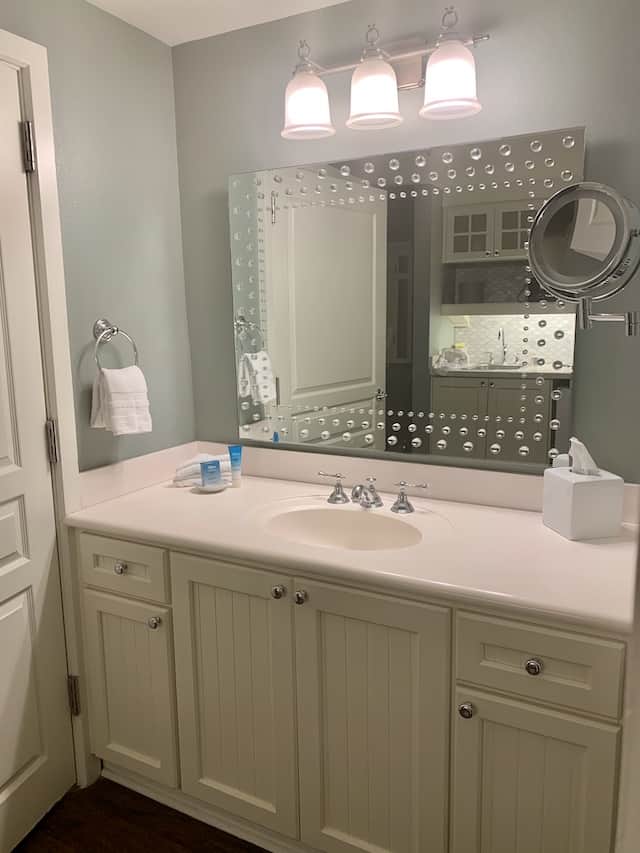 To be honest, both the Boardwalk and Beach Club studios are pretty devoid of any kind of Disney theming. Not only that but both lack theming in general. I (Susan) expect better decor from any Disney Deluxe Resort. Even the shower curtains are both plain white. Disney, you can do better!
Although the rooms are a bit boring, they are quite functional, clean, and bright in comparison to Disney's Boulder Ridge rooms. We especially enjoyed the starfish themed knobs at the Beach Club. Check out out Beach Club reviews of the DVC studio and 2-bedroom Villa.
Here is our most recent review of the DVC studio at the Boardwalk: DVC studios at Disney's Boardwalk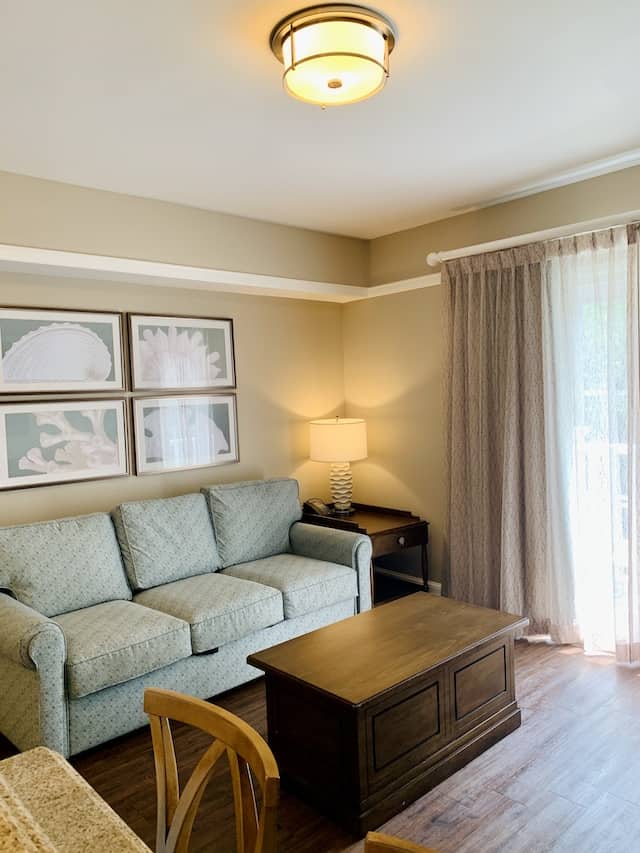 Rooms and DVC area winner: Since there is no room winner in this category, I am judging this winner based on DVC area and amenities. We loved the Boardwalk Villas being in the main building. However, the Beach Club Villas are just a short covered walk away past a lovely Little Mermaid statue. I (Susan) pick the Beach Club as winner in this category for one simple reason.
In the small Beach Club Villa lobby, we were provided our own concierge service. This felt so personal and upscale that we just can't deny the top notch level of service at the Beach Club. Every time we left our room, a friendly Cast Member asked if there was anything they could do for us and wished us a magical day.
Food Offerings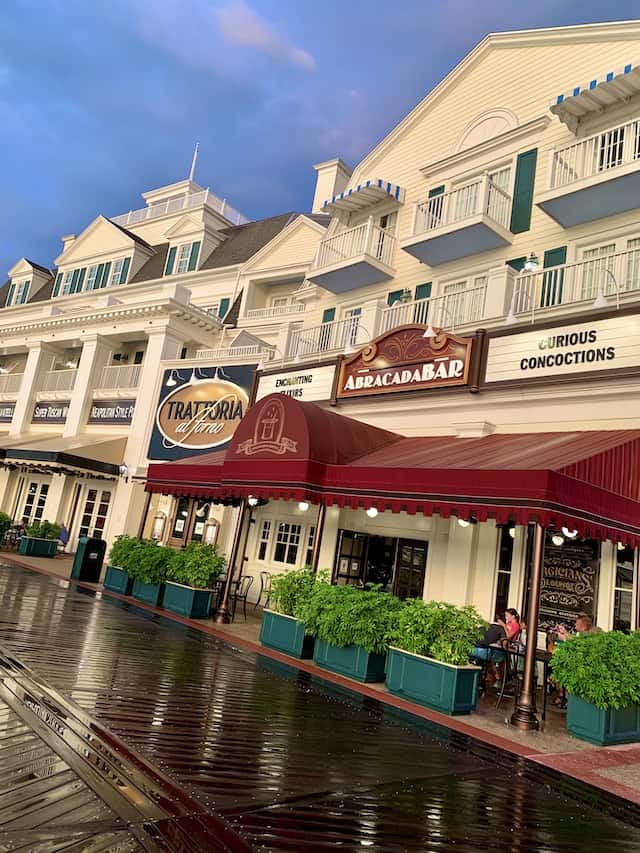 There are so many choices in table service and yet so few traditional quick service locations at both of these resorts. Let's begin with Disney's Boardwalk Resort. Although there isn't any kind of food court or traditional quick service location, guests here will enjoy a variety of pick up food locations.
First, the Boardwalk Bakery offers fresh baked goodies and sandwiches. Guests can refill their Disney mugs here, but this location is a hike away from most rooms. Then, as guests stroll on the boardwalk, check out the Margarita Stand, the walk-up pizza window, funnel cake and to-go cart. The pizza here is quite good and reasonably priced.
The store here also offers later evening hours for groceries and a few baked treats.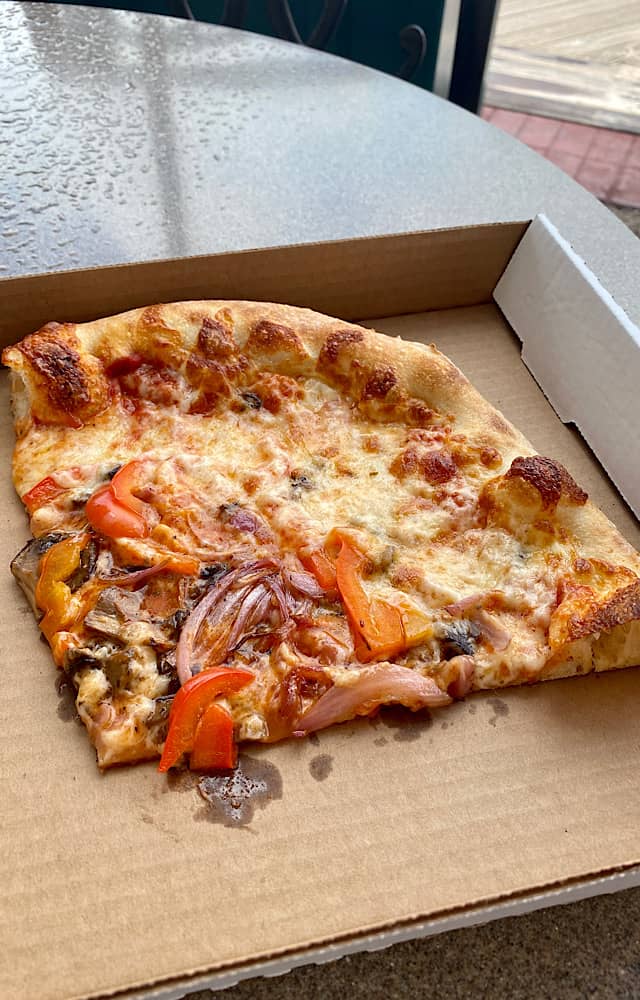 As for table service locations, we thoroughly enjoy Trattoria al Forno every time. One of our favorite dinner entrées is the lasagna. Big River Grille and Brewing Works is also here. Although we found a mixed review on food offerings, it is a convenient location. Not yet re-opened is a signature restaurant, Flying Fish.
Next, let's move on to Disney's Beach Club. Again, there is no traditional quick service. At the Beach Club Marketplace, guests can purchase a variety of groceries and grab-and-go items.
In addition, for breakfast and dinner, there is a hot bar featuring traditional cooked foods such as eggs, bacon and waffles for breakfast. Or, fried chicken, mashed potatoes, and green beans are on the dinner menu. We enjoyed the breakfast bounty platter here with Minnie waffles.
One of my favorite adorable table service restaurants is here – Beaches and Cream. Set as a 50's ice cream shop, guests can enjoy both the table service and walk-up window.
A bit pricier is the Cape May Cafe table service location. Previously, we loved the all-you-can eat crab legs with the dinner menu. However, these are now an additional cost, which make us choose dinner elsewhere. Before reopening, breakfast was a character meal. Now, there are no characters, but as a trade off, breakfast is less expensive than in the past.
Food offerings winner: Two of our favorite table service locations, Trattoria al Forno and Beaches and Cream are found at the Epcot resorts. These are winners for consistently excellent food as well as reasonable prices for Disney. Because of the many Boardwalk walk-up locations, Boardwalk has a very slight edge here.
Shopping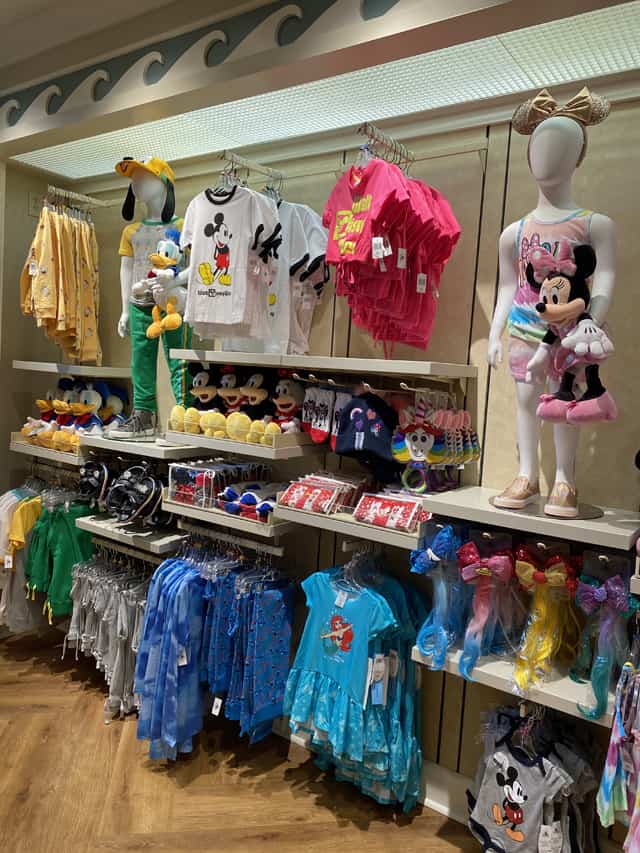 Disney's Boardwalk has a large shop, Screen Door General Store, on the Boardwalk that seems to go on forever. A second, smaller store is located inside the main building. When staying here, I (Susan) enjoyed this shop immensely. There's also a stunning shop, Wyland Galleries. See the one-of-a-kind artwork pieces here.
At Disney's Beach Club, there's a one stop shop for quick service dining and shopping. At the Marketplace, you'll find Beach themed merchandise, including Little Mermaid apparel and home items.
Entertainment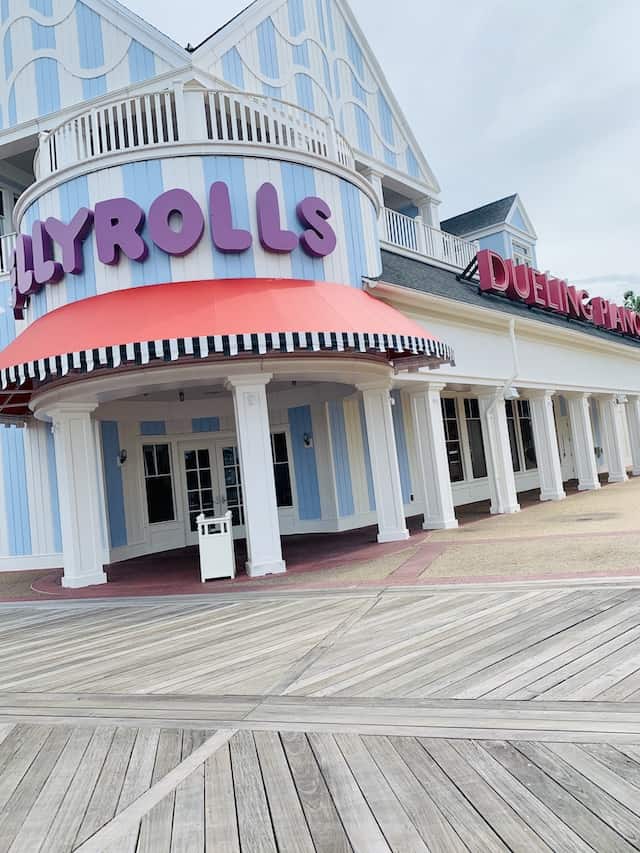 Disney's Beach Club offers Martha's Vineyard Lounge. This location serves signature cocktails and appetizers with a New England beach house-inspired vibe. It's a quiet place to relax after a busy park day.
However, at Disney's Boardwalk Resort, guests can enjoy Jellyrolls (currently not available) and the Atlantic City Dance Hall. Note that the Atlantic City Dance Hall is for Guests who are 21 years of age and older. This location is a throwback to the 80s and 90s dance clubs.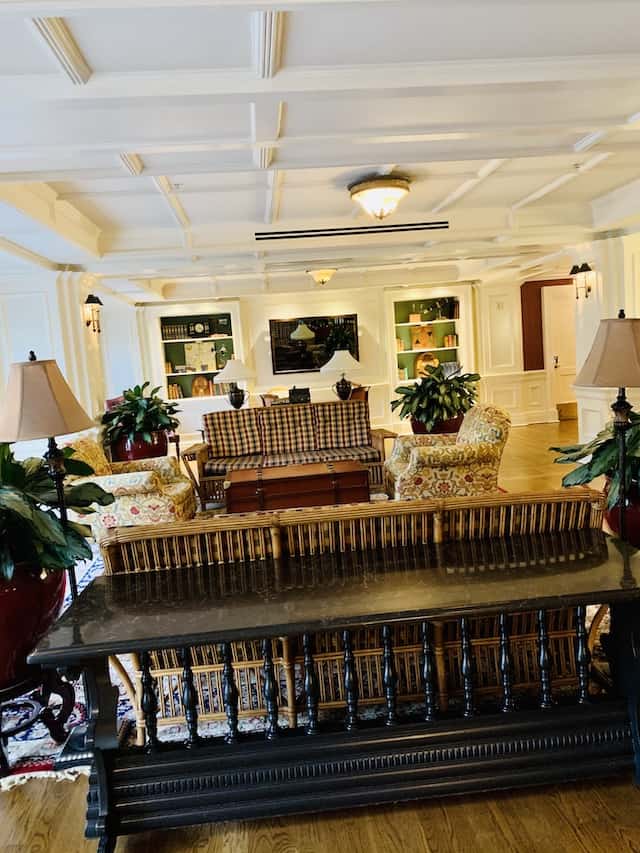 Check out Boardwalk's Belle Vue Lounge. This large location's theming is a 1930s-style sitting room where radios play programs from the era. In the evening, enjoy a cocktail in a comfy chair or on the verandah. Coffee and pastries are served in the morning. This is a great place to relax anytime since there are many comfortable seating areas.
The entire family can enjoy riding Surrey Bikes from the rental location on the Boardwalk once it reopens.
Entertainment winner: This is an easy one. Disney's Boardwalk Resort offers so many options, so it's a clear winner. Walking on this boardwalk reminds me of growing up and visiting the inspiration, the Atlantic City Boardwalk.
Pools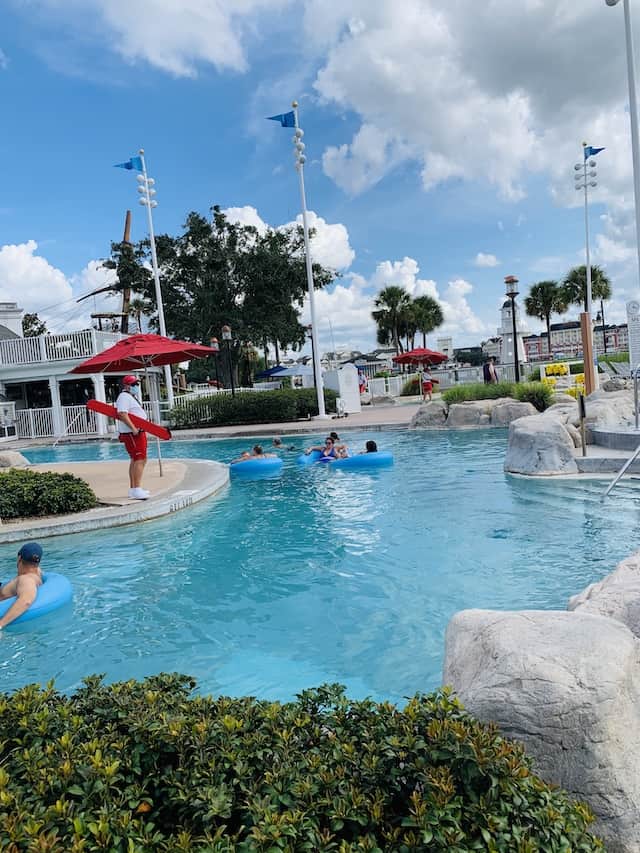 Being Deluxe Resorts, both these locations offer guests a slide along with quiet pools and at least one hot tub. Previously, I (Susan) loved the quirky Mr. Spaghettio's clown slide at Disney's Boardwalk Resort. Whether you hated or loved it, no one argues that is was one-of-a-kind.
Now, the flat, generic Mickey and Minnie slide covering has the least resort-themed pool. The merry-go-round Leaping Libations pool bar is still there, though. It fits with the Boardwalk's charm and is a great place for a poolside drink or sandwich.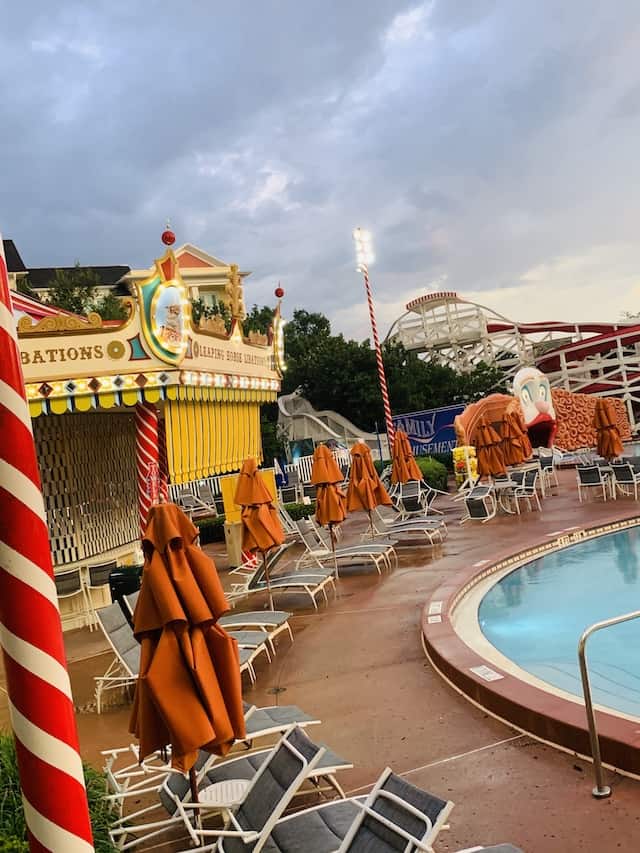 At Disney's Beach Club, this pool is shared with Disney's Yacht Club. Stormalong Bay makes Beach Club an amazing stay. Nowhere else on Disney property can you find sand-bottom pool, a lazy river, and such large seating areas. The theming here is simply top notch.
Here, guests can enjoy Hurricane Hanna's Grill for light meals and drinks poolside.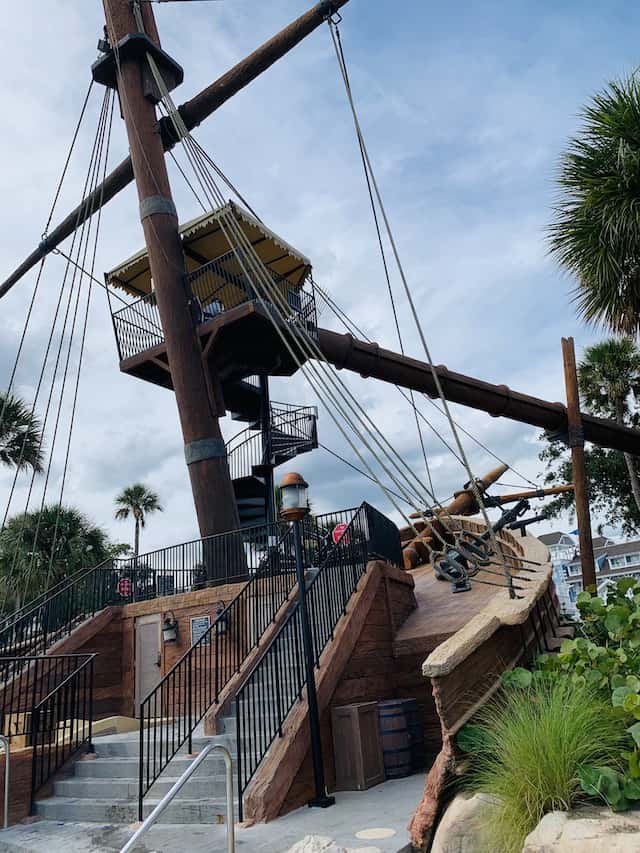 Please note that guests staying here must keep on a wristband to prove you're staying at Beach or Yacht Club. Unfortunately, there is no pool hopping between Boardwalk and Beach and Yacht Club.
The winner in this category is easy: Disney's Beach Club.
Overall Winner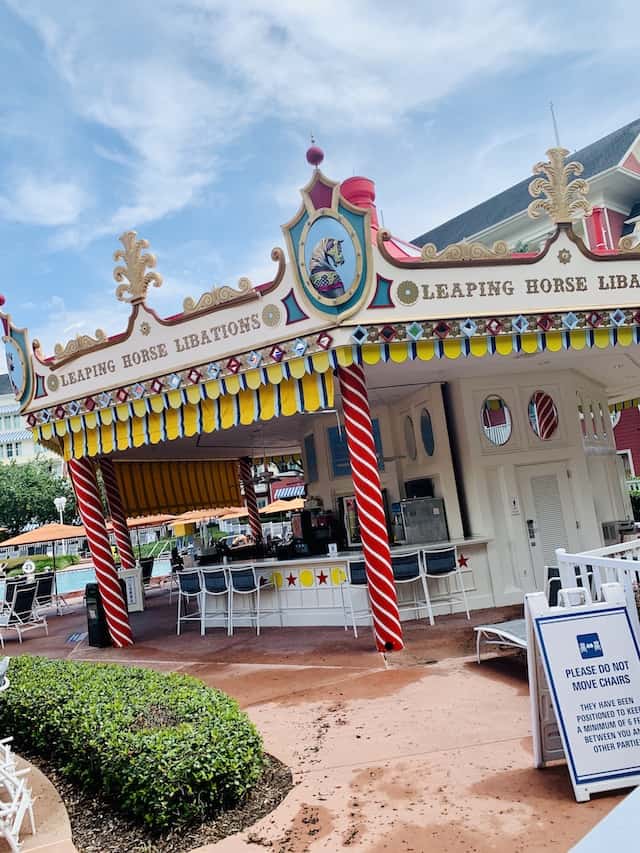 I (Susan) would be thrilled staying at either of these resorts for both their location and wonderful amenities.
Please note that my decision is based on each resort's offerings being open. Hoping that happens very soon!
This was an extremely difficult decision since both resorts are winners! Disney's Beach Club is amazing for so many reasons. The pool and location are superior! However, being the smallest Disney Deluxe Resort, it is difficult to secure a spot here.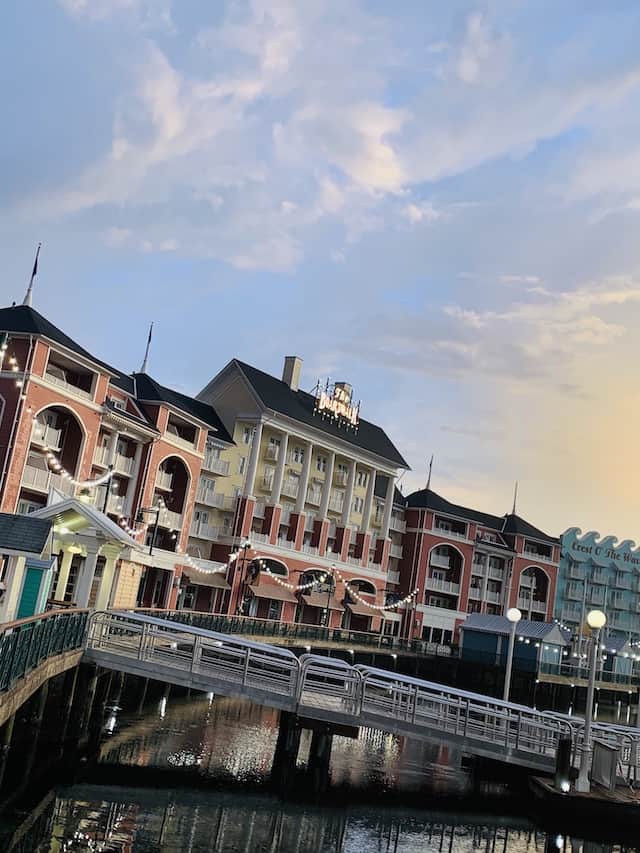 Because Boardwalk is easier to reserve, along with the wonderful entertainment offerings at Disney's Boardwalk Resort, I (Susan), choose Disney's Boardwalk Resort as the overall winner!! Families that will utilize the pool often though, I highly recommend staying at Disney's Beach Club if possible.
Disney's Boardwalk Inn and Villa Resort is the overall winner!!
Have you stayed at Disney's Beach Club or Disney's Boardwalk Resort? If so, which is your favorite? Please share your comments below or on our KtP Facebook group.