Disney's Beach Club Marketplace is a one-stop experience for food and merchandise. Check out all the details and photos here.
Staying at Disney's Beach Club is always a thrill! But what about dining? Other than table service restaurants, what can guests find here?
One Stop Shopping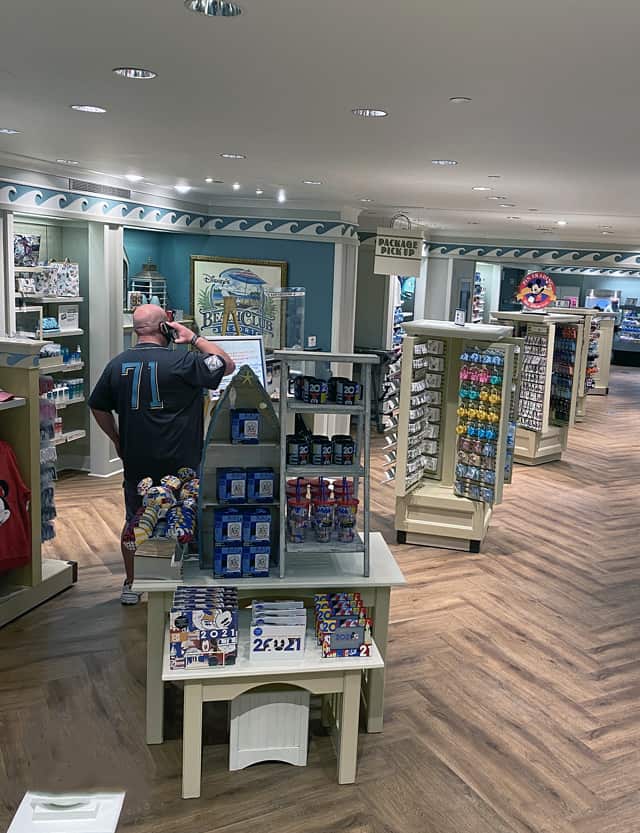 When staying at a new Disney Resort, locating dining and shopping areas can be confusing. However, at Beach Club Marketplace this isn't the case since they are combined. This is both an advantage and disadvantage to staying here.
We loved the convenience of having everything in one place. But, at the same time, having a dedicated quick service location at Disney's Beach Club would have given us so many more food and seating options.
Location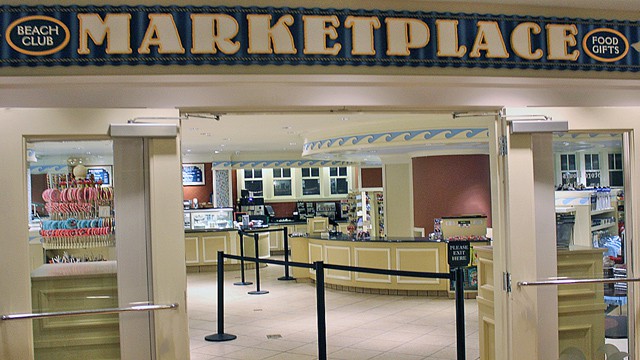 We appreciated the double entrances to the Marketplace. Guests can either enter through the main lobby or just past the breezeway from the DVC building. We stayed in the DVC building and it was less than a 5 minute walk. Being such a small resort makes it convenient for all guests to access the Marketplace.
I (Susan) prefer the larger shop like in the Wilderness Lodge and Beach Club versus having a few shops spread out like at the Boardwalk. Speaking of shops, let's take a look at merchandise offerings first.
Children's Items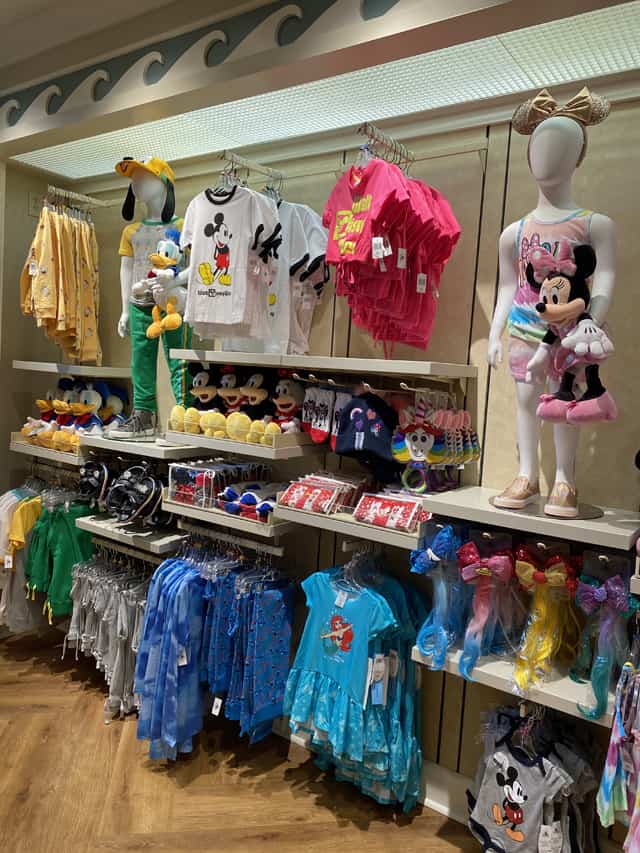 Check out the adorable children's items above. Everything from baby onesies to princess hair bow extensions is here. When on vacation, it adds a bit of extra pixie dust letting little ones pick out a souvenir. Extra bonus of purchasing it here is you won't be stuck lugging around extra items at the parks!
On the adjacent wall, you'll find plenty of Disney games and toys. Be sure to check that out on your visit.
High-End Clothing
As with other Disney Deluxe Resorts, men and women can find high-end clothing. In addition to clothing basics, you'll find beach themed men's clothing. Check out the shirts above with touches of Mickey on them. So cool!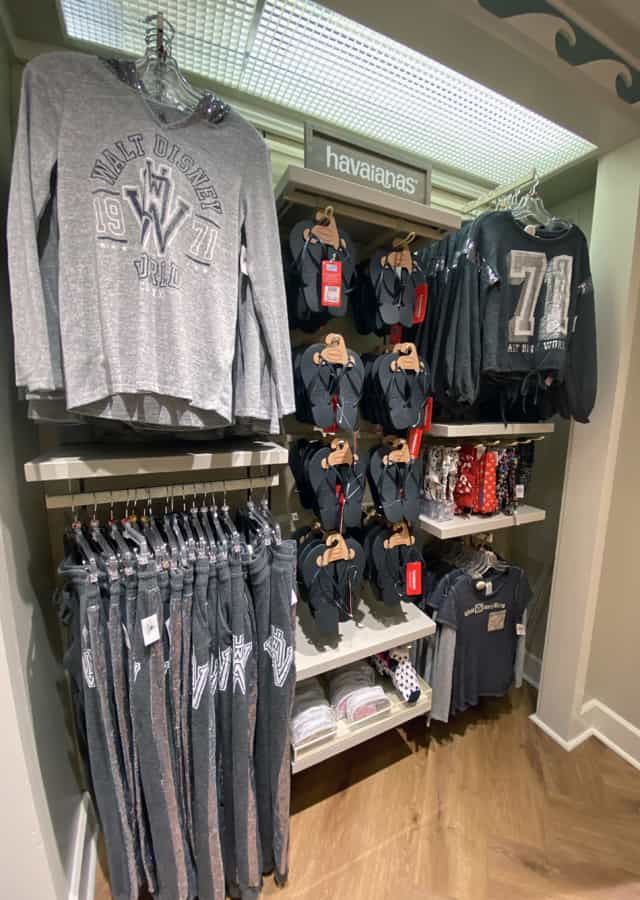 Forget your pool shoes or get a little cool in the evenings? No worries, Beach Club's Marketplace has warm clothing and even flip flops. DVC specific merchandise is also sold at every Disney DVC Resort.
Mermaid Items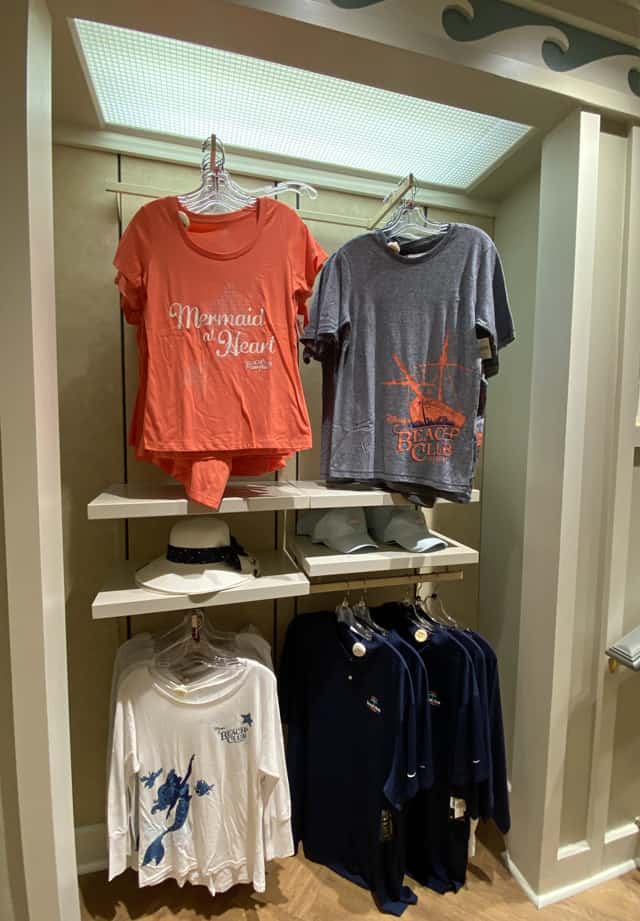 On past visits to Beach Club's Marketplace, we've spotted Beach Club Little Mermaid themed mugs, clothing and even accessories. This selection changes with time and is such a fun addition to Disney merchandise.
What a fun way to remember your stay here!
Disney Ears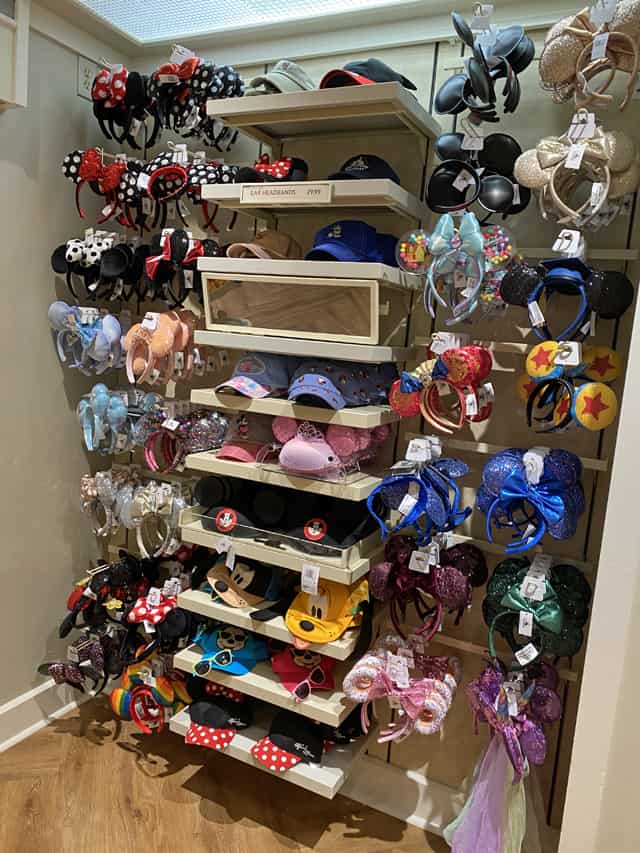 Have you ever planned the perfect Disney outfit and needed an extra something special? Ears always fit this bill!! Children (and kids at heart) will appreciate the large assortment of ears found here. If your child gets too much sun, pick out a character or princess themed hat for extra protection.
Next, let's move on to food items that are available at Beach Club Marketplace.
Groceries
One of the best things about staying at the DVC Studio, 1-bedroom, or 2-bedroom Villas is the kitchenette or full kitchen included. While most people aren't going to prepare 3 meals a day in their room, it's so nice to have the convenience to eat a quick breakfast or late night snack there.
In addition, there's a large freezer and refrigerated section at the Marketplace including frozen pizzas, sandwich meats, beverages, ice cream, and so much more.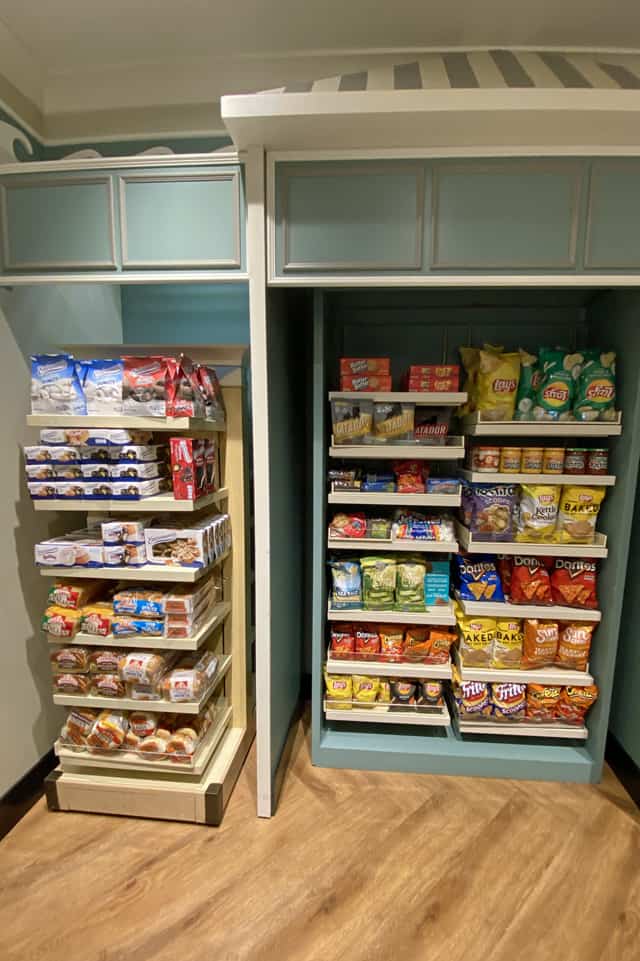 Speaking of snacks, check out the variety above. Although they're not as cheap as you'd pay at home, this can be a money saver over purchasing snacks while at the parks.
Sweets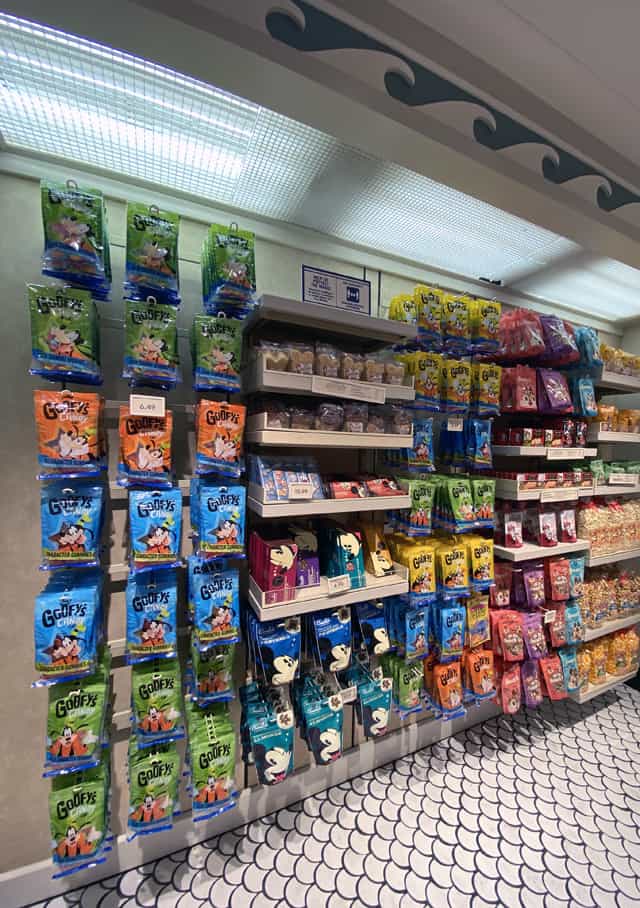 Some say Disney themed treats taste better. Not sure about that, but the feelings of nostalgia eating them on vacation sure can give us the warm fuzzies!
In addition to Goofy's Candy Company, you'll find chocolates, and Mickey shaped rice krispies treats. Sweets make a wonderful souvenir that's easy to bring home.
Grab and Go Items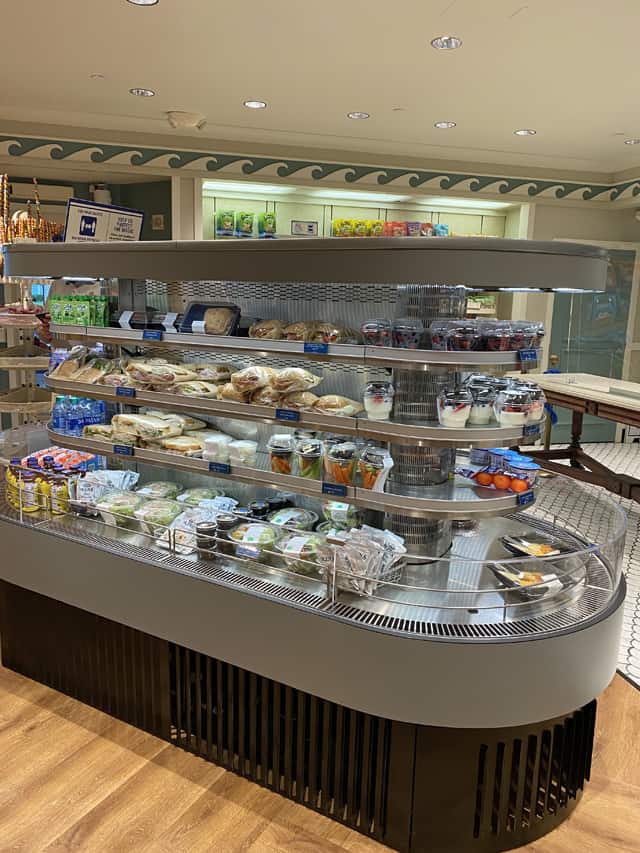 Whether you're looking for a sandwich, healthy snack, or sweet treat, guests at Disney's Beach Club Marketplace can simply buy them and take to go.
Here you'll find seasonal treats too like the Valentines Red Hot Cinnamon cupcake shown below (taken back in February).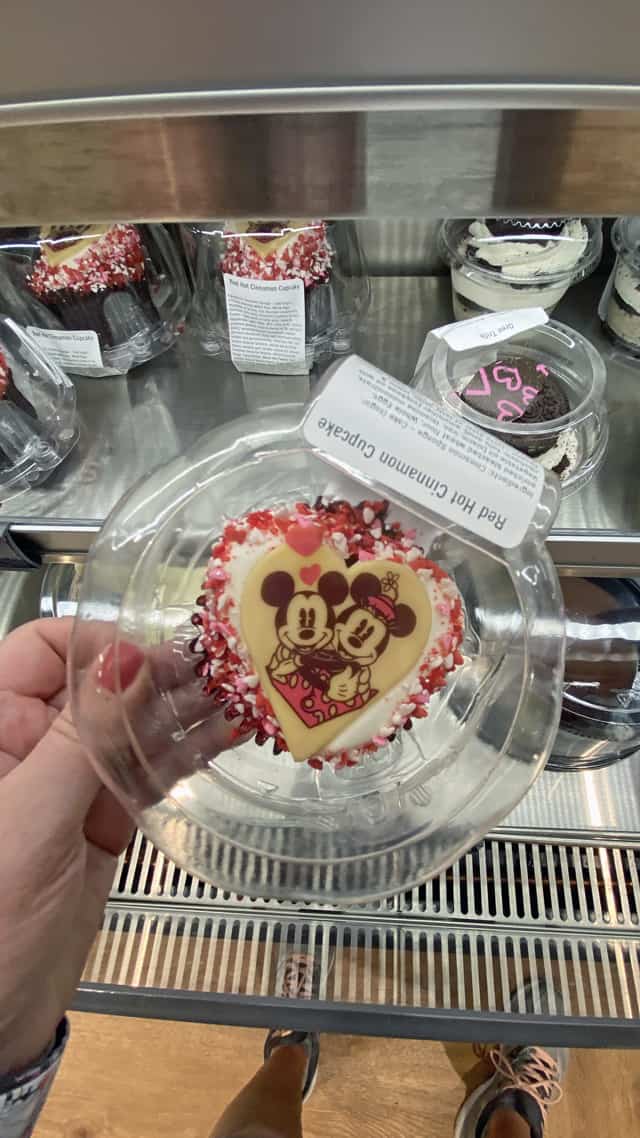 Drink Station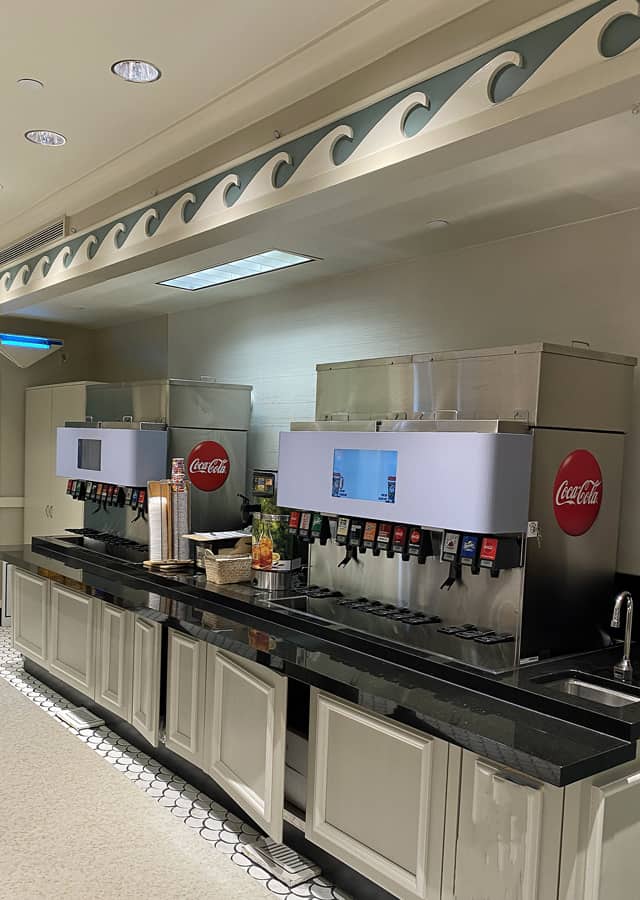 There is also a drink station for you to refill your mugs and get new drinks. We are so glad to see self-serve options available again!
Quick Service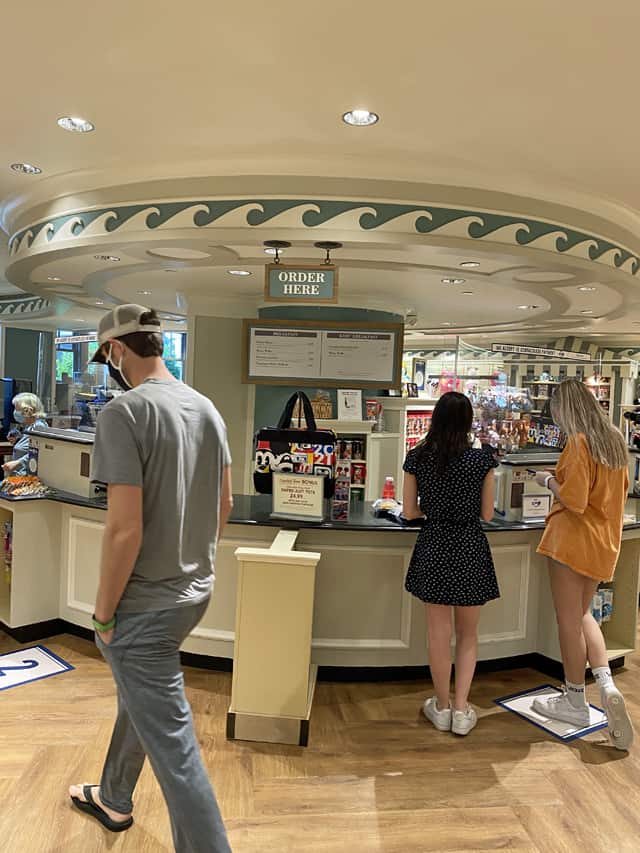 In addition, the Marketplace also serves as Disney's Beach Club only Quick Service dining location. To order something, simply go to the main checkout area and look for the "order here" sign.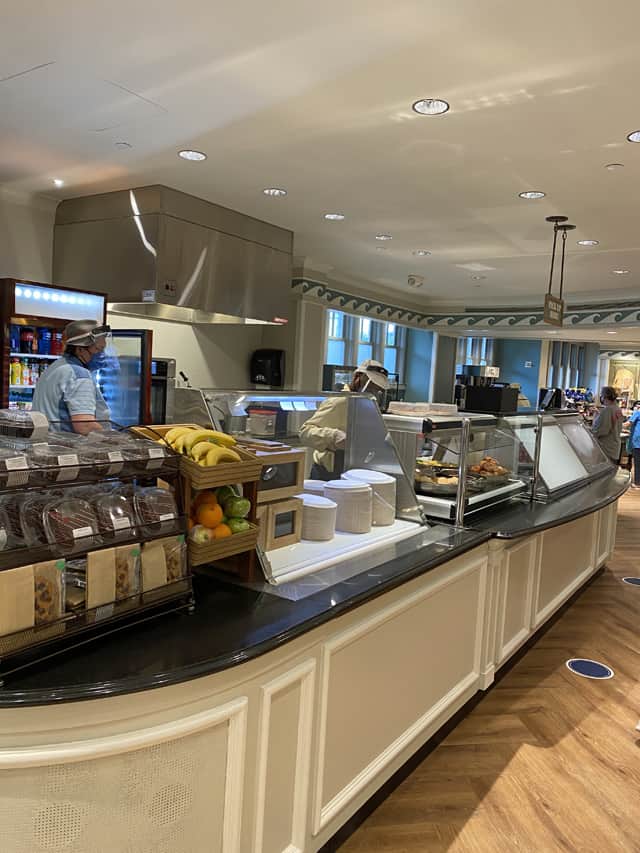 It's hard to see, but there's a "pick up here" sign located at the right end of the bar (facing it). As you can see, there are additional grab and go items in this area. Whether you're looking for fresh fruit, cookies, or other snacks, be sure to check the left side of the bar.
Hot Bar
Breakfast, lunch, and dinner all serve a limited number of hot items at the Marketplace. For breakfast, we ordered the bounty platter, complete with scrambled eggs, choice of meat, breakfast potatoes, and mini-Minnie waffles.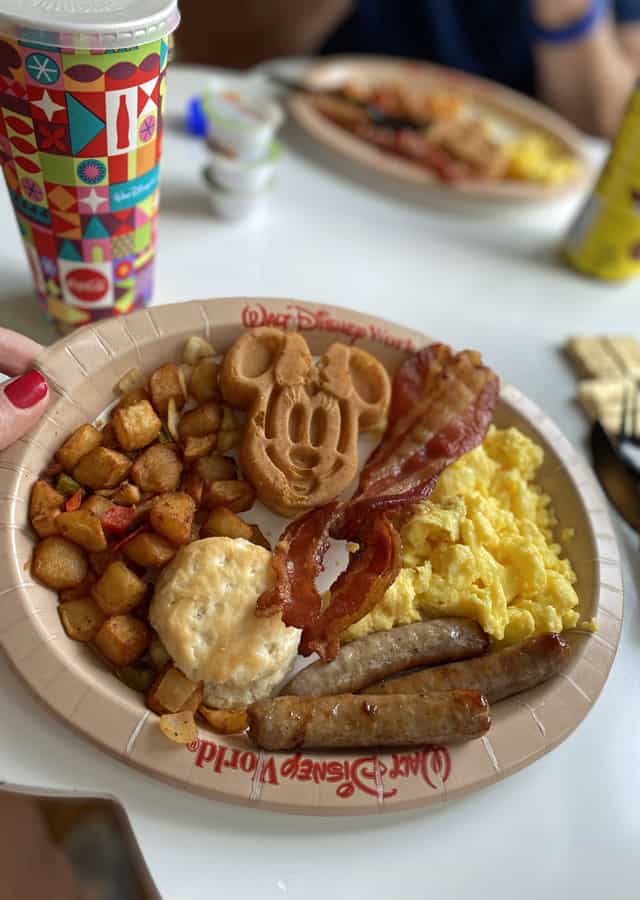 You heard that right, Minnie waffles! They are adorable and such a treat. The only other place I've seen them is at the wonderful Topolino's Terrace breakfast. For lunch and dinner, crowd pleasers such as roasted chicken, sandwiches, and pasta can be ordered here.
For a complete listing of hot items found here, check out characterlocator.com.
Seating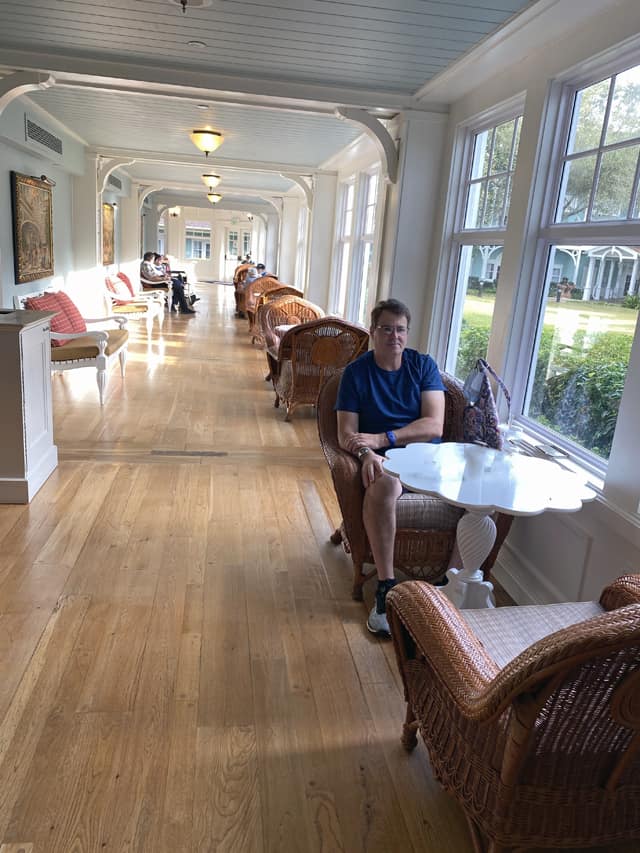 Although there is no seating located inside Beach Club's Marketplace, we enjoyed sitting in the breezeway shown above, which is located just outside the marketplace. This area brought in so much light and was a peaceful way to start the day.
Many guests opted to bring food back to their rooms to eat. Since all of the food is prepared in to-go containers and bags, this is super easy to do.
Final Thoughts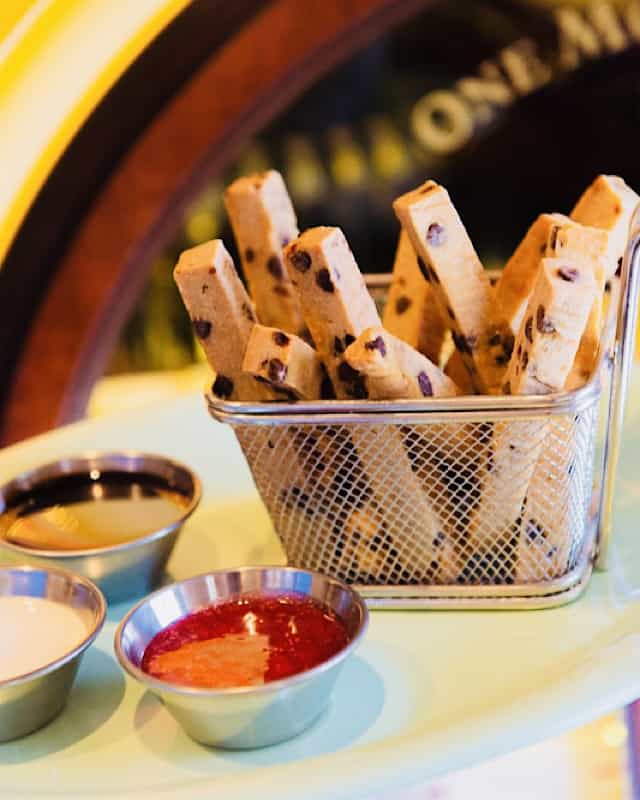 Overall, we were pleased with the merchandise and food offerings here. Although the food is basic, it met our needs. One of our favorite table service locations, Beaches and Cream, is also located here. Check out the delicious cookie fries in the picture above!
Have you purchased food or merchandise from Disney's Beach Club Marketplace? If so, do you prefer a larger quick service area, or did this meet your needs? Share your thoughts with us on Facebook.
Are you planning a vacation? Reach out to our trusted travel agency sponsor Authorized Disney Vacation Planner
Mouse Class Travel
!