Wyland Galleries are famous world-wide. Take a picture tour and discover why it feels like a stunning museum here.
Overview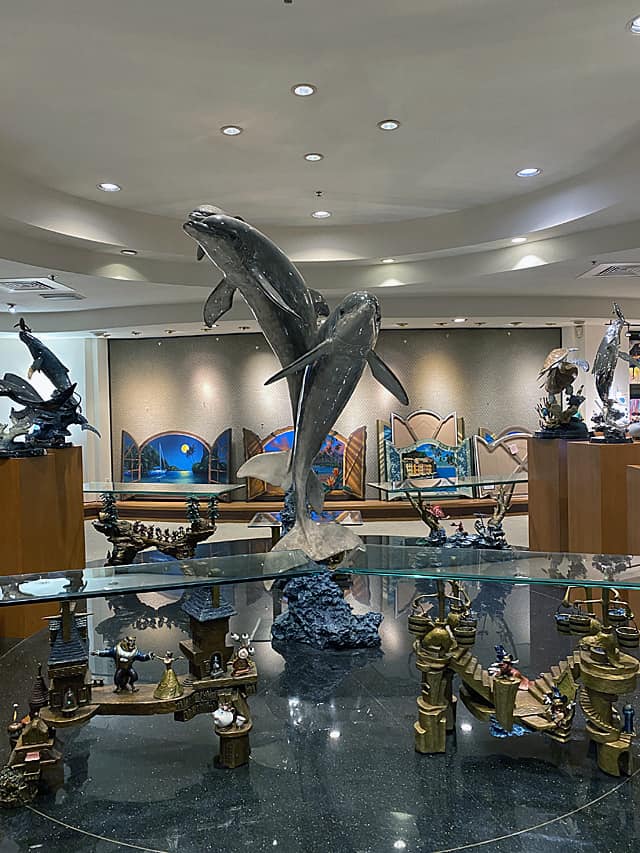 Since the resort opened in 1986, Wyland Galleries at Disney's Boardwalk Resort brings hundreds of thousands of visitors to awe at the brilliant artwork here. Disney's Boardwalk showcases some fabulous shops.
Immediately you will sense the amazing details such as marble floors and a centrally placed spectacular Wyland nine-foot bronze dolphin. This shop is open daily from 9:30am until 9:00pm. It's located on the boardwalk level and is sits between the main building and the actual boardwalk. If coming from the boardwalk, it's on your right-hand side past the Screen Door General Store.
At all Wyland Galleries, you'll find Wyland classic artworks, never-before-seen originals, and art consultants eager to help you find the perfect piece to enjoy for years to come.
Artists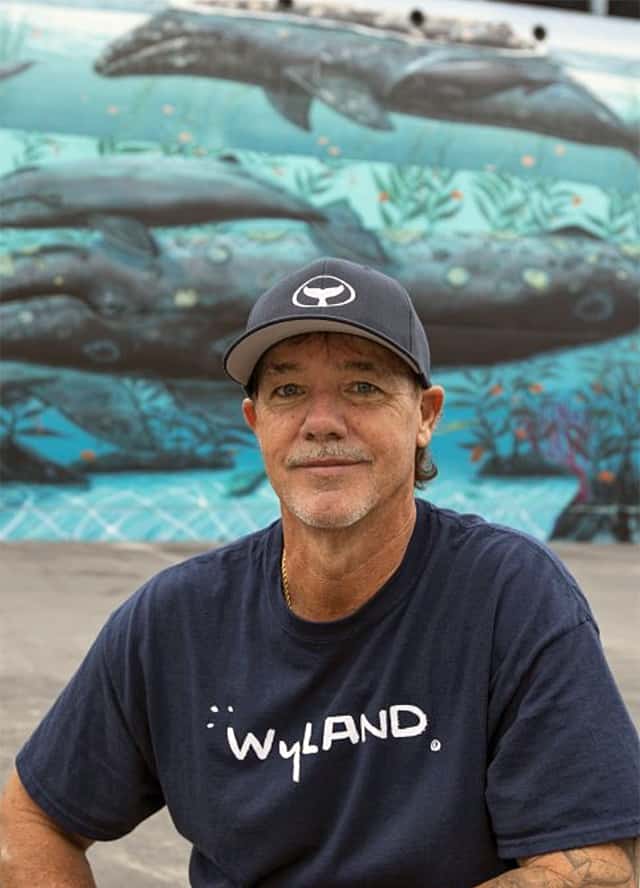 Of course, Wyland is the major player here and is one of the world's most recognized artists of our time. Check out some of the world's most unique marine-life using a variety of sculpture materials and stunning artwork here. 
The realistic effects simulate each creature's real-life motions. Sea life is his passion, including dolphins, whales, sea turtles, and so much more. Today, Wyland's artwork is in museums, corporate collections, and private homes in more than 100 countries!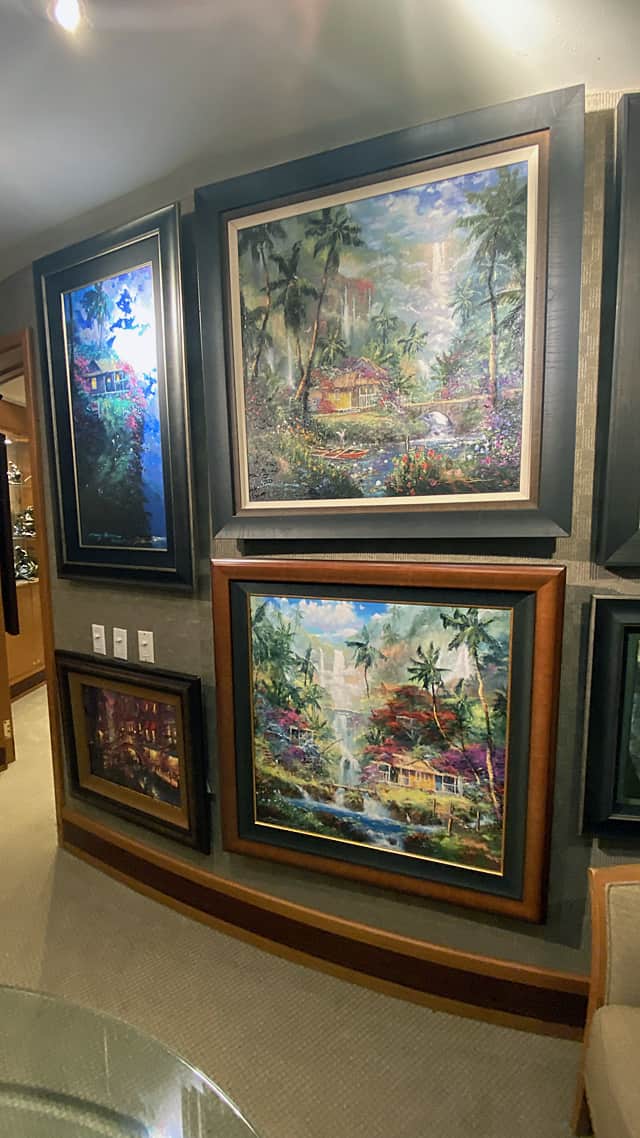 Wyland is a Marine Michelangelo.

USA Today
Additionally, you'll discover wonderful art by renowned artists such as Walfrido, Coleman, and Mackin as well as Wyland-inspired fine jewelry. Both the variety of artists and mediums make this a one-of-a-kind stop at Disney.
Original Paintings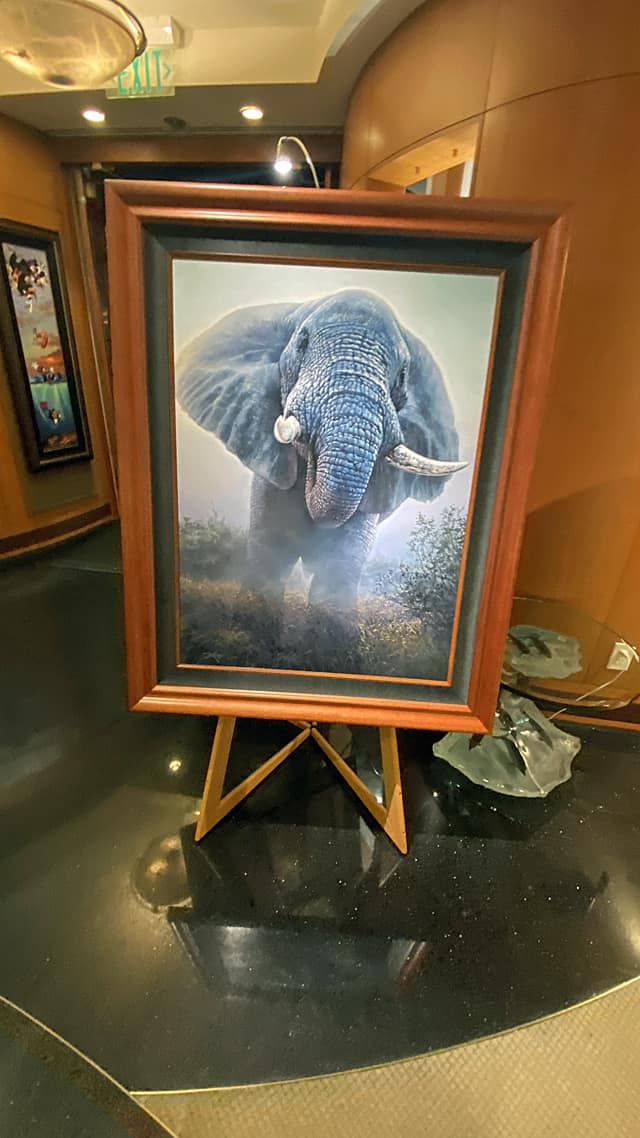 Much of Wyland's art is inspired by sea explorations, including capturing amazing marine wildlife photos. His up-close studies of animals in their natural habitats help him make his creations extremely life-like. Wyland has a love for all of nature and engages in major conservation efforts. Just look at the amazing elephant painting shown above!
Over the course of that time, the work will evolve from a blur of color until the background comes into focus. Then, there is that moment of revelation when I see how a particular animal might swim or how I should position the fish, turtles, and other life among a coral reef. Every new piece is an adventure.

Wyland
Jewelry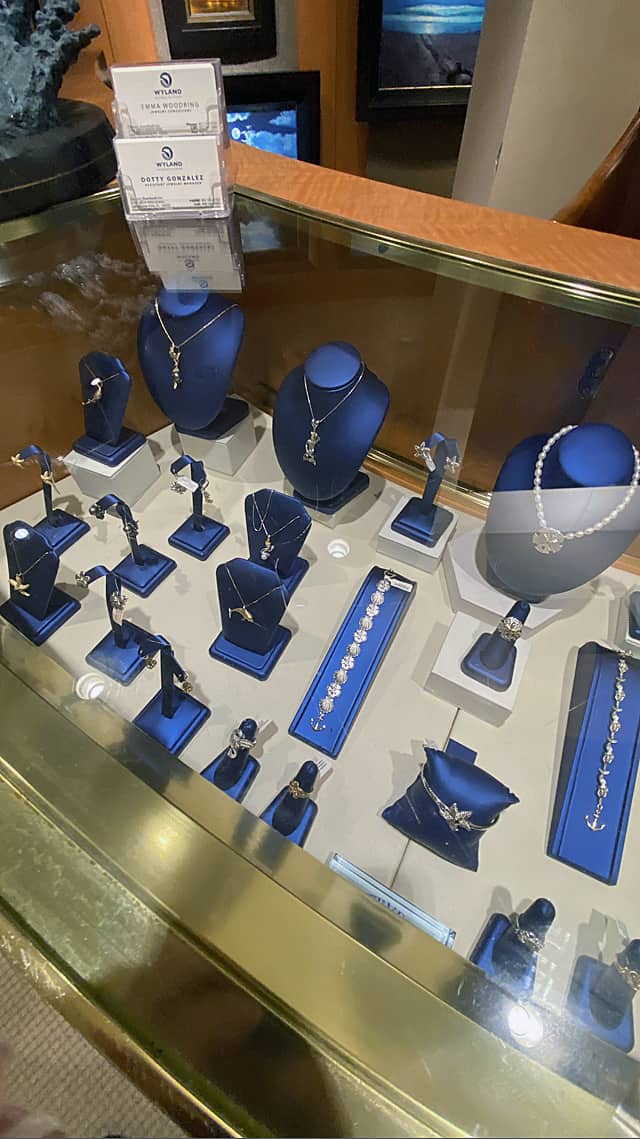 Various artists create jewelry for Wyland Galleries. These pieces are more reasonably priced. Each piece, including necklaces, bracelets, earrings, rings, and watches in the collection above depict sea life.
If you're in the market for a durable and stylish watch, there's even a cabinet of them available for purchase. Although the larger pieces are displayed on the floor and/or walls, check out every display cabinet for small items around every corner.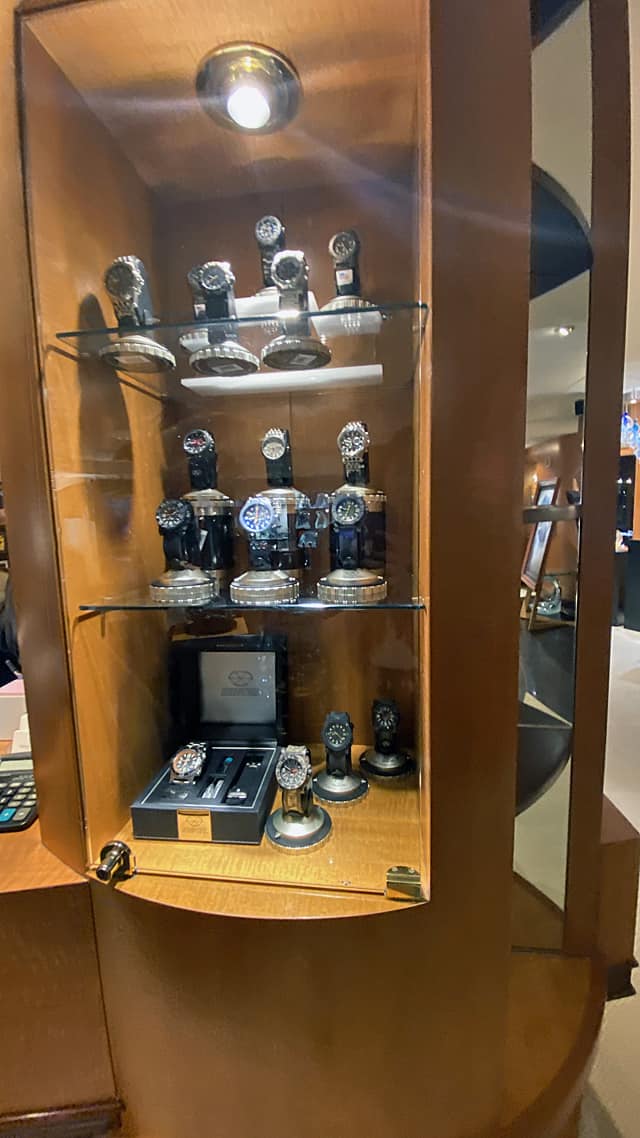 Sculptures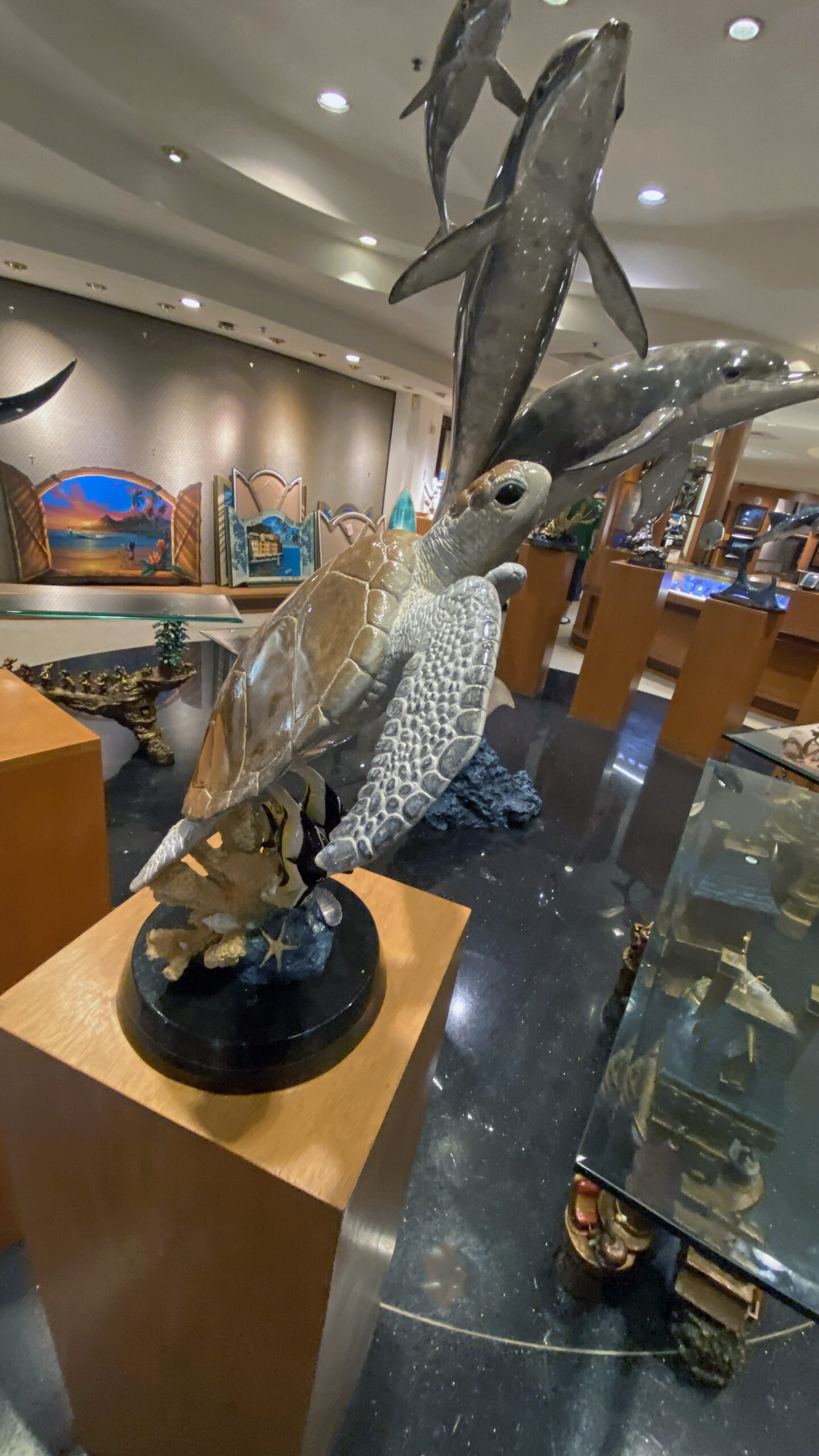 Through his realistic bronze sculptures, Wyland connects us to wildlife. I absolutely love how his sculptures display various animals, such as bottlenose dolphins happily flying through the air.
First, each piece is meticulously sculpted and then carefully put in a mold for casting, one at a time. Next, this tedious process continues as unique patinas are applied. These amazing finishes grow more lustrous over time.
Lucite Sculptures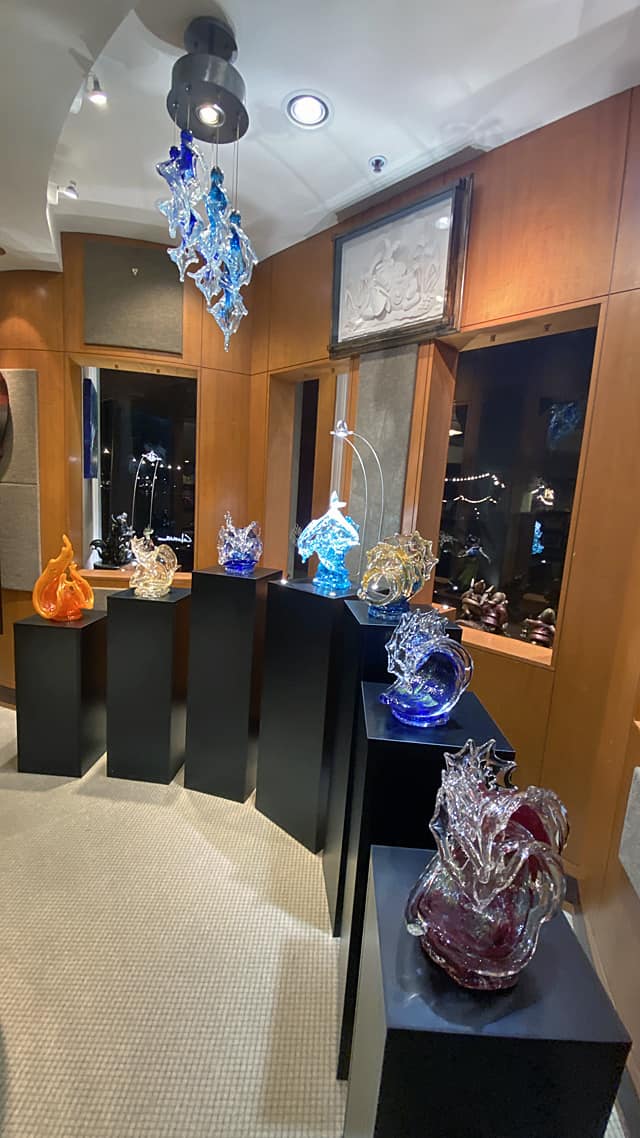 Lucite is a higher-quality version of acrylic resin that resembles glass. When I visited the gallery, I (Susan) thought they were glass. Lucite Sculptures combine amazing contemporary looks with his signature marine-life. 
Statues here display a realistic look while also showing colorful imagination. The picture below shows the Disney characters in lucite small sculptures.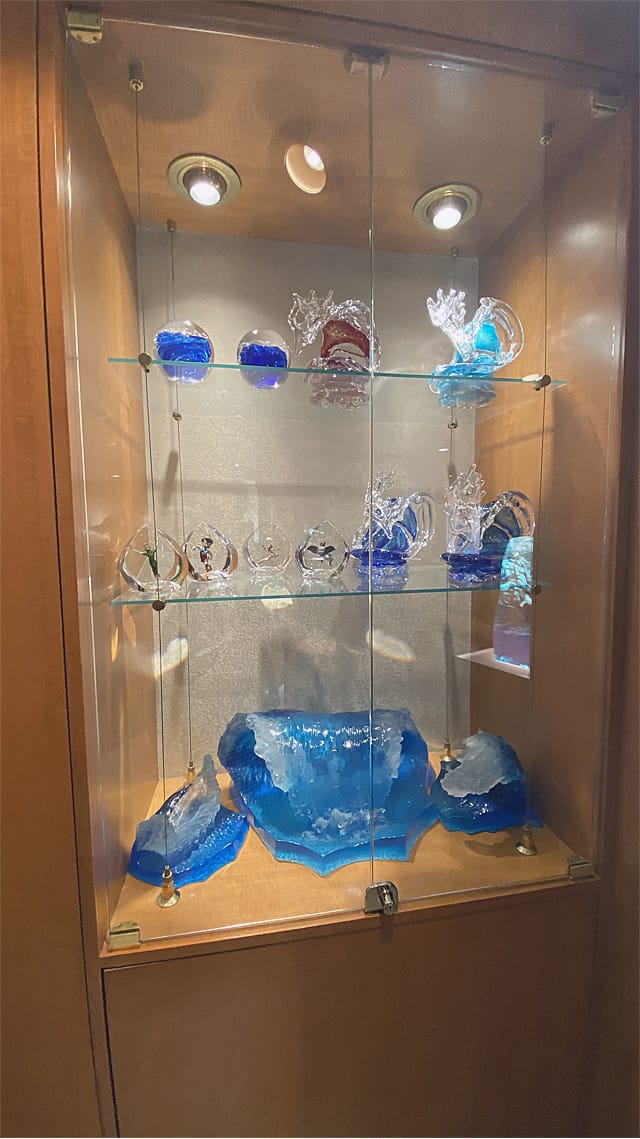 Beach Themed Items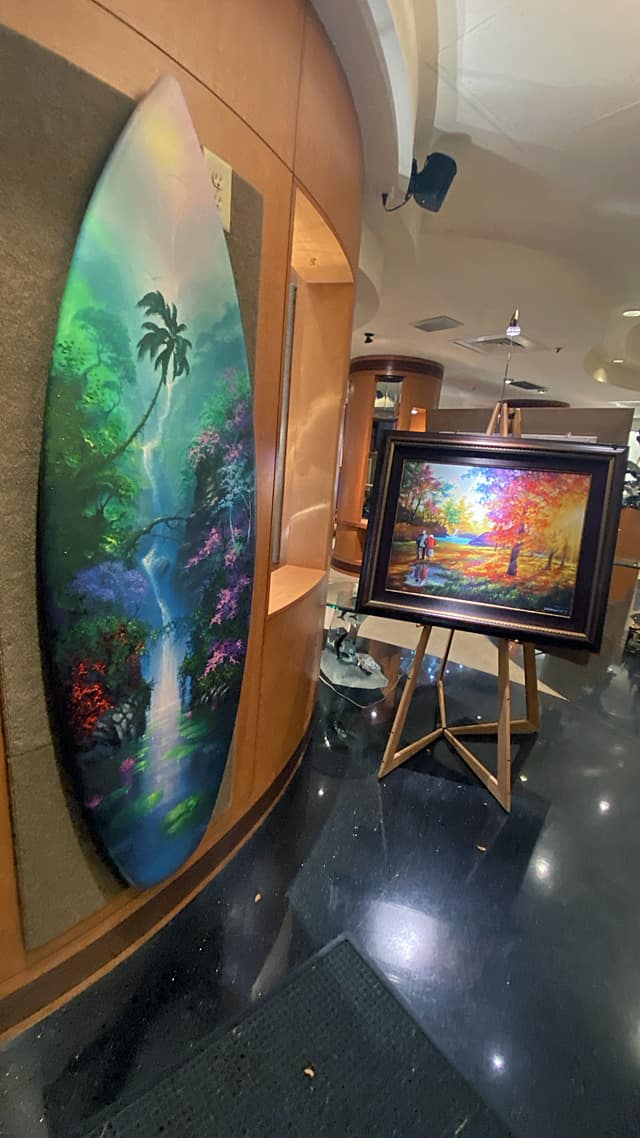 While walking through this colorful, yet playful shop, I loved the quirky beach accent artwork. Both the suitcase above and the Fender guitar below make a unique decorative piece to any home or company.
Disney's Boardwalk Resort's beach theming ties in well with these fun accents.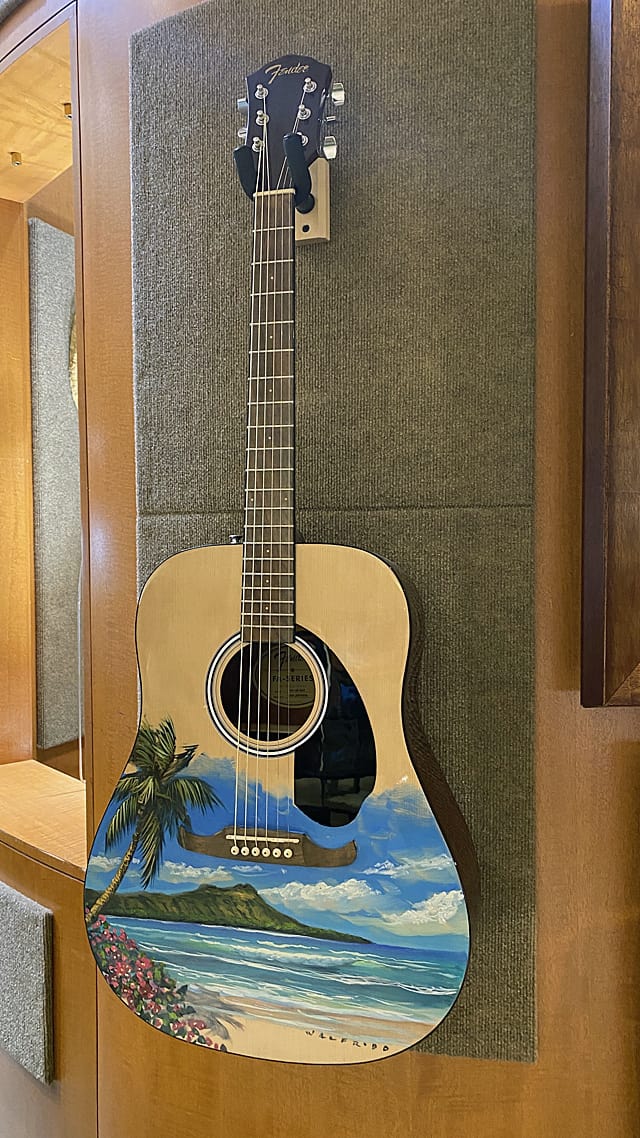 Tables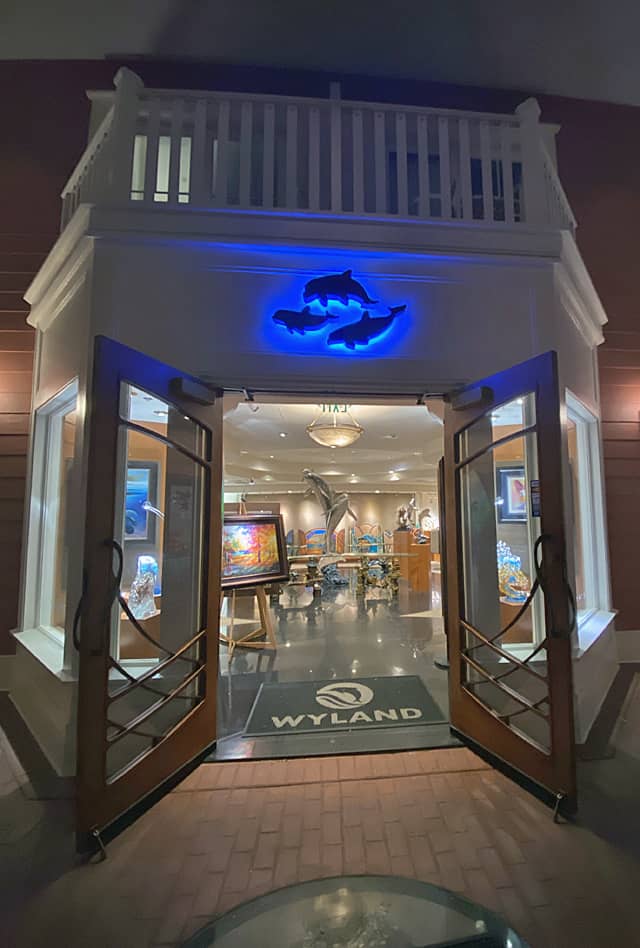 Guests find both marine life and Disney inspired magnificent coffee and side tables. In the marine life tables, the lucite table gives the illusion of the sea creatures being under the "water."
Also, these tables combine sculptures with sea and Disney accents. However, if you're interested in purchasing one, they are priced in the $30,000 range. Even if that's out of your budget, hopefully you'll get to see them.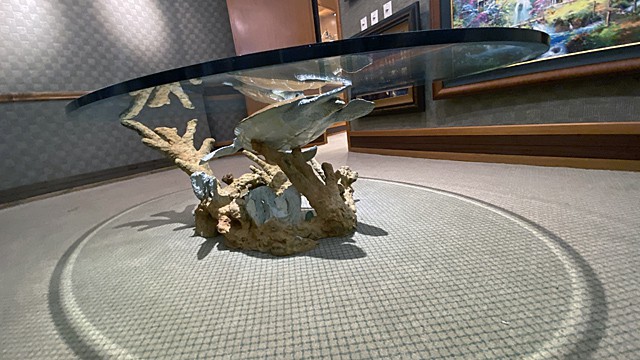 More Artwork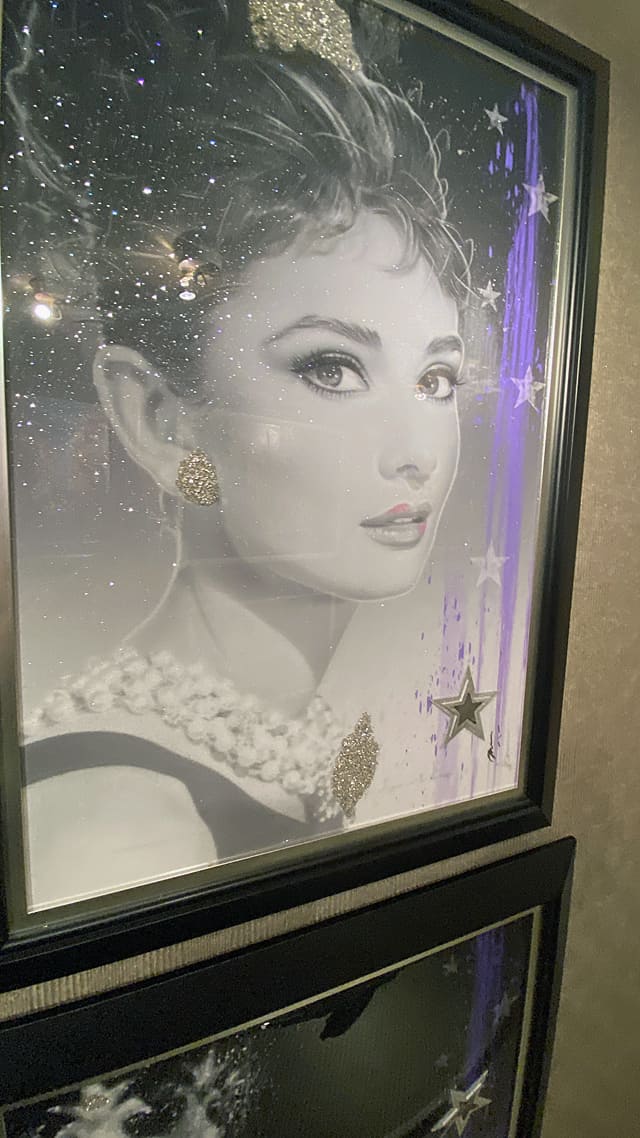 Part of the intimate feeling at Wyland Galleries is the quaint rooms outside the main shopping area. Each of these feature artwork, sculptures and seating areas. For guests wanting to discuss purchases and artworks, these spots are perfect.
At times, the Wyland Galleries offer special events with various artists. In one of these lovely spaces, you'll find iconic actresses such as Aubrey Hepburn with sparkly jewelry added to each piece of artwork. The presentation is simply wonderful.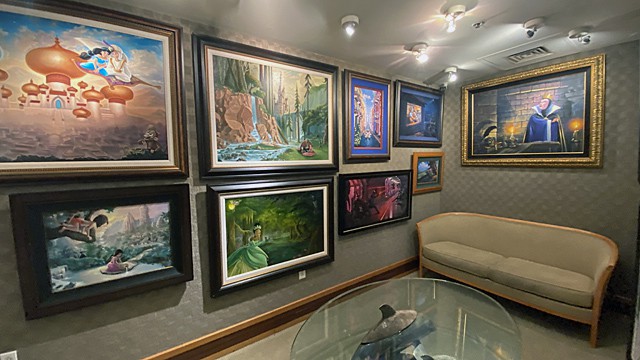 According to Disney Fine Art, no depiction of any kind of people are allowed to be used with Disney artwork. However, this does not extend to nature scenes. Artists at Wyland Galleries of Florida supply unique and gorgeous scenery and ocean life in the background.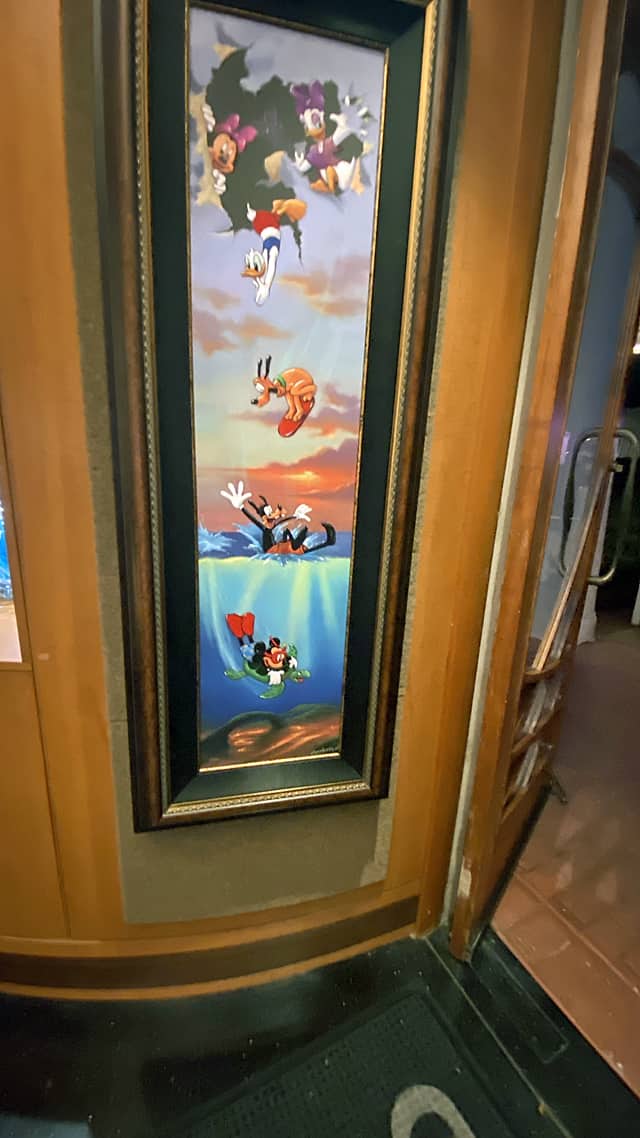 Metal Decor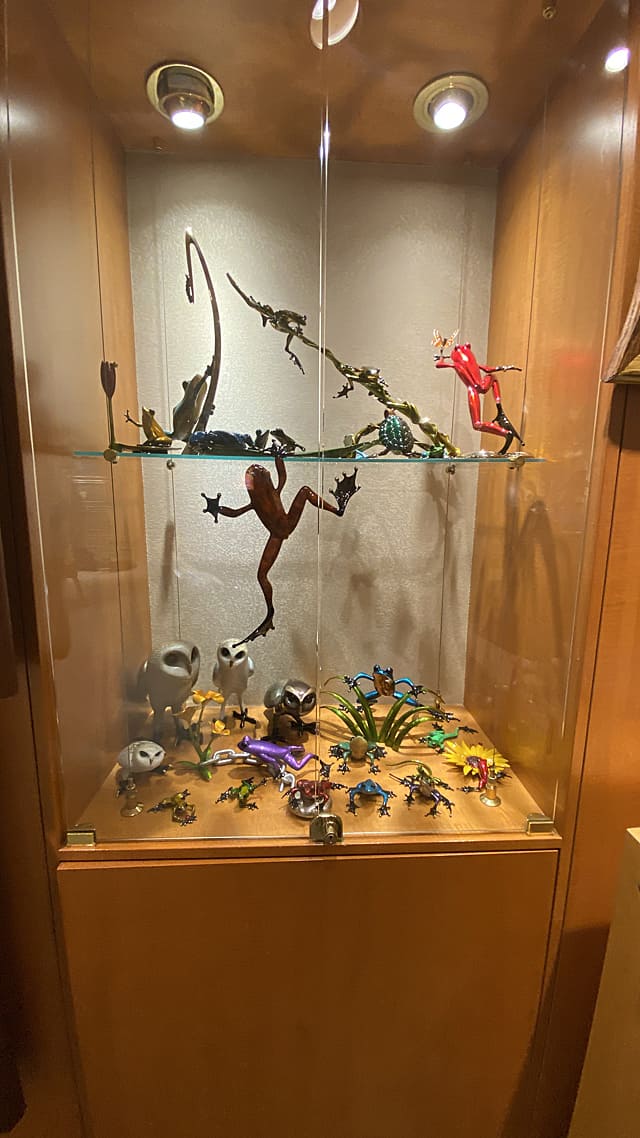 Frogs, owls, salamanders, and a number of brightly colored creatures are sold here too. These pieces add a sense of whimsy to this location. Although these are beautiful, they do not depict the same vibe as Wyland created art.
Wyland Foundation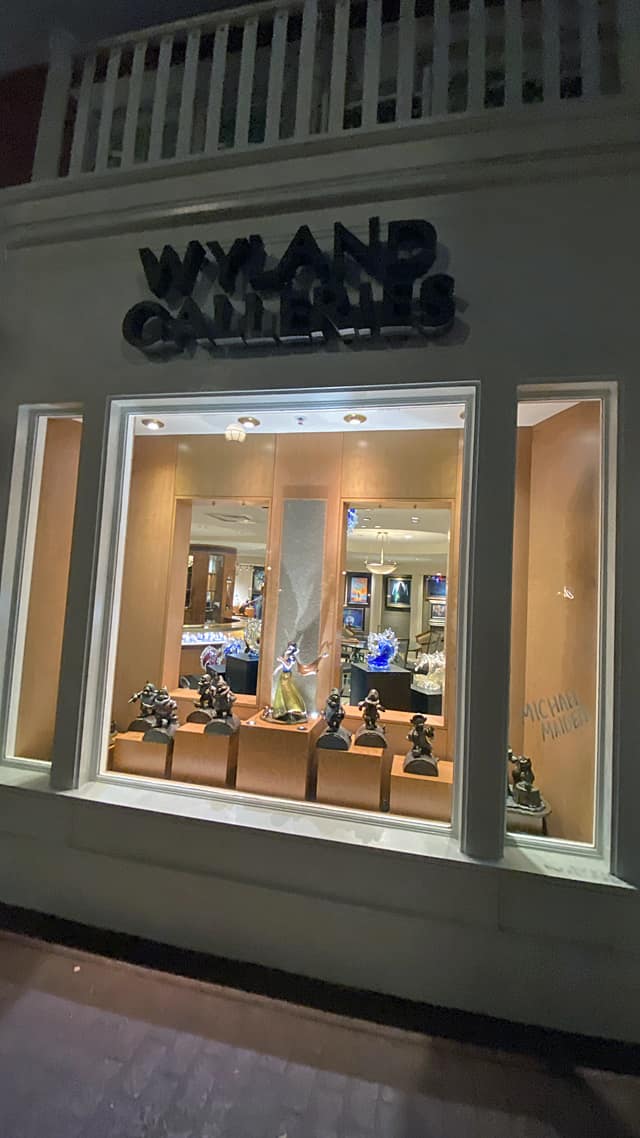 A non-profit organization, the Wyland Foundation, focuses on promoting, protecting, and preserving the world's ocean, waterways, and marine life. Since 1993, the Wyland Foundation has inspired millions of people worldwide to take care of our oceans, lakes, rivers, streams, and wetlands.
Since 2008, the Wyland Clean Water Mobile Learning Center gives teachers resources and even a mobile classroom on water quality, water resource availability, and conservation. Also, all purchases directly support children's education, the arts, and the future of our planet.
Although most, if not all, of the artwork here is out of the average person's (including mine) budget, walking through is free, and so much fun!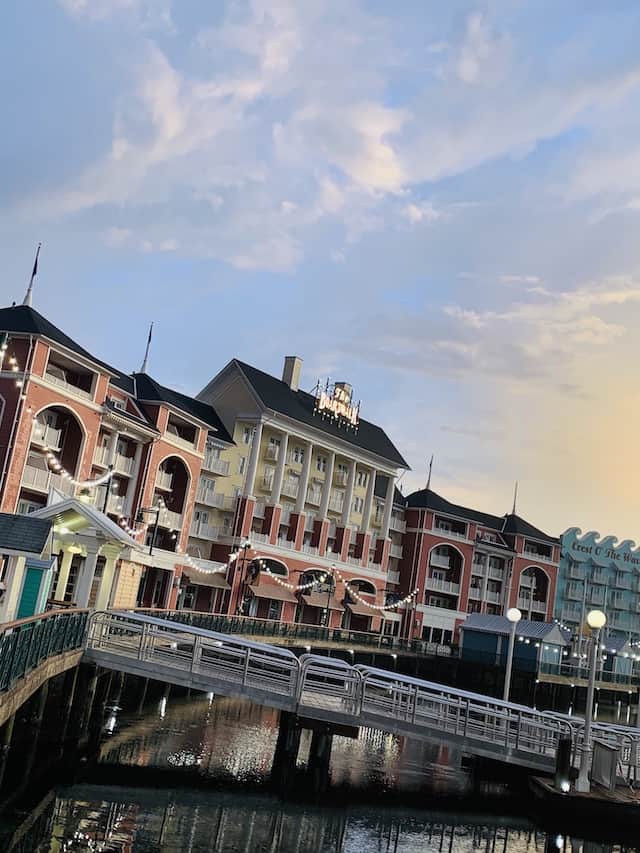 While at Disney's Boardwalk Resort, be sure to visit Big River Grille and Trattoria al Forno for table service meals.
Have you visited any of the Wyland Galleries or purchased any of their pieces? If not, I hope you'll stop by when you get a chance. Please share your thoughts below or on our KtP Facebook Page.
Source: wyland.com
Are you planning a vacation? Reach out to our trusted travel agency sponsor Authorized Disney Vacation Planner
Mouse Class Travel
!