Do not miss Disney World at night! When the sun goes down, more fun awaits you. Here is our ultimate list of things you should experience at night.
An After Hour Experience/Extended Evening Hours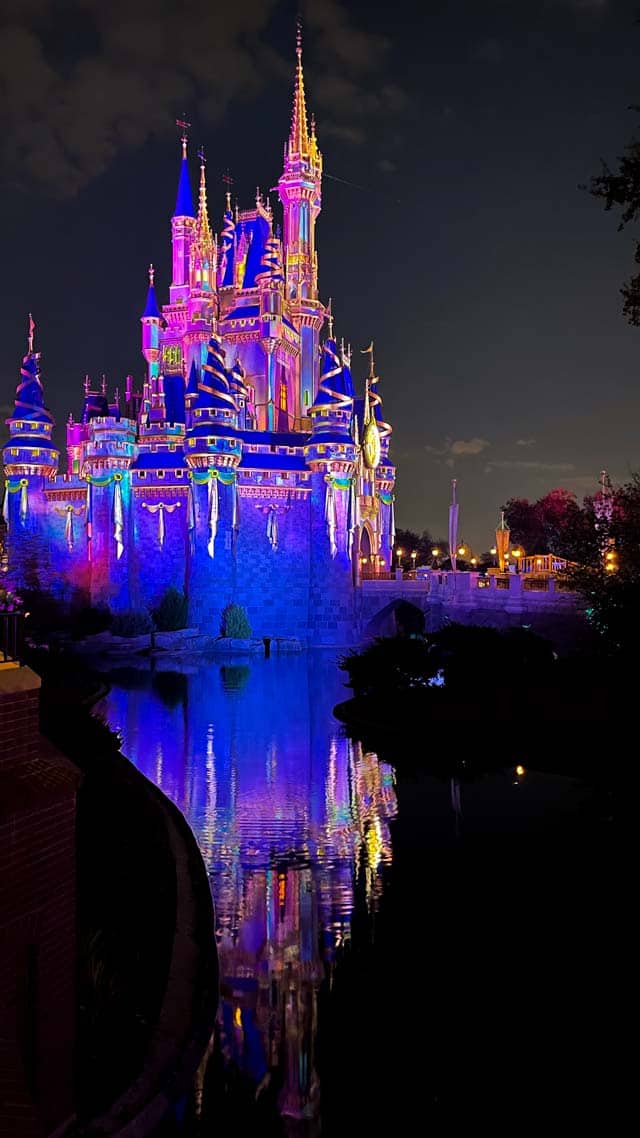 The ultimate thing you should not miss at night is being in the parks! While Disney may not offer super late hours anymore, there are still so many ways you can experience the parks at night.
During busier times, you may get lucky enough to experience Magic Kingdom at 11 pm or midnight with your regular daytime ticket. These hours typically occur over Spring Break, during the busy summer months, and over Christmas. Unfortunately, the other parks are typically closing at 10:00 pm or earlier even during these busy times.
However, Magic Kingdom, Epcot, and Hollywood Studios do offer Extended Evening Hours for deluxe resort guests. This is a great opportunity to get exclusive access to these parks without needing to purchase anything special. Be sure to read more about this benefit HERE.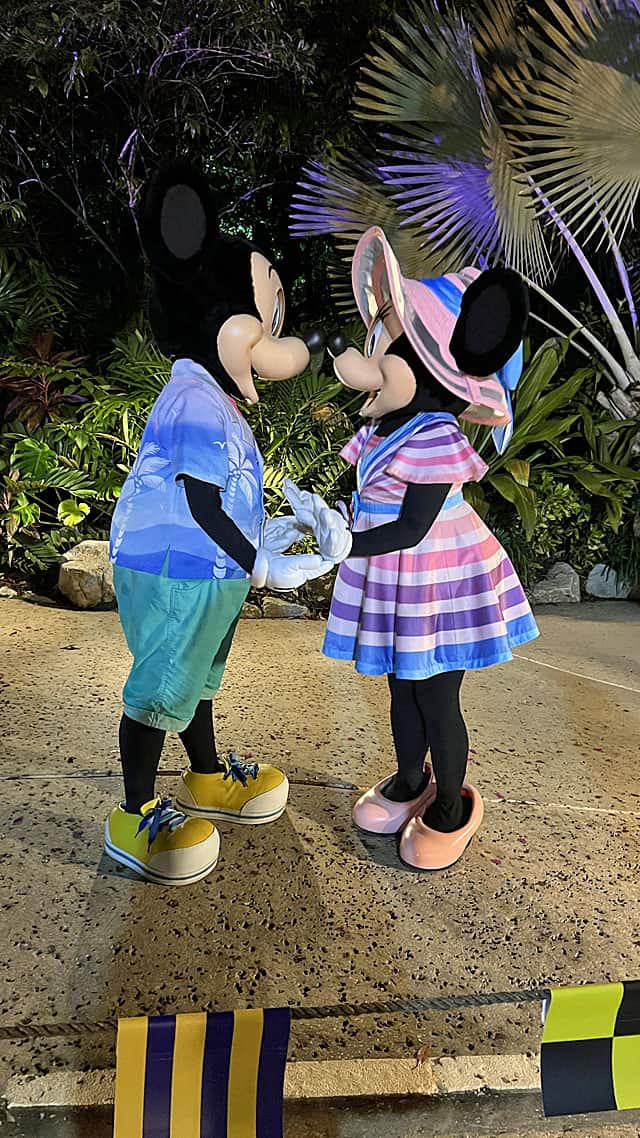 In addition to Extended Evening Hours, Disney also offers after hour events. These may be in the form of actual "After Hours" events or things like holiday parties, post-race parties, etc. Disney theme parks will resume regular ole After Hours events again beginning in January 2023. Typhoon Lagoon also hosted After Hours this past summer, which you read about HERE.
So, why should you be experiencing the parks at night?! Well, for a few reasons. Things like temperature and crowds are both lower at night, but also the parks really do come alive at night. Is there anything more special than seeing all the twinkling lights on Main Street, U.S.A. or throughout Toy Story land? Some of my favorite memories include rides on Big Thunder Mountain at night and seeing the fireworks from Seven Dwarfs Mine Train. You are really missing out if you go back to your hotel room every night before 9:00 pm.
The Boardwalk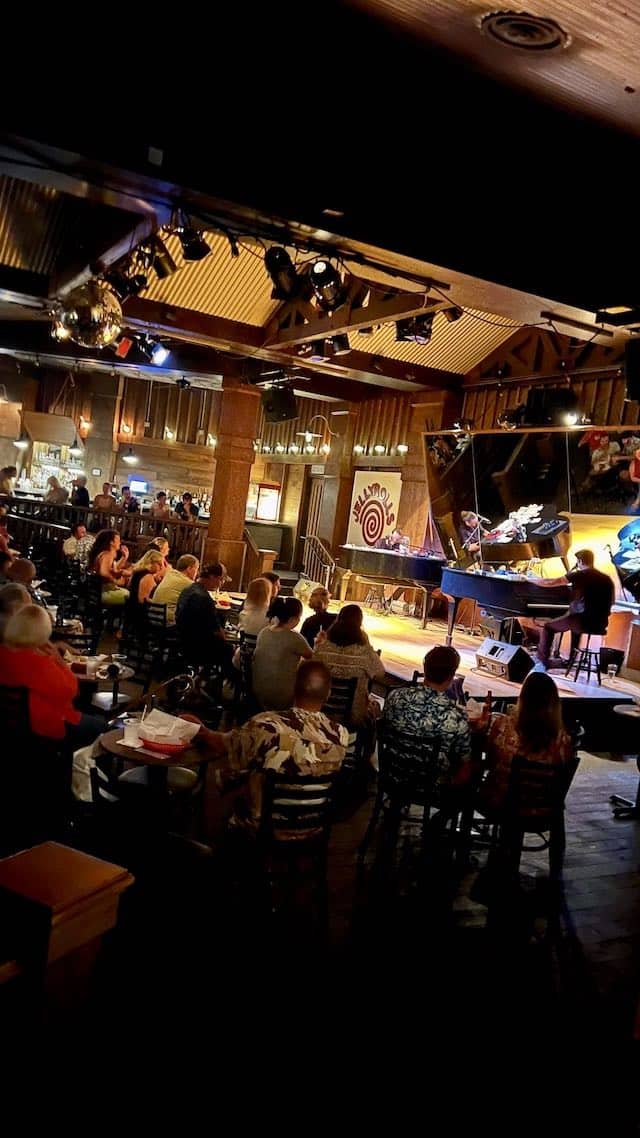 Speaking of things coming alive at night, the Boardwalk is so much fun at night! The Boardwalk is part entertainment, part hotel. You can find it right outside the International Gateway at Epcot. My absolute best memory ever is singing and enjoying the dueling pianos at Jellyrolls. This is such a fun and unique experience that you must try at least once.
While other places on the Boardwalk are open at night, they are just not as fun. I would caution against visiting the Atlantic Dance Hall and instead visit Jellyrolls if you are looking for a nighttime entertainment activity. The Dance Hall was a ghost town when I went to check it out.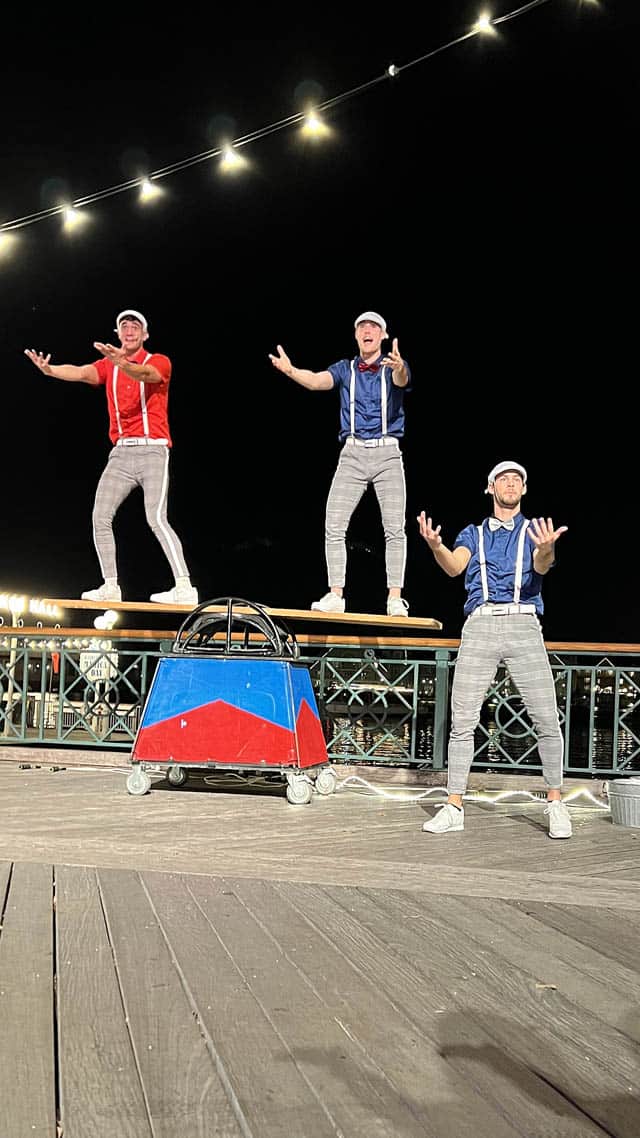 The Boardwalk is in the middle of a huge transformation with the Cake Bake Shop and new delicatessen. We will also see new food options in the lobby and a refresh on the rooms. You also cannot miss the fun entertainment right along the Boardwalk from the free entertainers to paid games.
Part of my dream adult-only vacation involves walking out of the International Gateway and hitting up some of the nightlife options along the Boardwalk. Then, of course, my room would be right there at the Boardwalk so I wouldn't have to walk far to get back! You can read more about the Boardwalk in our guide.
Disney Springs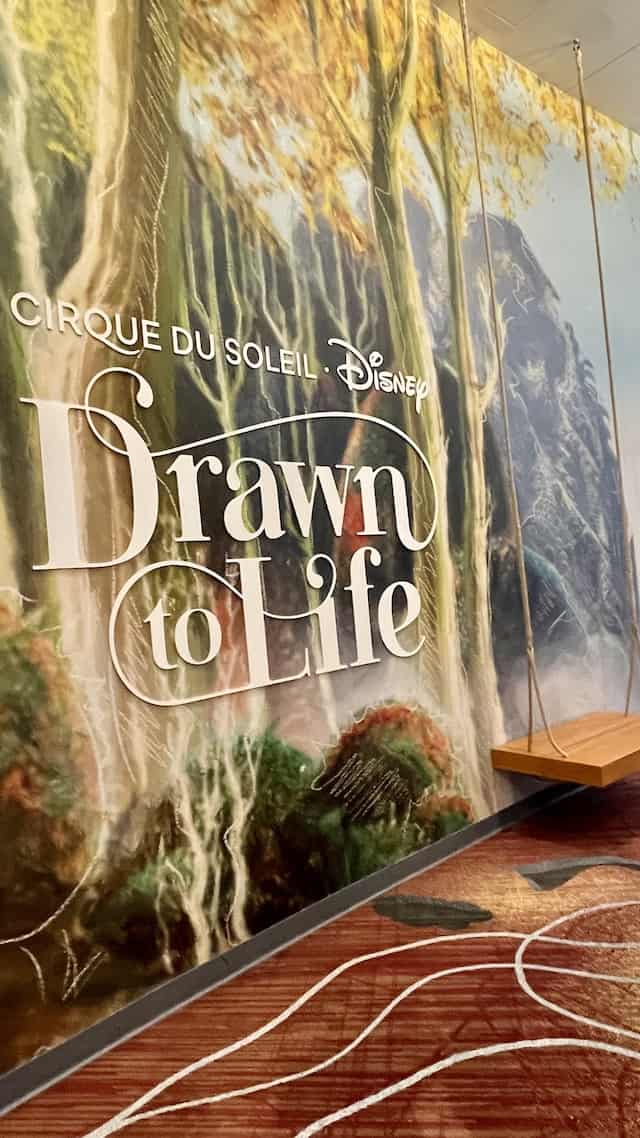 While the parks may close earlier in the evening, Disney Springs is usually open until 11:00 pm. You may think of Disney Springs as simply a shopping mall, but it really does offer so much more. First, consider grabbing tickets for Cirque du Soleil.
The art of classic Disney animation is reinterpreted through Cirque du Soleil's innovative design, acrobatic performances, dazzling choreography, and eclectic costuming alongside all-new Disney animation and an original score inspired by timeless Disney music. The show is absolutely alive with all the high-flying, mind-blowing exuberance that Cirque du Soleil is famous for.
THIS LOVE LETTER TO THE ART OF DISNEY ANIMATION CELEBRATES LIFE IN ALL OF ITS MOTIONS AND EMOTIONS. THE SHOW TELLS THE STORY OF A DETERMINED GIRL WHO DISCOVERS ONE LAST GIFT LEFT BY HER ANIMATOR FATHER: A SEQUENCE OF UNFINISHED DRAWINGS.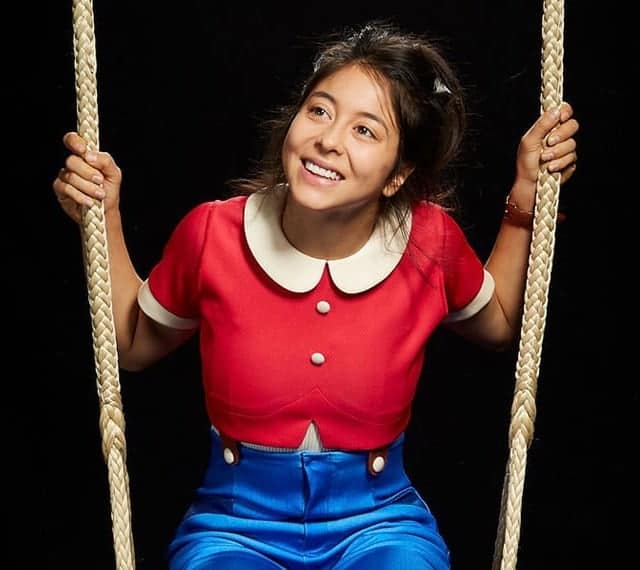 Guided by a magical pencil and a quirky troupe of imaginative muses, she embarks on an inspiring quest filled with her childhood Disney memories. We'll follow her as she leaps into a whimsical world of animation and discovers new possibilities that animate the story of her future.
Read more about Drawn to Life HERE. I absolutely loved this show!
In addition to entertainment options, Disney Springs also has some of the best dining selections found on Disney World property. Considered some Southern cooking at Chef Art's or authentic Spanish at Jaleo. Places like Raglan Road also have some type of live entertainment as well. You may also get to experience some local bands as they take the stage in the center of Disney Springs.
Late night swim/other nighttime activities at your hotel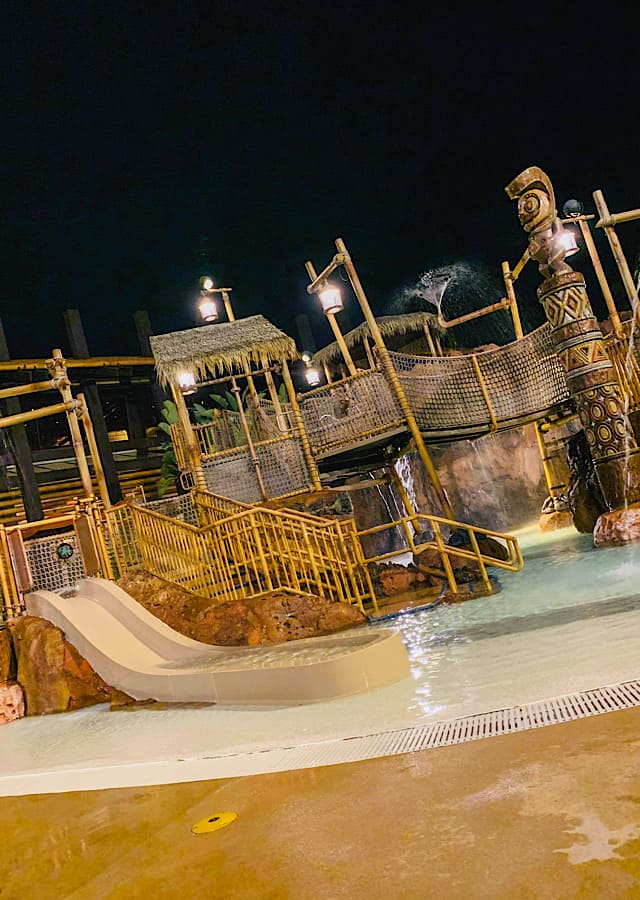 Finally, consider all of the unique nighttime amenities you may get to experience at your hotel. You are paying a premium rate to stay there, after all! Many of the feature pools remain open until 11:00 pm depending on when you visit, and some of the quiet pools may also be open 24 hours a day.
Is there anything better than a late night dip at Stormalong Bay at Disney's Yacht and Beach Club? I think not! My kids really enjoyed a swim in the pool after a long day in the parks (especially when the parks were closing at 7:00 pm!).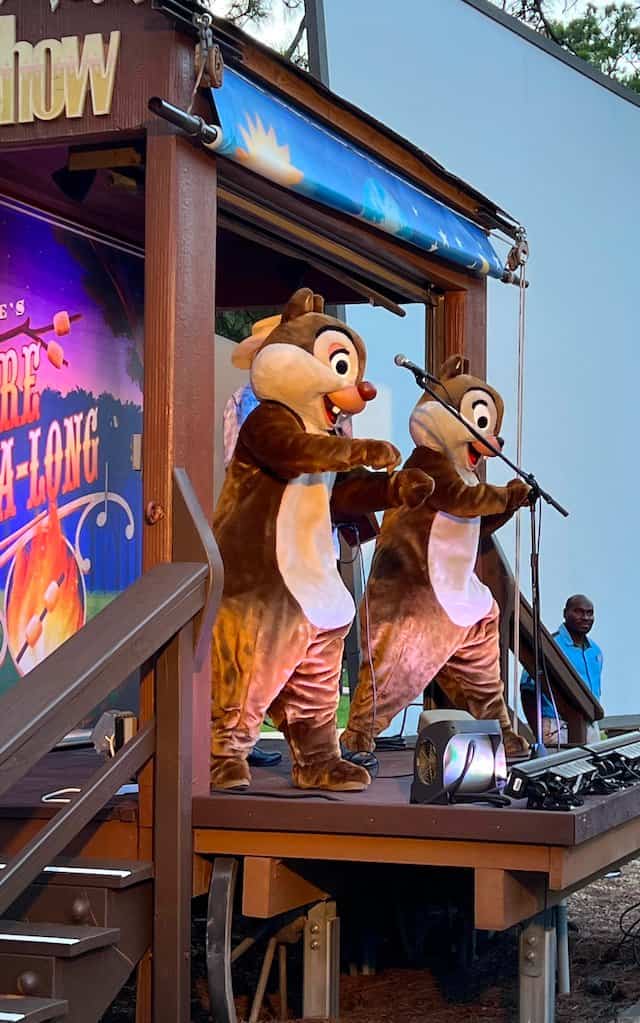 Disney hotels also offer campfires, movie nights on the lawn, and other seasonal activities that are fun for the whole family. During our Christmas vacation at the Grand Floridian, we grabbed some snacks from the gift shop and watched a movie while we wrote letters to Santa. This was something fun that we had never experienced before, and we definitely will remember those memories for years to come.
And, don't forget about the lounges and bars at your resort. After a long day in the parks, consider a stop for as long as you'd like for night cap. While you may not find a dedicated lounge at value resorts, the moderate and deluxe resorts do have them. You may even be lucky enough to catch a show from your hotel! I greatly enjoyed watching Yeeha Bob during my stay at Disney's Port Orleans – Riverside. Right next door, live jazz musicians play over at Scat Cat's Club at Port Orleans – French Quarter.
I hope this list offers you a unique perspective of nighttime at Disney World and maybe gives you a few ideas for future trips! What is your favorite thing to do at night at Disney World? Do you prefer to get your beauty rest, or do you take on the mindset of "I'll sleep when I get home"? Let us know in the comments below and on Facebook.
Are you planning a vacation? Reach out to our trusted travel agency sponsor Authorized Disney Vacation Planner
Mouse Class Travel
!