Are you looking for somewhere to eat that is quick and has a great selection of food? You might want to try Boardwalk's newest dining spot, The Boardwalk Deli.
Boardwalk Deli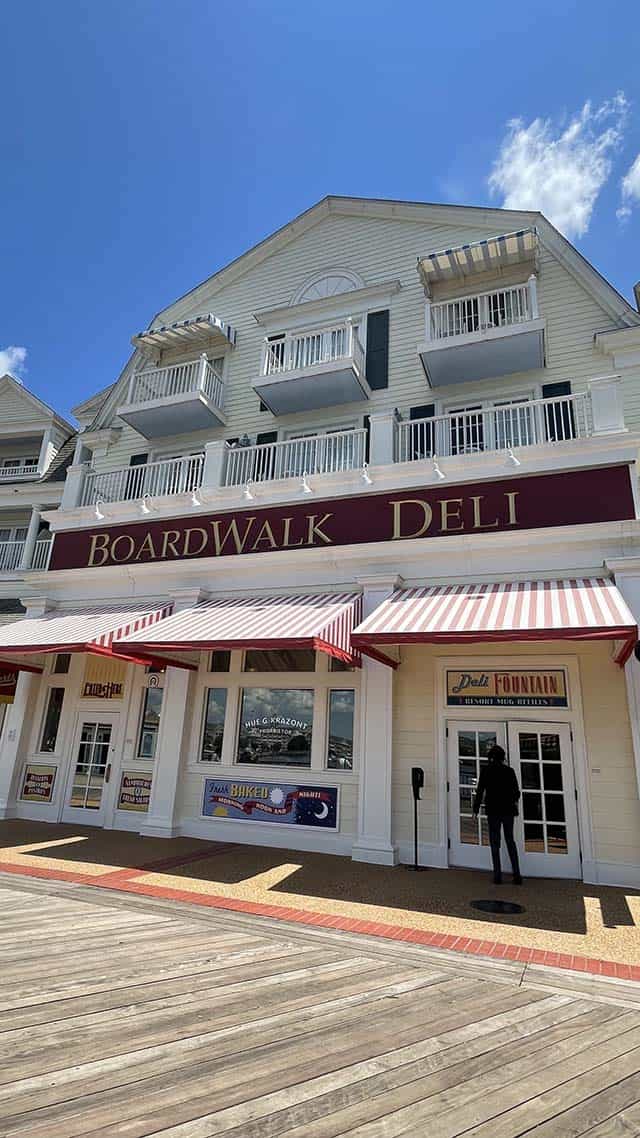 Boardwalk Deli opened to guests on August 15th. The location was reimagined from what was The Boardwalk Bakery. While the location itself looks pretty much the same from the outside, it does have a few brand new signs and a fresh new look.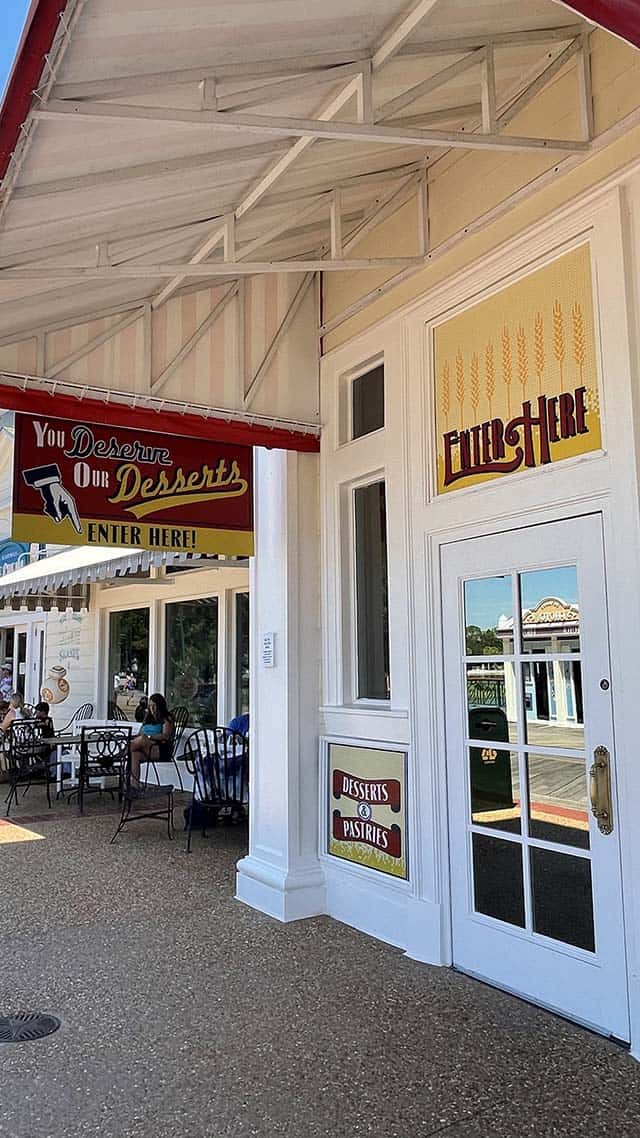 To read more about the opening date of this location, read this post HERE. See all of the menu items in this post HERE.
A Look Inside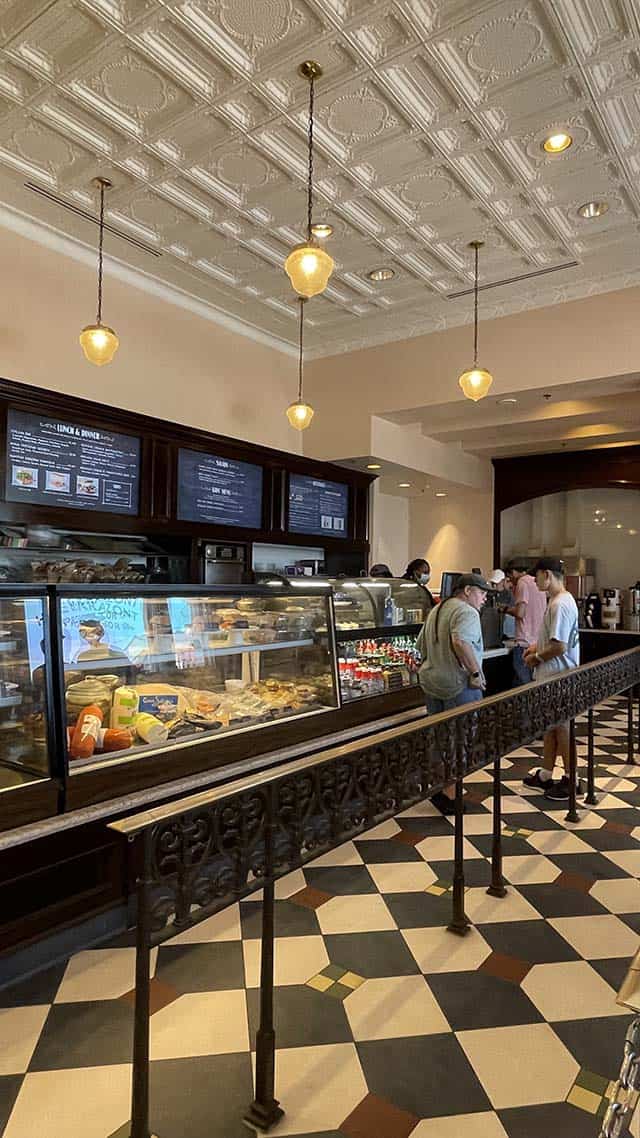 The Boardwalk Deli is a quick service location and offers breakfast, lunch and dinner. Operating hours are from 7:00 a.m. to 10:00 p.m. daily. Menu items range from breakfast bagel sandwiches, pastries, sandwiches and plenty of dessert items.
The Boardwalk Deli is open from 7:00 a.m. to 10:00 p.m. daily.
Guests here may walk in and place orders or place a mobile order through My Disney Experience. If you order food through mobile ordering, just walk over to the Pick Up area all the way to the right by the drink stations and pick up your order.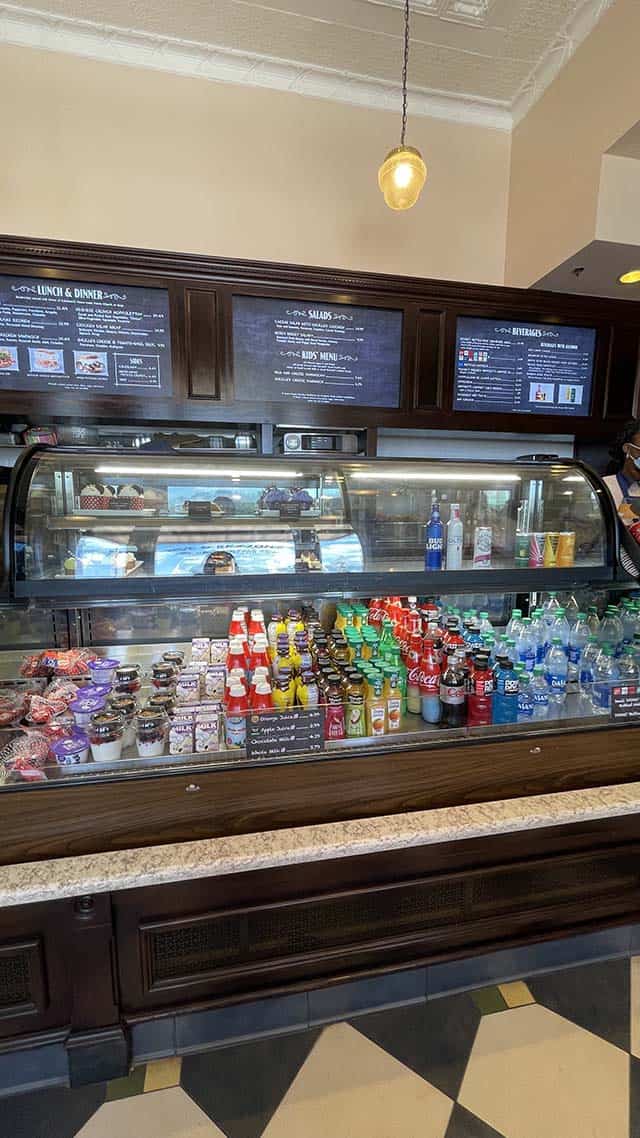 There is a large variety of drink options to choose from, including snacks like cheese and yogurt. All of these are great options to have available, particularly if you have children.
Bakery Items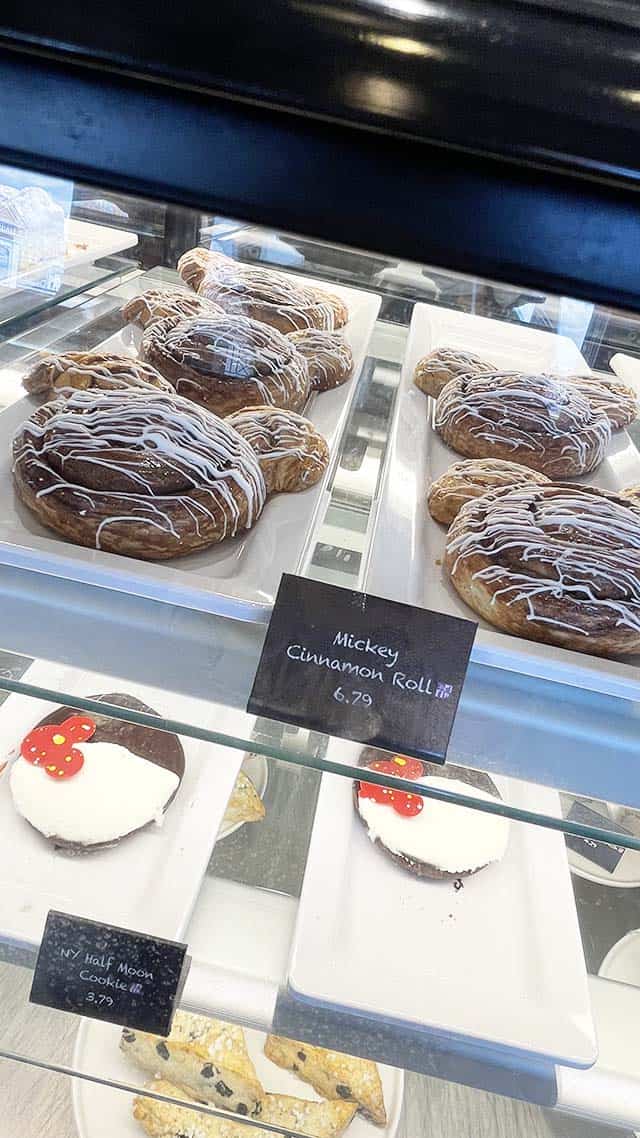 Plenty of fresh bakery items are offered as well, ranging from Mickey Cinnamon Rolls to cookies, scones, crumb cake, cream puffs and much much more.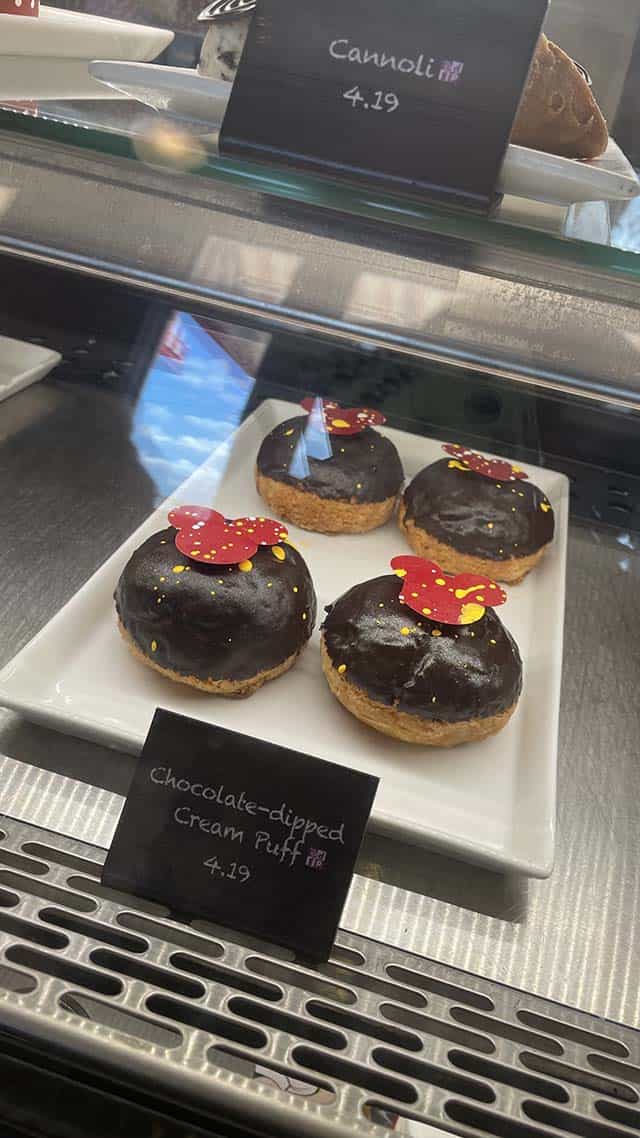 What we ordered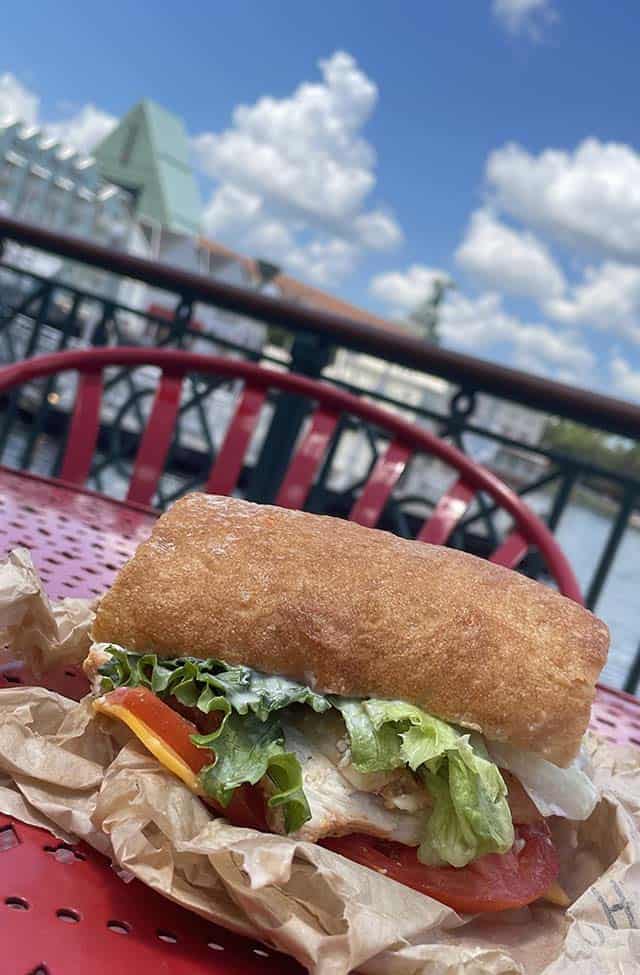 I (Maggie) decided to try the Roasted Chicken Sandwich. It comes with Cheddar, Lettuce, Tomato and Roasted Garlic Aïoli on Ciabatta served with choice of Side, which was either potato chips or coleslaw.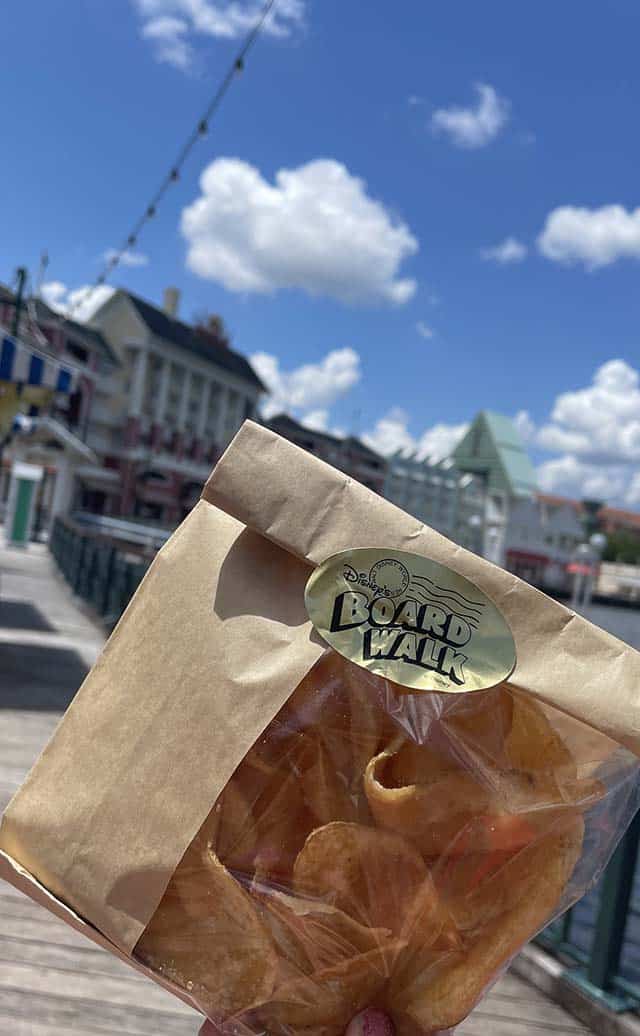 The sandwich was freshly prepared and the chicken was tender and tasteful. I really liked the Roasted Garlic Aïoli seasoning. The chips were fresh and crisp. The only thing about my sandwich was that it was HUGE! I definitely could not eat the entire thing. You might want to consider sharing a sandwich because all of the sandwiches are pretty large.
Kids Menu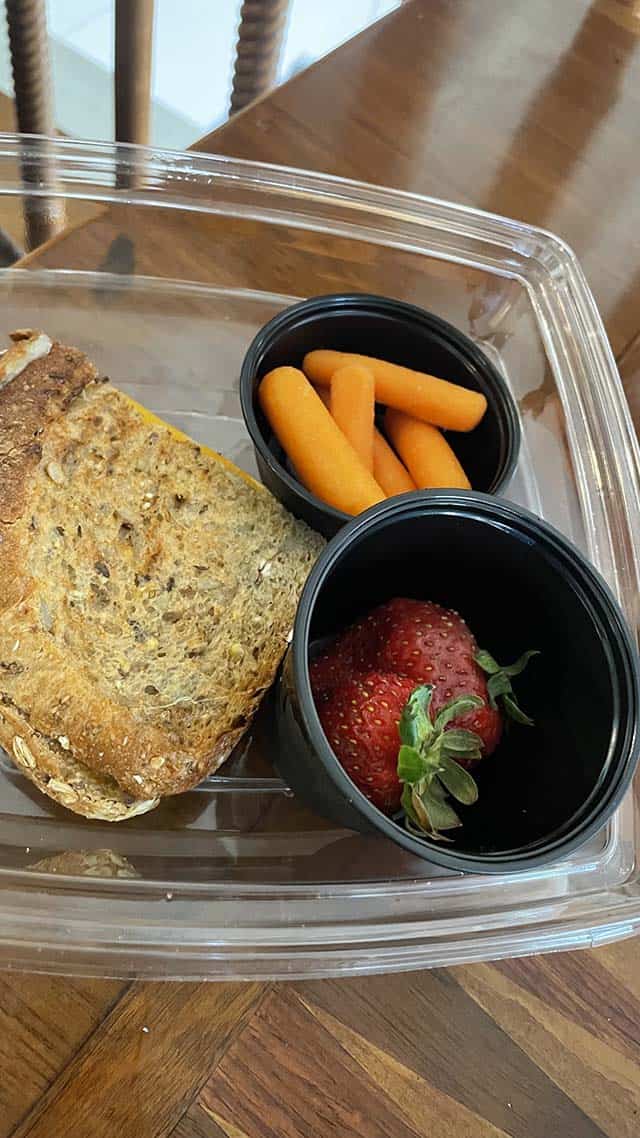 The Kids Menu here only offers two selections, a Ham and Cheese Sandwich or Grilled Cheese Sandwich. However, between the yogurts, snacks, and bakery items, it seems like there would be plenty to offer if you just wanted to stop in for something really quick.
Kids meals come with a half portioned size sandwich, two sides and a beverage. My son enjoyed his Grilled Cheese, but it was not anything out of the ordinary.
Dessert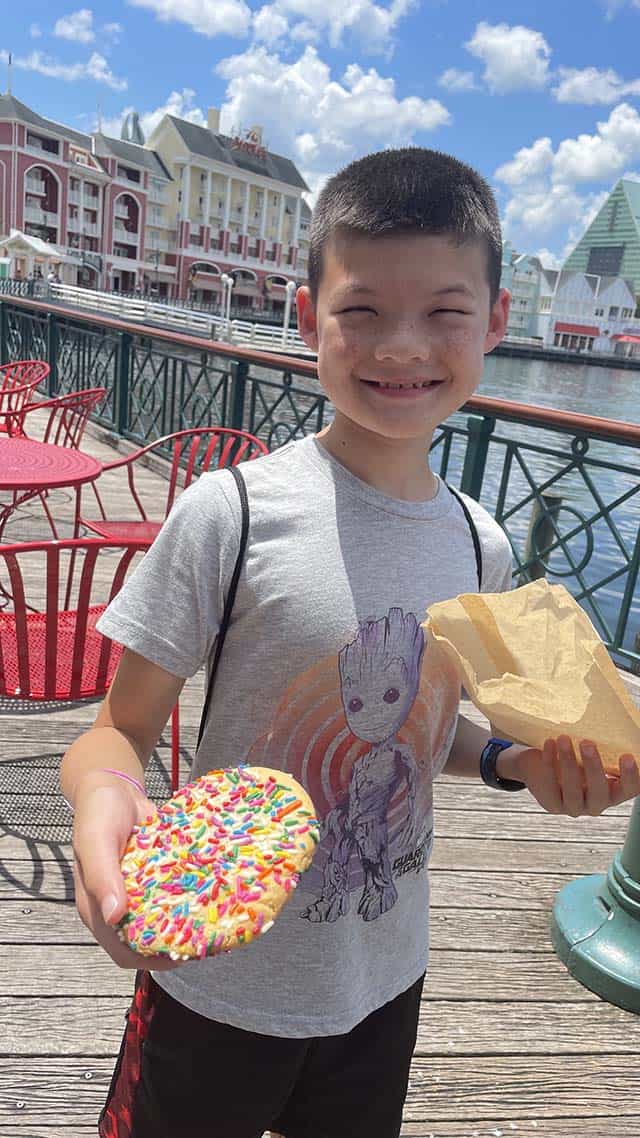 My son and I both had cookies for our dessert. He ordered a sugar cookie with sprinkles and I had the chocolate chip cookie. My favorite part about it was the Mickey shaped chocolate chips. It was chewy, warm and freshly baked. Despite my extra large sandwich, I still ate the entire cookie.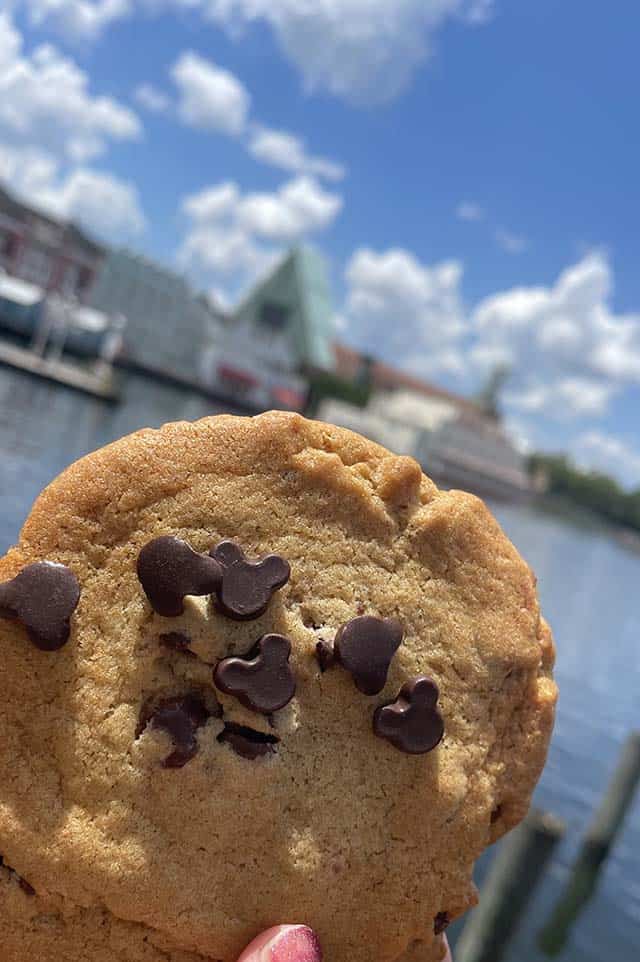 Should you go?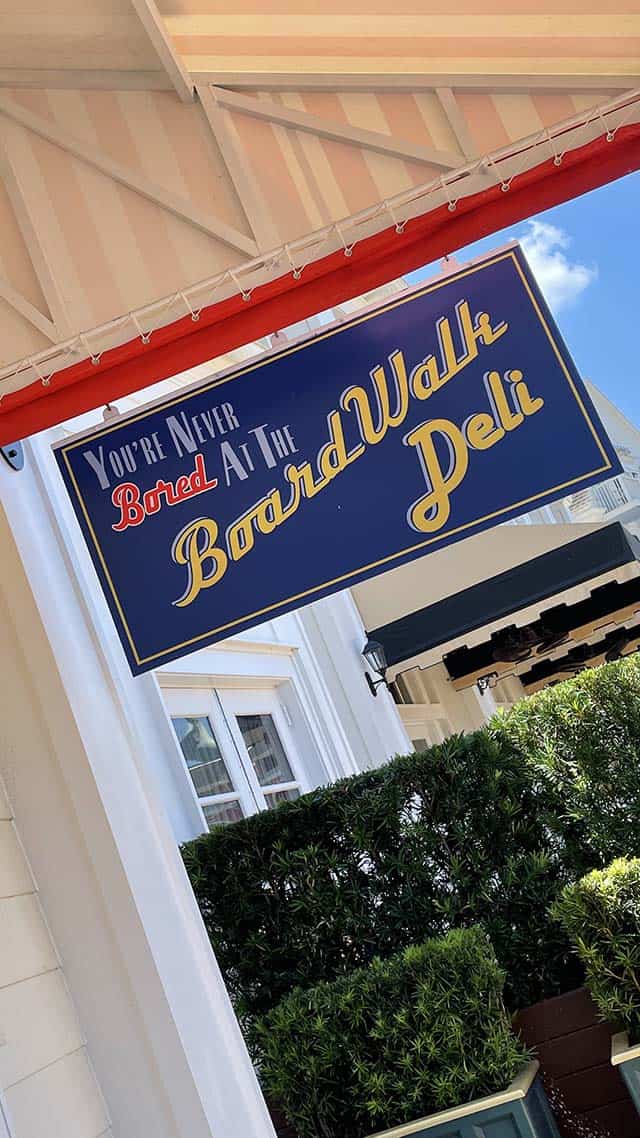 Unless you are a big sandwich person or enjoy salads, this location might not be the best place for dinner. There are plenty of other dining locations, like Trattoria al Forno, all along the Boardwalk if you are looking for something more substantial or somewhere to sit down.
There is no seating inside the Boardwalk Deli. You can choose to sit at tables all along the Boardwalk or find somewhere inside if the weather is too hot or unfavorable.
Overall, I am glad I stopped in to try the new Boardwalk Deli. It is a great place to grab a quick breakfast or lunch and it is in a beautiful location! It is also priced pretty reasonably, so a quick meal or lunch is not too expensive. Enjoy the food and beautiful views of Disney's Boardwalk.
Have you tried The Boardwalk Deli? What did you order or what looks good to you? Tell us about it in the comments below or on our Facebook page.

Are you planning a vacation? Reach out to our trusted travel agency sponsor Authorized Disney Vacation Planner
Mouse Class Travel
!