You may be wondering if Magic Kingdom is still magical after reopening with so many changes and modifications. We recently spent several days in Magic Kingdom with the question in mind: "is there still magic at Magic Kingdom?" Here's what we found.
Magic Kingdom reopened to the public on July 11, with several changes and modifications in place in order to keep Guests and Cast Members safe and healthy and to prevent the spread of coronavirus.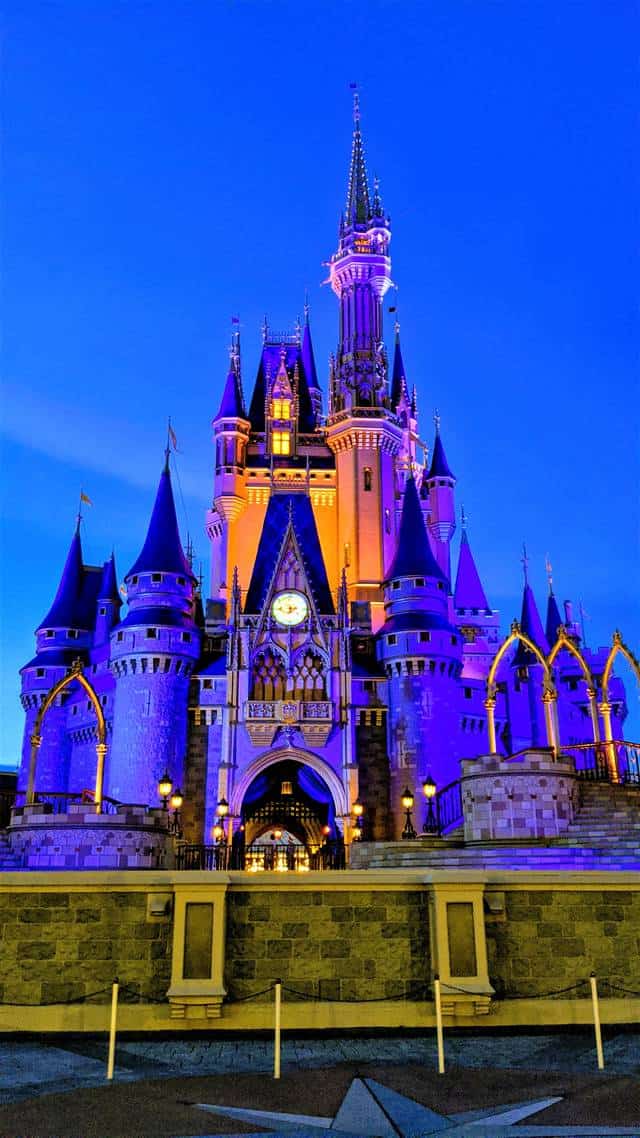 Many are wondering if a visit to Magic Kingdom is still magical after so many of the aspects of "the most magical place on Earth" have changed.
We found that although there were several differences, its also true that "some things never change," and Magic Kingdom is still magical, but the magic looks a little different.
Attractions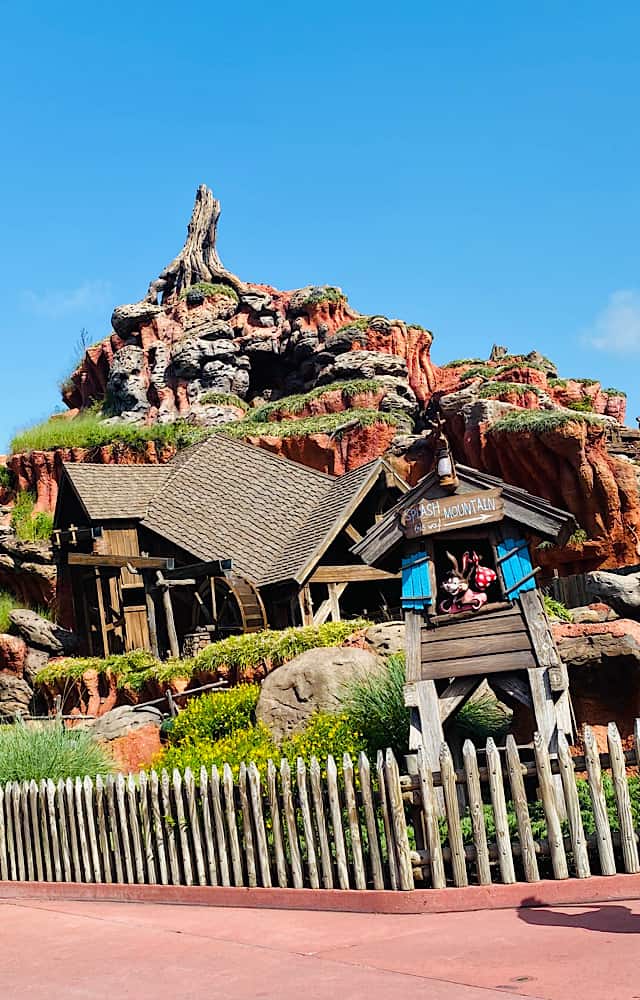 Among the many reasons why Magic Kingdom is so special is the fact that it has the most attractions of any of Walt Disney World's four theme parks. Luckily, almost all of Magic Kingdom's attractions are up and running, with very few alterations or changes.
Since Disney decided to temporarily discontinue the use of Fastpass+, many Guests worried they'd spend a lot of time waiting in lines. Luckily, with the reduced capacity at the theme parks, the opposite has been true.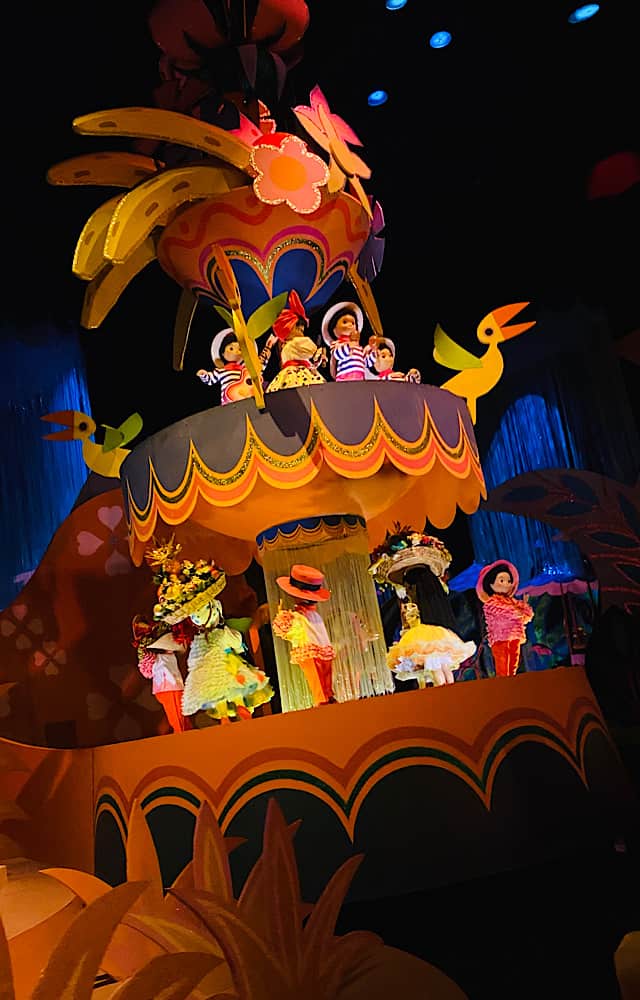 The lines for most Magic Kingdom attractions appear long, because of social distancing measures inside the queue. However, we found that we very rarely waited for more than 10 minutes in most lines, even if the waits were posted as longer!
The exceptions to the short wait times were for the more popular rides, such as Seven Dwarfs Mine Train, Big Thunder Mountain Railroad, and Splash Mountain. However, since lines for these used to regularly top an hour or more, a 30 minute wait is still fantastic!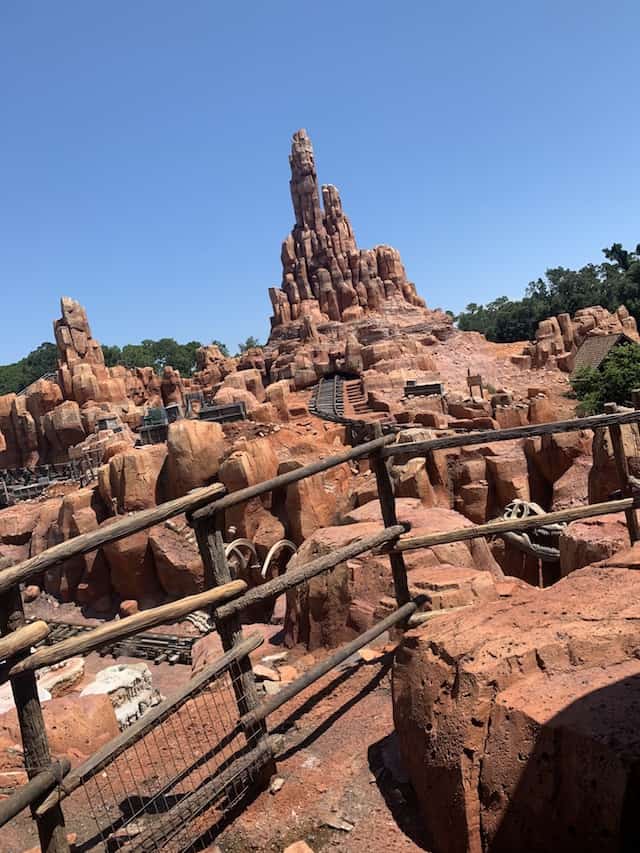 Every time we got in line for Space Mountain, regardless of what the wait time was posted at, we were able to walk right on to the ride! What an exciting feeling!
In one day, even though Magic Kingdom's hours are shortened, we had no problem riding all of the rides we wanted to. In fact, we rode most of our favorite attractions several times in a day.
That alone certainly adds to Magic Kingdom's "magical" rating!
Character Interactions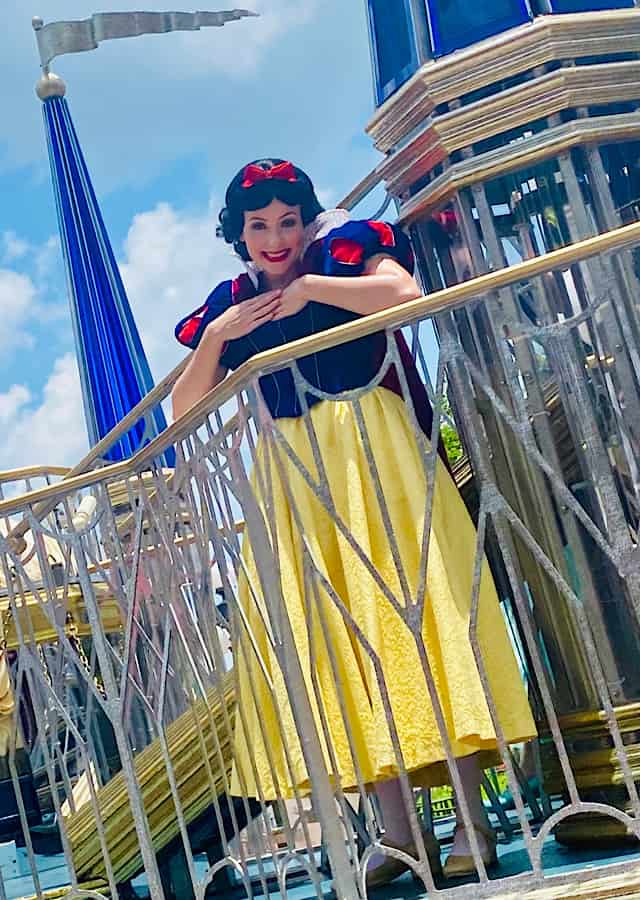 Another change to Walt Disney World is that character interactions have been temporarily paused. For some Guests, this change has been a deal breaker. I know for my family character interactions are a big part of the magic.
Is Magic Kingdom still magical without the ability to get a hug from Mickey or swim into Ariel's grotto to talk about whozits and whatsits galore?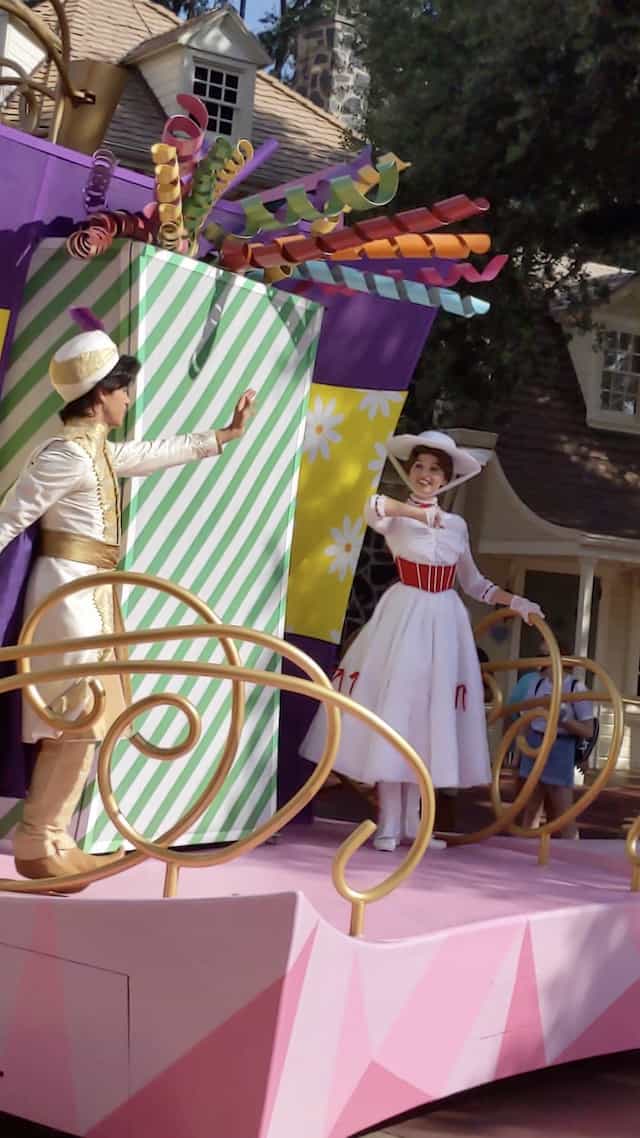 Disney has started "character cavalcades" as a way for Guests to still interact with their favorite characters.
Character Cavalcades are special "surprise" parades featuring our favorite Disney characters. Magic Kingdom features several cavalcades, and each time you hear the music, you'll find yourself dashing to the street to find out who is coming down next.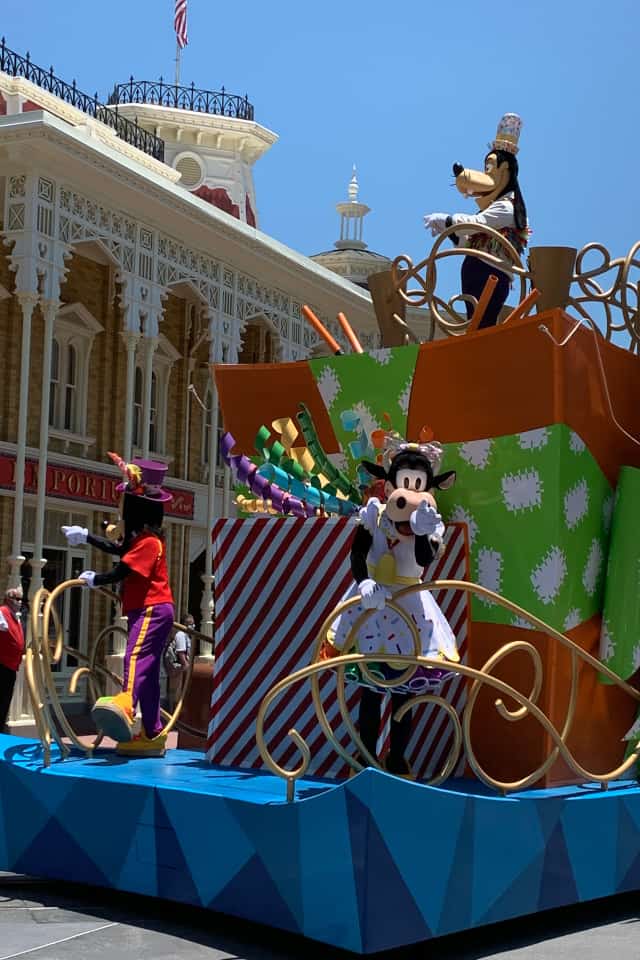 The Mickey and Friends Cavalcade was by far my favorite. This cavalcade features the same music and character outfits as the "Get Your Ears On" dance party in honor of Mickey Mouse's 90th birthday celebration.
Joining Mickey and Minnie in this cavalcade were Clarabelle Cow, Goofy, Max, Donald Duck, Daisy Duck and Donald's friends (3 Caballeros).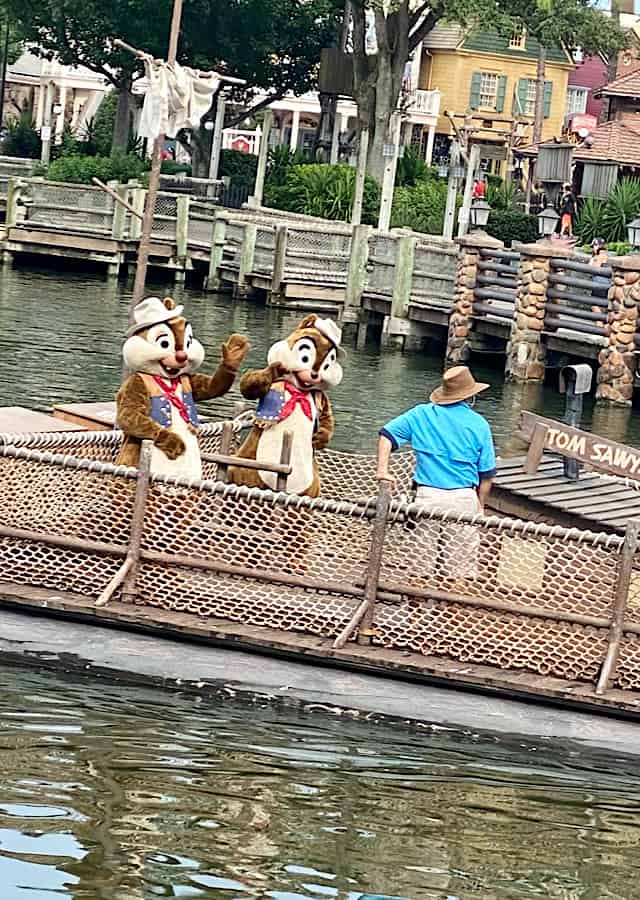 The Princesses Cavalcade starts with Merida riding in on a beautiful Clydesdale horse, leading the rest of the princesses in a royal procession. Tiana and Rapunzel follow. Then, we were greeted by Jasmine, Ariel, Aurora, Snow White, Elena, Belle, Cinderella and even the Fairy Godmother.
Tinkerbell has her own cavalcade, sprinkling her magical pixie dust throughout Magic Kingdom.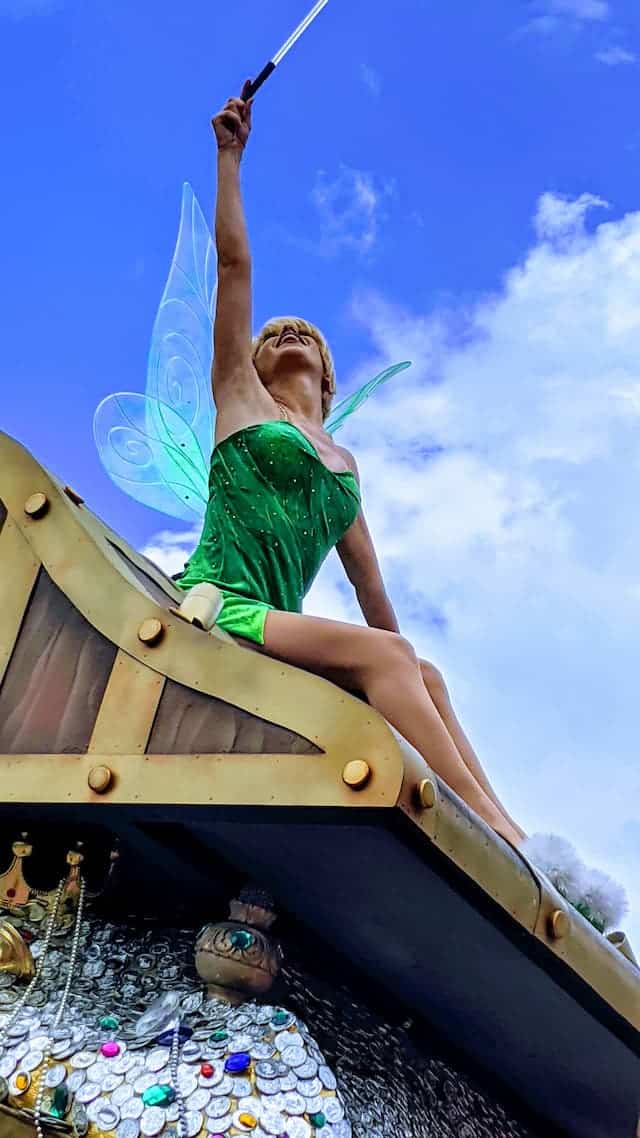 Chip 'n Dale can be seen traveling aboard the Tom Sawyer rafts in the Rivers of America.
We also got a glimpse into the Hundred Acre Wood with our friends Rabbit, Eeyore, and Piglet on the Main Street Trolly.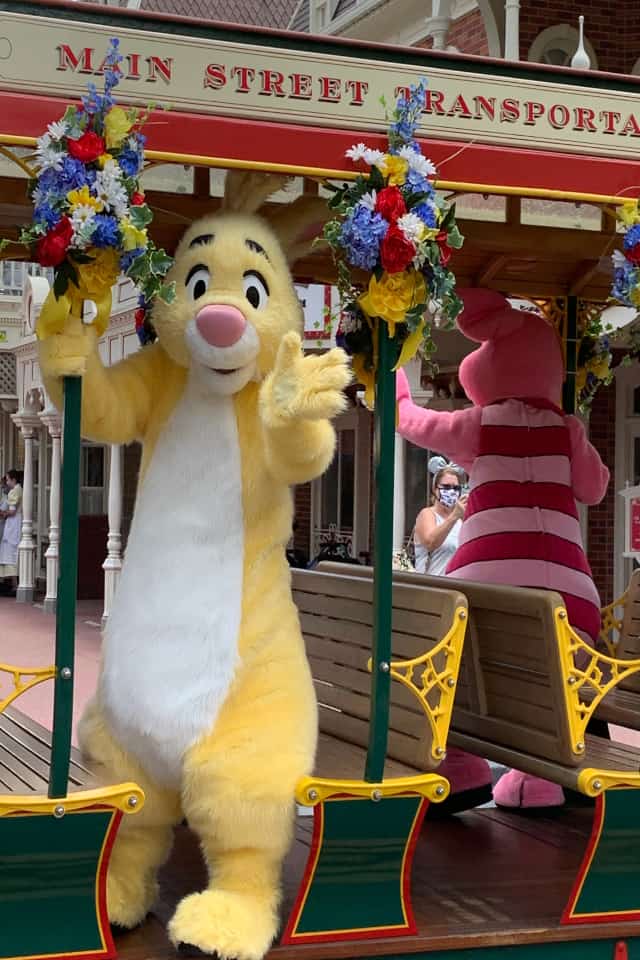 The Fantasyland Cavalcade was lots of fun. Gaston led the way, and Aladdin, Mary Poppins, Alice, Peter Pan, Winnie the Pooh and Tigger followed.
In each and every cavalcade, the characters waved to us, and interacted with us in many magical ways.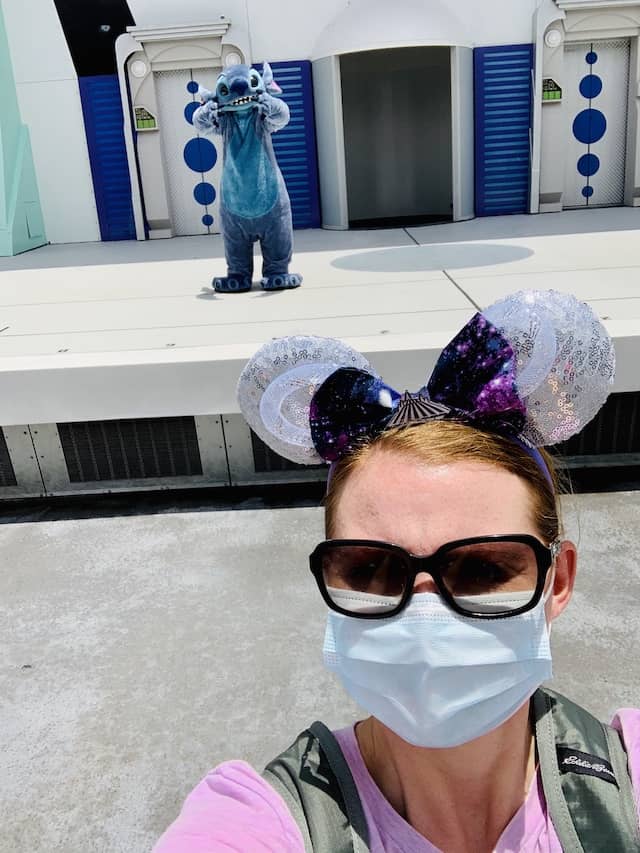 There are also several pop-up characters you might stumble upon as you explore Magic Kingdom. We spotted Anastaia and Drizella in Cinderella's Castle. They shouted insults at us for wearing matching clothing and Minnie ears and called us "the rodent family."
We also happened upon Captain Jack Sparrow, a few Country Bears, Buzz Lightyear, and Stitch. The pop up characters posed for socially distant pictures with us, which we had a blast taking.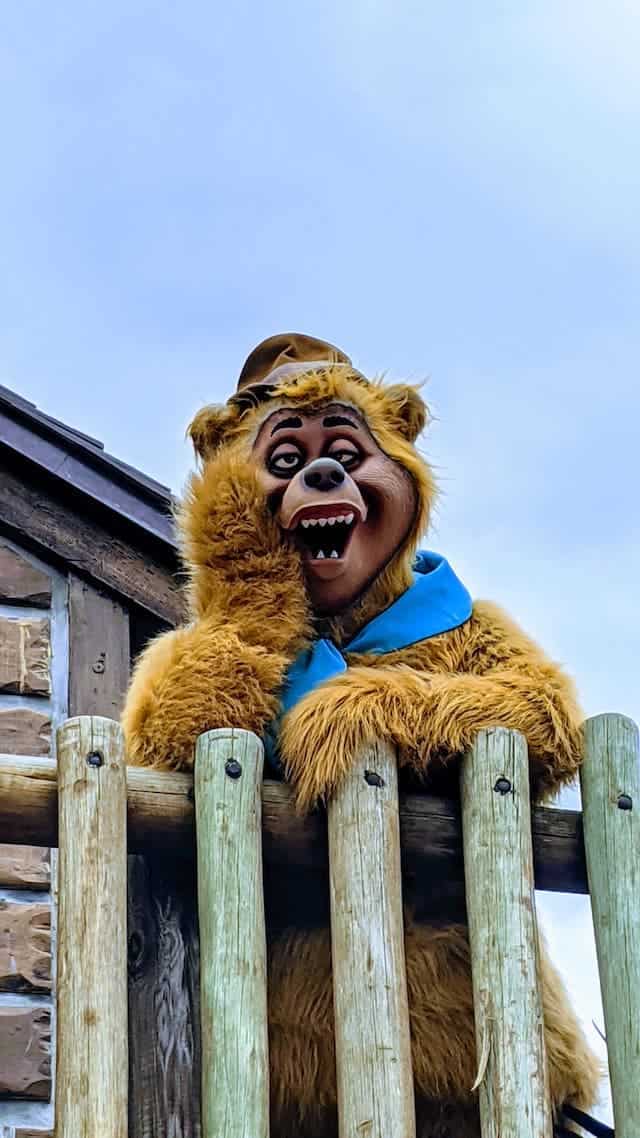 Pinocchio and Belle have also been spotted at Magic Kingdom in the weeks since reopening! You never know who you will find!
All in all, we still felt these character interactions were incredibly magical! Although we weren't "up close and personal" with the characters, the experience was still fun and interactive.
I personally love the surprise aspect of the cavalcades and pop up characters. I hope they are here to stay for the long run!
Dining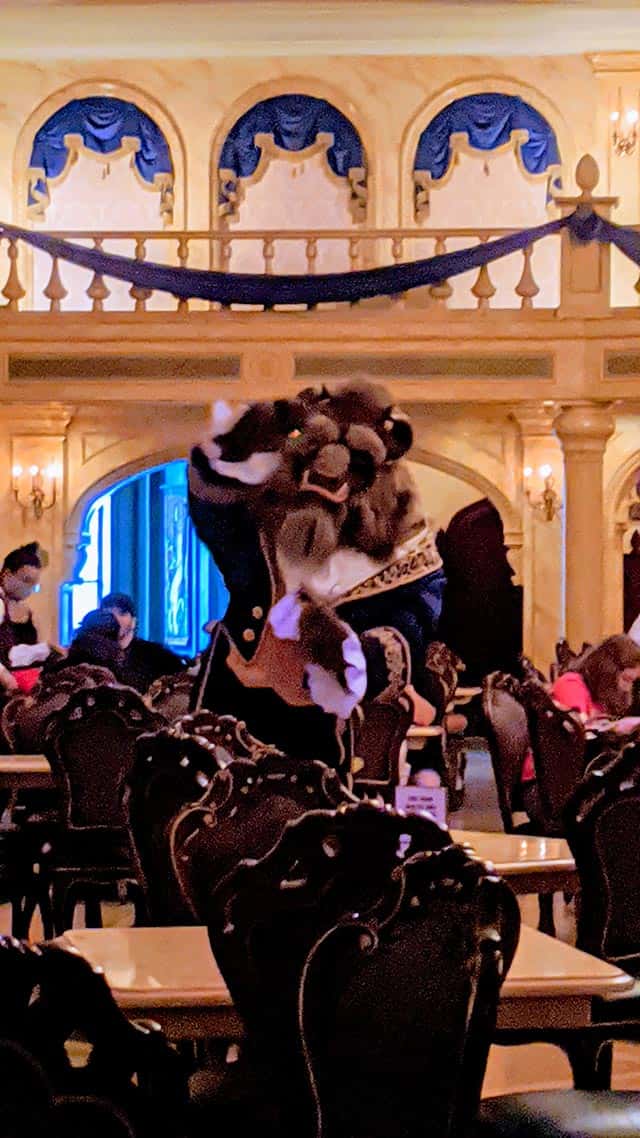 There are five table service restaurants open at Magic Kingdom. You can choose to sit down to dine at Be Our Guest (open for lunch and dinner only), Skipper Canteen, The Plaza, Tony's Town Square Restaurant, and Liberty Tree Tavern.
Quick-service locations that are open include Cosmic Ray's Starlight Cafe, Pecos Bill Cafe, and Pinocchio Village Haus.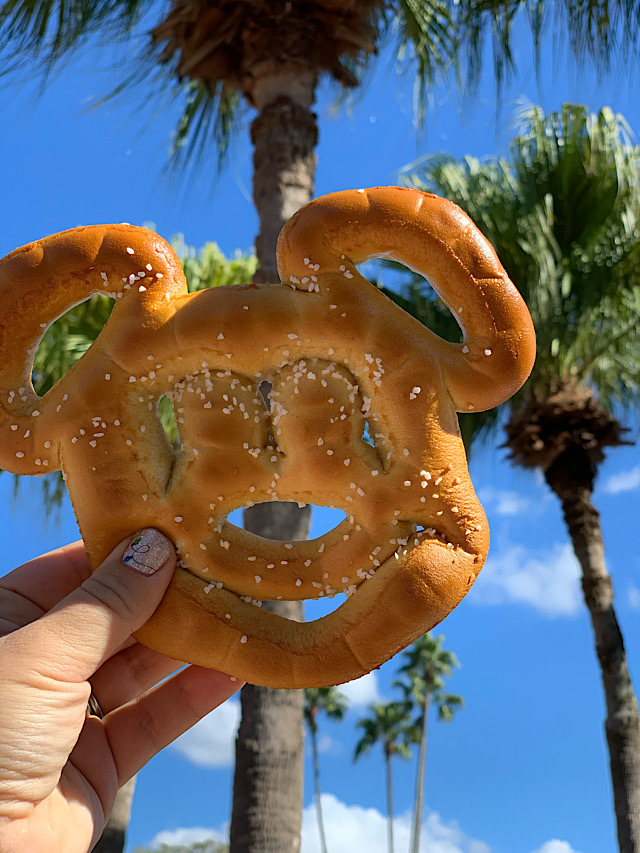 There are a variety of snack carts open as well, although not all are open.
Relaxation Stations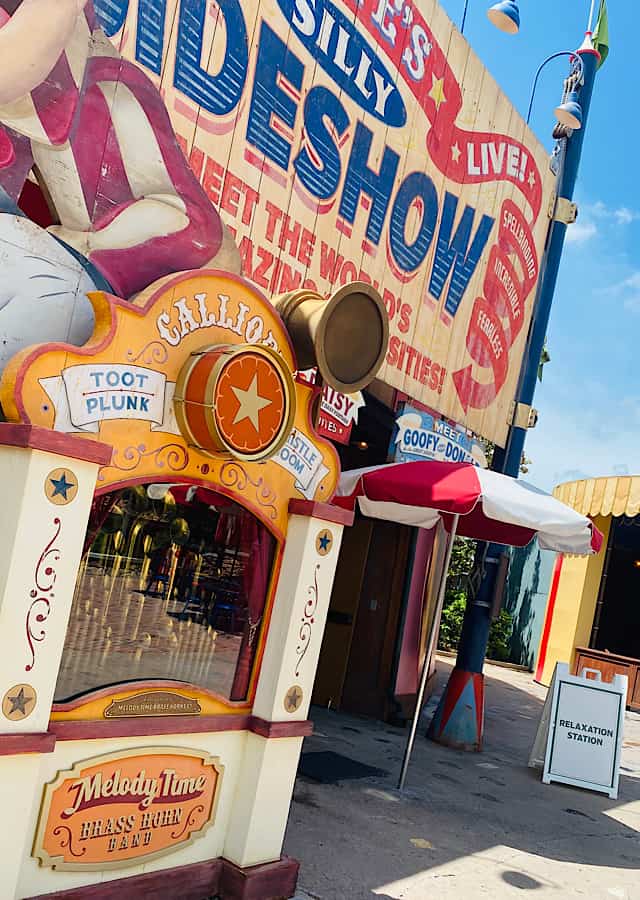 With the requirement that all Guests wear a face covering at all times (unless they are stationary and eating or drinking) comes the need to have "mask breaks."
Disney's solution to this is relaxation stations. These are designated areas where Guests can remain socially distanced from other parties and remove their masks.
Magic Kingdom has three relaxation stations located throughout the park.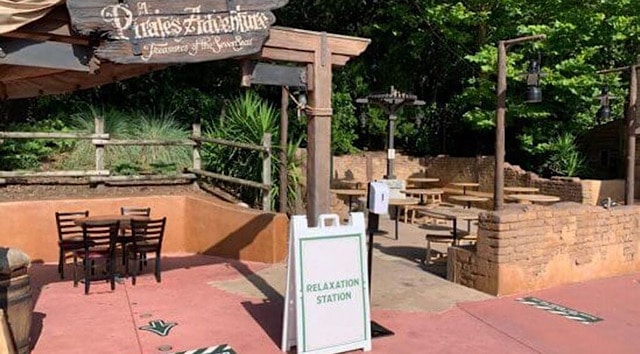 Between Frontierland and Adventureland, there is an outdoor relaxation station at Golden Oak Outpost.
The only indoor relaxation station inside Magic Kingdom is located at Pete's Silly Sideshow in Fantasyland.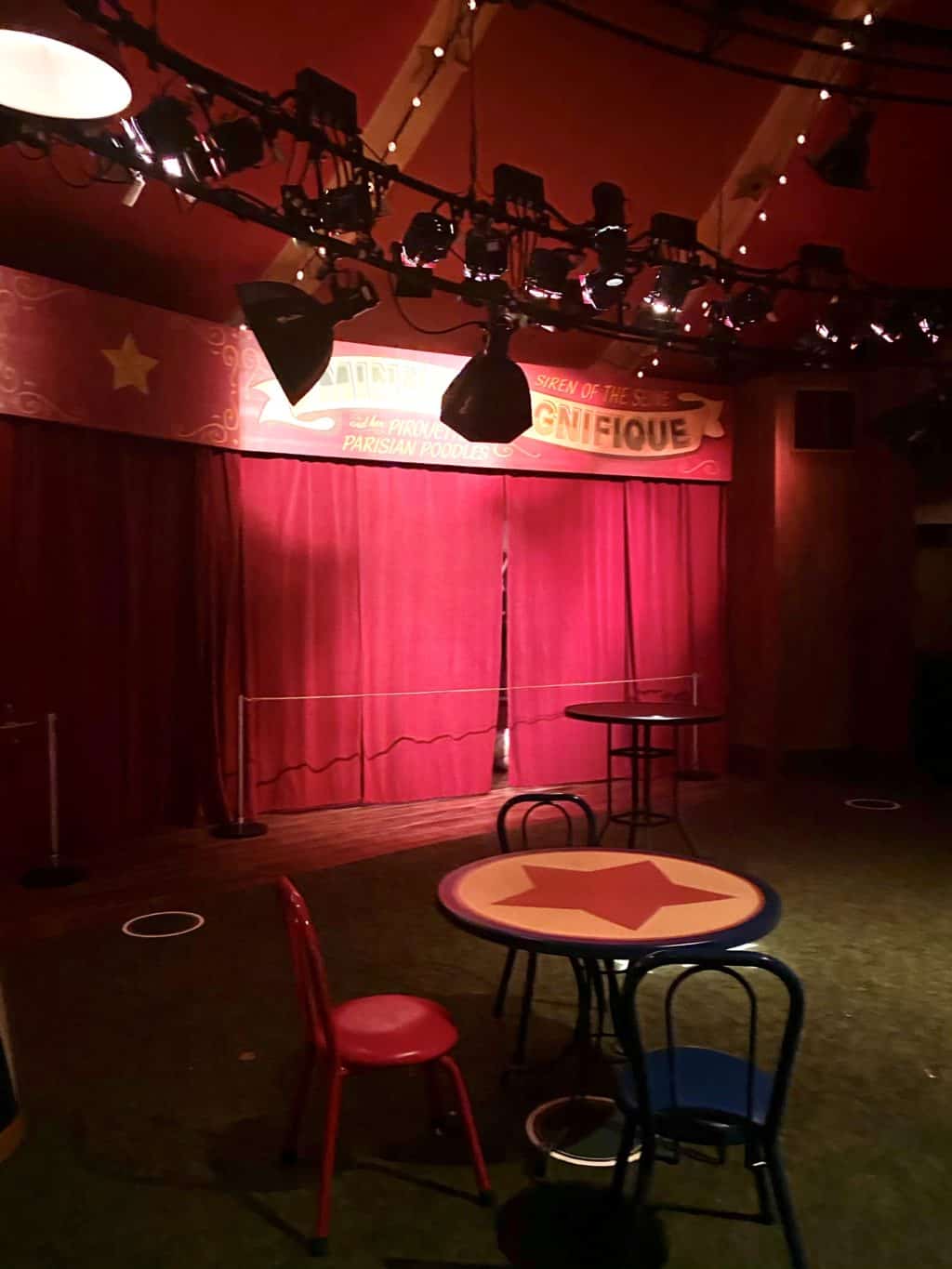 A third relaxation station is in Tomorrowland Terrace, which is also closed for dining. Tomorrowland Terrace is an open-air location so although there was a nice breeze, there was no air conditioning.
Wearing a mask in Disney World really wasn't so bad. However, we did feel the need to take advantage of having a break from them every once in awhile.
Entertainment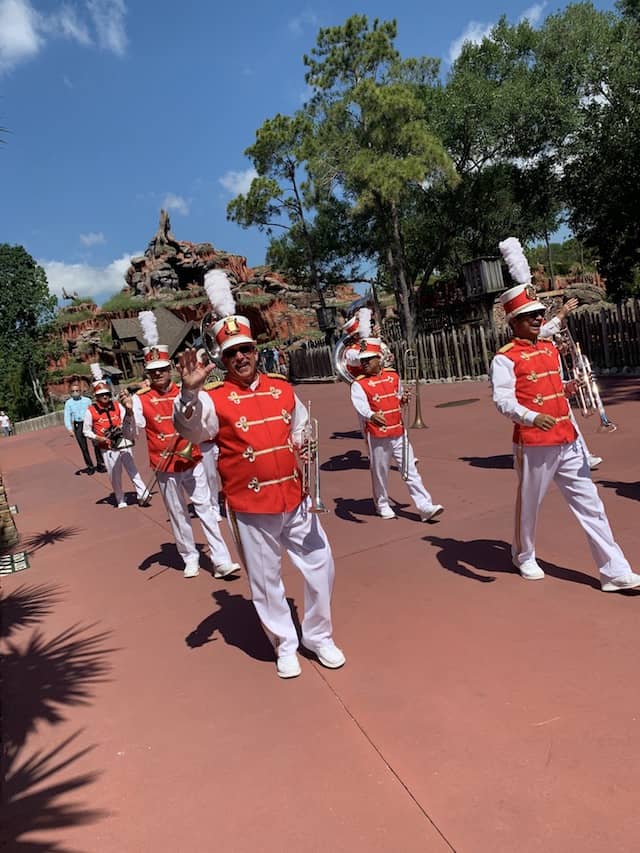 The Main Street Philharmonic is still available at Magic Kingdom to delight you! I just love to watch this marching band parade through Magic Kingdom, playing some fun songs!
Safety Measures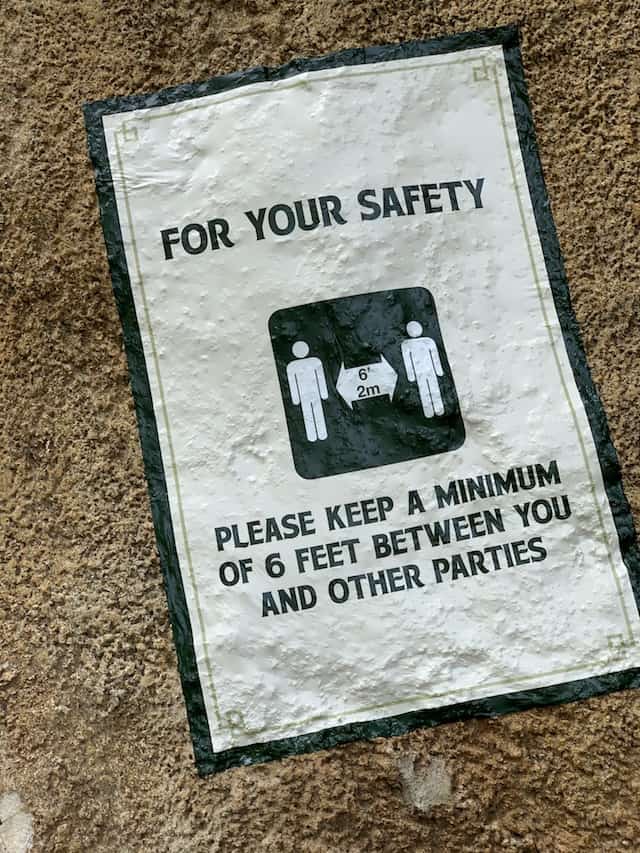 Magic Kingdom had several safety measures in place. Upon entering the park, the first thing we noticed was there was no longer a requirement to use the finger scan.
We also noticed floor markings wherever lines would form and in attraction queues that helped Guests to keep 6 feet of distance from each other.
Hand sanitizer and hand washing stations were set up throughout the parks, most notably at the entrance and exits to attractions, shops, and restaurants.
One of the safety measures I liked most was that most of the trash can lids were propped open. This means no more pushing on lid doors to throw trash away!
What's Missing?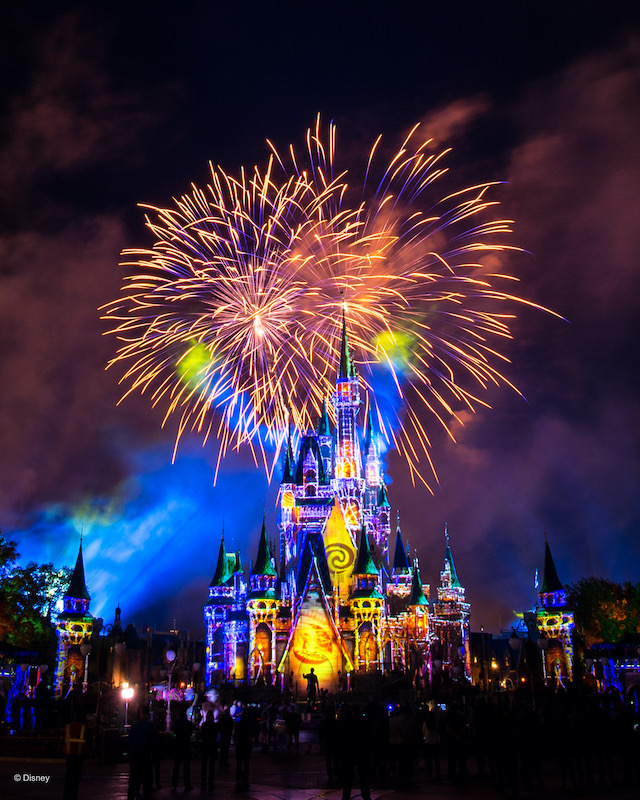 Although much of what we've come to love about Magic Kingdom is still available, there were several important components missing.
The only attraction that did not reopen with Magic Kingdom is Enchanted Tales with Belle. Although no reason for this has been given, we can assume it is because it is technically a character meet, with Guests interacting with Belle and helping her tell her story.
Not to mention the sharing of props would also present a problem, and it is hard to social distance from others in those tighter rooms.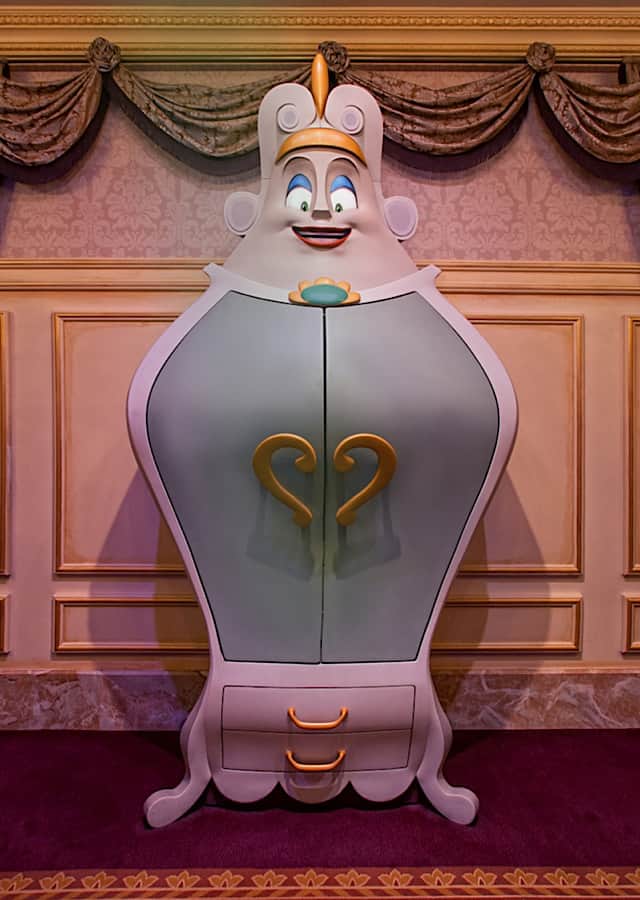 Several restaurants and shops did not reopen at Magic Kingdom. Although it did not negatively impact our experience very much, it is notable that there are fewer options for eating and shopping.
Entertainment offerings have definitely been impacted. One of my favorite entertainment offerings is not currently available, the Dapper Dans. For now, I guess I'll just have to listen to them harmonize from their homes. Hopefully, they will return soon now that their Union has approved it!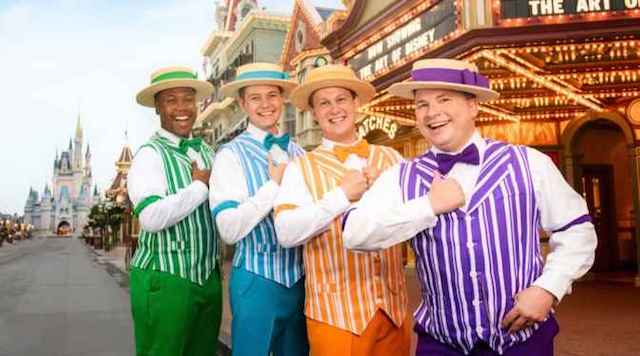 Most notably in entertainment restrictions, parades and fireworks have been temporarily discontinued, due to concerns with Guests maintaining social distance.
The cavalcades do help with the absence of parades. Although they are not the same, the characters, the singing, and the dancing do still have that special "parade feel" to them.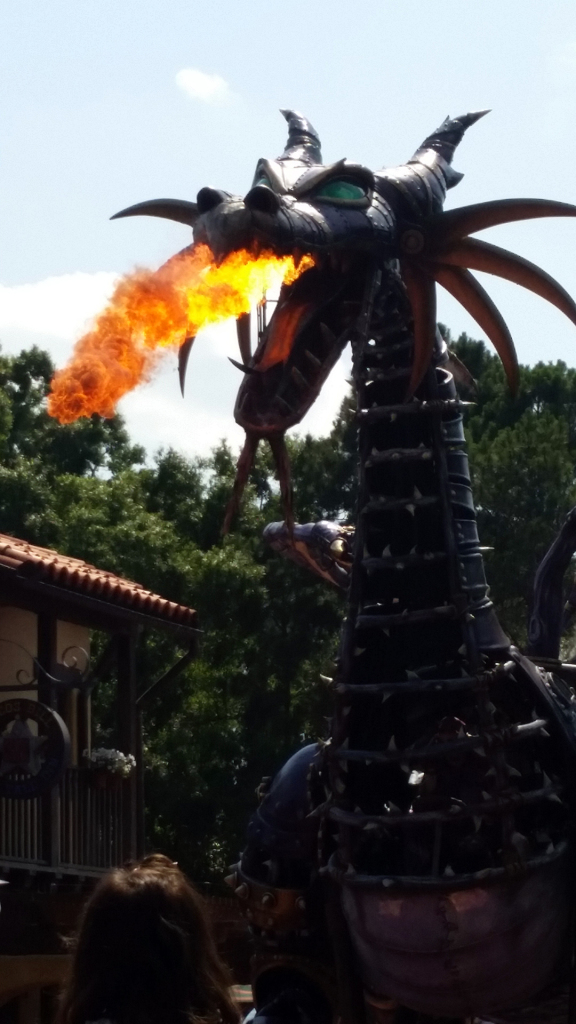 The best part? Since they randomly pop up, there is no need to stake out a spot to view them an hour in advance!
Unfortunately the absence of fireworks is very much felt at Magic Kingdom. If you are staying on property, you can view Happily Ever After each night from your resort tv.
Is Magic Kingdom Still Magical?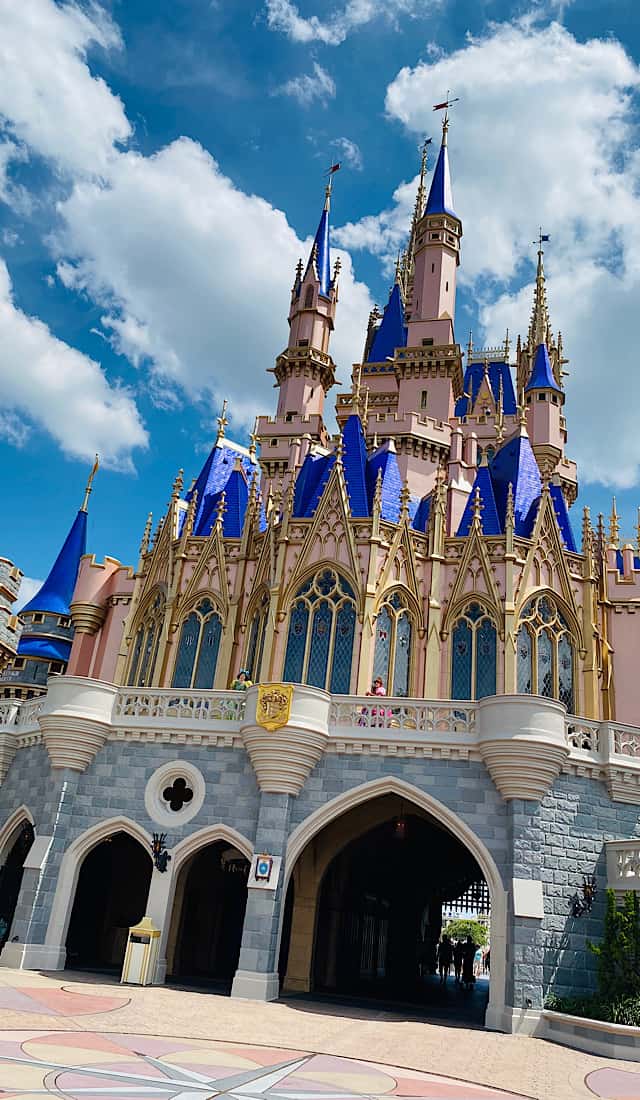 In a word, yes! The magic is still very much alive in Magic Kingdom.
In some ways, its even more magical than ever! The surprise element of the character cavalcades and pop up character interactions certainly add a bit of magic that hasn't been seen in Disney World in years!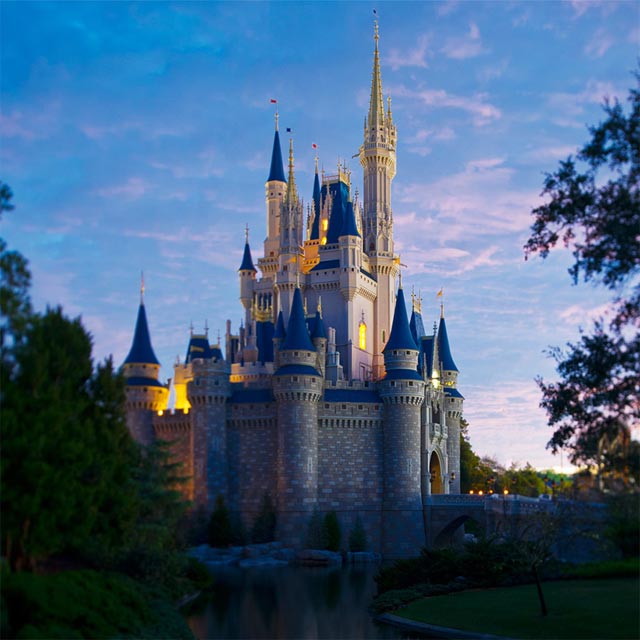 The attractions are still there, and the shorter wait times most definitely feel like a sprinkling of pixie dust.
The lower crowds give you the opportunity to slow down and appreciate everything this park has to offer. It was only in my recent visits that I had the opportunity to notice small details I had not ever stopped to take in.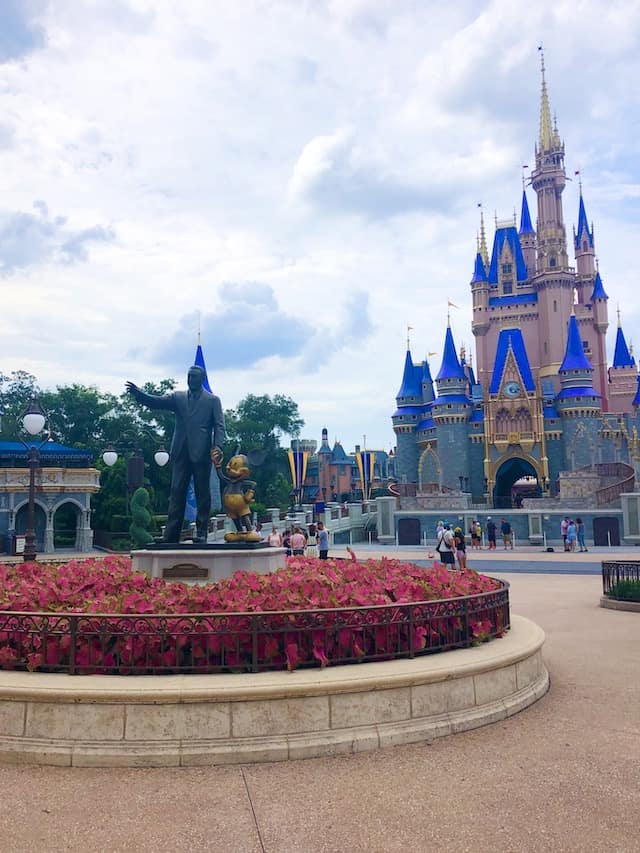 Magic Kingdom is still very much magical, just in a new way. The magic of the place we love is still there. It is waiting for you when you're ready to experience it again.
Your Guides to Touring Walt Disney World Now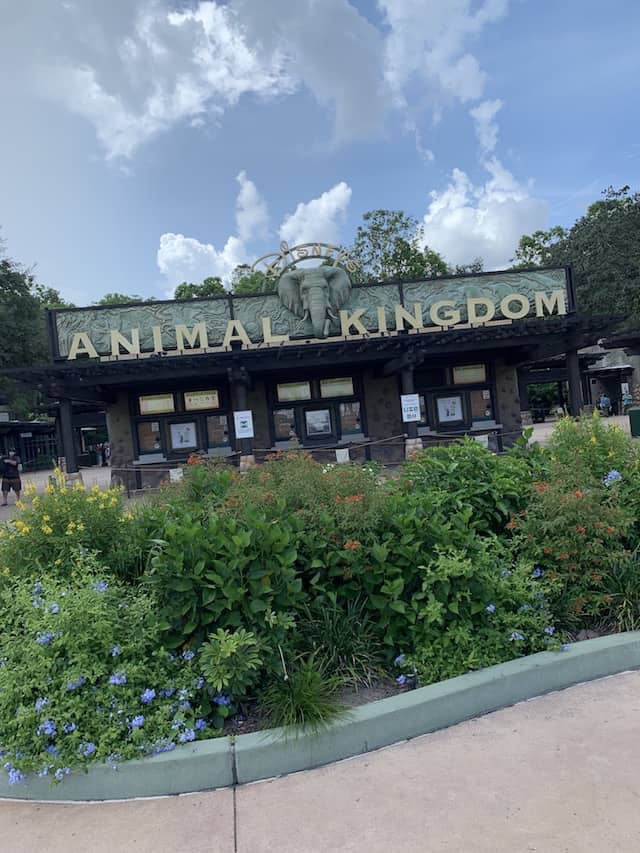 If you're wondering what the rest of Walt Disney World is like after reopening, we have guides for each of the parks for you!
Will you be visiting Magic Kingdom anytime soon? Let us know on Kenny the Pirate's Facebook Page, or join our crew and continue the discussion!