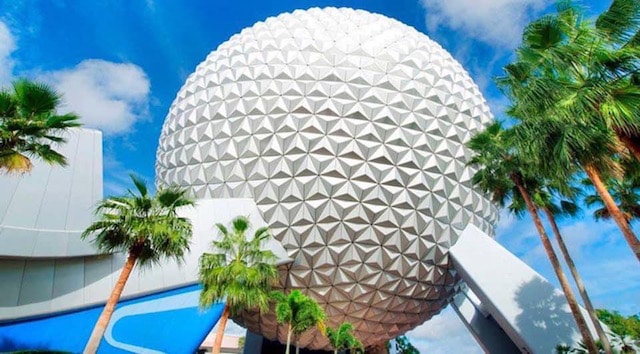 In this article you will find full details on what a safe and social distant Epcot looks like, where to find characters and relaxation stations and available dining and shopping.
Arrival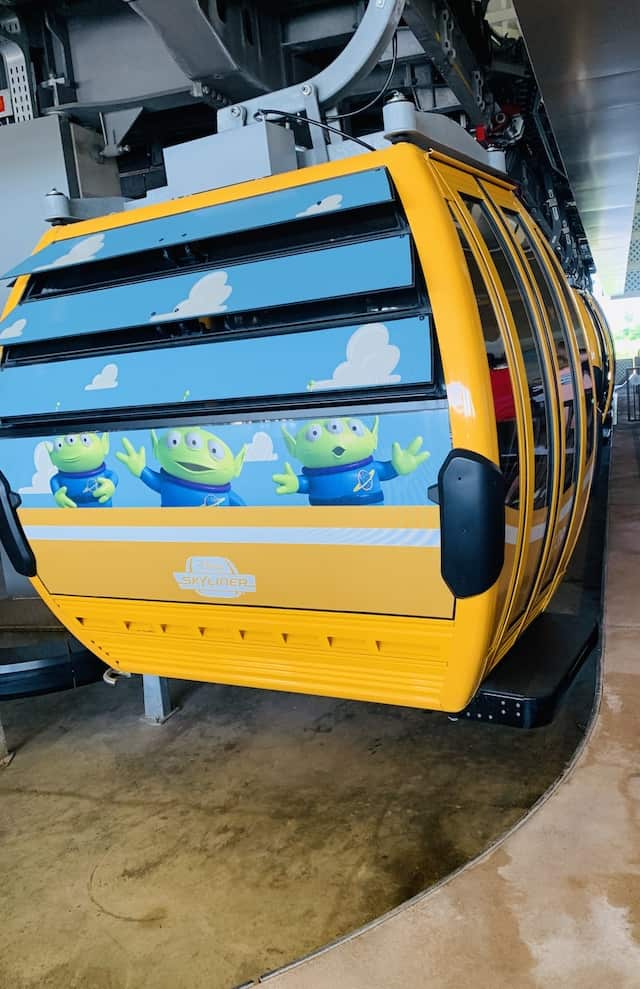 We rode the Skyliner to Epcot from Pop Century and arrived at the International Gateway entrance around 10:20AM.
The ground was clearly marked with social distancing stickers saying 'Please Wait Here' as we waited for the few people ahead of us at temperature screening and the touchless bag check.
Attractions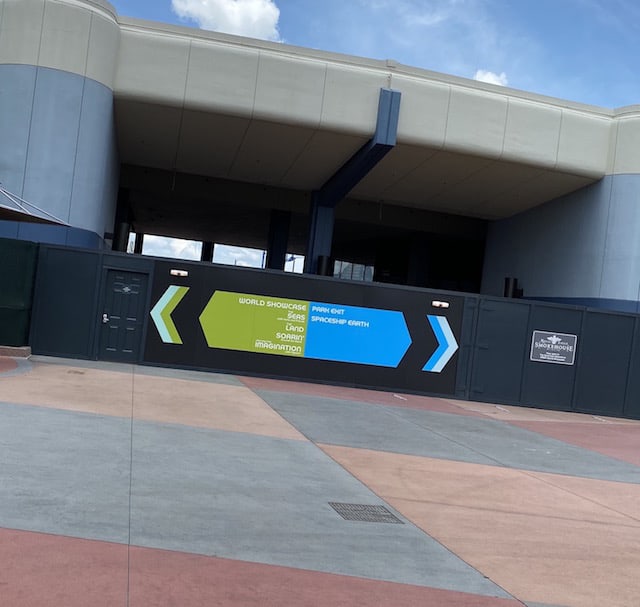 Despite the never ending construction walls, most rides and shows are open to visitors.
In Future World we were able to enjoy our favorite ride, Soarin' Around the World. The queue is clearly marked with social distancing stickers and large circle dots for each party to wait on prior to boarding. On the ride there are plastic dividers placed on what appear to be booster seats to separate each party of guests.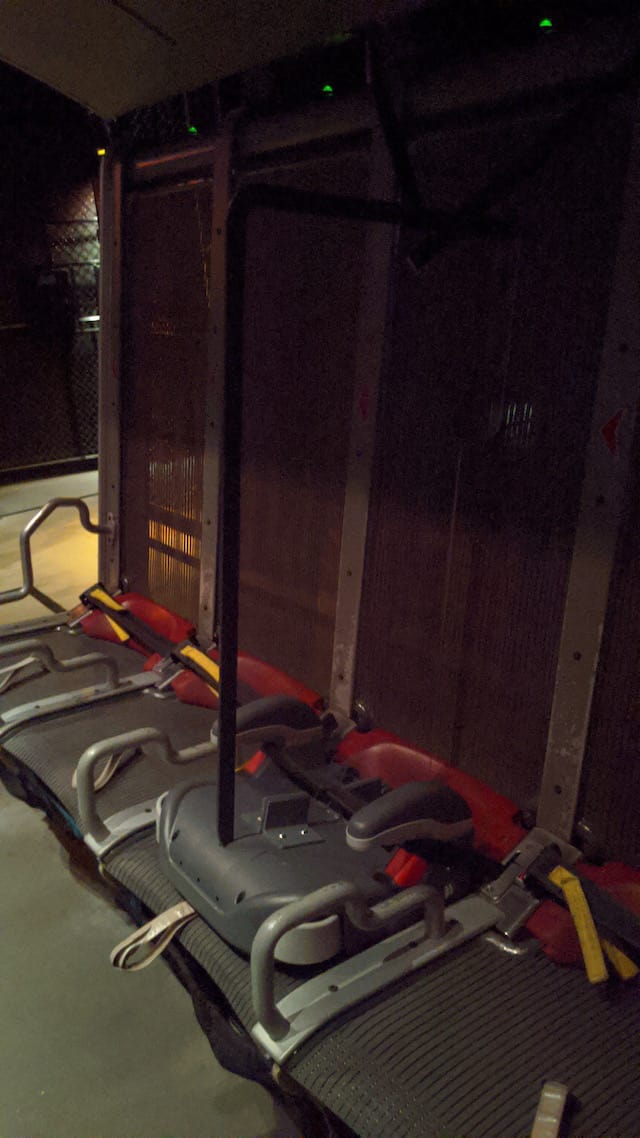 Before leaving the The Land Pavilion, I took a ride on Living with the Land. This boat tour transports guest into a giant greenhouse and shows firsthand how Walt Disney World horticulturists are using innovative growing techniques and cross-breeding crops to help feed the planet.
Hanging plastic dividers have been installed on the boats. You can read about the new safety measures on Living with the Land HERE.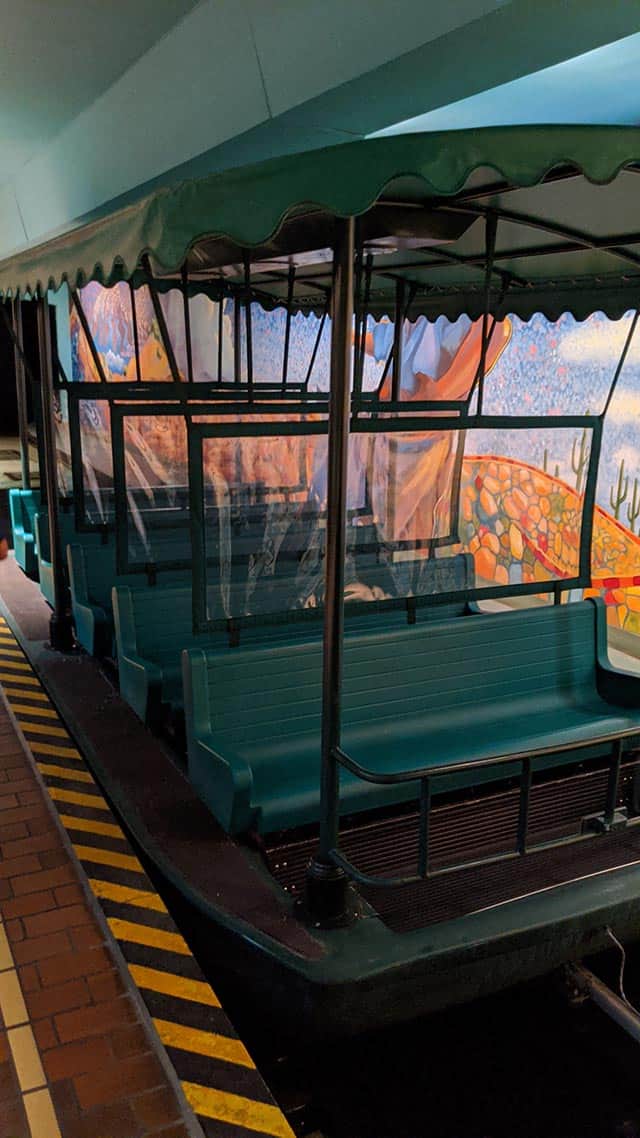 Spaceship Earth was originally scheduled to close for refurbishment at the end of May 2020, so I was happy to see it on the list of attractions that would be open and looked forward to one last nostalgic ride to see the Phoenicians.
However, it appears that Spaceship Earth will be with us a little longer than planned. The reimagined Spaceship Earth has been removed from The Epcot Experience.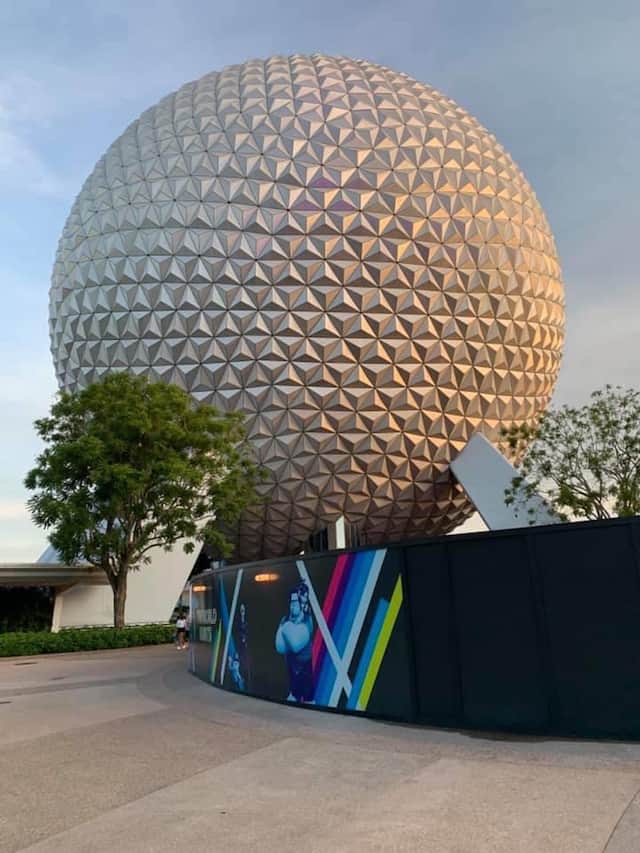 The Epcot Experience is an immersive 360-degree film that showcases the future transformation of Epcot and features snapshots of upcoming experiences.
You can read about the removal of the Spaceship Earth refurbishment and another future attraction we are sad to see missing from the updated The Epcot Experience HERE.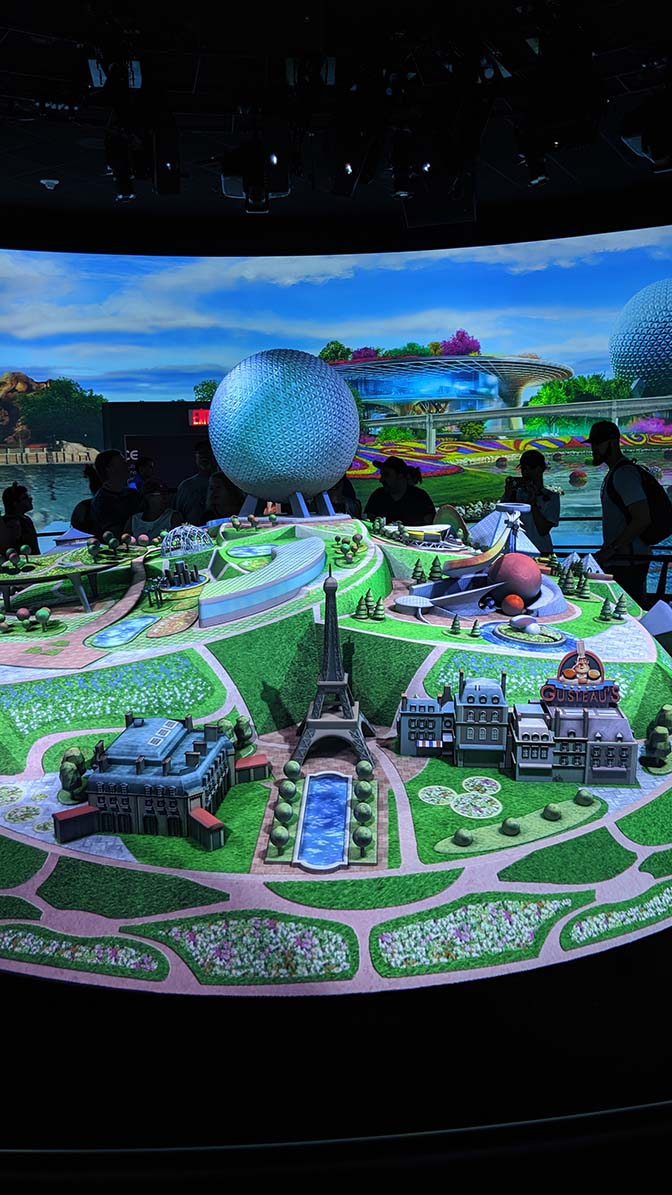 Test Track also has a few changes as well.
The interactive screens to build your own vehicle were not operating. Each ride party is given their own vehicle, meaning if you are a party of one, you get the whole car to yourself. There is no longer a single rider line available for the attraction.
Both Journey Into Imagination with Figment and The Seas with Nemo and Friends had no wait to ride even with social distancing stickers in their queues. The Cast Members were leaving an empty clamshell in between each party on the Seas with Nemo and Friends.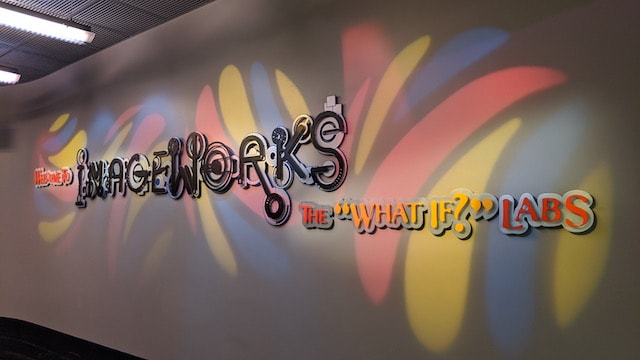 Most of the high touch interactive 'What If' Labs that are located at the end of Journey Into Imagination with Figment in the Imageworks building were closed to guests.
As we traveled World Showcase we stopped in Mexico to take a ride on Gran Fiesta Tour Starring The Three Caballeros. There is limited space to distance the line for this ride so Disney has installed plexiglass in this queue to protect guests. Guests are distanced and only seated in the first and last rows of the boat.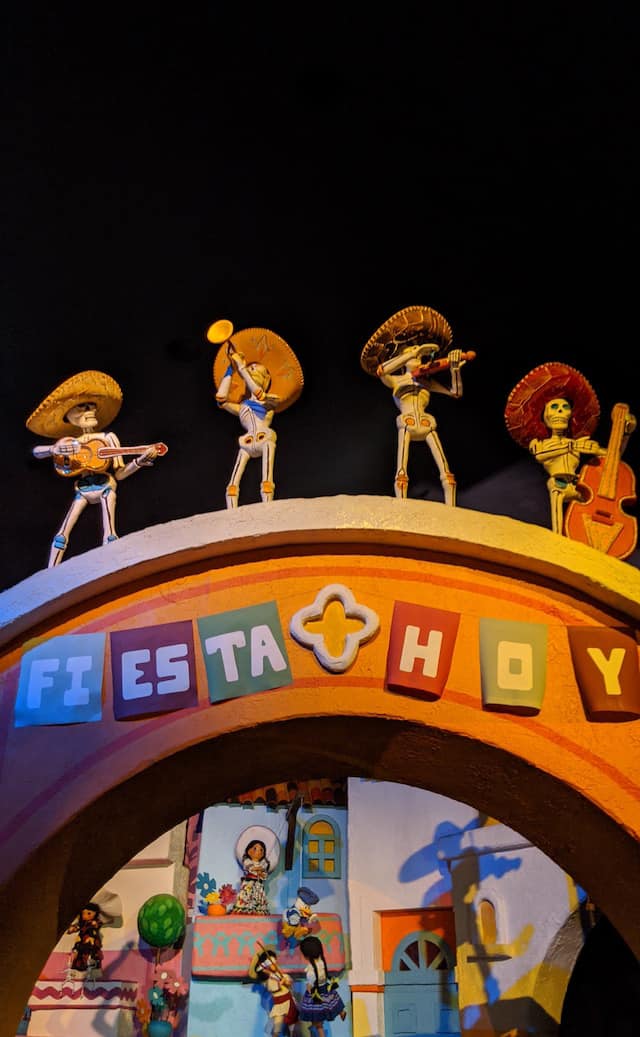 On Frozen Ever After, plexiglass dividers have been installed so more Guests can fit in a boat.
Throughout the day the line can get backed up, but this is due to limited space to social distance inside the queue and it moves fairly quickly.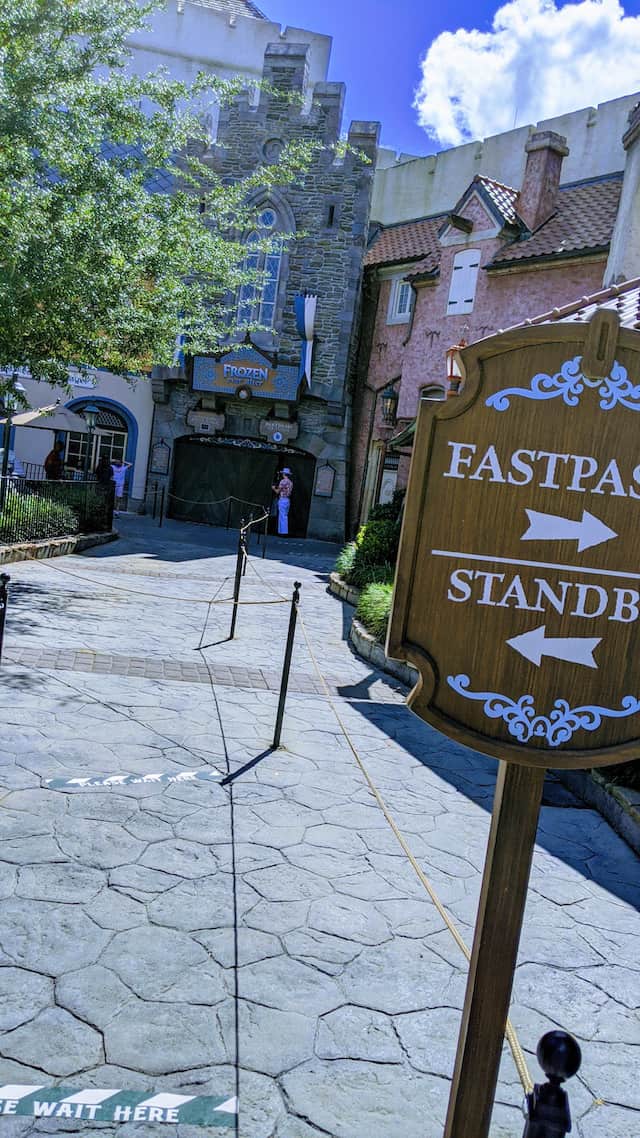 As you travel around the World Showcase, you will find socially distanced presentations of Canada Far and Wide, Impressions de France, Reflections of China and The American Adventure.
Many rows and chairs are closed throughout the theaters to keep each party distanced from one another.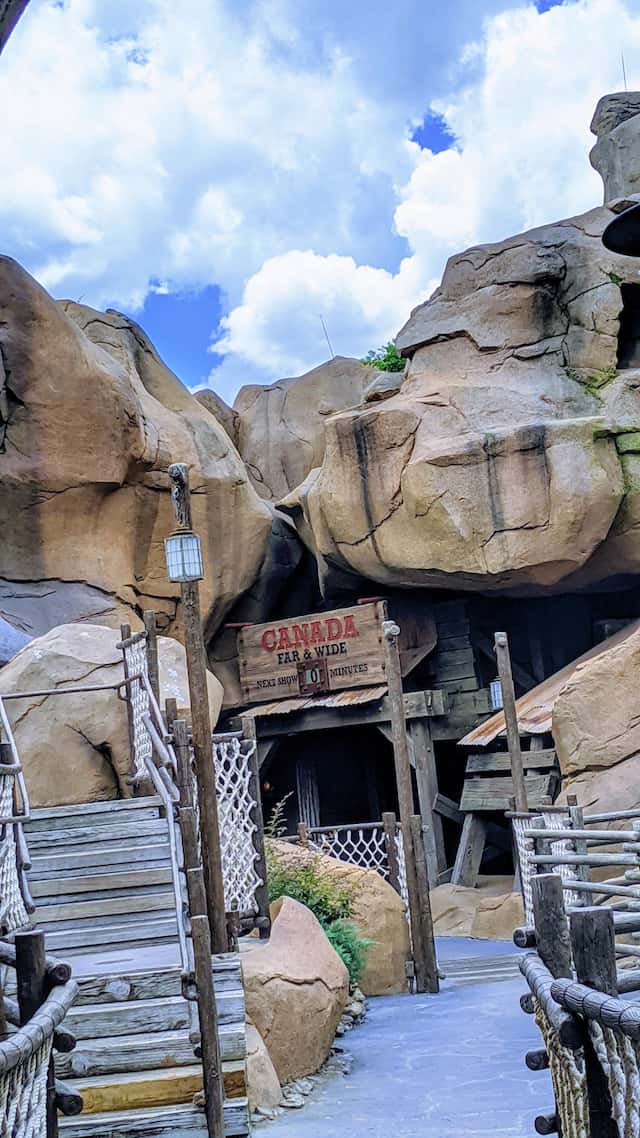 For a full list of open rides, attractions and times, make sure you visit the Epcot tab on Character Locator.
World Showcase
One of the amazing things about visiting The World Showcase is that it is usually full of authentic Cast Members from around the world but now it feels much different.
I saw a few Cast Members from France and another from Canada but overall there were very few Cultural Representatives around the World Showcase.
Last summer we shared the unfortunate news that the Epcot World Showcase may reopen without Cultural Representatives. 
The Cultural Representative Program plays a huge role in creating an immersive experience at Epcot.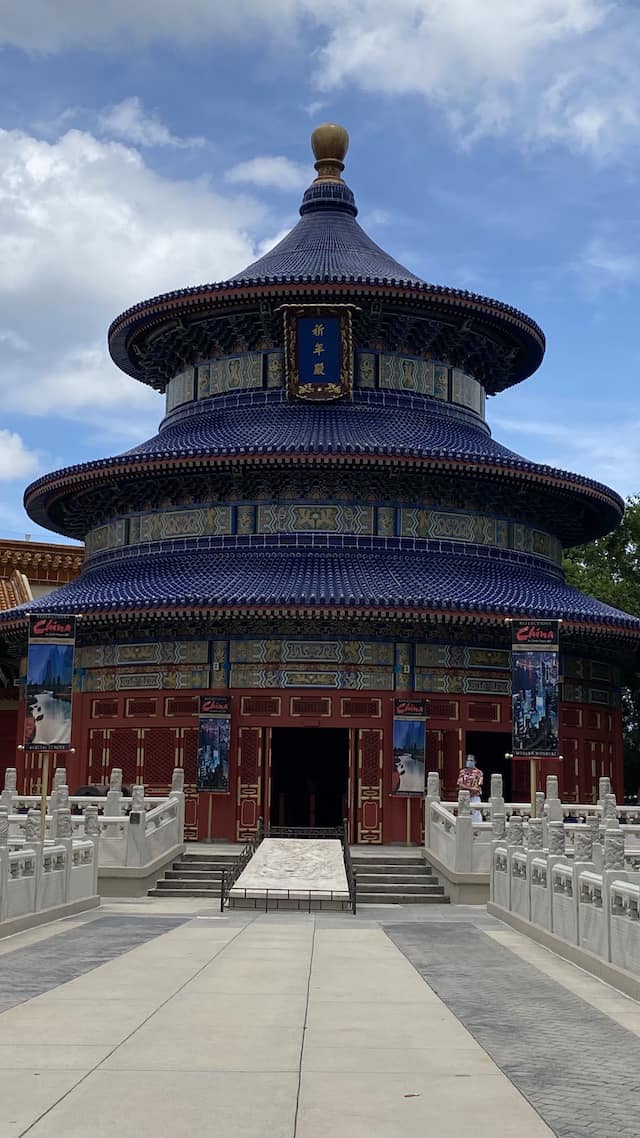 I always use Character Locator to find menus and maps to navigate my way around whichever festival is taking place during my visit.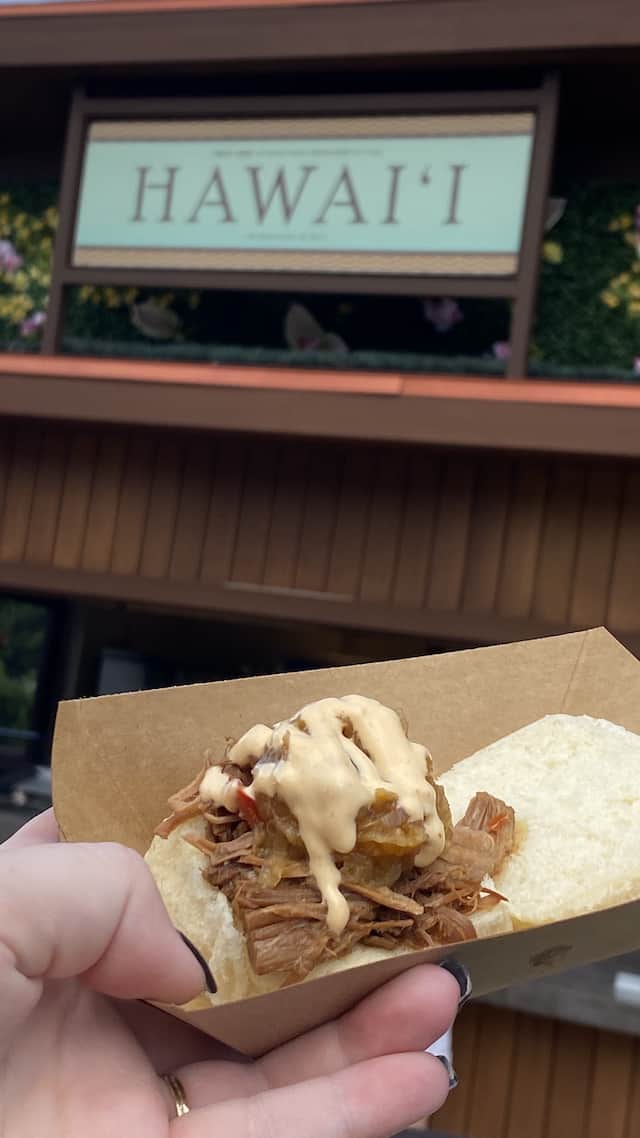 The festivals are now a bit smaller and modified, with less entertainment options.
Although Epcot has not officially released an opening date for Remy's Ratatouille Adventure, we are getting closer to an opening!
Relaxation Stations
There are three official Relaxation Stations located in Epcot.
While traveling the World Showcase, you can take a rest break at the Relaxation Station near the United Kingdom Pavilion. There are both seated and standing tables available. All of the seated tables have umbrellas to provide guests a shaded rest area.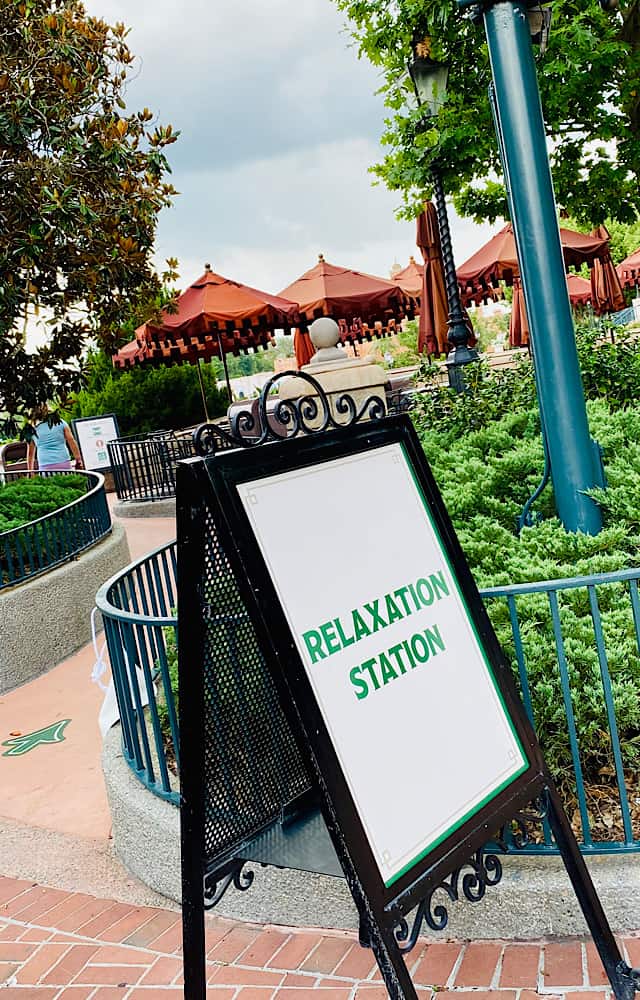 The second outdoor location offers standing only tables in Future World near Test Track and Mission: SPACE. There are umbrellas covering each table to provide guests a little reprieve from the heat while taking a mask free break.
Epcot's only indoor Relaxation Station is found inside Akershus at the Norway Pavilion. It provides a large space for guests to sit down, spread out and cool off.
If you are not in a Relaxation Station, you can only take your mask off to eat or drink when stationary and maintaining proper physical distancing. There are some stand up tables socially distanced near each of the Food and Wine Festival booths.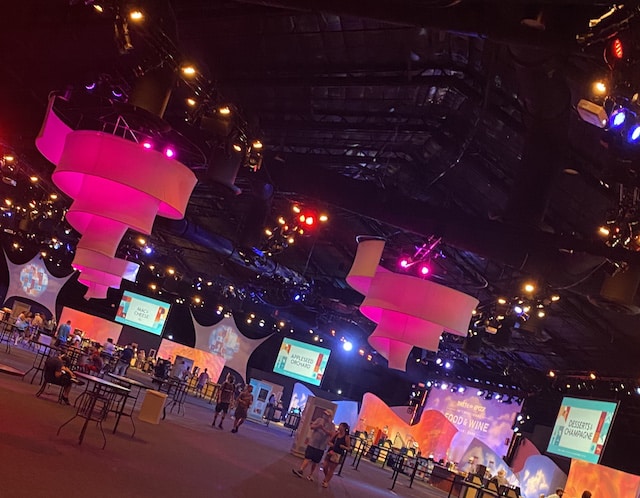 Check out our Complete Guide to Walt Disney World Relaxation Stations for details and photographs from Relaxation Stations across all four Disney World Parks.
Characters
Three different Character Cavalcades travel around Epcot's World Showcase randomly.
In the Mickey & Friends World Tour, Goofy and Pluto walk ahead of a postage stamp decorated Rolls Royce convertible holding our beloved world travelers Mickey and Minnie.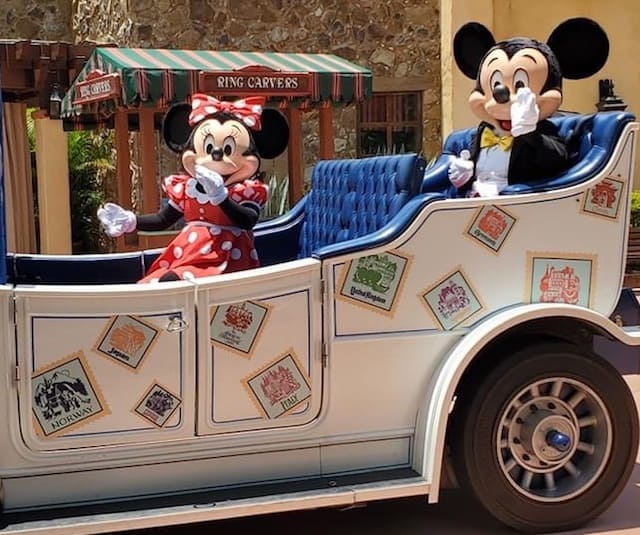 Princesses Aurora, Belle, Jasmine, and Snow White travel the world in a horse drawn carriage in the Princess Promenade.
Each Princess sat on different sides of the trolley and partitions were installed to separate the seating.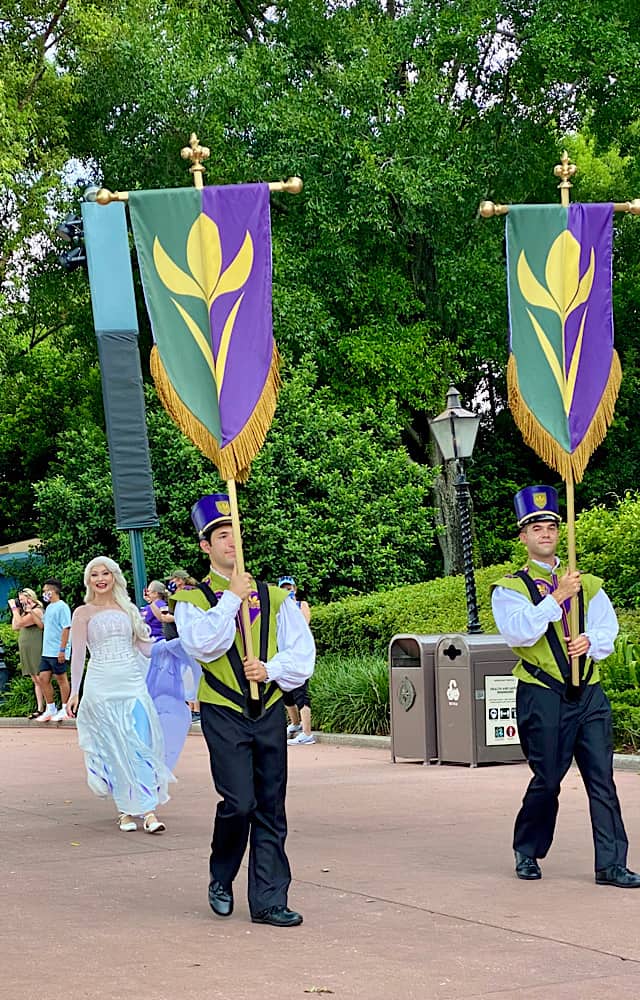 The Frozen Promenade features our favorite sisters Anna and Elsa.
Anna waves to guests from a horse drawn carriage while Elsa greets her fans on foot wearing her white dress from Frozen II as they travel the World Showcase.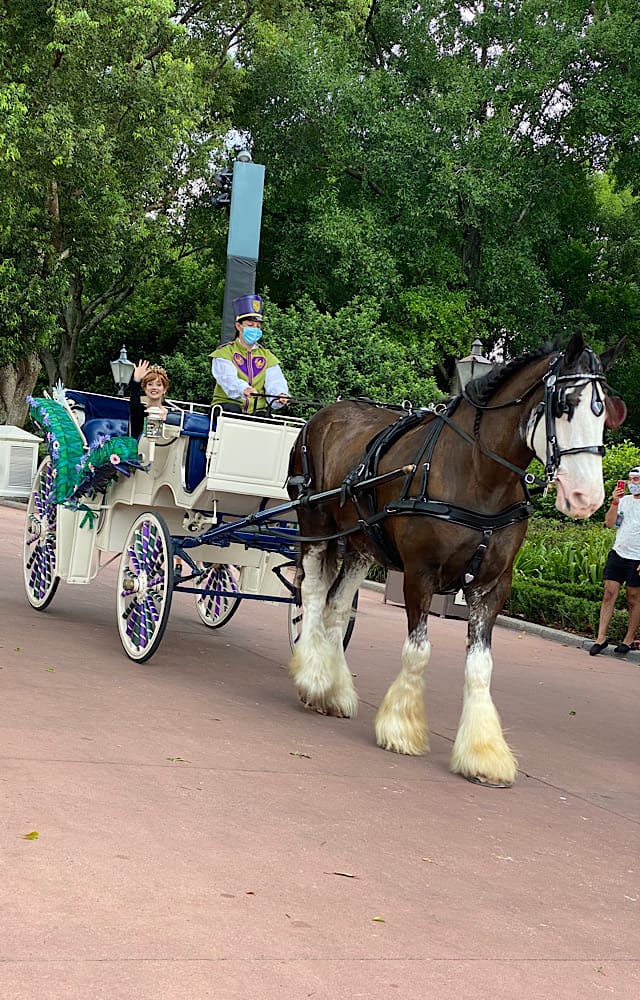 YOU CAN STILL USE MANY OF THE GREAT TIPS ON CHARACTER LOCATOR TO INTERACT with CHARACTERS THAT POP UP IN EPCOT.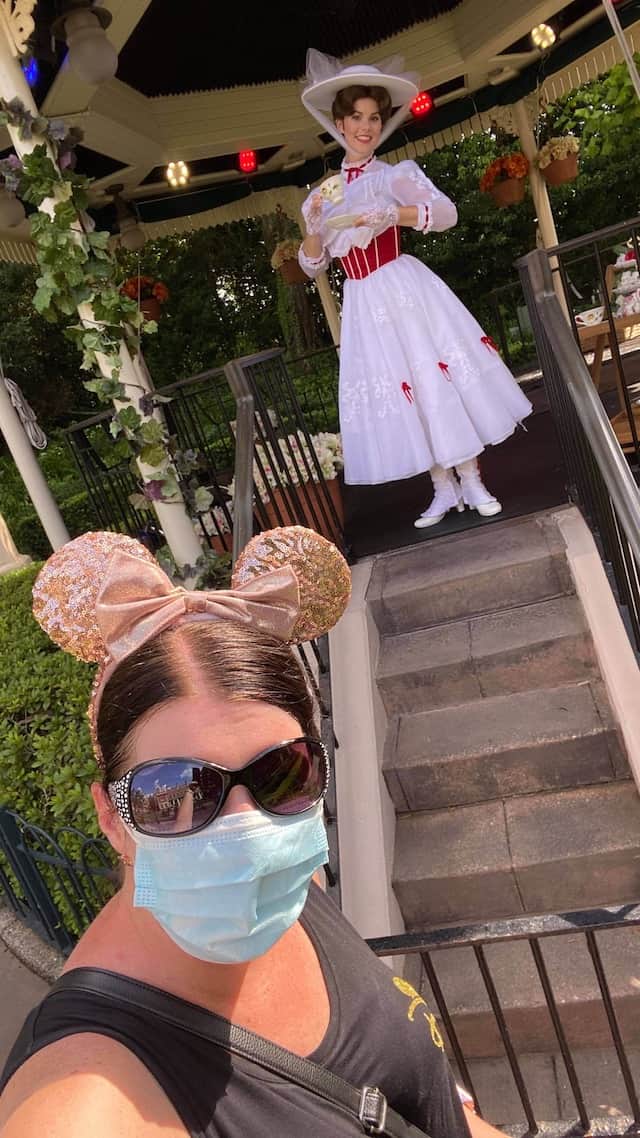 I was able to take a photo from a distance with Mary Poppins as she greeted guests in the UK Pavilion while enjoying a nice cup of tea.
Guests can also find fun characters near the Imagination Pavilion as Winnie the Pooh and Joy, from Inside Out, have been seen playing in the grass.
Make sure you subscribe to Character Locator for insider tips on where to find characters in all four parks!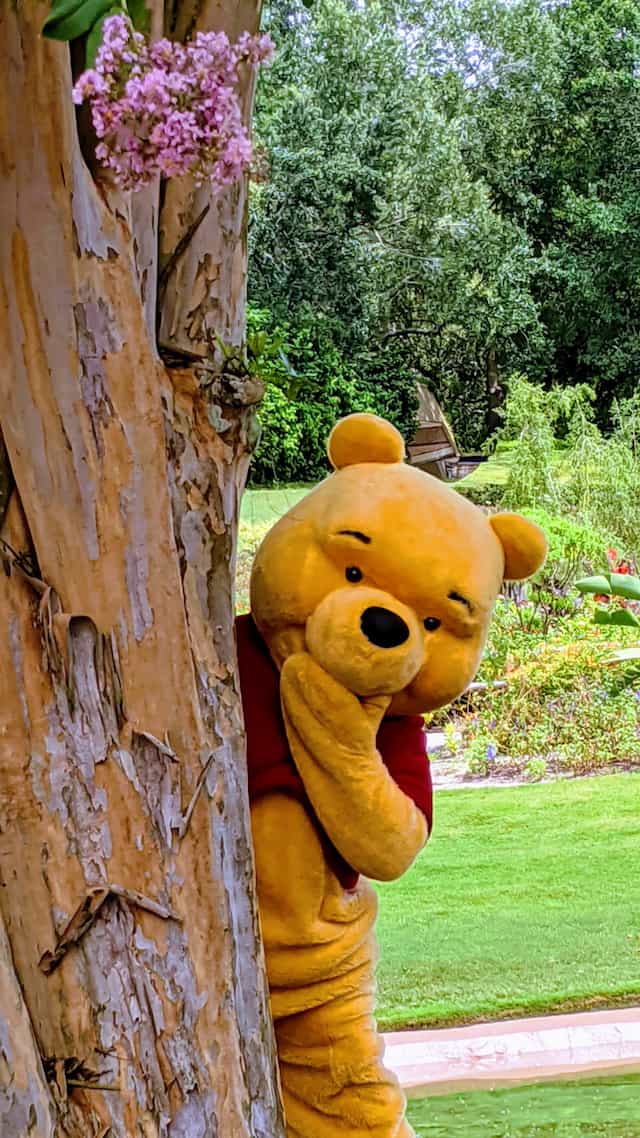 Entertainment
Live performers around the World Showcase are what makes Epcot so authentic and unique. On prior Epcot visits, my family loved to watch the Matsuriza in Japan and hear the Voices of Liberty sing. It felt like there was live entertainment everywhere you turned in the World Showcase.
After reopening, you can still find some entertainment. However, it is mostly festival-specific.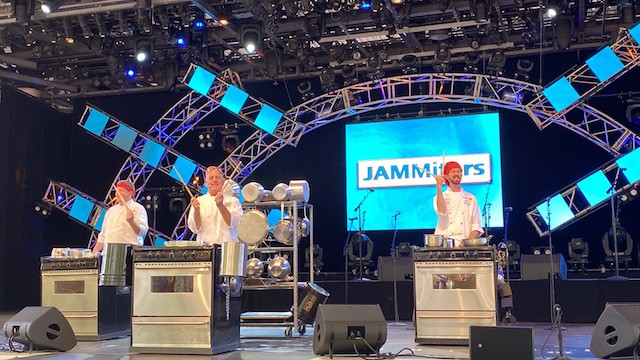 The benches at the American Gardens Stage are clearly marked with social distancing stickers.
There are also several closed rows to distance guests.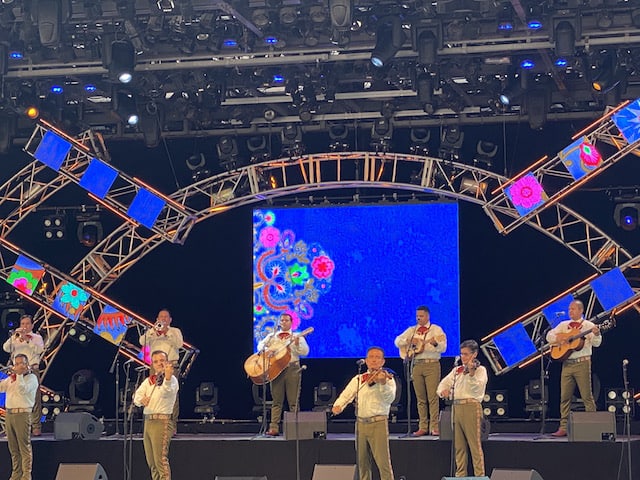 If you are lucky, you may also find Carol from the Rose and Crown playing piano at the UK Pavilion Gazebo – make sure to check Character Locator for her schedule.
Dining
Many of Epcot's 50+ dining locations remain closed, but you won't go hungry! There are still plenty of options to please every taste palate. Be sure to check your Character Locator app for the most updated menus and hours especially during this phased reopening.
Mickey, Pluto, Chip and Dale are ready to greet guests for lunch or dinner at Garden Grill. Our very own Kenny the Pirate recently enjoyed a meal here and you can read his detailed review HERE.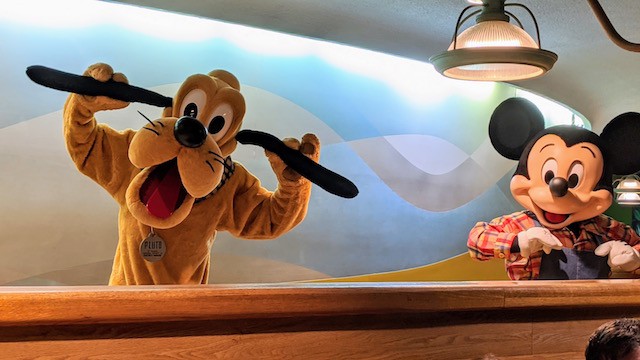 This is one of a few socially distanced character dining experiences that are currently open to guests. Another is just a Skyliner ride away from Epcot at Topolino's Terrace in the beautiful Riviera Resort.
In addition to Garden Grill, you can also make a reservation for a table service meal at:
Biergarten Restaurant
Coral Reef Restaurant
La Hacienda de San Angel (Dinner only)
Le Cellier Steakhouse
Rose & Crown Dining Room (Dinner only)
San Angel Inn Restaurante (Dinner only)
Spice Road Table
Tutto Italia (Dinner only)
Via Napoli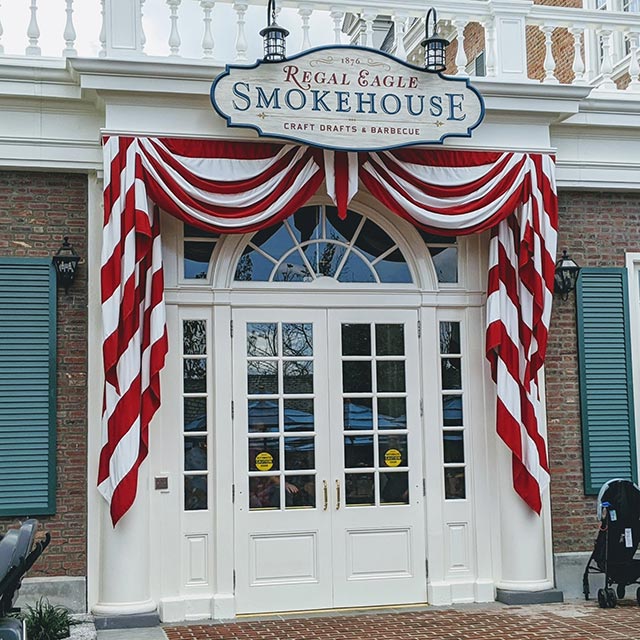 Regal Eagle Smokehouse: Craft Drafts & Barbecue, located near America in the World Showcase, and Sunshine Seasons, located in the Land Pavilion, are the only Quick Service Locations in Epcot that offer mobile ordering.
Additional Quick Service locations that are open include:
Katsura Grill
La Cantina de San Angel
La Cava de Tequila
Les Halles Boulangerie-Patisserie
Rose & Crown Pub
Tangierine Café
Tutto Gusto Wine Cellar
Shopping
Shopping around the world is almost as fun as snacking around the world at Epcot, but there are limited shopping locations open right now.
Every retail location is clearly marked with social distancing floor stickers, and if there are too many shoppers to maintain safe social distancing, you are asked to wait outside or join a virtual shopping queue.
Mouse Gear has moved to it's new temporary location at Innovations East and is about half the size of the original but there is still plenty of Disney merchandise to choose from.
Final Thoughts
Epcot has always been one of my favorite parks as an adult, and it was still magical during this visit.
The Character Cavalcades are amazing addition, and I hope they stay. Also, I enjoyed the pop up characters throughout the park.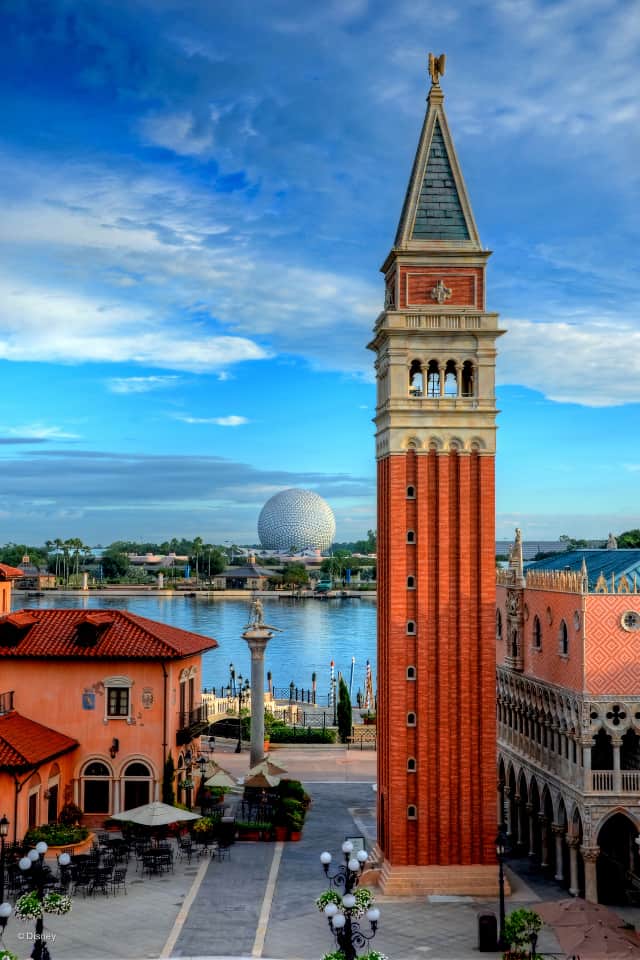 Of the four parks I visited, it definitely felt the most different though, part of that is due to all of the construction in Future World and the other part is because I miss the Cultural Representative Cast Members and talented entertainers in World Showcase.
Have you had a chance to explore Epcot since it reopened mid July? Do you have a future trip planned? We would love to hear your thoughts in the comments, on the Kenny the Pirate Facebook page or in our KtP crew page too!
Jess Watkins