Have you been to Kona Cafe since its reimagining and reopening? Here is a review of the latest breakfast, lunch, and dinner menu!
Kona Cafe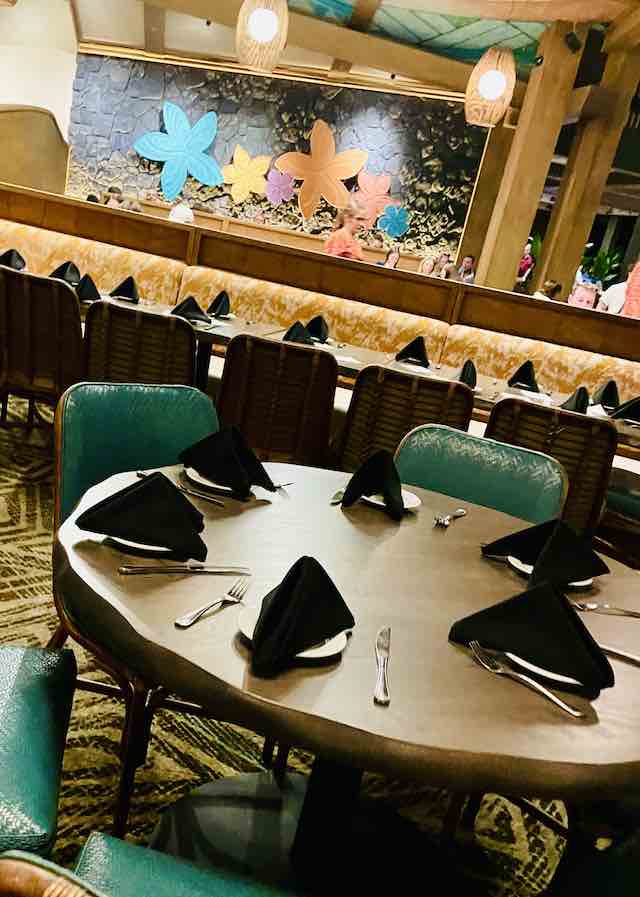 Often when you read about dining in Walt Disney World, you read about premium experiences such as dinner inside of Cinderella Castle or atop the Contemporary with a view of the Magic Kingdom fireworks. You might read about character meals or dining in outer space.
But, sometimes you don't want to have to fight the ADR battle. Sometimes, all you want is something that is reliably good and easily accessible. This is a niche that restaurants like Kona Cafe fill.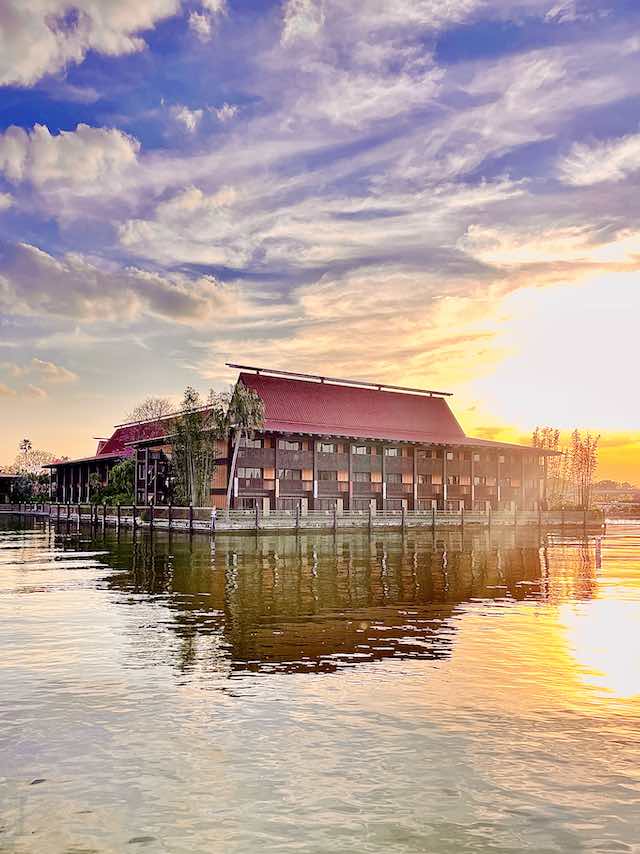 Kona Cafe is a table service restaurant at Disney's Polynesian Villiage Resort. You will find it inside the Great Ceremonial House, which is where you will also find 'Oahana and Capt. Cooks. It serves meals during breakfast, lunch, and dinner. It is most renowned for its breakfast menu, but lunch and dinner are nothing to overlook!
When Kona recently went through a period of reimagining and refurbishment, fans were a bit worried about the fate of some of their favorite items. However, many popular dishes solidified a permanent place on the menu!
Getting to Kona Cafe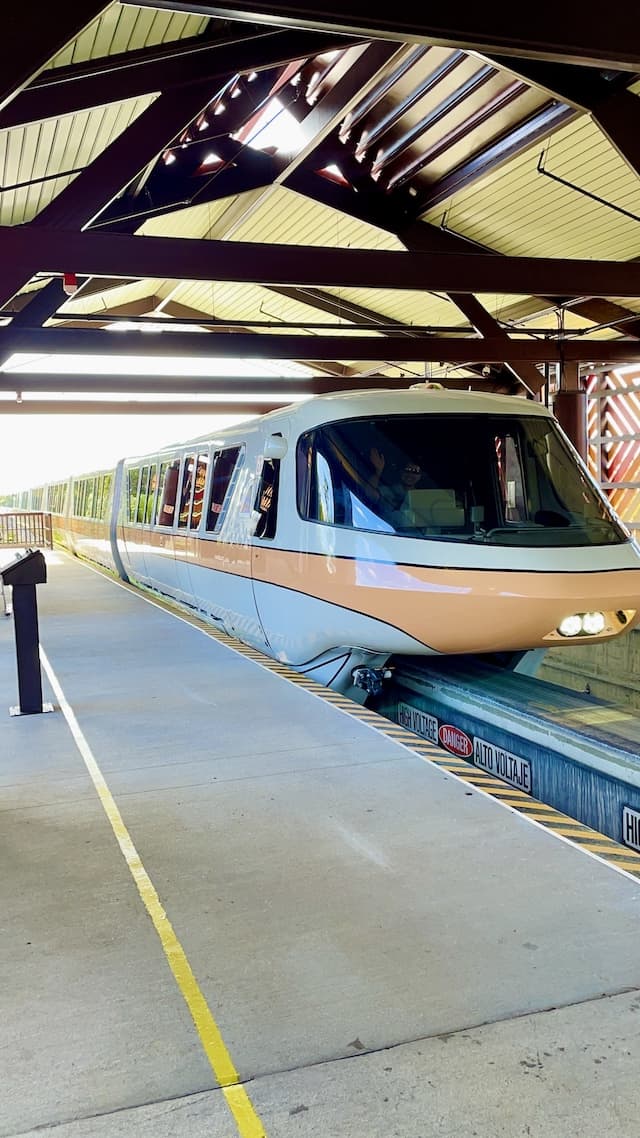 Because Kona Cafe is at the Polynesian, it is easily accessible by Monorail from the Magic Kingdom, any of the Monorail Resorts, or the Transportation and Ticket Center (TTC). In fact, you can walk from TTC or the Grand Floridian if you wish! You can also get there via boat from the Magic Kingdom.
If you want to travel from anywhere else, you will need to make a connection at either TTC or The Magic Kingdom. Rideshare will also do if you have an existing reservation.
Reimagining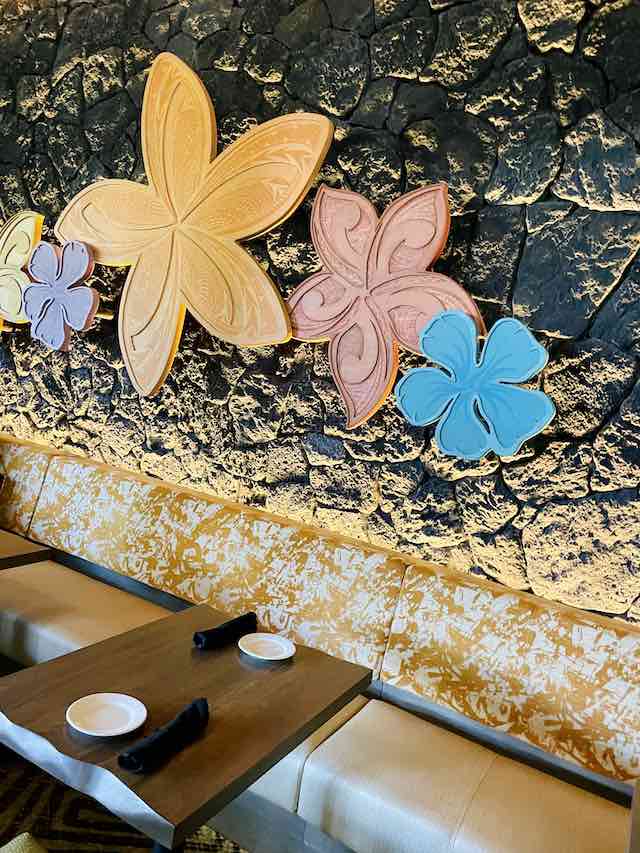 Kona's look received a bit of an update. Though the footprint of the restaurant is largely untouched, the walls are much prettier now and are in keeping with the new look of the lobby.
But other than the color scheme, the differences are not super noticeable. It does look less tired than it once did.
Breakfast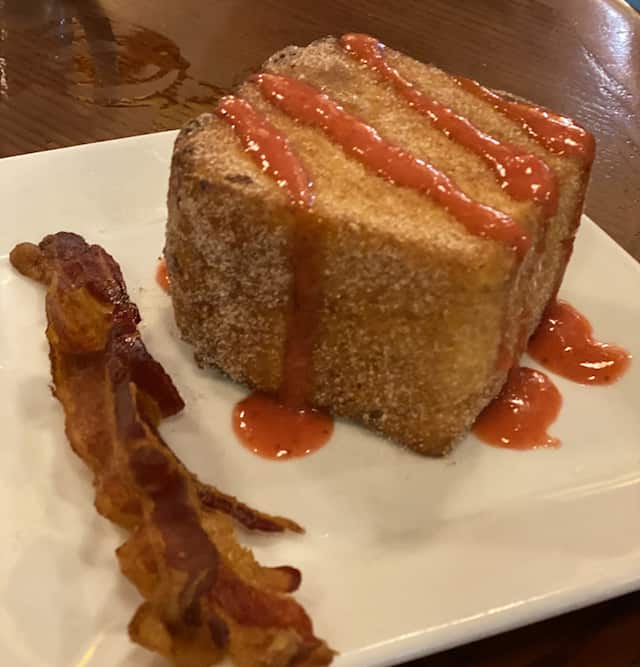 However, some things never change. Breakfast at Kona Cafe was and remains an extremely popular option for Walt Disney World diners. In fact, there are many Guests who make it a part of every Walt Disney World vacation if they are able.
The new menu still boasts favorites like Tonga Toast, which is Banana-stuffed Sourdough French Toast rolled in Cinnamon-Sugar. It is served with a Strawberry Compote, and with your choice of Ham, Spiced Ham, Bacon, or Sausage.
This is a popular item for a reason! In fact, once, our entire team ended up ordering it, and you can read about here. It is as good as it sounds, but be cautious as it is a heavy dish.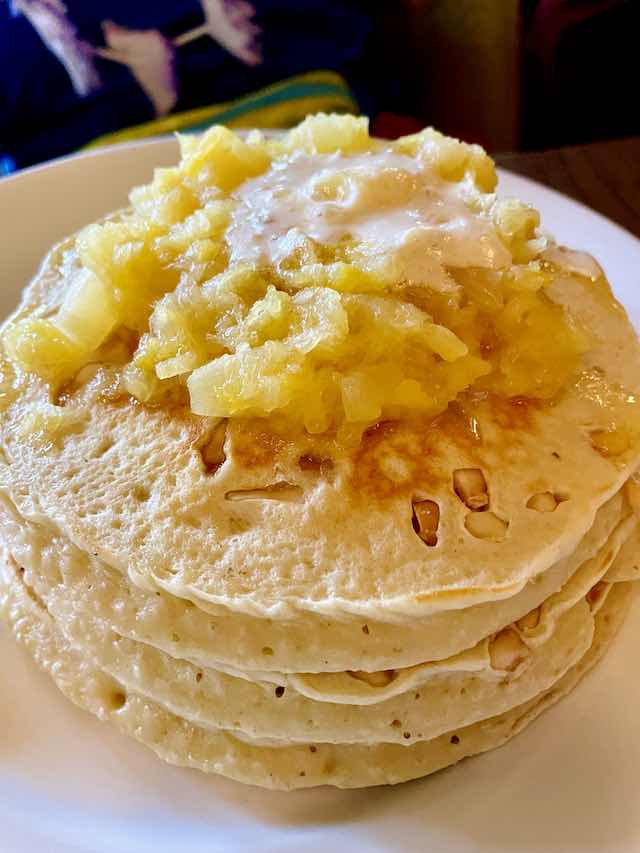 The menu also still includes Macadamia Nut Pancakes, which are served with Macadamia Nut Butter, Pineapple Sauce, and your choice of Ham, Spiced Ham, Bacon, or Sausage. You can take this already fantastic dish to the next level by requesting the Tonga Toast Strawberry sauce!
This is an amazing stack of pancakes, and I order them when I can. As is the case with Tonga Toast, this is a heavy dish, so come hungry!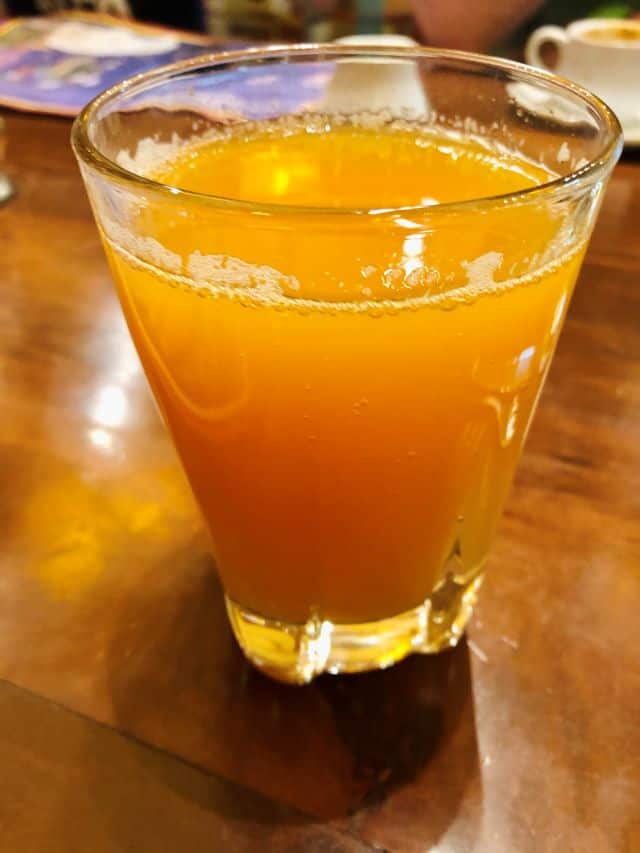 And, of course, you can order a glass of Liliko'i Juice, which is POG Juice. However, we are noticing that not all POG is created equal, and the Poly seems to be receiving the juice from a new company that just doesn't make it like they used to.
Kid's Options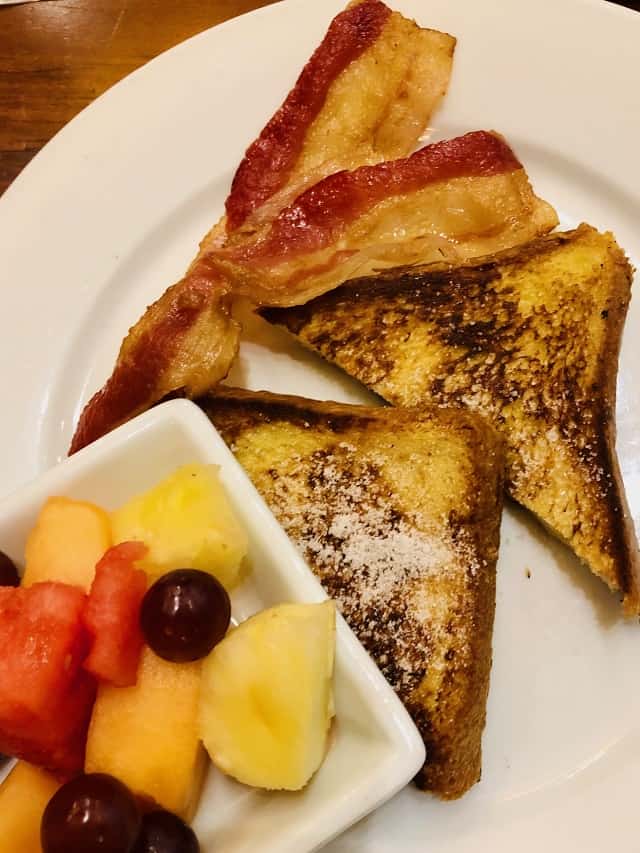 There are also several kids' options. My own children had Minnie's French toast, which is NOT Tonga Toast. Rather, it is standard French Toast, and it is pretty good!
Pancakes, oatmeal, and scrambled eggs round out the options. Mickey Waffles are not on the menu, but that doesn't mean you can't request them. Sometimes they can make that wish come true!
Hidden Menu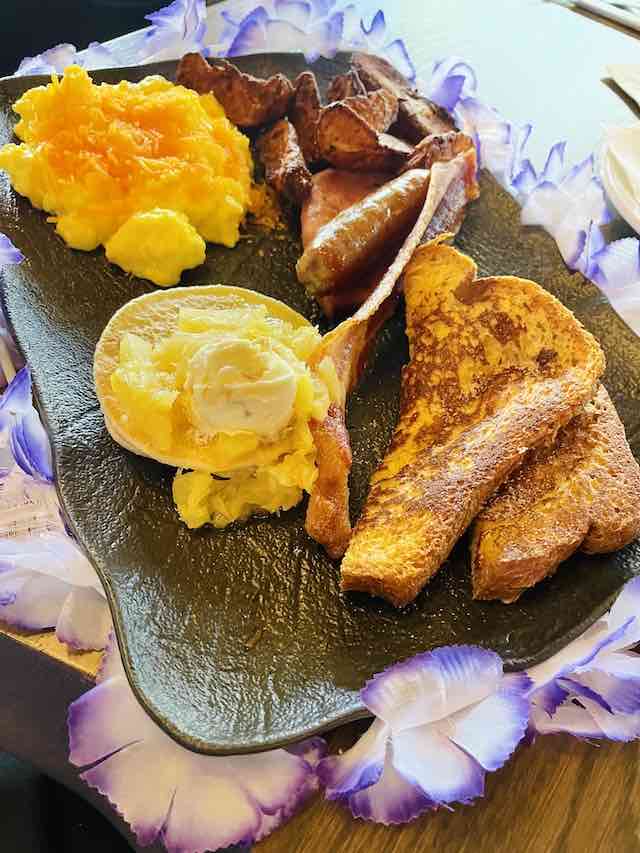 Every long-time Kona Cafe fan is familiar with the Big Kahuna Breakfast. This dish is a sampling of a little bit of everything good: Macadamia Nut Pancakes, eggs, bacon, ham, sausage, potatoes, and French toast (regular French Toast, not Tonga Toast). It is quite a feast!
Now, this item dropped off the menu years ago. However, Guests found they could still order it for quite some time.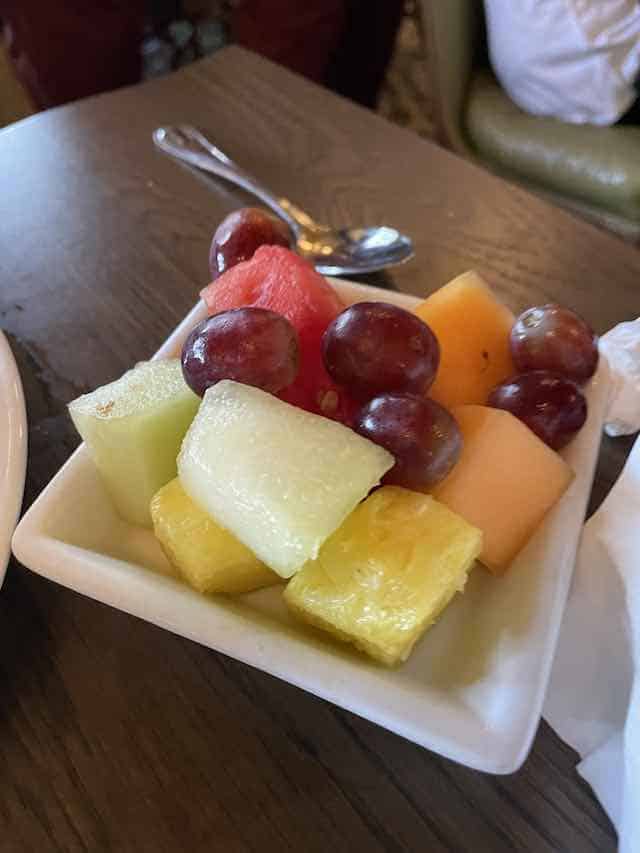 But in November, shortly after the restaurant's reopening, it was gone from the secret menu too! You can read about it here.
It did not take long for Kona Cafe to reverse that decision. It is available by request again. I was able to order it this spring on a recent trip, and you can read the story here. It is a good choice if you are feeling indecisive.
Lunch and Dinner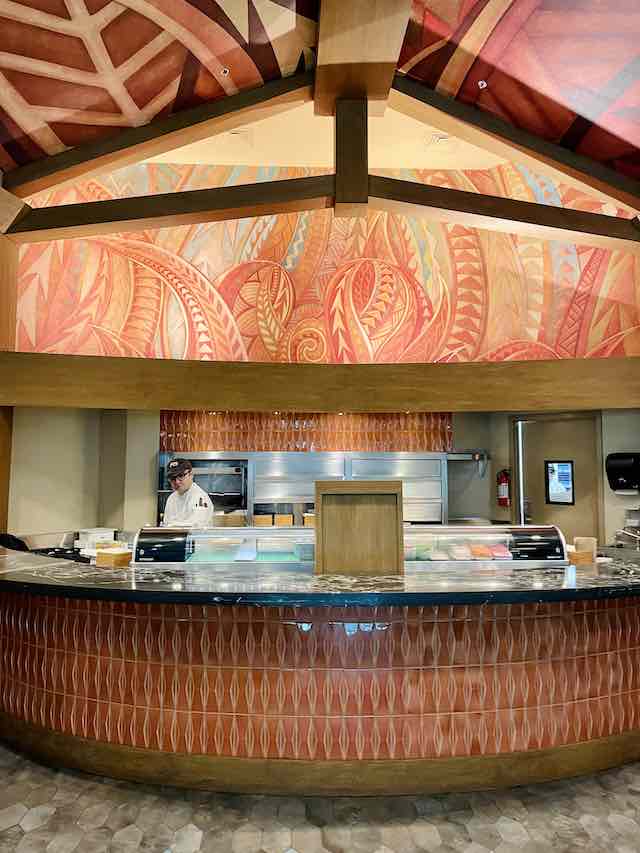 Unlike many table service options, Kona still maintains a separate lunch and dinner menu! However, there are very few differences. Namely, the lunch menu has fewer options than the dinner menu. There are some items that can only be ordered during the dinner meal period such as the Seafood Coconut-Curry Soup, the beef short ribs, and several sushi rolls.
Bread Service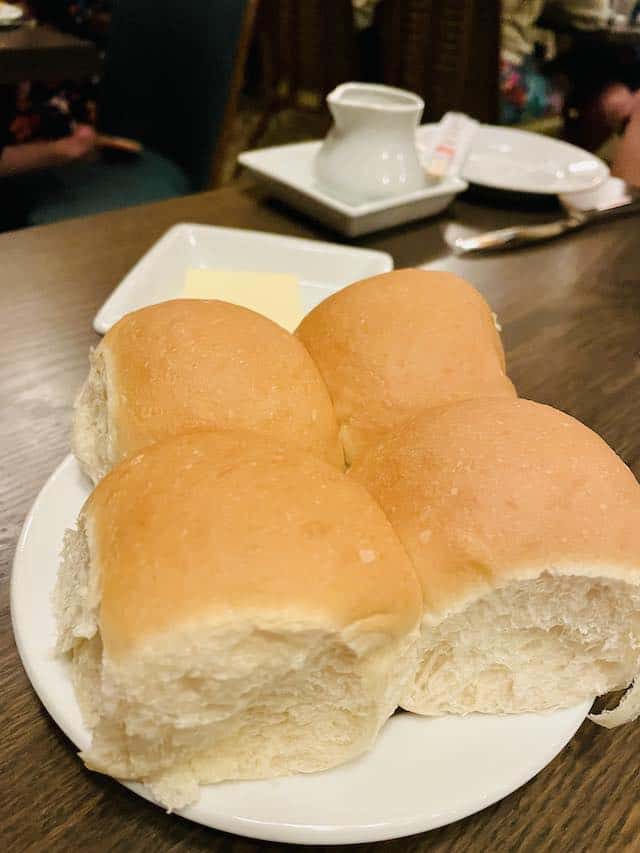 Kona serves standard Disney Dinner rolls before dinner. If you like bread and butter, these are a nice touch, but they are nothing special.
Appetizers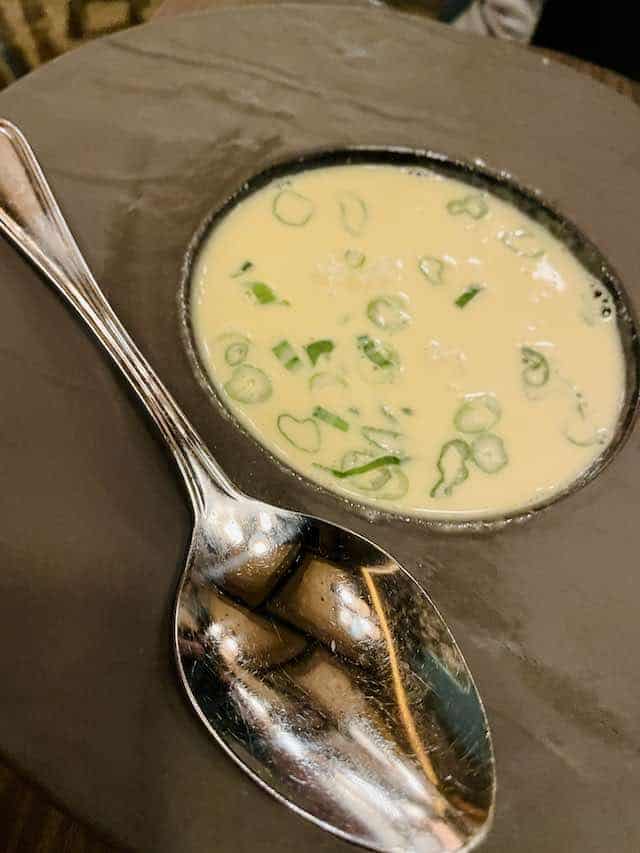 The Coconut-Curry Soup remains a winner. This dish is rich and delicious and has everything you want in a coconut curry! If you are craving a good soup, this is a great option, and you can enjoy it as a stand-alone meal if you like.
Sushi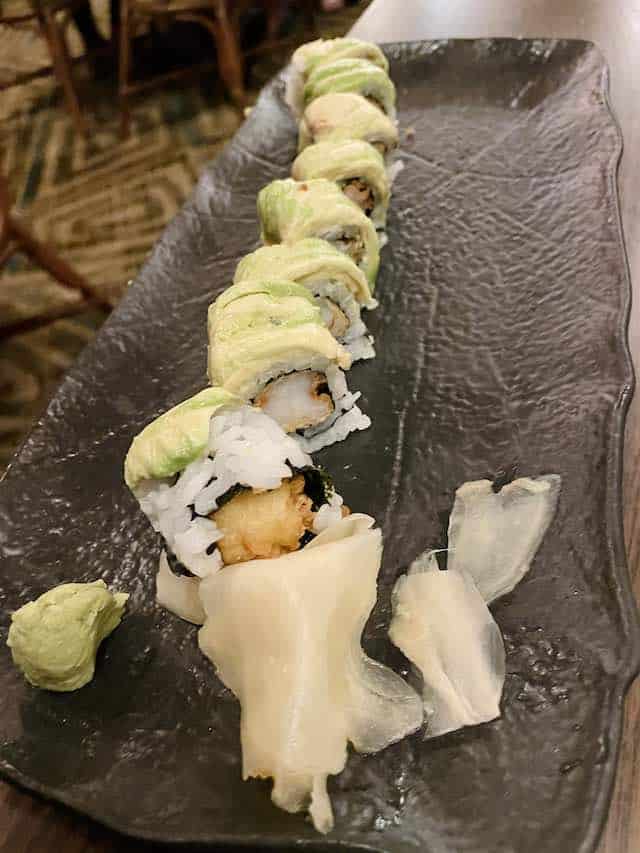 Kona also has pretty good sushi. The chefs prepare it in the open kitchen, and you can watch if you wish. We tried the Shrimp Tempura roll, and it had just enough crunch!
Poke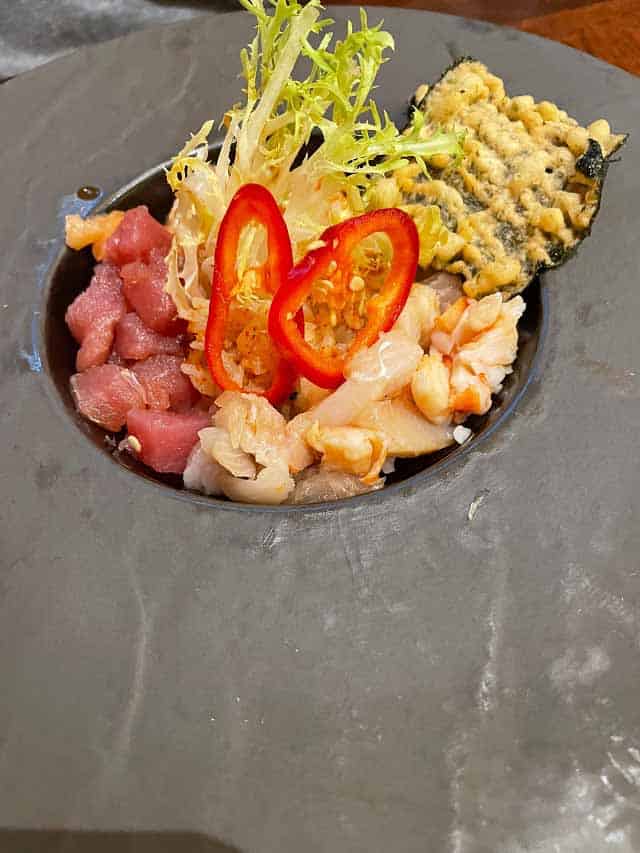 If you enjoy Poke, Rainbow Poke is a good option for you. This bowl is made up of Tuna, Salmon, Shrimp, Hamachi, Fresno Chili Peppers, Lotus Root, Spicy Ponzu. It has a kick to it that was a bit much for me, but my dining companions say it really isn't that spicy.
Entrees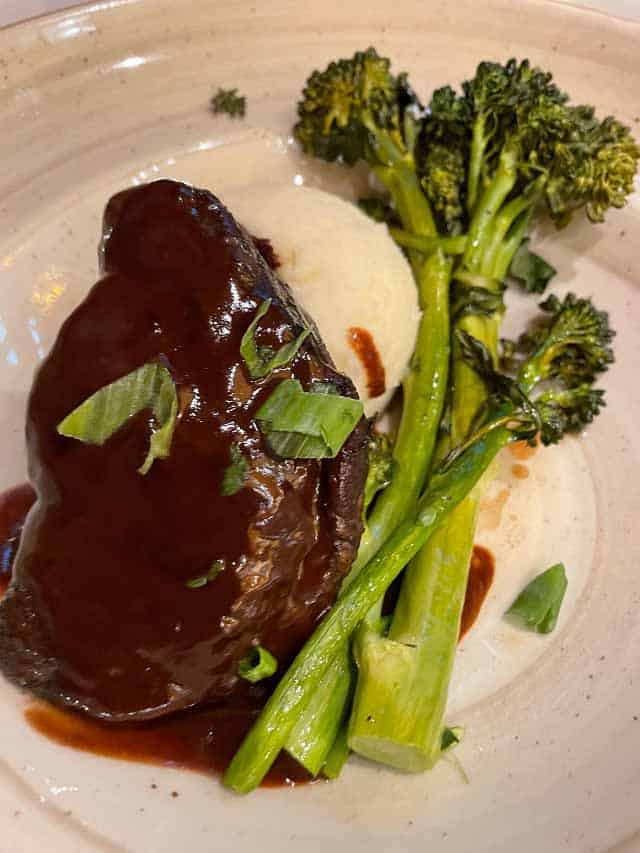 The Kona-braised Short Rib remains a winner. This dish is Braised Short Rib, served with Kona Coffee-Mocha Sauce, Creamy Mashed Potatoes, and Broccolini. It is flavorful and yummy! I have heard some fellow foodies mention theirs was over-salted, but I loved mine when I had it.
For a lighter option, consider the Mahi BLT. This dish is Pan-fried Mahi, served with Bacon, Butter Croutons, Marble Potatoes, Tomato, Arugula, and Soy Velouté. I ordered it at the recommendation of our server, and I have to say that I really enjoyed this dish.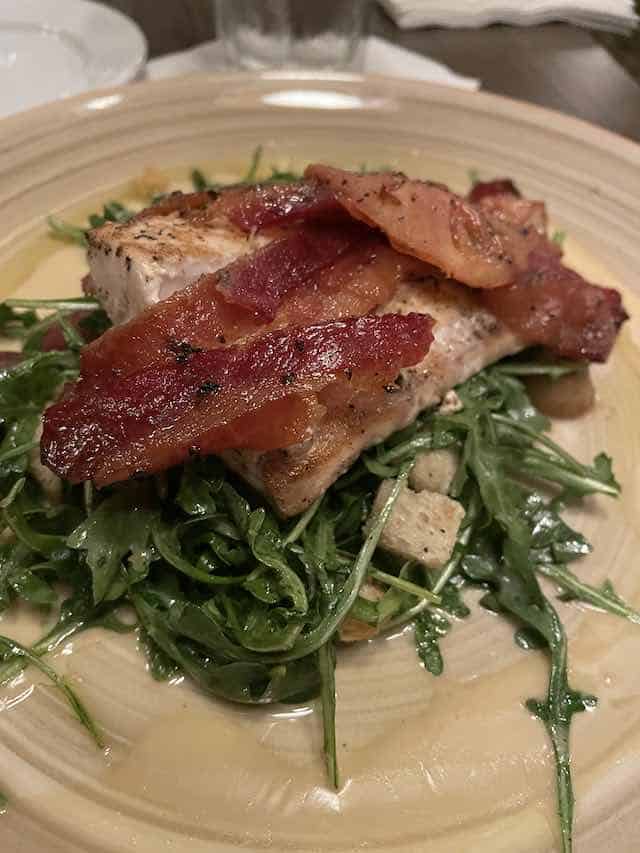 It is a great thing to eat if you have been indulging in good fare without worrying about its nutritional content. This dish is essentially fish and a salad. It is yummy. While it is filling, it creates a feeling of satisfaction rather than overly stuffiness.
Dessert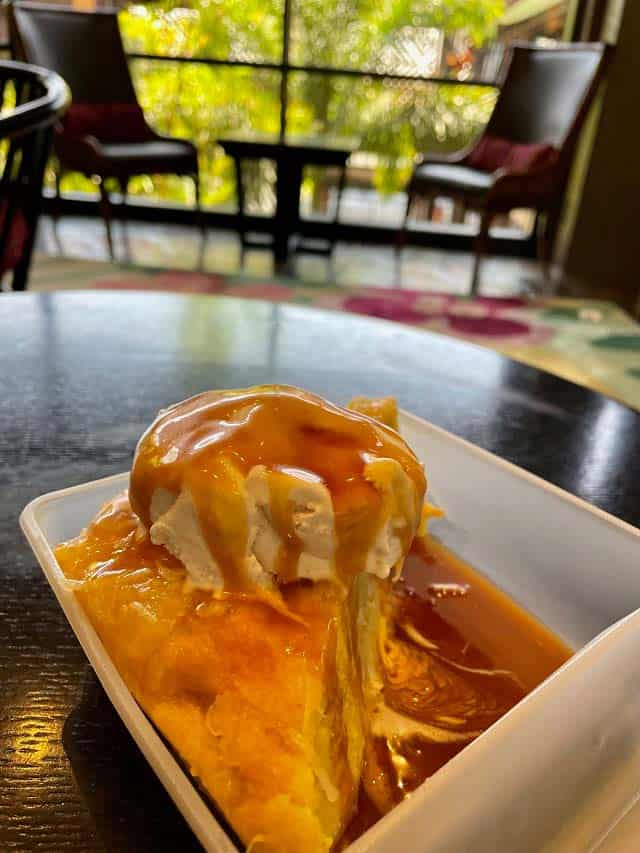 What meal would be complete without some Disney dessert? Kona serves Pineapple-Coconut Bread Pudding. This is identical to 'Ohana Bread Pudding, which is great news for fans who want to indulge but cannot get a reservation or do not want the all-you-care-to-enjoy meal that precedes it.
For those unfamiliar with it, the dish is made of Warm Bread Pudding topped with Vanilla Ice Cream and Homemade Caramel Sauce. It is amazing. It is one of the most iconic Disney foods that everyone deserves to try at least once (provided you are not allergic to any of its components).
Overall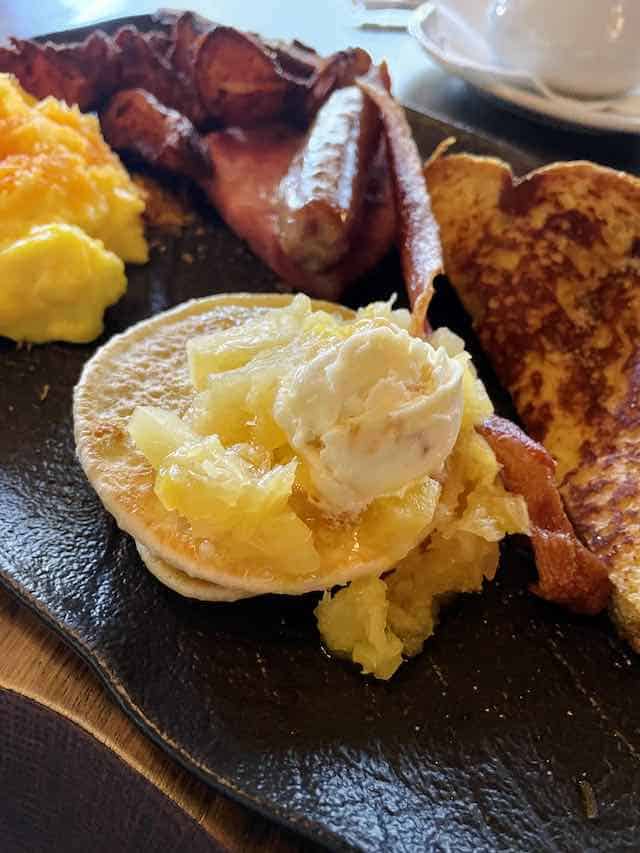 Kona's menu has evolved over the years. And, the cafe has landed on the secret to breakfast success. It is one of Disney's very best breakfasts. Is it hard to mess up breakfast? Sure! But Kona serves up one that will have you wanting to return again and again.
However, as much as I enjoyed my dinner, there is something a little disjointed about the menu and the vibe. It is almost as if the restaurant doesn't quite know what it wants to be during dinner the way it knows EXACTLY what it wants to be during breakfast. However, this has long been the case for Kona.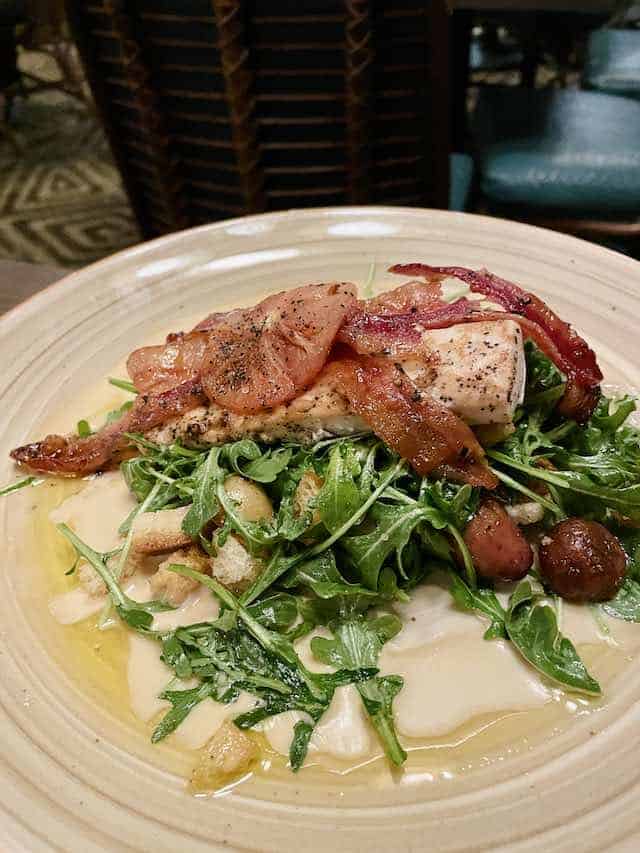 Even so, I have enjoyed dinner here very much since the reopening. Is it my favorite dinner in Walt Disney World? No. It is not nearly as memorable as the likes of Jiko, Citricos, or even Steakhouse 71. However it is consistently good, and getting a dinner reservation is not hard. In fact, it is often available on the walk-up list.
So, if you can't get one of the more difficult-to-score lunch or dinner reservations, and you happen to be near the Magic Kingdom anyway, Kona is a good option. Even better, you may be able to grab it with no effort.
Do you know someone who is planning a trip to Walt Disney World and needs a breakfast recommendation? Be sure to pass this along with them to help them know what to book! Have you been to Kona since its reopening? Let us know what you thought about it in the comments.