Characters are back at 'Ohana after two years! How does our most recent experience stack up with previous character interactions at 'Ohana? Here is our review!
'Ohana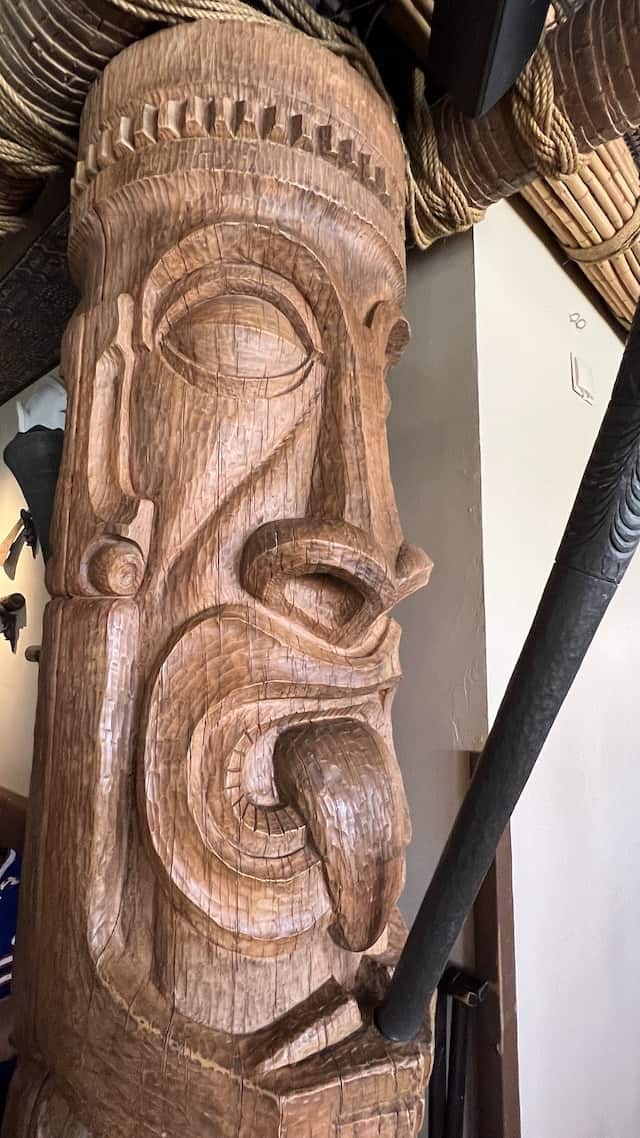 'Ohana means family. Family means nobody gets left behind or forgotten. So it's safe to assume if you eat at 'Ohana at the Polynesian Resort no one will be left behind or forgotten! This all-you-care-to-eat meal means everyone in your travel party will get their fill!
'Ohana is a sit-down restaurant located at Disney World's Polynesian Resort. Breakfast features character meets with Lilo, Stitch, Pluto, and Mickey (in his Hawaiian attire).
It is considered one of the more popular character dining experiences at Disney World due to the laid-back atmosphere, Hawaiian dishes, and fun characters. Characters did not return to 'Ohana after the historic park closure in March 2020. Instead, the restaurant reopened for breakfast and dinner in July of 2021. Characters just returned to breakfast in the fall of 2022.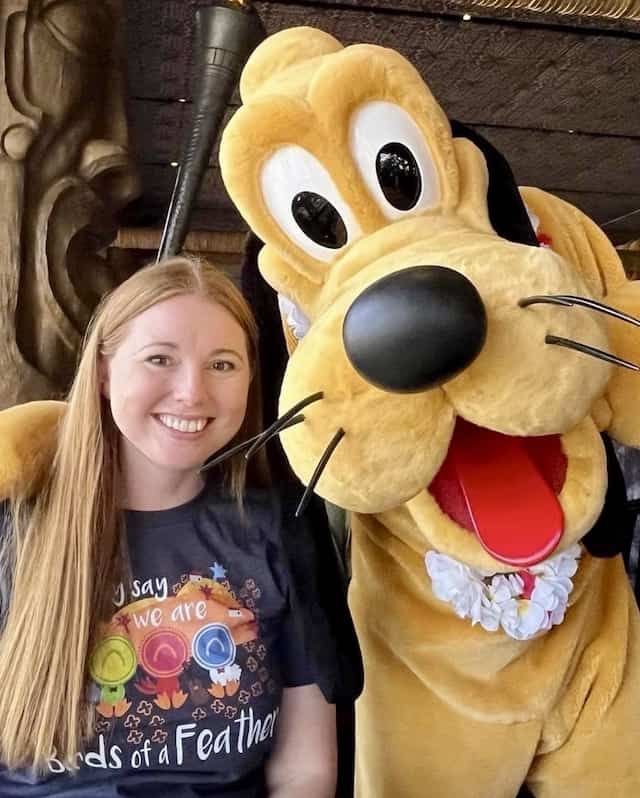 Our team has had the opportunity to dine at 'Ohana a few times since its reopening:
Additionally, you can read my (Monica) personal breakfast review all the way from before the park closure HERE.
Breakfast Menu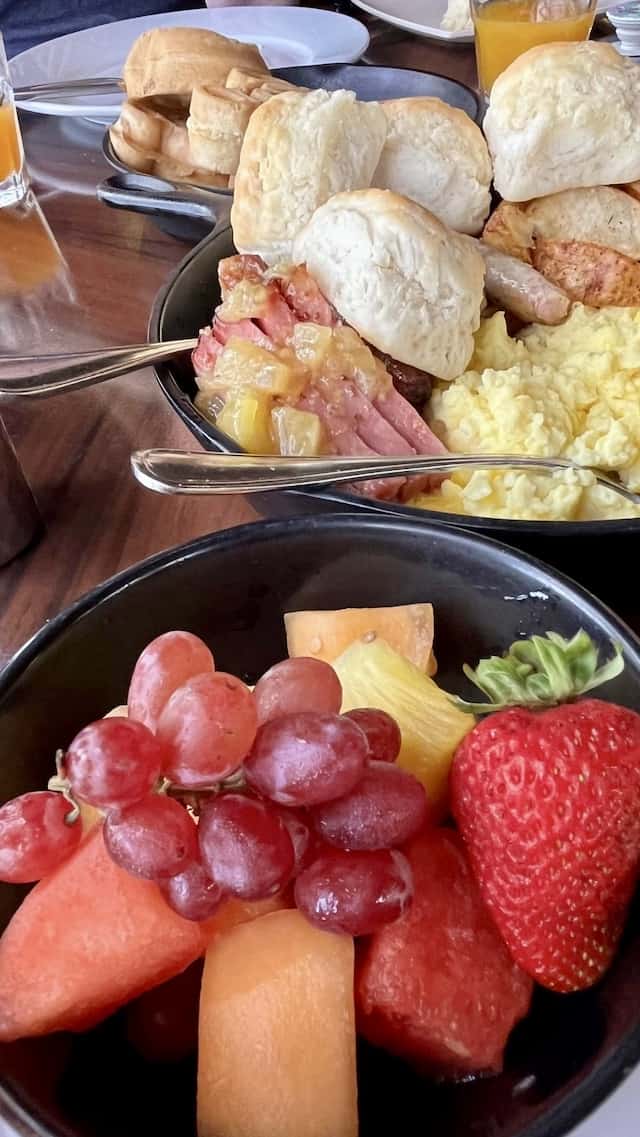 The breakfast food at 'Ohana is a blend of mostly traditional American food with a few Hawaiian infused dishes. It is nowhere near as "themed" as dinner is, which consists of wings, dumplings, and noodles.
Breakfast starts with fresh fruit and pineapple-coconut breakfast bread. I am definitely a bigger fan of the breakfast bread versus the dinner bread. It is so soft and fluffy, and I love it so much even though I'm not a huge fan of either pineapple or coconut. It definitely has a mild taste, so you may not like it as much as you think if you are expecting a strong tropical tasting bread.
Your server will also serve coffee, POG juice, and other drinks. There are nonalcoholic specialties like smoothies and alcoholic cocktails as well. The specialty drinks cost more than what is included in your buffet price ($45/adults and $29/children).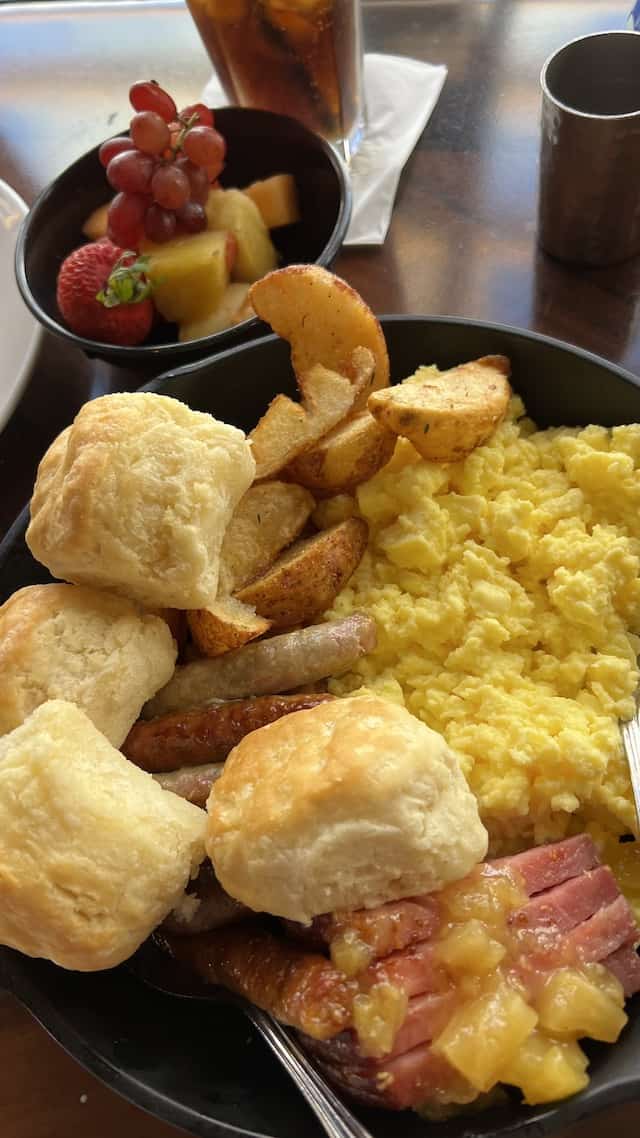 The main breakfast skillet includes the following:
Scrambled Eggs
Pork Breakfast Sausage Links
Hawaiian-style Ham topped with Pineapple Compote
Fried Island-style Potatoes
Mickey-shaped Waffles
Biscuits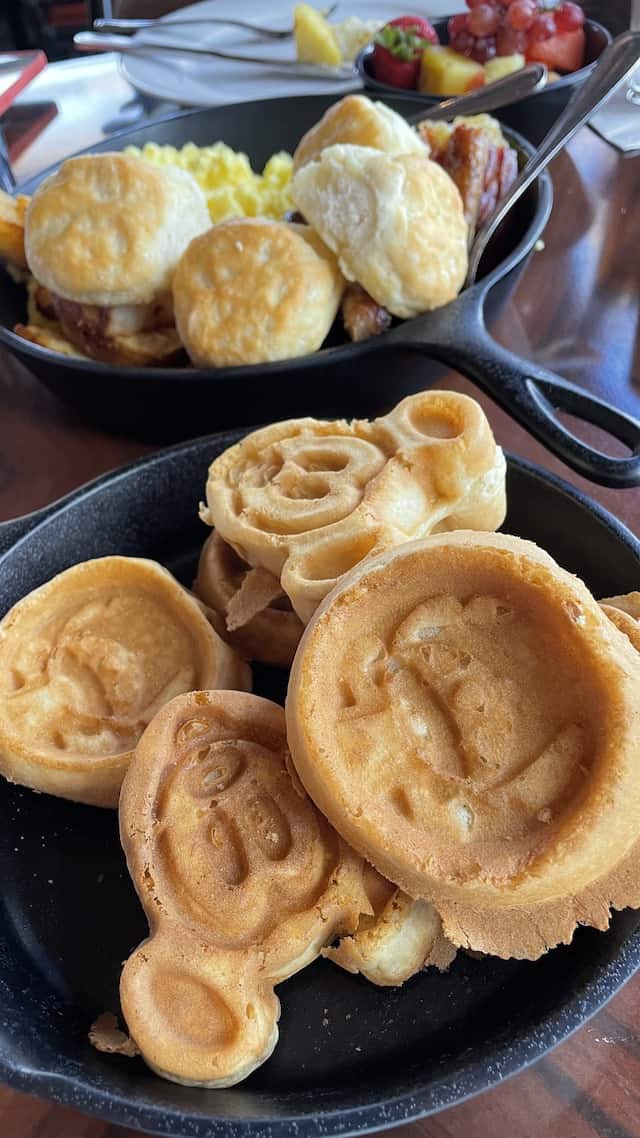 Overall, the food selection is very average in terms of Disney breakfasts. It won't blow you away like Topolino's, but it is certainly not the worst food you can find on property. Of course, there will be good days and bad days at 'Ohana. During our recent visit to the restaurant everything was incredibly hot, fresh, and flavorful.
The Hawaiian-style ham and pineapple-coconut bread make the meal stand out in terms of above-average Disney breakfast food. Our eggs were just the right consistency, and our waffles and biscuits were perfection. Overall, we all really enjoyed the food. The best part is your server will bring you more of whatever your heart desires!
This meal is all-you-can-eat so make sure you get your fill of Mickey waffles and ham!
Characters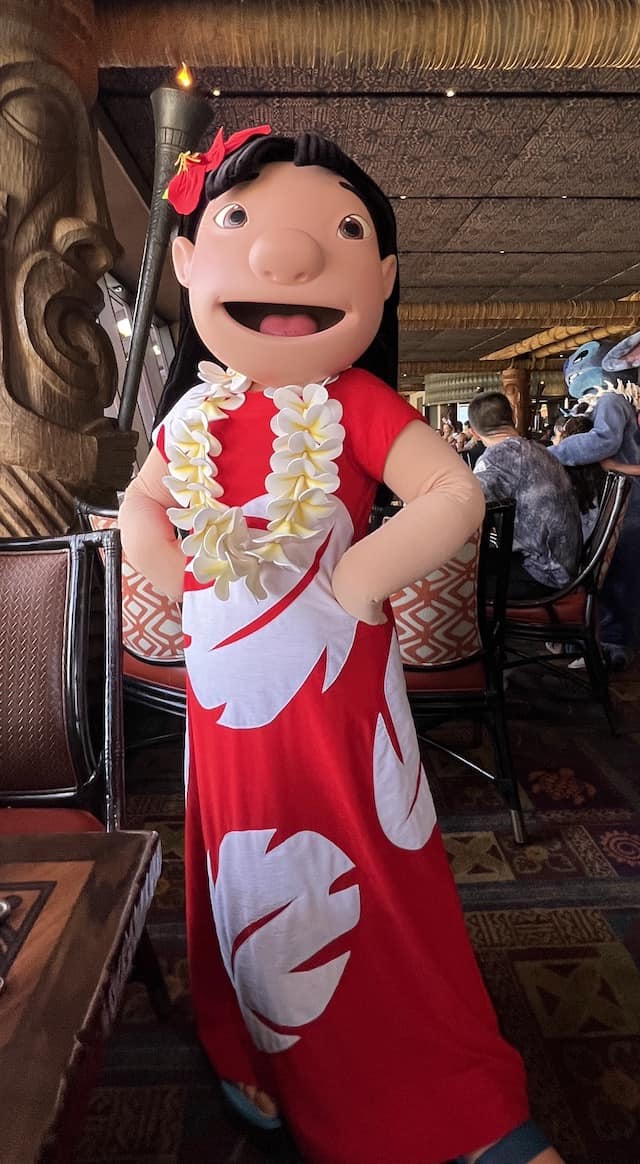 The characters are a big draw for 'Ohana. As mentioned above, you will see Lilo, Stitch, Pluto, and Mickey in his Hawaiian attire. Right now, these are the only places you can see Lilo and Stitch. They occasionally meet at Typhoon Lagoon, but that is closed for refurbishment at the time of writing.
They will sign autographs for you, and your server will also give you an autograph card. We have noticed these at almost every character meal we have been to in recent years. It definitely seems like Disney is encouraging more of the pre-made cards.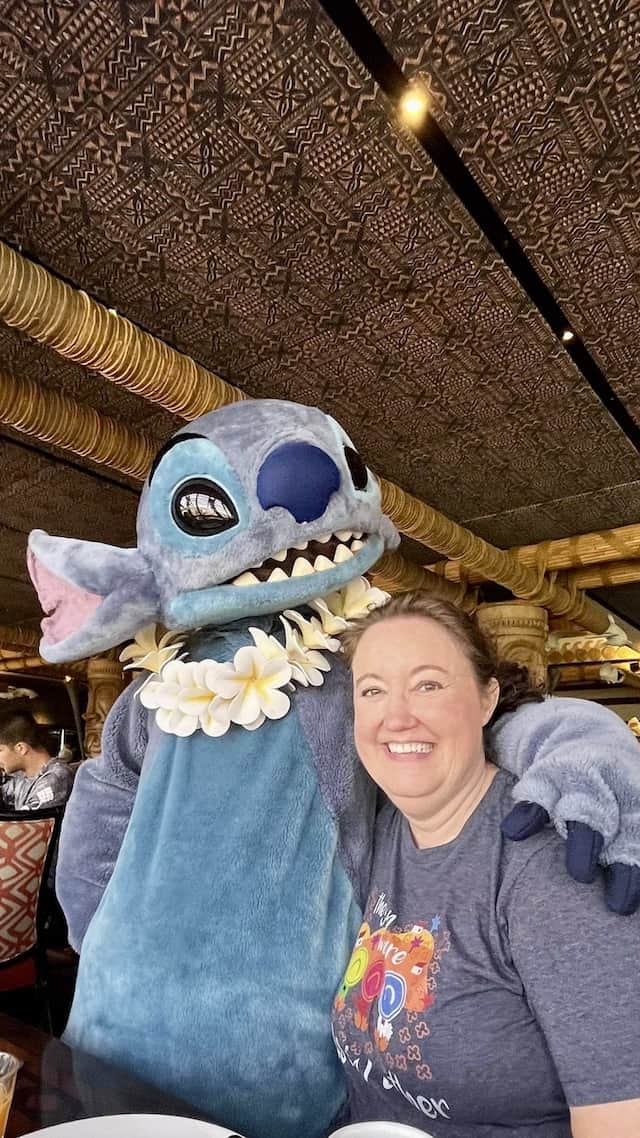 It definitely speeds up the time a character spends at each table. My kids are out of this stage, so I am perfectly fine with these pre-made cards. It eliminates one less thing I need to pack in my bag. However, be aware that the characters will still sign for you if you request it!
One thing I was disappointed to see was that, during our meal, kids were not given musical instruments and invited to do a dance line with the characters and other kids in the restaurant like they did in the past. Perhaps this is a permanent cut from the meal experience, or maybe it just so happened it did not occur during our meal.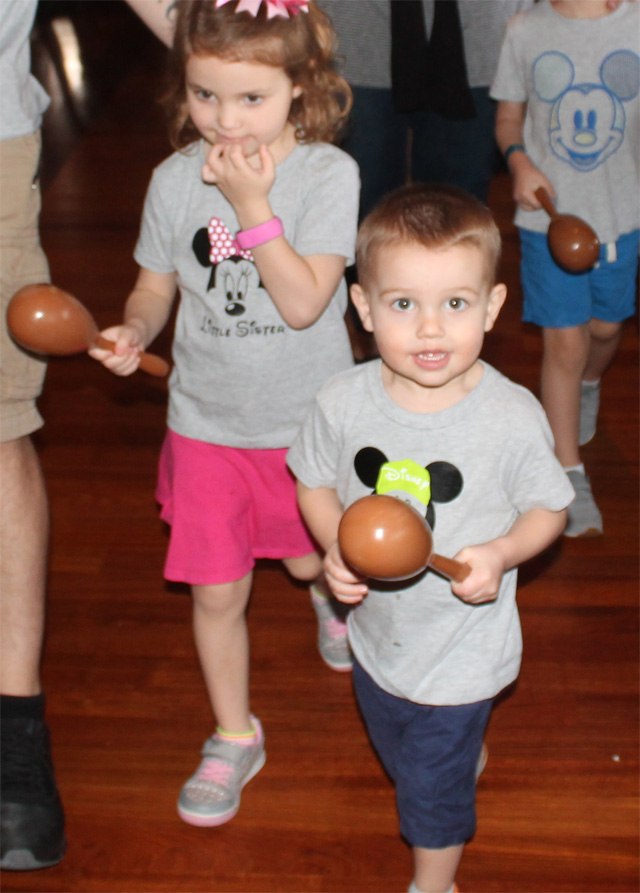 I truly do hope they continue to do it! My kids had such a fun time dancing around the restaurant with their musical instruments. Above is a photo of two of my kids participating in late 2018.
Atmosphere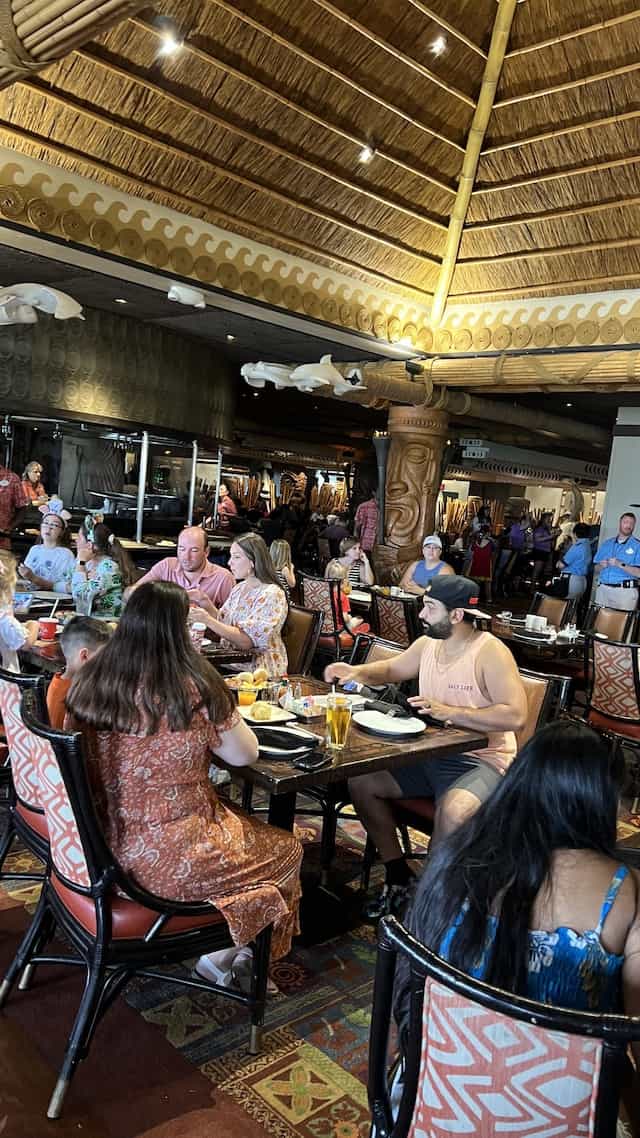 Overall, the atmosphere is very laid-back, just like the rest of the Polynesian. Greenery and tiki torches invite you to unwind during a rest day or during your break from the theme parks. I always take the time after I eat at 'Ohana to check out the gift shops and wander around outside to take in the lush landscaping.
During our visit, we had a table right next to the giant window that overlooks the resort and the Seven Seas Lagoon. You can see Cinderella Castle off in the distance as well as the Grand Floridian. It was perfect after our morning in Epcot to go sit and take in the breathtaking views.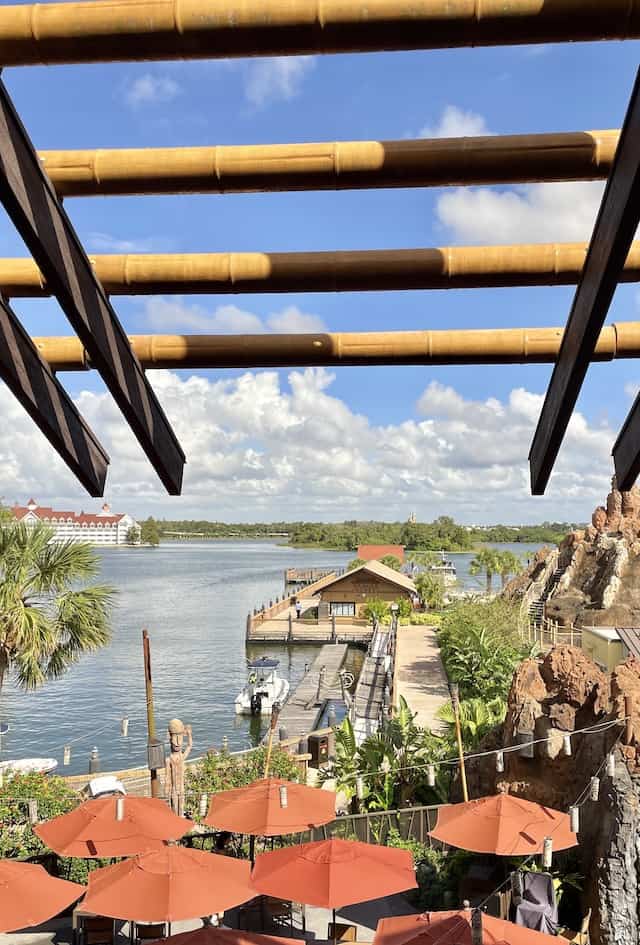 If you are going to dine here during a park day, I recommend grabbing the last breakfast reservation – typically 10:30 am or so. You can rope drop several attractions, and then head to the Polynesian for a late breakfast!
Consider doing this on a Magic Kingdom day when you are only a few monorail stops away!
Overall, we had a very pleasant experience at 'Ohana. The food was delicious, and the characters were fun as always. You really cannot beat the view we had either! We are so happy Mickey, Pluto, Lilo, and Stitch returned to 'Ohana. It certainly is a popular character dining opportunity, so be sure to book your reservations in advance!
Do you love 'Ohana? Have you been back since characters returned to breakfast? What was your experience like? Let us know in the comments below and on Facebook.