'Ohana, located at Disney's Polynesian Village Resort, reopened recently amid quite a bit of menu drama. I (Joe) recently tried their famous breakfast. Were we impressed?
'Ohana Menu Drama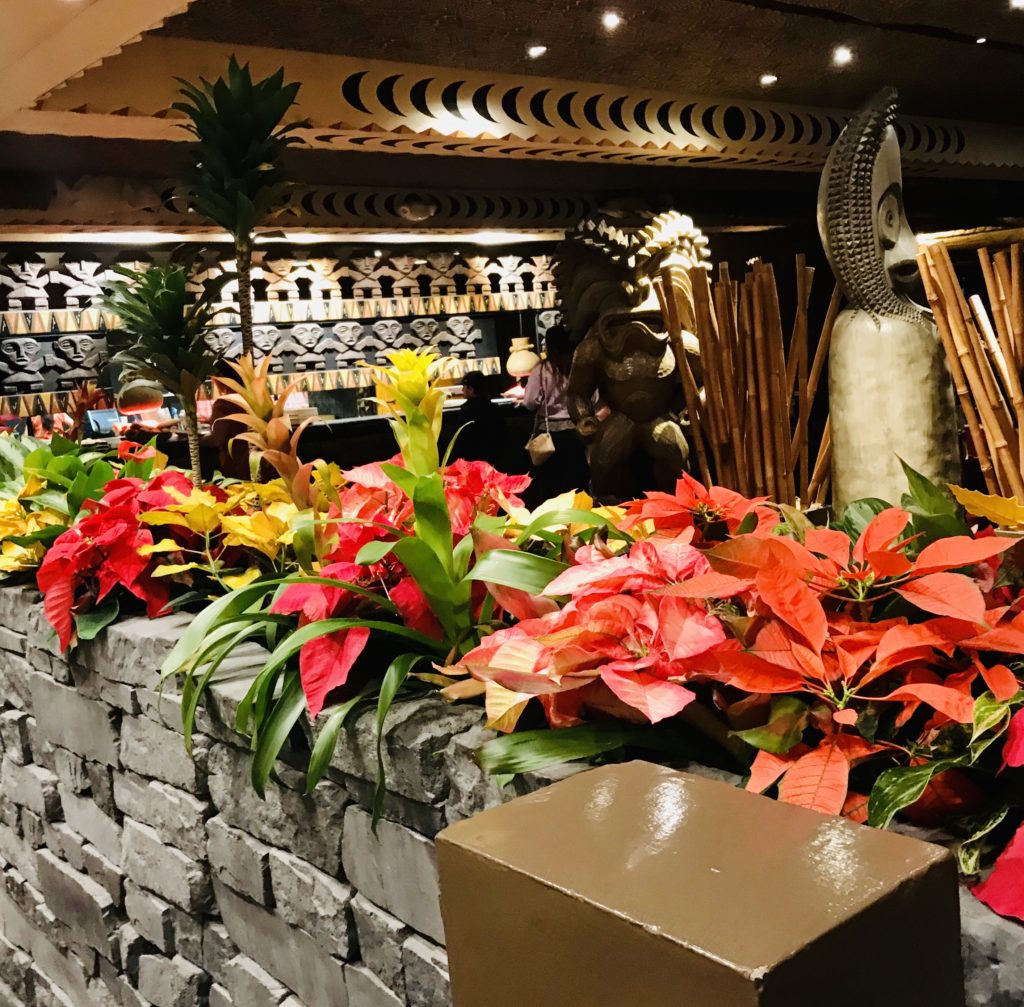 When 'Ohana opened after an extended closure and refurbishment of much of the Polynesian Resort, the adjusted menu was met with quite a bit of backlash. We had #noodlegate after 'Ohana's beloved noodles were left off the menu along with some other omissions.
Most of the fan favorites returned late this summer, but it wasn't the end of menu issues. Another fan favorite, POG juice, was intermittently unavailable as the supply chain issues affecting all of our lives made it difficult to keep the juice in stock. POG juice is a blend of passion fruit juice, orange juice, and guava nectar.
Thankfully, POG juice has been in stock for the last few months and was available for our recent breakfast dining experience. In addition to menu items, characters are still missing from 'Ohana. Lilo and Stitch (and sometimes Mickey and friends) typically make their rounds at 'Ohana but have not returned since the closure.
Polynesian Refurbishments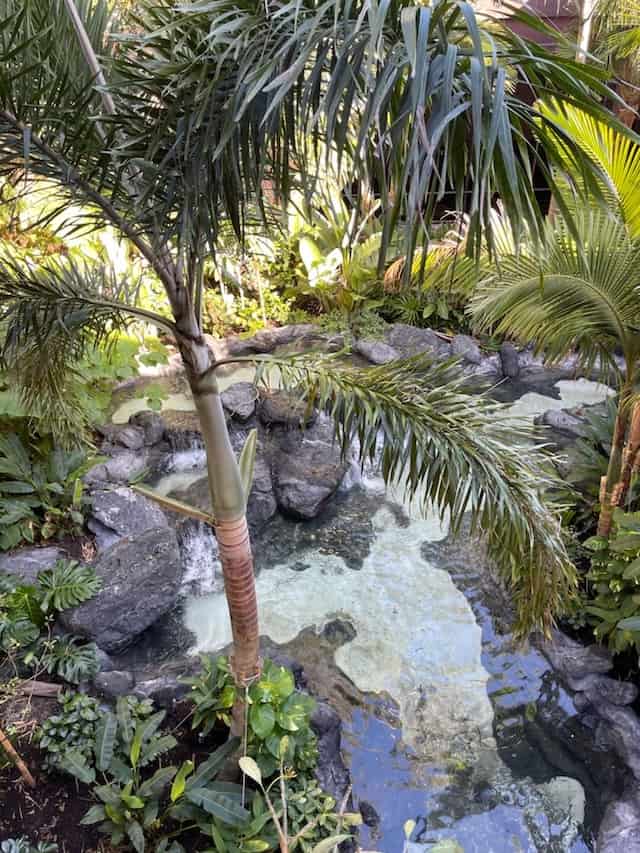 The last year and a half has featured many refurbishments around the Polynesian resort. There are new Moana rooms, DVC refurbishments, and club level enhancements. 
In addition, there was a new arrival experience and water features (like the one pictured above) added to the front entrance. The links above can get you caught up.
'Ohana Breakfast Review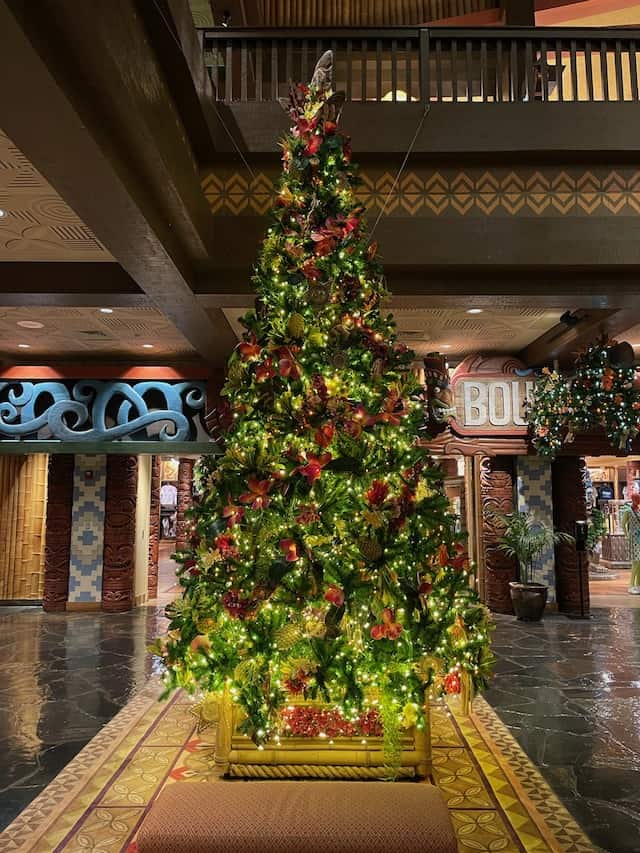 'Ohana is located on the 2nd floor of the Great Ceremonial House at the Polynesian. We love this time of year when the Great Ceremonial House is decorated for the holidays.
We checked in for our reservation at the check-in desk outside the restaurant. There are seats available to wait until your table is called. We had time to snap a quick photo.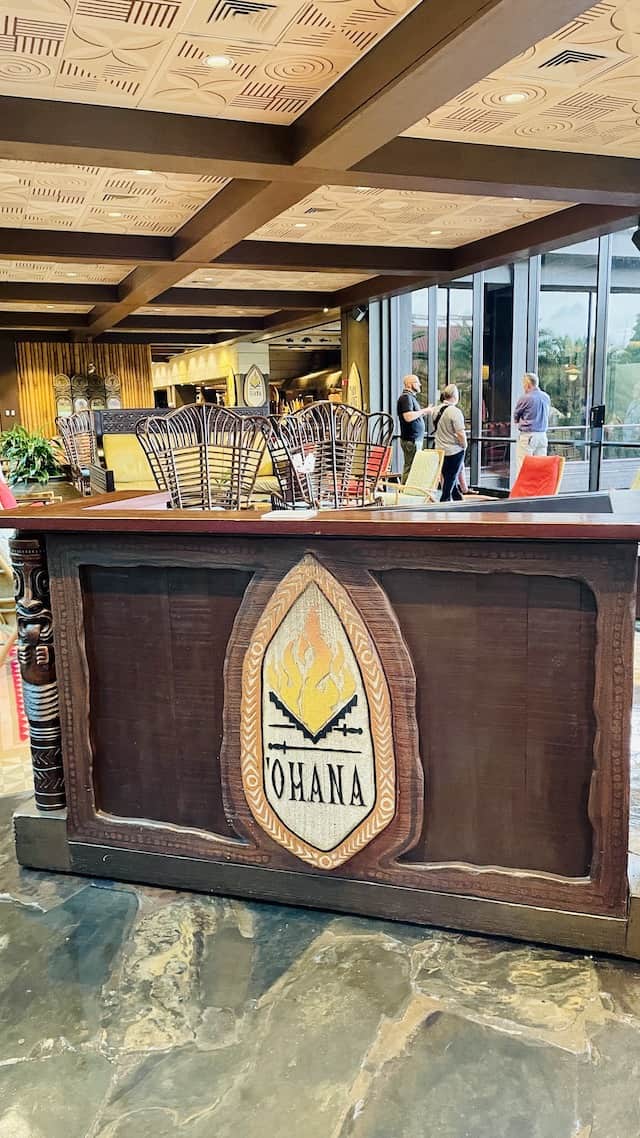 After just a few minutes our table was ready. 'Ohana breakfast is priced at $25 per adult and $14 per child. The meal is All-You-Care-To-Enjoy and is served family style. The menu features a season fruit bowl as well as freshly made Pineapple-Coconut Breakfast Bread. A full selection of soft drinks, coffee, and juices is included. And, of course, that includes the POG juice!
'Ohana's Breakfast Skillet features Scrambled Eggs, Pork Sausage Links, Hawaiian-Style Ham topped with Pineapple Compote, Fried Island-Style Potatoes, and Biscuits. A separate bowl features Mickey-shaped Waffles.
We were seated in a great spot by the windows overlooking the Lava Pool and Seven Seas Lagoon. We had a corner round table. This was a great experience to eat while looking across the water at Cinderella Castle and Space Mountain. Our view from our table is pictured below.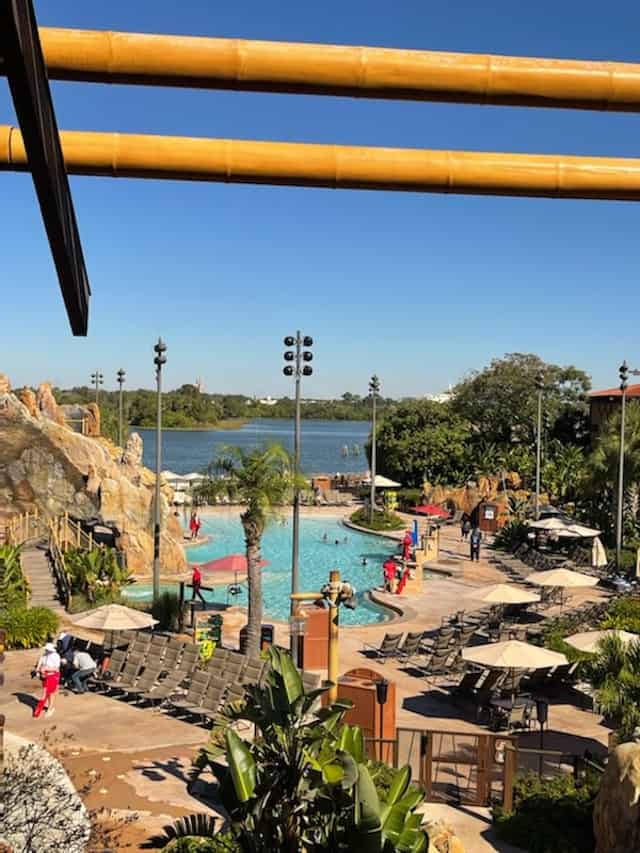 Did 'Ohana Live Up To The Hype?
'Ohana breakfast has been on our family's list to try for many years. We just were not able to make it work in recent trips. Sometimes it was the lack of reservation availability, and sometimes it had to do with the convenience of getting to the restaurant. We are rope-droppers and when you do not stay at the Polynesian or close by, it can complicate your early morning plans.
We had not stayed at the Polynesian for many years, but since we were staying there this trip (it was AMAZING by the way), we figured it was as good a time as any to make this work. As I mentioned above, we are typically rope-droppers and quick breakfast people. We had 'Ohana breakfast on our last morning before a 1:00pm departure for the airport so this was a perfect setup for us.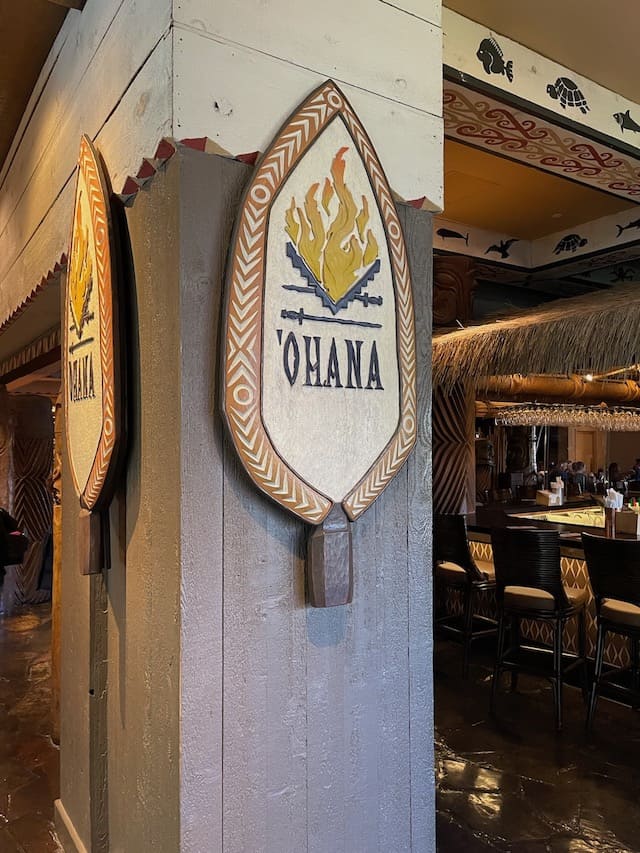 Our meal started with a round of POG juice for everyone, and each person at our table ordered coffee, tea, or various juices. These options that were included in the price were fine for us and we didn't need any of the optional specialty drinks. With the amount of food on its way we didn't need anything else.
Optionally, 'Ohana offers specialty drinks such as Lilo Smoothie, Stitch Smoothie, and a Moana Smoothie. In addition, guests can order a Specialty Character Drink. There are also specialty beverages with alcohol like a Mimosa-Your-Way, Red Eye, or Hula Hoop.
Along with the POG juice, we were served Pineapple-Coconut Breakfast Bread. The bread was a little dry and was just ok. This wasn't the highlight of the breakfast. Certainly not a deal breaker, but this could be improved.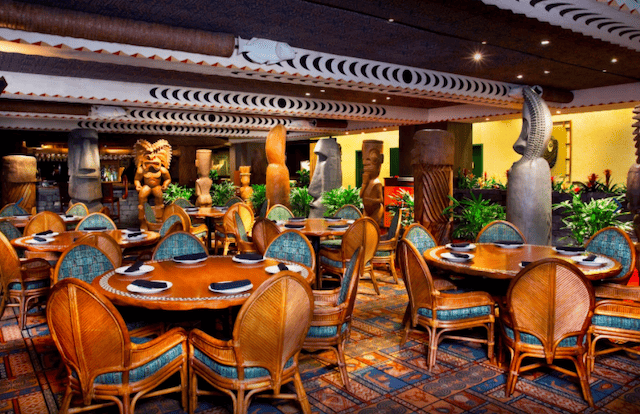 A few minutes later we were served our family style skillets. Pictured below on the left half of the image is the breakfast offering. As I mentioned before, we had pretty high expectations for the breakfast given 'Ohana's reputation.
Our expectations were tempered a bit by some of the recent reviews and an understanding of the difficult situation the restaurant industry is in right now with staffing and supply issues. We approached our whole trip that way.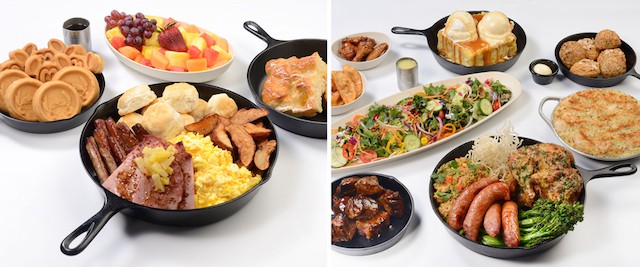 We did not have a single complaint about anything in the skillet. The meats were cooked to perfection, and the Pineapple Compote on the ham was excellent. We were happy with the consistency of the scrambled eggs. The biscuits were just moist enough. Some in our party thought the island-style potatoes could be seasoned a bit more, but either way they were great.
The fruit was fresh and was an excellent complement to the rest of the meal. Last, but certainly not least, the Mickey waffles were as good as ever. There were some Stitch waffles mixed in as well. We did ask for a refill of our skillet and it came out promptly. Any additional items we requested for refill were brought out immediately.
We had one vegetarian in our dining party, and their skillet is pictured below. Just ask your server. This was the plant-based skillet. There is also a plant-based, allergy-friendly skillet available.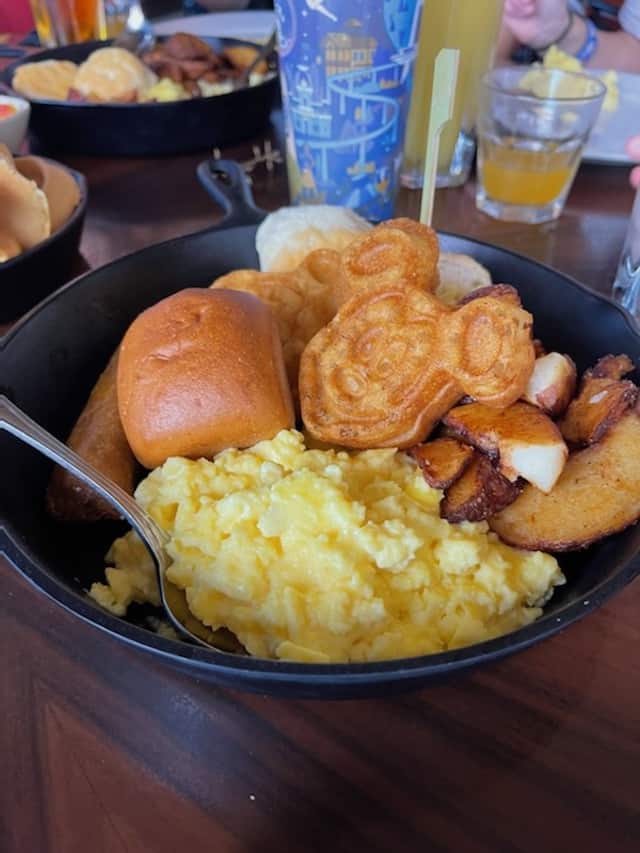 The plant-based meal was up to standard as well. The meat-alternatives were flavorful and are a great option for those not wanting the traditional skillet. The gluten-free waffles were a slight step down, but still good. In addition, they did offer a cinnamon-sugar donut instead of the Pineapple-Coconut Breakfast Bread.
Overall Experience
I'm happy to report we loved the breakfast! I would highly recommend it. The service was excellent, the quality of the food was outstanding, and the timing of the food was perfect. The whole process took just over an hour from the time we checked in. I should also note that I did not identify myself as a blogger or that I would be reviewing our experience.
We had an amazing breakfast at 'Ohana. The only missing ingredient? The characters! 'Ohana is a beautifully themed restaurant on its own and features great views of the Polynesian Village Resort. Things were quiet in the restaurant, and the characters probably would have added some energy to the room. Again, that is not a complaint, just an observation and something that is true of many former character meals across the resort. Many guests would prefer the quiet dining experience anyway.
For a full review of 'Ohana breakfast with characters, see our post HERE.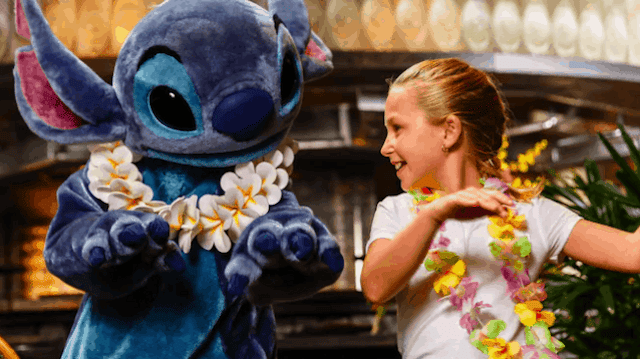 Finally, I would like to mention the price and how things fit into our vacation. We felt like this meal was a great value. We typically have one bigger meal a day on our trips. The rest of the day is usually snacks and/or a quick serve (or even sharing quick serve meals). Dining in Disney is not cheap for the average family (not a newsflash), so at $25 per person this meal was a good value for our one bigger meal of the day.
In summary, we will definitely be dining for breakfast again at 'Ohana. Maybe next time the characters will be back? Either way, the quality of food, great service, theming, and views are enough for 'Ohana to make it to our must-do list. Our first experience at 'Ohana made us love Disney's Polynesian Village Resort even more.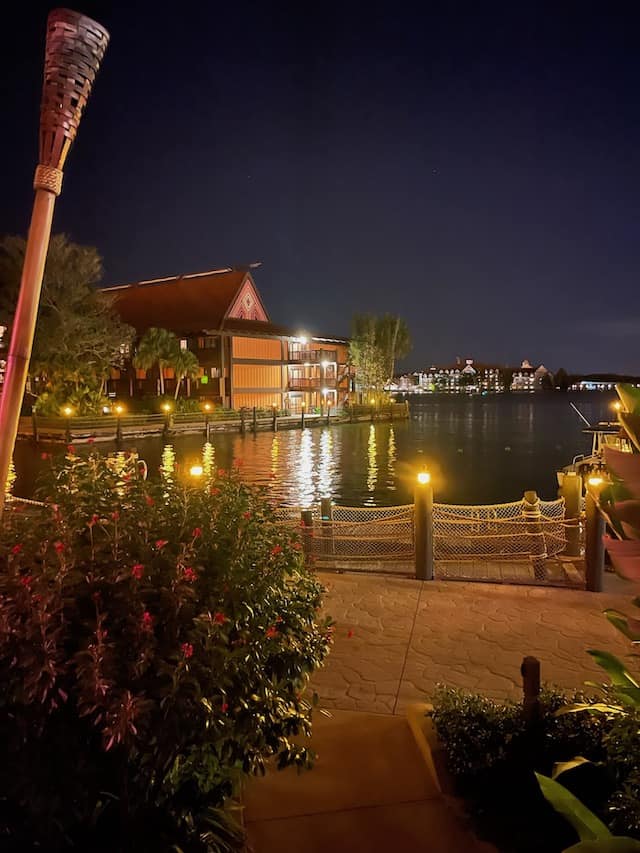 Have you dined at 'Ohana recently? What was your experience like? Is 'Ohana on your must-do list on your Disney trip? Let us know in the comments and on Facebook!