Do you or someone in your travel party have a food allergy? Disney is very accommodating with food allergies. Here is my experience at 'Ohana!
'Ohana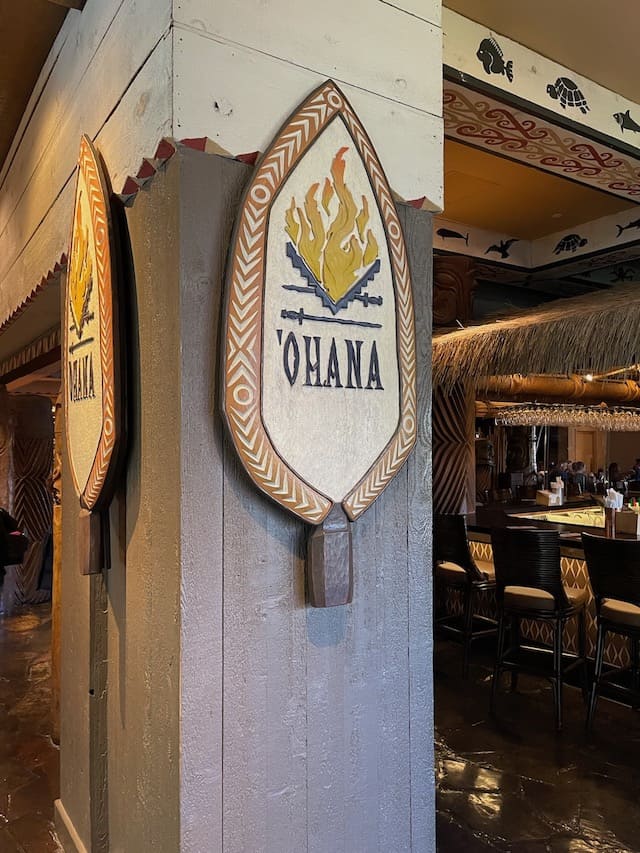 'Ohana is located at Disney's Polynesian resort in the Magic Kingdom resort area. This is one of my (Heather) favorite resorts which is why it is also my "home" with Disney Vacation Club.
'Ohana has always been one of my family's MUST DO meals! Our vacation is not complete without that bread pudding, yum!
'Ohana offers both breakfast and dinner. Characters do return to 'Ohana very soon!
Disney Allergy Statement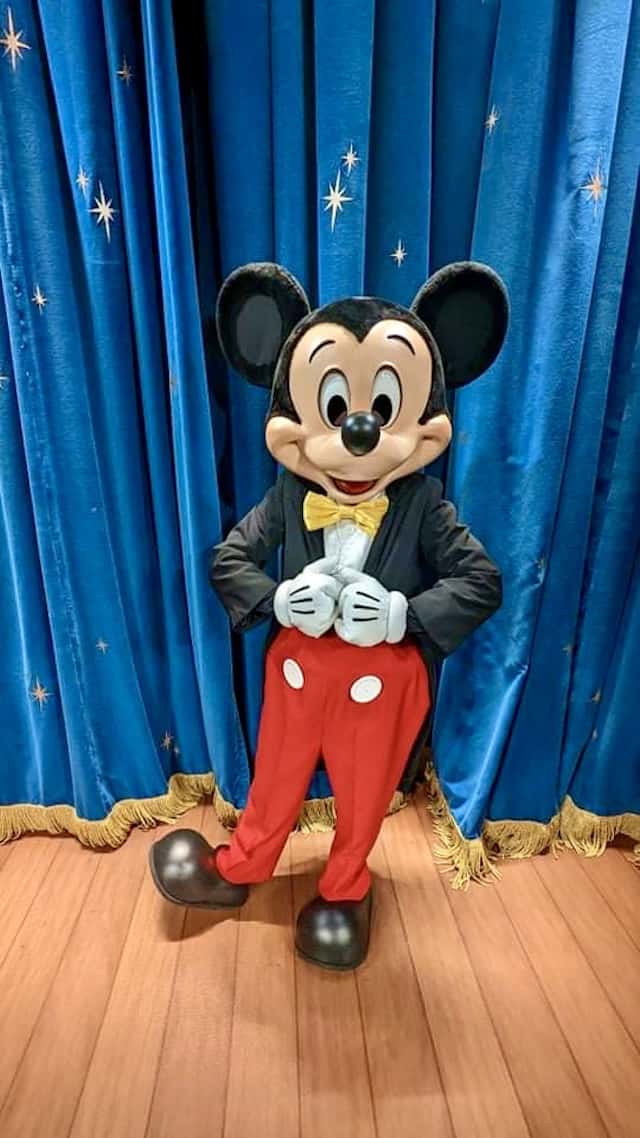 On Disney's website you will find their allergy statement. It reads:
About our allergy-friendly menu items: Guests may consult with a chef or special diets trained Cast Members before placing an order. We use reasonable efforts in our sourcing, preparation and handling procedures to avoid the introduction of the named allergens into allergy-friendly menu choices.
While we take steps to prevent cross-contact, we do not have seperate allergy-friendly kitchens and are unable to guarantee that a menu item is completely free of allergens. Allergy-friendly offerings are reliant on supplier ingredient labels. We cannot guarantee the accuracy of the contents of each food item.
Allergen advisory statements (e.g., "may contain") are not regulated and therefore not taken into consideration when developing allergy-friendly meals. It is ultimately our Gusts' discretion to make an informed choice based upon their individual dietary needs.
Food Allergy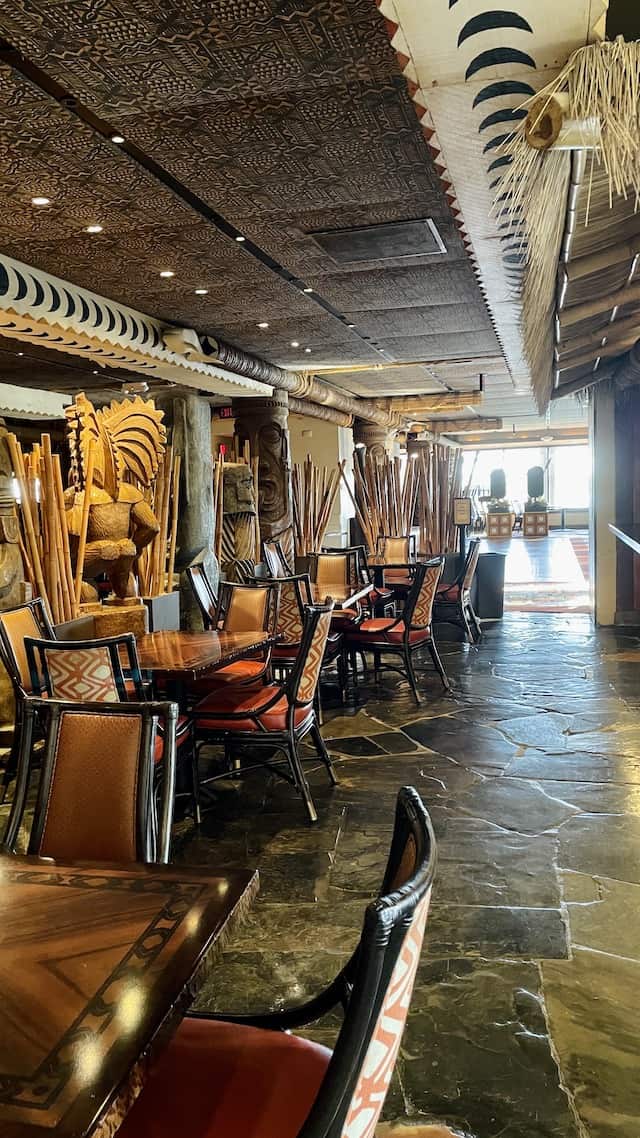 I'm sure many of you out there feel the same as me. I was very nervous when my youngest son was diagnosed with a food allergy. It can be very scary to not know if a food is "safe" for your child. My son was recently diagnosed with a milk and egg allergy. His doctor gave a list of things to avoid (who knew milk and eggs were in EVERYTHING) and armed us with an action plan if needed.
One thing I have learned through my Disney adventures is that Disney is accommodating to everyone! Disney takes food allergies very seriously. This is very reassuring. When we checked in, we were asked if anyone in the group had any allergies. We stated our allergies to the Cast Member.
Once seated, the server made sure she understood my son's allergy. She even offered for us to speak with a chef if we felt like we wanted to. Even though I had heard that Disney was good with accommodating food allergies, I was able to relax a little knowing that they were taking this allergy as seriously as I do.
Read about my food allergy experience at Tusker House HERE.
The Regular Menu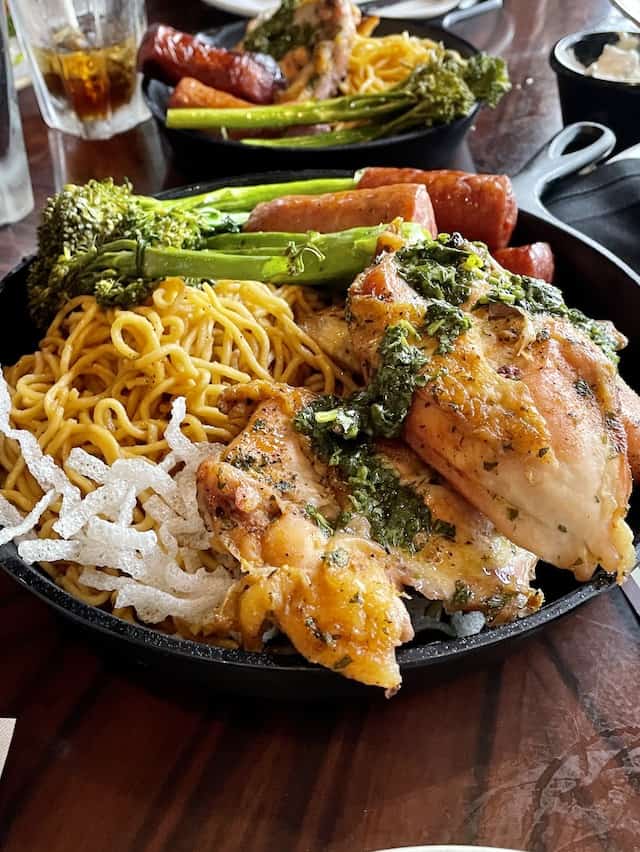 Most recently, we visited for dinner. The regular menu consists of grilled teriyaki beef, spicy peel-n-eat shrimp, grilled chicken and ʻOhana Noodles. Don't forget the pineapple coconut bread pudding and vanilla ice cream!
Allergy Friendly Menu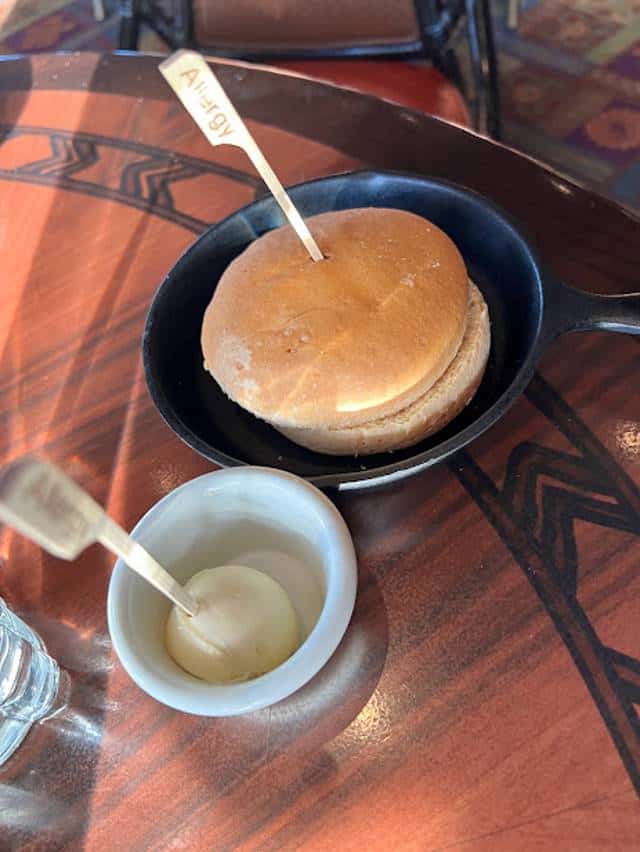 The meal started with an allergy friendly roll. I found this roll to be soft and flavorful unlike the roll we had at Tusker House. I also enjoyed that it came with a "butter" spread. My son gobbled this roll all up!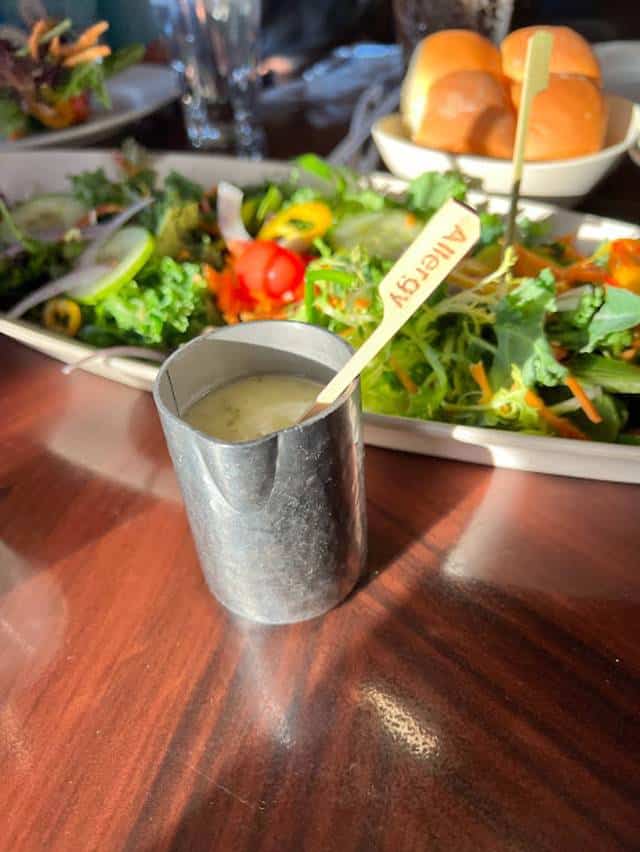 The salad course was next. The mixed green salad had Local Citrus Dressing. This was the same salad that the rest of the table could enjoy!
The main dinner course looked very similar to the rest of the table. It consisted of Honey-Coriander Chicken Wings, Roasted Broccolini, Grilled Chicken, 'Ohana Noodles and Black Pepper and Teriyaki-glazed Steak.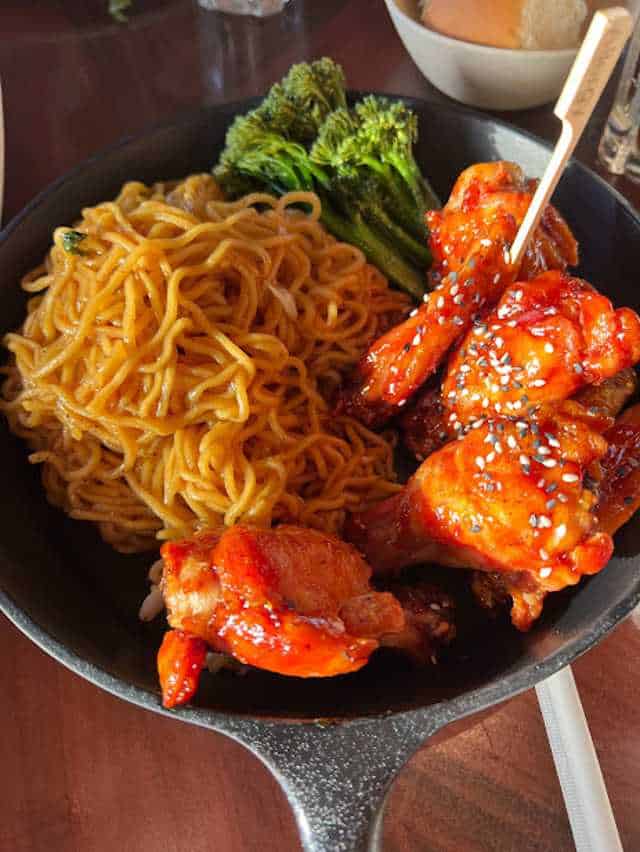 I was so impressed that this allergy friendly dinner skillet was almost identical to the one the rest of the table could enjoy. With a milk and egg allergy, we struggle to find items that are safe, but 'Ohana delivered!
The meats were all tender and flavorful even though all my son cared about where those famous 'Ohana noodles. I don't blame him; they were delicious.
Allergy items are clearly labeled.
I loved that every item came out clearly labeled which items were allergy friendly. This took away any stress that I had. It also reassured me that anyone in the kitchen handling the food knew there was an allergy at our table.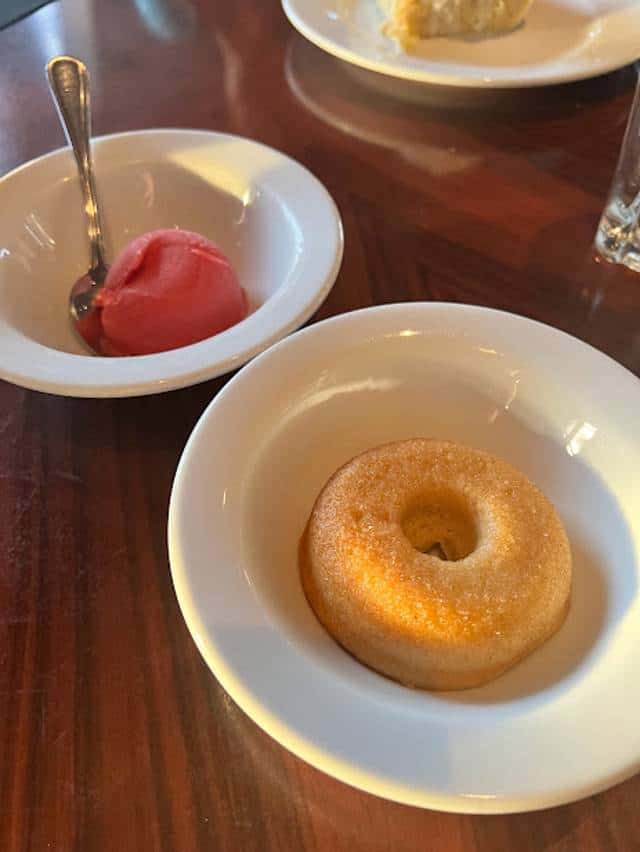 What's dinner without dessert? Not much! Although they didn't have a similar option to the bread pudding, the options they gave were quite tasty! A doughnut with a soy-based frozen dessert was our option
By this time my son was pretty full and couldn't fit much else, but he still enjoyed a few bites of each. I thought each item was good and offered plenty of flavor. At Tusker House I felt that the baked goods were bland and fell flat of what I had hoped for, but these baked treats at 'Ohana hit the spot.
Even my oldest son approved, and he happily finished off the doughnut and frozen dessert (after he had some of the bread pudding, of course).
Final Thoughts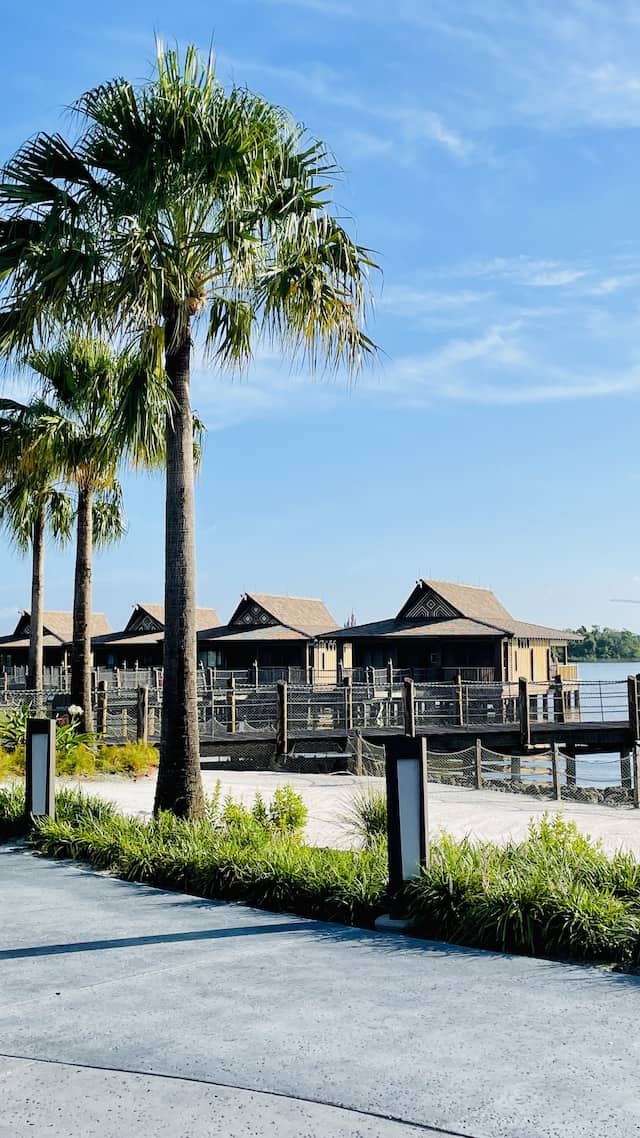 I personally loved that the allergy friendly menu was not far off from the regular menu. I thought every option that was brought to the table was delicious and flavorful and was not disappointing. It can be hard to find things that are safe, but I felt 'Ohana's menu surprised me. We have had such a hard time finding delicious options, but we don't have to look anymore!
I really loved that everything came out with an allergy label. This took some stress away from me, knowing that the kitchen was very much aware of his food allergies and extra care was taken.
I 100% recommend 'Ohana to anyone dining with food allergies. The menu was completely allergy friendly with little to no changes. The service was fantastic, and I felt that our allergies were taken seriously. I felt comfortable dining here, and honestly that's the most important thing!
I hope this review helped anyone who will be dining at Disney that may need to have an allergy friendly menu. Happy dining!
Do you or someone you travel with have a food allergy? What is your experience with dining with food allergies at Disney? Did you find this post helpful? Will you be visiting 'Ohana on your next trip? Let us know on the Kenny the Pirate Facebook page. Don't forget to join the KtP crew page, too!