Do you or someone in your travel party have a food allergy? It can be very stressful when eating out. See what it is like eating at Disney World with a food allergy.
Tusker House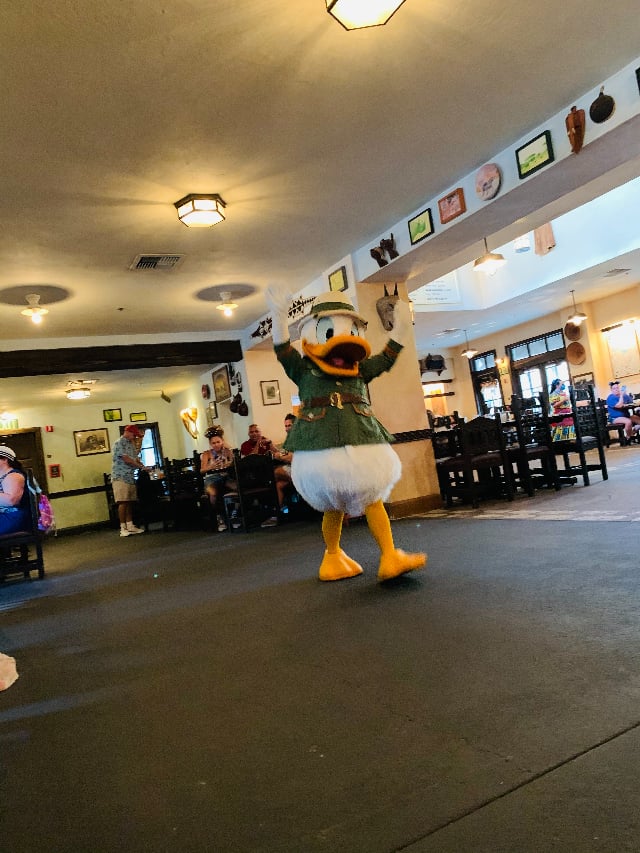 Tusker House is located in Africa at Disney's Animal Kingdom. I love seeing these Disney Pals in their Safari attire. Mickey, Donald, Daisy, and Goofy are usually seen at this meal.
Disney describes the meal as, "While you dine, snap a photo and tip your pith helmet to Donald Duck—suited up and ready for his next safari adventure—along with his Disney friends, as they travel throughout the dining rooms celebrating their latest expedition."
Modified Experience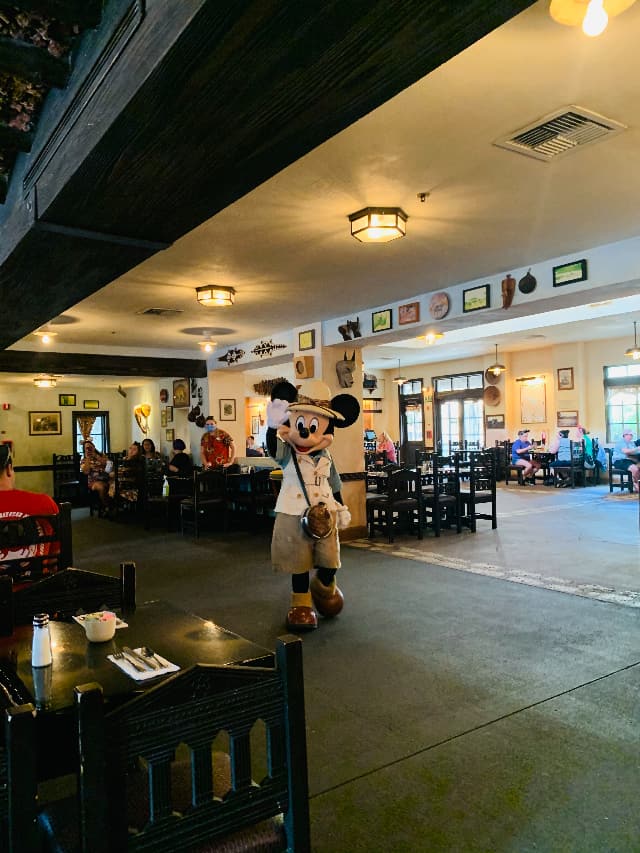 Since reopening, Tusker House has moved to a family-style restaurant. I don't know about you other parents out there, but I (Heather) LOVE this! Family style dining is a game changer when kids are involved. I love not having to get up and juggle plates while getting my food. I also LOVE that you don't miss any characters.
I have always had great experiences with character meals, even before the pandemic. I love that the character attendants make sure you get to see each and every character even if they are nearing your table when you are first getting settled at your table.
I just enjoy not having to stress about missing anyone or anything. I also get to sit and enjoy my meal more in a family style setting. I do miss that there was more variety in a buffet. My family is not so adventurous, so having a buffet always gave me an opportunity to try new and different foods.
Previous Experience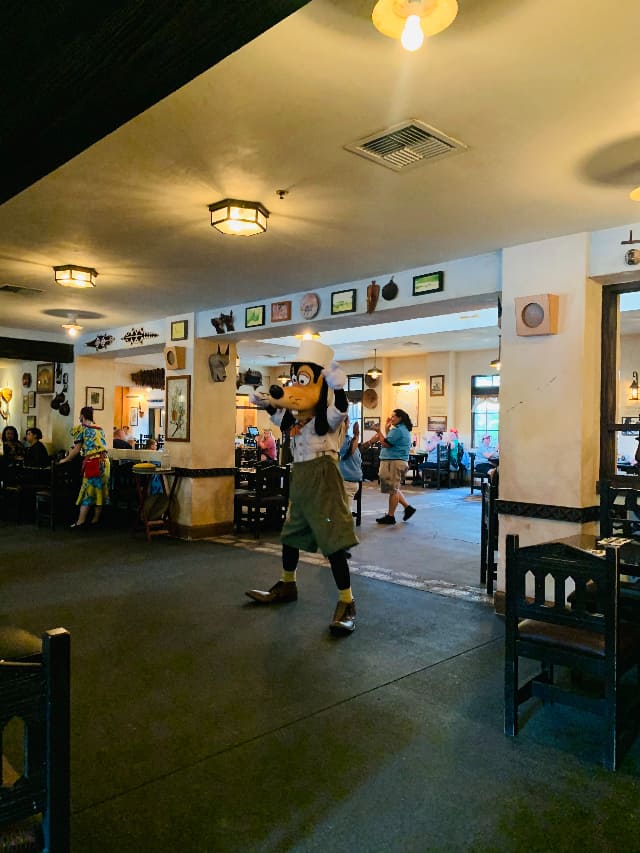 I visited last July when Tusker House first reopened. I LOVED this breakfast so much that it is now a must do for my family. Read about my experience HERE.
Other members of our writing team had lunch at Tusker House. Read about their experience HERE.
Disney Allergy Statement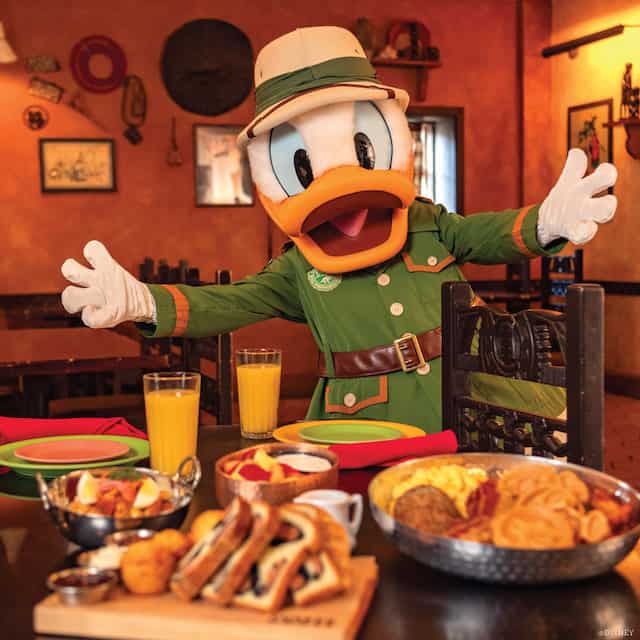 On Disney's website you will find their allergy statement. It reads:
About our allergy-friendly menu items: Guests may consult with a chef or special diets trained Cast Members before placing an order. We use reasonable efforts in our sourcing, preparation and handling procedures to avoid the introduction of the named allergens into allergy-friendly menu choices.
While we take steps to prevent cross-contact, we do not have seperate allergy-friendly kitchens and are unable to guarantee that a menu item is completely free of allergens. Allergy-friendly offerings are reliant on supplier ingredient labels. We cannot guarantee the accuracy of the contents of each food item.
Allergen advisory statements (e.g., "may contain") are not regulated and therefore not taken into consideration when developing allergy-friendly meals. It is ultimately our Gusts' discretion to make an informed choice based upon their individual dietary needs.
Food Allergy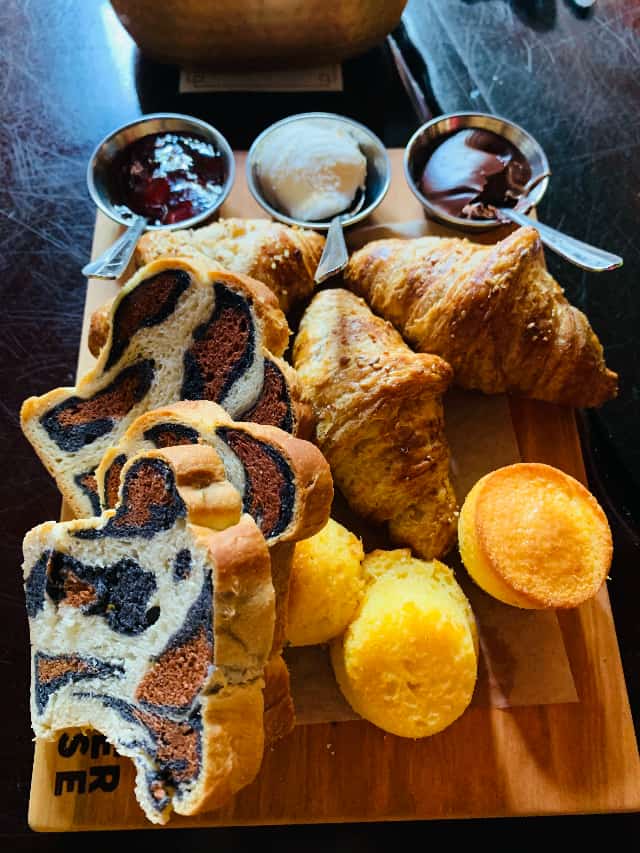 I'm sure many of you out there feel the same as me. I was very nervous when my youngest son was diagnosed with a food allergy. It can be very scary to not know if a food is "safe" for your child. My son was recently diagnosed with a milk and egg allergy. We were then given a list of things to avoid (who knew milk and eggs were in EVERYTHING) and armed with an action plan if needed.
One thing I have learned through my Disney adventures is that Disney is accommodating to everyone! Disney takes food allergies very seriously. This is very reassuring. When we checked in, we were asked if anyone in the group had any allergies. We stated our allergies to the Cast Member.
Once seated, the server made sure she understood my son's allergy. She even offered us to speak with a chef if we felt like we wanted to. Even though I had heard that Disney was good with accommodating food allergies, I was able to relax a little knowing that they were taking this allergy as seriously as I do.
The Menu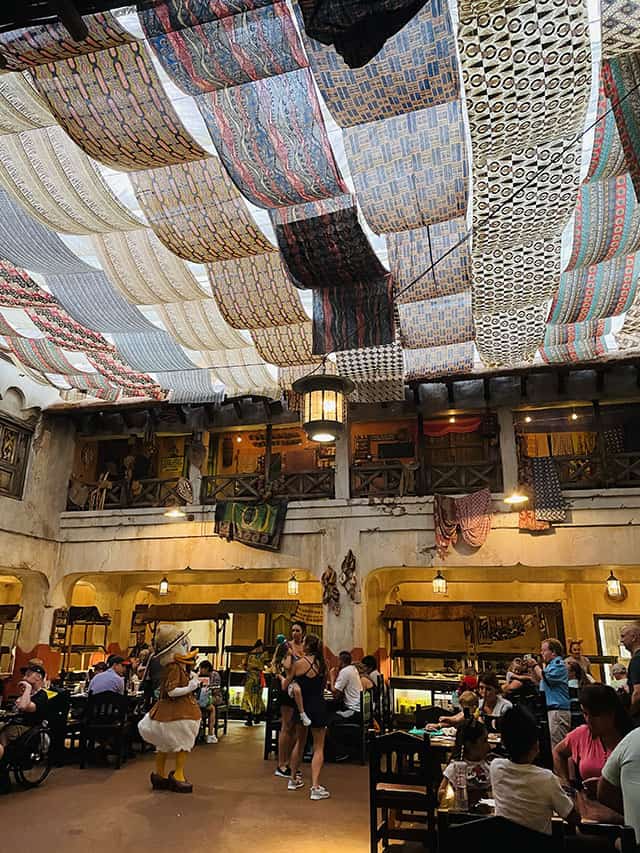 The server brought out both regular menu items and "allergy-safe" items. There were no labels on any of the items, but she clearly stated which items contained the allergy and which ones were for the general table.
Due to my son's specific allergy, the pastry basket was not an option. He was given a dinner roll instead. This was the only bread offering. I was hopeful for more options but wasn't too surprised as I know that egg and dairy make up a lot of bakery items.
No butter substitutes or spreads were given with the roll. We probably could have asked for some, but my one year old was happy with just the roll.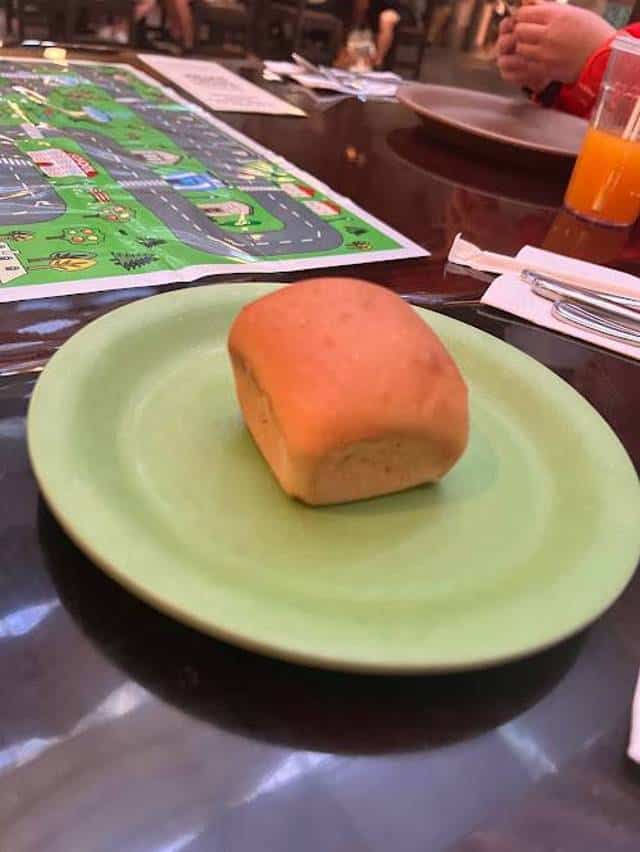 Even though I personally do not have any food allergies, I wanted to see how the food compared to what the general table was given. I tried a bite of the dinner roll that was provided. It was dense and very bland. It did not have much flavor at all, so I would definitely want some sort of a spread on it.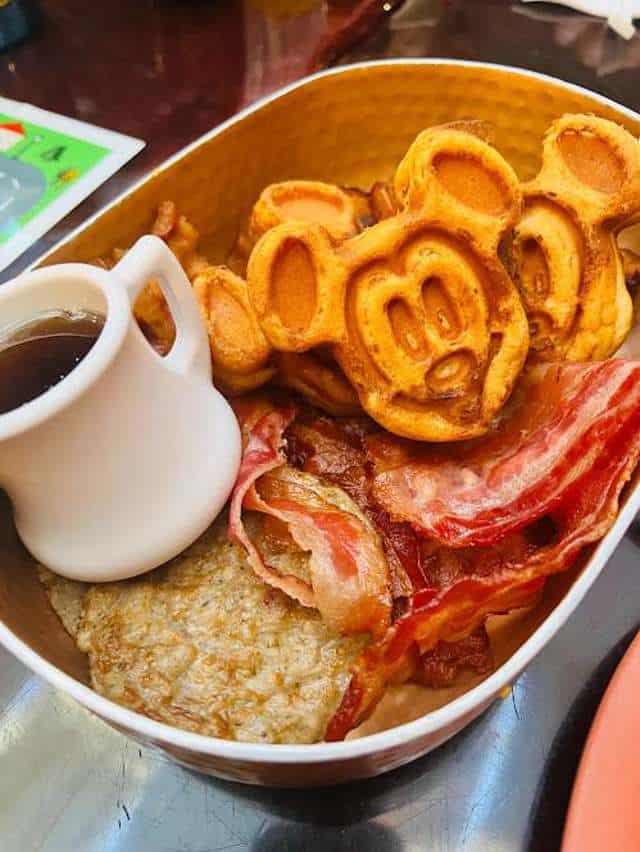 The main course was similar to ours. In his Allergy Friendly breakfast platter there was Mickey Waffles, bacon, sausage, potatoes and syrup. Obviously, no scrambled eggs were provided in his platter.
All the food in this platter was very good. Nothing was missing flavor in this offering! If I did not have the regular Mickey Waffles to compare the allergy friendly ones to, I wouldn't have noticed a difference. I felt the Allergy Friendly Mickey Waffles were a little drier and maybe a little bland, but with some syrup you would never know!
The Allergy Breakfast Platter was delicious! No flavor missing here!
We also did not get the Durban Chicken & Egg Curry with Jasmine Rice due to it containing eggs. I'm not sure if they could have offered it without egg or not.
Final Thoughts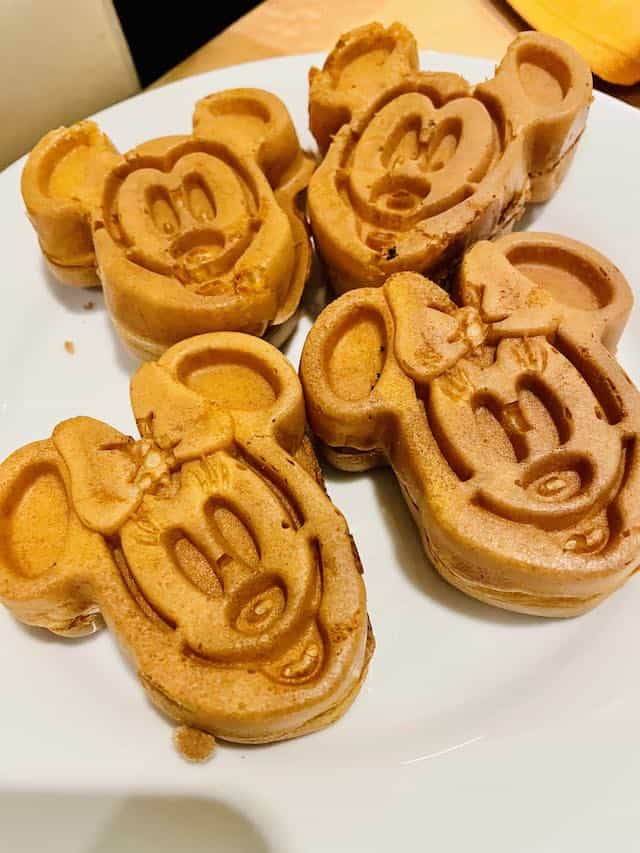 Overall, I thought the main dish was delicious. I didn't feel like much was missing from this. However, the allergy friendly "pastry basket" offering had a lot to be desired. Maybe it could have been better if some sort of spreads were offered. Yes, there were spreads on the regular pastry basket, but I feel like separate ones should have been offered.
I would eat here again with their allergy friendly menu! My whole family can enjoy a delicious Disney meal with these tasty allergy friendly options! Thank you Disney for keeping these Disney Dining Dreams alive for this momma!
If you are looking for more tips on dining with allergies, see Jamie's post HERE.
Have you used Disney'es Allergy Friendly Meal options? What did you think of them? Were they good or fell short of your expectations? Let us know on the Kenny the Pirate Facebook page. Don't forget to join the KtP crew page, too!