There are many places for guests to find breakfast on Disney property. My family enjoyed this breakfast, and hope it stays this way! Read on for the full review.
Tusker House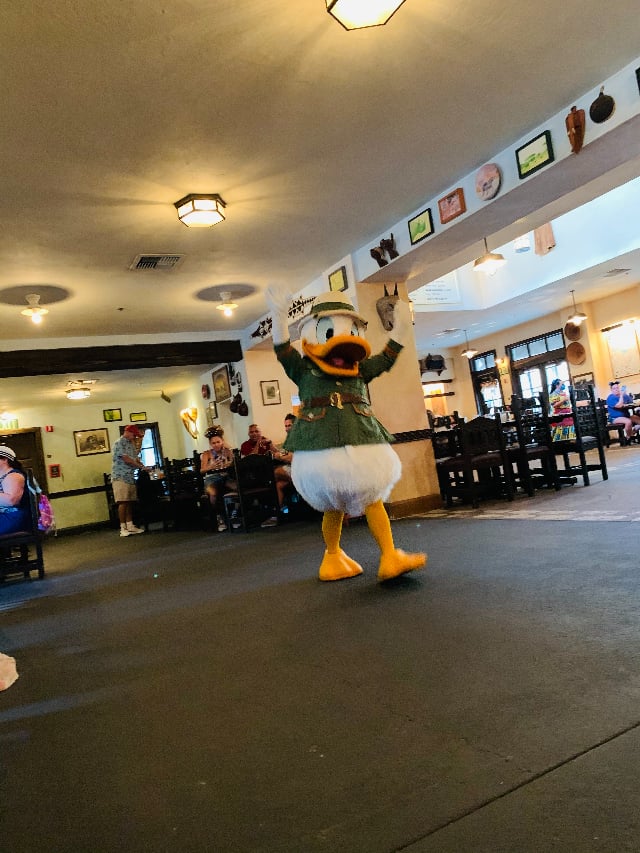 Tusker House just recently opened with a modified experience. Characters still appear at this dining location, however these visits are socially distanced.
Read Maggie's review on her thoughts of what Tusker House was like before the closure and what it is like now HERE. Maggie enjoyed her lunch here recently!
My (Heather) family really enjoys breakfast. I have some picky eaters in my family, and breakfast seems to be the winner of pleasing the most people. Because who doesn't love a Mickey Waffle?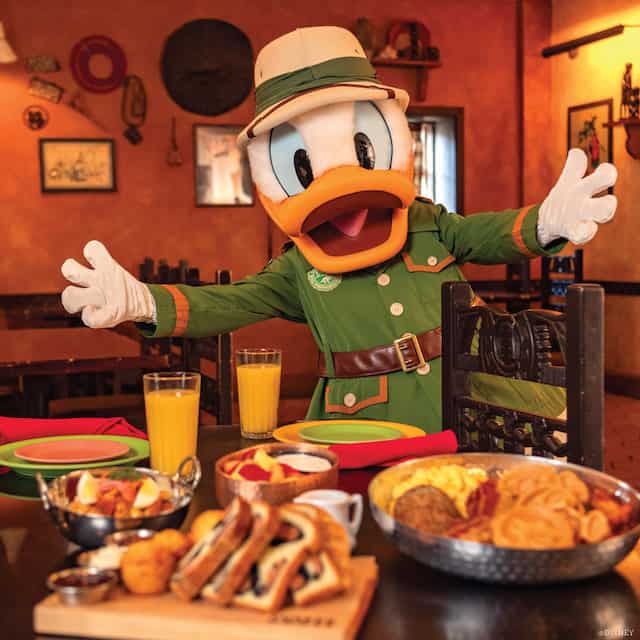 Tusker House is located in Africa at Disney's Animal Kingdom. I love seeing these Disney Pals in their Safari attire. Mickey, Donald, Daisy, and Goofy are usually seen at this meal.
Disney describes the meal as, "While you dine, snap a photo and tip your pith helmet to Donald Duck—suited up and ready for his next safari adventure—along with his Disney friends, as they travel throughout the dining rooms celebrating their latest expedition."
Modified Experience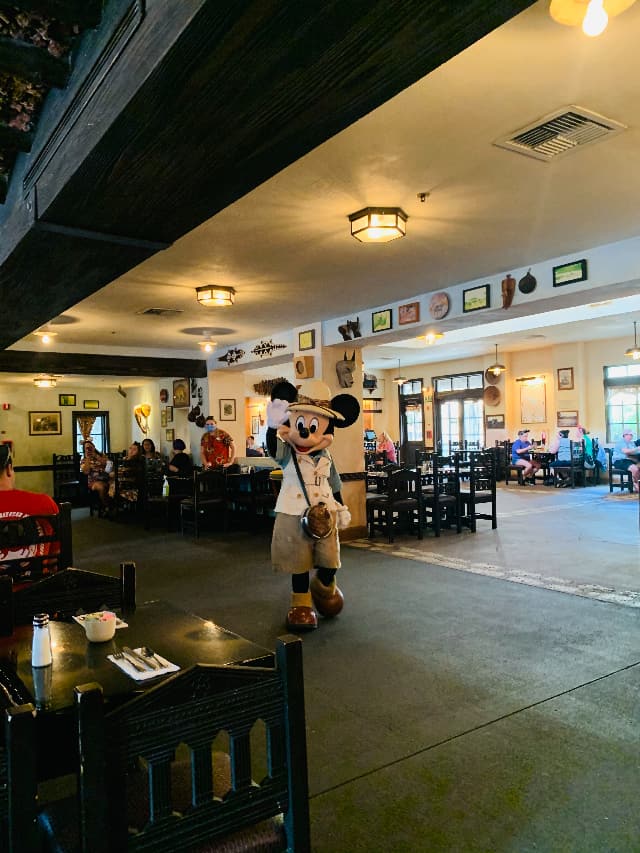 I am one of those people who HATE buffets! Trying to juggle plates and children is no vacation. I specifically plan meals where I can sit down and enjoy my meal. Any other parents out there plan this way? I can't be alone in this!
This dining experience is now serving FAMILY STYLE! I was so excited when I heard this my first question was, "where do I sign up?" Even better is that characters would still be making an appearance. I knww the meets would be socially distanced, but it's something!
I was willing to give this modified experience a try, and I was not disappointed. The food and the character interactions were amazing.
Check in and Seating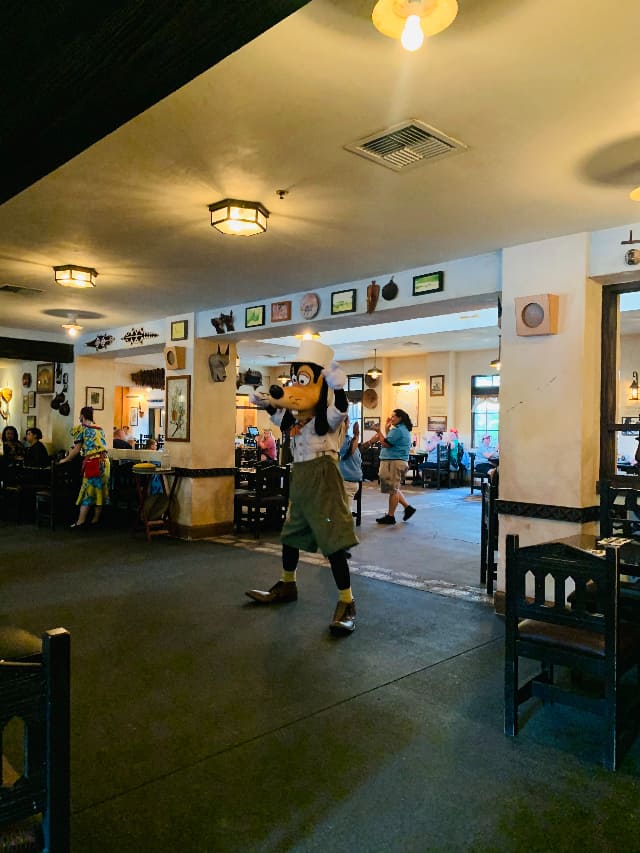 You now can check-in for reservation on your phone through the My Disney Experience App. I loved this. We could check-in while we were walking to our reservation.
It felt like no sooner did we check-in, we were being seated. I loved this! It always felt like we would wait for at least 15-30 minutes after our reservation time before we were seated. I had grown to expect this so sitting immediately was wonderful.
Upon entering you could see the food was no longer out on the buffet. Tables are also more spread out. I loved that we had a little more space between us. This was a welcome change as Disney is still encouraging socially distancing with signs, but asking you to "fill in all available space." I am one of those people who likes their space.
On the Menu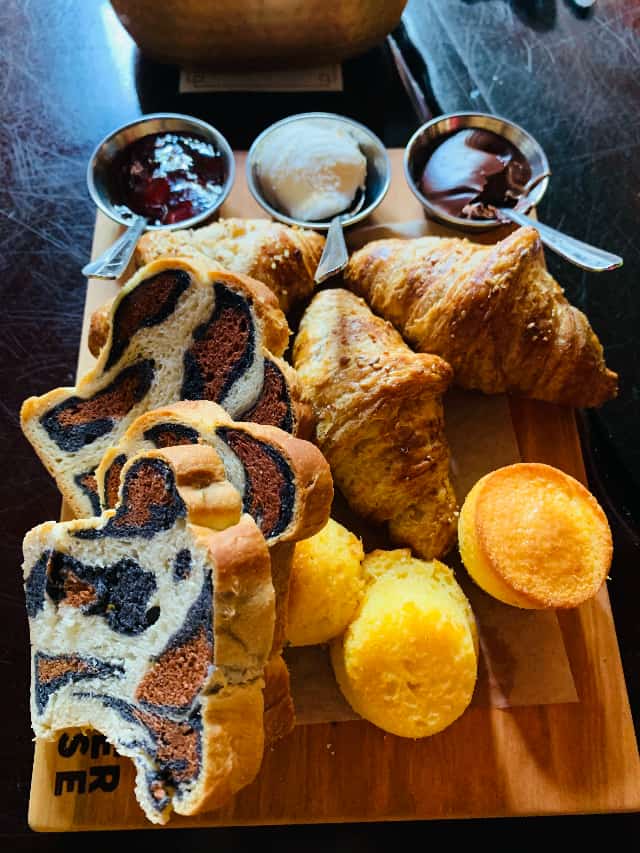 For breakfast, guests can enjoy a delicious pastry basket with Safari Bread, Multigrain Croissants and Cornbread served with Whipped Butter, Nutella, and Strawberry Preserves. Fresh fruit with a honey yogurt sauce is also served.
The main course includes potatoes, scrambled eggs, Mickey and Simba-shaped waffles, bacon, sausage, and Durban chicken-egg curry with jasmine rice.
Food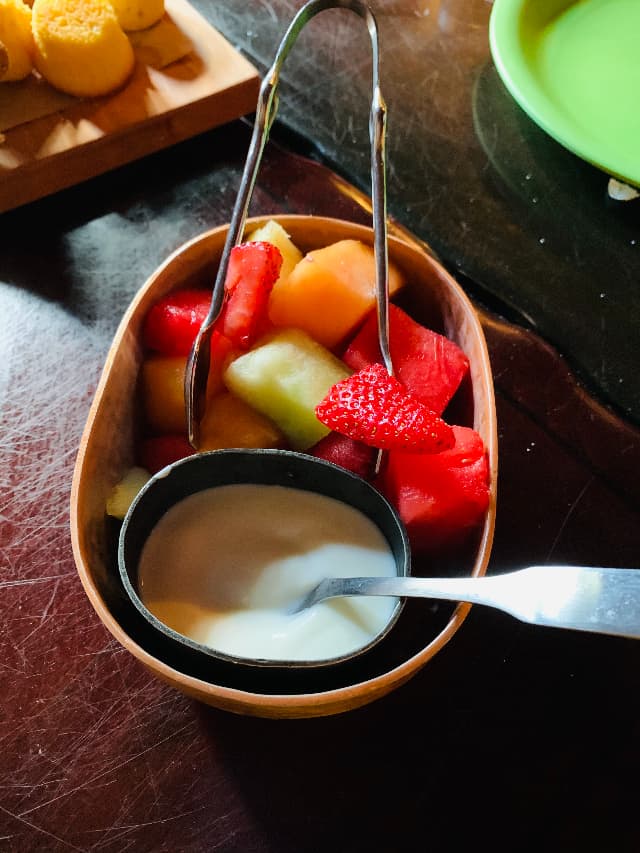 Once we were sat our server quickly greeted us. She asked what we would like to drink. Jungle Juice is on the menu! My family opted for the Jungle Juice and coffee. I love the Jungle Juice and the refills kept coming.
Soon after our drinks were brought to the table the pastry basket and yogurt were served. I enjoyed all the pastries that were offered, but we all preferred the safari bread most.
This family-style meal is still all you can eat. All you have to do is ask, and they will bring more of anything you want without hesitation!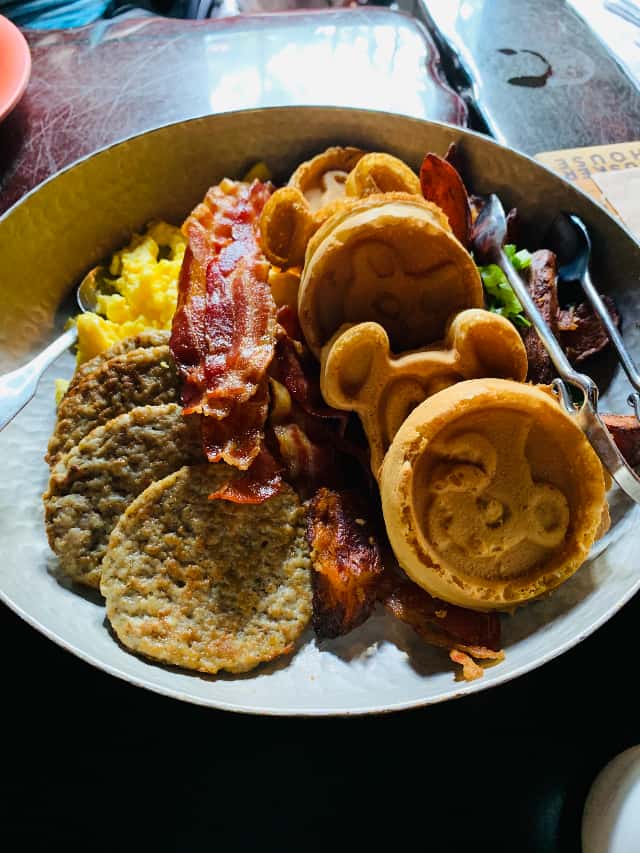 The honey yogurt was served with a mix of fruit, mostly melons and strawberries. My son loves strawberries and they were able to bring over a dish of just strawberries. I love this kind of service and to help the guest have an enjoyable meal.
Next was the main platter. MICKEY WAFFLES! I love that Simba waffles are served here as well, keeping with the Animal Kingdom theme. Our waffles were cooked perfectly, unlike Jamie's experience at Chef Mickey's.
The potatoes, bacon, sausage and scrambled eggs were standard buffet type food. Good but not phenomenal. My family still enjoyed them.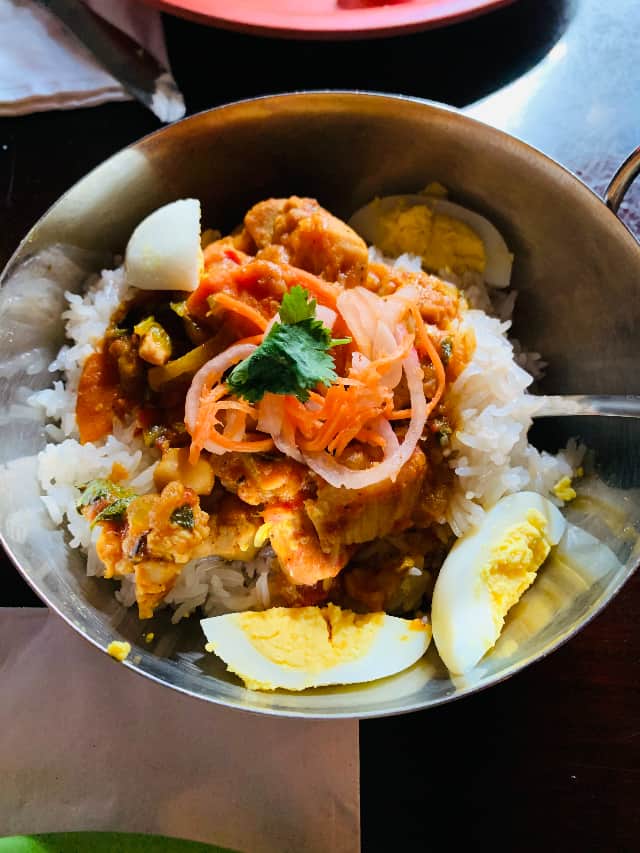 Along with the main platter they served Durban chicken-egg curry with jasmine rice. Nobody else in my family enjoyed this, but I did. I loved the flavors of the chicken and rice.
This may not be a traditional breakfast item for my family, but it was nice to try something new. I probably wouldn't have normally ordered this, but after trying it I would order this dish again.
Characters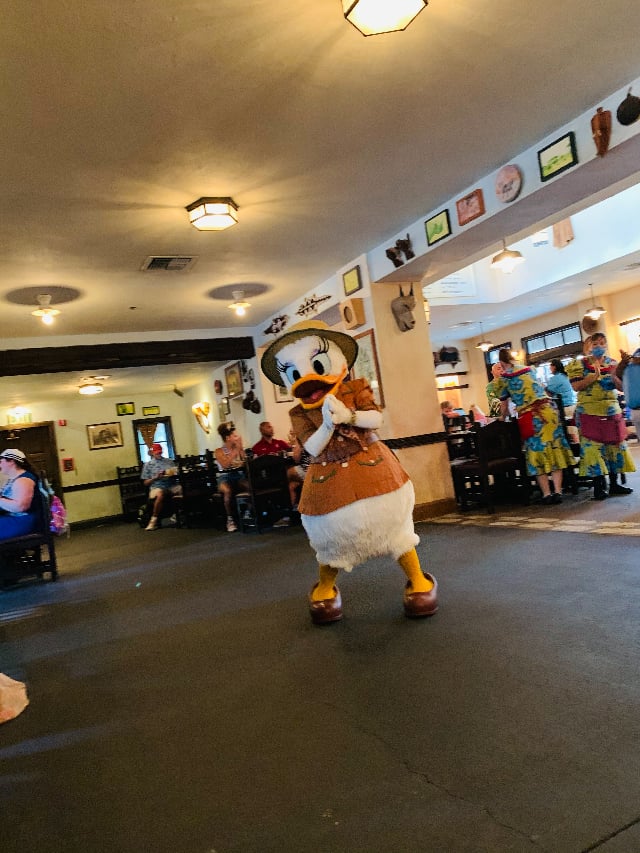 Unfortunately, you won't meet all of the Fab Five here. I'm sad you won't find Minnie here since she is one of my favorite characters. Each character came around and interacted with each table. I felt that each character made a point to really make these interactions special.
They didn't just stop and take one picture and move along. They interacted as if we were in a "normal" meet and greet. I missed this! It was so heartwarming to have these interactions again.
My son was definitely disappointed that he couldn't hug Mickey during this trip, but he really loved how special they still made it. He was still jumping up and down with excitement as each character "visited" our table.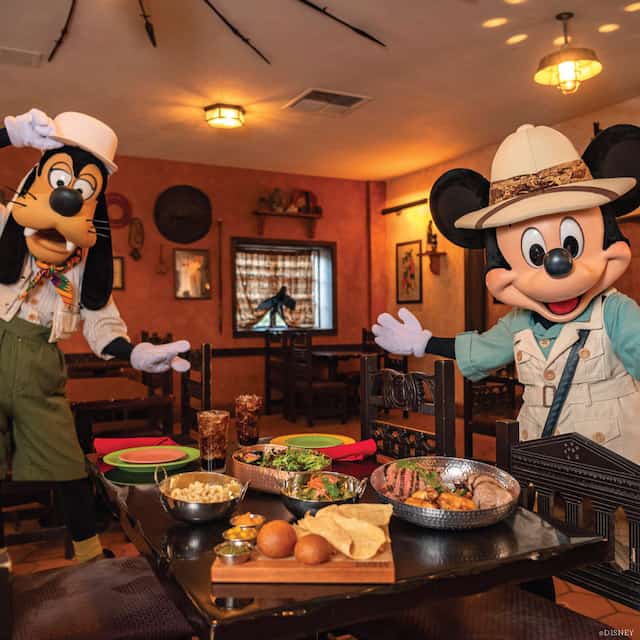 We loved that they let us stand up at our table and take a picture while still practicing social distancing. Some character dining experiences are still asking guests to remain seated during their character interactions.
As we weren't able to get our own autographs from the characters, we were given a postcard with their autographs on it. I am glad they still offered this. It added a nice touch.
Overall Thoughts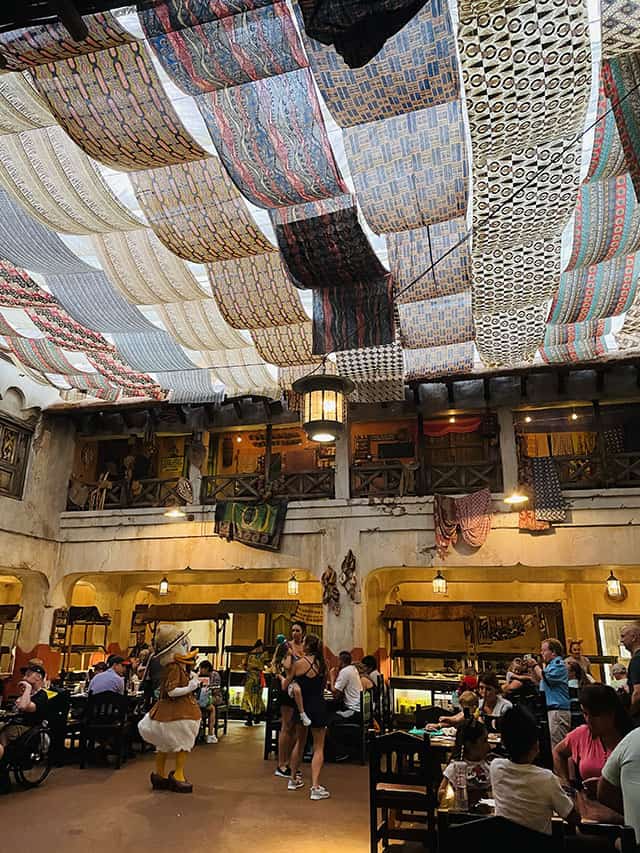 This was by far my favorite meal during my last visit. I loved the food, atmosphere, and the character interactions.
I really hope that this meal stays family-style. With buffets returning in Disneyland, I'm afraid they will be returning to Florida soon too.
This meal was worth the money.
I loved that our tables were spaced out so we didn't feel crammed in to the dining area. Nothing felt rushed. We had time to interact with the character and then eat as well. Our server was outstanding! She visited our table often and made great conversation!
This is a new MUST DO on my dining list!
Have you been to Tuskey House lately? Will you be visiting soon? Let us know on the Kenny the Pirate Facebook page. Don't forget to join the KtP crew page too!
-Heather Alosa