Recently my (Jamie) family visited Chef Mickey's for breakfast! We had tried it once before and were left feeling disappointed by the experience, but we wanted to give it one more go! For the second time, this restaurant did not live up to the hype for us. Do you agree with my evaluation of this restaurant?
Chef Mickey's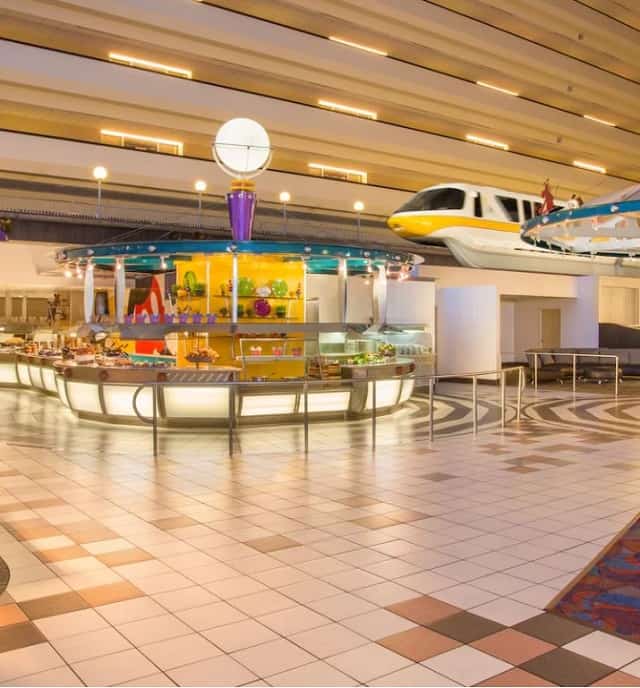 Chef Mickey's is a character dining table service meal located in Disney's Contemporary Hotel. This well known restaurant serves an all-you-care-to-eat family style meal for either breakfast or dinner. Guests love to dine with views of the monorail whizzing through the Resort, with Mickey and his pals stopping by to say hello!
Breakfast prices are $42 for adults ages 10 and up and $27 for children 9 and under. Dinner will run you $59.99 for adults ages 10 and up and $35.00 for children 9 and under.
So, is this meal really worth the hefty price tag?
Food Review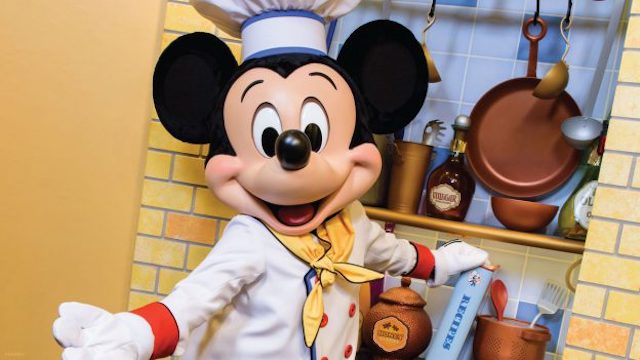 We decided to do breakfast this time since our last experience was dinner, and we thought it was awful. I mean, how hard is it to mess up breakfast right?
Well, apparently it isn't that hard because our food was less than stellar, with one exception. Let's get to it!
The menu makes it appear as though everything is brought out in courses, but we did not find this to be the case. When our meal was served, it was all brought out to the table at once, leaving very little space for us to eat.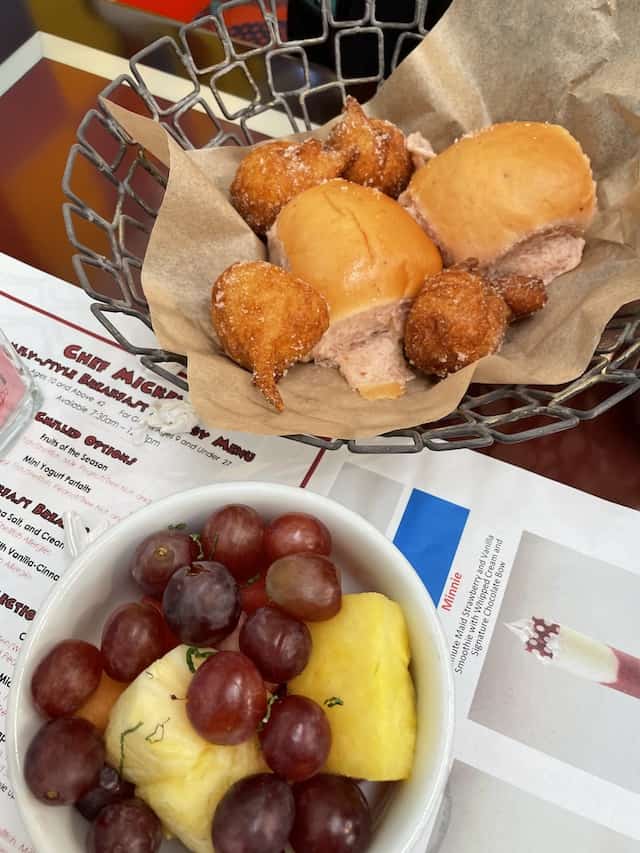 There was fruit and yogurt with granola along with sweet rolls and a fried fritter. The main course platter featured scrambled eggs, slow roasted beef brisket, pork sausage links, bacon, and chicken sausage.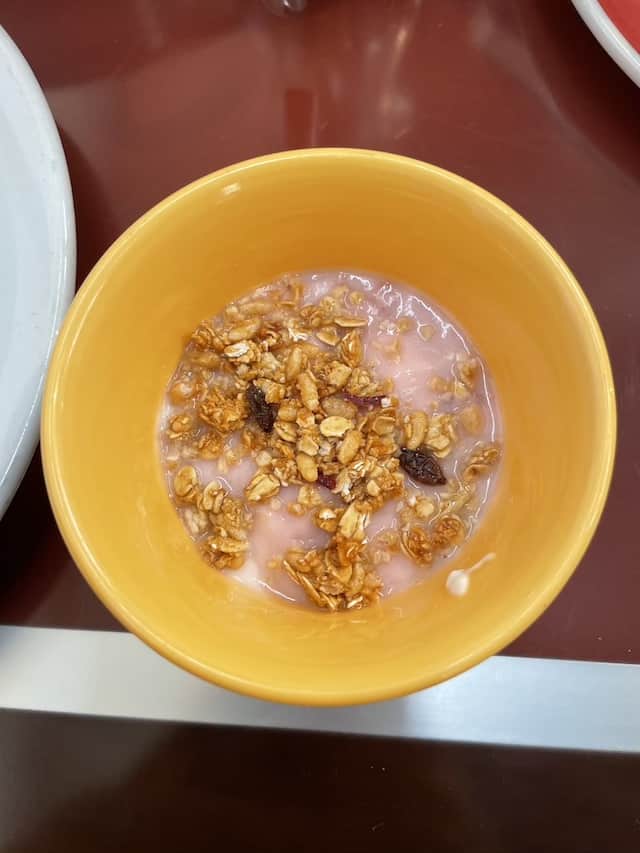 All of the meats were fine, and the eggs were the typical Disney eggs. All in all, this platter was nothing special.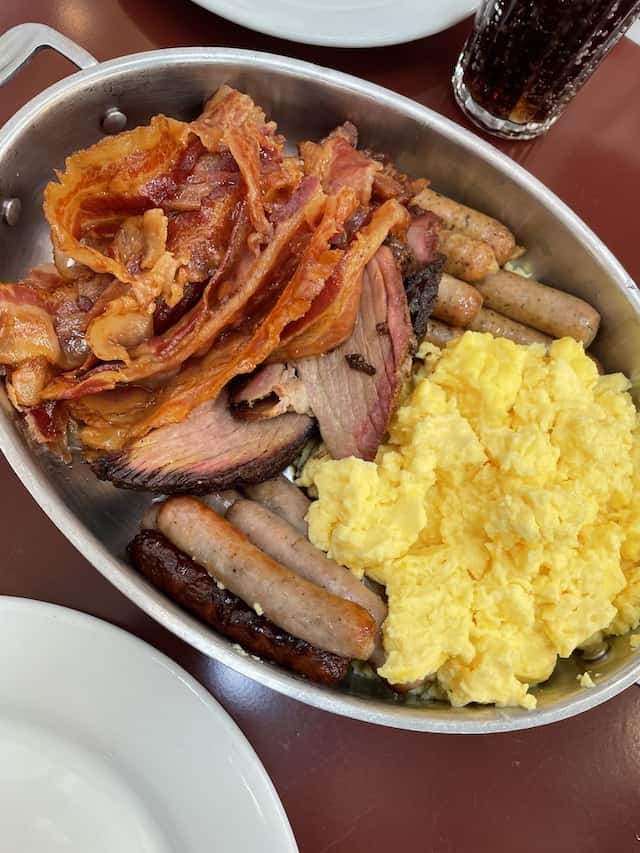 This platter normally contains Mickey waffles as well, but ours were served on the side because we had an allergy at our table.
For us, Mickey waffles are what we look forward to most at breakfast. As you can see our waffles were overcooked at best, and straight burnt at their worst. We hardly even ate them.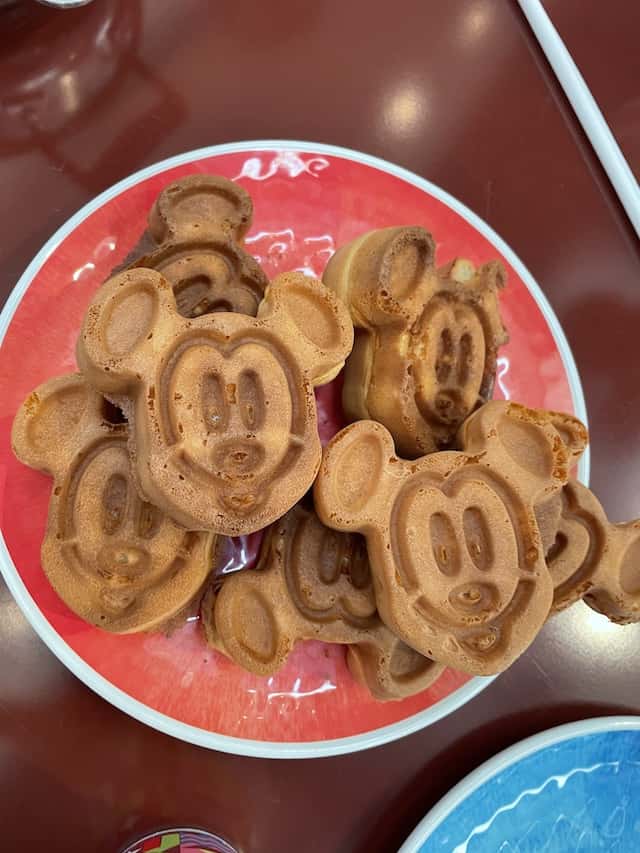 We would've asked for new ones, but our server never returned to our table until the very end of the meal.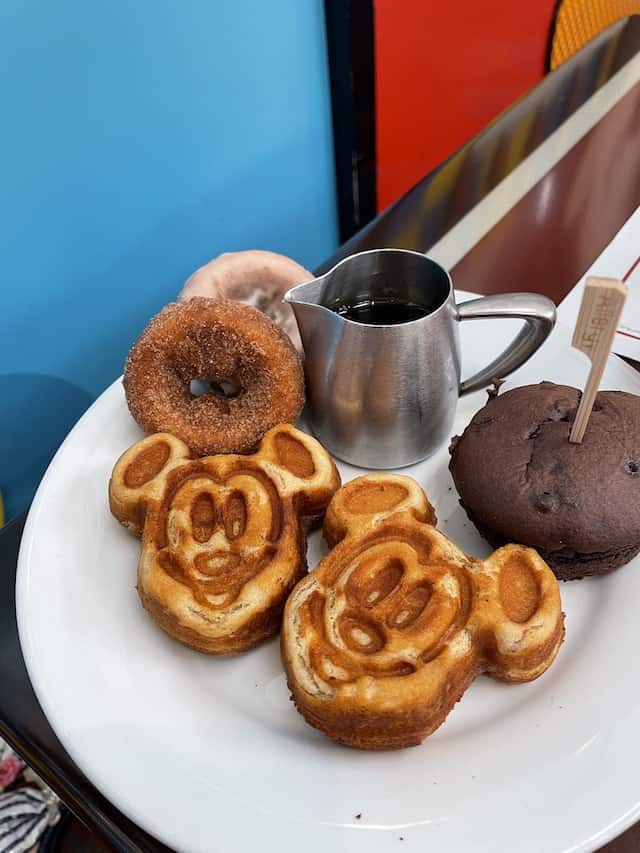 There was a wonderful allergy menu available, which was very accomodating. Our family member with allergies reported her allergy friendly offerings were delicious, and she was very excited about them.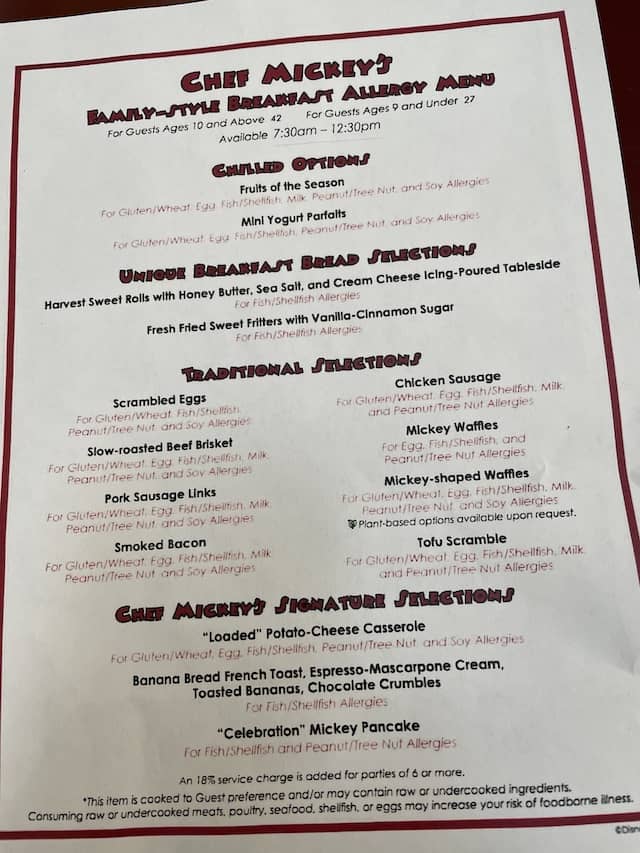 There was also a pancake served that was labeled a "Mickey Celebration pancake." Looks like he lost part of his ear! This pancake was a typical pancake, but it was served to us cold.
The loaded potato cheese casserole was a definite hit with my family.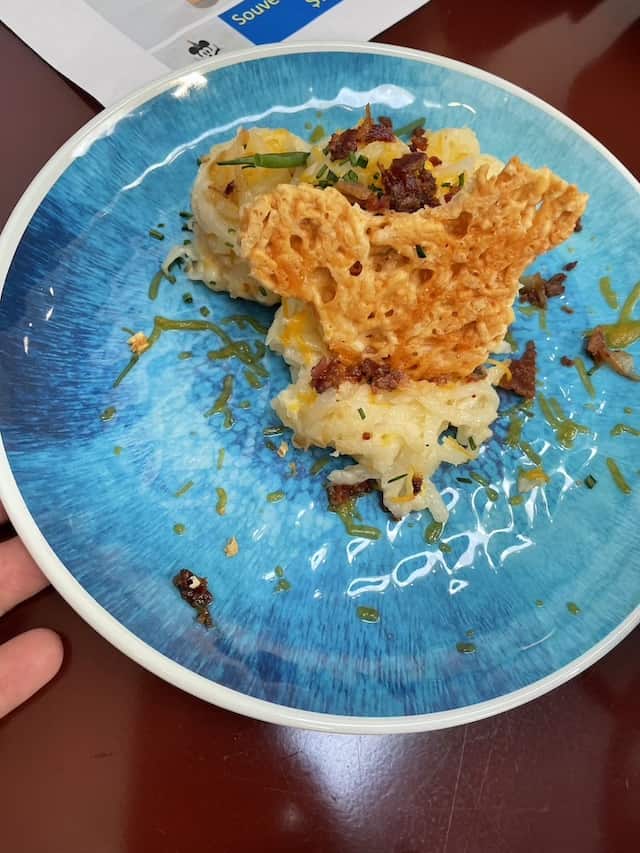 The banana french toast was the best thing on the table by far! It was amazing. The french toast was sweet and tasted more like banana bread then french toast.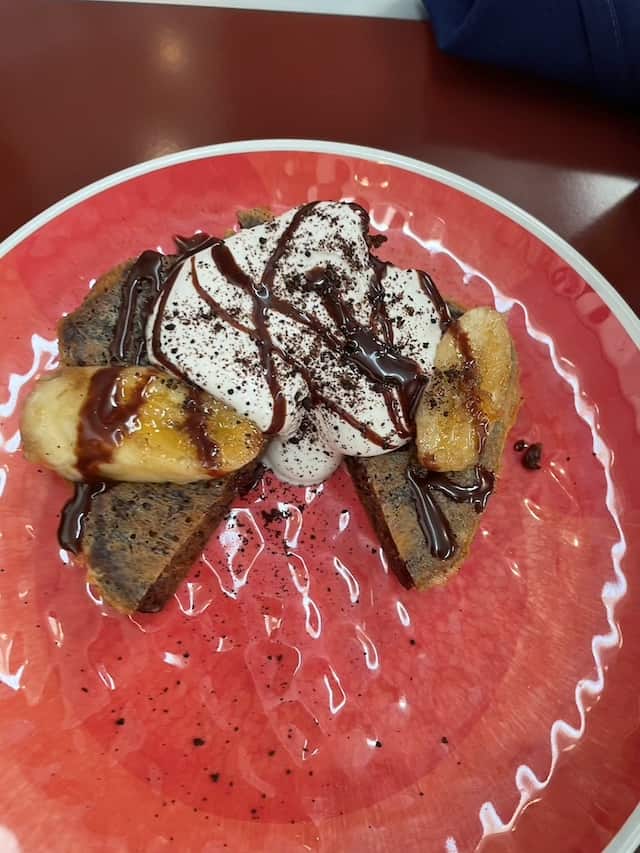 There were some specialty drinks offered as well. We tried the Minnie Mouse Smoothie, a frozen strawberry and vanilla smoothie topped with whipped cream and a white chocolate bow.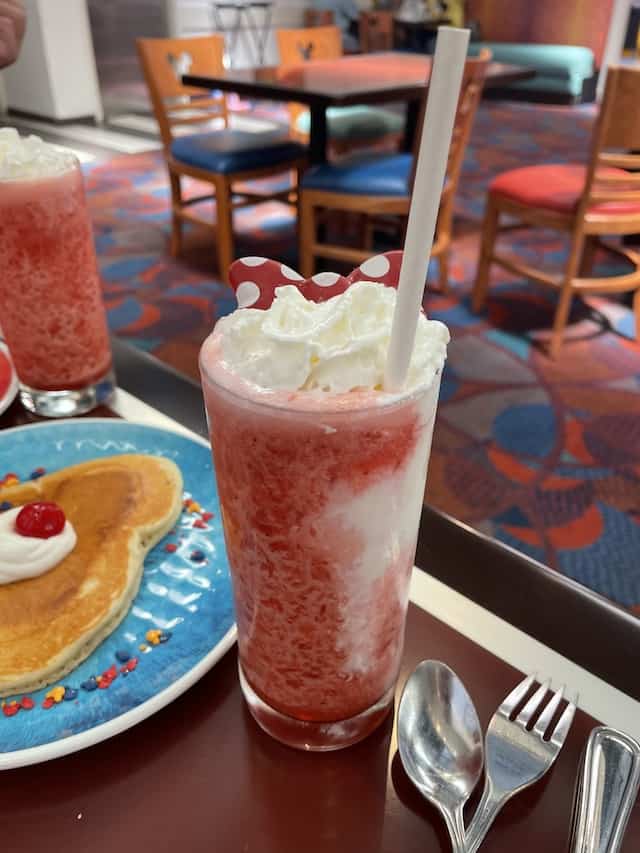 We also tried the Salted Caramel cold brew with cold brew Joffrey's Coffee, heavy cream, and salted caramel topped with whipped cream.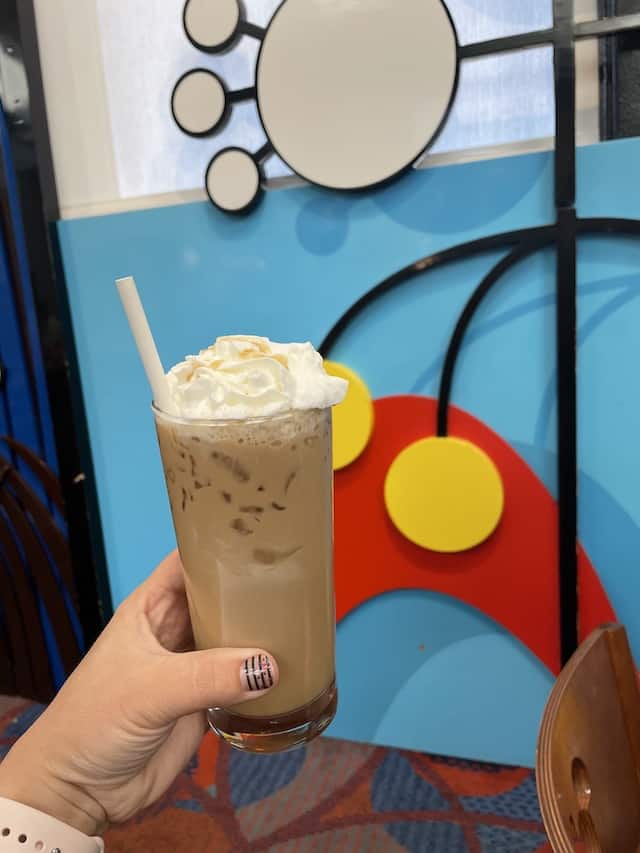 Both of these drinks were big hits at our table! The smoothie was exactly how you'd picture it tasting, and the cold brew was excellent!
Overall, although the drinks were fun, the food was blah at best. I would definitely not recommend this breakfast based on the food we ate during our visit.
Character Interaction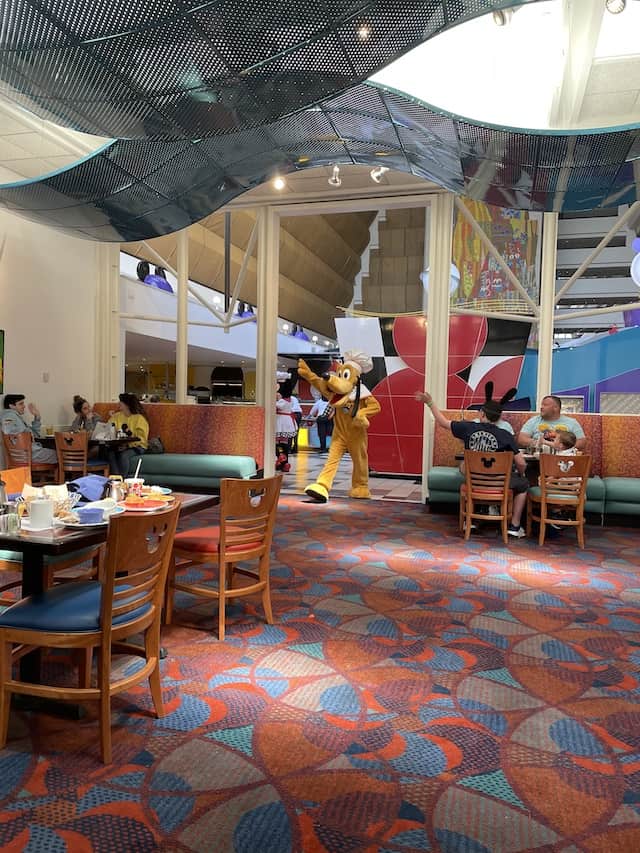 The big draw (for me, anyway!) to this restaurant is the characters. Chef Mickey comes out to greet Guests along with his pals Minnie, Donald, Goofy, and Pluto.
I expected the characters to be highly interactive with my family since they were greeting them from a distance and couldn't come up to the tables for autographs or hugs.
I was wrong, much to the dismay of my children!
Each character stopped at a few set points in the room we were in, and posed for a super quick photo (super quick as it better be ready because they did not wait for us!) before moving to the next spot.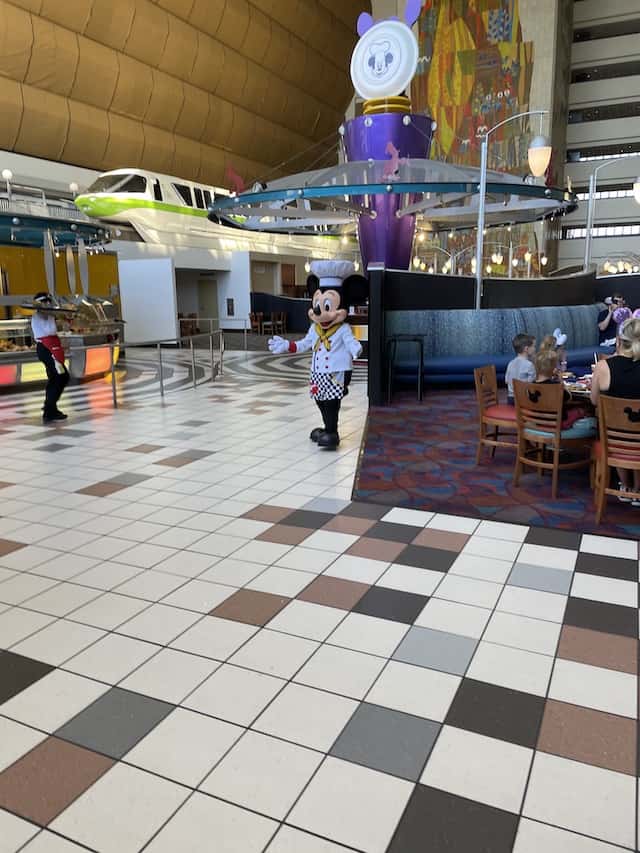 My kids were not even able to talk to the characters like we have at other character dining meals post-Covid. The characters barely stuck around long enough for that picture.
In the past at other character dining experiences, our server would wait to take our order if the characters were in the room so we could enjoy saying hello to them. Our server came to talk to us right as Donald entered the room and continued to talk us. As a result I got no pictures and some disappointed children!
I told our server and she said she would have him come back, but he never did.
We were given a postcard with autographs from the characters at the end, which was super exciting since we missed out on the real thing.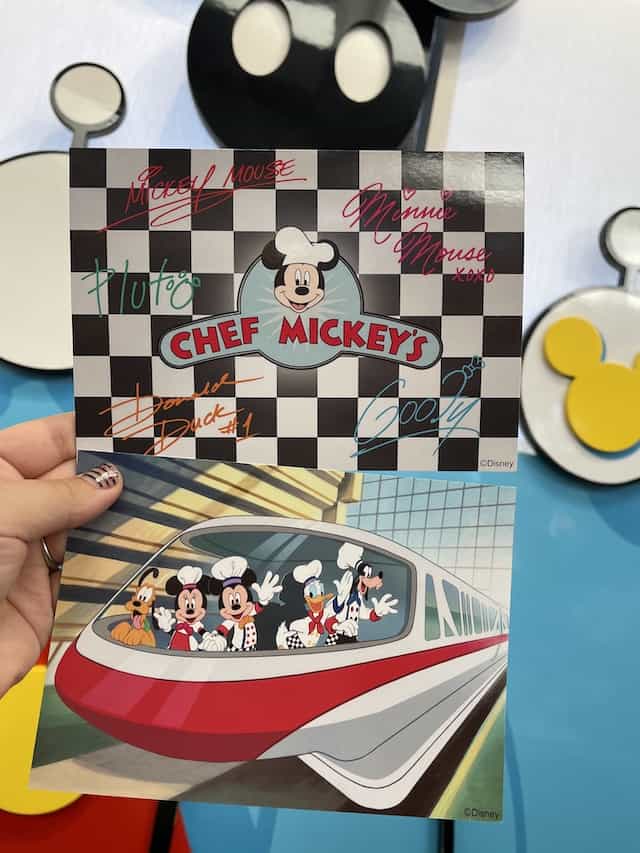 All in all, this character experience was not worth the price tag or the lackluster food we experienced.
Atmosphere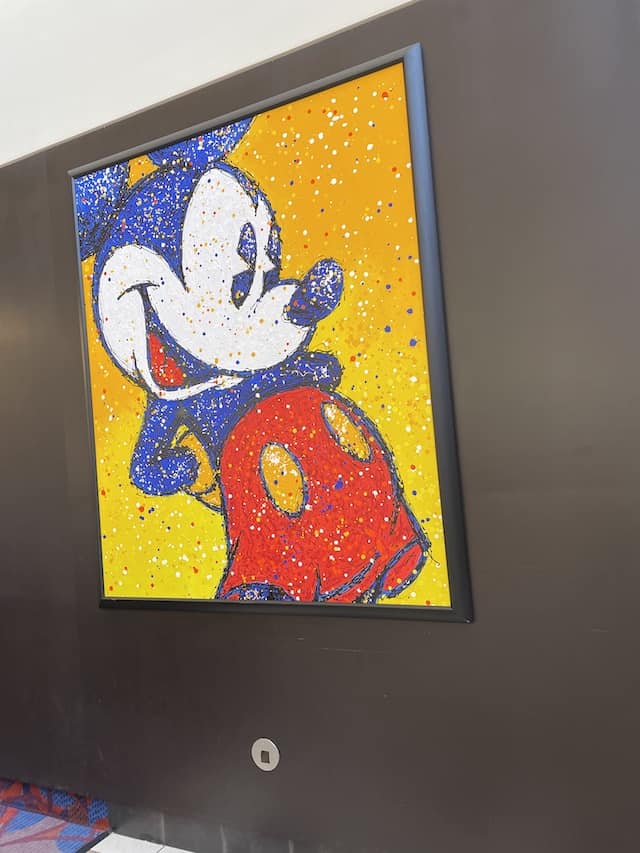 I will say one thing about Chef Mickey's-the atmosphere is incredible there. I love the heavy "Fab 5" theming, and it is exactly what I want to see when I have a fun meal in Disney World.
Framed art of the fab 5 characters adorn the walls, and there are bright colors everywhere. Even the dining chairs get in on the fun, with Mickey head shapes cut into them!
My favorite part of Chef Mickey's is watching the monorail come through the hotel. Ever since I was a kid I have been fascinated by watching it enter and exit the resort!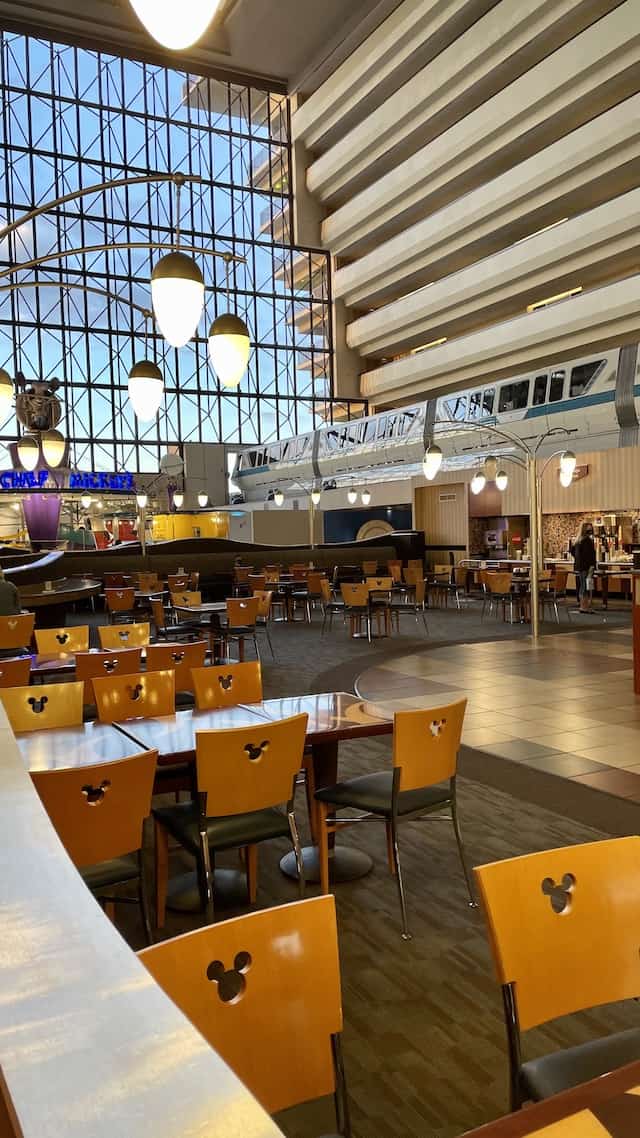 However, since the Contemporary is open to the outside, you may find an outsider joining you for your meal!
We noticed several birds flying around the restaurant as we dined. It was not a big deal for us, but there were other Guests who were a little put off by this.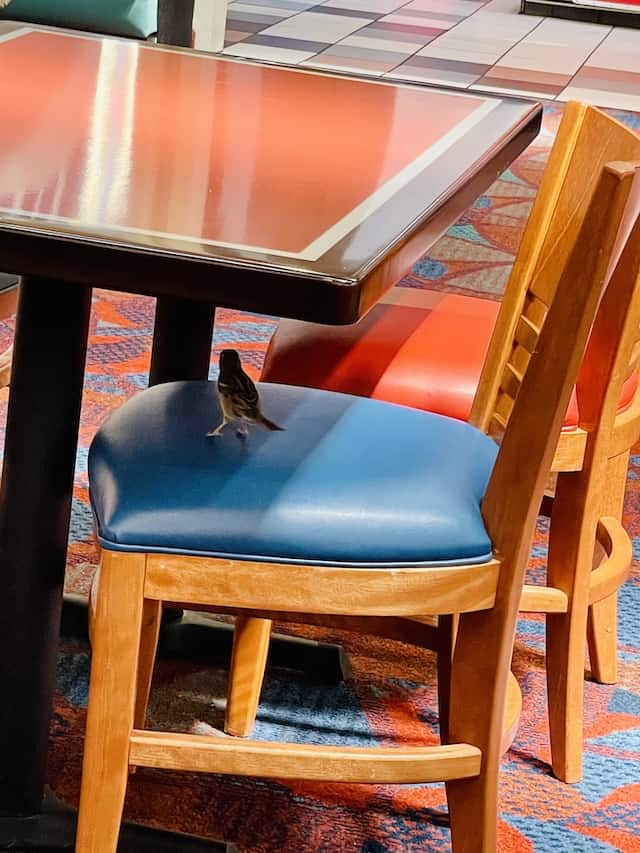 It should also be noted that Contemporary is undergoing renovation right now, so much of the building was covered in scrim. We could hear some construction happening behind the scrim, but it wasn't loud or bothersome since the restaurant itself is pretty noisy.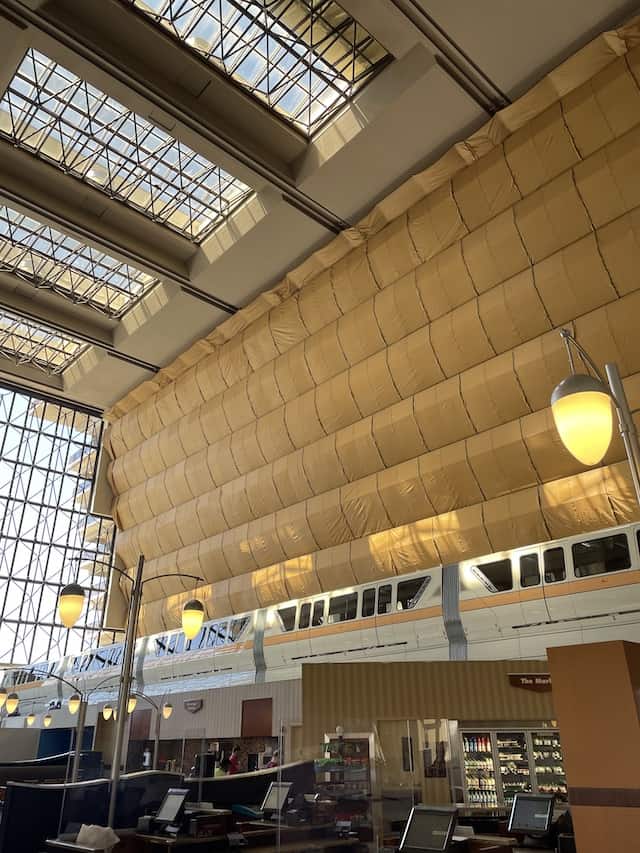 Overall Thoughts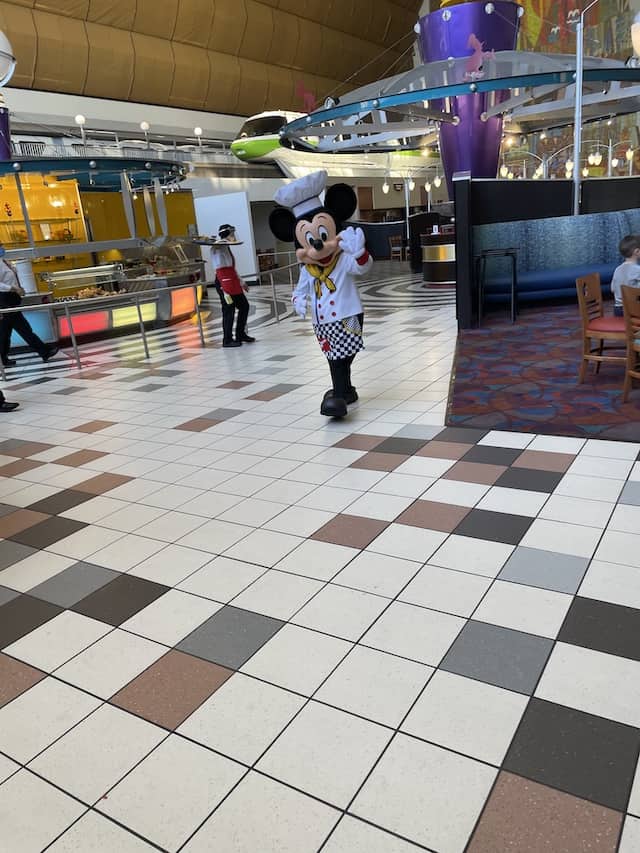 While Chef Mickey's is a classic Disney restaurant, we won't visit this one again. It's a case of 2 strikes and it's out for my family. The food is disappointing, and the biggest draw, which was the character experience, was a huge let down. If you're curious for other reviews, check out Maggie's more positive review HERE.
Next time, we'll be heading to Topolino's Terrace for breakfast which, in my opinion, is the absolute best character dining experience in Disney World!
What are your thoughts on Chef Mickey's? Is it a must do or a no way for your family? Share your thoughts with us on Kenny the Pirate's Facebook page, or join our crew and continue the discussion!