This is probably going to sound petty to a lot of people. But, if you love Canada at Food and Wine, you might just be with me on this one.
Epcot International Food & Wine Festival
The Epcot International Food & Wine Festival is revving up at Walt Disney World. Members of your Kenny the Pirate writing crew have headed to the festival to check out some of the flavors for you. We are eating around the world so that you will know what's a hit and what's a miss before you put your hard-earned Disney dollars to work.
This year's festival offers plenty of Global Marketplaces featuring flavors from around the world. You can check out all the treats right here!
Canada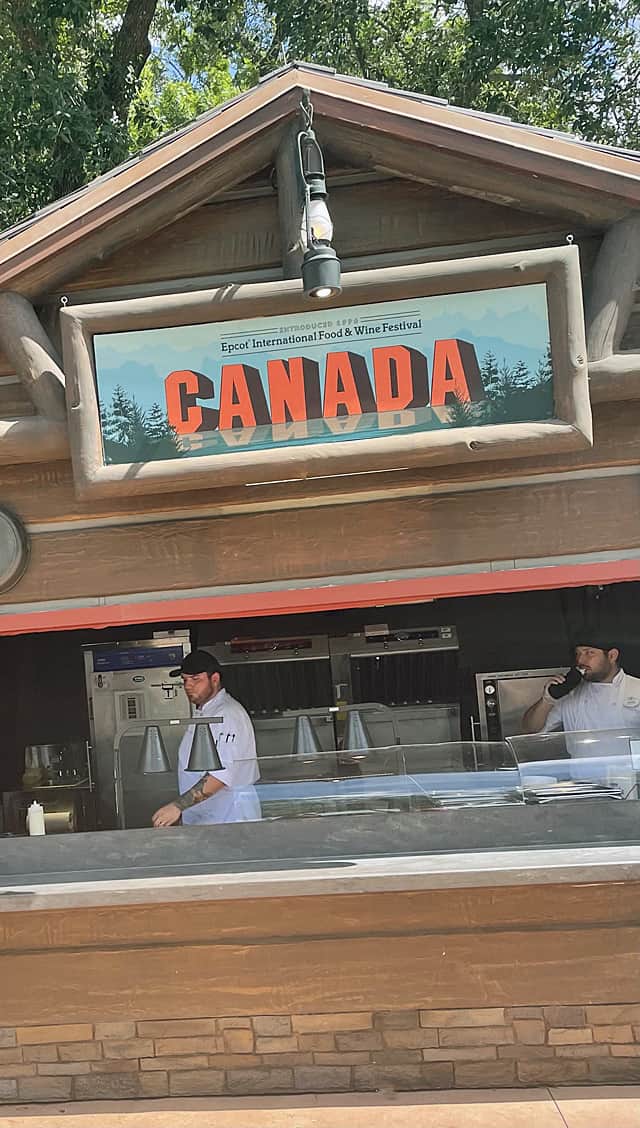 Canada tends to be a huge hit with the masses and the Epcot International Food & Wine Festival. For me (Katie), Food & Wine is where Canada brings its best treats of the year. I have been largely underwhelmed with its offerings at the other festivals, particularly Flower & Garden.
But, during Food & Wine, Epcot's Canada serves two delicacies that are hard to argue with.
Canadian Cheddar and Bacon Soup served with a Pretzel Roll (Emile's Fromage Montage item)
"Le Cellier" Wild Mushroom Beef Filet Mignon with Truffle-Butter Sauce (gluten/wheat-friendly)
Canadian Cheddar and Bacon Soup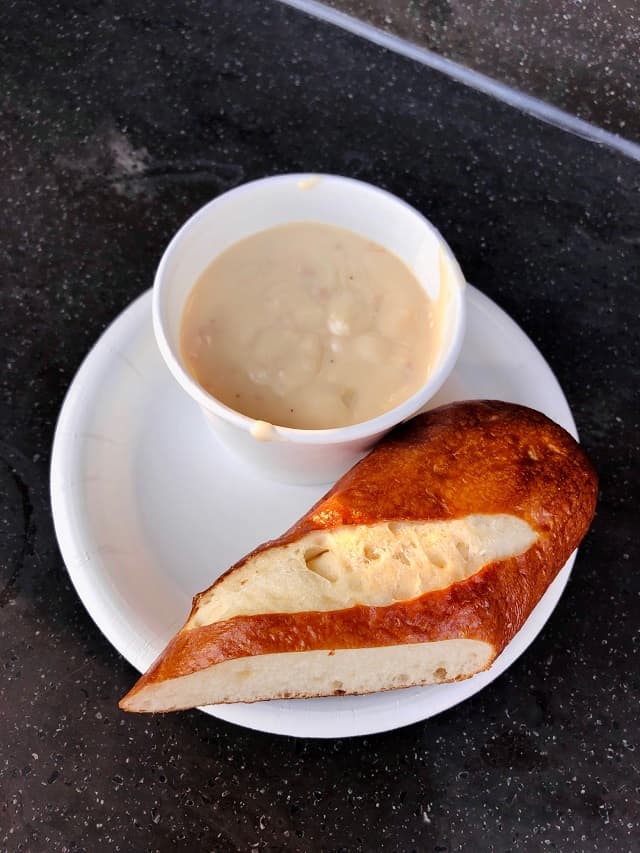 Now, this is one stop on the World Showcase passport where fresh is best. It is also a hard one to enjoy during Disney's hot months. After all, who wants hot soup in July?
The answer to that is me. I am one of the people who love the soup enough to eat it in July. It is so flavorful and creamy and good.
However, this year, I was a little disappointed in the dish. It isn't the soup that got me. The soup is lovely. It was the portion of pretzel bread. For me, the pretzel bread is a very important part of the dish, especially if you intend to enjoy it before the weather cools off.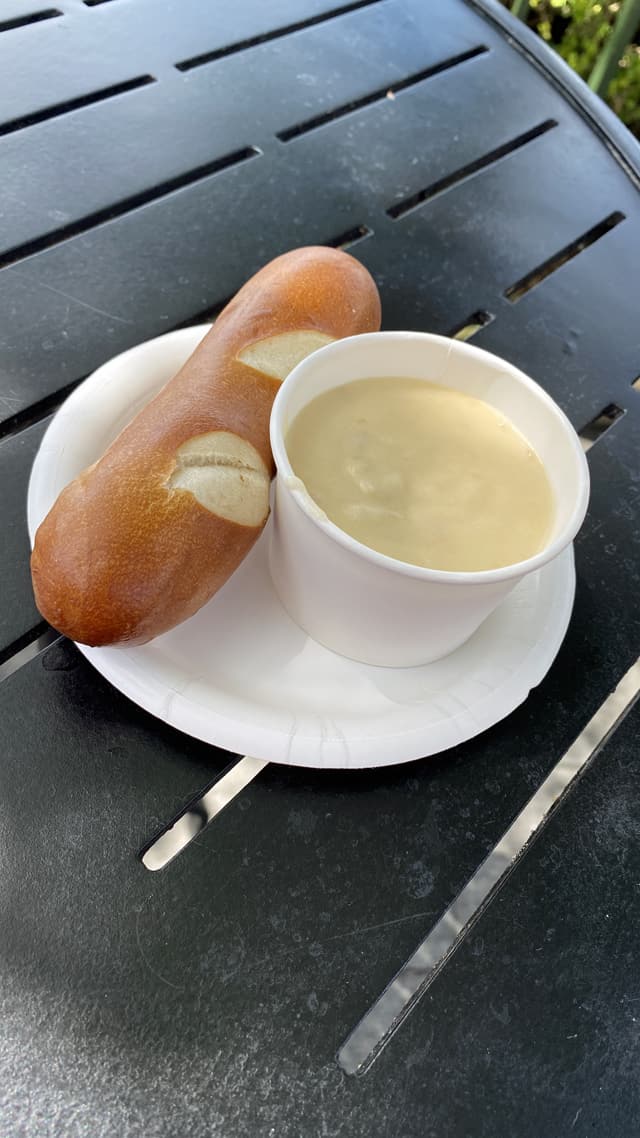 In the past, the soup came with a nicely sized portion of bread with a soft interior, perfect for soaking up the soup. You can see examples of the way things were in the photos above from two previous years of cheese soup in Canada.
In contrast, now it comes with a small round roll. This roll can get a little hard under the heat lamps. The new roll really reminds me of something I can grab at my grocery store. It is small, so you can only have a few bites to dip before it is time to eat the still-hot soup with a spoon. It is also not as tasty as the bread of the past. You can see it below.
UPDATE: Guests are reporting that the larger portions or pretzel bread are back! Hooray! Thanks to all who noticed.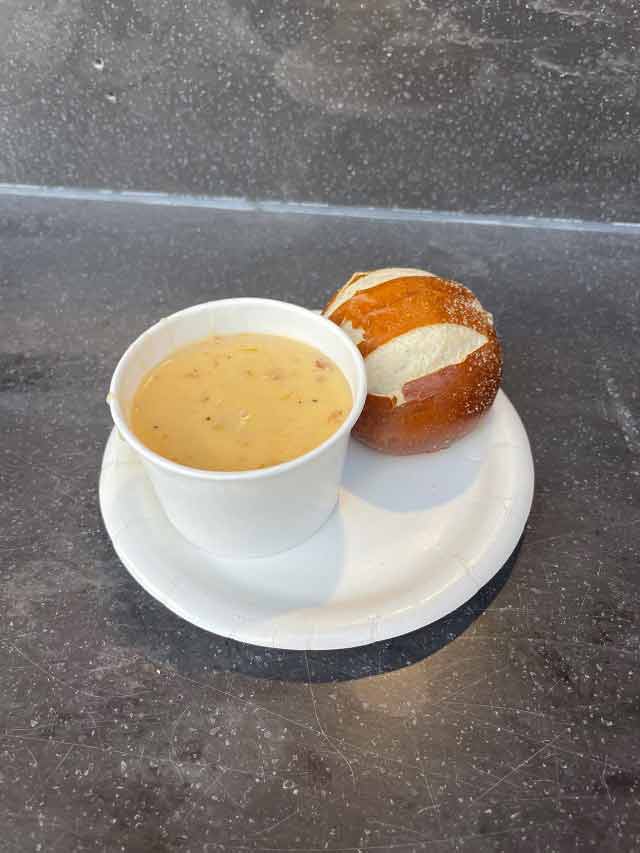 Pricesd at $5.75, the soup, while not the highest-priced festival item, it is still a bit high for what it is. It is a small portion of soup with a smaller than ever before portion of bread. The bread change could be a cost-cutting measure as are a number of other changes we are seeing around the parks.
Final Thoughts
Is the soup still delicious? Yes. Are there worse things in the world than small pretzel rolls? Of course! But, hopefully, this review will help you manage your expectations if you are accustomed to soup experiences of the past.
Dear Disney, if you are listening, some of your fans really miss the full-sized hunks of pretzel bread and the larger rolls. These little ones don't do the trick. At least give us two of the little ones to sop up the glorious cheesy goodness. (And since we are dreaming, can we have OG Imagination back too?)
Okay, dear readers, tell me this. Am I (Katie) being petty? Or does the shrinking pretzel bread make this stellar soup dish less appealing? Let us know in the comments below or on our Facebook page. Or, keep the conversation going and share them with us in our crew, too!