There is so much to enjoy during H2O Glow Nights. We are here to help you balance the party offerings while also enjoying all of the great water attractions.
Typhoon Lagoon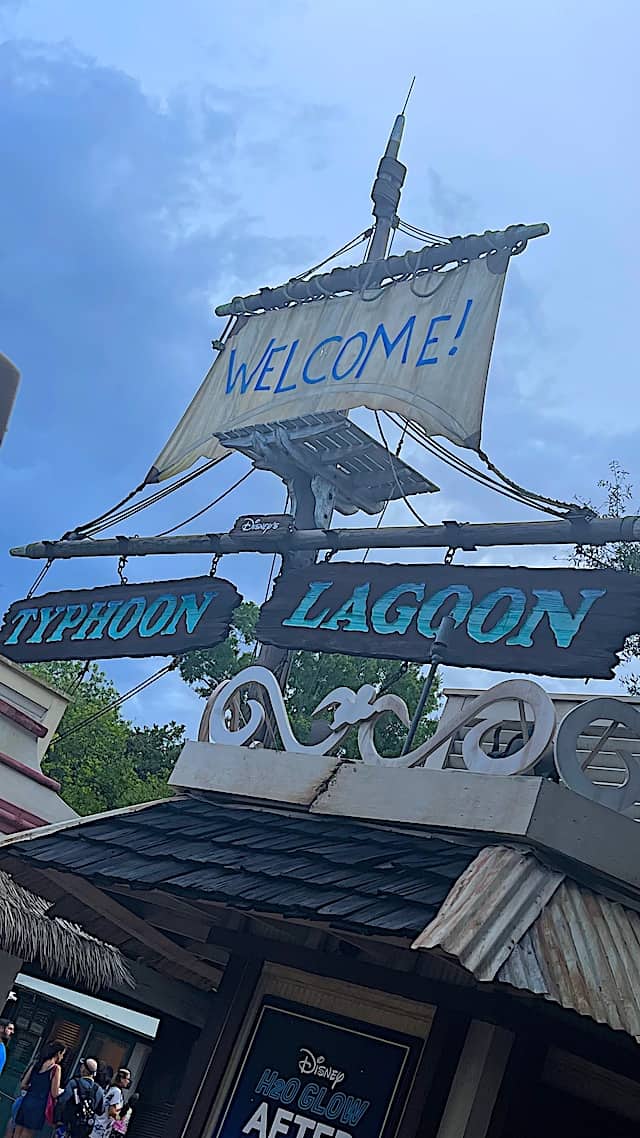 In addition to four amazing theme parks, Disney World is also home to two waterparks. Currently, Blizzard Beach is closed for refurbishment and Typhoon Lagoon remains open. Thanks to Florida's climate, water parks remain open all year round. Occasional cooler temperatures can cause them to close in the winter, but these are minimal.
Typhoon Lagoon opened in June 1989, and I (Donna) had never visited this hidden gem until just recently. My first visit to Typhoon Lagoon was during the H2O Glow Night event. Join me as we balance all of the fun offerings of the H2O Glow event along with the unbelievable water slides.
H2O Glow Night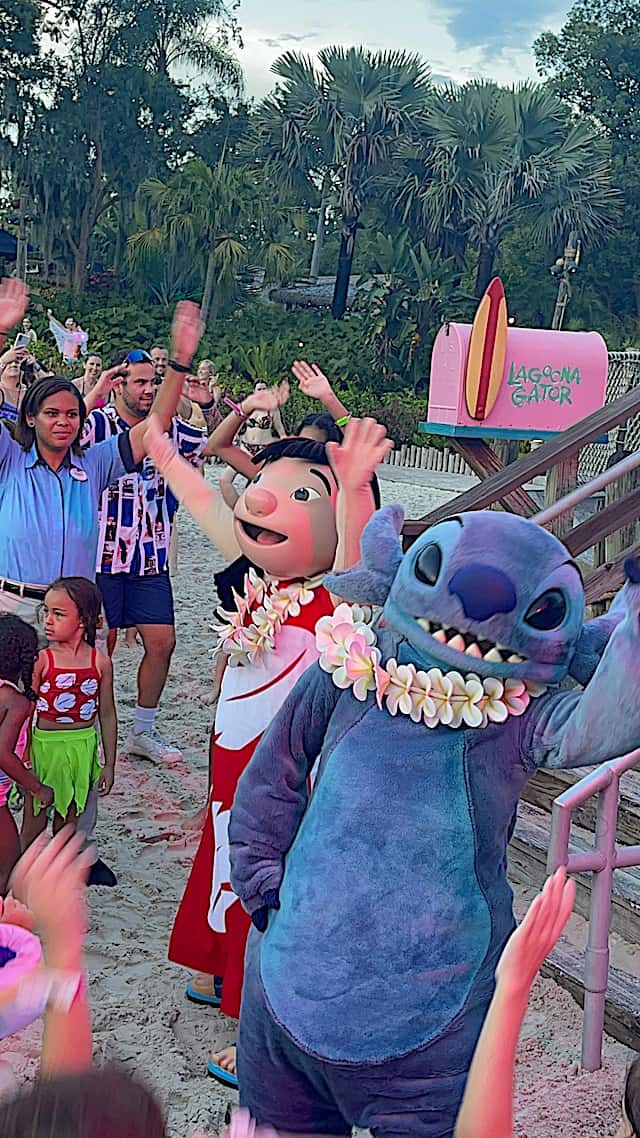 Guests for H2O Glow Nights can enter Typhoon Lagoon at 6:00 pm with the party offerings beginning at 8:00 pm. This early entry allowed our traveling party time to take in the beautiful landscape, check out which water slides we wanted to prioritize and try a few food options prior to the party event.
This event is definitely worth the price. The most obvious advantage is being able to enjoy this great water park at night. No need to reapply sunscreen or wait your turn in line for a waterslide in the blazing sun. Prior to our quest to tackle all of the water slides, we enjoyed the upbeat beach dance party. A DJ was present along with Mickey & Minnie Mouse, Lilo & Stitch, and Goofy.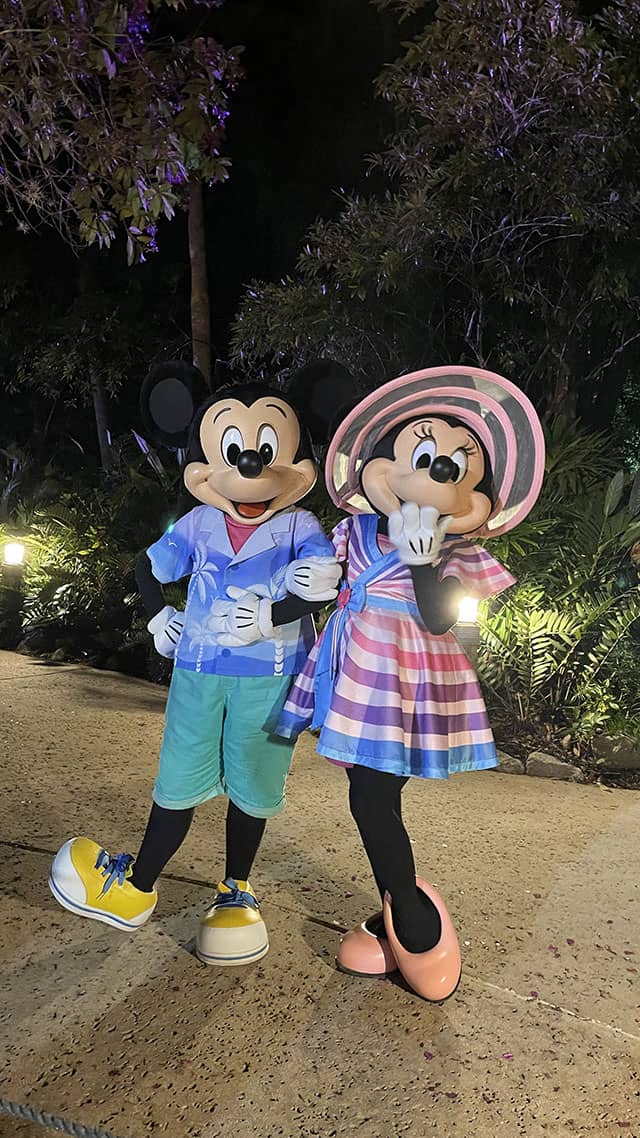 The characters took turns dancing among guests along the beach. This was truly a highlight of the night. A DJ SUV was also located on the opposite side of the water park. The upbeat music and cast members helped bring the party atmosphere even while we enjoyed the water slides. Be sure to check out more of the great entertainment for this event HERE.
Disney shares that guests can enjoy shorter wait times at attractions during this event as tickets are limited. The night that we visited, the event was sold out. Check out our ranking of slides to prioritize and our experience with wait times.
Best Family Raft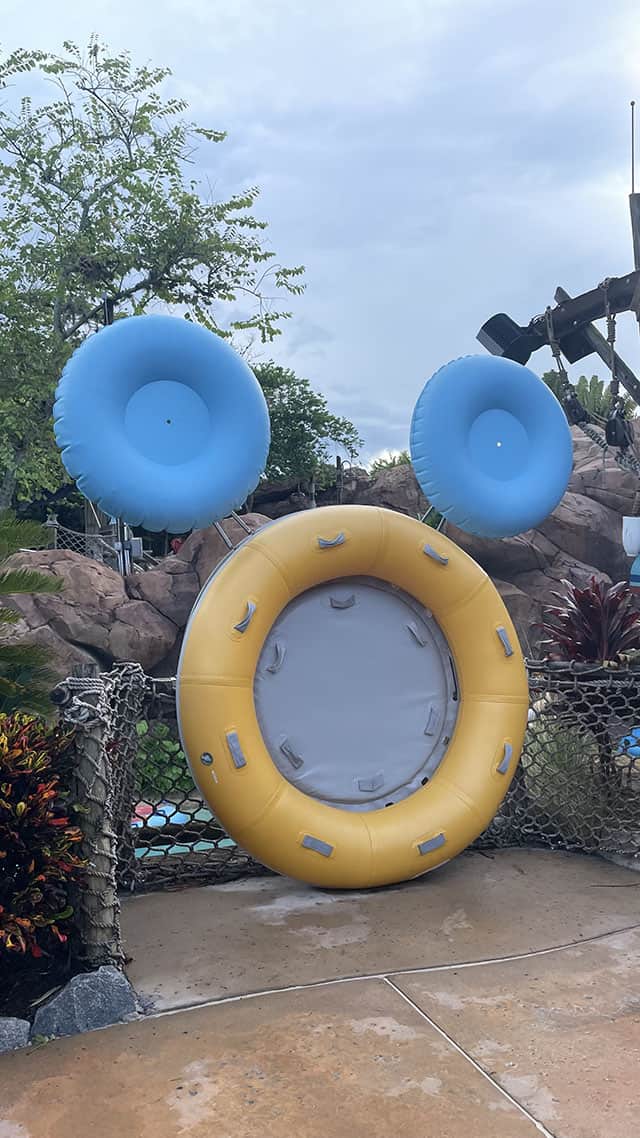 Miss Adventure Falls is the best family raft ride at Typhoon Lagoon. This is very similar to Gangplank Falls. Both attractions offer a multi-person ride experience with similar twists and turn along the way. The primary reason Miss Adventure Falls is the best is in the queue for this attraction.
For Gangplank Falls, guests are asked to carry their large raft up various flights of stairs. The line for this attraction was around 30 minutes, and this was quite a workout to carry our raft up the stairs.
Miss Adventure Falls is the best family raft ride at Typhoon Lagoon.
We experienced a shorter wait time at Miss Adventure Falls of around 10 minutes. During this queue, we loaded into our large family-style raft, and instead of carrying this up several flights of stairs, we were placed on a conveyer belt that leisurely carried us in our raft to the top of this attraction.
Both attractions are great and allow families an opportunity to enjoy the attraction together.
Best Body Slide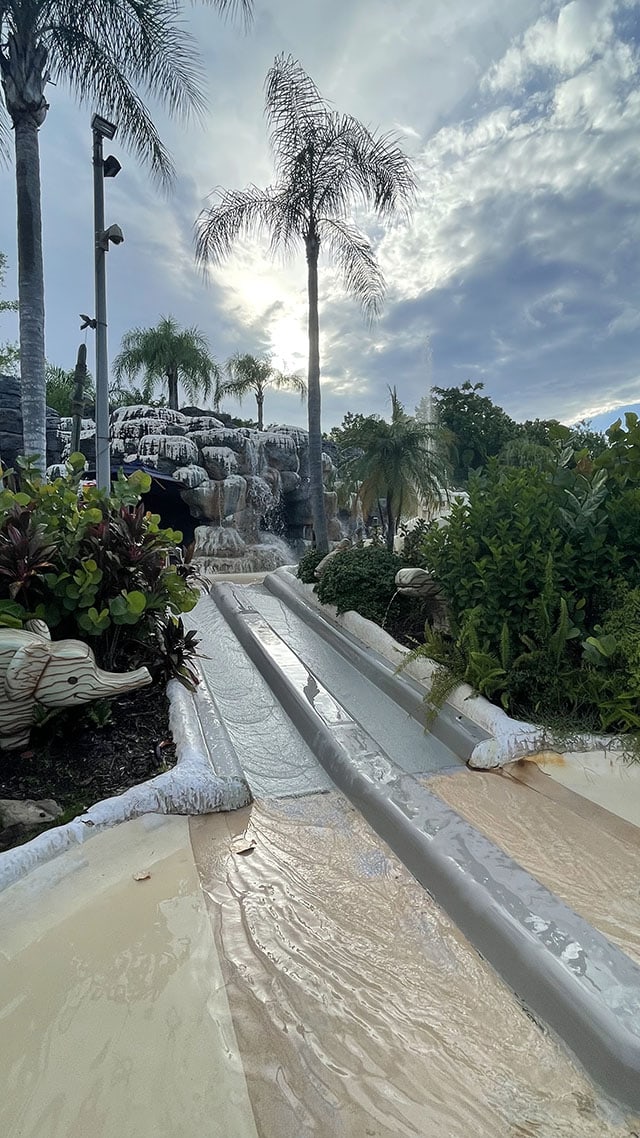 There are three body slides at Typhoon Lagoon: Humunga Kowabunga, Storm Slides, and Bay Slides. We first ventured towards the Humunga Kowabunga and we were delighted to discover that there was no wait time for this attraction. Guests must be 48″ or taller to enjoy this slide. This attraction is described as "plummet down Mount Mayday on a 5-story body slide drop in the dark."
Once we climbed the large staircase to the top of this Mount Mayday, we were quickly instructed by the Cast Member to cross both our ankles and cross our arms over our chest while laying flat on our backs. There are three tunnels at the top and guests can race one another to the finish line.
The Storm Slides are the best body slide option at Typhoon Lagoon.
It happened so quickly, and before we knew it we were plummeting so quickly. Truthfully this was a one-and-done for us. We later discovered that the Storm Slides were much more enjoyable and peaceful. "If we could turn back time," we would have chosen the Storm Slides.
For younger partygoers, Bay Slides is a body slide attraction for guests 60″ or shorter. This is a great alternative for young guests looking for the thrill of a slide but that are not quite ready for the bigger slides.
Single and Double Rafts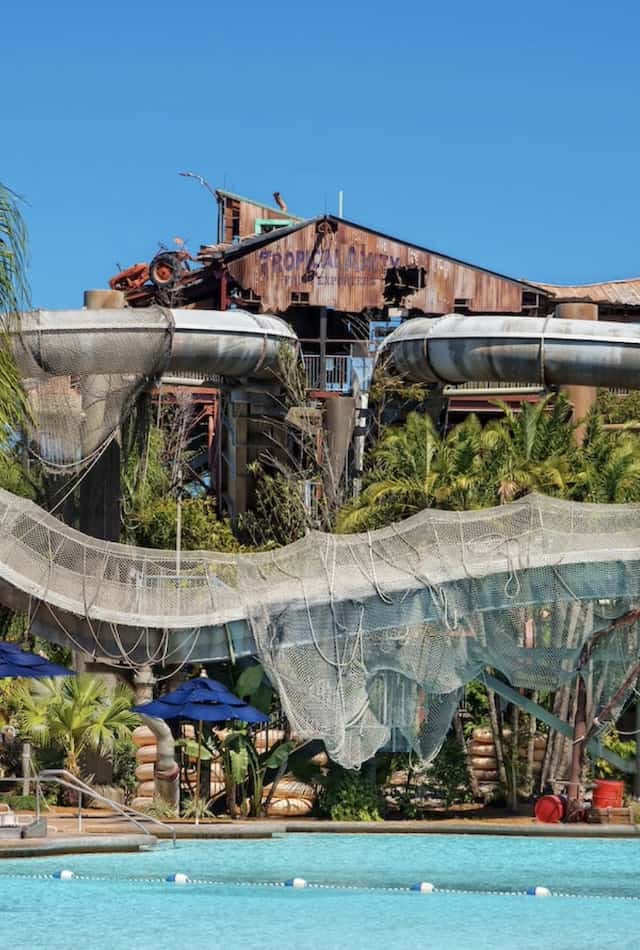 The Crush 'n' Gusher had the highest wait time at around 45 minutes but was well worth the wait. This water coaster allows guests to use a double passenger raft or to enjoy it as a single passenger. This again has quite a high staircase to climb while carrying your raft as you ascend.
This roller coaster-style raft ride was truly exhilarating as large gushes of water guided us through this long descent down. Unfortunately, we enjoyed this attraction as the park was closing so we could only enjoy it once.
Earlier in the evening, we enjoyed Mayday Falls. This single-rider attraction offers a scenic and swift ride down the park's highest and longest slide. The wait time for this attraction was roughly 20 minutes and this attraction can be enjoyed by all guests whereas the Crush 'n' Gusher only allows guests 48″ or taller to ride.
Prioritize Best Attractions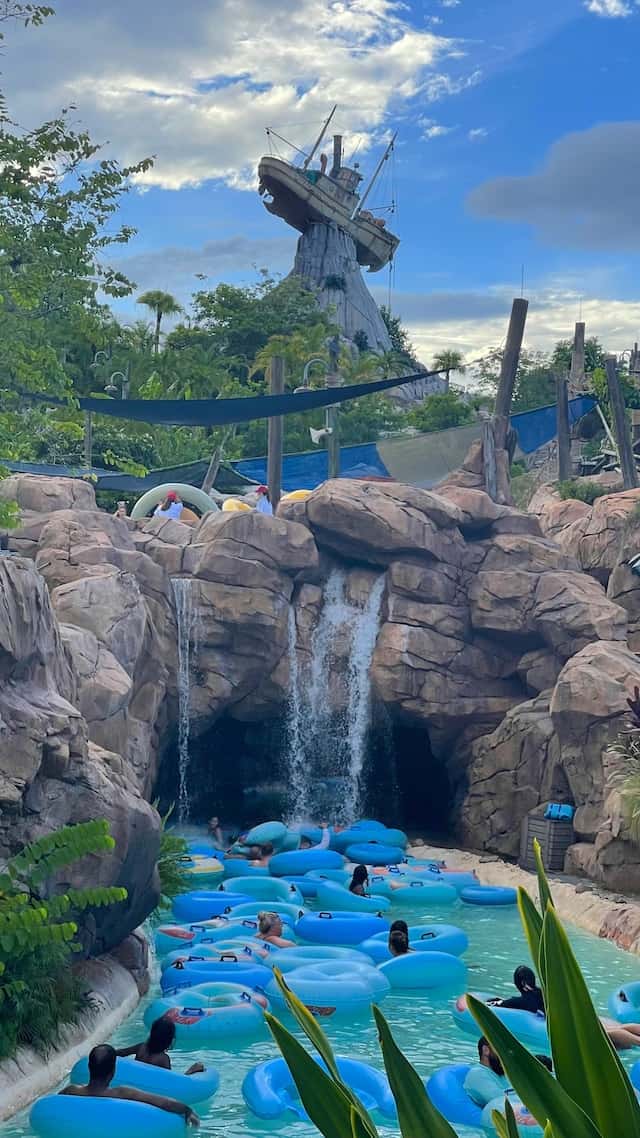 There is so much to enjoy during the H2O Glow Night. We highly recommend that you prioritize your favorite attractions first. Although the guests are limited we still waited 30 minutes or longer for many of the attractions. Fellow KtP writers greatly enjoyed the Castaway Creek which is similar to a "Lazy River."
Many guests enjoyed the Typhoon Lagoon Surf Pool well into the evening. This is the biggest wave pool in North America and can see swells of up to six feet. Both the Ketchakiddee and Keelhaul Falls are not open for the H2O Glow Night. If you hope to enjoy water attractions, prioritize which are most important while also enjoying a few of the entertainment offerings of the evening as well.
Have you visited Typhoon Lagoon before? Do you hope to enjoy the H2O Glow Night or have you enjoyed this during previous visits? Which water attraction is your favorite? Share your thoughts with us on our Facebook Page.