Everyone has their favorite Epcot World Showcase pavilion they stop at, but not every pavilion can be a winner. We asked you to vote for your favorite pavilion in the World Showcase. Now it's time to see which pavilions ranked at the bottom of Disney fan's list!
Epcot means a lot of things to a lot of different people. For some, it's a cornucopia of nostalgia with nods to the past and promises for the future. For others, it's a park that only deserves a half-day, or is skipped altogether.
World Showcase
One part of Epcot that many Disney fans do enjoy is the World Showcase. Each country is full of new experiences and cultures. I know my family spends several days of our vacation at Epcot enjoying the atmosphere, food, shopping and entertainment experiences available at the different pavilions.
One thing that has always been consistently excellent in Epcot throughout the years is the food.
Check out these restaurants and snacks that Disney fans think are the best in all of Epcot!
There are so many great countries to visit at Epcot, but which ones are the best and which are the "worst"? We asked YOU to vote for your favorites!
This article is Part 1 of 2 and will focus on the countries that came in at the bottom of the list. Stay tuned for Part 2 when we reveal who made the best of the best list!
Some key factors we asked you to consider when deciding what makes a pavilion the best overall included:
Food/Drink
Entertainment
Theming
Shows
Rides
Characters
Shopping
NOW, LET'S CHECK OUT WHICH PAVILIONS ARE GUESTS' LEAST FAVORITE!
11. China
While there are no bad pavilions in Epcot, something has to come in last place. In this case, the China pavilion falls at the bottom of our ranking.
Theming
The theming alone should put China higher on the list due to its sheer beauty and ornate decorations. There is so much to take in. To make sure the Temple of Heaven was as accurate as possible, Imagineers actually printed each tile with the exact patterns used in the original structure located in Beijing.
Inside the temple hall there are many columns. These columns, which represent the 12 months of the year (outer ring) and the 4 seasons (inner ring), support special beams in the ceiling. The rectangular beam represents earth and the circular beam represents heaven.
Dining
While there are certainly more unique food options located around the World Showcase, China is the place to go when you want simple and delicious food flavors.
While the the egg rolls, fried rice and potstickers served at the Lotus Blossom Cafe are delicious, many guests feel that they can get better Chinese food at their local restaurant at home.
There are far more unique food choices in the World Showcase and that's why so many people put China at the bottom of their list.
Shopping and Attractions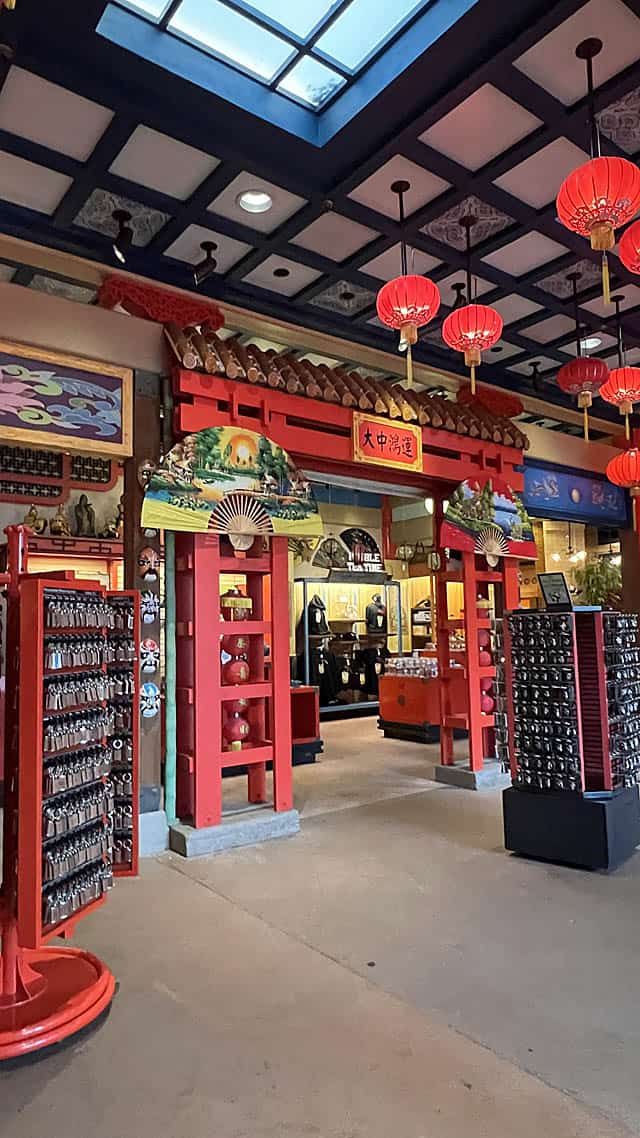 China does excel in the shopping category with a wide variety of merchandise options. One of my favorite places to shop is inside the House of Good Fortune gift shop. There are so many unique souvenirs you can find inside this store that you won't find anywhere else in Epcot or Disney World.
If you are a jewelry fanatic, I highly recommend looking at the price tags for some of the gorgeous pieces you'll see on display inside the pavilion or under the glass. They may not be as expensive as you think. One $10 swan bracelet I purchased was actually being displayed under a glass case. Moral of the story is to always as a Cast Member for the price if you can't see it.
China, like many of the World Showcase Pavilions, does not have a ride attraction. Unfortunately, this is a big factor for many guests when choosing their favorite pavilion.
Characters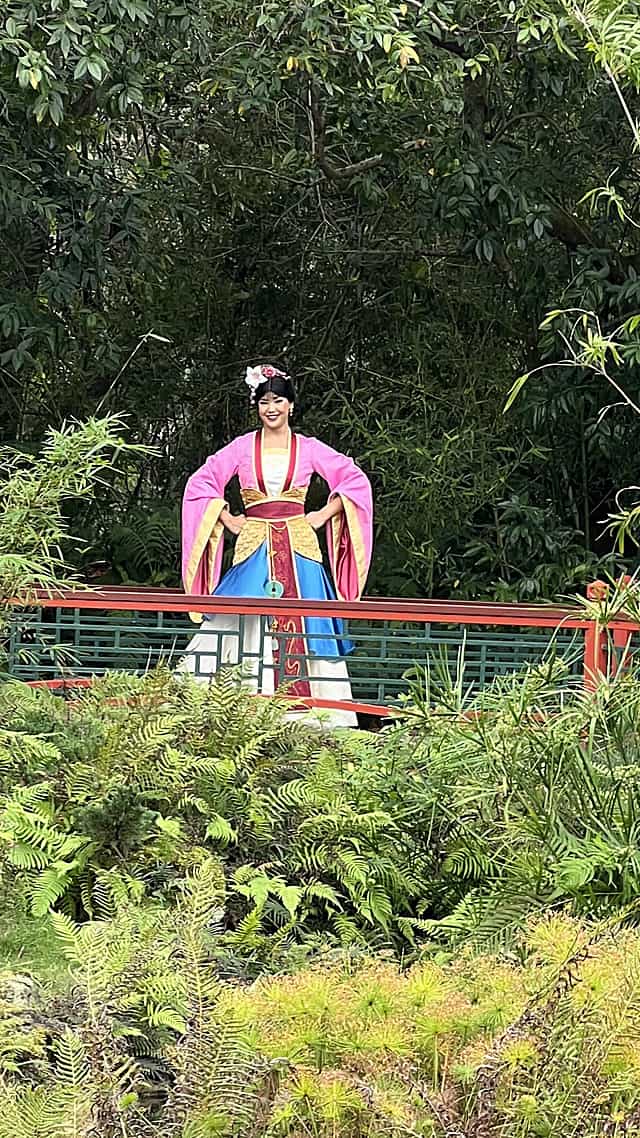 China is home to a character encounter with Mulan. I love to see Mulan in the parks because she is often a rarer character to find.
Entertainment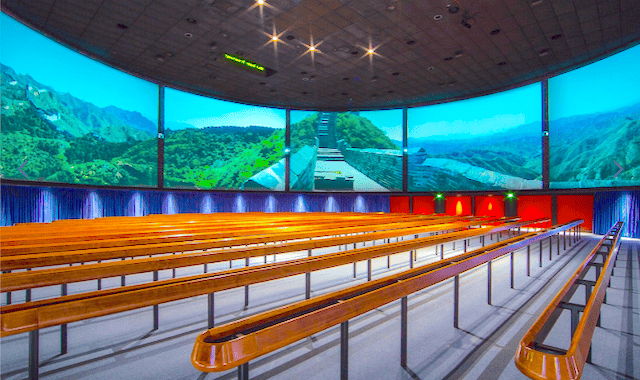 For a reprieve of the harsh Florida heat, there is no better place to go than inside The Temple of Heaven and watch the current Circle-Vision 360° movie 'Reflections of China'. 'Reflections of China' takes you on a 12-minute journey through many historic and beautiful Chinese landscapes such as the Haungpu River, Shanghai, the Huangshan mountain range, and the Great Wall of China.
It is a beautiful movie that showcases the diversity of the country and its people. By using Circle-Vision technology, you will feel like you are really there. However, for anyone who gets even slightly motion sick or dizzy, this film can be a trigger.
There are also no seats as the movie is designed for guests to be able to turn around and view scenes behind them. While having a movie often pushes certain pavilions higher on the list for fans, Reflections of China is outdated and has been in need of a revamp for a while.
That revamp will be coming soon, however, and replaced with the brand new movie Wondrous China.
FUN FACT: CHRISTINA AGUILERA FILMED THE MUSIC VIDEO FOR THE HIT SONG 'REFLECTION' AT THE CHINA PAVILION.
While China may not be our viewers favorite pavilion, there are still a lot of great reasons why you should take the time to visit on your tour around the world.
Check out this full guide to the China pavilion!
10. Morocco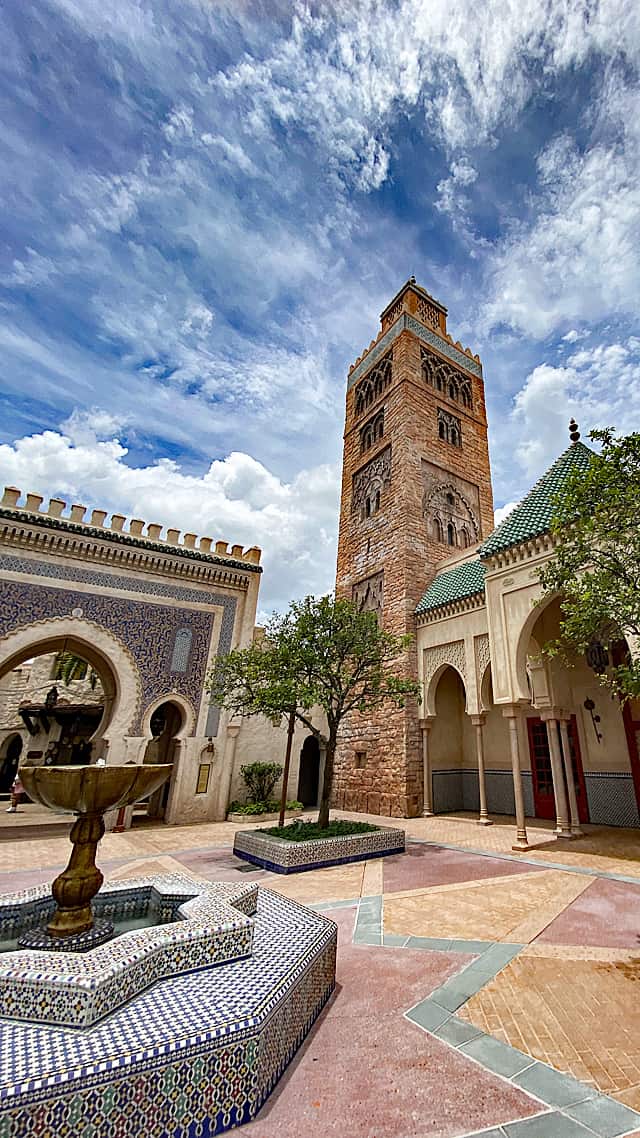 Coming in second to last is the Morocco pavilion. There are a few reasons why Morocco does not rank high on our list, according to our readers. As of this writing, many food and shopping locations within the pavilion remain closed.
Theming
Morocco was the first expansion pavilion added to Epcot on September 7, 1984 and is the only pavilion that had direct creative involvement from the country's government.
To make sure that Morocco's culture was authentically represented, King Hassan II sent artisans from Morocco to design and create the many mosaics and replicas you see in the pavilion. Because of this, Morocco is one of the most ornately-themed pavilions in the World Showcase and is stunningly gorgeous.
Dining
The food in Morocco is also rather unique. If you are not an adventurous eater, this may not be high on your list of places to stop. If you are looking to try Moroccan food for the first time, there's no better place to visit than the Spice Road Table. This open air restaurant has some amazing waterfront views and offers lots of small plates that are great introductory dishes to the flavors and cuisine of Morocco.
Inside Tangierine Café: Flavors of the Medina you will find some limited quick service options likes Mediterranean flatbread, grilled kabobs and hummus. The unique flavors of Moroccan-style cuisine, may be a contributing factor to its lower rating by Disney fans.
Shopping & Attractions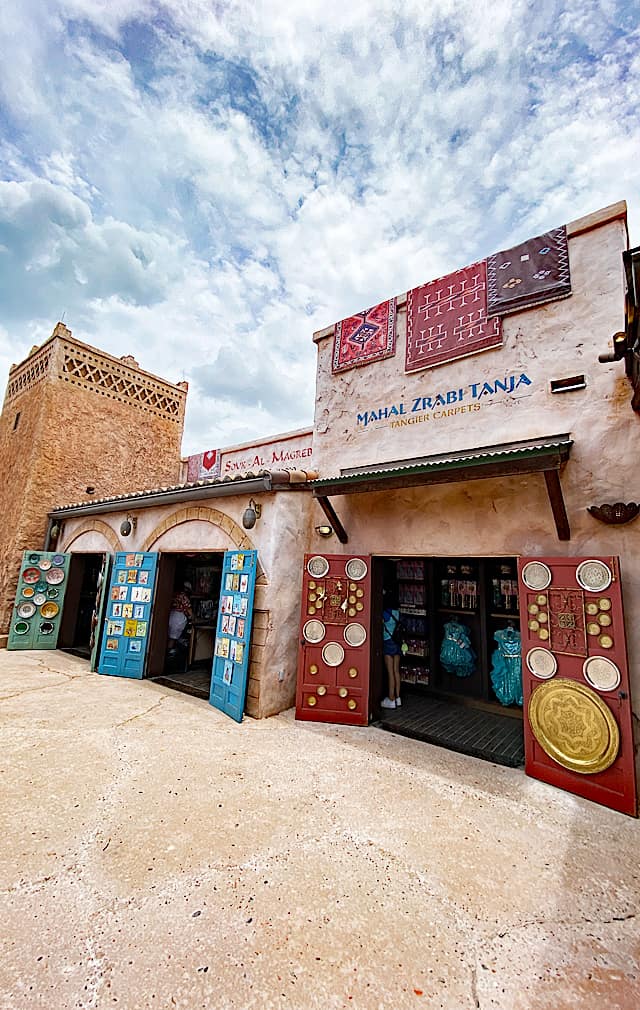 Morocco has some wonderful shopping options. You will always find something unique when visiting the many open-air marketplace shops. You will feel like you are actually walking through an open-air bazaar. I love finding unique hair clips and scarves to take home as souvenirs in the Moroccan marketplace. I get compliments every time I wear them back at home.
Morocco does not have any ride attractions, which do not help it in the rankings. Who wouldn't love to have some sort of Flight of Passage version of flying on a magic carpet?
Characters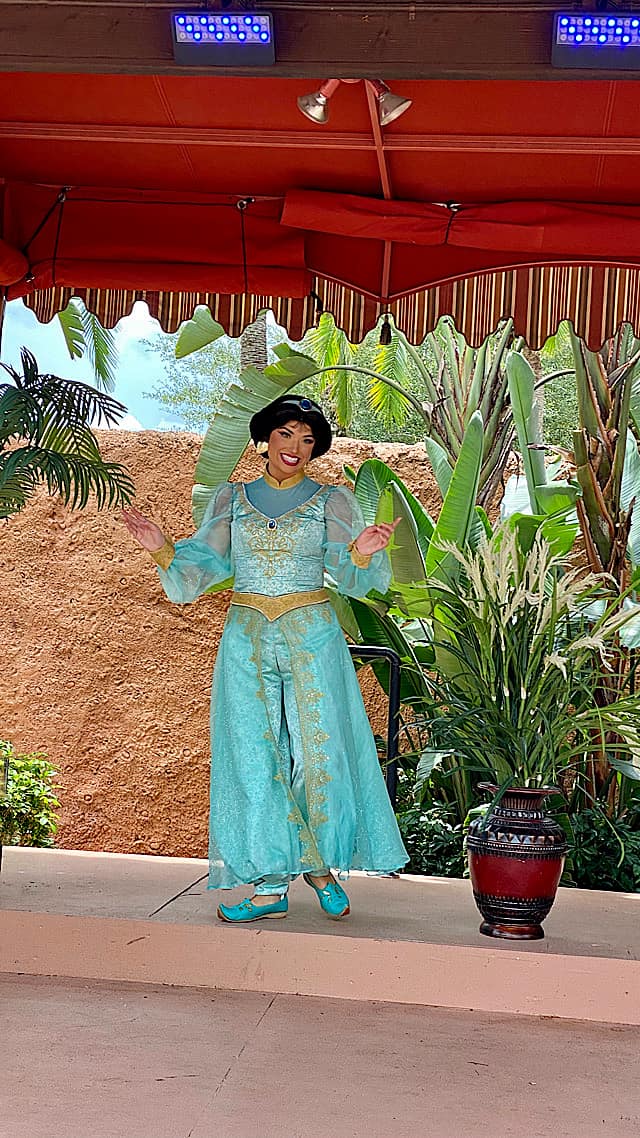 If you are looking for more characters on your journey through the World Showcase, be sure to stop into the Lamps of Wonder and say "Hello" to Jasmine. She is always happy to meet new world travelers!
Entertainment
Morocco is in need of entertainment options at the moment, which also contributed to its low ranking. There are many ares for improvement, but Morocco is in a state of transition now that Disney has taken over full operation from the Moroccan government. Hopefully with some new additions this beautiful pavilion will win the hearts of more Disney fans!
Check out this full guide to the Morocco pavilion!
9. Italy
Italy is one of the more beautifully designed pavilions in the World Showcase, however some guests rank it lower due to its lack of great dining options, characters and attractions.
Theming
It would have been impossible to choose just one iconic Italian landmark to replicate so instead, Disney took bits and pieces of famous Italian structures and put them together in a way that makes them still feel authentic.
Most of the main structures are inspired by Venetian architecture. The most iconic feature of the Italy pavilion is a replica of the Saint Mark's Campanile bell tower. The original tower in St. Mark's Square was used as a watchtower to guide incoming Venetian ships and protect entry into the city.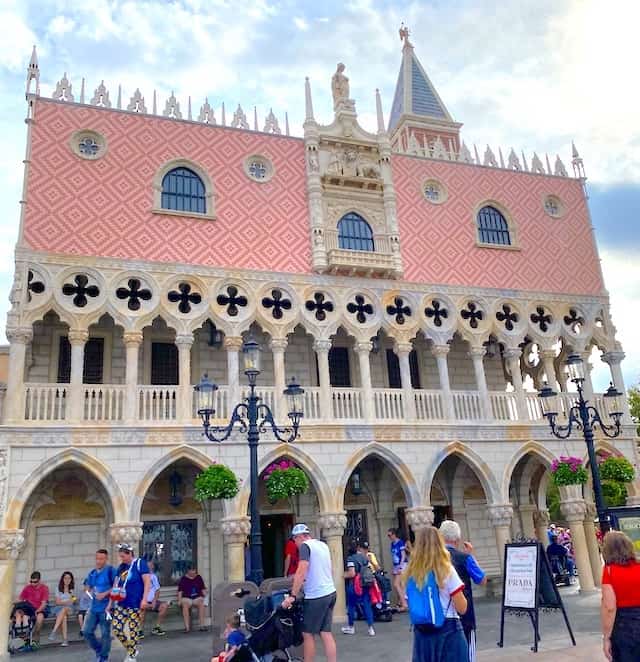 La Gemma Elegante shop was designed to be a replica of the Doge's Palace where the Duke of Venice resided in the 1300s. The bridge overlooking the waterway and gondolas is designed after Ponte della Paglia and the Columns of San Marco and San Teodoro stand in the middle of the pavilion's plaza. In the back of the plaza, you will find a beautiful water fountain that takes inspiration from the famous Roman Fountain of Neptune and Trevi Fountain.
Finally, the Il Bel Cristallo shop exterior was modeled after the famous Sistine Chapel in Vatican City.
Shopping and Attractions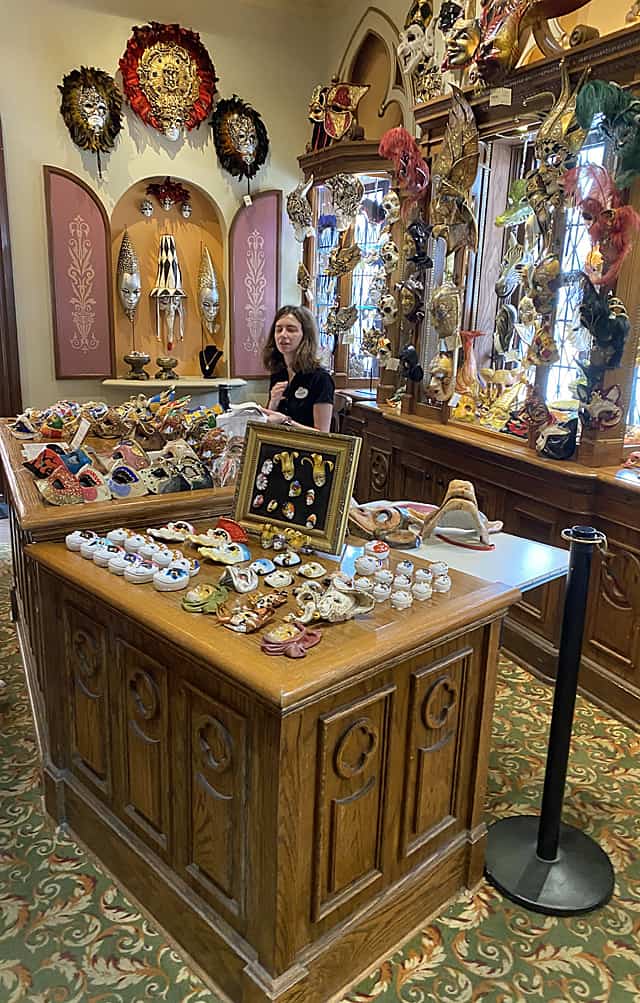 There are some really unique shops in Italy, although some fans wish there were more. One of my favorite places to visit is inside of the La Gemma Elegante shop where you can find handmade Venetian masks that are just stunning.
If you are looking for fine Italian merchandise, you must visit Il Bel Cristallo. You'll find clothing, handbags, glass and high end perfumes here. For me, I cannot walk into this store as the intensely strong perfume gives me an instant asthma attack. If you are prone to smell triggers, this might be one store you should avoid.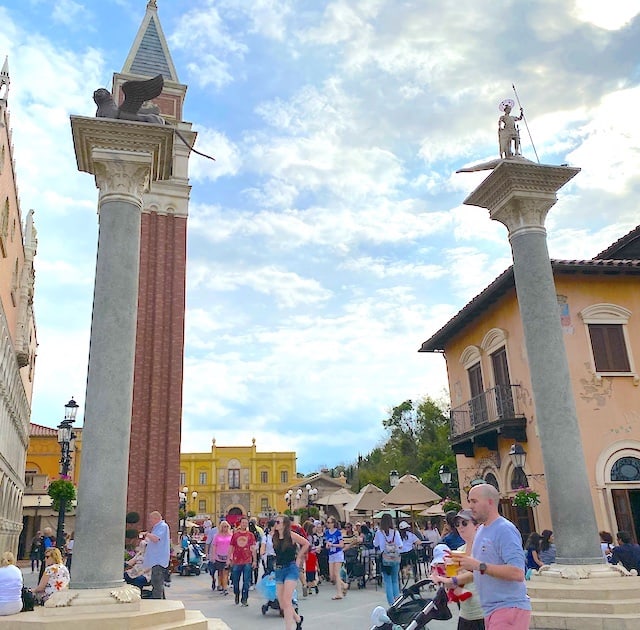 Italy was supposed to have two attractions in the early planning of the pavilion. They were to be executed in an expansion Phase 2 near the back wall of the pavilion, but never came to be. One attraction was to be a gondola dark ride and the other a Roman ruins walk-through. It is such a shame these attractions never came to be, because they sound absolutely amazing and would have gone a long way to bumping Italy up the rankings!
Dining
The most common complaint from Disney guests about the Italy Pavilion is that the food is often just average. With the exception of Via Napoli, the food is not that great. Most times the festival kiosks leave guests wanting more and the Tutto Gusto restaurant has never been able to live up to its predecessor L'Originale Alfredo di Roma Ristorante (Alfredo's).
Via Napoli is the one exception that guests say is totally worth the visit. This restaurant serves up some of the best pizza in all of Disney World. The interior design is gorgeous and the ingredients are all imported to be as authentic as possible.
Entertainment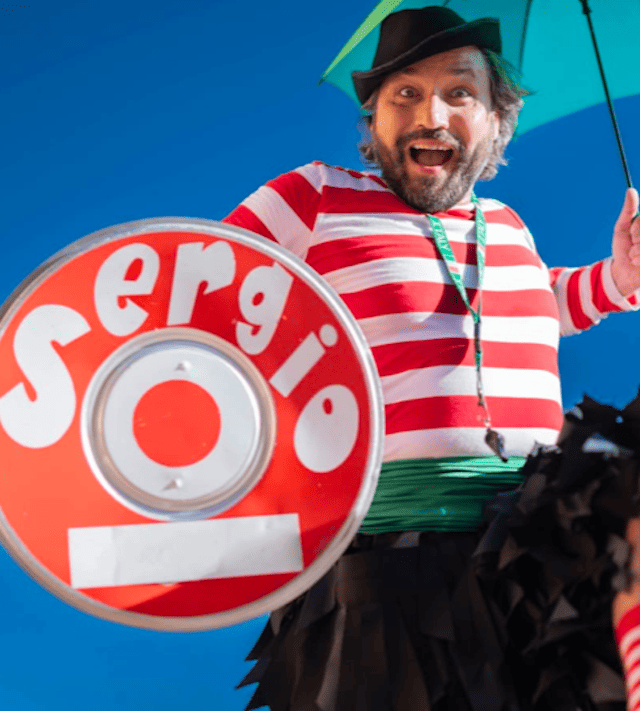 If you are looking for a fun performance, be sure to stop by and see Sergio. This Italian juggling comedy act will have you laughing and smiling from ear to ear. While Italy needs some improvement, I'm not sure it deserved to fall as low as it did in our ranking, but many times dining and attractions hold heavy weight in how our readers vote.
Check out this full guide to the Italy pavilion!
8. American Adventure
There was once a time when the American Adventure pavilion might have landed in last place, but dining additions and entertainment performances have breathed new life into the pavilion.
Theming
The theming in the American Adventure pavilion is gorgeous. Two of the major architectural influences in the design of the pavilion come from Georgian-style buildings of the late 1700s, such as Independence Hall and the Old State House in Boston.
It took Imagineers 5 years and 110,000 Georgian red clay bricks to create The American Adventure pavilion building in Epcot.
Fun Fact: Disney often uses forced perspective to make things look bigger than they are, but did you know they also use it to make things appear smaller, too? The American Adventure pavilion is 5 stories tall, but from the outside it only appears to be 2 and a half stories due to the use of smaller scaled windows and larger doors.
Shopping & Attractions
The shopping options at the American Adventure pavilion are very limited and there are no ride attractions, either. The Heritage Manor Gifts shop has been converted into an Art of Disney store where guests can purchase limited-edition Disney art and jewelry collections.
Dining
You will not find any table service meals at the American Adventure and very few snacks aside from turkey legs and funnel cake (though I am not telling to to ignore the funnel cake). Enter Regal Eagle Smokehouse Barbecue and Refreshments. This muppets-themed quick service location serves up some excellent BBQ, and there are plenty of muppets-style gags and gimmicks all over the restaurant to enjoy.
Regal Eagle has gone a long way to enhance the food at The American Adventure. The only problem is that there are so many great places to eat in the World Showcase that BBQ might not fall onto everyone's must-do list.
Characters
While there are no specific-set character meets, the American Adventure is often home to character training. You might just meet some classic Disney friends or even rare characters if you are in the right place at the right time!
Entertainment
The category that the American Adventure really excels in is Entertainment. Not only can you find amazing concert series playing in the American Gardens Theatre during various Epcot Festivals, but at Christmastime you can view the spectacular Candlelight Processional.
If you go inside the pavilion there is even more to experience. The Voices of Liberty wow guests inside the Rotunda several times a day with their tight harmonies. These amazing singers are not to be missed!
If you need a break to rest your tired legs, the American Adventure movie is the perfect fit. This 30-minute show takes you on a journey through key moments in American History such as the Boston Tea Party, the penning of the Declaration of Independence, the Civil War and the Great Depression.
The show features 35 different animatronics of important historic figures in American History such as Benjamin Franklin, Mark Twain, Susan B. Anthony, Thomas Jefferson, and Teddy Roosevelt.
The show culminates in a video montage of post-World War II events in American History like Martin Luther King, Jr.'s famous "I Have a Dream Speech" and the September 11th attack on the World Trade Center. It is a moving and beautiful show that will have you in tears by the time it ends.
There are some areas in need of improvement at the American Adventure pavilion. That said, there is still plenty of amazing entertainment to experience during your stay.
Check out this full guide to the American Adventure pavilion!
7. & 6. Canada & United Kingdom
Tied for sixth place are the neighboring Canada and United Kingdom pavilions.
Canada
Theming
The theming and layout of the Canada pavilion is a smattering of many different components of Canadian culture. Originally, Disney had looked to the Canadian government for financial backing on the project, however, the government declined because of concerns that Disney was stereotyping Canadians by over-emphasizing a lumberjack theme throughout its pavilion.
The original plan for Canada was to split the layout between English and French Canada. That idea was scrapped early on, but If you walk up the stairs past the Trading Post, you might still notice some nods to that plan throughout the building architecture.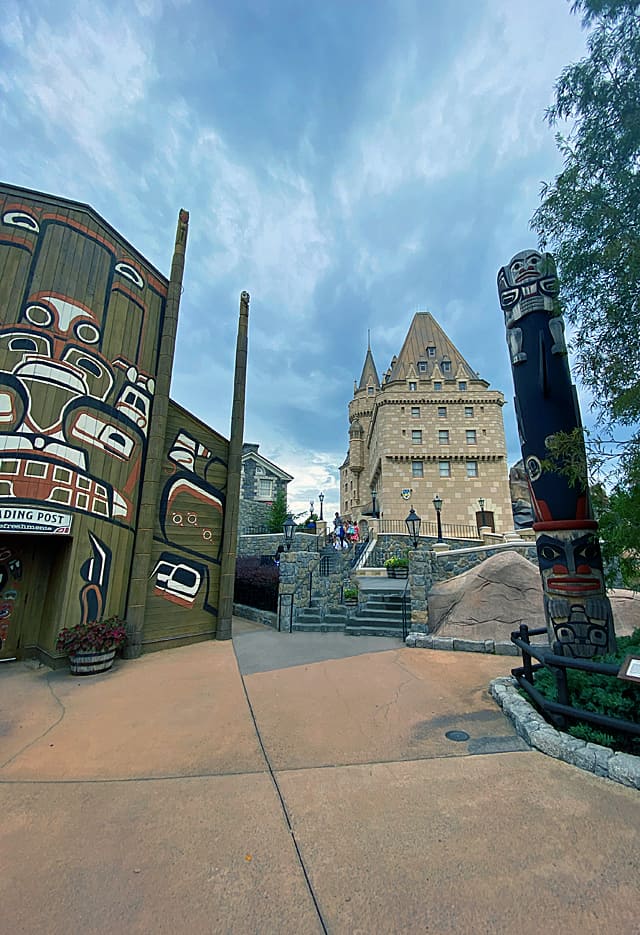 On the left side, you'll see cottage-style buildings and a red Gilbert-Scott telephone booth representing English Canada.
FUN FACT: THERE IS USUALLY A DIRECT LINE CONNECTION TO THE SISTER PHONE BOOTH THAT RESIDES IN THE UNITED KINGDOM PAVILION.
On the right, is the Hotel du Canada, which was modeled after the famous Château Laurier in Ottawa, representing French Canada. This historic hotel was designed by Grand Trunk Railway President Charles Melville Hays.
Hays was on the Titanic making his way back from a board of directors meeting in England to attend the opening of the Château Laurier on April 26, 1912. Ironically, Hays was reported to have said 20 minutes before the Titanic struck the iceberg that "the trend of playing fast and loose with larger and larger ships will end in tragedy."
Sadly, that premonition came to pass shortly after and Hays did not make it off the Titanic alive. He assured his wife and daughter as he put them in the lifeboat that the Titanic would not sink quickly and would remain afloat at least 10 hours.
On April 26, the day he was due to attend the opening of the Château Laurier, Hays' body was recovered from the waters of the Atlantic and is now laid to rest in Montreals' Mount Royal Cemetery.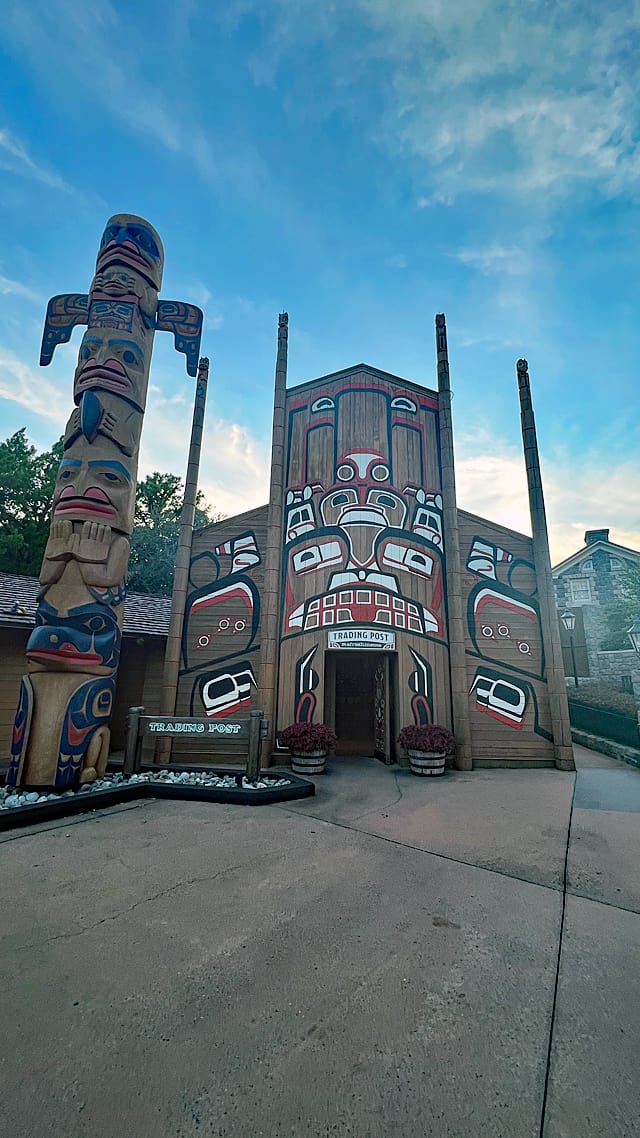 Some of the most prominent features you'll notice in the Canada pavilion are the totem poles that sit in front of the Trading Post. When the Canada pavilion first opened, there were only two totem poles made of fiberglass installed.
In 1988, Disney hired Alaskan artist, David Boxley, to carve a more authentic third totem pole out of wood. Boxley carved the pole over a 2-month period in front guests passing by and the finished product was put on display in 1998. 
Since then, the two fiberglass totem poles have also been replaced with authentic wood poles.
FUN FACT: HAVE YOU EVER WALKED THROUGH THE VICTORIA GARDENS AND SEEN THAT LITTLE COTTAGE SHED OFF TO THE RIGHT? WHAT IS IT FOR? IS IT QUEEN ELIZABETH'S SHE-SHED?
WELL, IT IS ACTUALLY A WORKING TOOL SHED USED FOR THE MAINTENANCE OF ALL THE BEAUTIFUL GARDEN LANDSCAPES IN THE PAVILION!
The theming of the Canada pavilion is gorgeous and does a great job of representing many different aspects of Canadian culture. If for no other reason Canada deserves to rank higher.
Shopping & Attractions
While Canada doesn't have many shopping locations, you will find some excellent merchandise inside Northwest Mercantile and the Trading Post.
Canada does not have any ride attractions, however, it does have a Circle-Vision 360° movie called 'Canada Far and Wide'. During this 12-minute movie, narrators Catherine O'Hara and Eugene Levy take guests on a picturesque tour through the many provinces of Canada to showcase its wondrous beauty and diversity.
WARNING: THIS MOVIE THEATER HAS NO SEATING AND CAN BE TRIGGERING FOR THOSE WHO SUFFER FROM MOTION SICKNESS OR VERTIGO. 
Entertainment
There have been many different entertainment acts that have come and gone in Canada. Some fans are still upset that Disney replaced the popular Celtic rock band Off Kilter in 2014 with a lumberjack show.
After the lumberjacks failed to impress guests, they were replaced with the current act Alberta Bound. You can catch this Canadian folk band and the beloved JAMMitors playing various shows at the Old Mill Stage during the day.  While both of these acts are better than the lumberjacks, some fans are still missing Off Kilter's unique sound.
Dining
While dining at the Canada pavilion is rather limited, it gets extra points for the one restaurant it has: Le Cellier Steakhouse. Le Cellier was voted as one of the top 3 restaurants in Epcot according to our readers. This beautiful restaurant is located at the bottom of the Hotel du Canada. As the name suggests, the theming is designed to look like an old wine cellar and the cuisine draws inspiration from many different provinces in Canada.
What Le Cellier is most famous for is the Canadian Cheddar Cheese Soup and pretzel bread. If you have never experienced this amazing dish, you need to put it on your Epcot bucket list. Canada also has some of the best steaks on Disney property. They may be a little pricy but are high quality.
We have always had fantastic meals at Le Cellier and feel it is worth the splurge, unlike some other pricy deluxe meals.
THE CANADA PAVILION MIGHT BE SMALL, BUT SHE IS MIGHTY!
CHECK OUT THIS FULL GUIDE TO THE CANADA PAVILION!
United Kingdom
Theming
The United Kingdom's theming combines a mixture of architectural styles from England, Wales, Northern Ireland and Scotland between 1500-1800 A.D. You'll see nods to locations in London, Hyde Park, Regency, and more. The Tea Caddy shop was even designed to resemble Anne Hathaway's (William Shakespeare's wife) childhood home.
The Rose and Crown Pub is not designed as a replica of any specific pub in the United Kingdom. Rather, it is a combination of four different architectural styles: Victorian, Waterfront, Provincial and Dickinson.
Disney Imagineers did not want to name the pavilion's restaurant after any specific pub, so it performed a search for the most common pub names in the UK. The results were the words Rose and Crown. Thus, the Rose and Crown Pub was born!
Shopping & Attractions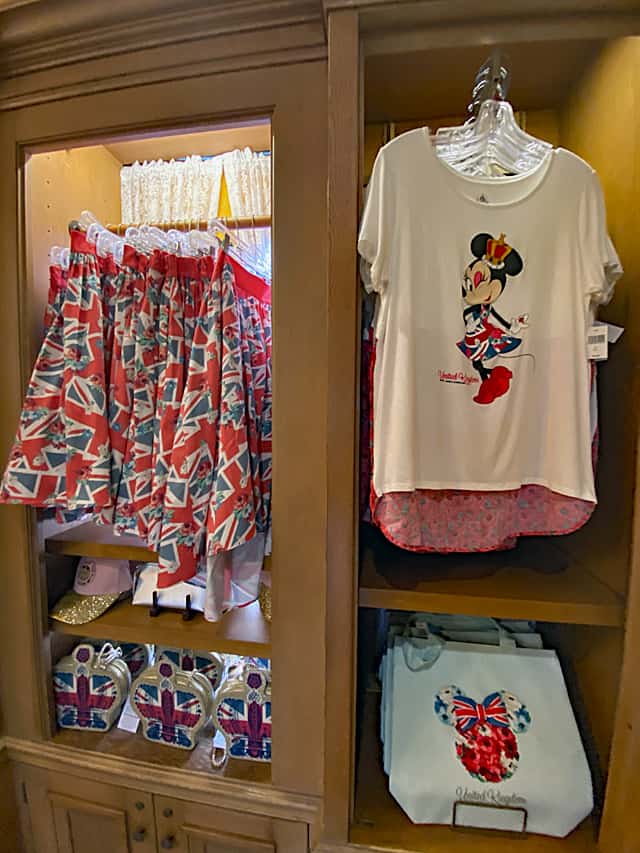 One of the main draws to this pavilion is the many shopping options it offers. You will find lots of stores that sell authentic products you can't find anywhere else. There are currently no attractions in the United Kingdom pavilion. Before the pandemic, a Mary Poppins-themed attraction was slated to be added, however, it has been postponed indefinitely.
Characters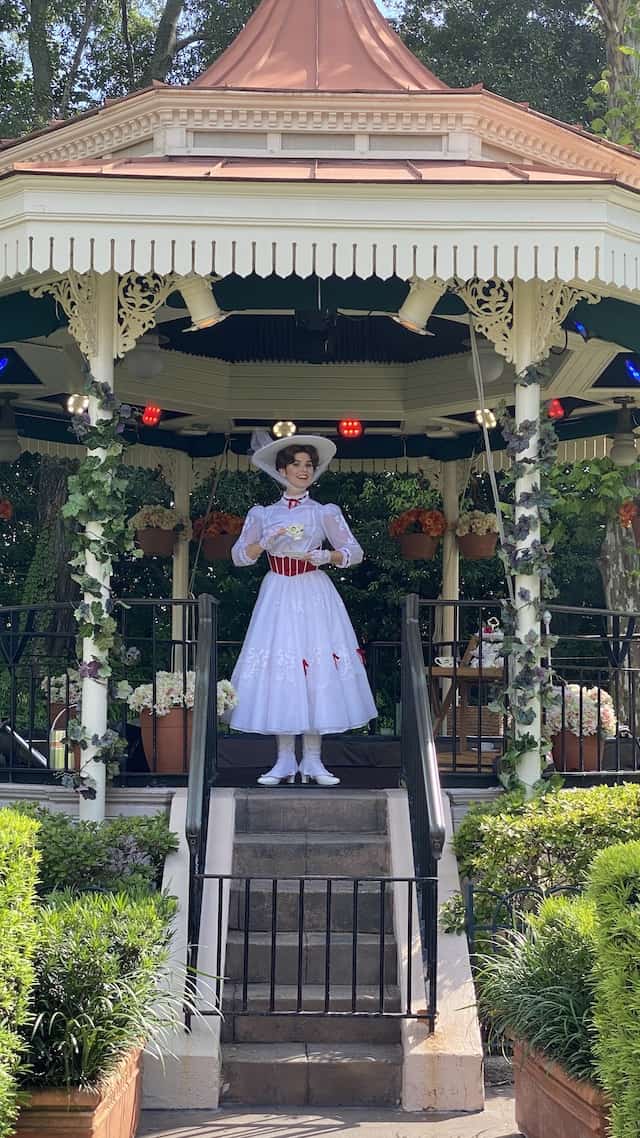 Mary Poppins fans can still visit her at the gazebo in the back of the pavilion and you can usually find Alice in Wonderland near the Tea Caddy.  These lovely ladies are always willing to make magic with guests and provide some excellent interactions.
Dining
There are two dining options in the United Kingdom and they both make our viewers' list of best Quick Service and Table Service locations in Epcot. You cannot leave the UK without stopping at Yorkshire County Fish Shop and grabbing some of the best Fish & Chips around.
I've searched far and wide and have never found better Fish & Chips than the ones in the United Kingdom. If you are looking to try some more traditional UK dishes, stop into the Rose & Crown for some excellent food and atmosphere.
Entertainment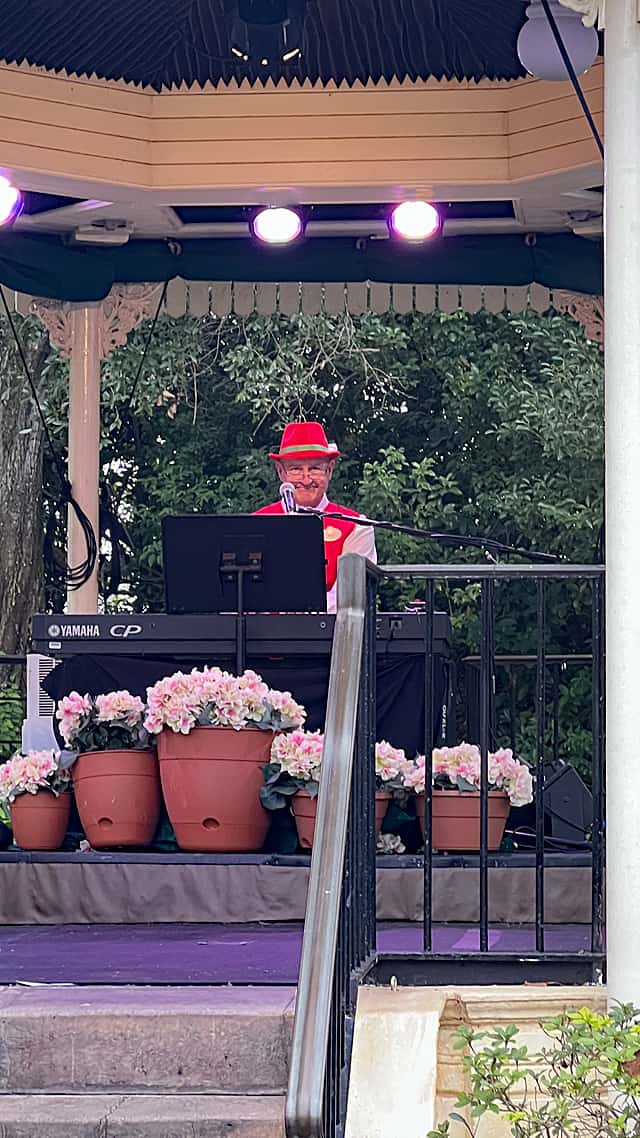 In the back of the United Kingdom by the gardens, you will find lots of fun music and entertainment. While we are awaiting the return of the super-popular British Revolution group, there are still fun acts that pop up in the gazebo daily to entertain guests. There are many unique experiences in the United Kingdom and Canada pavilions but other countries excel in more categories which knock them down into the middle of the pack.
Check out this full guide to the United Kingdom pavilion!
Stay tuned for Part II of our results when we reveal which countries are the best in the World Showcase!
Do you agree with our readers' pick for the worst World Showcase pavilions? Let us know in the comments below and on Facebook!
-Christina