Epcot is a one stop shop for some of the best culinary delights in all of Walt Disney World. With so many snacks to choose from, how can you be sure you've tried the best of the best? We asked YOU to tell us what you think is the best snack in all of Epcot. Check out which ones stood out among the rest!
Epcot snacks
Epcot is one of my (Christina) favorite places for amazing culinary indulgences. You don't even need to have a Quick Service or Table Service meal to find amazing food! Though if you do, check out which restaurants our viewers say is the best in Epcot!
It's almost unfair to all of the other Disney parks just how good the food is at Epcot. There are so many locations to find amazing treats, you simply can't try them all in one trip.
It can also be hard to deviate from your tried and true favorites. I know there are just some things that I have to eat every time I go to Epcot. If you are looking to venture out of your comfort zone, however, what better way than to try something that a plethora of Disney guests all say is amazing?
To find out that answer, we asked YOU to tell us what you think is the best snack in Epcot. Lots of delicious treats made the list, but there can only be one winner!
Here is the list of the best snacks in Epcot that you need try according to our viewers!
10. Turtle Brownie & Strawberry Shortcake – Sunshine Seasons, The Land
Our list starts off with a tie! Coming in at number 10 was the Turtle Brownie and the Strawberry Shortcake from Sunshine Seasons at the Land Pavilion!
The Strawberry Shortcake has been around for many years. This cake is absolute perfection! The cream is homemade and not sickly sweet, the strawberries are fresh (and not coated in sugary goop), and the cake is supremely moist.
For many years, this was the one dessert I got every time I visited Sunshine Seasons. I just couldn't bring myself to deviate.
On one of my last trips to Disney, they didn't have the strawberry shortcake available. After my mini panic attack subsided, I glanced around at all the other amazing treats available.
I decided to get the turtle brownie after hearing some good things about it. I saved it for breakfast the next morning while I waited at rope drop and Animal Kingdom.
This brownie is AMAZING! I don't normally waste my time on brownies at Disney because they're usually basic and fairly average. This one does not even remotely fit in that category.
The brownie was moist, fudgey and had a ton of gooey caramel sauce on top. The nutty crunch from the pecans added the perfect texture balance, too! Both of these desserts are amazing and you shouldn't have to choose between the two! Grab one for now and save one for later!
9. Croque Glacé- L'Artisan des Glaces & Lobster Bisque – Les Halles Boulangerie-Patisserie, France
We have another tie! In 9th place is the Croque Glacé and the Lobster Bisque. The Croque Glacé can be found at the L'Artisan des Glaces ice cream shop in France and is one of the best desserts ever created.
All of the ice creams at L'Artisan des Glaces are handmade and you won't find creamier ice cream anywhere on property. Not only that, but they have some really unique flavors.
Once you choose your flavor of ice cream or sorbet, they take the scoop, place it inside a fresh brioche bun and then hot press it to seal it.
What you are left with is the perfect ice cream sandwich. The brioche is warm and the ice cream softens to the perfect consistency without becoming too melty. You can also choose to have raspberry, caramel or hot fudge sauce drizzled over top.
My perfect Croque Glacé combination was the cinnamon ice cream with glazed pecans. I asked for the raspberry sauce in a cup on the side. The ice cream was amazing! It tasted like cinnamon toast crunch cereal and the raspberry sauce was the real deal! Not your fake raspberry flavoring.
One of the best quick service locations in all of Epcot is Les Halles Boulangerie-Patisserie. While the real headliners are the French desserts and pastries, don't overlook the amazing lunch offerings, too!
One of my favorite savory snacks to get at Les Halles Boulangerie-Patisserie is the Lobster Bisque. You can find the exact same Lobster Bisque that used to be served at Le Chefs de France for way cheaper! Grab a half serving baguette and you have the makings of a perfect lunch!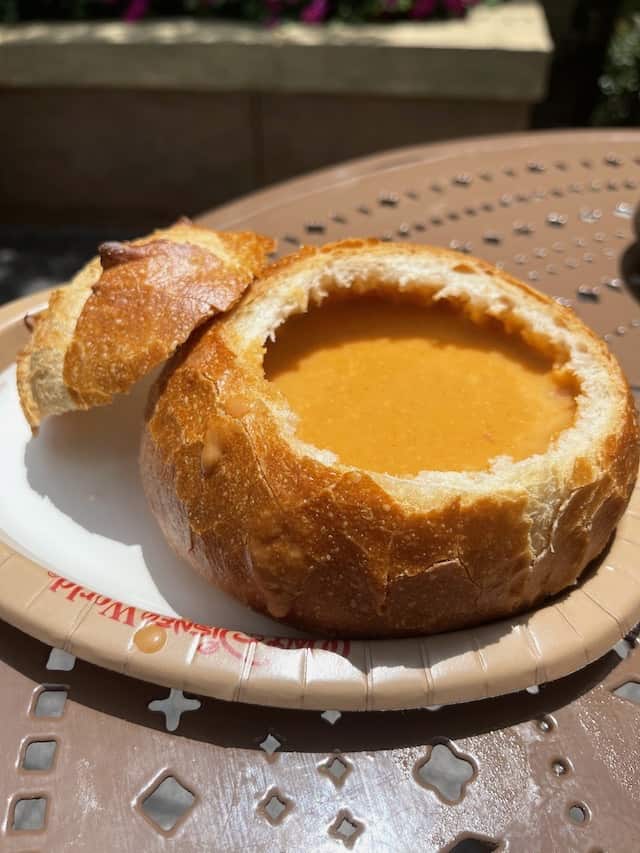 It's clear I am not alone because our viewers thought these two amazing treats were among the best in all of Epcot.
8. Egg Rolls – Lotus Blossom Café, China
The Egg Rolls in China are a perfect snack choice to enjoy solo or with a friend. My family makes a stop at the Lotus Blossom Café every vacation to split some egg rolls and potstickers.
While, these are pretty much your average egg rolls, they are well-executed. Crispy on the outside and not overly stuffed. I don't love cabbage, but I can tolerate it in an egg roll if it's not over the top.
These egg rolls have the perfect filling to wrapping ratio and are so good paired will lots of duck sauce!
7. Apple Strudel with Vanilla Sauce- Sommerfest, Germany
Many of our viewers said they loved the Apple Strudel from Germany's Sommerfest location. I can't disagree. This is one dessert you might walk right past. It is tucked away in the back of the Germany pavilion.
This strudel was jam-packed with delicious cinnamon apple slices that were slightly tart. They provided the perfect balance from the sweet vanilla sauce and flaky pastry crust.
This desert is the perfect texture combination and was very large. My family easily split it among three people.
6. Nudel Gratin- Sommerfest, Germany & Poutine, Refreshment Port
This may be a faux pas to say, but I really don't love the "plastic cheese" macaroni that you see all over Disney World. It takes a lot for me to order any kind of mac and cheese in the parks, but the Nudel Gratin was one I would come back for time and time again.
Unlike the other mac and cheese dishes, this one was baked with REAL cheese! It was absolutely fantastic and had so much flavor. You could easily share this or turn it into a great lunch for one.
A lot of our readers agreed this was one of their favorite dishes in Epcot. Next time you visit, don't skip Sommerfest. There are a lot of great hidden gems here!
5. Potstickers – Lotus Blossom Cafe, China
I am a sucker for a good potsticker. It's one of those dishes that is really hard to mess up. What makes a good potsticker is the sauce it comes with.
The potstickers at the Lotus Blossom Cafe are pan-fried to perfection and come with the best ponzu sauce you've ever had. The biggest problem is they don't give you nearly enough of it! A lot of our readers say this is a great treat that will please everyone in the whole family. If you are a fellow potsticker lover don't miss out on these!
4. Milk Chocolate Caramel Pecan Cluster- Karamell-Küche, Germany
I was happy to see that the Milk Chocolate Caramel Pecan Cluster ranked so high on our viewers best of Epcot list! I have to say, this is one of the best treats I have ever had in Disney.
The cluster starts off with large, lightly salted, pecans and is then covered with the most gooey and buttery Werther's Caramel. To finish it off, it is topped with decadent milk chocolate.
This treat is the perfect sweet and salty treat, and I'm sure our viewers would agree you can't make a bad treat choice when you walk into Karamell-Küche.
3. Jumbo Pretzel- Sommerfest, Germany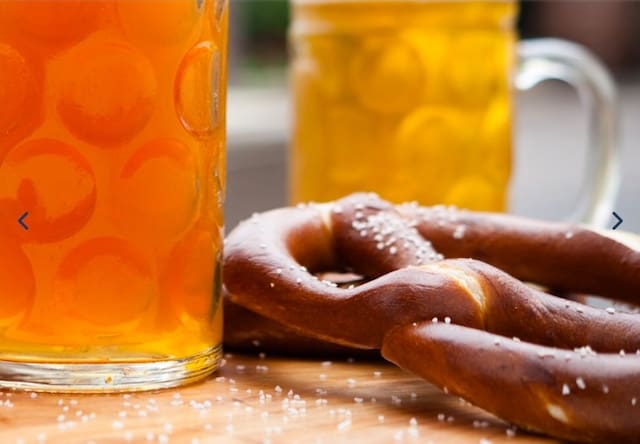 In third place, our viewers chose the Jumbo Pretzel at Germany's Sommerfest location. This pretzel is ginormous and could easily feed a large family.
It travels well too. Just bring along some gallon-size Ziploc bags and store what you can't eat for later. Then, when it's 11:00 at night, and nothing is open at your resort, you can pull out your giant pretzel to munch on.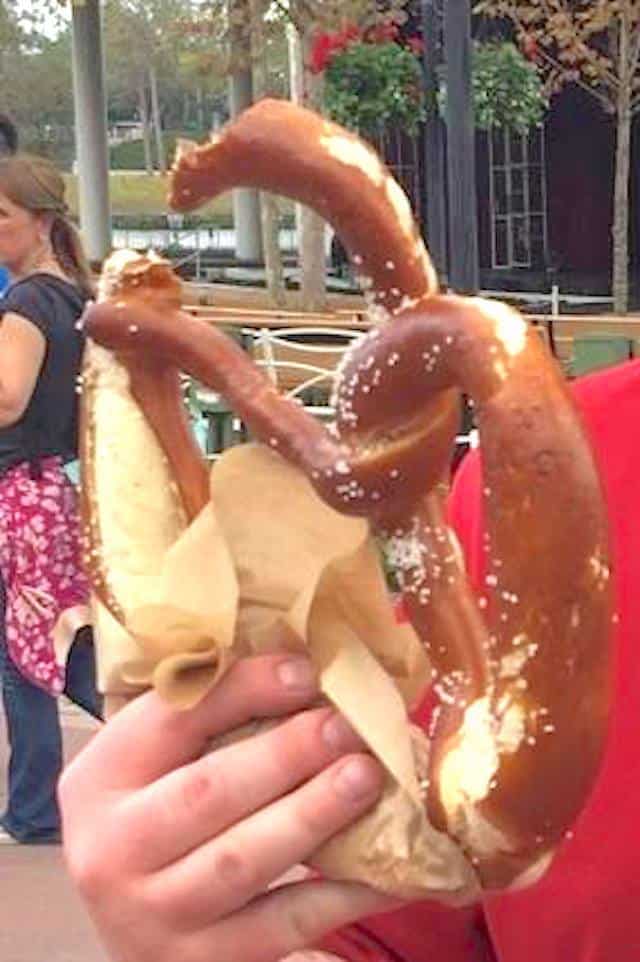 The Jumbo Pretzel is definitely a cut above your average Mickey Preztel. The only thing that would make this pretzel better would be some beer cheese sauce.
2. School Bread – Kringla Bakeri Og Kafe, Norway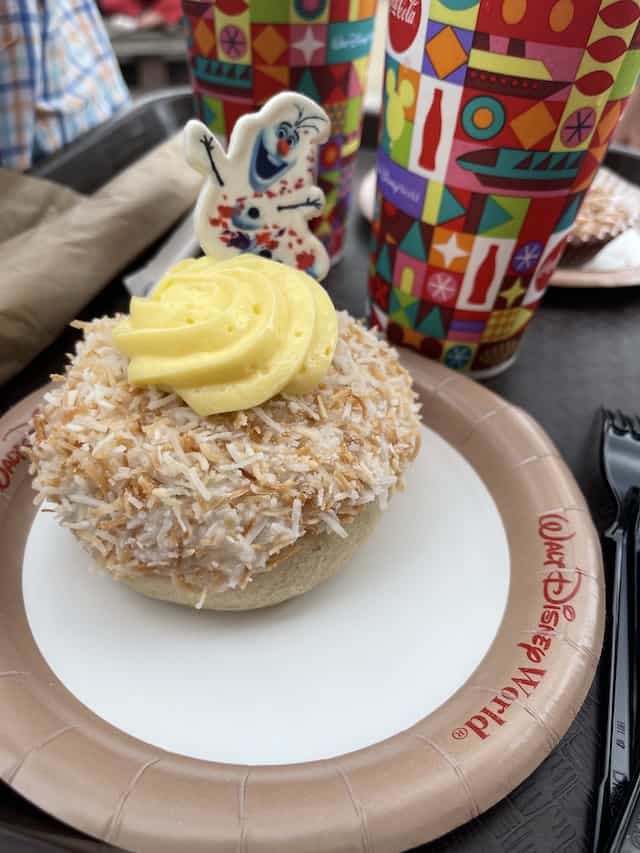 Our runner-up for best snack in Epcot is the School Bread at Norway's Kringla Bakeri Og Kafe! I'm slightly surprised to see it ranked so high as this treat can be a fairly divisive snack.
School Bread is a Norwegian pastry that got it's name from being a treat commonly sold at school bake sales or packed in children's lunches. It is a cardamom sweet roll that is filled with vanilla custard and topped with shredded coconut. You have to really like coconut to enjoy this one.
One reason people tend to love the School Bread is that it is a less sweet option in the parks. So many Disney treats can be ultra sugary, but the School Bread is a lighter dessert option.
1. Fish & Chips- Yorkshire County Fish Shop, United Kingdom
The number one snack in Epcot according to our viewers is the Fish & Chips located at the Yorkshire County Fish Shop in the United Kingdom pavilion.
These are some of the best Fish and Chips around. I have looked far and wide to find a better version and have not been successful. The fish is always flaky and the crispy batter on the outside gives you that perfect crunch. This is a great snack to share, and I love drowning my fish in a sea of malt vinegar.
While the French fries are not the best I've had in Disney, there are a lot of great ways to "plus up your chips". Grab some Lobster Bisque from France to dunk them in, or if you're visiting during a food festival see what other saucy items are nearby.
The fries pair amazingly with the Canadian Cheddar Cheese Soup from Canada or the Stout Cheese dip from the Ireland kiosk.
There really is no wrong way to snack around Epcot, but if you are looking to try something new give these fan-favorite treats a try! You might just find your new favorite dish!
Catch up on which snacks are the tried and true favorites of Disney fans at the other theme parks below!
Also, check out these restaurants our readers thought were the best in Magic Kingdom, Epcot, Hollywood Studios and Animal Kingdom if you are looking for some fan-favorite quick service and table service meals!
What is your favorite snack in Epcot? Did your favorite make the list? Let us know in the comments below or on Facebook!
-Christina