The votes are in! We asked our Crew members what their favorite snacks are in the Magic Kingdom. Lots of fan favorites made the list, but which ones stood out among the rest? Will it surprise you? Check out the Top 10 Snacks in Magic Kingdom as chosen by YOU!
Magic Kingdom wasn't always a place to find great snacks in Disney World, but things have definitely changed over the years. With more focus being put on Instagramable snacks, the tides have turned and we now have a lot more exciting choices around the park!
It's hard to deviate from tried and true favorites, but if you are looking to venture out of your comfort zone what better way than to try something that Disney guests all say is amazing?
To find out that answer, we asked YOU to tell us what you think is the best snack in Magic Kingdom. Now it's time to reveal which snacks made the Top 10!
#10. Loaded Mac and Cheese Tots – Friar's Nook, Fantasyland & Funnel Cake – Sleepy Hollow Refreshments, Liberty Square
Coming in at number 10 we have a tie! The battle between sweet and savory is strong and both of these snacks are excellent choices when you are visiting the Magic Kingdom.
If you are looking for a great snack that is totally shareable, look no further than the Loaded Mac and Cheese Tots at the Friar's Nook. This dish is the perfect texture combo. The creamy mac and cheese is balanced by crispy fried tots and topped with bacon bits, sour cream and chives.
You could certainly make this a meal for one, but why not share and save room to try more things?
Things like funnel cake! It's a short walk from The Friar's Nook to Sleepy Hollow Refreshments where our next snack resides. When it comes to funnel cake I (Christina) am a purist. It better be crispy on the outside, tender on the inside and doused with enough powder sugar to cover Mount Everest.
Luckily, the funnel cakes at Sleepy Hollow fit the bill! Sure, you can upgrade your snack to add strawberries and whipped cream if that's your thing. I find that is better suited for waffles rather than funnel cake because the strawberry goop makes it soggy.
#9. Snow White Cone – Storybook Treats, Fantasyland
Coming in at number 9 is a reincarnated version of an old favorite. The Snow White Cone debuted as part of the 50th Anniversary Celebration treat collection and is made with a blue colored cone, Lemon Dole Whip, red chocolate bow and blue bird decoration.
Many guests were super excited for the Snow White Cone's debut, because it was the first time lemon Dole Whip has returned to The Magic Kingdom since the Lost Princess Cone was at Storybook Treats.
#8. Spring Rolls – Adventureland Spring Roll Cart, Adventureland Entrance
The Spring Rolls have become a very popular snack at the Magic Kingdom. This is only place in Walt Disney World where you can find these tasty treats!
The Adventureland Spring Roll Cart has been known to move around but has been most recently found in front of the Adventureland entrance.
There are two different flavors of springs rolls offered, and they do rotate out from time to time. My favorite pizza springs rolls were recently replaced with the 50th Anniversary Celebration spring rolls which contain pastrami and pepper jack cheese served with a mustard dipping sauce.
You can read Jamie's review of the pastrami spring rolls HERE.
These new spring rolls sound amazing and I can't wait to give them a try! It's nice to have an option that doesn't have pickles for those of us that don't care for them.
The spring rolls are one of the most expensive snacks you'll find in Magic Kingdom, and they seem to get pricier all the time. They might not be worth it for everyone, but they are very tasty and well-made. The outside shell is perfectly crispy and light and the filling is hot and gooey. If you are looking for something to combat all the sugary treats offered in the parks, these springs rolls will do the trick!
#7. Mickey Pretzel – Pretzel Carts, Various Locations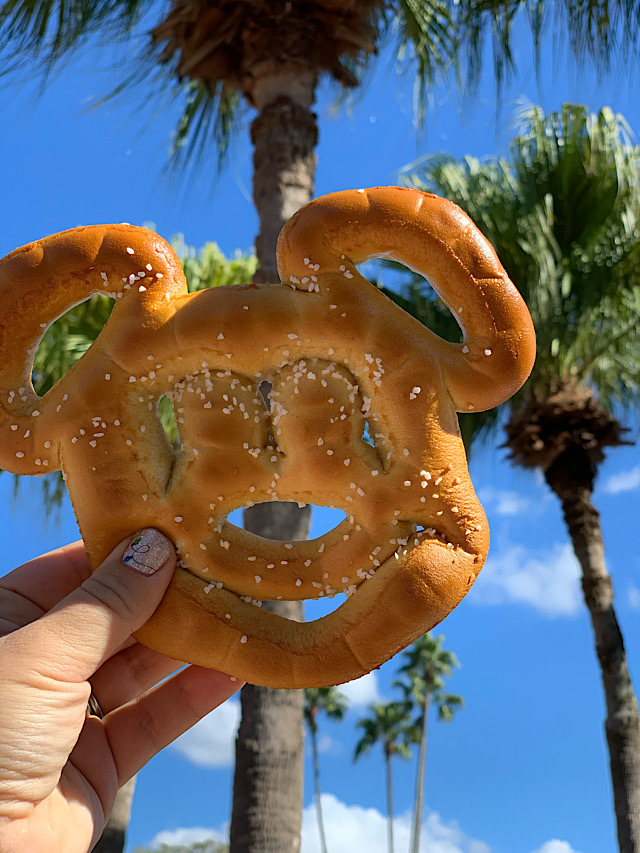 Everything just tastes better when it's Mickey shaped and pretzels are no exception! I am sucker for soft pretzels and I always have to grab a Mickey pretzel at least once on my Disney vacations.
Now, is the Mickey pretzel the best soft pretzel you'll find in Disney World? No, but it is the only one you'll find in the Magic Kingdom that isn't stuffed with cheese.
Sometimes when you're hot and hangry, a carb load is just the thing to get you through till dinner. Mickey pretzels are big enough to share and if you stash some Ziploc bags in your backpack, you can save some for a late night snack when everything is closed and you don't want to spend a ton of money on a candy bar from the resort vending machine.
#6. Cheshire Cat Tails – Cheshire Cafe, Fantasyland
The Cheshire Cat Tail is one of my personal favorite snacks in all of Disney, and I'm glad our readers agree that it belongs in our Top 10 list! This unassuming treat is a decadent, warm and flaky pastry, filled with slightly melted chocolate and is then drizzled with pink and purple icing stripes to mimic the Cheshire Cat's tail.
For a while, guests could find the Cheshire Cat Tail at Cosmic Ray's Starlight Café. Now that the Cheshire Café has reopened, it has returned to its rightful home.
If you are looking for a quick breakfast snack or mid-afternoon sweet treat, you have to give the Cheshire Cat Tail a try!
#5. Mickey Premium Bar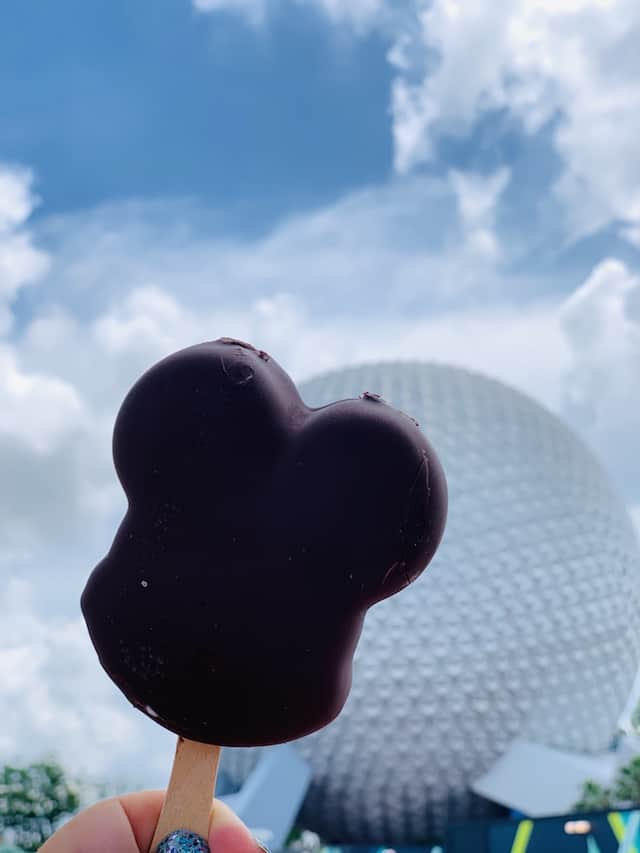 A basic chocolate covered vanilla ice cream treat shouldn't be that good, but it is! Is it because it's Mickey shaped? Maybe! It's easy to overlook this simply snack because there are so many unique options in Magic Kingdom, but it's a fan favorite for a reason! There is nothing more refreshing than grabbing a Mickey Premium Bar on a hot summer day and racing against the clock to eat it before it turns into a messy puddle of ice cream drippings.
The Mickey Premium Bar proves that sometimes the best snacks are the simplest ones. If you don't get at least one of these iconic bars on your trip, did you even go to Disney?
#4. Gaston's Tavern Cinnamon Roll -Gaston's Tavern, New Fantasyland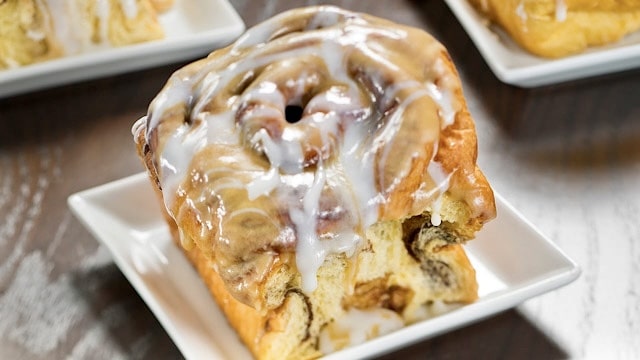 If you are looking for a super indulgent treat, look no further than the Gaston's Cinnamon Roll. This massive treat is so huge you will need a buddy to finish it all.
It is served warm and loaded with delicious icing. Unlike many of the colossal Mickey Cinnamon rolls around the parks that can be quite dry or overbaked, the Gaston's Tavern Cinnamon Roll is consistently soft, fresh and gooey. If you need a more substantial breakfast snack, this is your go-to place!
#3. Dole Whip Float – Aloha Isle, Adventureland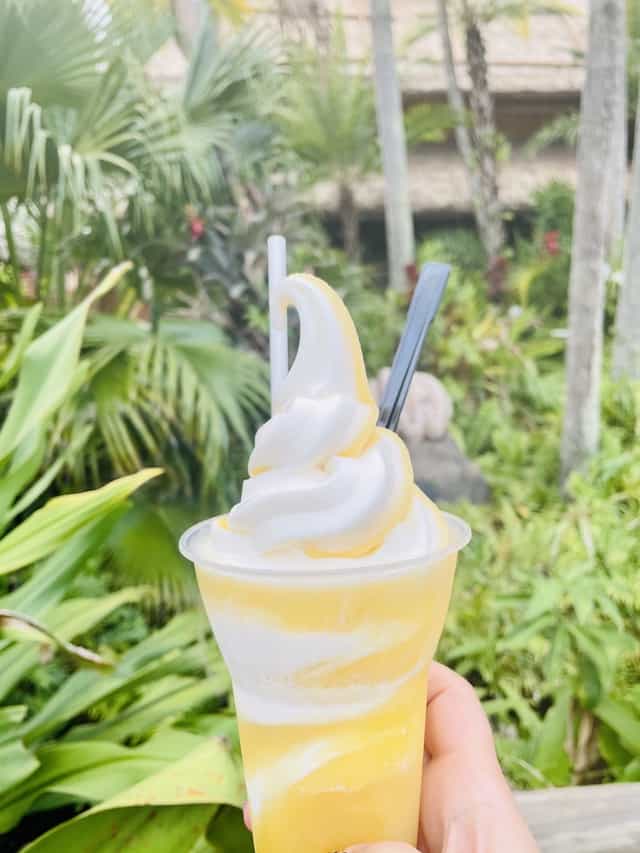 Our third place winner is the Dole Whip Float! There are many different ways to grab a Dole Whip float in Magic Kingdom these day, but the classic version is the one topping our "Best of" list. On a hot day there is nothing more refreshing than a Dole Whip and to make it extra magical, drown it in some pineapple juice!
#2. Nutella Fruit Waffle – Sleepy Hollow Refreshments, Liberty Square
Our runner up is the oh-so-famous Nutella Fruit Waffle. This monstrous snack is made up of a fresh, giant Belgian waffle, coated in a layer of warm Nutella hazelnut spread and piled high with fresh bananas, strawberries, and blueberries.
What a great way to start your morning off right, and if it has fruit it counts as being healthy right? You will definitely want to split this one with the family because it is HUGE!
#1. Pineapple Dole Whip – Aloha Isle, Adventureland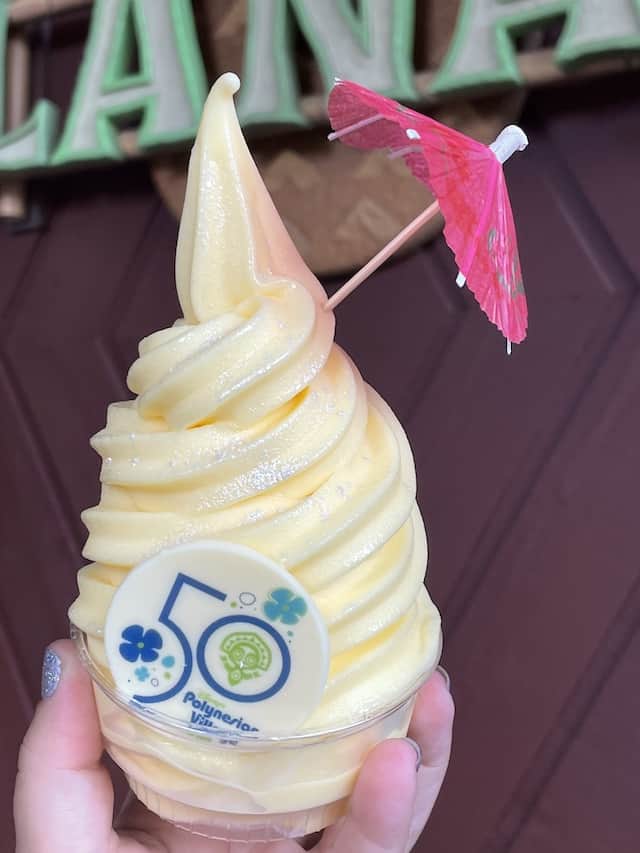 Is it any surprise that the winner of the Best Snacks in Magic Kingdom is the Dole Whip? Dole whip is an iconic staple of the Magic Kingdom and now there are so many unique flavors to try. While I love some of the newer flavors like the lime Dole Whip, I have to agree with our readers that the OG treat reigns supreme.
My perfect way to enjoy a Dole Whip is swirled with vanilla ice cream. For those of you that may not get the appeal of the pineapple soft serve, consider trying it with the swirl.
I didn't like Pineapple Dole Whip much at first because it was just too tart by itself. Once I swirled it with the vanilla, it open my eyes to amazingness of the Dole Whip. The creamy cool vanilla ice cream balances the acidic pineapple soft serve perfectly.
There are so many ways to enjoy Dole Whip, so if you don't find your perfect match the first time, don't give up! There are many different combinations out there, you are bound to find one you love. Kate has listed out all the places you can find a Dole Whip, so be sure to check it out.
Catch up on which snacks are the tried and true favorites of Disney fans at the other theme parks below!
Also, check out these restaurants our readers thought were the best in Magic Kingdom, Epcot, Hollywood Studios and Animal Kingdom if you are looking for some fan-favorite quick service and table service meals! Also, Jamie has some other great snacks you can try out in the Magic Kingdom.
What do you think of our Top 10 Magic Kingdom snack list? Did your favorite make the cut? Let us know in the comments below and on Facebook what snack you can't live without at the Magic Kingdom!
-Christina
Are you planning a vacation? Reach out to our trusted travel agency sponsor Authorized Disney Vacation Planner
Mouse Class Travel
!