The votes are in! We asked our Crew members what their favorite snacks are in Hollywood Studios. Lots of fan favorites made the list, but which ones stood out among the rest? Will it surprise you? Check out the Top 5 Snacks in Hollywood Studios as chosen by YOU!
Snacks
Hollywood Studios wasn't always a place to find great snacks in Disney World, but things have definitely changed over the years! With more focus being put on Instagram worthy snacks, the tides have turned. Now you can find way more exclusive treats in the park that you can't get anywhere else in Disney.
It can be hard to deviate from your tried-and-true favorites. I know there are just some things that I (Christina) have to have every time I go to Hollywood Studios including the Jack Jack Cookie Num Num and Woody's Lunchbox Totchos.
If you are looking to venture out of your comfort zone, however, what better way than to try something that Disney guests all say is amazing? With so many snacks to choose from, how can you be sure you've tried the best of the best? We asked YOU to tell us what you think is the best snack in all of Hollywood Studios! Now it's time to reveal which snacks made the Top 5!
#5. Butterfinger Cupcake
Our number 5 spot goes to the long-time, fan-favorite snack: the Butterfinger Cupcake. This snack was once located at the iconic Starring Rolls Café on Sunset Boulevard (a moment of silence please for SRC). The original Butterfinger cupcake was massive. There was a mound of icing on top the size of Expedition Everest, and it was coated in a layer of crushed butterfingers and stuffed with chocolate fudge.
When the Starring Rolls Café was closed, the Butterfinger cupcake was relocated to the Trolley Car Café on Hollywood Boulevard. It was slightly different and smaller than the original Butterfinger Cupcake, but fans were happy to see the popular treat hang around.
Most recently, the butterfinger cupcake has been sighted at Rosie's All American Cafe in the form of the Peanut Butter Crunch Cupcake. No matter what Disney renames it, it is still the beloved Butterfinger cupcake to us! Be sure to keep an eye out for this ever-on-the-move exclusive treat!
#4. Totchos & Wookie Cookie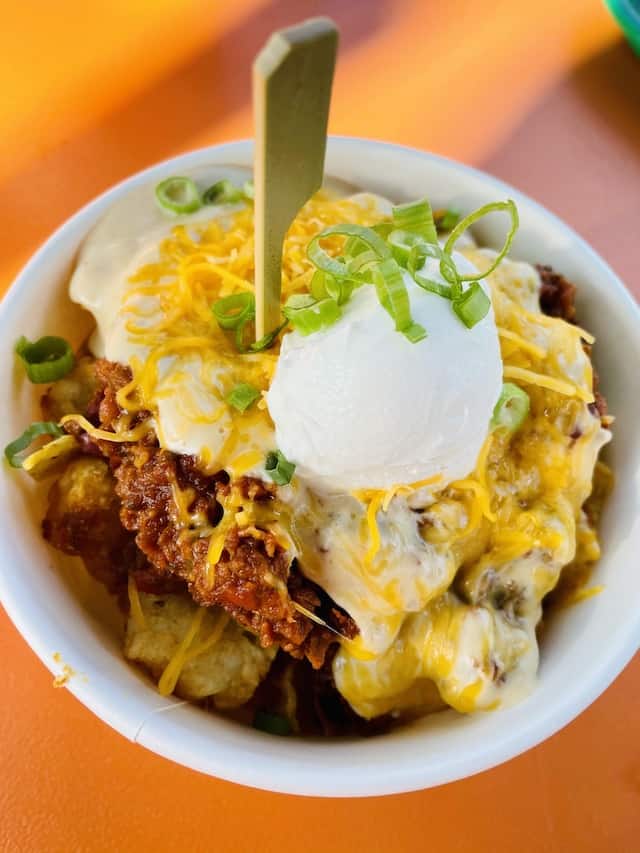 In fourth place we have a tie! A battle between sweet and savory and both are must-haves when you visit the parks. The Totchos are one of my favorite snacks in Hollywood Studios. They make a perfect light lunch or shareable snack. The texture profile of this dish is a fabulous combination of meaty chili, crunchy Fritos, crispy tater tots and creamy queso.
It's a hearty dish that will fuel you through your day. You can also find a breakfast version made of scrambled eggs, crispy tots, green onions and smoked brisket country gravy if you are visiting Toy Story Land early.
Our other competitor in 4th place is The Wookie Cookie! This cookie has quickly won over the hearts of Disney fans everywhere. This snack is a great option if you are looking for something that is easily carried on-the-go.
The Wookie Cookie is made of two soft oatmeal cookies, sandwiched between a creamy whoopee pie filling center and topped with a chocolate piece that resembles Chewbacca's belt.
I love a good Oatmeal Cream pie so this is going at the top of my list next time I return to Disney!
#3. Jack Jack Cookie Num Num
In third place is the Jack Jack Cookie Num Num. This is one of the best treats I have found in Hollywood Studios! It is gigantic and you will definitely want to share this treat with a buddy because it is so rich.
The Cookie Num Num is a treat that Jack Jack would definitely approve of. This deep dish chocolate chip cookie is served warm, slightly crispy on the edges and gives way to a soft and gooey center in the middle. It is one of my personal must-haves when I visit Hollywood Studios!
#2. Carrot Cake Cookie
Our runner up is the extremely popular Carrot Cake Cookie. This cookie has gathered a huge fan following over the years. The original Carrot Cake Cookie was located over at the Writer's Stop on the Streets of America. That version featured slimmer cookies with a more even cookie-to-icing ratio.
When the Writer's Stop was demolished, fans of the Carrot Cake Cookie feared the worst. Luckily the snack was moved to the Sweet Spells Candy Shop on Sunset Boulevard.
When Sweet Spells closed, the cookie moved again to the Trolley Car Café. The version now sold is a bit different than the original, though, and features much larger cookies and more icing. If you are a fan of the carrot cake cookie, let us know which one you preferred in the comments below: original or new.
#1. Ronto Wrap
Our number 1 snack, as voted by Disney fans, is the Ronto Wrap! This snack debuted when Star Wars: Galaxy's Edge opened and has quickly become a fan-favorite choice! The Ronto Wrap features grilled pork sausage and roasted pork, topped with peppercorn sauce, tangy slaw wrapped in pita bread.
A breakfast version can also be found in the morning that contains eggs, grilled pork sausage, shredded cheddar cheese and peppercorn sauce wrapped in pita bread. If the regular Ronto Wrap seems too adventurous to you, consider starting with the more mild breakfast combination.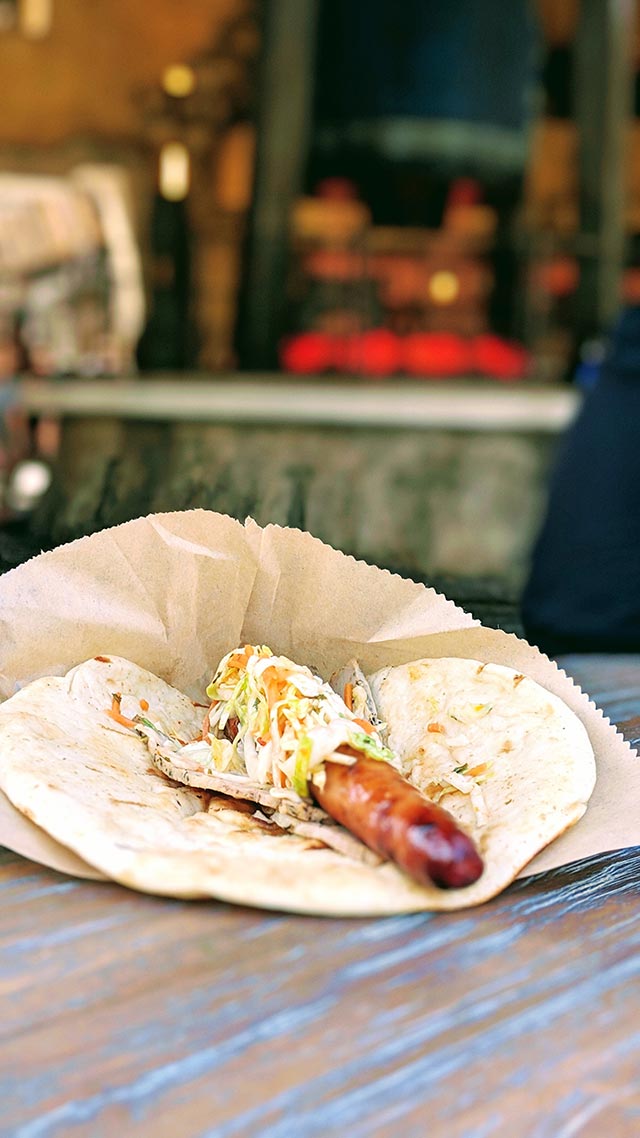 Vegan eaters don't have to miss out either because there is a vegan Ronto Wrap called the Zuchii Wrap that is made with grilled zucchini, smoky chickpea-onion slaw, creamy garlic-tahini sauce and cilantro.
If you have a food allergy, Ronto Roasters offers different variations of the Ronto Wrap to accommodate all kinds of allergies, too. No matter which version you try, Disney fans agree – the Ronto Wrap is the best snack in all of Hollywood Studios!
Catch up on which snacks are the tried and true favorites of Disney fans at the other theme parks below!
Also, check out these restaurants our readers thought were the best in Magic Kingdom, Epcot, Hollywood Studios and Animal Kingdom if you are looking for some fan-favorite quick service and table service meals!
What do you think of our Top 5 Hollywood Studios snack list? Did your favorite make the cut? Let us know in the comments below and on Facebook what snack you can't live without at Hollywood Studios!
-Christina
Are you planning a vacation? Reach out to our trusted travel agency sponsor Authorized Disney Vacation Planner
Mouse Class Travel
!