The votes are in! We asked our Crew members what their favorite snacks are in Animal Kingdom. Lots of fan favorites made the list, but which ones stood out among the rest? Will it surprise you? Check out the Top 5 Snacks in Animal Kingdom as chosen by YOU!
Snacks at Animal Kingdom
Animal Kingdom has some of the best snacks in Disney World. There are a ton of great places to grab a quick treat at Animal Kingdom and you'll find many unique dishes and flavors, too! You won't even want to waste your time on the classic popcorn and mickey pretzels when you are visiting the park. There are so many better options to choose from!
It can be hard to deviate from your tried and true favorites. I know there are just some things that I (Christina) have to have every time I go to Animal Kingdom such as Mr. Kamal's fries and the Night Blossom.
If you are looking to venture out of your comfort zone, however, what better way than to try something that Disney guests all say is amazing? With so many snacks to choose from, how can you be sure you've tried the best of the best? To find out that answer, we asked YOU to tell us what you think is the best snack in all of Animal Kingdom. Now it's time to reveal which snacks made the Top 5!
#5. Mr. Kamal's Fried Chicken Dumplings – Mr. Kamal's, Asia
Mr. Kamal's is one of my (Christina) favorite snack kiosks in all of Animal Kingdom. This small stand is easy to pass by and I personally did just that for many years. One day I decided to stop by and see what all the hype was about. We ordered a side of the famous seasoned fries and the fried dumplings, and all I can is "wow"!
I am a big fan of potstickers or dumplings of any kind. It's a snack that's pretty hard to mess up. When I ordered the fried dumplings at Mr. Kamal's I expected them to be "pan fried" as you would find in most Asian restaurants.

What I received were dumplings that were completely fried and crispy, and oh my, were they good! I had never had a dumpling that was completely fried before. These dumplings had such a great flavor and the outer crust was so crispy.
What makes or a breaks a good dumpling, in my opinion, is the dipping sauce. The ponzu sauce served with the Chicken Dumplings at Mr. Kamal's was stellar. It added the perfect flavor burst to the crispy dumplings.
I found that an order of fries and dumplings from Mr. Kamal's split between two people is the perfect afternoon meal.
#4. Mr. Kamal's Seasoned Fries – Mr. Kamal's, Asia
I'm happy to see fans voted for my the seasoned fries at Mr. Kamal's! They are so amazing and worth putting on your must-have snack list! The original fries at Mr. Kamal's were covered in a Tzatzki Salad and Sriacha Ketchup, which is one reason that I personally avoided them for so many years. Those flavors are not my cup of tea, but they had a very big fan following.
In 2019, the fries were changed to just the plain seasoned fries and a variety of dipping sauces available on the side. These fries are so amazing! I don't know what blend of spices they use on them, but they are so addicting.
In the "before times" (pre-pandemic) the dipping sauces were available in self-serve pumps to the side of the pick up window at Mr. Kamal's. You could choose between regular ketchup, Safron Aioli, Honey Kimchi Ketchup or Tandori Honey Mustard. Since Mr. Kamal's reopened from the pandemic closures, the dipping sauces available have changed drastically.
Gone are the self-serve pumps and the menu indicates that guests can choose either Curried Honey Mustard or Korean Chili Ketchup for their fries. If you want to try both sauces, just ask a Cast Member nicely and they should be able to do that for you.
Mr. Kamal's fries are definitely one of the best snacks in Animal Kingdom, so if you are looking for a delicious savory snack option, these are for you!
#3. Blueberry Cream Cheese Mousse & Cheeseburger Pods – Satu'li Canteen, Pandora
When Pandora: The World of Avatar opened in Animal Kingdom, it really brought a change in the culinary tides to the park. There are some extremely unique food offerings in Pandora, and they have quickly gathered big fan followings.
If you're looking for some truly unique snacks, stop by Satu'li Canteen. Two snacks form this location have ended in a tie for 4th place on our list: The Blueberry Cream Cheese Mousse and the Cheeseburger Pods.
The Cheeseburger Pods have quickly become a very popular treat at Animal Kingdom. When Satu'li first opened, these pods were available as both and adult portion and a child's portion meal.
Then, to the dismay of Disney adults, the Cheeseburger Pods were removed from the adult menu and could only be found on the kids menu with just one pod offered instead of two.
Disney heard the outcry from fans and finally brought back the adult portion of the cheeseburger pods, and there was great rejoicing in the streets.
Many guests describe these pods as tasting like a McDonald's cheeseburger stuffed inside a bao bun. Unfortunately for myself, I have never been able to try a cheeseburger pods because they contain pickles, which I cannot stand. If you love getting a McDonald's burger with "the works", however, you need to try these pods ASAP!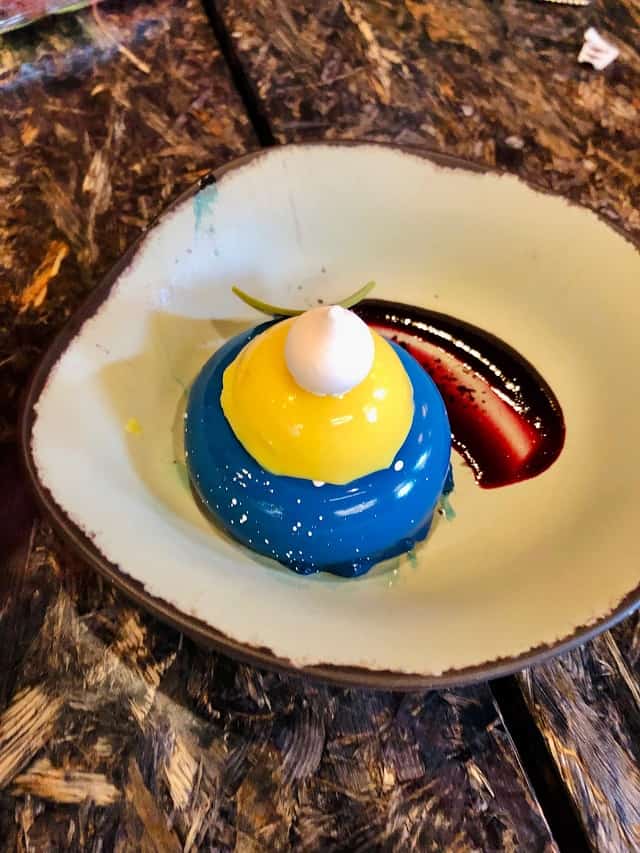 The Blueberry Cream Cheese Mousse is a dome of light, fluffy blueberry flavored cream cheese mousse topped with a passion fruit curd. It's the perfect combination of sweet and tart. You might think this treat would be super dense by the look of it, but it is surprisingly light. One of our writers Katie P. says this is one of the only two artificially colored snacks she will make an exception to eat because it is that good! Check out her list of the Top 5 desserts to eat in Animal Kingdom HERE!
Who says you have to choose between these two amazing snacks? Grab the Cheeseburger Pods as your lunch meal and finish off with the Blueberry Cream Cheese Mousse for dessert! Problem solved!
#2. Night Blossom – Pongu Pongu, Pandora
The Night Blossom is one of my personal favorite drinks in all of Animal Kingdom. I am so glad to see that our Crew feels the same! The Night Blossom can be found at Pongu Pongu and is served as a frozen slushy with layers of apple and desert pear limeade, topped with passion fruit boba balls.
The flavors are amazing together and it is so refreshing in the hot Florida sun! The straw they give you is large enough to allow the boba balls through, too. I thought the passion fruit syrup in the boba balls complemented the slushy well, but I am not a fan of the outer skin they have so if you feel the same, you can ask them to hold the boba balls.
If you have never tried the Night Blossom in Animal Kingdom, definitely put this one on your snack list!
#1. Pongu Lumpia – Pongu Pongu, Pandora & Colossal Cinnamon Roll – Kusafiri Coffee Shop & Bakery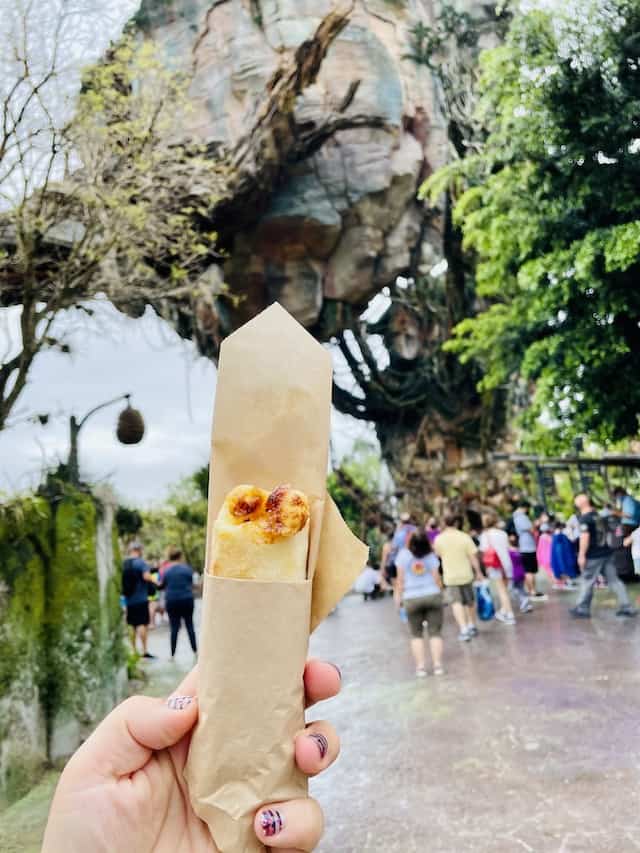 We have a tie for the winner of the Best Snacks in Animal Kingdom list! The Pongu Lumpia and Colossal Cinnamon Roll are the two snacks that fans agree you must get when you are in Animal Kingdom!
If you are a fan of pineapple, be sure to grab the Pongu Lumpia over at Pongu Pongu while you are ordering your Night Blossom. The Pongu Lumpia are two warm sweet spring roll filled with pineapple and cream cheese. I have yet to try them, but cannot wait! They sound amazing!
If you aren't a fan of pineapple, we get it. It's a love or leave it flavor, but who doesn't love a warm cinnamon roll? The Colossal Cinnamon Roll is the perfect shareable snack or breakfast. It reminded me of the texture of a croissant when I had it because the layers were so light and flaky.
Not to mention, it is Mickey shaped, and our past polls have proven that everything tastes better when it's Mickey shaped! This treat is massive and you are definitely going to want to share it will a few friends!
If you are looking for some amazing new treats to try in Animal Kingdom, consider giving one of these Top 5 items a try! 
Catch up on which snacks are the tried and true favorites of Disney fans at the other theme parks below!
Also, check out these restaurants our readers thought were the best in Magic Kingdom, Epcot, Hollywood Studios and Animal Kingdom if you are looking for some fan-favorite quick service and table service meals!
What do you think of our Top 5 Animal Kingdom snack list? Did your favorite make the cut? Let us know in the comments below and on Facebook what snack you can't live without at Animal Kingdom!
-Christina