The votes are in! We asked our Crew members what their favorite Quick Service and Table Service restaurants are in Hollywood Studios. Lots of fan favorites made the list, but which ones stood out among the rest? Join us and see what Disney fans think is the best dining location in Hollywood Studios!
Hollywood Studios is not necessarily known as the best park for Disney foodies. Over many years, there has been a real lack of quality options for both Table Service and Quick Service locations in this park.
Recently, however, the tides seem to be shifting. With more emphasis being put on instagram worthy meals and unique options, Disney is slowly introducing some positive changes to the dining scene at Hollywood Studios.
We gave our wonderful Crew Members a poll with all of the Quick Service (QS) and Table Service (TS) locations currently available in Hollywood Studios and asked them to pick their must eat locations.
Let's take a look at which dining options are the tried and true favorites of Disney fans!
You can also catch up on which restaurants our readers thought were the best in Magic Kingdom, Epcot, and Animal Kingdom!
Quick Service Top 3
3. ABC Commissary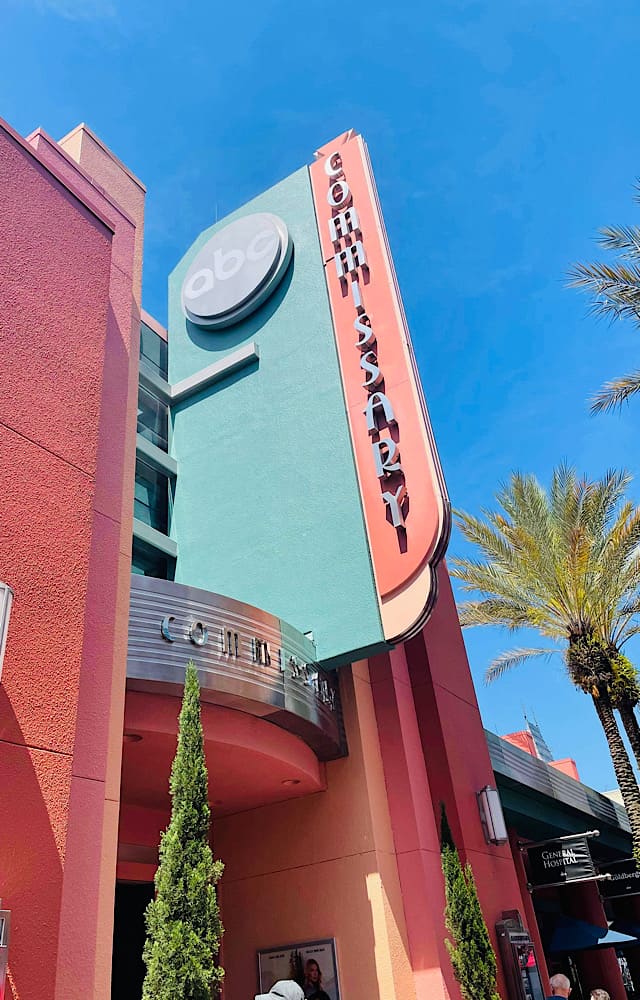 Coming in third place for the top Quick Service locations is ABC Commissary. Not long ago, ABC Commissary wasn't all that exciting of a dining location, but they have recently upped their game over the years.
When the ABC Commissary reopened in October 2020, it came back with a brand new menu that offers more unique entrees than you might find elsewhere in Hollywood Studios.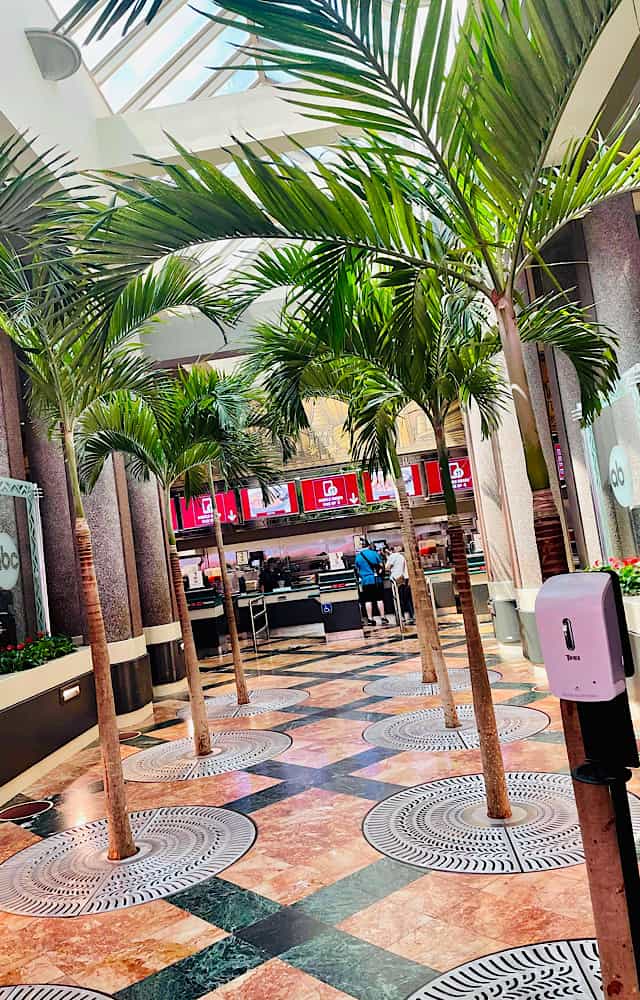 The theming of the ABC Commissary is designed to resemble the cafeteria of a working television or movie studio. Keep your eyes peeled and you might see some costumes and props from ABC television shows hanging around, too!
Don't get me wrong, I love those crispy chicken nuggets that you can find at almost any standard Quick Service location, but it's nice to have some different choices, too.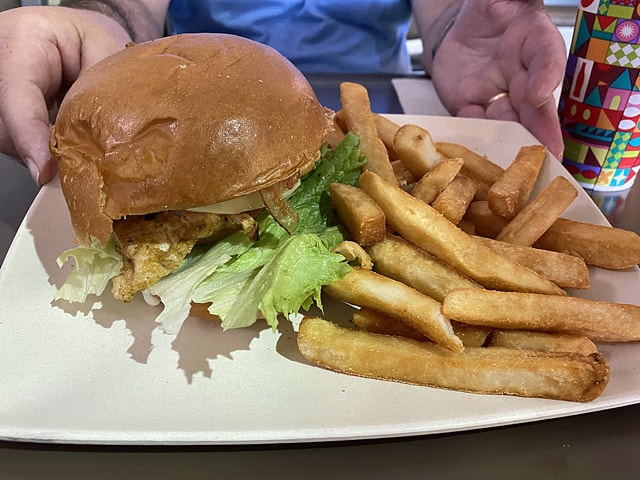 At the ABC Commissary you can find lots of unique menu options such as curry rice bowls, salads, shrimp tacos, club sandwiches, grilled cheese and more.
Take a look at fellow KtP writer Susan's experience trying out the new menu HERE!
2. Docking Bay 7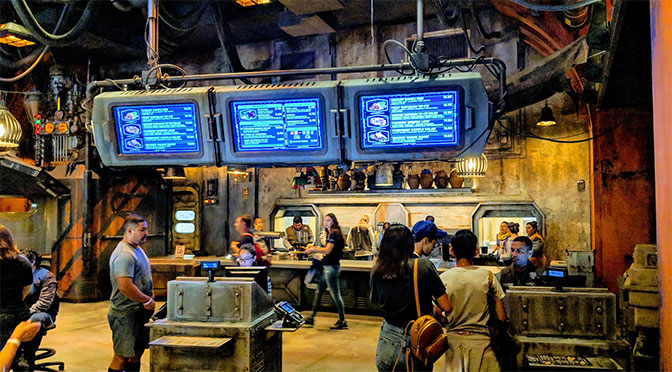 Docking Bay 7 at Star Wars Galaxy's Edge has quickly become a favorite dining destination for many due to its unique and "out of this world" menu.
Chef Strono "Cookie" Tuggs has docked a food freighter loaded with fresh supplies and he's ready to satisfy the appetites of visitors and locals alike with an array of exotic offerings.
Guests can enjoy galactic delicacies such as Batuuan Beef Pot Roast, Endorian Fried Chicken Tip Yip, Smoke Kaadu Pork Ribs and more.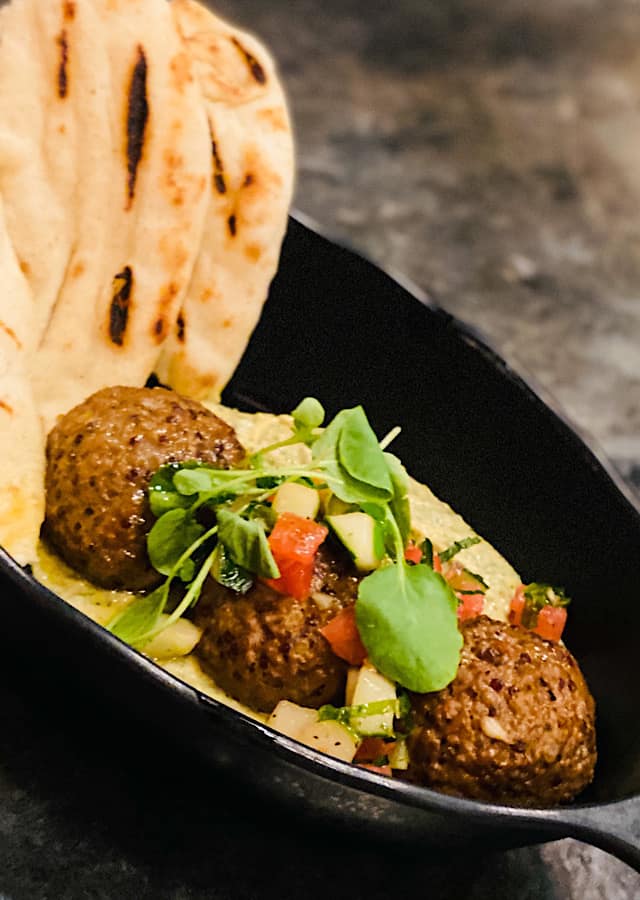 If you are looking for those tasty Ronto Wraps from Ronto Roasters in the late afternoon, you can find them over at Docking Bay 7 after 3:00pm!
Woody's Lunch Box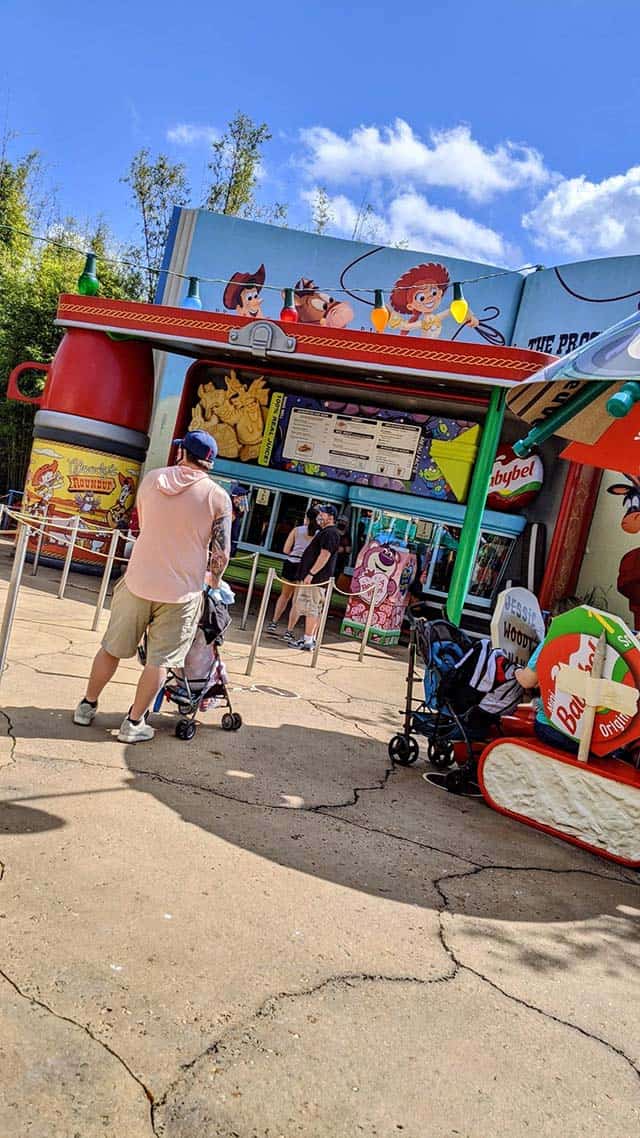 The best Quick Service location in Hollywood Studios according to our Crew is Woody's Lunchbox! This small QS spot serves up some seriously tasty food! Read our review HERE.
One thing guests tend to dislike about Woody's is the lack of seating. This area is really small. Due to its popularity, it can be very difficult finding a spot to sit.
With more guests having to opt for mobile ordering these days, it can also be hard to snag a mobile pickup time for Woody's Lunchbox. If dining here is a must-do for your family, be sure to place your order first thing in the morning to ensure you get the return time you want.
I love all the details around Toy Story Land and Woody's Lunchbox. Who wouldn't want to dine while sitting on top of a Babybel Cheese wheel?
There are so many details to take in, and you might just find a nod to the famous A113 classroom from the California Institute of the Arts. You'll find the A113 reference hidden throughout many Pixar movies as many animators took graphic design and animation in this room!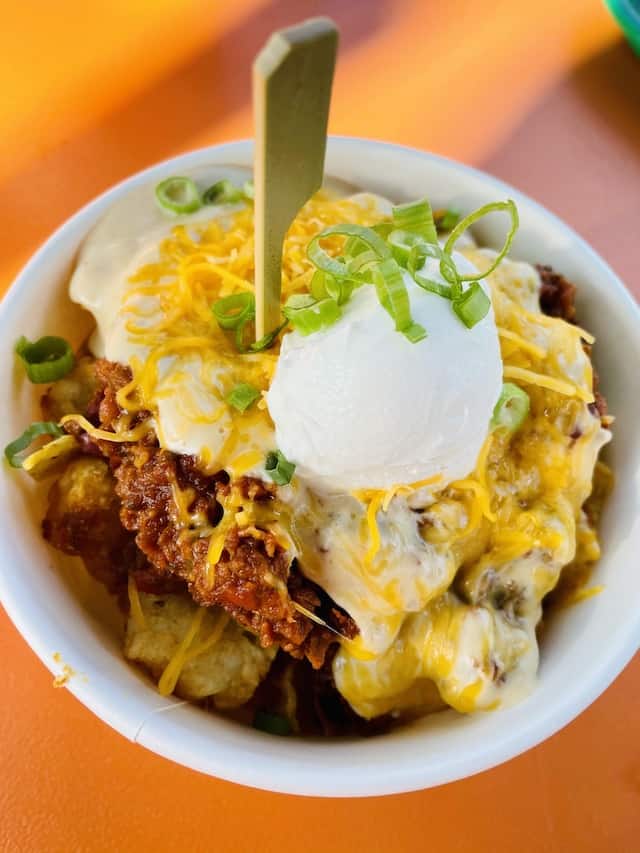 One of the most iconic menu items you'll find guests raving about at Woody's Lunchbox is the Totchos.
The Totchos are served with baked tater tots coated with super flavorful (and a bit spicy) beef and bean chili, shredded cheese, queso, tomatoes, Fritos, sour cream and chives.
They are so good and they make for a filling lunch or perfect shareable snack.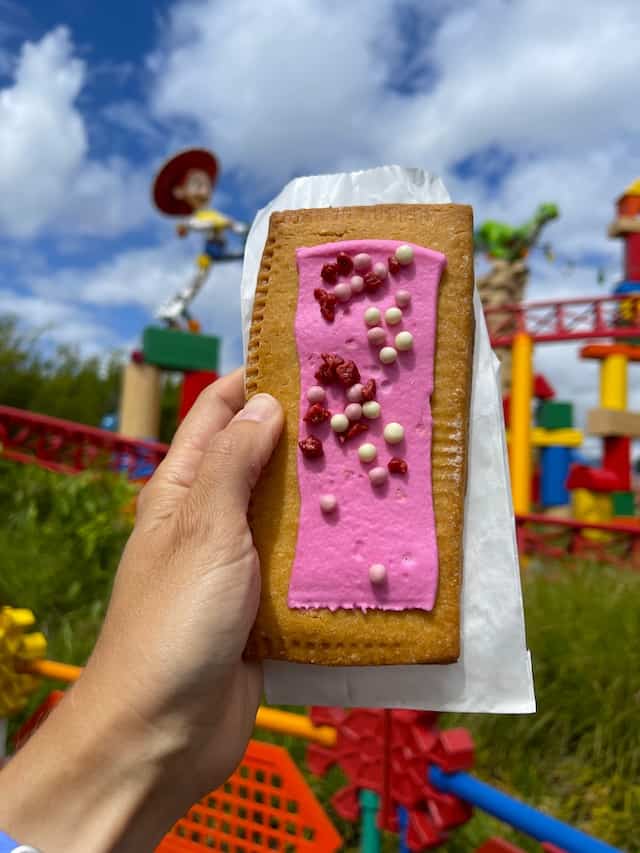 Another menu item I personally love are the Lunch Box Tarts. These are basically just high-end Pop Tarts, but they are so good. The crust is flaky and the fruit filling tastes freshly made.
All I can say is hats off to Andy's mom. She is quite the the cook!
Table Service Top 3
3. Mama Melrose's Ristorante Italiano
Mama Melrose's Ristorante Italiano making it into the top 3 really surprised me. I have had good meals here and also really bad meals here, as have many of our Crew.
There was a time that I couldn't go to Disney without booking Mama Melrose for dinner, however, after quite a few less than stellar experiences, we decided to take a break.
Perhaps things are starting to turn around, because many guests have reported having decent experiences as of late. One thing I always liked about Mama Melrose was the "from-scratch" element.
Everything always tasted very fresh and their Mac & Cheese was a stand-out side dish every time.
While you may not find the best steak in all of Disney World here, their NY Strip always had a really tasty charred flavor unlike anywhere else.
Mama Melrose's Ristorante Italiano is one of the few upscale-themed restaurants in Hollywood Studios. While you'll find more unique experiences at other locations, Mama Melrose's offers a more elegant setting.
2. Sci-Fi Drive-In Theater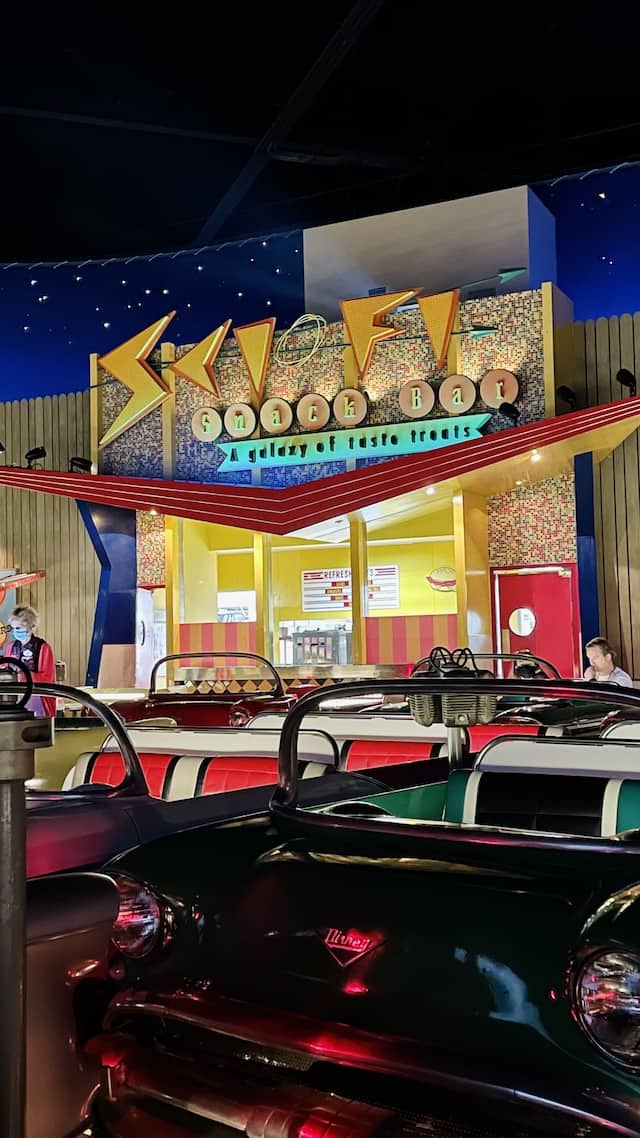 In second place is the Sci-Fi Drive-In Theater. While this restaurant may not be the best food in all of Disney, many guests love the overall experience and unique qualities of this restaurant.
The restaurant is designed to resemble a local 50s drive-in theater. You can sit in an old fashioned antique car and watch B movie Sci-Fi films on the big screen.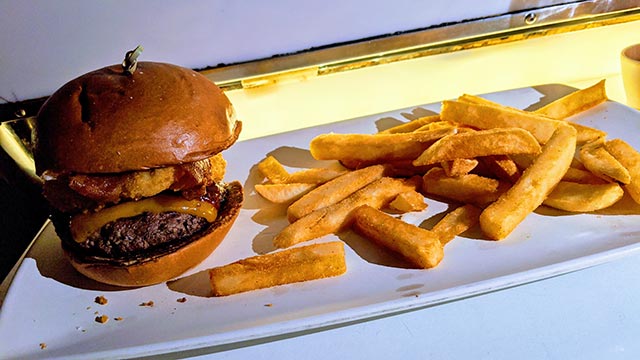 The food is pretty standard fare designed to please the entire family. You'll find burgers, shakes, sandwiches and salads on the menu. One thing to be aware of is the pricing. For $20.00+ per burger, they better be pretty spectacular, but many have found better burgers at other locations for less money.
You can read all about the Sci-Fi Dine-In Theater and hear about Kenny's dining experience HERE!
1. 50's Prime Time Café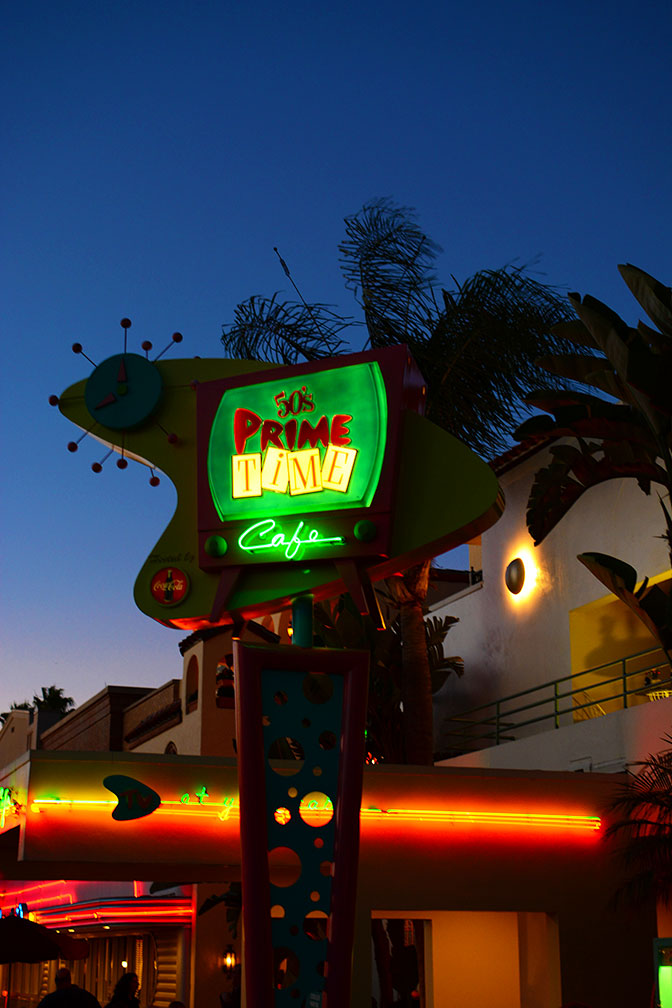 The best Table Service location in Hollywood Studios according to our readers is the 50's Prime Time Café!
Guests of all ages love the old-fashioned theming of this restaurant. You'll be instantly brought back in time when you see the old black and white tv sets and kitchen appliances.
Another reason guests love 50's Prime Time Café is the atmosphere. You won't just visually be transported back to the 50's but you'll actually be immersed in the social etiquette of the time.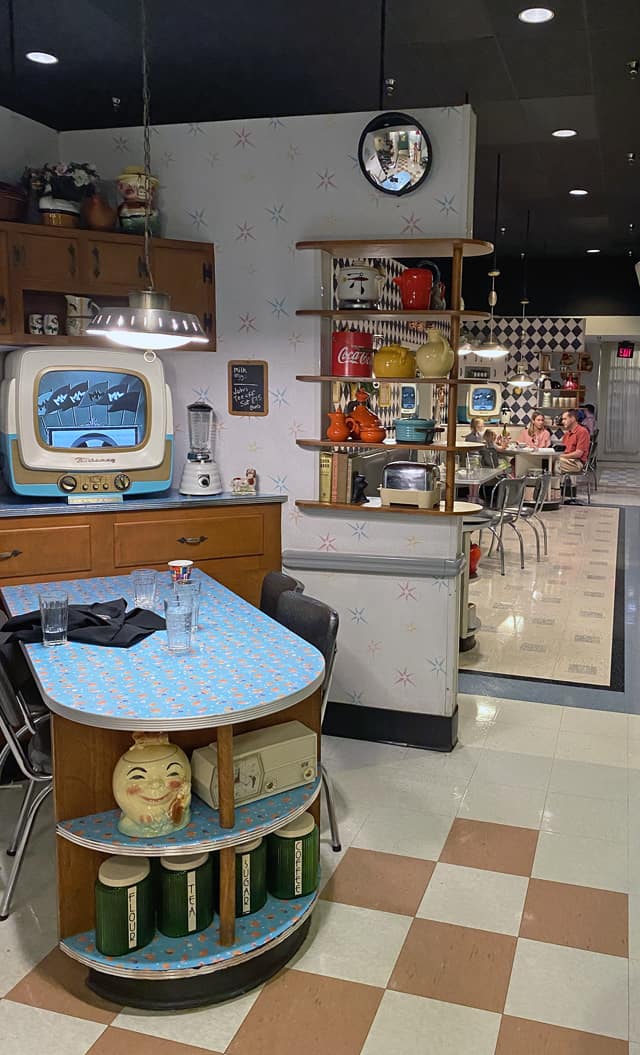 The waiters are not above scolding you for putting your elbows on the table or making a spectacle out of not finishing your veggies!
Many people also love the homestyle cooking menu. You'll find all of your favorites here such as Pot Roast, Fried Chicken, Meatloaf, Apple Crisp À la Mode and more!
Personally, this is a hard pass location for my (Christina) family. For my mom who grew up in the 50's this hit way too close to home. If you aren't looking to engage in the antics of 50's Prime Time Café but still want to try the food, you can order off the menu next door at the Tune-In Lounge.
Overall Winner
The overall winner of the best dining location in Hollywood Studios (both QS and TS) is 50's Prime Time Café! This is the first win for a Table Service location in our series!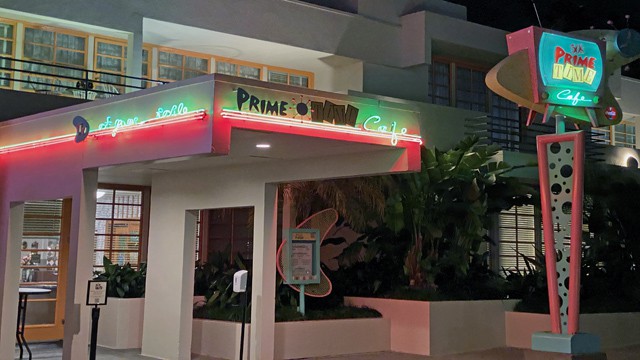 Guests clearly love the homestyle cooking and atmosphere of this classic restaurant and keep coming back for more! If you've never been to the 50's Prime Time Café before, be sure to book a reservation to see why Disney fans rave about it!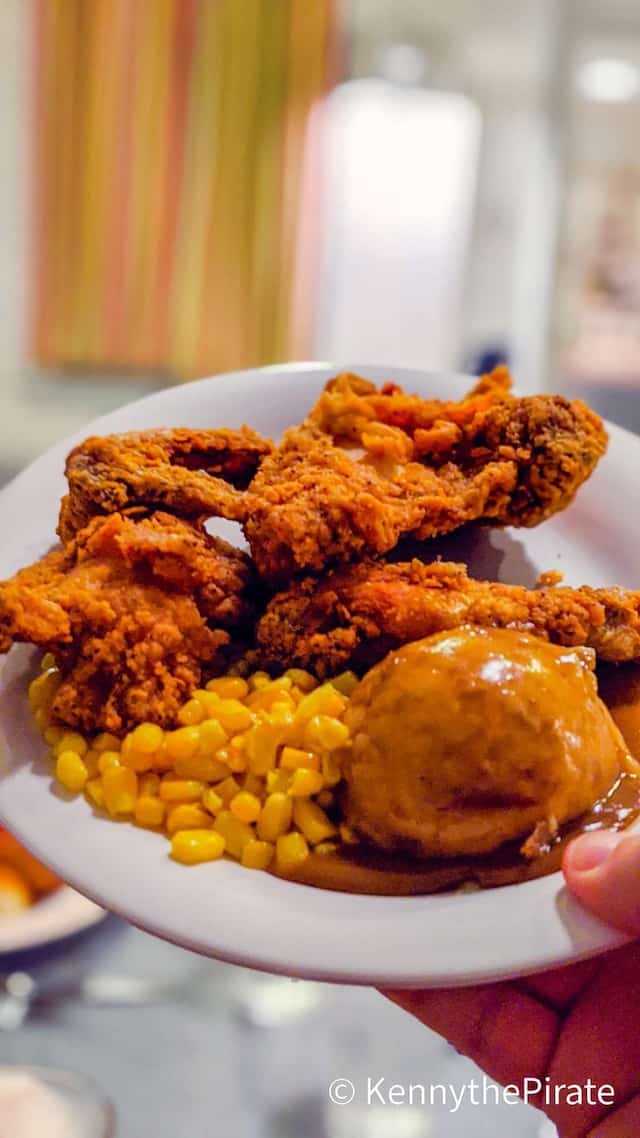 What do you think of this top dining locations in Hollywood Studios list? Did your favorite make the cut? Let us know what places are your favorite to eat in Hollywood Studios in the comments and on our Facebook page!
-Christina