Attention, snackers! If you're heading for Walt Disney World soon, you are in for a treat. Disney has so much to offer in the food department, and there is literally something for everyone! If you're a snacker like me, you'll be thrilled to know there are snacks around every corner in Disney World, whether you are a sweet or savory snacker. Join me (Jamie) as I snack my way through Disney World's Magic Kingdom!
Snacks are meals!
My agenda was simple: try as many snacks as I could during a week long vacation at Walt Disney World. To do this, I had to forgo eating some meals, but listen to me when I tell you it was worth it!
Besides, snacks ARE meals, am I right? I was able to snack my way through Magic Kingdom, Animal Kingdom, Hollywood Studios, Epcot and several resorts.
If you'd like to check out some of the delicious resort snacks I enjoyed, head over here for that portion of the tour! So let's get going with all of the amazing snacks Magic Kingdom has to offer.
Magic Kingdom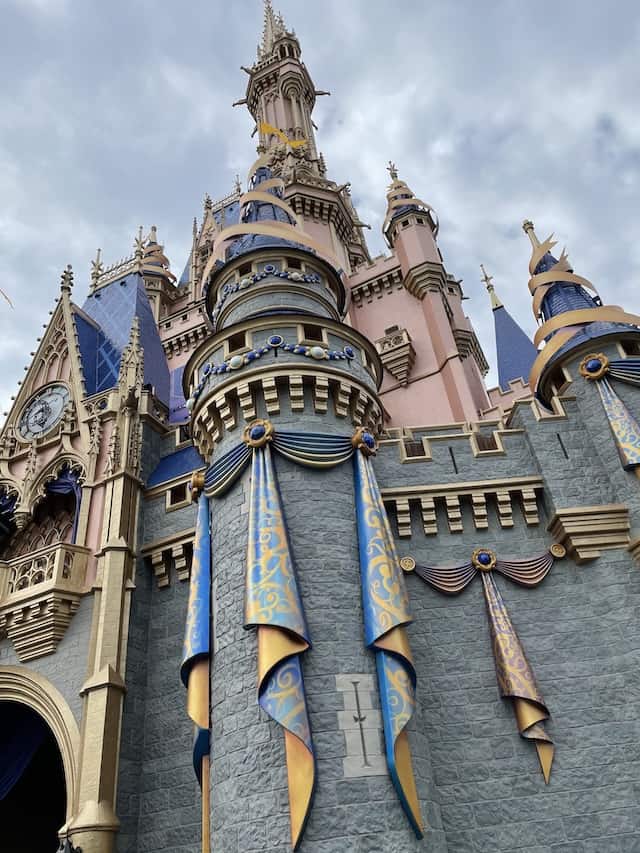 Disney's Magic Kingdom is not known for having particularly delicious table and quick service restaurants. So it was easy to skip sit down meals and get my fill of snacks on my Magic Kingdom days!
There is an endless list of snack locations in Magic Kingdom. Besides the various popcorn and ice cream carts, there are also outstanding locations like Aloha Isle, Storybook Treats, and Sleepy Hollow Snacks. So let's get this snack party started!
Cheshire Cat Tail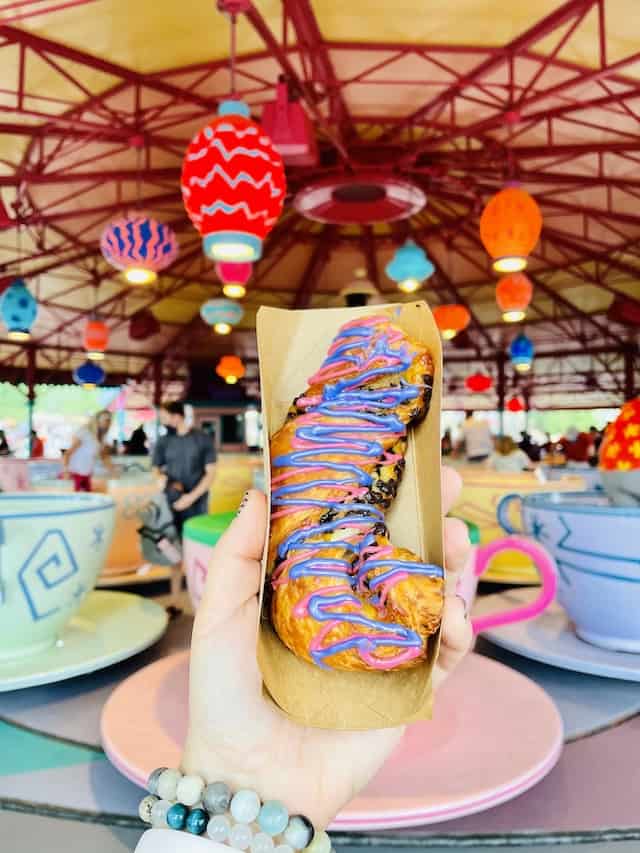 I can't stress this enough. GET A CHESHIRE CAT TAIL the next time you are in Magic Kingdom! You can currently find this fan favorite treat at Cosmic Rays and the Lunching Pad.
This flaky pastry is filled with chocolate and served warm, with a pink and purple chocolate design on top. After we tried one, we immediately ordered two more since my family was fighting over it. This was, hands down, our favorite Magic Kingdom snack!
Dole Whip Float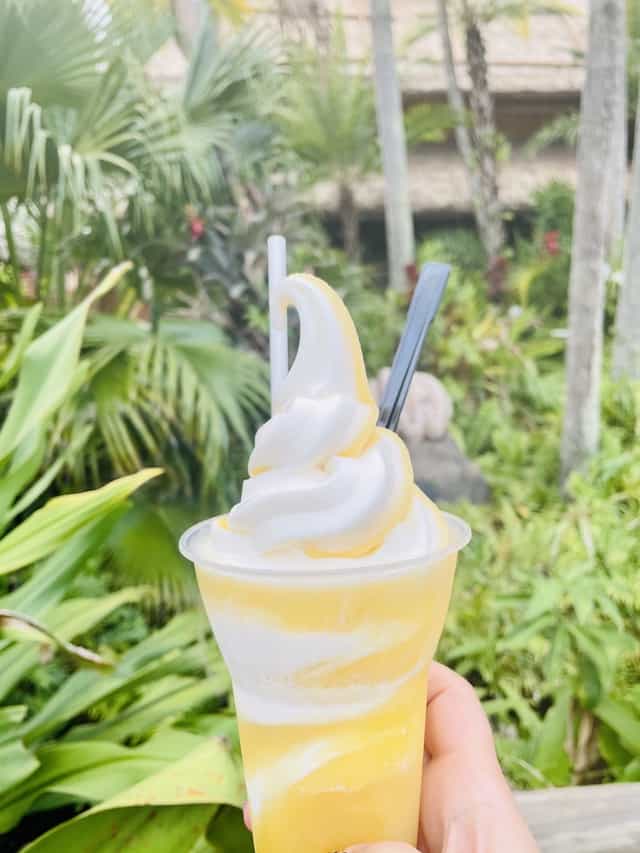 This one is a classic Disney treat! In Magic Kingdom, you can get Dole Whips and Dole Whip Floats at Aloha Isle in Adventureland. This is one of my favorite treats, and I can not visit Magic Kingdom without having one.
Our family prefers the float with pineapple and vanilla swirled. It is the perfect treat on a hot day!
Spring Rolls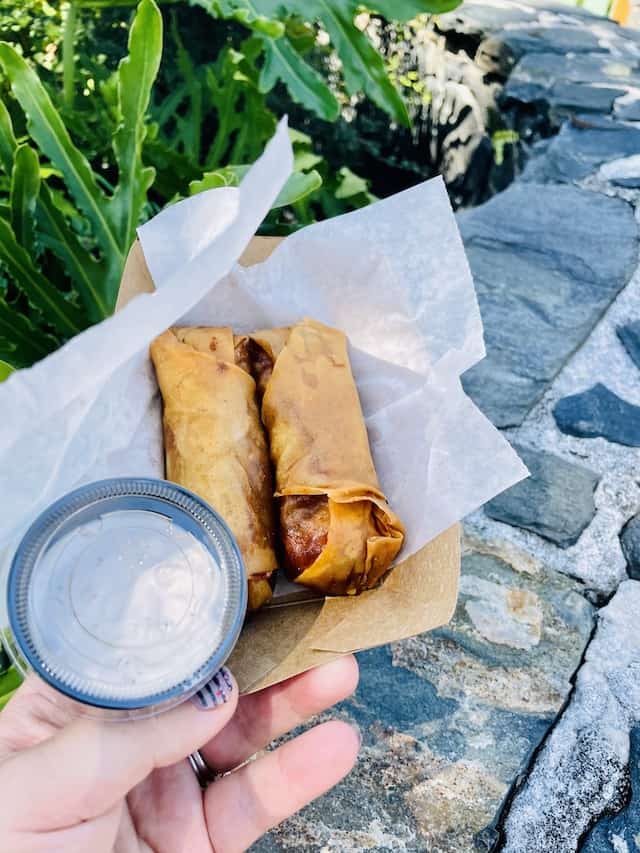 Another of our favorite snacks of the week were the spring rolls. The spring roll cart is located just outside Adventureland, and they are incredible.
If these are on your list, get there early, because once they sell out (and they will!), they won't be back for the remainder of the day!
Cheeseburger Spring Rolls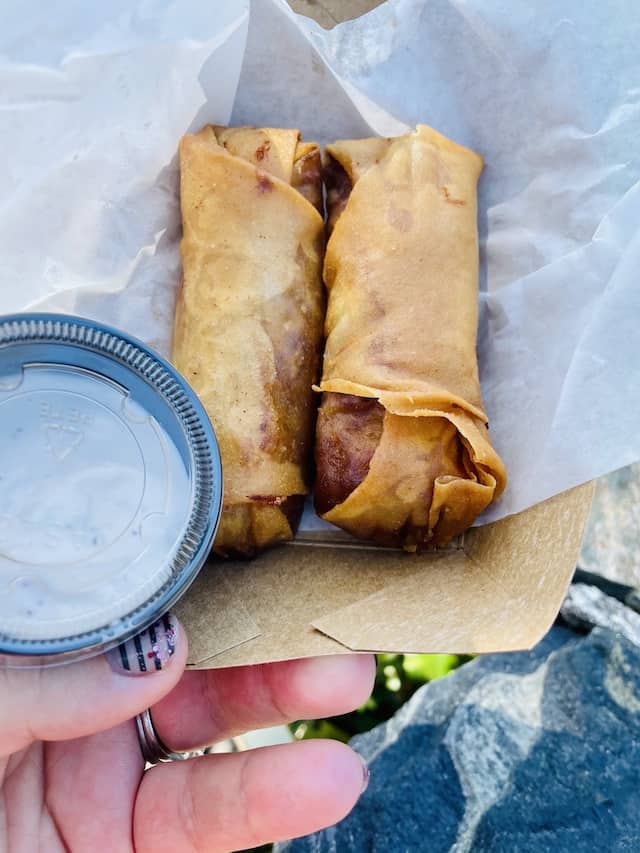 The cheeseburger spring rolls were sold out on our first visit to Magic Kingdom, much to my dismay. We finally got our hands on one a few days later, and they were worth the wait!
Stuffed with ground beef, cheese, lettuce and tomato, these spring rolls come with a thousand-island like dipping sauce. My mouth is watering just telling you about them!
Pepperoni Pizza spring rolls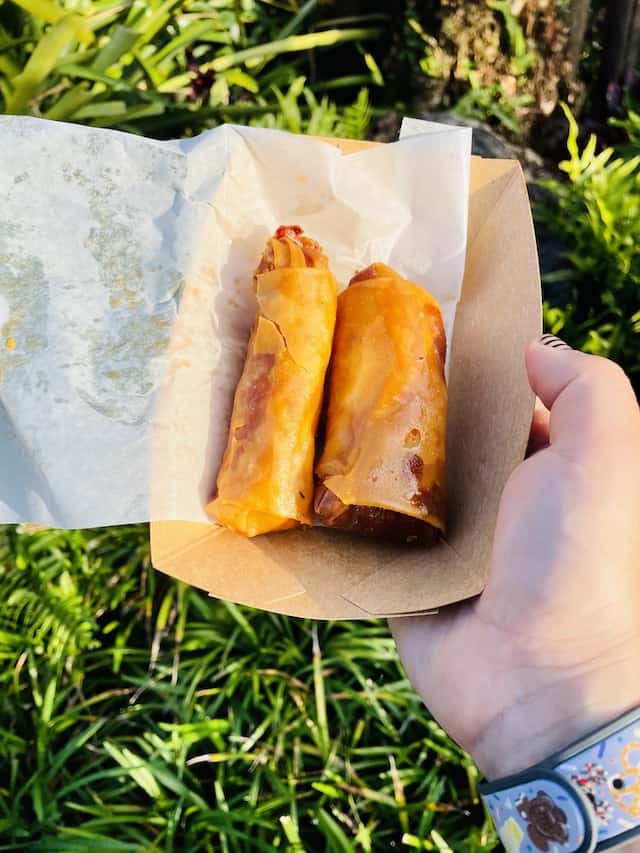 If I thought the cheeseburger spring rolls were good, I was not really ready for how delectable the pepperoni pizza spring rolls were.
Stuffed with cheese and pepperoni, these were the perfect savory treat. It also came with a side of warm marinara sauce for dipping!
Popcorn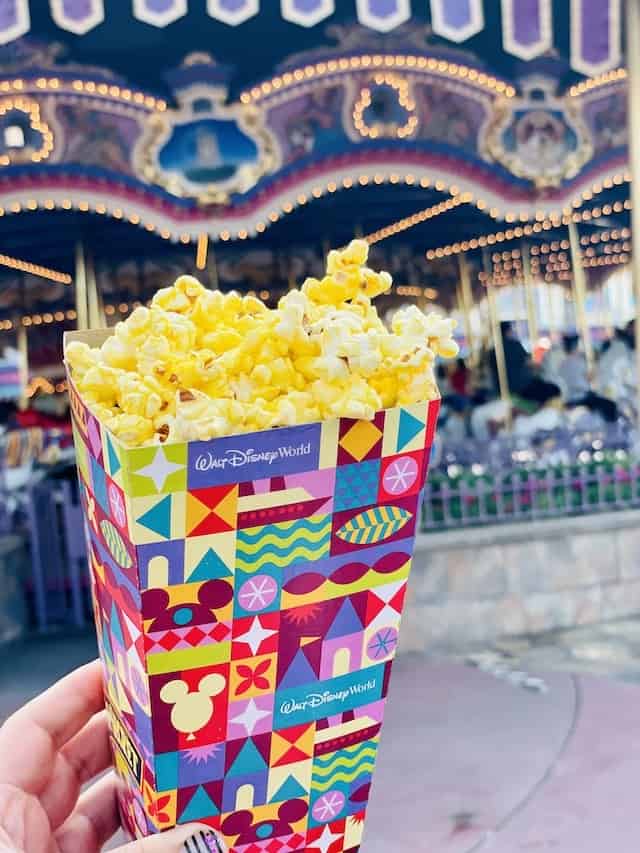 Another Disney classic. It's so basic I almost didn't add it to the list, but then I realized how could I not? Popcorn can be found literally everywhere you go in Magic Kingdom. There are various popcorn carts everywhere!
We ate our fill of popcorn during our time at Magic Kingdom. We got a great popcorn bucket and got $2 refills every day of our trip. It made my whole family happy!
Disney popcorn is different. Some might even say magical. I'm not sure what it is, but it tastes way better than any popcorn I can pop at home!
Peter Pan Float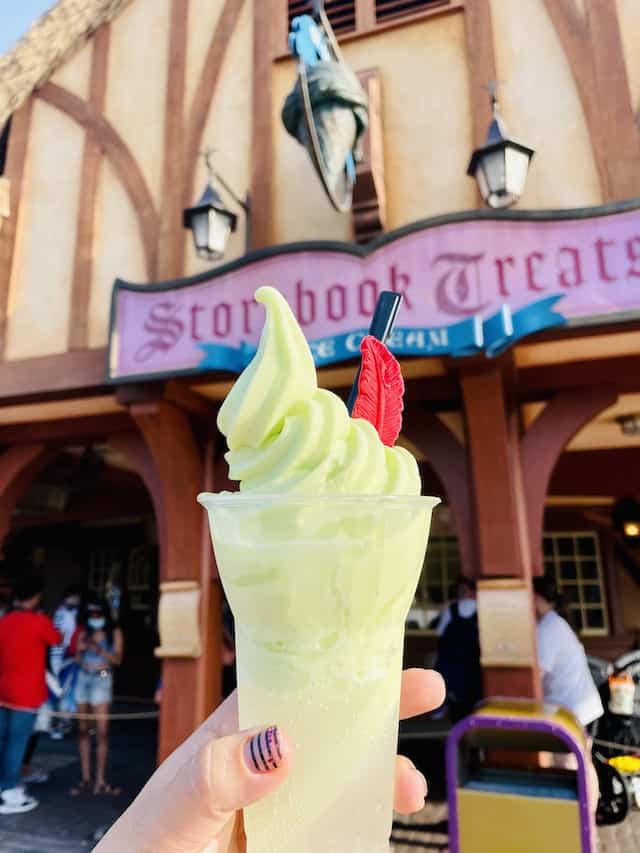 The Peter Pan Float can be found at Storybook Treats in Fantasyland. This float features Lime Dole Whip with Sprite, and a chocolate feather garnish.
We thought the Peter Pan Float was absolutely disgusting! I think it was the Lime Dole Whip that did us in. We couldn't even finish it before giving up and throwing it away.
I do not recommend this one, although it does make an Instagram-worthy picture!
Mickey waffle with strawberries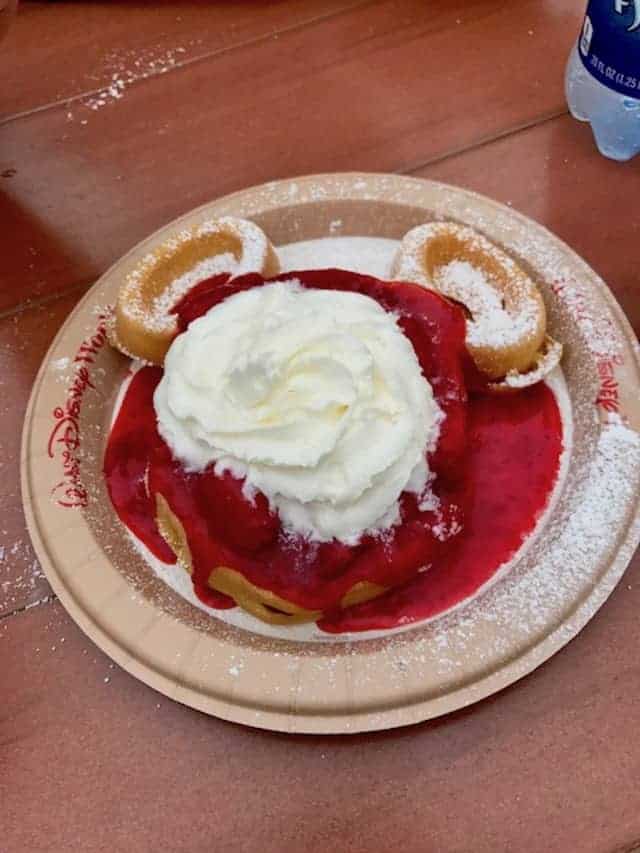 This beautiful breakfast treat can be found at Sleepy Hollow Snacks in Liberty Square. What can be better than a giant Mickey waffle? How about one covered in strawberries, whipped cream, and powdered sugar?
This snack was definitely filling and definitely delicious!
Mickey Pretzel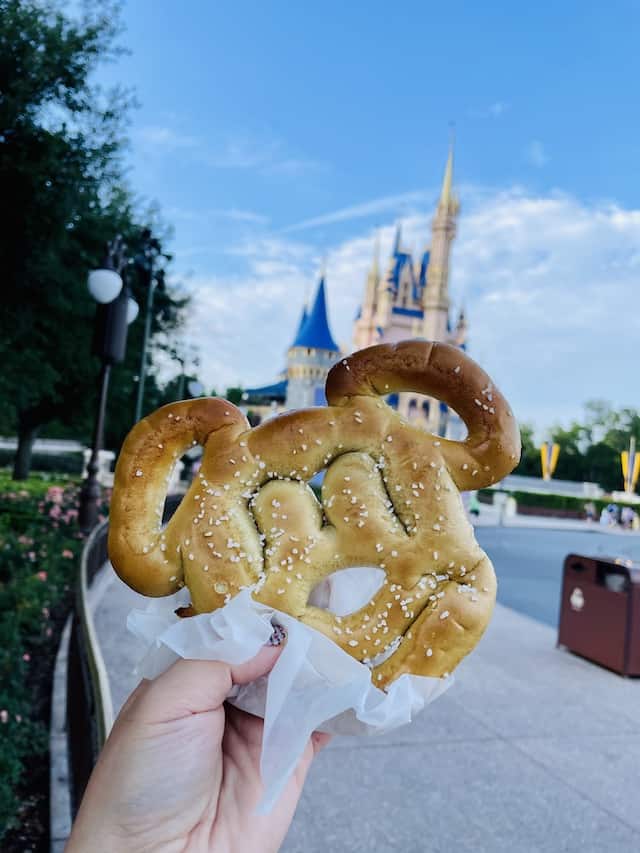 Ok, I know, I know, you can get a Mickey pretzel everywhere in Disney World. But they are pretzels. Shaped like Mickey! And everyone knows Mickey shaped food is more magical than regular shaped food.
We love Mickey pretzels. Yes, they are just a basic soft pretzel. Yes, there almost always nearly not enough salt on them. Yes, they come with a tub of plastic cheese that leaves a lot to be desired. But we love them, so here it is!
Breadsticks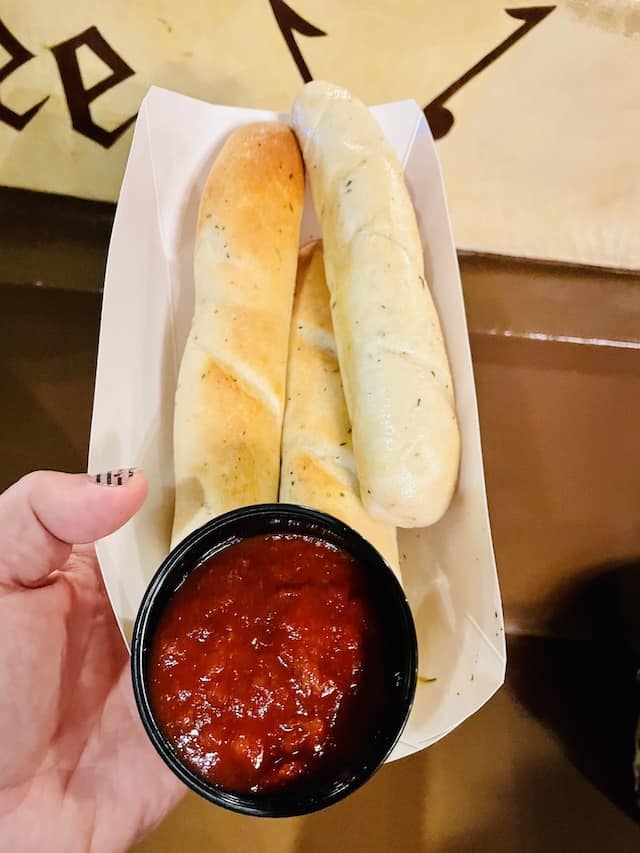 We found these breadsticks at Pinocchio Village Haus in Fantasyland. They were topped with garlic butter, and tasted similar to Olive Garden's breadsticks. These breadsticks were served with warm marinera and were immediately gobbled up by my family. I was lucky to get one delicious bite!
Now I'm ready to try some new snacks! What snacks did I miss that I need to try next time? Let me know in the comments below or on Kenny the Pirate's Facebook page!