The time-honored tradition of the flag retreat ceremonies has returned to Disney Parks in the United States. Learn all about this special time in the parks each day as we celebrate our nation's independence.
Independence Day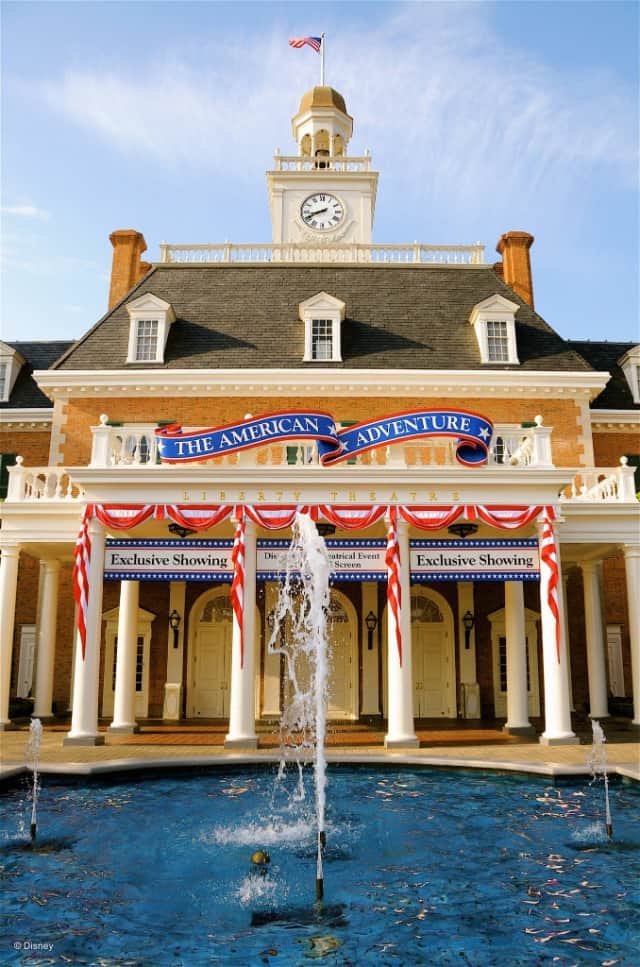 On this day 245 years ago, our Founding Fathers signed the Declaration of Independence and a new nation was born. Walt Disney loved America and was a veteran himself so our beloved country and those who fight for it have long been part of The Walt Disney Company.
Disney continually supports our nation's heroes with daily flag retreat ceremonies. If you have never witnessed one of these before, it is truly a beautiful sight. Each day an active duty service member or veteran is chosen to participate. The chosen person joins the Security team at Magic Kingdom in lowering the flag and carrying it in a procession down Main Street, U.S.A.
Part of the ceremony also involves the recitation of the Pledge of Allegiance, and the singing of "God Bless America" and the "Star Spangled Banner," accompanied by the Main Street Philharmonic marching band.
Flag Retreat Ceremonies are Back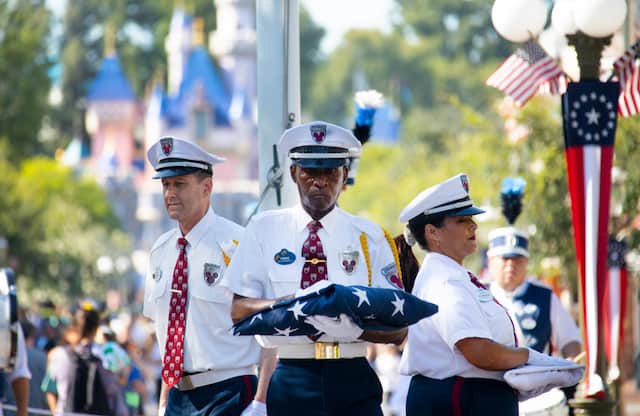 When Disney World reopened last year, these ceremonies did not take place like they have in the past. When I was in the parks last week I did watch the flag retreat ceremony in modified format. The Dapper Dans were at the top of the train station beautifully singing as the flag was lowered.
I won't lie it always makes me weepy when I witness beautiful displays of honoring our flag and this nation.
Disneyland Park resumed this tradition on April 30 when the park reopened.
"I was so proud to see our Disneyland security and entertainment teams once again present our beloved flag retreat ceremony in Town Square from the very first day we were able to welcome Guests back," said Nick. "We have been honored to continue Walt's patriotic legacy with keeping the American flag flying throughout the park's closure showing that no matter what else was happening, we could maintain this element of our heritage."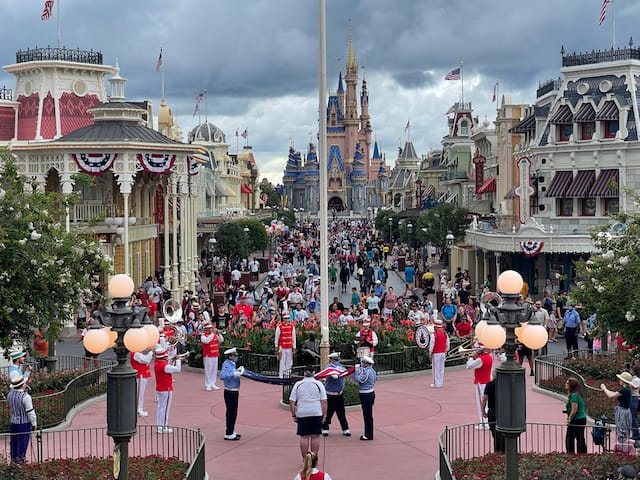 However, Disney World just resumed the ceremony as it was before on July 1.
"It has been an honor for our security cast to keep our flag flying every day over Magic Kingdom since the park first opened in 1971," said Army veteran Eileen Underwood, Magic Kingdom's senior security manager. "We were thrilled to resume our daily flag retreat ceremonies to honor our country and those who serve around the world in defense of our freedoms. It's a special moment for all our guests that really reaffirms the feeling that this is truly a magical place."
Have you ever witnessed this beautiful ceremony?
If you have been on Main Street, U.S.A. at 5 pm you have likely seen the retreat of the American flag. It is a beautiful ceremony that honors our nation, our service members, and this great land. If you are/were part of our Armed Forces, first of all: thank you.
Second, I encourage you to be involved in the procession. It is a memory that will last a lifetime!
Have you ever watched or participated in the flag retreat ceremony at Magic Kingdom or Disneyland Park? Share your stories with us on Facebook or in the comments below. We would love to hear them!