EPCOT's World Showcase offers so many unique dining spots. Check out why France's quick service is always a fantastic pick.
Are you like me (Susan) and love "eating around the world" at EPCOT? It's so much fun to begin in Mexico (we always start here and go clockwise), then explore each World Showcase pavilion. With so many dining options, it can be difficult to choose where to stop and eat.
Location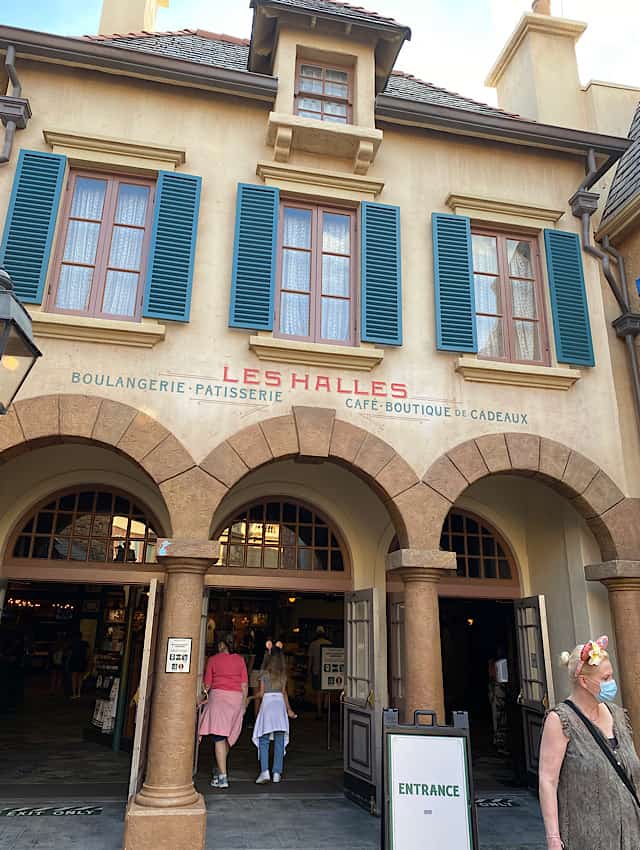 Les Halles Boulangerie-Patisserie can be difficult to spot since it's at the back of the French Pavilion. It's not visible as guests stroll through this charming area. To find it, follow the path to the left of the pavilion, and walk past the ice cream shop, L'Artisan des Glaces.
When you see the triple arches, you've arrived at shop. Keep walking past the shop, and finally you've arrived! It's not nearly as long as it sounds, but newcomers need to look for it.
Wonderful Breakfast Spot
Another unique aspect of this French Bakery is its early opening time. Although the rest of World Showcase (except for Norway) opens at 11am, this spot opens at 9:00am.
Note that this was pre-covid. We hope it will resume its early opening in the future.
This is an ever changing situation as Disney returns to "normal" so check the Kenny the Pirate Blog for updates.
If you're lucky enough to score a stay at one of Disney's Epcot Resorts like Boardwalk, Yacht and Beach Club, and Swan and Dolphin, take the short stroll to France. Simply walk through the International Gateway entrance between the France and United Kingdom pavilions. Then, enjoy a fresh croissant and French cup of coffee. It's so nice to enjoy a quiet spot here before the park gets busy later.
Ordering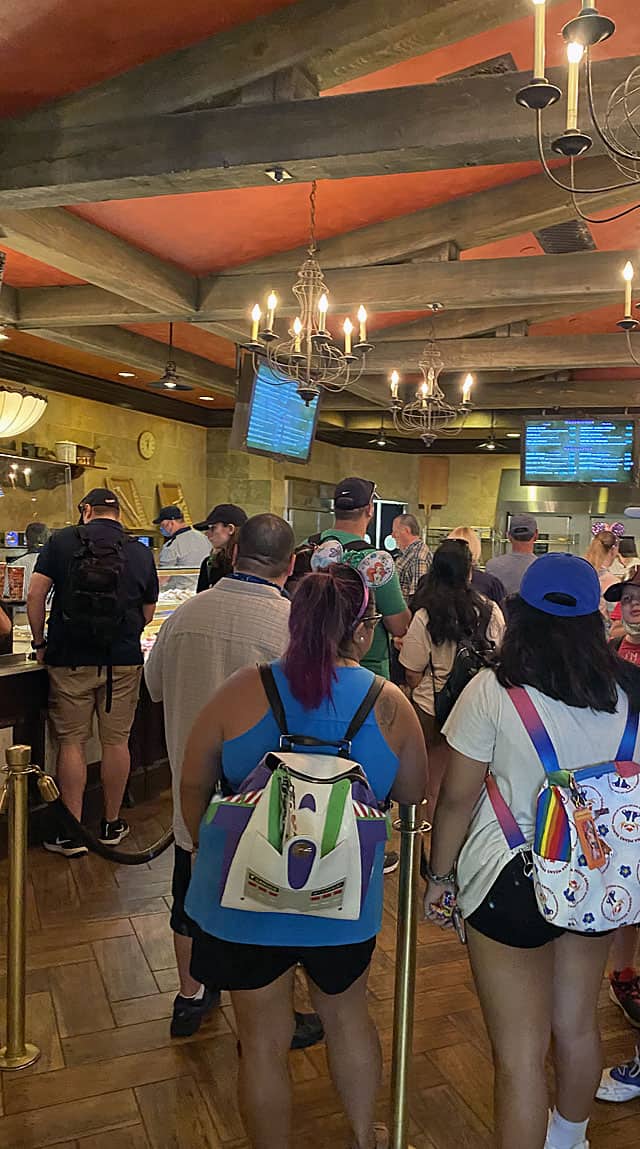 Since re-opening, most quick service restaurants utilize mobile ordering through My Disney Experience. However, Les Halles Boulangerie-Patisserie does not participate in this process.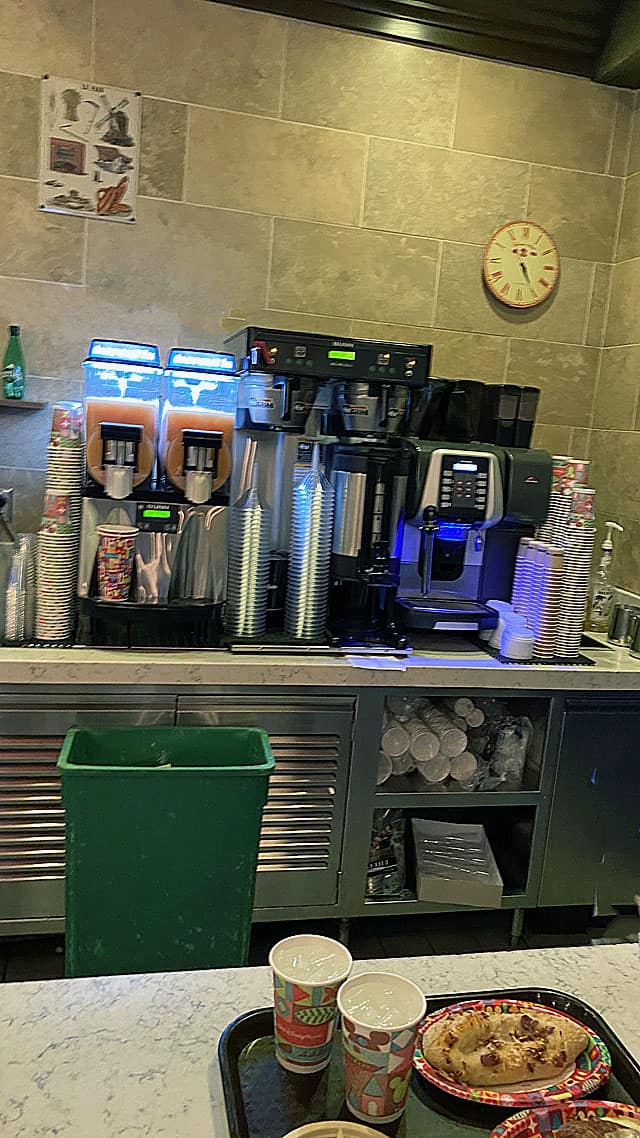 Lines are identical on both sides so just pick the shorter line. Cast Members ask what you want as you walk by the glass cases of tempting savory and sweet food items. Next, you'll arrive at a friendly Cast Member at a cash register. At the cash register area, guests place drink orders and pay.
We really like how food isn't packed in those awkward cardboard boxes like other Disney quick service locations since re-opening. Guests are given a tray and food on plates.
Menu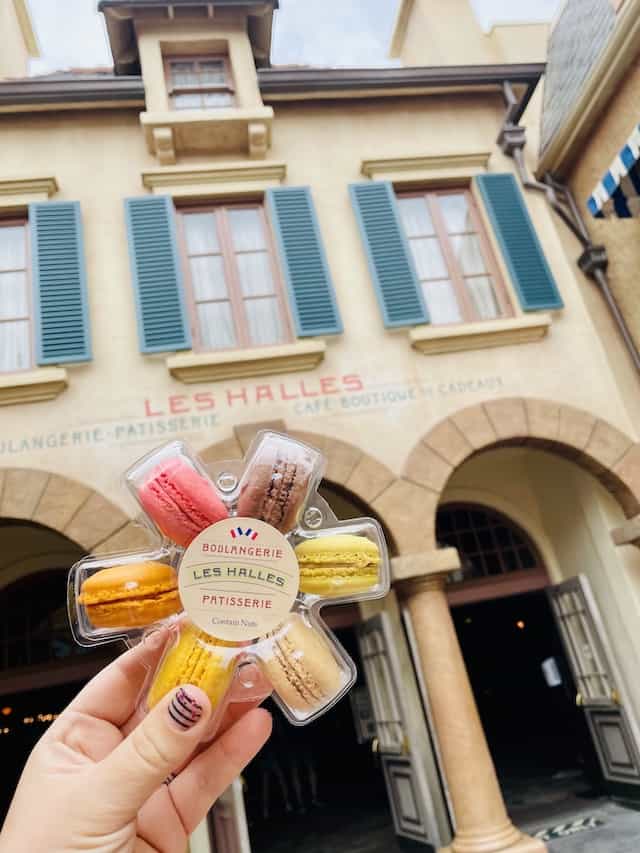 When you enter Les Halles Boulangerie-Patisserie, you'll immediately be taken in by all of the beautiful dishes and tantalizing smells in this small space. Everything from quiches, sandwiches, and salads are served here.
Not only that, but this spot is an incredible French bakery. Take in the smells of fresh baked bread and tasty sweet treats. Wine, champagne, beer and gourmet coffees are also available. Check out the menu below.
Sandwiches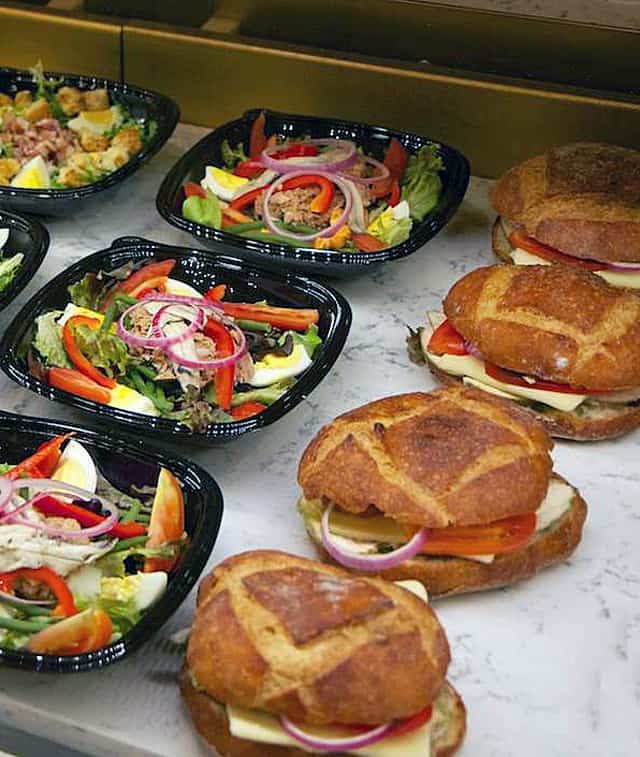 Whether you're looking for a ham and cheese sandwich on a baguette or croissant or a deliciously paired fruit and cheese vegetarian sandwich, there's wonderful flavor pairings with these items.
Jambon Beurre – Ham and Cheese, Dijon Mustard Butter on a Demi Baguette $8.95
Brie au Pommes – Brie, Apples and Cranberries in Multi Grain Bread $9.25
Dinde B.L.T. – Turkey, Bacon, Lettuce, Tomato and Garlic Aioli $9.75
Croissant Jambon Fromage – Ham, Cheese and Béchamel in a Croissant $6.95
Poulet au Pistou – Chicken Breast with Cheese, Tomato, Red Onion and Pesto $9.50
Specialties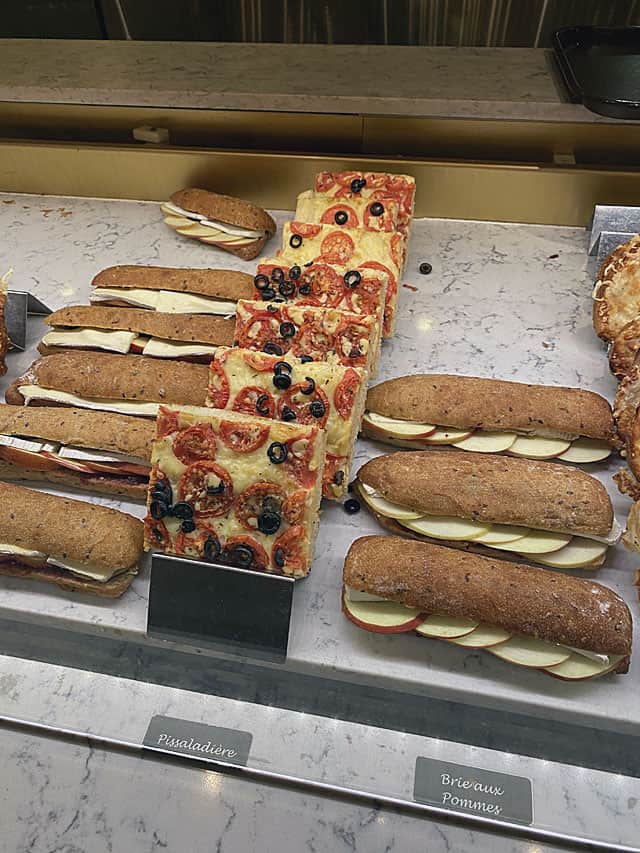 Have you ever been to France and smelled baguettes cooking as you walked by? Well, I haven't YET, but smelling the bread baking here pleases all my senses. On colder months, the Lobster Bisque sounds amazing. If you're looking for a dish with less bread, choose the open-faced Croque Monsieur.
Bisque de Homard – Lobster Bisque in a bread bowl $5.95
Quiche Lorraine -Ham, Gruyere Quiche $7.00
Fromages – Imported Cheese plate $11.95
Croque Monsieur -Toasted Ham and Cheese $9.25
Baguette (half) – Fresh from our oven $2.25
Baguette (full) – Fresh from our oven $3.50
Pissaladiere – Tomatoes, Olives and Gruyere Cheese $4.95
Croissant Salé – Eggs, Cheese and Bacon Croissant $8.25
Pastries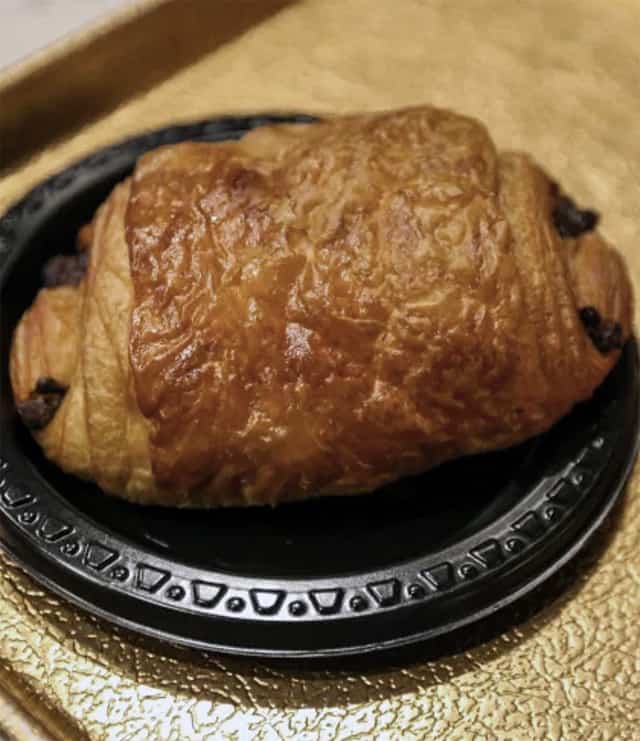 While the plain croissants here are flaky and buttery, we found the chocolate croissants to be lacking in filling and chocolate flavor. My daughter thought the beignet was more like a cake donut than beignets we've tasted at other locations.
Croissant – Plain Croissant $2.95
Beignet – Beignet filled with chocolate and hazelnuts $4.95
Pain au Chocolat – Chocolate Croissant $3.80
Biscuit Chocolat – Chocolate Chip Cookie $3.95
Brioche Au Chocolat – Chocolate Chip Brioche $4.25
Croissant Amandes – Chocolate Croissant with Almond filling $5.75
Desserts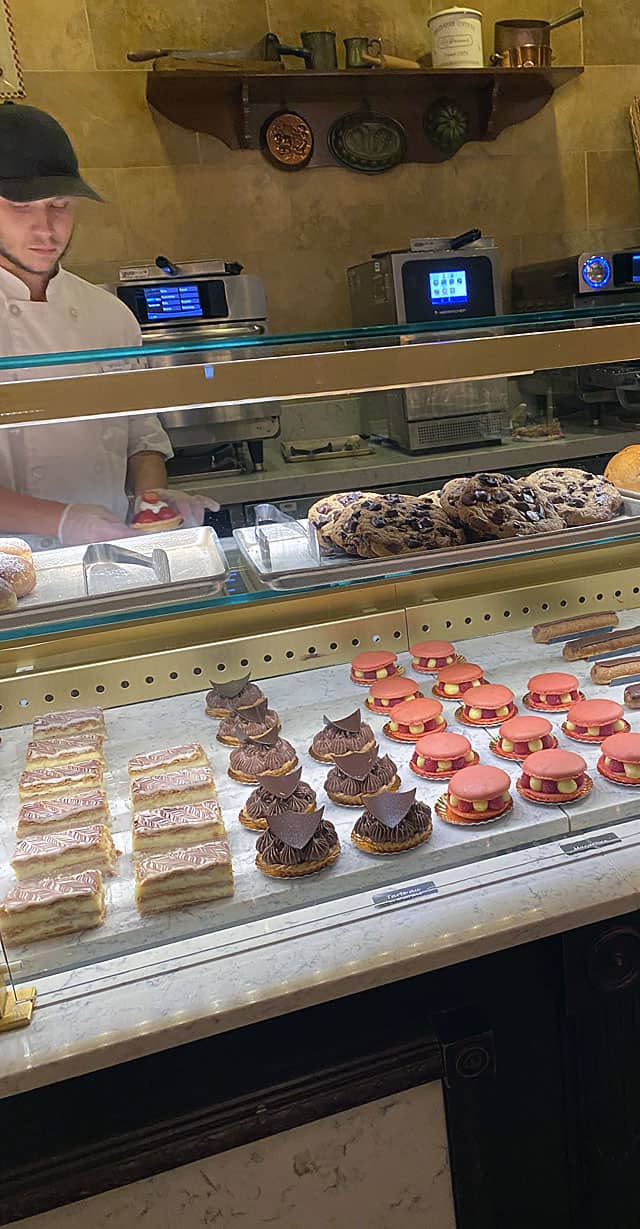 Will you tell if I eat my dessert first? Seriously, digging into the Créme Brûlée or Duo Au Chocolat when I'm extra hungry is such a delight! You can't go wrong with any of these freshly made sweet treats.
Fraises – Tart with vanilla cream topped with strawberries $6.50
Éclair Chocolate – Chocolate Cream Éclair $4.75
Créme Brûlée – Caramelized Vanilla Custard $4.95
Parfait aux Fruits – Yogurt Mousse with Berries $6.50
Mousse au Chocolat – Chocolate Mousse $4.95
Duo Au Chocolat – White and Dark Chocolate Mousse Cake $6.50
Macaron Lime Raspberry – Macaron with raspberry and lime cream $6.25
Napoleon – Puff Pastry layered with Cream $4.95
Macarons Collection – $11.50
Seating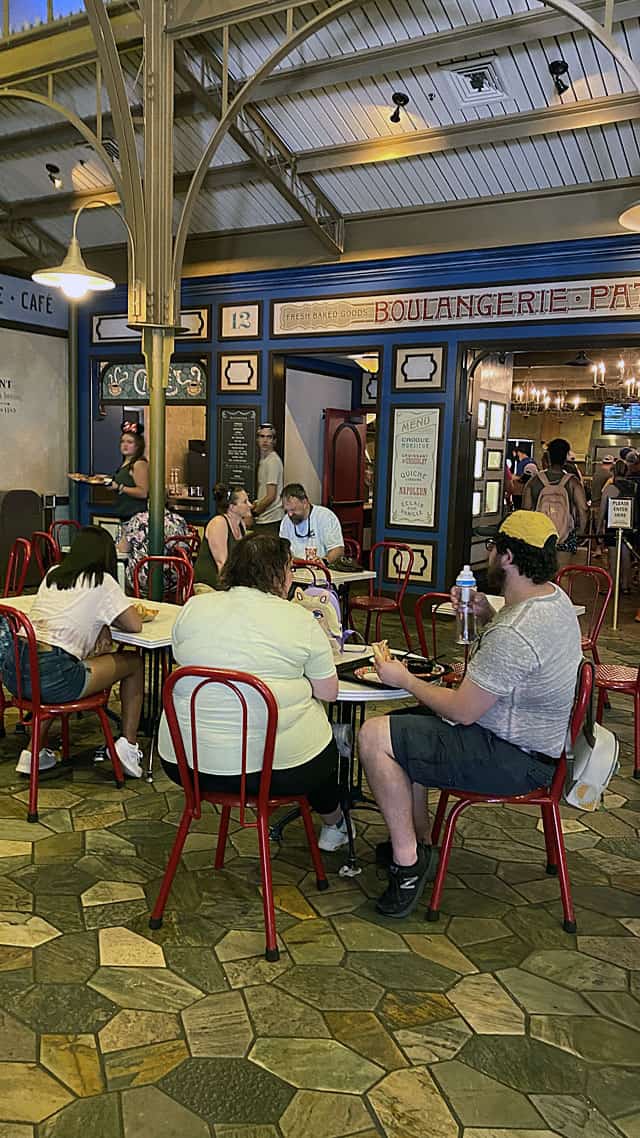 So, you've gotten your food on this convenient tray, now where do you sit? Even though it's off the beaten path, Les Halles Boulangerie-Patisserie gets extremely busy! Especially during peak times, you may have a difficult time locating a table.
Like other quick service locations, seating is first-come, first-serve. It may be helpful to survey the menu beforehand, then have part of your party grab a seat while the others order food. It really gets that busy! And to make things even more challenging, seating is a tiny area located in front of the ordering area. There's also two standing bars if seated areas are unavailable. Even though we have waited at times, we've always been able to secure seating in a few minutes.
Our Favorite Dishes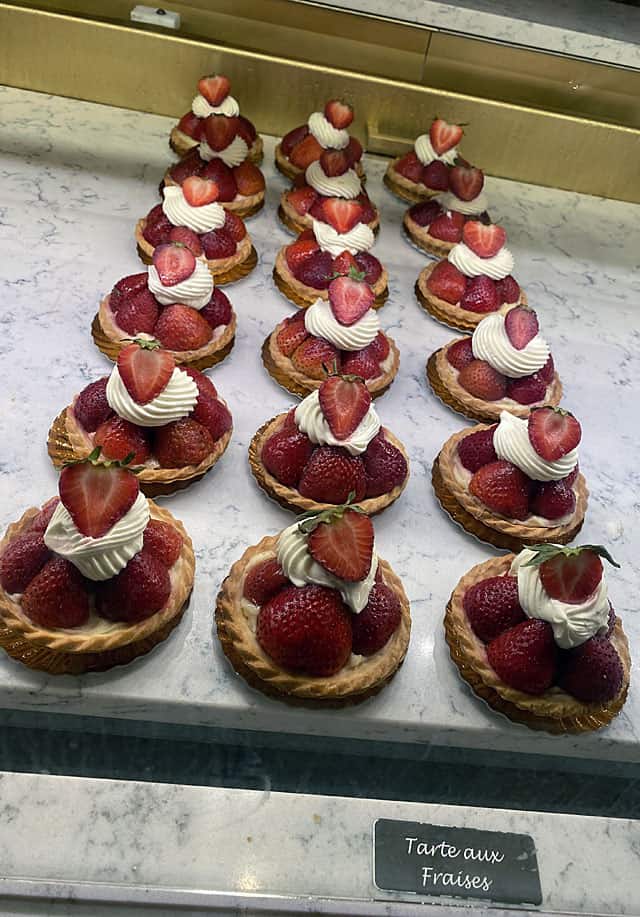 Even though I (Susan) have probably eaten here 20 times, I seem to gravitate toward my favorite savory and sweet dishes every time! My absolute favorite thing on the menu is the Duo Au Chocolat. Makes my mouth water every time I see it in the case!!
On the outside is a decadent dark chocolate fondant type covering. In contrast, the inside is a mixture of creamy white chocolate mousse and a cake that melts in your mouth. It's just divine!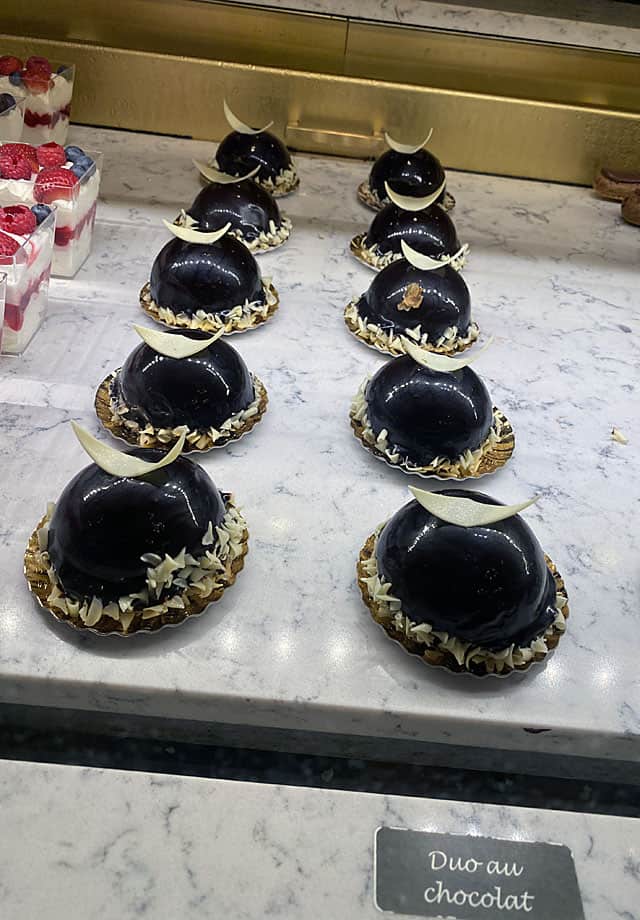 Then, since we can't live on dessert alone (or can we?), my favorite sandwich is the Croissant Jambon Fromage. How can you go wrong with a freshly baked flaky croissant holding Ham, Cheese and Béchamel sauce? Make sure to have it warmed (Cast Members ask this when ordering.) to melt the Béchamel sauce. For under $7, this is the best food deal in Disney World! This wonderful sandwich fits the bill for both breakfast and lunch.
Why You Should Try It
Whether you're wanting a coffee or glass of French wine, go early or during non-peak lunch and dinner times to relish in not only the quaint charm of a French bistro but some of the best food on Disney property. Check out why fellow KtP writer Kate considers this French quick service a must do every trip here.
No, it's not lavish or fancy, but I'll take the laid back vibe of Les Halles Boulangerie-Patisserie any day! There's enough of a variety to keep you coming back for more. I hope you enjoy this hidden gem as much as I do!
Have you eaten at Les Halles Boulangerie-Patisserie? Or would you like to try it? Please share your thoughts in the comments below or on our Facebook KtP group.