Weather and weather-related issues have caused many attractions at Disney World to close for the second day in a row.
What to do if a ride is down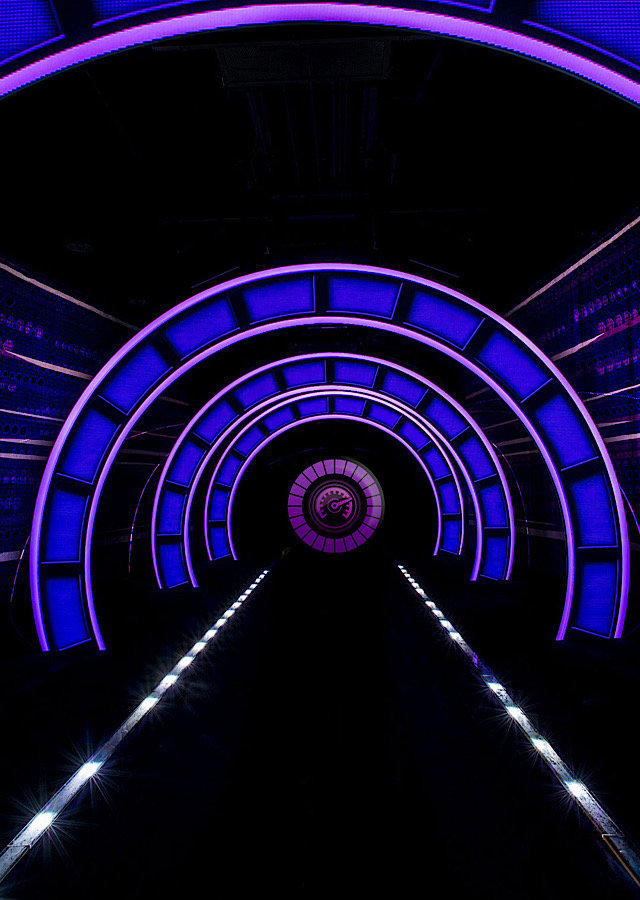 So, you are at the parks when several rides are down. What do you do? I suggest grabbing something to eat or catching a show. You could also of course find an attraction that is still open and try to knock those out. This would also be a good time to take photos along Main Street U.S.A. or in another area of the park.
If the issue persists for several hours, it may be a good idea to head to the hotel to take a break to try to prevent frustration and tiredness from those in your party who aren't happy about not riding anything!
Two days in a row
Today, June 16, marks the second day many attractions throughout all four theme parks are currently down. Yesterday, we thought maybe a power outage had affected the area, but there was also some severe weather.
Severe weather is also in the area today as well. June to September is typically considered hurricane season in Central Florida. Be sure you are prepared with ponchos and umbrellas!
You'll notice in the screenshots below that many of these attractions are indoors as well as outdoors. In this case, the severe weather probably caused a power outage – affecting more than just outdoor attractions.
Closed rides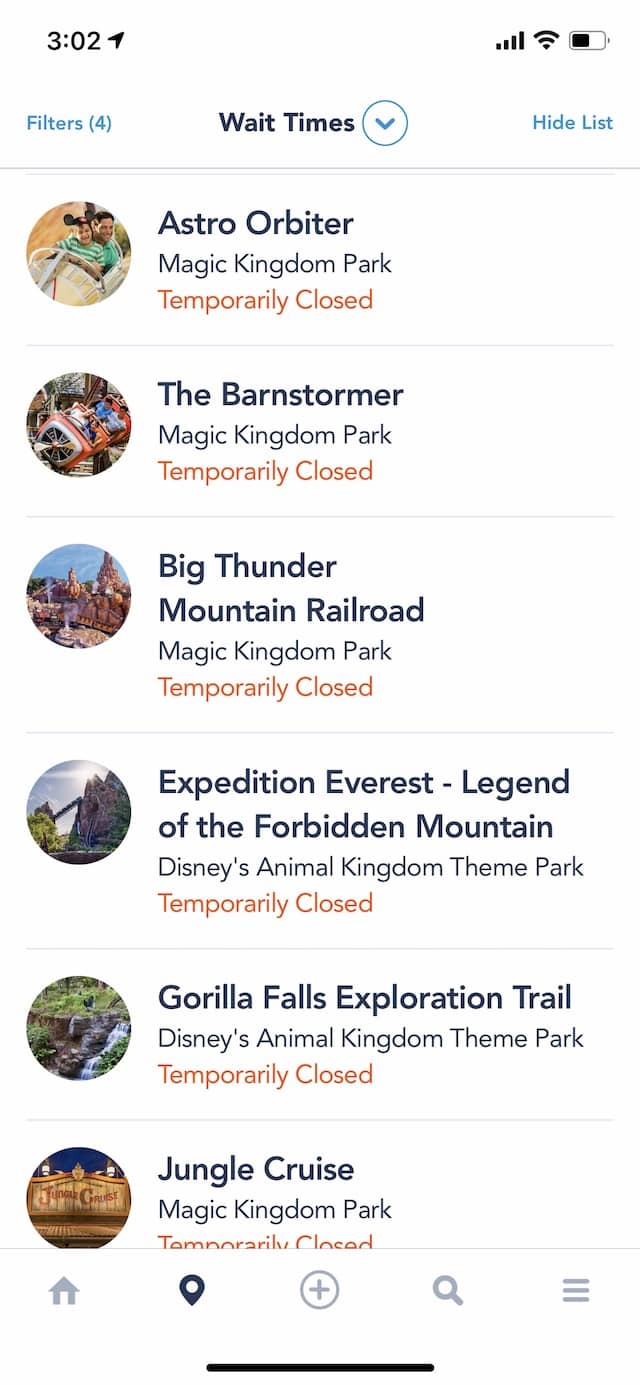 At the time of writing, 19 rides are closed at Disney World. At Magic Kingdom, the following are unavailable:
Astro Orbiter
The Barnstormer
Big Thunder Mountain Railroad
Jungle Cruise
Liberty Square Riverboat
The Magic Carpets of Aladdin
Seven Dwarfs Mine Train
Splash Mountain
Swiss Family Treehouse
Tom Sawyer Island
Tomorrowland Speedway
TTA PeopleMover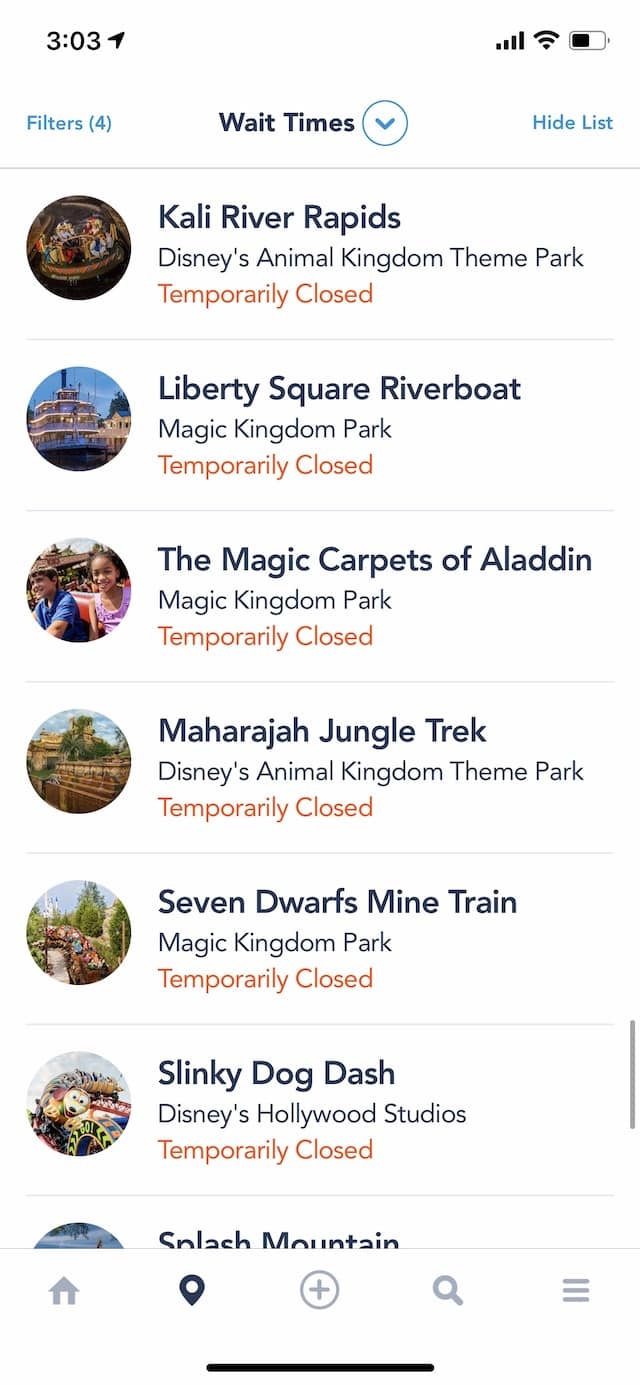 Animal Kingdom attractions that are closed include:
Expedition Everest
Gorilla Falls Exploration Trail
Kali River Rapids
Maharajah Jungle Trek
Triceratop Spin
There is only ride at Hollywood Studios that is closed: Slinky Dog Dash.
Finally, Test Track at Epcot is closed.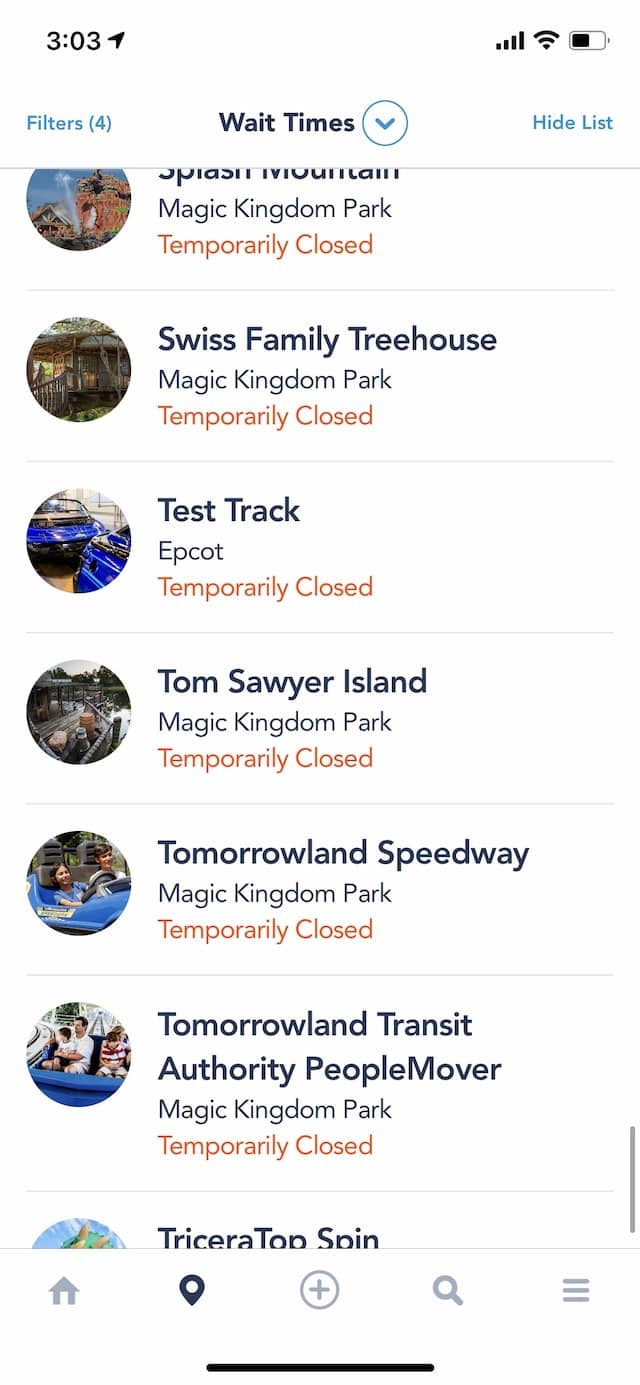 As you can see most of the affected rides are at Magic Kingdom and Animal Kingdom. Fortunately, there are still many attractions up and running. We hope these issues subside so Guests can go about their day!
Are you at Disney World today? Share your experience with us in the comments below or on Facebook.