There are so many amazing restaurants in Disney World and everyone has their favorite places. Over the years, there have been some truly outstanding and unique dining locations across the Walt Disney World Resort. Sadly, not all have stuck around. Some changes have been for the better, while others left wounds that are still not healed. Let's take a moment to honor the memory of some long lost restaurants we're still mourning.
Restaurants of the Past
While I (Christina) love so many of the new additions that have come to Disney World over the years, I still really miss the Disney of the 90s and 00s. Back then, there was more quality in the Disney product. Whether in merchandise, dining or attractions, you felt like you were getting something for the elevated cost you paid. 
Though there is nothing wrong with the Disney restaurants of today, there are some beloved restaurants of the past that will never be matched. These locations disappeared for various reasons, but the mark they left behind is still felt by Disney fans far and wide. Join me as we walk down memory lane and take a look back at these amazing dining locations of the past.
L'Originale Alfredo di Roma Ristorante
It's only fitting to start this list off with one of the greatest restaurants to ever grace Disney property. L'Originale Alfredo di Roma Ristorante opened with the park on October 1, 1982 in the Italy pavilion. There is so much history behind this restaurant. It all started with a man named Alfredo Di Lelio who owned a small restaurant in Rome. In 1914, Alfredo's wife was weak and refused to eat after the birth of her son, Alfredo II. 
To encourage her to eat, Alfredo Di Lelio created a simple dish of noodles cheese and butter for her. She loved it so much that she made him add it to the restaurant menu.
In 1927, famous Hollywood stars Douglas Fairbanks and Mary Pickford visited the restaurant multiple times on their honeymoon. They fell in love with the "Fettuccine all'Alfredo" and spread the word among their fellow celebrities.
They even provided Di Lelio with solid gold utensils that had the engraving: "To Alfredo the King of the noodles", which can still be seen at the restaurant in Rome.
It wasn't long before the restaurant became a world renowned sensation. Over the years, the descendants of the Di Lelio family opened sister restaurants in Orlando, Las Vegas and New York City.
The L'Originale Alfredo di Roma Ristorante (Alfredo's for short) in Epcot was one of my family's all time favorite restaurants. The food was always fabulous, and the atmosphere felt so authentic. Throughout your meal you would be serenaded by wonderful Italian singers and accordion players. 
The real stand out item of this restaurant was, of course, the dish that put it on the map to begin with. In all my years, I have never had a Fettuccine Alfredo that tasted better than the one served at Alfredo's. 
The noodles were made from scratch and mixed with butter and tons and tons of good, fresh cheese – No milk, eggs or other ingredients needed. The result was the richest Alfredo you have ever tasted.
It was next to impossible to finish a whole plate of Alfredo so we often chose the "Tour of Italy" which provided a nice variety of Italian flavors.
You also had to save room for dessert, because L'Originale Alfredo di Roma Ristorante served the most amazing delicacies on property. The stand out dessert was by far the chocolate mousse.
Back in the 90s you could find some version of a chocolate mousse dessert almost everywhere on property. Now, that's harder to come by, but even back then the chocolate mousse at Alfredo's couldn't be matched.
We miss L'Originale Alfredo di Roma Ristorante so much. Sadly, in 2007 the 25 year contract expired. Disney foolishly decided not to renew it and the restaurant was permanently closed.
My family used to travel into NYC on occasion to visit the restaurant there, but that has sadly also closed down. Now, if you want to enjoy this fabulous dish from the founder of Fettuccine Alfredo, you need to visit the location in Rome – Il Vero Alfredo.
Portobello Yacht Club
Ahh Portobello Yacht Club…my heart still mourns you. The original Portobello Yacht Club opened in Downtown Disney in 1989. For years, this was one of my family's favorite restaurants in all of Disney. The location was originally designed as a rustic Italian countryside restaurant that was the perfect blend of upscale and casual. Portobello Yacht Club had the classic paper table cloths that were a staple at many Disney restuarants the late 90s/early 00s.
My family loved this feature. "drawing on the tablecloths" with crayons was better than any kids menu. My family used to pass the time waiting for our meal by playing Hangman.
What made Portobello Yacht Club special was the food. One of the best parts was the bread service. Unlike normal bread services that come with just butter, this came with a whole head of roasted garlic. The garlic was so soft that it spread like butter over the bread.
You could never get enough of this amazing starter, and it's one reason we came back again and again to Portobello's. The other reason we loved this restaurant so much was the steak. Back in the day, Portobello Yacht Club had a steak on their menu that was topped with a parmigiano cheese crust. 
There aren't enough words in the dictionary to say how fantastic this steak was. At that time, nowhere else in Disney offered a cheese crust topping on a steak and it was AHHH-MAZING! On our last trip to Portobello Yacht Club, before the change, we asked the server how to make the crust and he told us. You wouldn't believe how simple it is to make this at home, and we do frequently!
Simply melt 4 tablespoons of butter in a sauce pan. Once melted, remove from heat and add in equal parts grated parmesan cheese and seasoned breadcrumbs until the mixture looks like sand. After you have cooked your steaks, top with the parmesan mix and broil just until the top gets crispy. 
In 2008, the restaurant was renovated and became Portobello Country Italian Trattoria. With the name change came a menu change, and the beloved dishes from the Portobello Yacht Club were gone.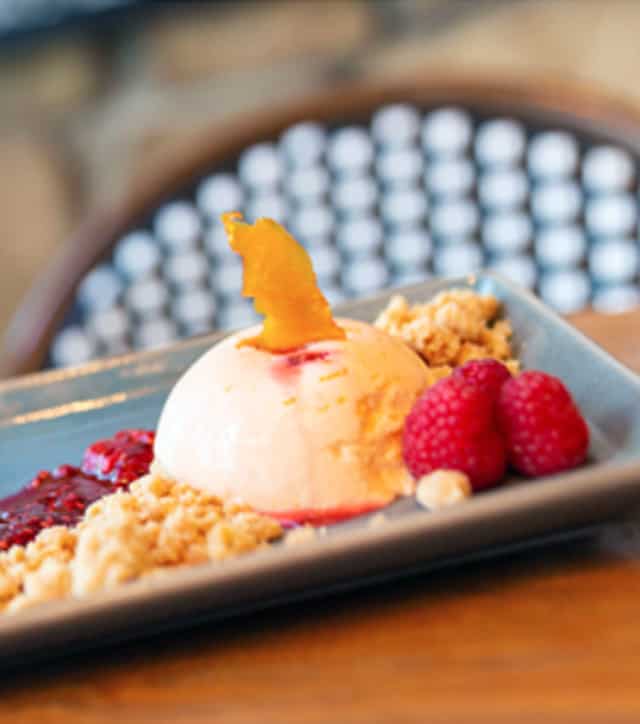 In 2017, the restaurant closed again and reopened in 2018 with a new name: Terralina Crafted Italian. While the structure of the old Portobello restaurant is still there, it is just not the same as the original. We will always remember the beloved Portobello Yacht Club fondly.
Bongos Cuban Cafe
Bongos Cuban Cafe had been a staple on the Disney Downtown and Disney Springs West Side for many years. Owned by Latin power couple Gloria and Emelio Estefan, this restaurant featured lively Latin music and delicious Cuban cuisine.
My family used to visit Bongos frequently before the major transformation of Downtown Disney into Disney Springs. Sadly, that seemed to spell the end for this delicious restaurant. We, like many, found ourselves gravitating to the newer restaurants and Bongos often fell by the wayside.
One thing that I remember about Bongos was the black bean soup. That's not an appetizer I would normally order, but it was absolutely fabulous and something that kept us coming back to Bongos. They also had a fabulous skirt steak with chimichurri sauce. 
Though we understand the reasoning for Bongos closing, it is still yet another great restaurant that is no more at Disney.
Boatwrights Dining Hall
Ok, you might be saying to yourself, "I'm confused, Boatwrights Dining Hall is still around". You are not wrong. While Boatwrights Dining Hall is still around, it's nothing like it used to be. Back when Port Orleans Riverside was called "Dixie Landings", Boartwrights Dining Hall hosted one of the best breakfasts in Disney.
My family used to drive 18 hours from Pennsylvania to Orlando and every trip that we arrived early enough, we stopped at Boatwrights for breakfast to celebrate the start of our trip. Boatwrights Dining Hall had a great blend of fresh fan-favorite breakfast foods mixed with southern classics such as grits and andouille sausage. They also had the best pancake and waffle toppings you've ever had. 
To start the meal off, you were served some fresh buttermilk biscuits and gravy and if that's not a magical way to start your morning, I don't know what is. Not long after Dixie Landings was re-themed to Port Orleans Riverside, Boatwrights ended their breakfast offering. 
Now, you can only visit Boatwrights for dinner and the menu is heavily New Orleans themed. I have yet to try dinner here, but the menu still does look rather tasty so we may consider giving it a try once Boatwrights Dining Hall reopens. I am still not going to stop mourning that delicious Boatwrights breakfast though!
Concourse Steakhouse
This one hurts. The Concourse Steakhouse was on of my family's must-visit restaurants every trip. The restaurant opened in 1994 and was located on the Grand Canyon Concourse level of the Contemporary resort. 
The restaurant offered breakfast, lunch and dinner meals, though we only ever tried dinner. The dinner, however, was fabulous and we even preferred it to the California Grill.
The Concourse Steakhouse was a place to grab an excellent steak. Our meals were fabulous every time and they also had an amazing Ahi tuna dish crusted with sesame seeds that my dad raved about.

As kids, my brother and I loved to make a running count of how many monorails we could see over the course of dinner since the monorail ran right above the restaurant. Sadly, in 2008 the Concourse Steakhouse was remove and became the Contempo Cafe, which is still there today.
I miss the Concourse Steakhouse so much. It had amazing food and ambiance and was a great alternative to the much louder Chef Mickey's restaurant. 
Shutters
Shutters was a restaurant located in the main lobby of Caribbean Beach resort. Throughout it's long tenure at the resort, it went through many changes. In its prime, this restaurant had some amazing food. You could find basic staples like steak but with a slight Caribbean flare. My go-to meal at Shutters was always the lobster bisque (which was amazing) and the filet that was served with crispy onion straws and black beans. 
My dad, being a tuna lover, always chose the seared ahi tuna and my brother loved the prime rib. Over the years, however, the restaurant did some major menu overhauls. The results were never as good as the original. The dishes were more heavily Caribbean themed and often featured more adventurous flavors.
After many years of falling into the subpar category, Disney decided to get rid of Shutters and replace it with Sebastians Bistro. Sebastian's is still struggling to find its happy place among the Disney restaurants, but we would love to see it become some sort of character meal one day to attract more visitors. 
Pepper Market
The Pepper Market was one of the most unique quick service locations at a Disney resort. The location was gigantic and was filled with lots of bright colors and Mexican art pieces. 
When Coronado Springs underwent its massive transformation, the Pepper Market was re-themed into a much duller and contemporary style design. This was done most likely to appeal more to business travelers and convention guests staying at the resort.
Though the Pepper Market did a lot of flipping back and forth from quick-service to buffet-style during its tenure at Coronado Springs, we fondly remember it when it was a la carte style. 
You would order your drinks at your table and then be given a ticket to go up to the food stations. At each station, you would get your ticket stamped and then take the ticket up to the register to pay.
We loved the food at the Pepper Market. Even though it was among the pricier quick-service locations, there were a ton of delicious menu choices. My favorite was the breakfast skillet and we often would make a trip over to the Pepper Market to eat even if we weren't staying at the resort. 
One of my fondest memories as a kid began at the Pepper Market. My family was enjoying a delicious lunch and my dad had to make a work call. This was not out of the ordinary for our trips so we thought nothing of it except for the fact that he was gone for at least 30 minutes.
After he returned, we finished our meals and headed out. Per usual, my dad wanted to walk around to explore the resort. We walked all over and finally he guided us down to a long row of resort rooms near the Rancheros.
As we were walking, he suddenly stopped and said: "I wonder if we can see into one of the rooms?" He then proceeded to take out a Disney room card to try it in the door. Since we had started our trip off at a Disney resort, we thought he had lost his mind and was trying to open the room door with his old keycard.
To our utter shock, the door opened. After my mom had her mini panic attack, he proceeded to spill the beans that he bought the room for the night and that was what he was doing when he was on his "call". That moment will forever live in our minds as a crazy surprise extra night stay at Disney. 
While the new El Mercado de Coronado food court still hosts a variety of great meals, the Pepper Market had such a unique flare that we will never forget!
Artist Point
While Artist Point is still around at Disney's Wilderness Lodge, it is drastically different than its original theme. 
To understand the story behind Artist Point, we first need a little background about the story behind the resort itself. Wilderness Lodge opened in 1994 and when guests first arrived, they were given a copy of the "Silver Creek Star" newspaper that detailed the created story of the resort.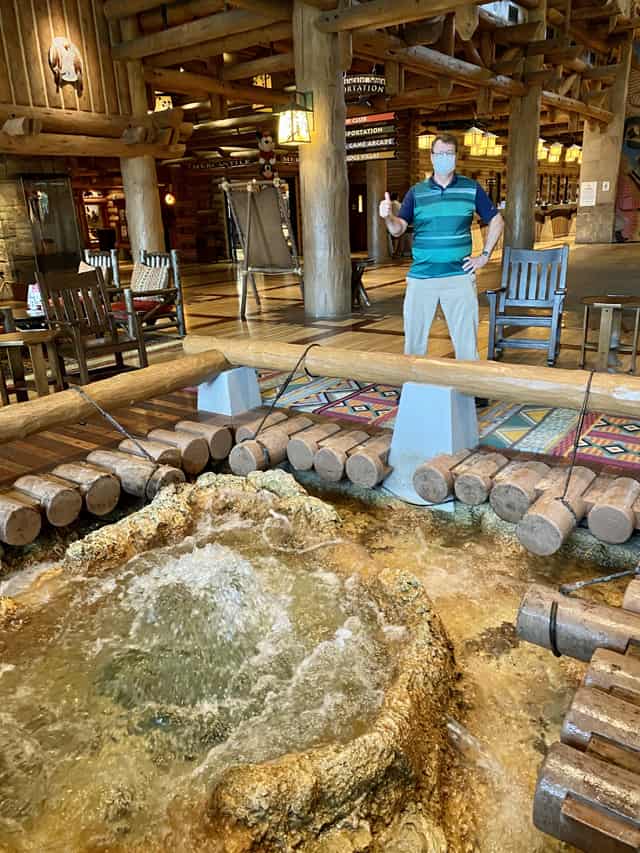 In the 1800s, a frontier explorer named Colonel Ezekiel Moreland went out West and discovered the beautiful Silver Creek Springs. Upon this discovery, he sent for his daughter Genevieve "Jenny" Moreland, an art curator, and Frederich Alonzo Gustaf, an up-and-coming Austrian artist who desired to paint the landscapes of the American West.
Inside the resort, many guests will recognize the bubbling Silver Creek Spring that flows outside the resort to Silver Creek Falls, Silver Creek Springs Pool and into Bay Lake.
Frederich Alonzo Gustaf loved to paint on one particularly dangerous rocky ledge on Silver Creek Springs. It provided the best view of the beautiful landscape, even though it was rather close to Fire Rock Geyser. One day while painting, Fire Rock Geyser erupted and caused Gustaf quite a startle, knocking him off his ledge. He didn't deviate from that spot, however, and simply packed up his paints and canvases before the geyser went off each day.
When Jenny eventually built the Wilderness Lodge over the Silver Creek lands, she built the lodge's dining room right on the spot where Gustaf loved to paint and called it "Artist's Point".
In the original dining room of Artist Point, guests could take in gigantic beautiful murals of landscapes across the American West. The menu was also unique and featured many dishes from the Pacific Northwest such as Cedar Plank King Salmon and Venison Spring Rolls.
While I refuse to eat deer, my family always enjoyed the springs rolls, and I can personally say the salmon was the best salmon I have ever had. It was served directly on the cedar plank and had the most amazing flavor. 
You also had to save room for dessert, because the berry cobbler at Artist Point was one of the best desserts in all of Disney. The cobbler was served warm and then topped with homemade black raspberry ice cream and fresh blackberries, raspberries, blueberries and strawberries.
Over the years, Artist Point went through some menu changes that ended up driving away some of its core fans. Due to feigning interest, Disney turned the restaurant into a Snow White themed character meal.
While we did get a chance to experience the new restaurant and loved the decor and character interaction, the food quality just wasn't even close to the level of the original Artist Point.
Liberty Tree Tavern
While Liberty Tree Tavern is still delighting guests to this day with its delicious food, there is one particular thing we miss: characters. Many years ago, Liberty Tree Tavern was a character meal that featured Minnie, Pluto, Goofy, Chip & Dale dressed in their colonial outfits.
The interaction here was great, because the restaurant was much smaller than places like Chef Mickey's. We always had a blast with the characters and were so sad when they disappeared in 2009. The food at Liberty Tree is still amazing, but we wish Disney would bring back this fun experience.
Tusker House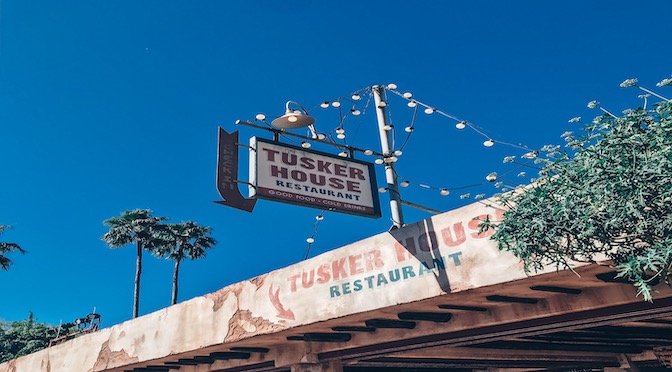 Tusker House has gone though a lot of transformations over the years. In its current state, it is a family-style meal that hosts socially distant characters in their safari attire. Before the pandemic, Tusker House was an all-you-care-to-enjoy buffet and featured the same safari characters.
We have quite a few reviews of Tusker House! You can read them HERE, HERE, and HERE.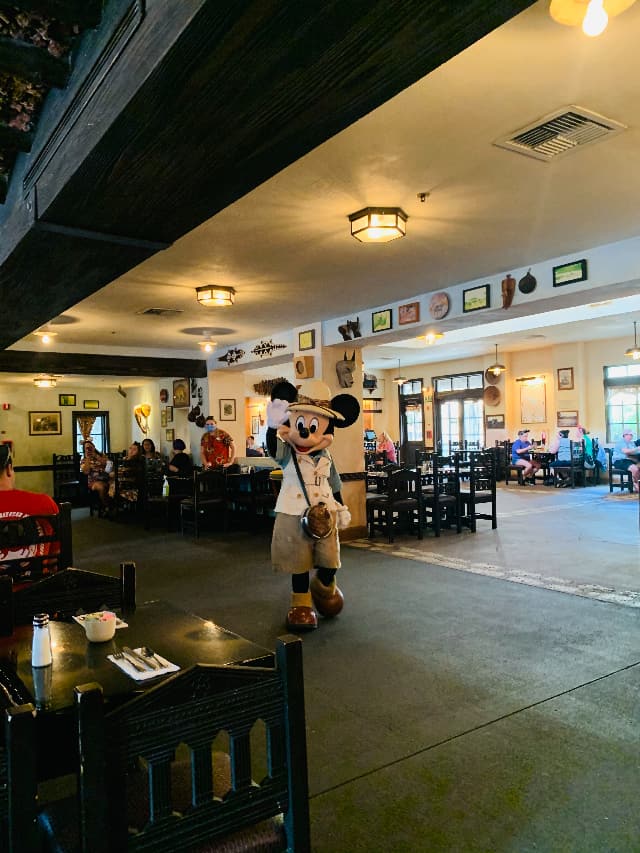 Before Tusker House was a character buffet, it was actually a quick-service location. You would walk into the main dining area and each station had different options to pick from – just like other food courts at the Disney resorts.
While Tusker House may have looked like a regular food court, the quality of food was far better than anything you would find at a Disney resort. My family's favorite dish to get was the rotisserie chicken served with fresh green beans. Everything was fresh and provided a much healthier option compared to all the other basic theme park food around the park.
Fountain View
Ahh, Fountain View. Does anyone else remember Fountain View before it was a Starbucks? For those that don't, Fountain View was once a small little coffee shop that served the most amazing desserts and pastries. 
While it made sense that Starbucks took over when they partnered with Disney, the amazing desserts completely disappeared. Fountain View used to be a quiet place you could go to grab some chocolate mousse cake, Boston cream pie cake, fruit tartlets, creme brûlée and specialty coffees.
It had a beautiful view of the Fountain of Nations and was the perfect place to step back from the busy park atmosphere and recharge. Sadly, now Fountain View is completely gone due to the ongoing Epcot transformation.
I wish Disney would bring back these unique locations to the parks. We have enough brand name coffee shops, and we need places that you can't find elsewhere. 
Ice Station Cool
Ice Station Cool opened in 1998 in Epcot's Future World. The theming was centered around polar exploration, complete with snow vehicles and frozen cavemen. The outside facade was designed like an igloo tunnel, and the moment you walked in you were greeted with a wonderful blast of icy cool air and sometimes some real snow machines spitting at you.
Inside, there were some fun snow mobiles to take pictures on and, of course, the famous beverage dispensers where you could try different sodas from around the world. In 2005, Ice Station Cool was re-themed into Club Cool and the fun polar theme was gone. The original flavors remained until 2013 when all but Beverly and Vegibeta were changed.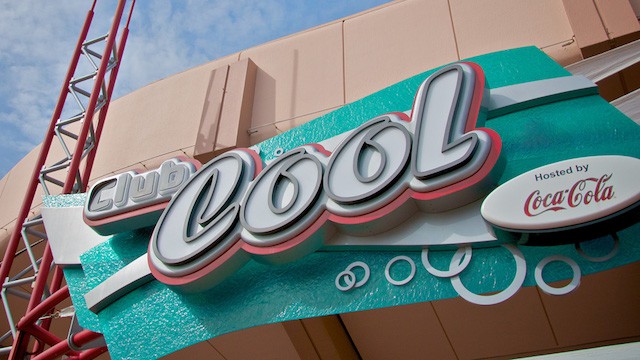 I loved the original soda flavors, especially the Kinley Lemon from Israel, the Lift Apple from Mexico and the Krest Ginger Ale from Mozambique.
Original Ice Station Cool Flavors
When Epcot began its major transformation, Club Cool was closed and now it has reopened with a fresh look! I still miss the original Ice Station Cool, though. It had that authentic "Epcot of the 90s" feel.
There are so many wonderful restaurants in Disney, but these long lost fan-favorites are ones we are still having a hard time letting go. Sometimes nostalgia glasses can make things seem better than they were in hindsight, but these locations were definitely not in that category. They really were the best of the best.
Do you remember any of these restaurants from Disney's past? What was your favorite? Let us know in the comments below and on Facebook!
-Christina
Are you planning a vacation? Reach out to our trusted travel agency sponsor Authorized Disney Vacation Planner
Mouse Class Travel
!