Find yourself needing help at Disney World? Check out our guide to see where to find Guest Relations and how they can help.
Guest Relations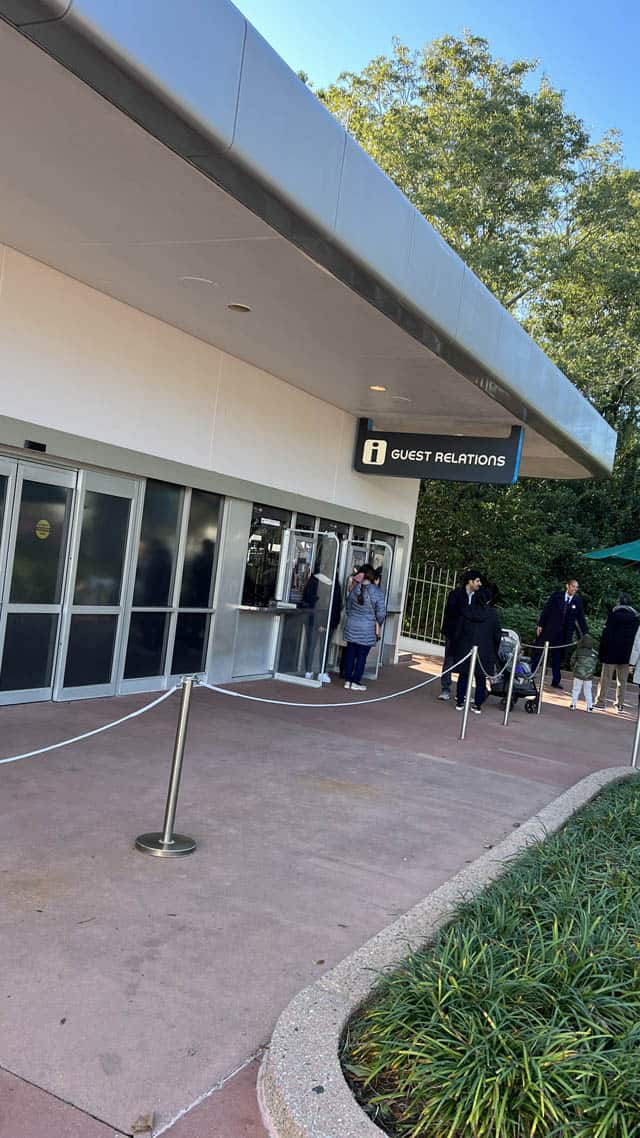 Whether you're new to vacationing at Disney World or go frequently, everyone needs help sometimes. Located throughout Disney World, Guest Services can help you enjoy a hassle-free experience.
They can answer virtually any Disney question you give them and help if you have a question or problem. Take a look at some of the ways Guest Relations helps people every day.
Guide Maps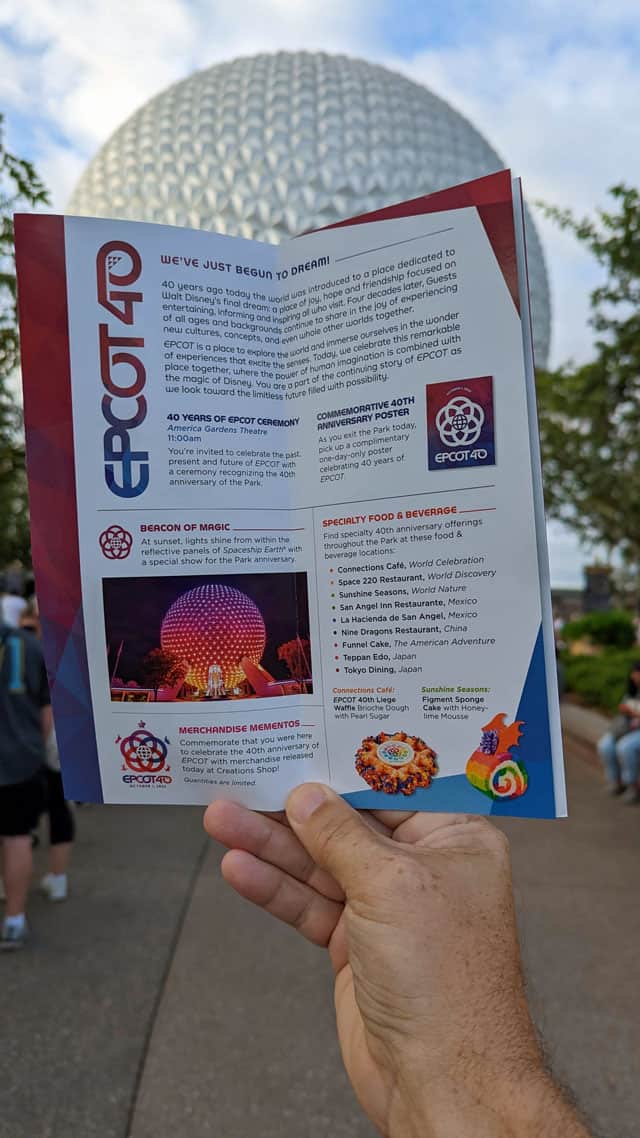 EPCOT Guest Relations location offers EPCOT Guide Maps in 6 different languages—with Guide Maps for other parks available in English.
At Disney Springs, Guest Relations has Disney Springs Guide Maps in English, Spanish, French and Portuguese—as well as theme park Guide Maps in English. Each location also provides detailed guides for Guests with Disabilities.
If you're looking for an easy to ready digital map, subscribe to Character Locator and use the color-coded maps.
Theme Park maps are available at all Guest Relations locations.
Tickets and Passes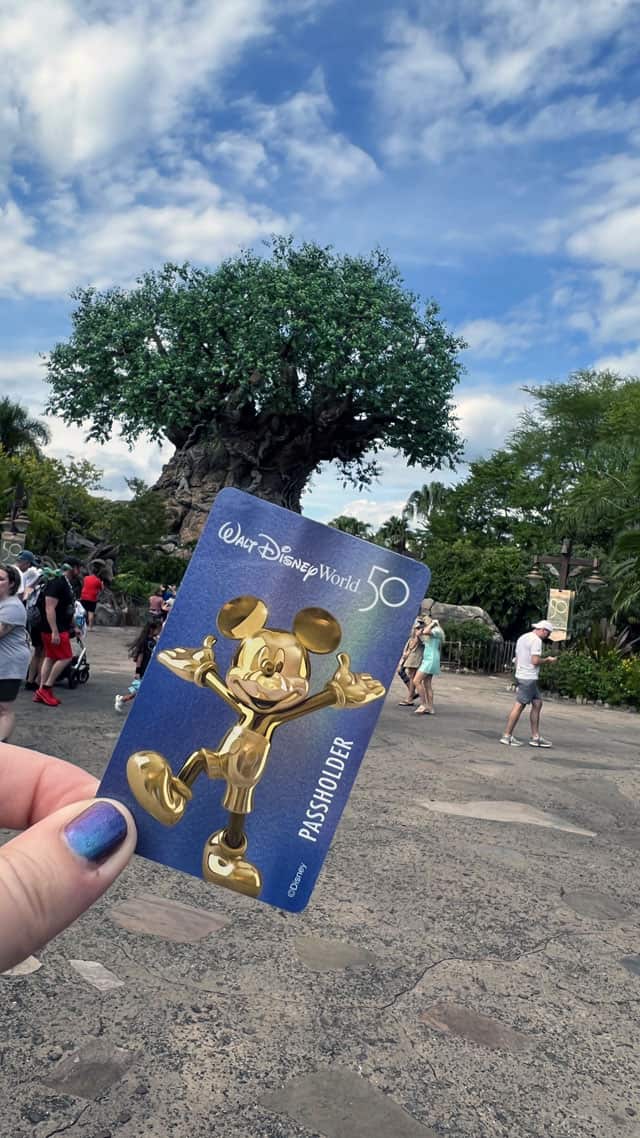 If you've purchased a ticket but don't use a Magic Band or your phone to enter the parks, Guest Services will give you a plastic card that works the same way. You can also add days or add park hopper to your current tickets.
If you have an Annual Pass, you can renew it online or at Guest Relations. In addition, be sure to get your Annual Passholder discount card here when they expire. You can also look up your Annual Pass on your My Disney Experience app, but I (Susan) prefer the plastic card. That way, I just get it out with my license and/or credit card.
Get your Annual Passholder discount card here.
Accessibility Information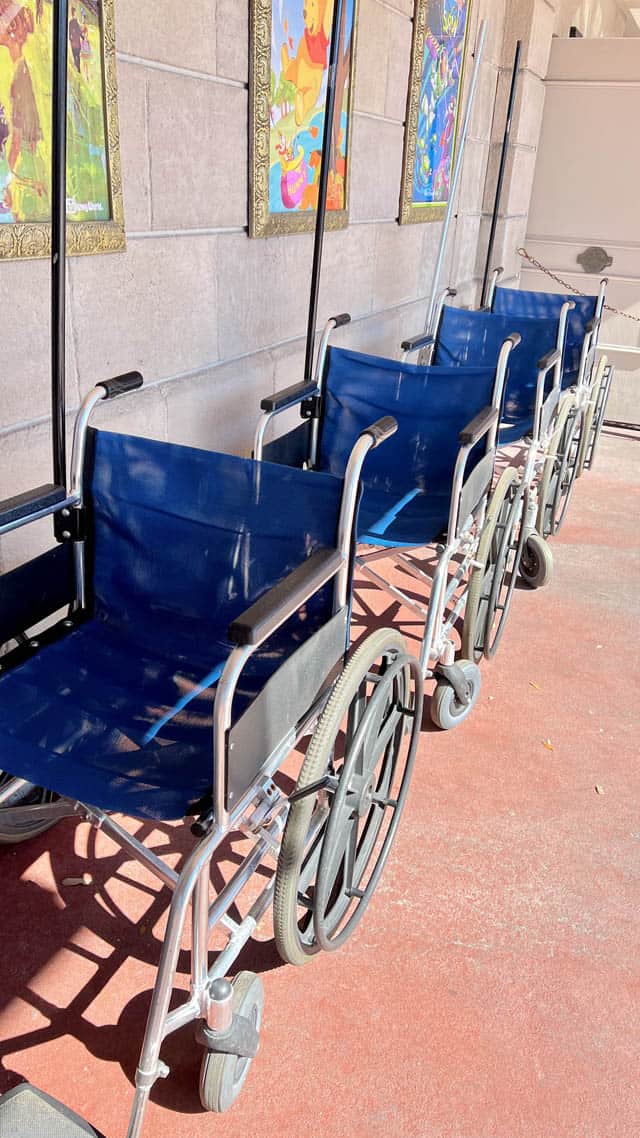 Disney World Resort theme parks provide numerous accommodations for people with disabilities such as mobility, visual, and hearing disabilities. Per Disney's website, the following accessibility options are available:
Assistive Listening systems
Reflective Captioning
Sign Language interpretation
Text Typewriter telephones
Handheld Captioning
Video Captioning
Audio Description devices
Braille guidebooks
Digital audio tours
Renting wheelchairs
In addition, there's an option called Disability Access Service (DAS) offered at Disney World to assist guests that have difficulty being able to tolerate extended waits in a traditional queue due to a disability.
If someone in your party may need this assistance, go to Guest Relations to sign up. You may sign up if you're found eligible for DAS. Guest Services can show you how to book return times on your My Disney Experience app too.
Go to Guest Relations for help with guests with disabilities.
Technical Issues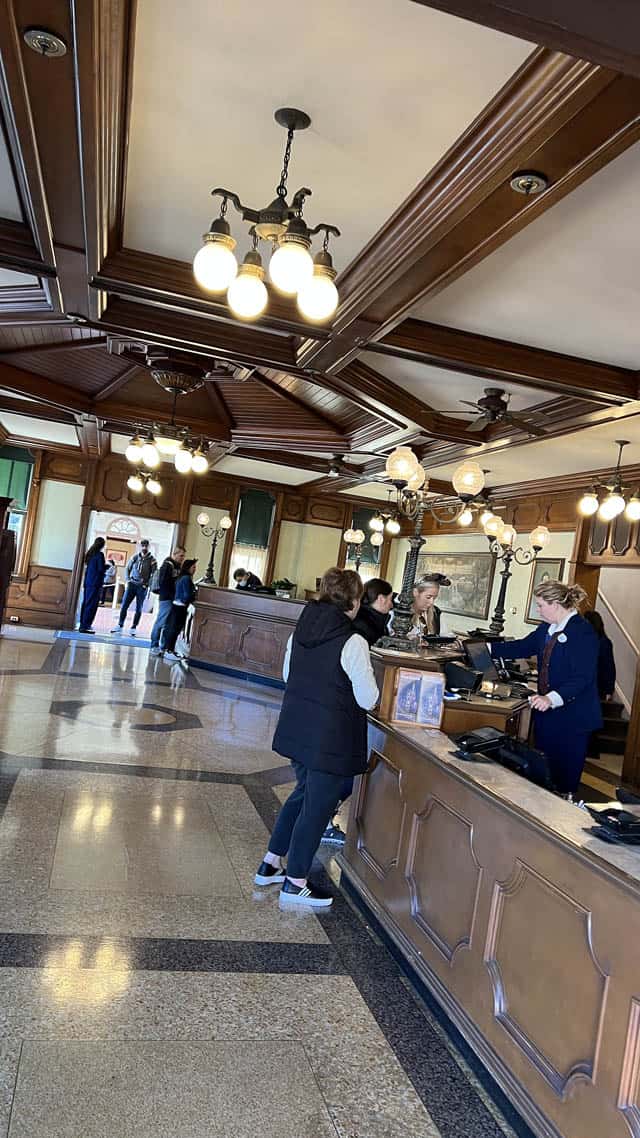 Sometimes, tickets don't link properly to My Disney Experience. When this happens, Guest Relations can fix it. The locations outside the theme parks are especially helpful for this since you're not allowed to enter Disney World theme parks without a working ticket or Annual Pass.
Not only that, but Genie+ and Individual Lightening Lane selections also encounter technical glitches. Whether you're wanting to book a ride or an attraction closes during your return window, Guest Services can assist you.
The My Disney Experience app and website continue to be the heart of planning Disney vacations both at home and while on vacation. Guests manage reservations as well as tickets and itineraries on the "My Plans" section. Whether you need assistance linking guests, making plans, or are experiencing a technical issue, go to Guest Relations.
Reservations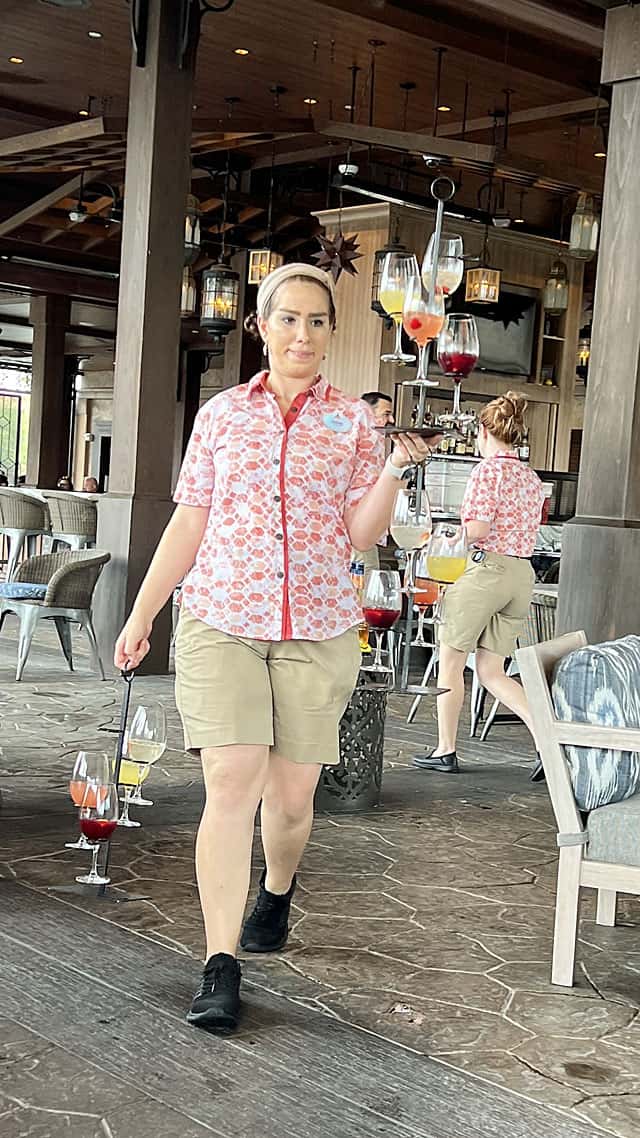 There are so many reasons to make reservations while vacationing at Disney World. First, if you want to eat at a table service location, you'll need a reservation. It's best to make these ahead of time on the My Disney Experience app, but if your plans change, Guest Relations can modify or book new reservations.
Add on experiences such as backstage tours, dessert parties, horseback riding, and special events can be reserved at Guest Relations. Booking for these is also available online on Disney's website.
If you prefer to plan your next Disney vacation in person, Guest Services will walk you through booking it.
All of these reservations with Guest Services are based on availability.
Answering Questions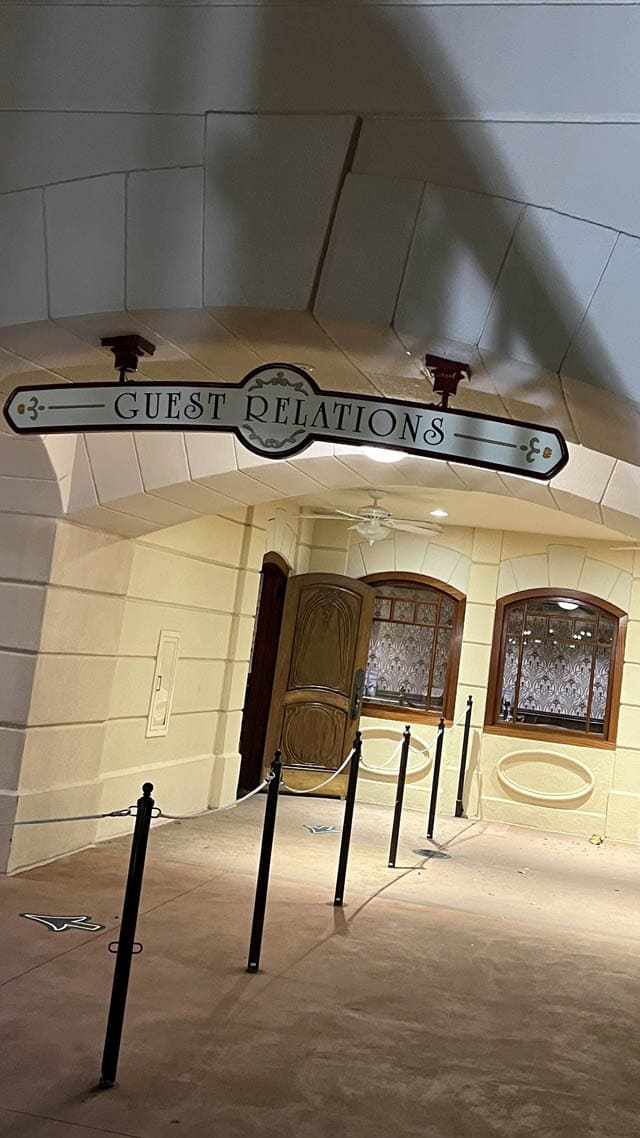 On a recent visit, I used an electric scooter due to a knee injury. I had the Caring for Giants Elephant backstage tour booked the next day and was worried about it being able to accommodate me. It was then that I learned Guest Relations can assist with just about anything.
When I asked Guest Relations my question, they pulled out a long list of phone numbers. Then, the Cast Member called to find the answer, and I was relieved that they would help me.
If you're in need of first aid or a baby changing area, go directly to those designated spaces inside each Disney World theme park. For anything else, I recommend going to Guest Relations.
Guest Relations can assist with just about anything.
General Assistance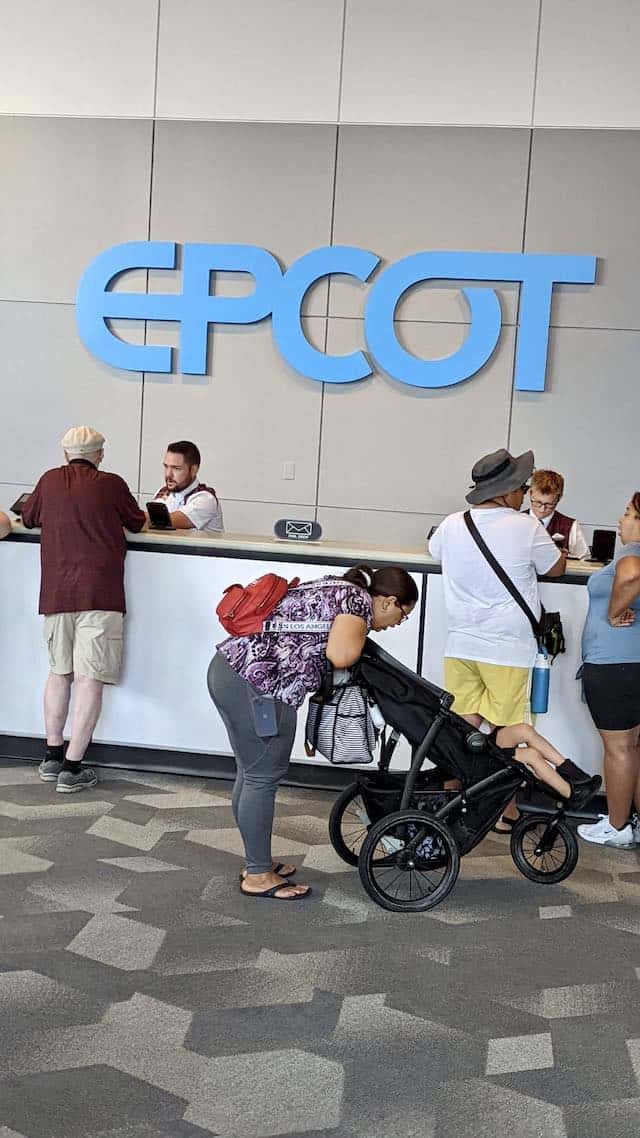 For international guests, Guest Relations can exchange currency. If you've lost a member of your party or item, guest relations can help you locate them.
Are you celebrating a birthday, anniversary, or visiting Disney World for the first time? Then, be sure to stop by Guest Relations for a special button. They can also add celebrations to dining reservations.
Locations and Hours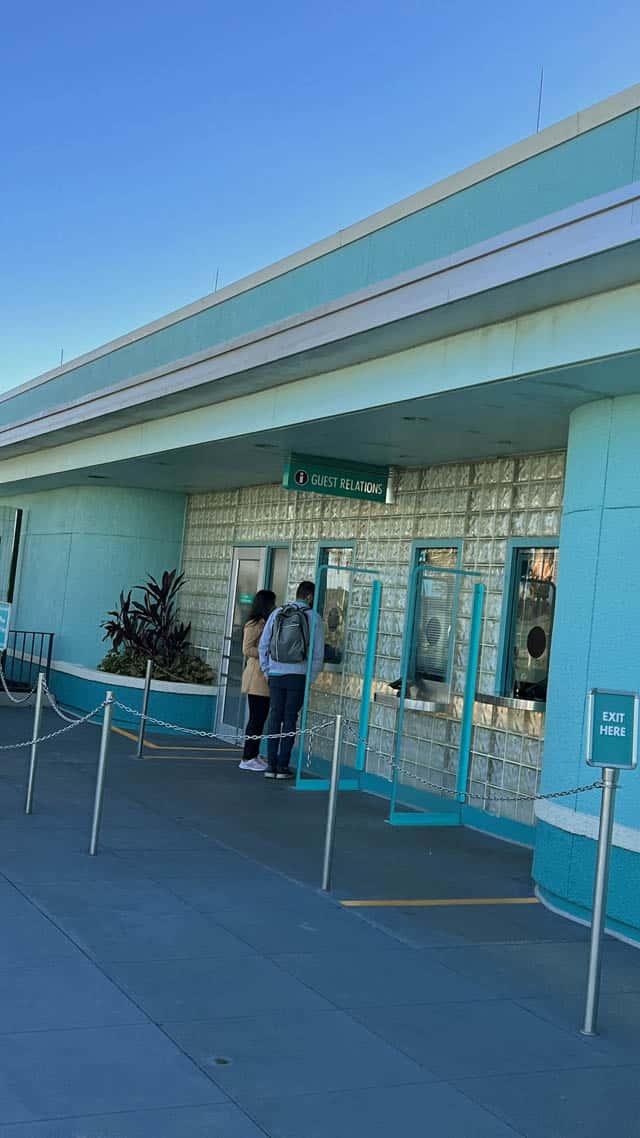 Many theme park locations share a building that gives access both inside and outside of the park. For example, at Hollywood Studios and Animal Kingdom, you'll find a Guest Relations window outside the entrance and an inside lobby just inside the main entrances.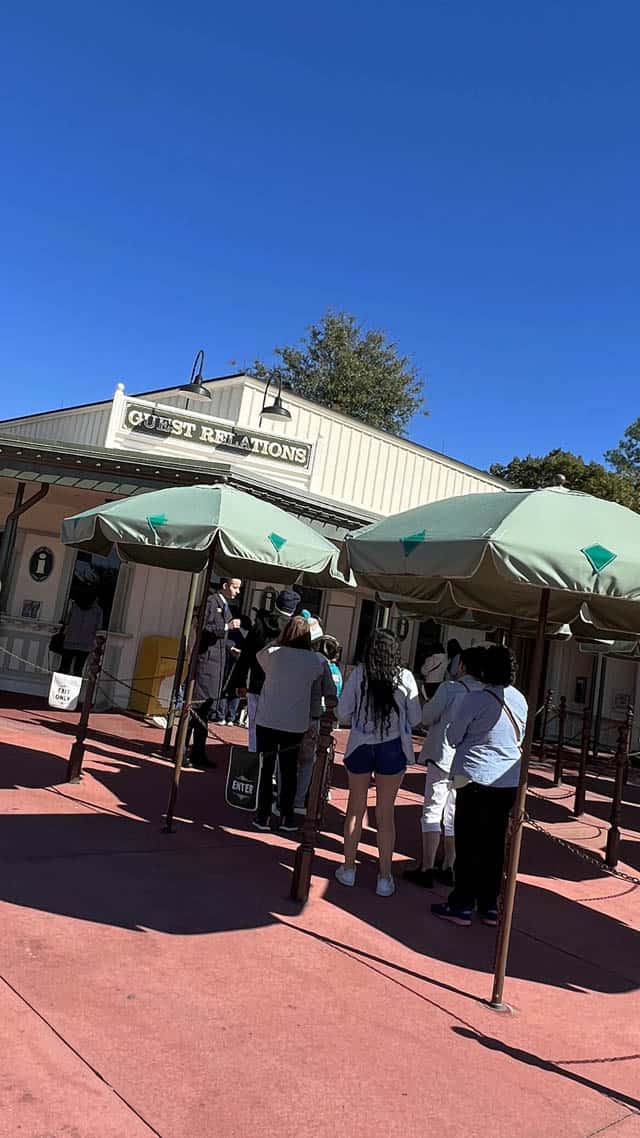 However, at Magic Kingdom and EPCOT, Guest Relations inside and outside of the park are in different locations. At the Magic Kingdom, Guest Relations is located on the right before entering the park and inside City Hall on Main Street U.S.A.
EPCOT has 3 Guest Relation locations: a window before entering the park, an inside location at World of Celebration (same building as Connections Eatery) and at the International Gateway just before entering EPCOT.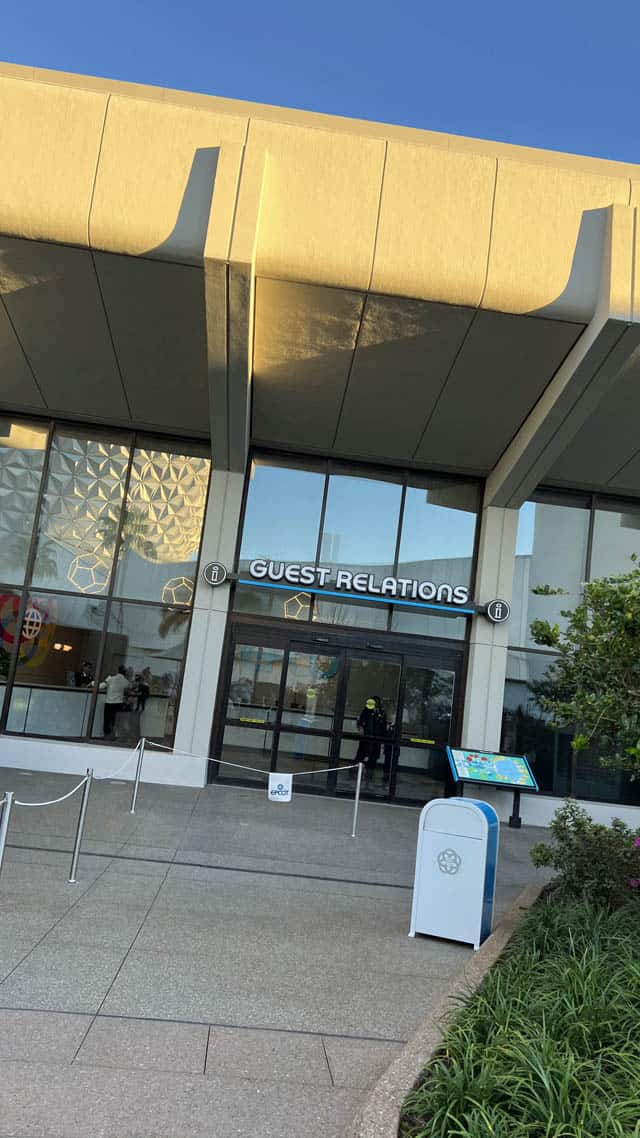 In addition to Disney World theme parks, Guest Relations is also located at Blizzard Beach and Typhoon Lagoon Water Parks, ESPN Wild World of Sports Complex, and Disney Springs.
Guest Relations is open the same hours as the area they're located.
Blue Umbrellas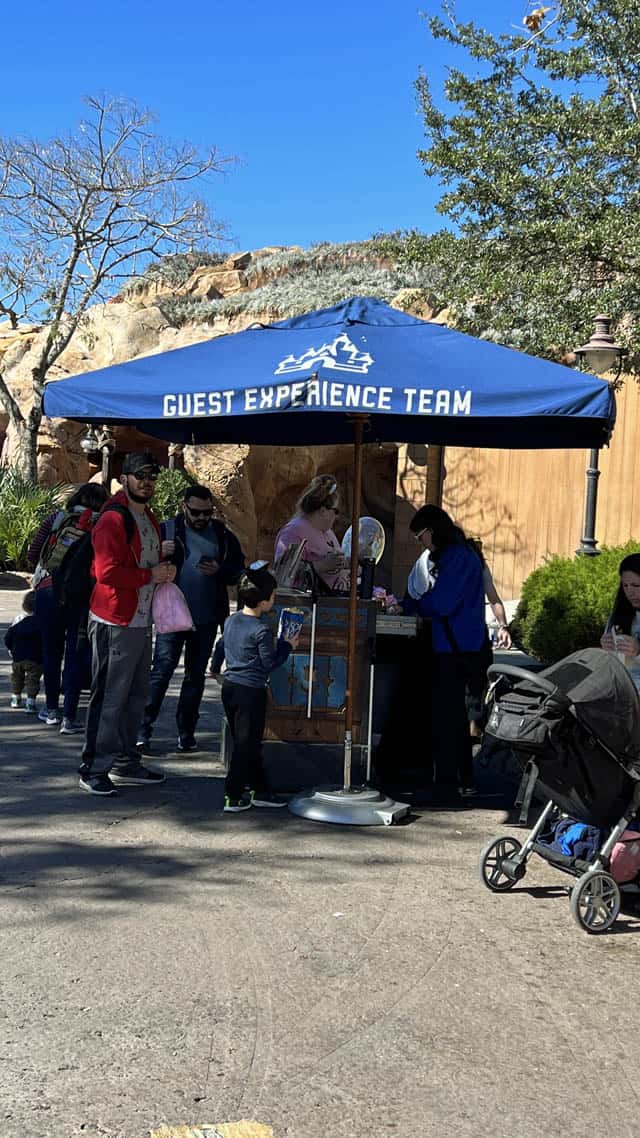 Guest Relations is an invaluable service, but there's another option that may be more convenient. Located throughout each theme park, you'll notice royal blue umbrellas. These spots are an extension of Guest Relations called the Guest Experience Team that can assist you in most areas.
Have you received help from Guest Relations? If so, what was your experience with them? Please share your thoughts in the comments below and share this post with a friend so they can learn more about Guest Relations.