Check out our comprehensive Typhoon Lagoon water park guide to see all the attractions, offerings, and more…
Disney's Typhoon Lagoon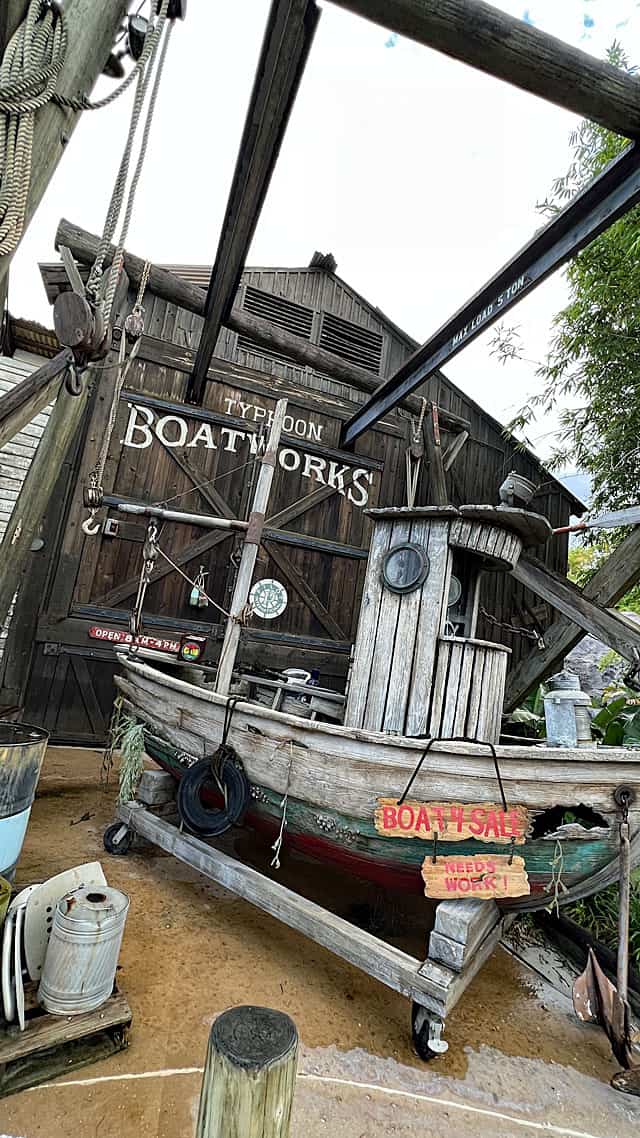 Typhoon Lagoon has a cool beach vibe. Guests enjoy a tropical paradise previously hit by a typhoon. The theme is well executed and will make you feel like you're spending the day at the beach! There are rides for guests of every age and thrill level! It is a stark contrast to the Blizzard Beach theming that makes guests feel like they are stuck in a snowstorm.
At Disney's Typhoon Lagoon, you'll feel like you've landed on a tropical island after a typhoon.
Typhoon Lagoon requires a separate admission fee or upgrade for Disney's Annual Passes. However, unlike other Disney World theme parks, guests do not need advance park reservations. Thanks to Florida's climate, water parks remain open all year round. Occasional cooler temperatures may cause the water park to close temporarily, but not very often.
Getting Ready for Fun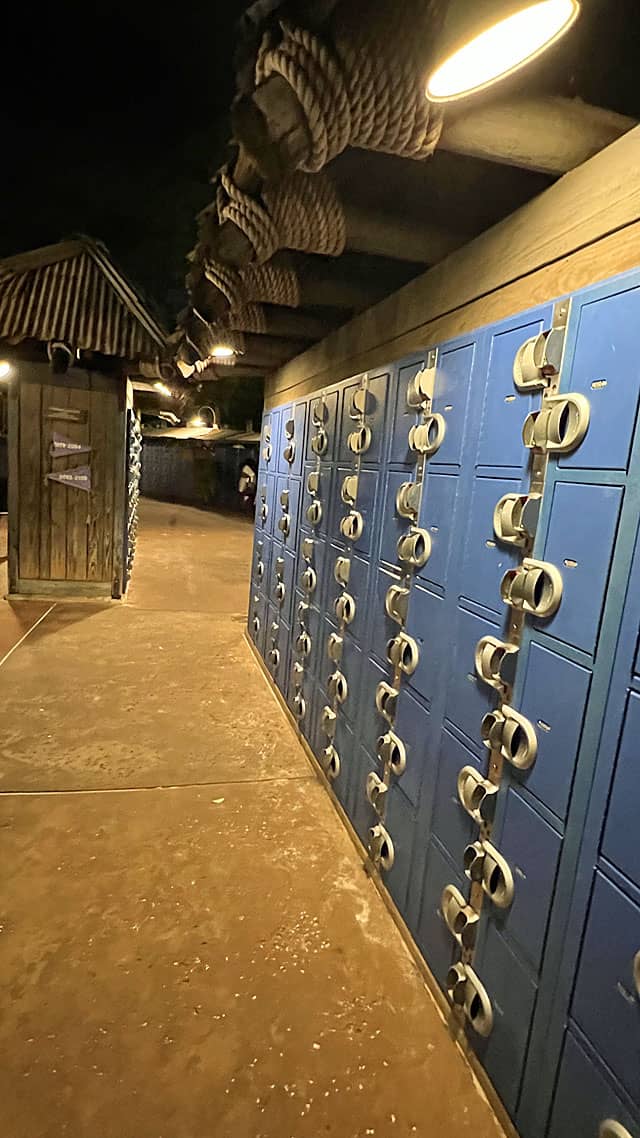 Upon arrival, Cast Members help you get ready for all the water park fun! As a guest at a Disney Resort, you can use towels at Typhoon Lagoon for free. Guests who don't stay at a resort will pay a $2 fee (subject to change) at Singapore Sal's or High N' Dry Rentals. Extra pool necessities, such as hats, sunscreen, and pool bags can also be purchased Singapore Sal's.
Towels are provided free to guests staying at a Disney World Resort.
Lockers are located beside Singapore Sal's for an additional fee. This makes it convenient to store a change of clothes and valuables. If needed, you can change in nearby bathrooms.
Places to Relax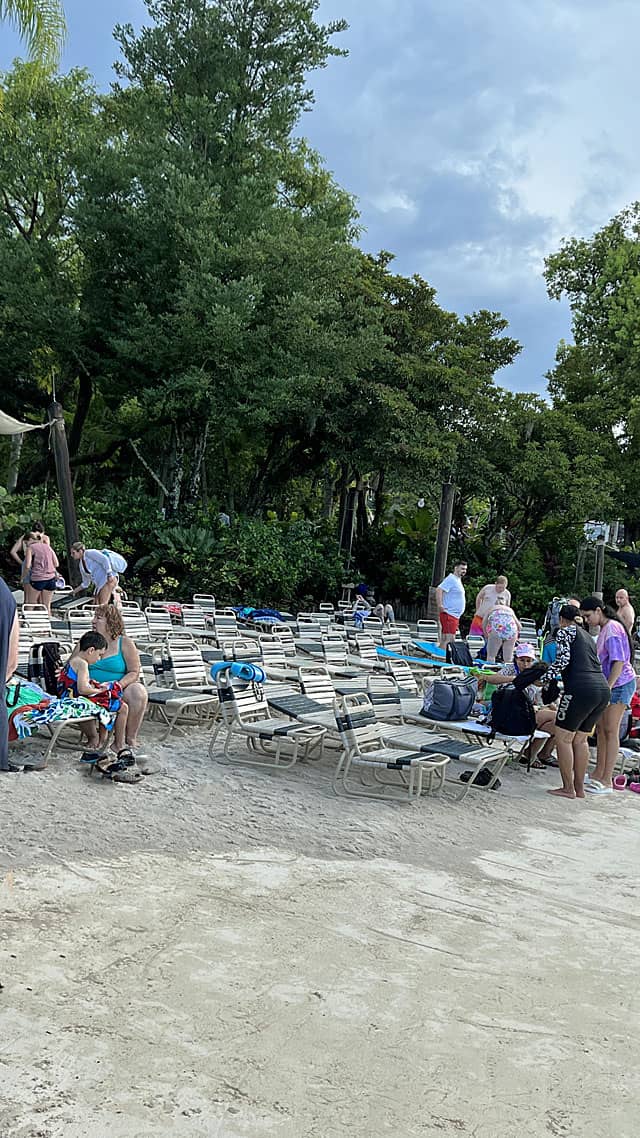 There are many places to relax throughout Typhoon Lagoon. Whether you're looking for chairs on the beach or picnic tables near quick service dining locations, they're easy to locate. However, chairs and tables are limited and fill up quickly. If you want to ensure seating, either arrive at the park very early or purchase reserved seating.
Did you know you can also rent umbrellas? When you rent a Typhoon Lagoon umbrella for an additional fee, you'll have all-day access to:
A beach umbrella
2 reserved lounge chairs
2 beach chairs
A drink table
Towels
This upgrade accommodates up to 4 Guests. Typhoon Lagoon Umbrella rentals can be found near the Typhoon Lagoon Surf Pool. Typhoon Lagoon Umbrellas are available on a first come, first-served basis. To inquire about same-day availability, please visit Singapore Sal's upon arrival at the park.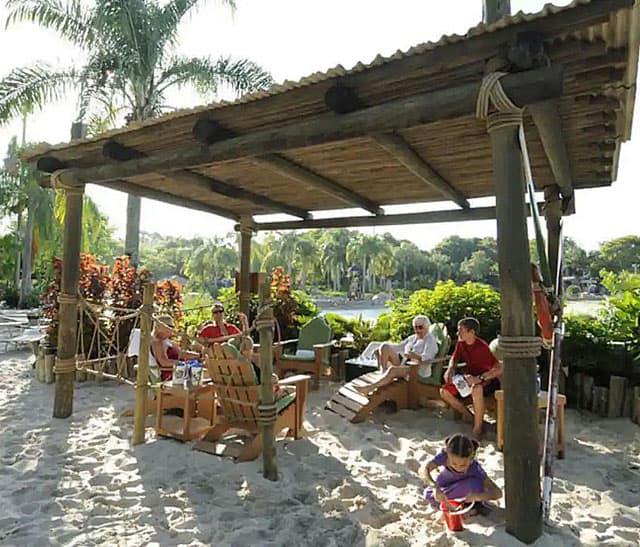 If you're looking for a private shaded area with seating, a cooler and more, check into renting a Beach Shack. Each Beachcomber Shack Deluxe accommodates up to 12 Guests and includes the following amenities:
Cushioned seating for up to 8 Guests
Umbrella space
Towels
A locker
Cold water, available all day
Souvenir refillable mugs, which can be refilled at Disney water parks with complimentary soda and water on the day of your Beachcomber Shack rental
Attendants are on hand to help you get the most out of the water park. In addition, they can take your order for food and beverages (separate dining charges apply). Prices start at $340 for standard shacks to $450 to premium plus shacks, and may change seasonally. Shacks can hold up to 10 people.
Advance reservations are highly recommended as Beachcomber Shacks book quickly. They're available on a first-come, first-served basis. To inquire about same-day availability, please visit Singapore Sal's upon arrival at the park.
Park Layout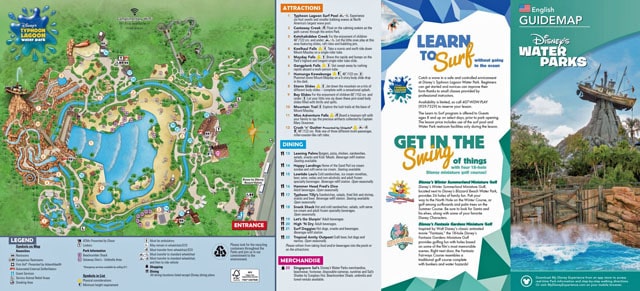 One of the things that surprised is how spread out Typhoon Lagoon is. At the center of the park is the surf pool "lagoon." The iconic shipwreck, located at the back of the park, can be seen from multiple locations. To ride each ride, grab a park map and walk on circular path that goes around the lagoon. Rides and shops are located through this main path making it easy for guests to find them.
Take the circular path that follows the lazy river to enjoy the rides and restaurants.
Food Choices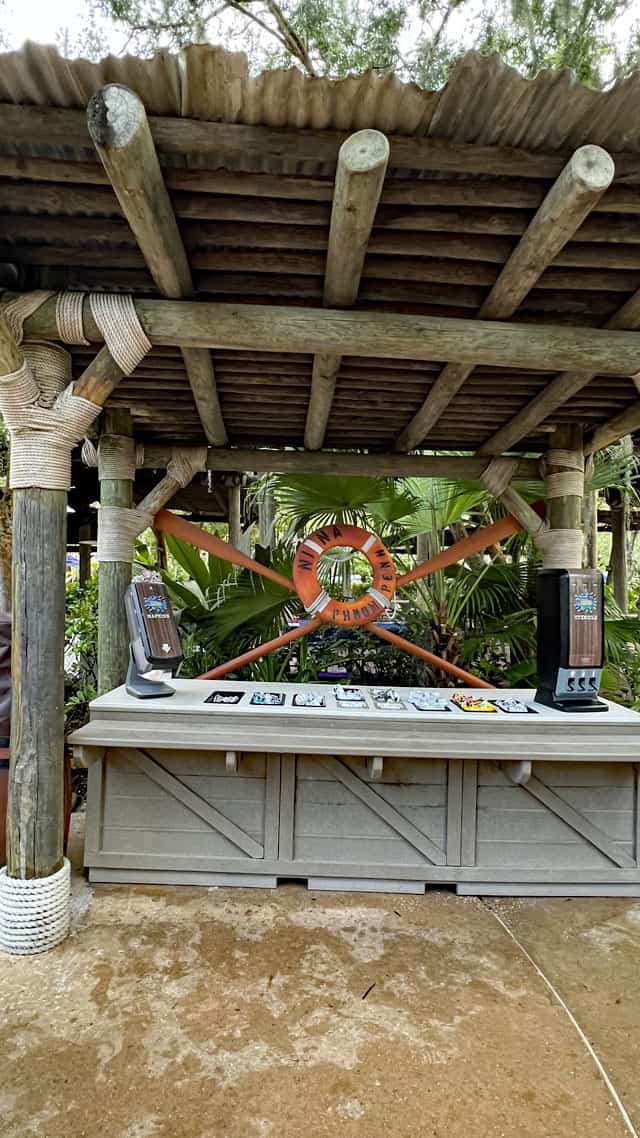 There are a variety of quick-service locations, walk-up windows and bars available to enjoy while at Typhoon Lagoon. Most of them offer picnic tables or other seating. Take a look at each of them below.
At Happy Landings, guests enjoy root beer floats, sundaes and other treats located beside Castaway Creek. Or grab a "shovel" and enjoy a Sand Pail that includes 2 kinds of soft-serve topped with waffle cone and cookie pieces, hot fudge, and sprinkles.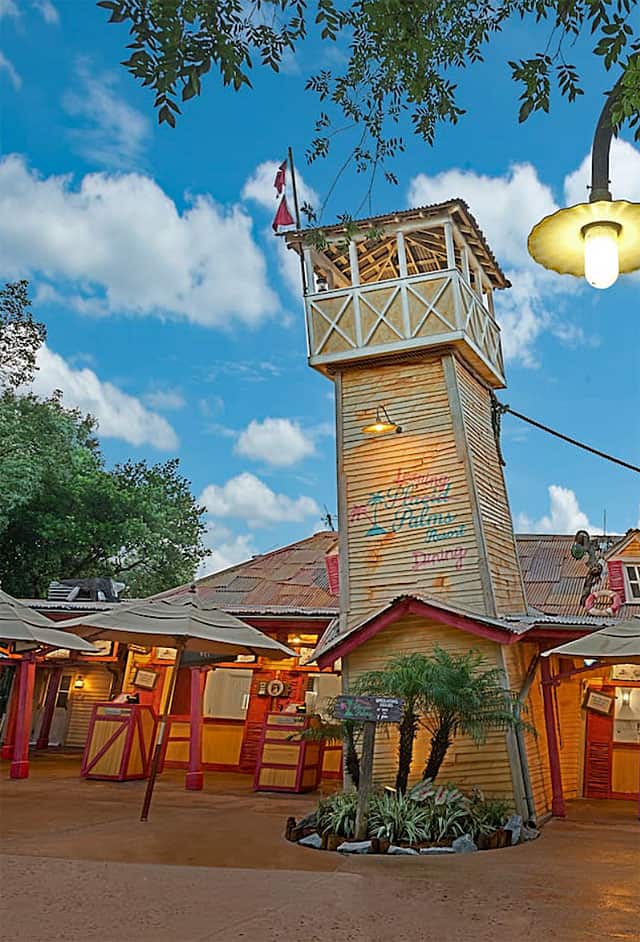 Leaning Palms offers more variety than most dining spots at Typhoon Lagoon. Here, guests choose from rice bowls, burgers, pizza, hot dogs, sandwiches, salads and wraps along with plant-based options. In addition, there's an assortment of beverages, including sodas, beer, and wine.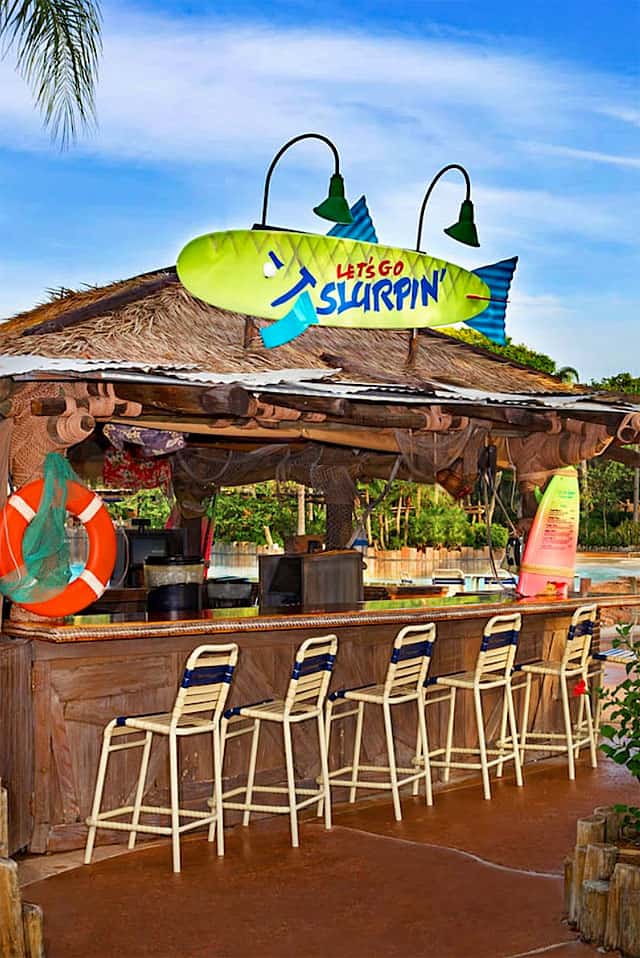 On hot Florida days, Let's Go Slurpin' offers a variety of adult beverages from the full-bar menu. Try the tequila-based Miss Tilly or the "tubular" Mojitos.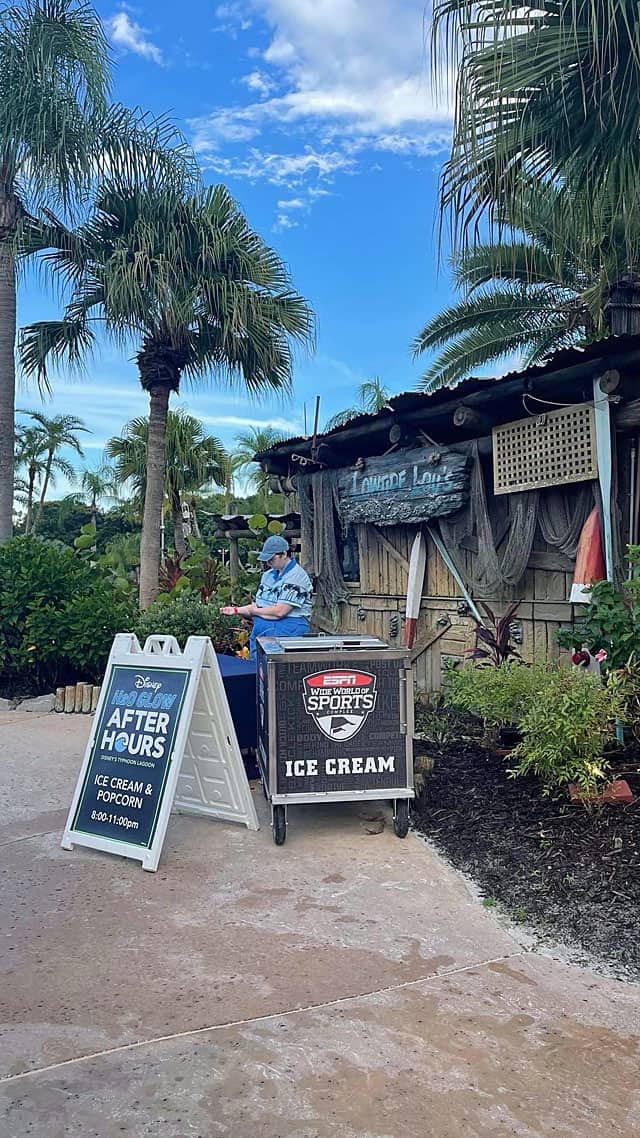 Drop into Lou's for a selection of wraps and snacks. Or, just kick back and relax with beer, wine and frozen cocktails. Open seasonally.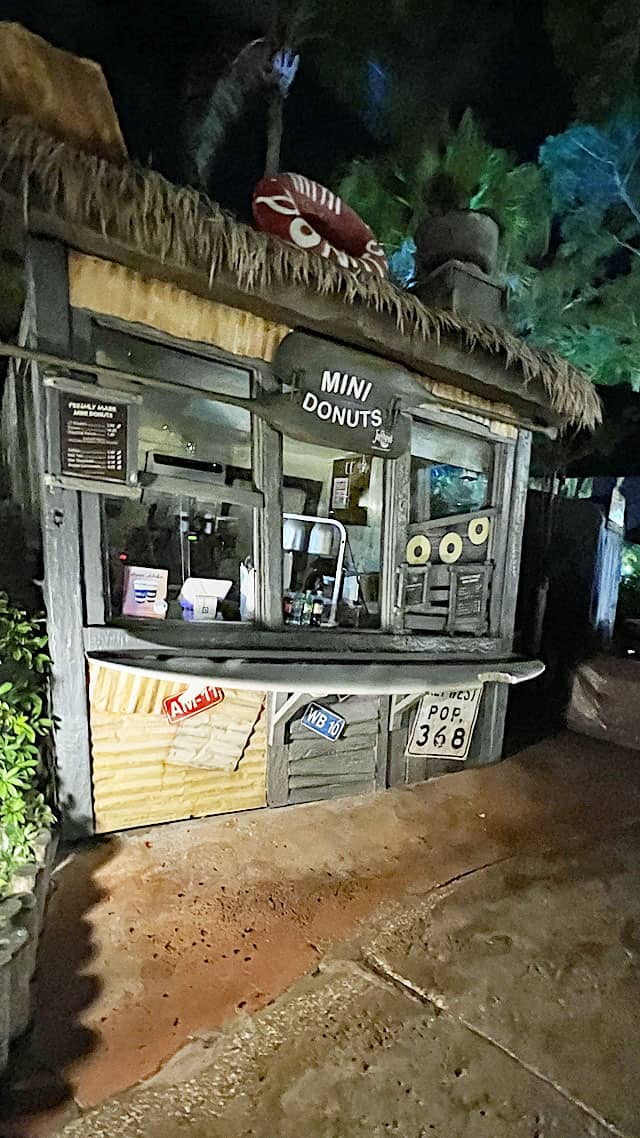 Open seasonally, you'll smell freshly baked donuts at this kiosk called Mini Donuts. Donuts are served with dipping sauces including chocolate, white chocolate, and raspberry.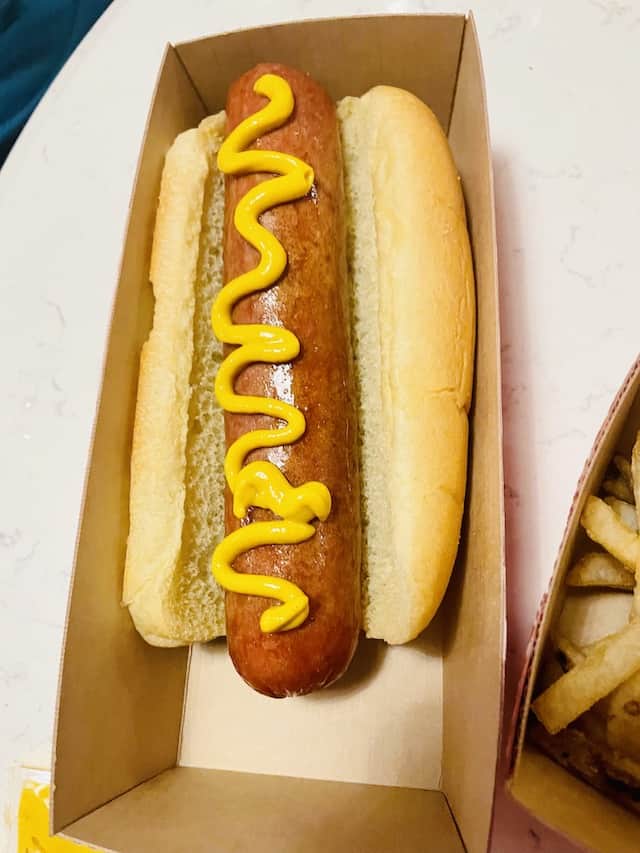 If you're looking for a quick bite to eat, try the hot dogs, plant-based bratwurst and Mickey pretzels, and beverages at Surf Doggies.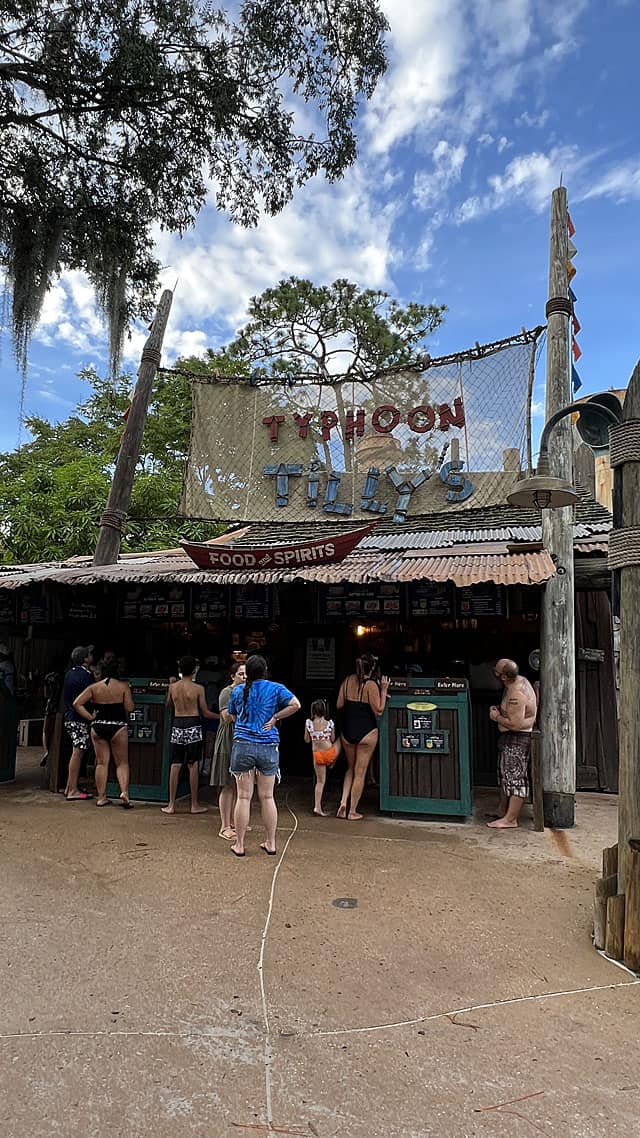 Typhoon Tilly's: Steer your crew toward this shipwreck-inspired eatery to find featured items like fish baskets, salads and chicken wraps. Dessert items, soft drinks, draft beer and wine are also available.
Characters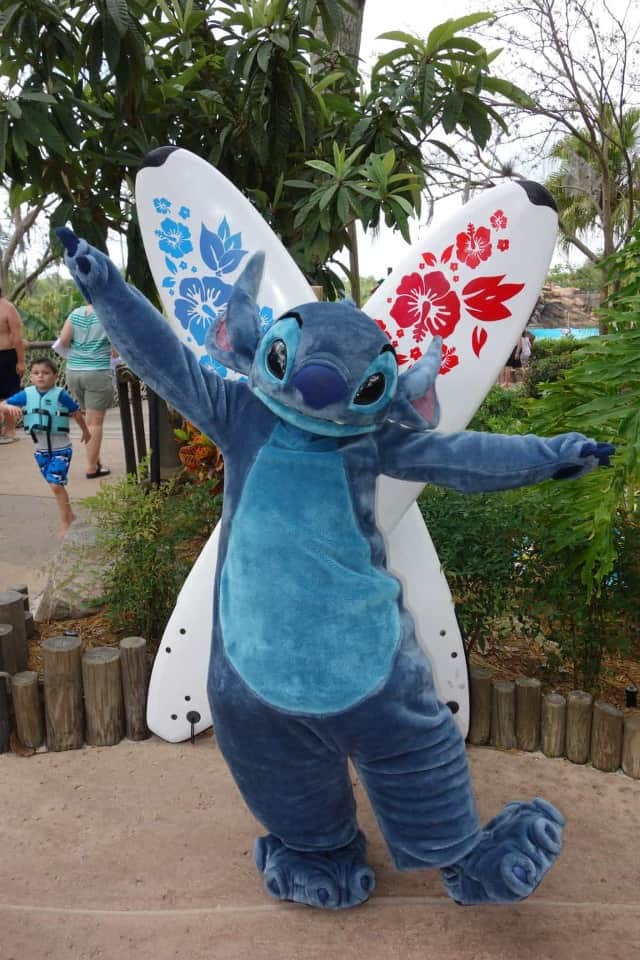 Seasonally, characters including Stitch, greet guests. You will also see Mickey and pals at the After Hours H2O event.
Shopping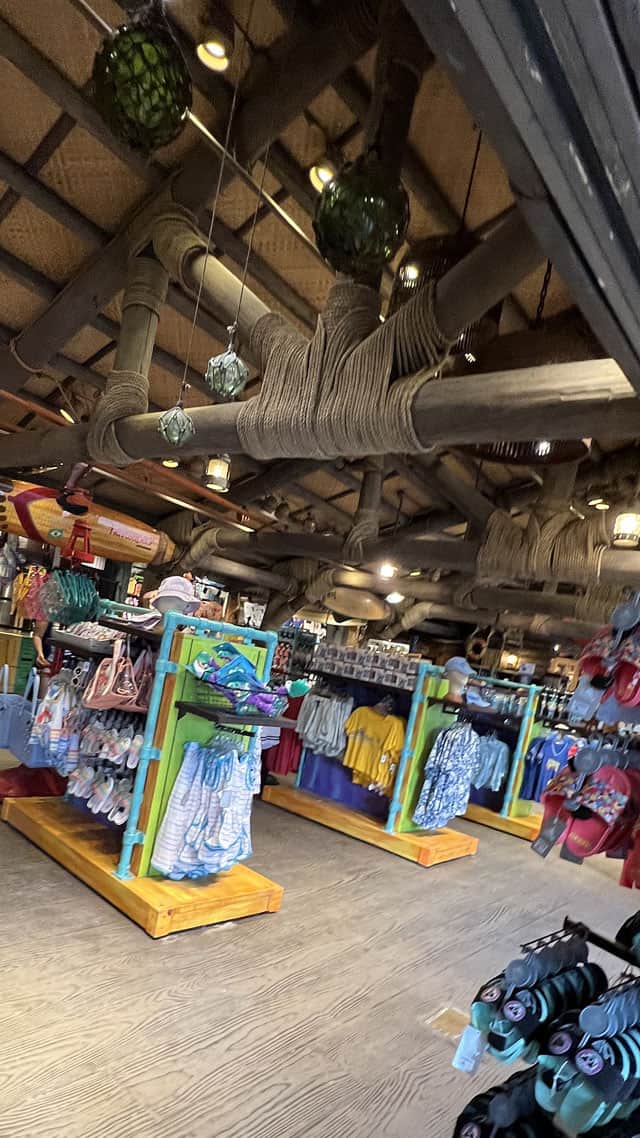 There is a one-stop shopping spot, Singapore Sal's, at Typhoon Lagoon. Forgot your beachwear, towels or sunscreen? No worries, you'll find everything you need for a day at the beach. In addition to traditional beach going needs, guests can shop for water-park themed apparel and souvenirs.
Rides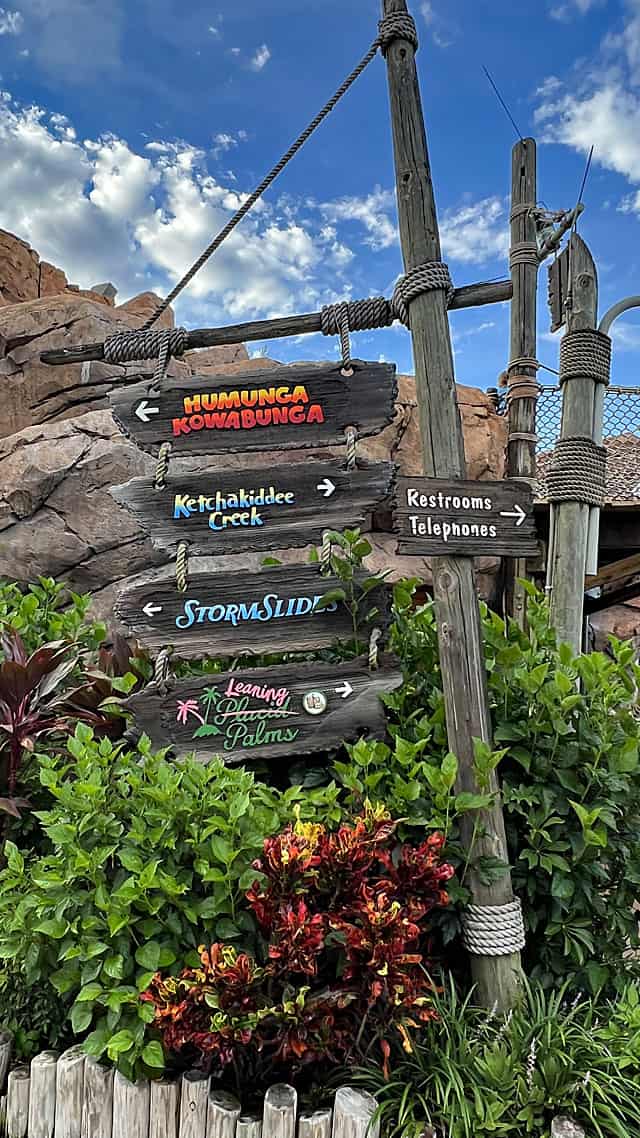 There are family, children's and thrill rides located throughout Typhoon Lagoon. Check out details on each one below.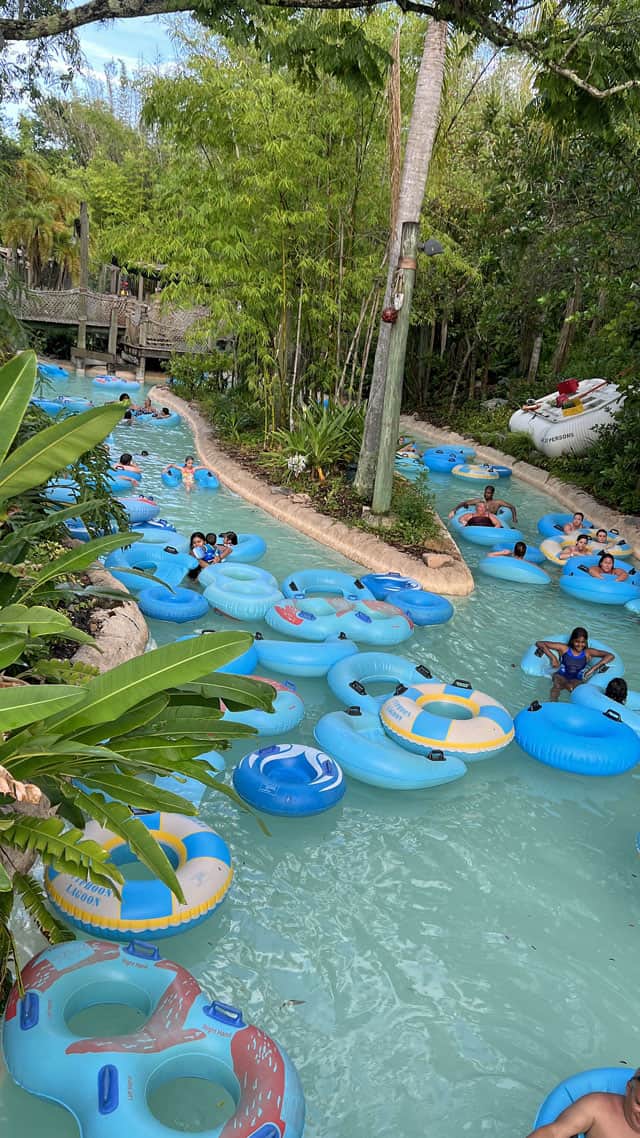 Castaway Creek: Float along through cool mists, shady spots, waterfalls, and rainforest landscapes on your gentle journey around Typhoon Lagoon.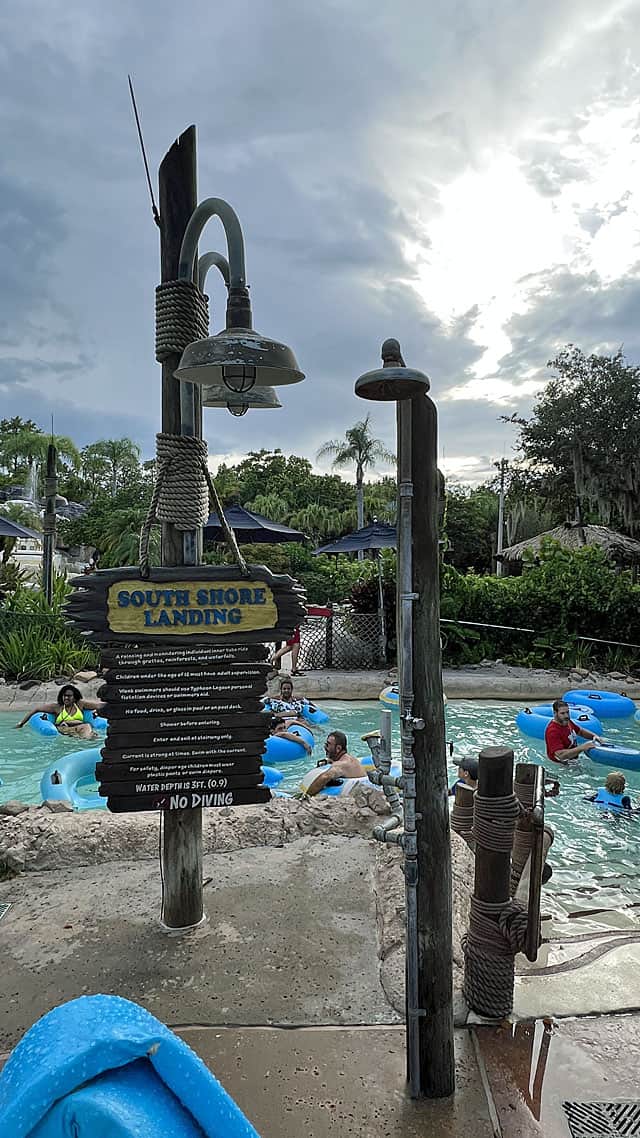 There are 5 landings along the 2,000-foot-long route for guests to enter and exit this lazy river.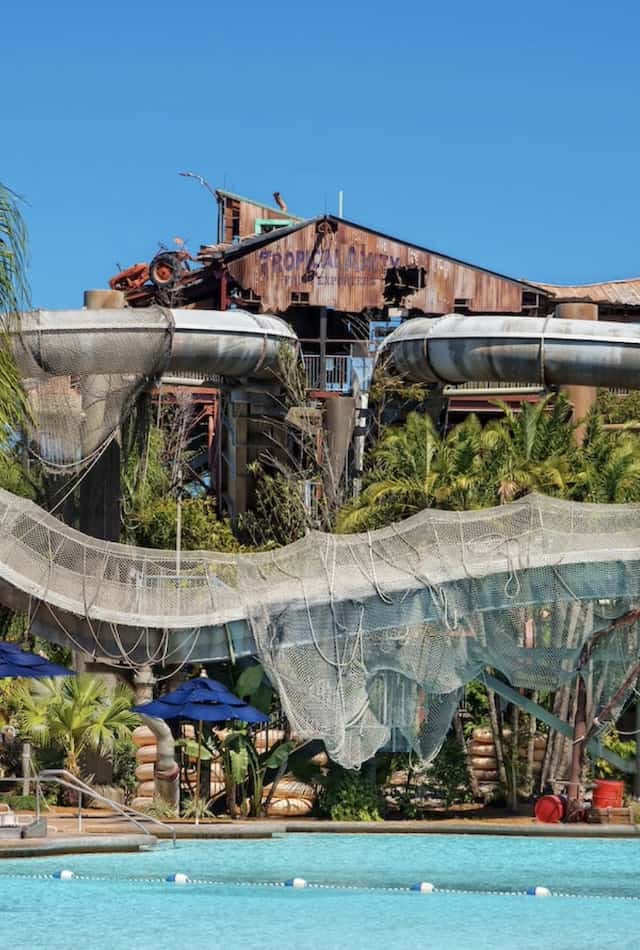 On Crush n Gusher, guests enter an abandoned fruit-processing plant and prepare for a thrilling "water coaster" ride down a 400-foot-long tube slide. Once you arrive, grab a partner and choose from 3 "fruit chutes," the Pineapple Plunger, Coconut Crusher or Banana Blaster or head down solo.
Then, slide down sudden drops and snake around sharp turns through darkened and open sections. Propelled by powerful water jets, your raft takes you on a wild ride. Finally, you'll take the plunge and skim across Hideaway Bay!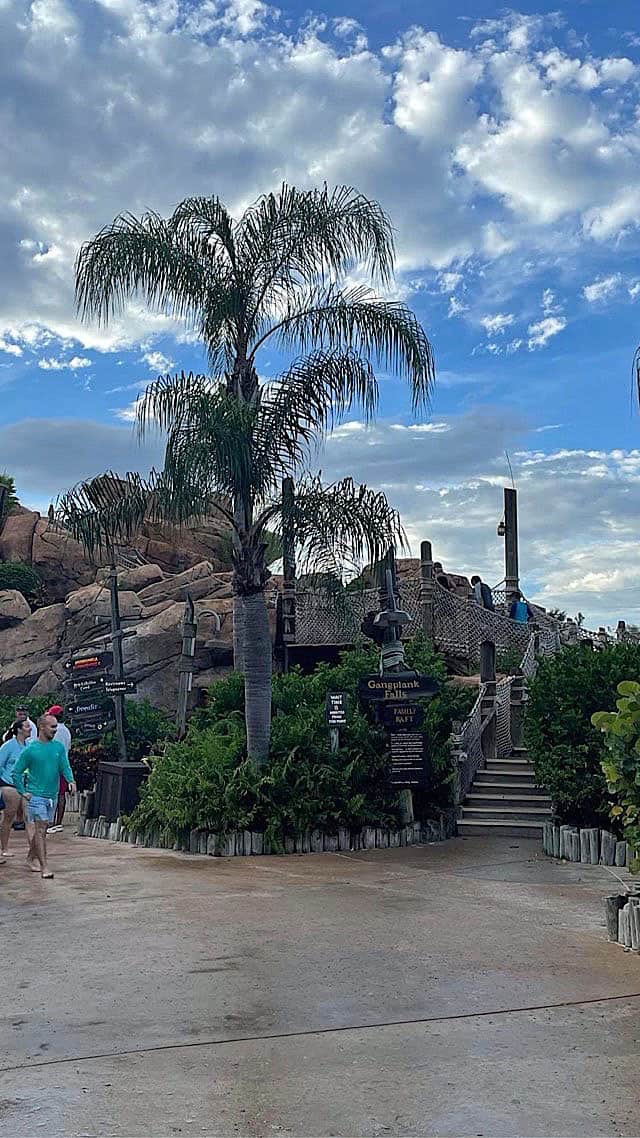 Gangplank Falls: Climb aboard an oversized inner tube and ride a scenic, winding course down the mountain. On this family friendly whitewater rafting adventure, guests travel through rocky caverns, drenching waterfalls and under rustic wooden bridges. This 300-foot long waterslide spins and goes from side to side.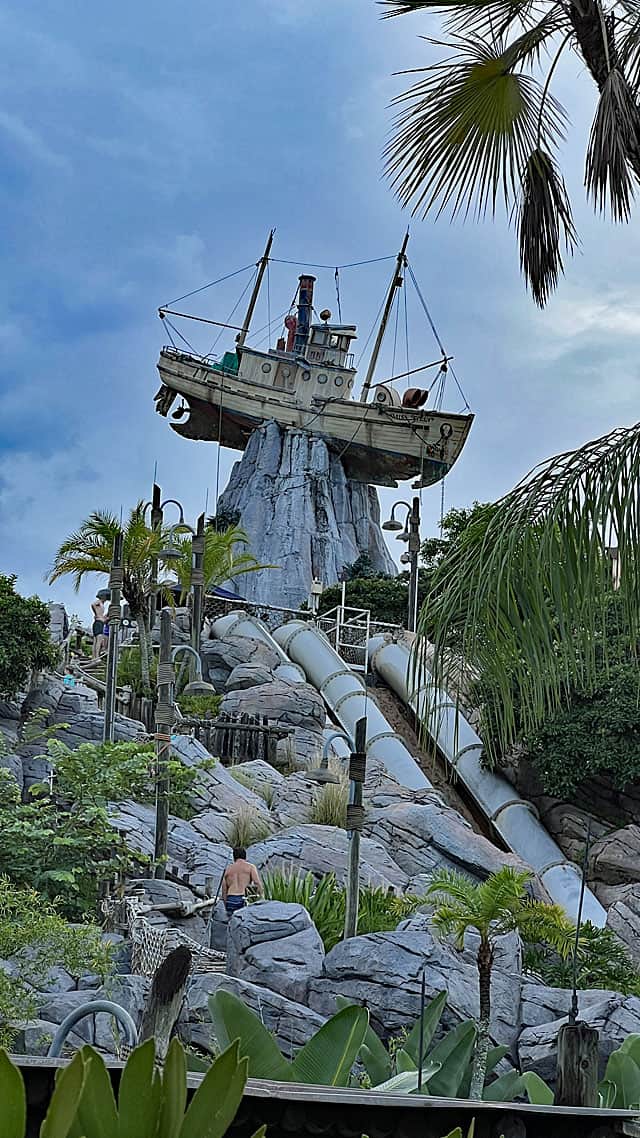 Humunga Kowabunga: Plummet down Mount Mayday for a near-vertical, 5-story drop—in the dark! Brace yourself for the ride of your life as you race down Mount Mayday at a 60-degree angle.
These 3 side-by-side enclosed body slides make for some high-octane thrills. You won't know what's coming as you zoom 214 feet downhill in the dark to a skidding, wedgie-filled splash at the end.
Caution: This ride is intense.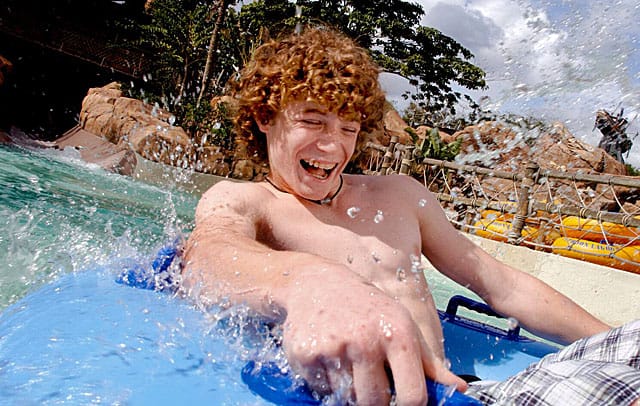 Keelhaul Falls: Haul yourself up Mount Mayday and enjoy a swift, scenic ride down on a 1-person inner tube. Feel the force of whitewater rapids as you rush along a course lined with boulders and palm trees. This ride is not only fun, but is one of the more gentle rides.
Miss Adventure Falls: Gather your crew and climb aboard for a family raft experience. white-water voyage. Guests sit 2 to 4 people per raft beginning with a conveyor belt to begin your adventure.
Note: This is Disney's longest water park raft ride.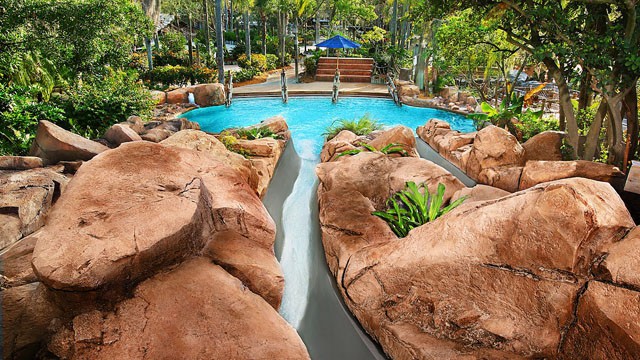 Storm Slides: Choose from one of 3 bodacious body slides: Jib Jammer, Stern Burner or Rudder Buster. No matter which you pick, you're in for an aquatic adventure as you twist and turn your way past rocky terrain and lush greenery, into an epic 3-story-high waterfall finale.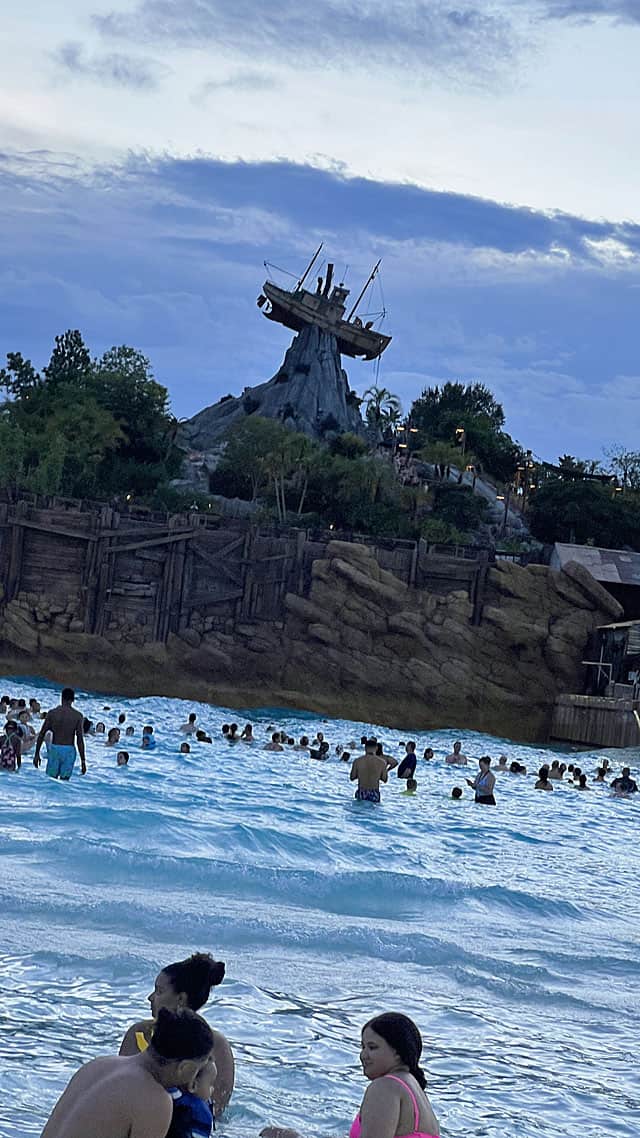 In the center of the park, you'll find the Surf Pool which simulates the ocean's waves. Before entering the pool, there is a beach and shallow water for wading.
However, every minute of so, intense waves are released from the back creating 6-foot waves. Inner tubes aren't allowed here. Please stay with your children and other inexperienced swimmers as the force of the waves is enough to push you underwater.
Be aware that the force of the 6-foot waves is very strong with the possibility of taking guests underwater.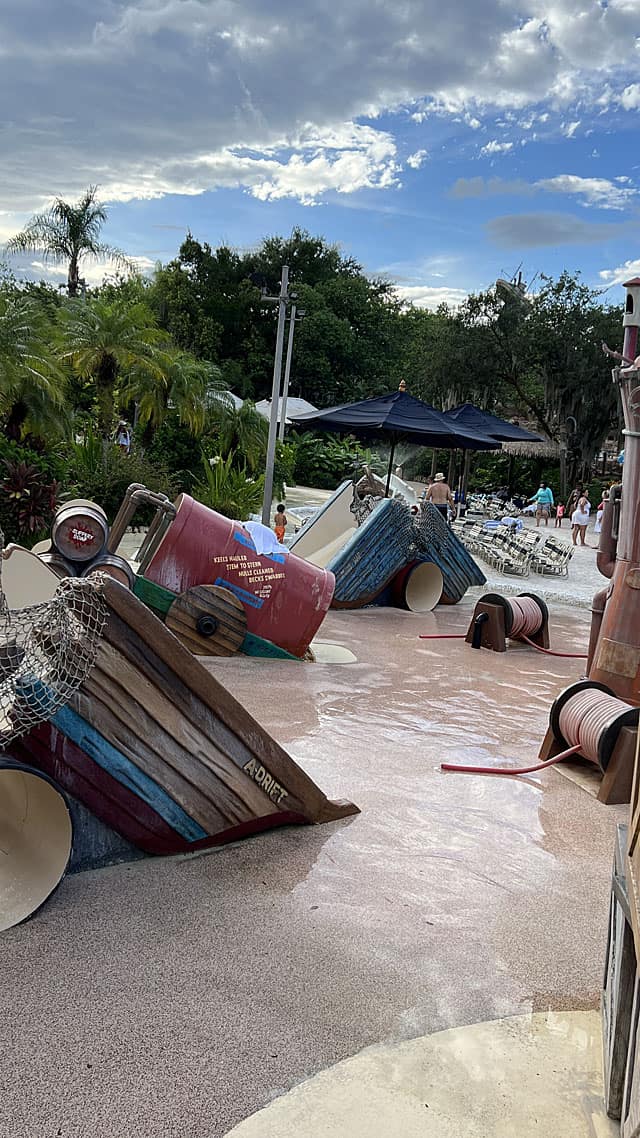 Ketchakiddie Creek: Kids under 4 feet tall can play in shallow pools featuring whimsical crocodiles, squirting seals and playful elephants. Also, they can explore mini waterslides, splash in a cave with a waterfall and take aim with a water cannon aboard the leaky tugboat S.S. Squirt.
Kid-friendly tunes and a small, sandy beach make this the perfect playground.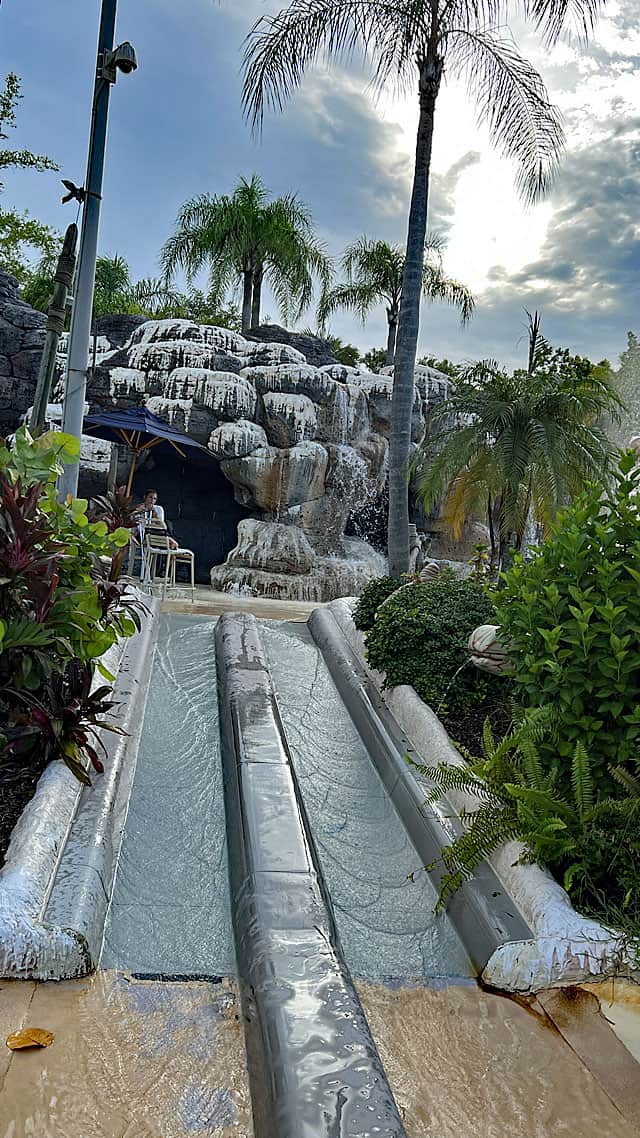 Bay Slides: Children get to join the fun on these beginner waterslides, which are mini versions of the thrilling Storm Slides.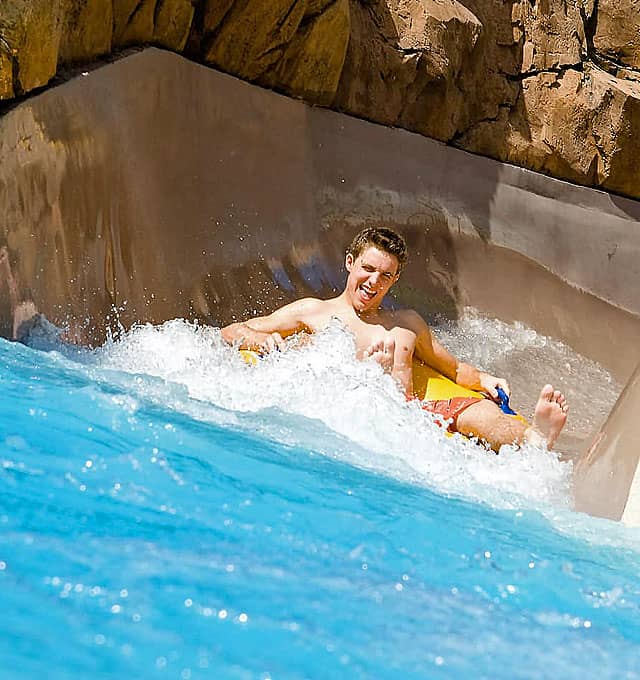 Mayday Falls: Hang on tight for a fast, turbulent trip down Mount Mayday on a single-rider inner tube. Big kids, teens and adults will enjoy this medium-wild ride that begins in the shadow of Miss Tilly, the shipwrecked shrimp boat atop Mount Mayday. Swerve through caves, under bridges and past thundering waterfalls!
One of 3 Falls raft rides that include Keelhaul Falls and Gang Plank Falls, Mayday Falls is the most intense.
After Hours Event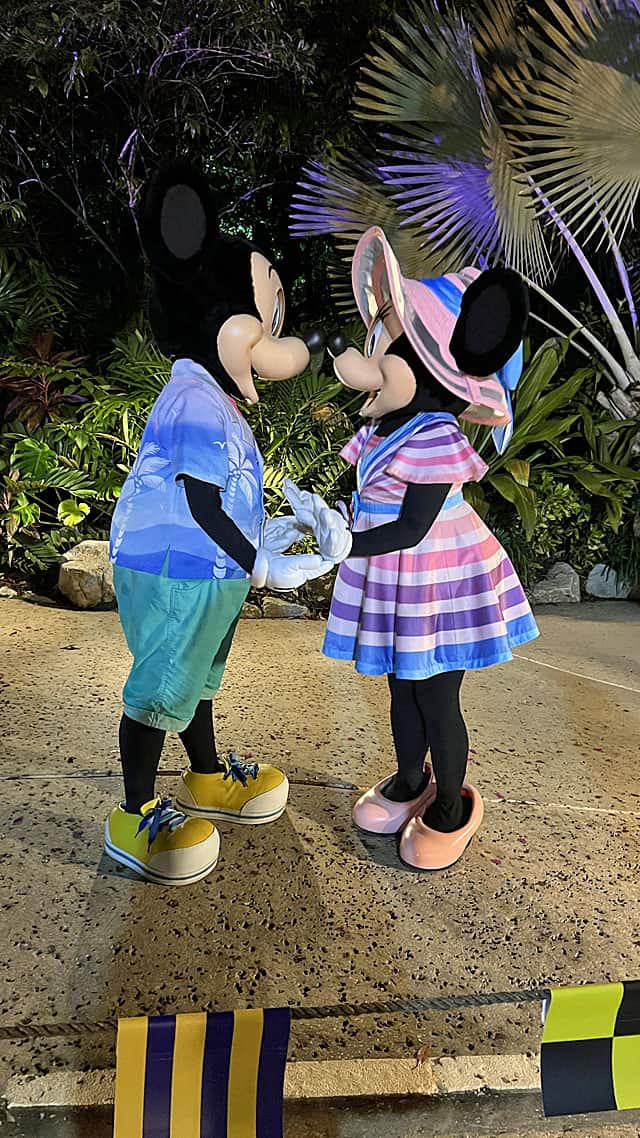 On select summer evenings, guests can purchase tickets to the Disney H2O Glow After Hours. During this event, Disney's Typhoon Lagoon water park is open 3 extra hours for a fun-filled glow party. Check out our food review of the After Hour event HERE.
The after-hours party offers unique décor, high-energy DJ dance parties, exclusive glow-themed menu offerings and so much more. Imagine your favorite watery attractions glowing under the stars, with shorter wait times and more time to enjoy. In addition, guests receive a glowing wristband and tasty snacks like popcorn and select ice-cream treats.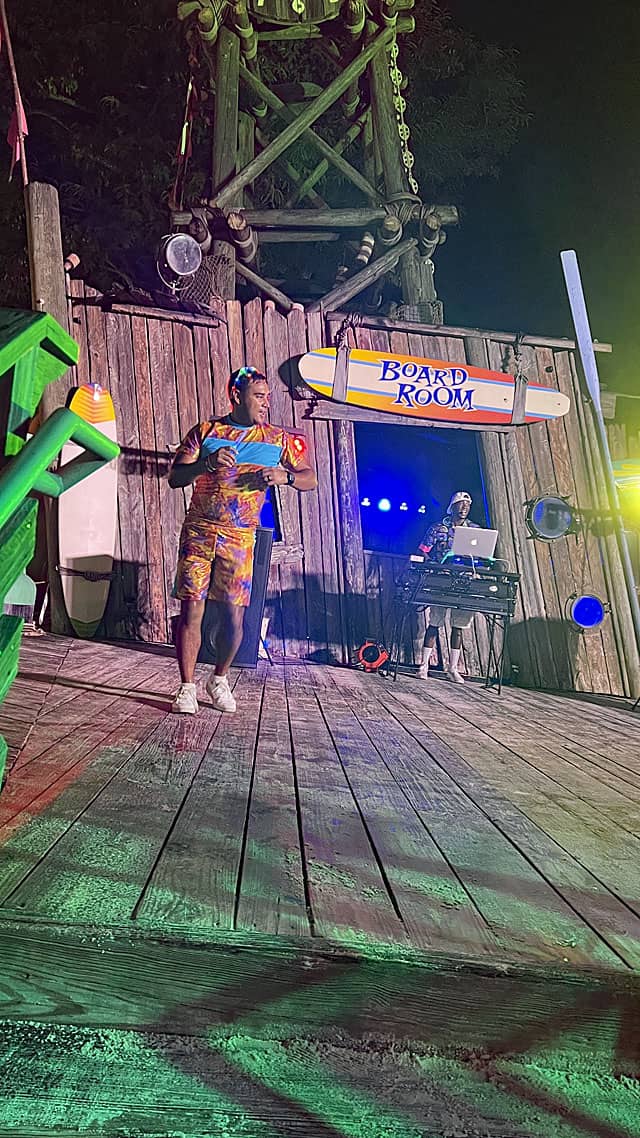 Check out Donna's post on prioritizing the fun at the H20 Glow Night event HERE and Kate's review of the evening HERE.
Surfing Lessons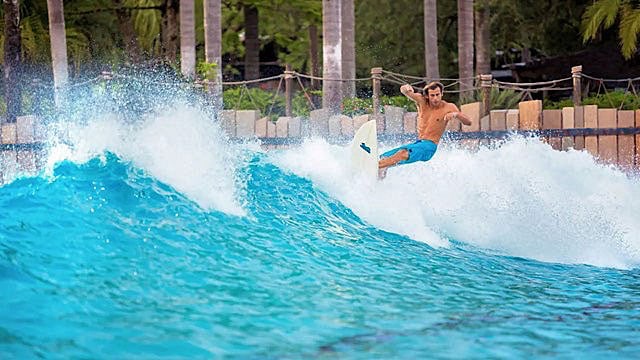 Did you know that Disney offers surf lessons here? Experienced riders can surf in North America's largest outdoor wave pool before the park opens or after it closes with 3-hour private surf lessons. However, lessons are temporarily unavailable.
Hopefully, this guide helps prepare you for your next visit here. Have you visited Disney's Typhoon Lagoon? Or, would you like to go in the future? Please let us know in the comments below or on Facebook.