Disney World Resorts offers a variety of services and access options are available for guests with disabilities. See all the pictures here.
Service Animals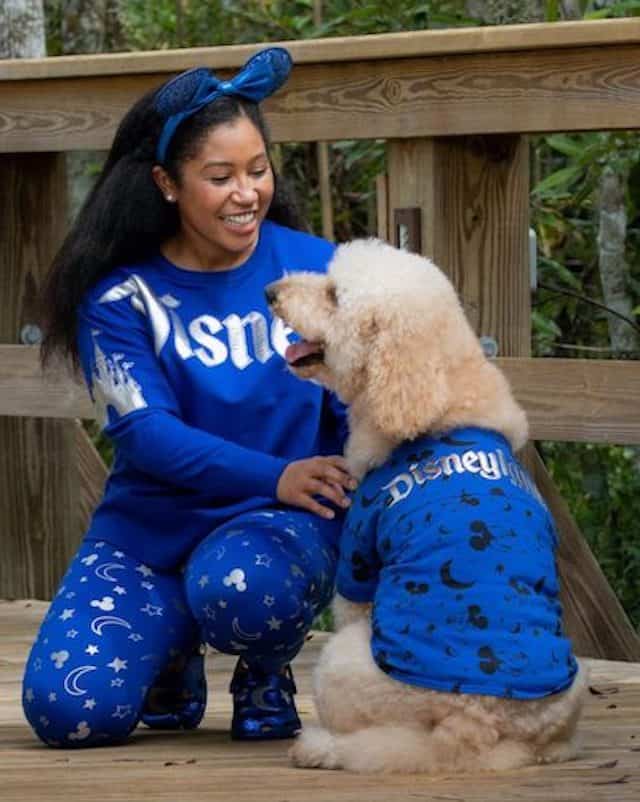 Service animals are welcome at Walt Disney. Guests can use any open outdoor area for relief as long as the owner picks up after the animal and leaves the area clean. Relief areas include the theme parks, Disney resorts and other guest areas.
Parking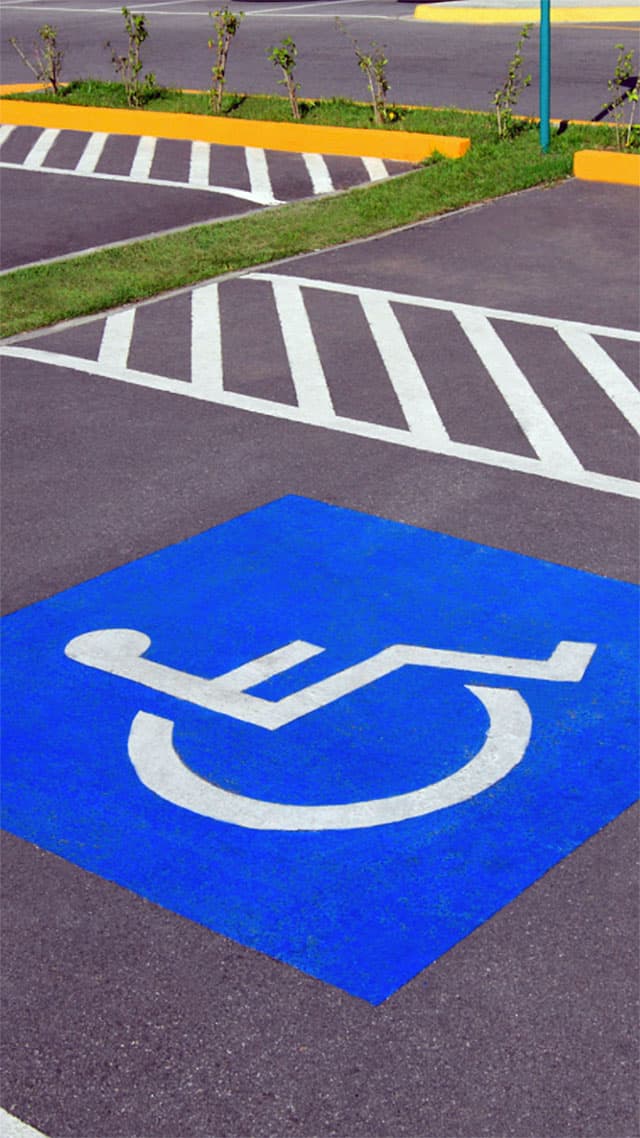 Standard parking at Disney Resort hotels is complimentary for guests with a valid disability parking permit and a current room or dining reservation. Designated parking areas are available for guests with disabilities at all Disney Resort hotels.
Advent Health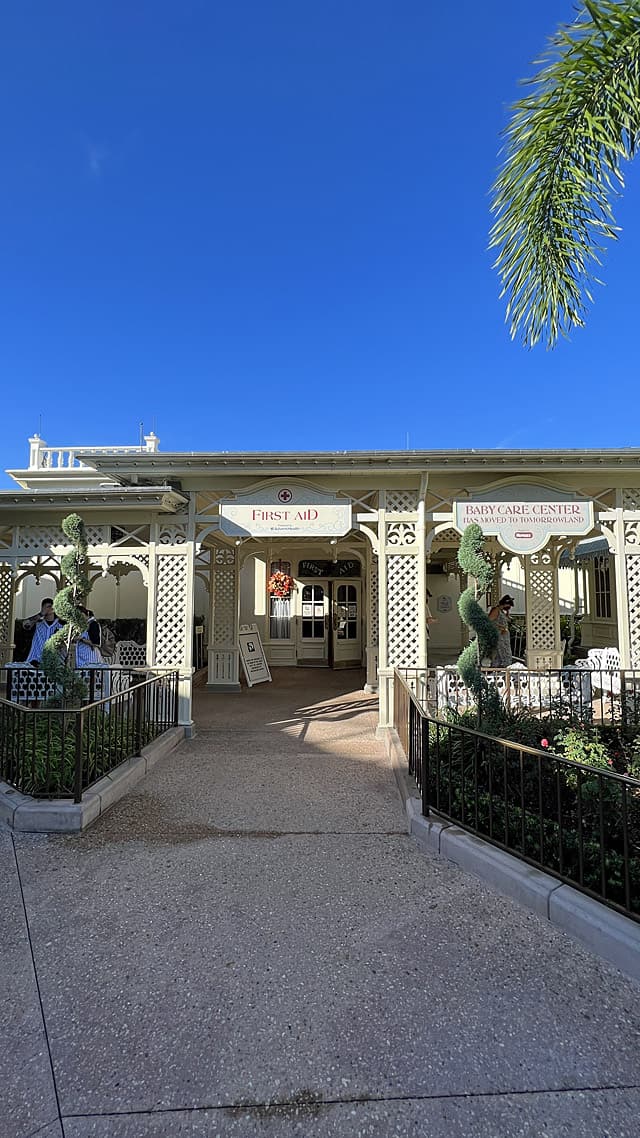 AdventHealth serves Disney guest health needs through vacation theme park first aid locations, video visits and urgent care services.
Types of Accessible Rooms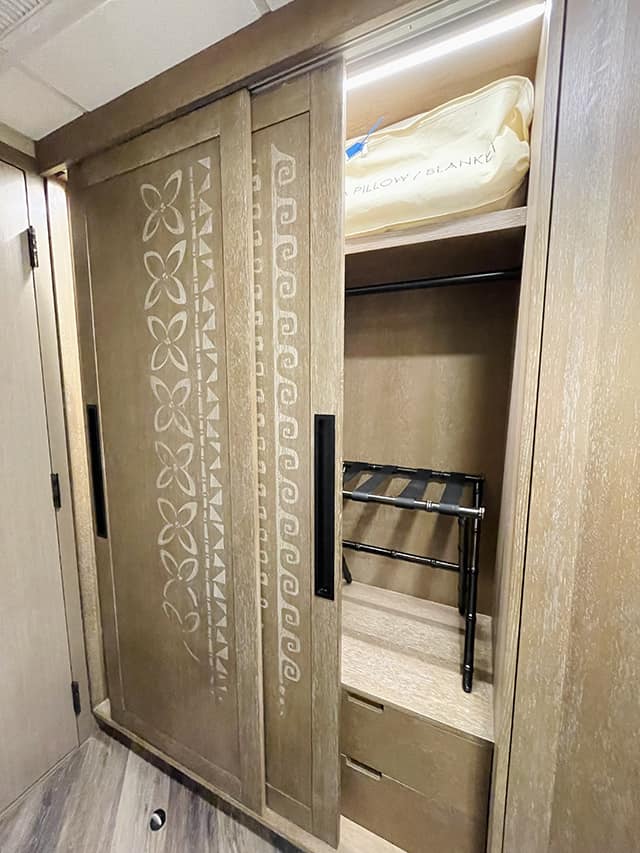 Disney Resort hotels offer accessible rooms with features for Guests with disabilities, including:
wheelchair accessible rooms
hearing accessible rooms
Although I (Susan) didn't request an accessible room, I've stayed in wheelchair accessible rooms twice and a hearing accessible room once. All of the accessible rooms are larger than standard rooms, which makes sense for giving people more room to move around.
Hearing Accessible Rooms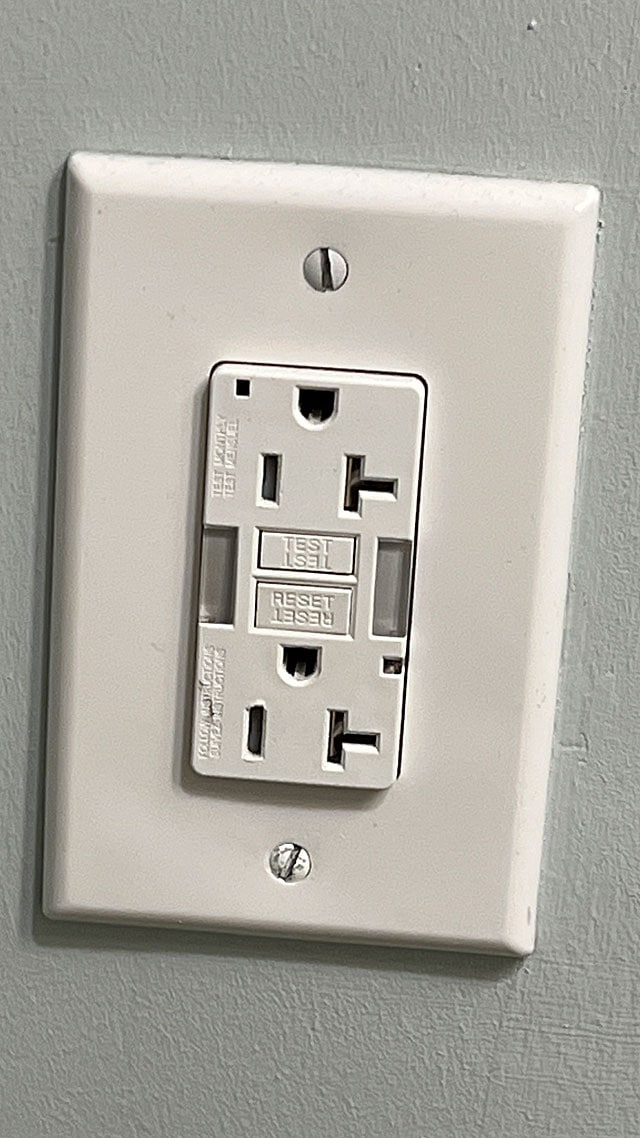 Disney gives hearing impaired guests TTY equipment upon request at check-in. Although not requested, we were assigned a hearing accessible room at Disney's Boardwalk Villa. In this studio, the changes were more subtle than the wheelchair accessible rooms.
Here, we found light up outlets and phones that light up when ringing. In addition, the fire and smoke alarms had a light attached to inform those with a hearing impairment of danger.
Wheelchair Accessible Rooms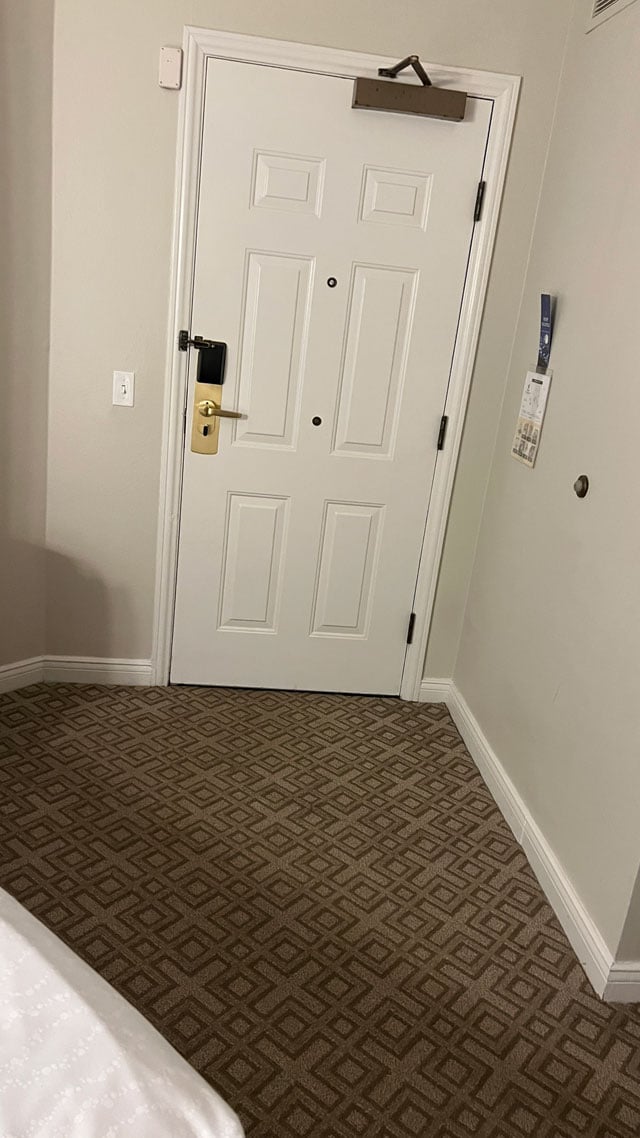 Staying here, we found many features in each wheelchair accessible room. Not only that, but these entrance areas and rooms are quite larger than standard rooms.
The two DVC studios I've stayed at are at Disney's Old Key West and Disney's Saratoga Springs. Being newly renovated, we found updated features at Disney's Saratoga Springs. Check out all the wheelchair accessible room features below.
Entrance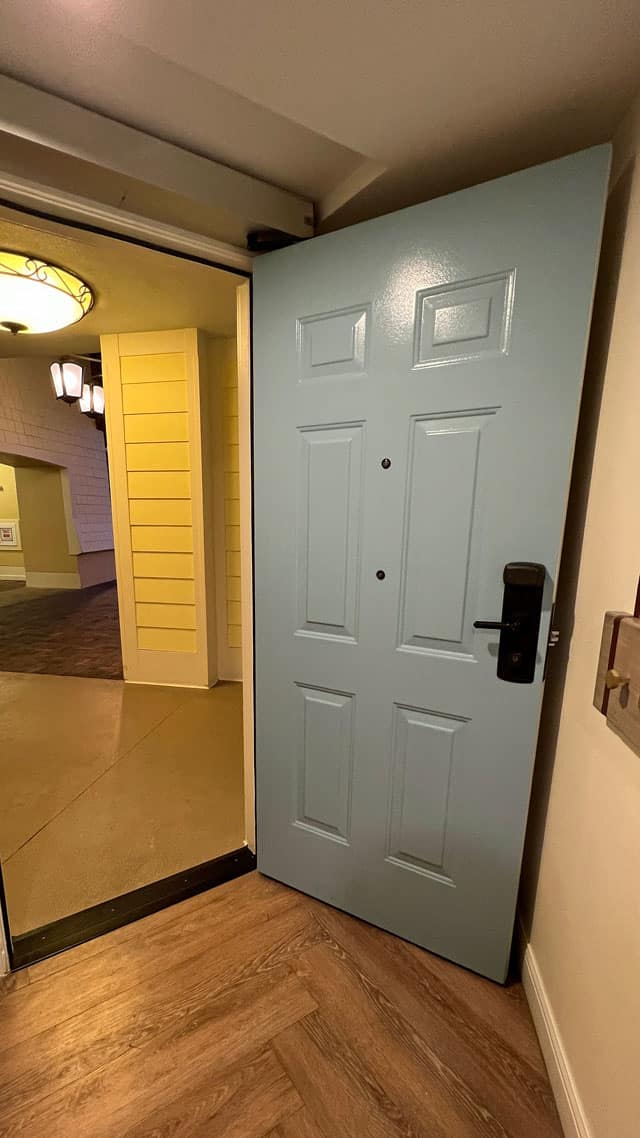 Wheelchair accessible rooms at Disney's Saratoga Springs also had an interior electronic "push to open" button. Whether you used the button or manually opened the door, there was a 10-second pause before it closed.
This is a wonderful addition for those needing more time. However, if you stay here, remember that you will wait whether you want to or not.
Bedroom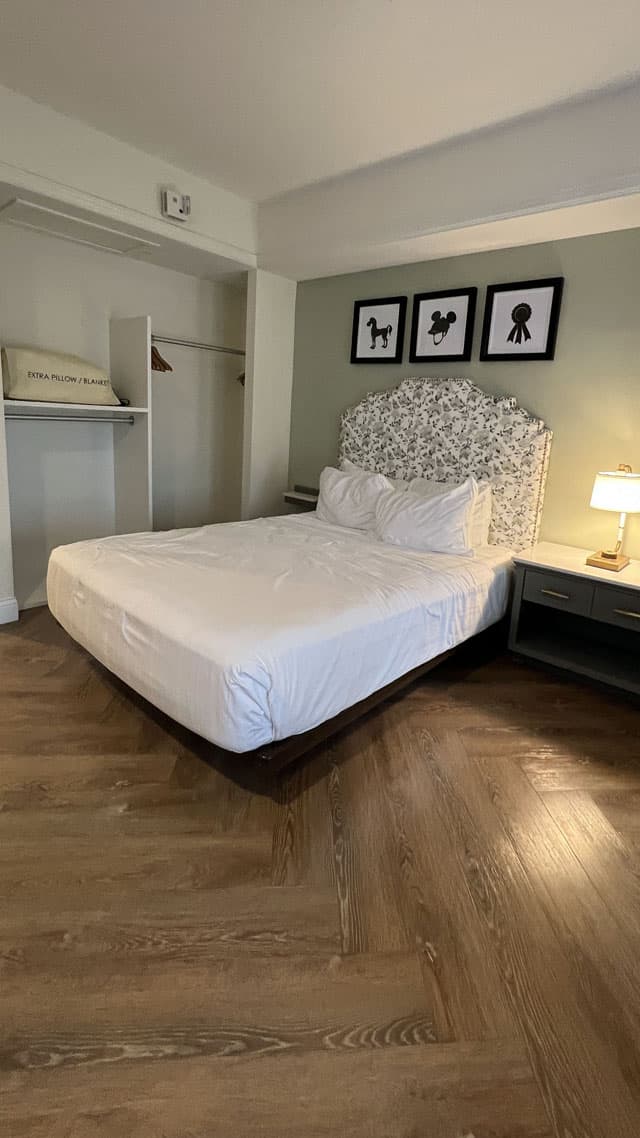 We found a couple of unique features in the bedroom. First, rather than having a closet door, the closet consisted of open shelving. I prefer this to those awkward folding doors any day.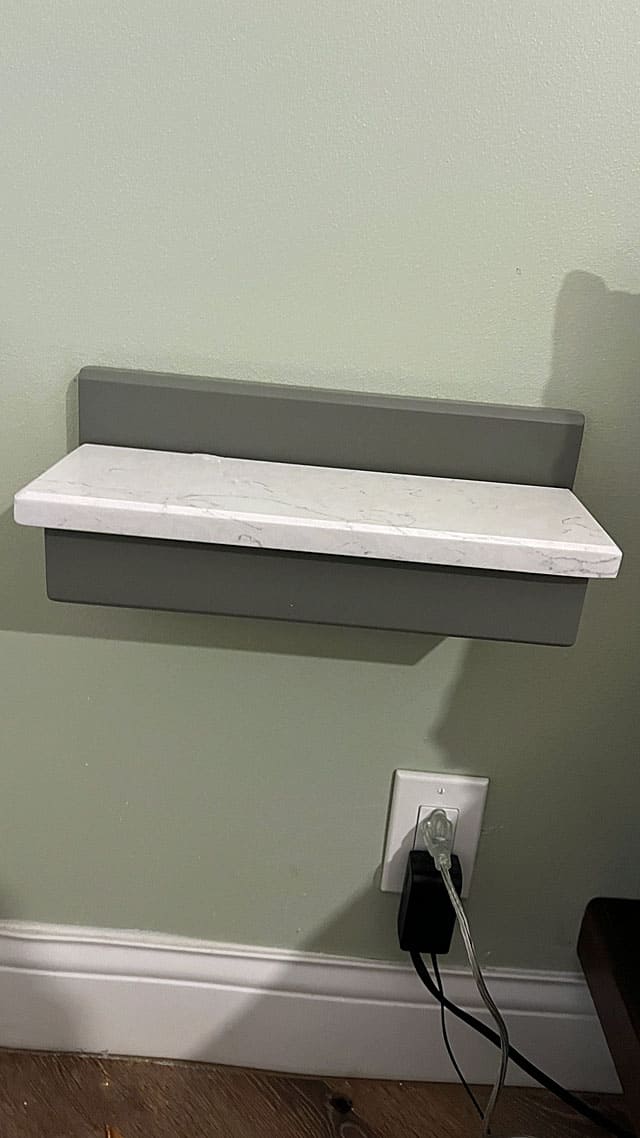 Most Disney guest rooms have a night stand on each side. However, in this accessible room, guests have a floating shelf with outlets underneath.
Kitchen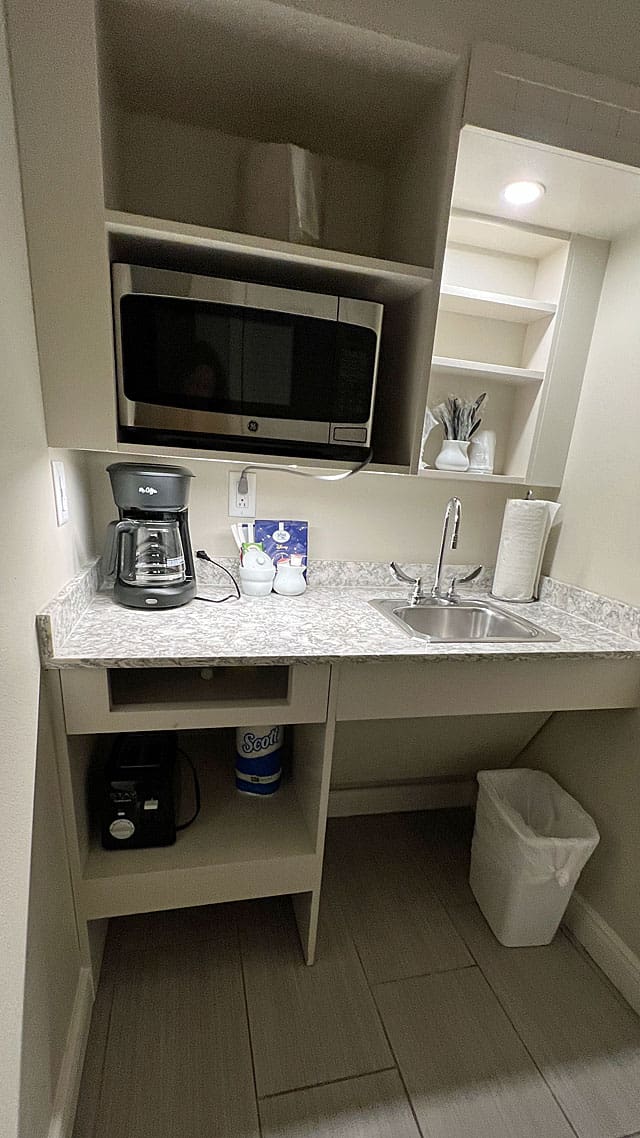 Again, in the studio kitchenette area, there are accessible features, too. As you can see in the picture above from a Saratoga Springs studio, there are no doors on any of the cabinets. Not only that, but all of the sink areas give more room for a wheelchair underneath.
Bathroom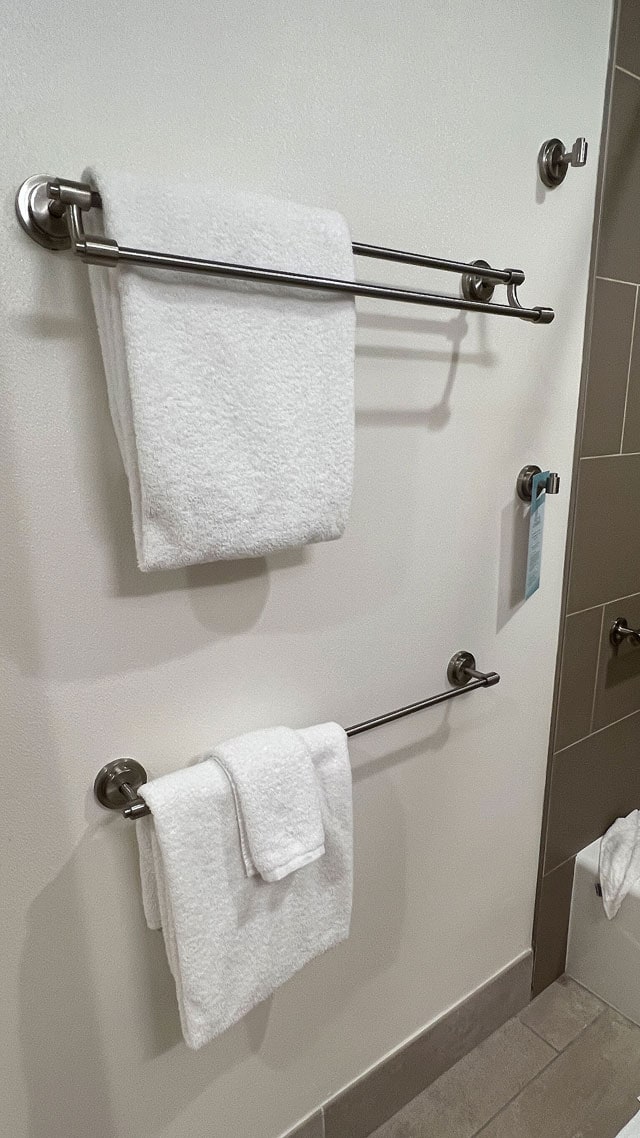 The bathrooms have multiple accessible areas. First, we noticed double towel racks, making it easy to reach sitting in a wheelchair.
Vanity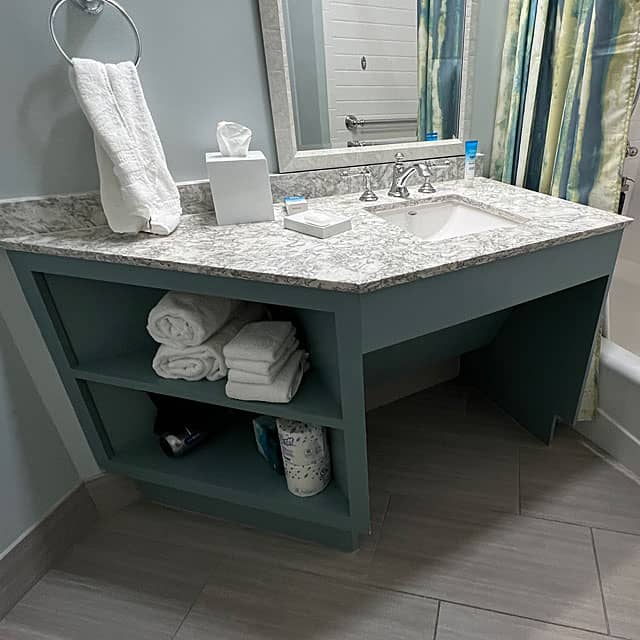 Next, just like the kitchenette and closet, you'll find open shelving in accessible bathrooms. Those in wheelchairs can also get closer to sinks.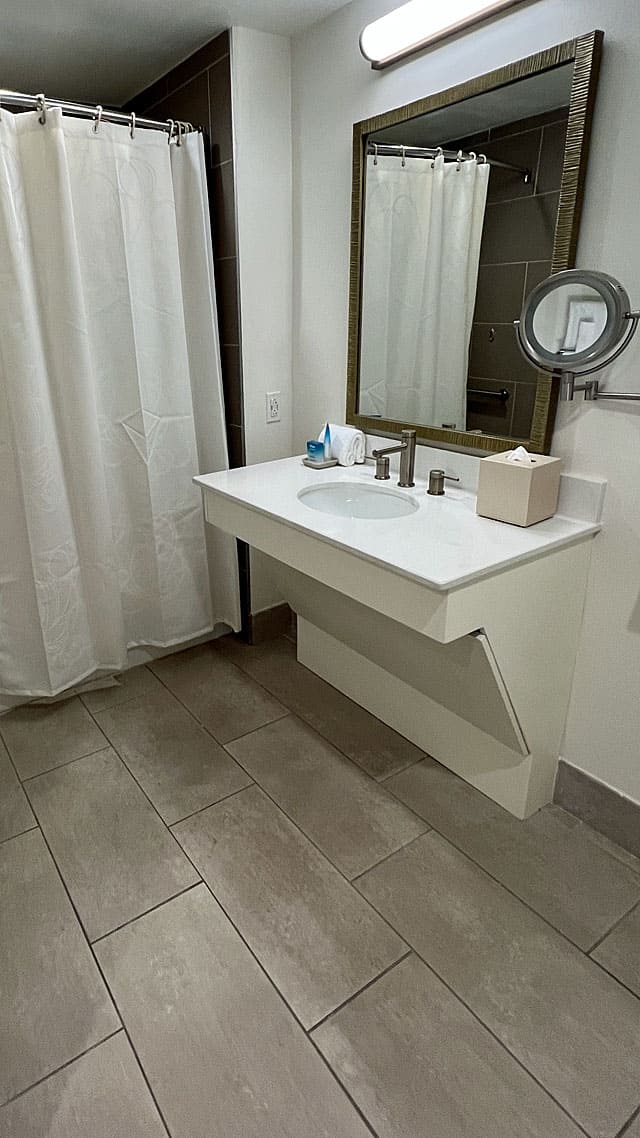 Another thing that is different is the absence of sliding doors that some Disney resorts have. Instead, there's a shower curtain.
Tub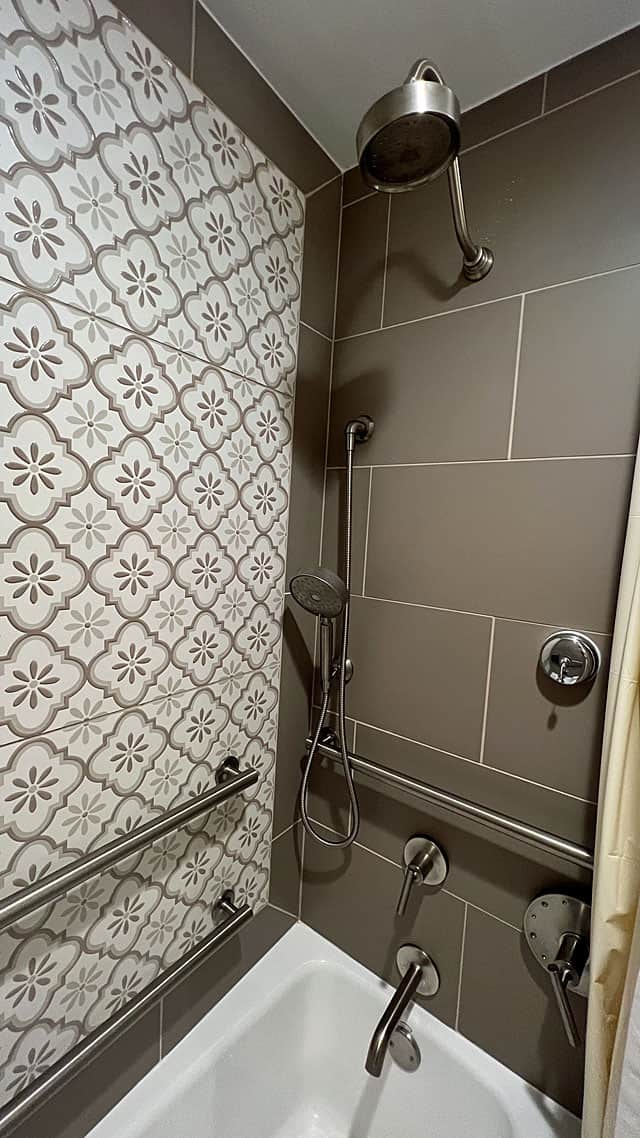 The tubs offer so many great accessible features. First, take a look at the tub set up at Disney's Saratoga Springs Resort above. The updated tiling is gorgeous. Literally everything is lower here including tub/shower knobs, hand held sprayer, laundry string, and soap dispensers.
Not only that, but there's also additional safety hand rails. When remodeling this resort, the designers put a lot of thought into this design.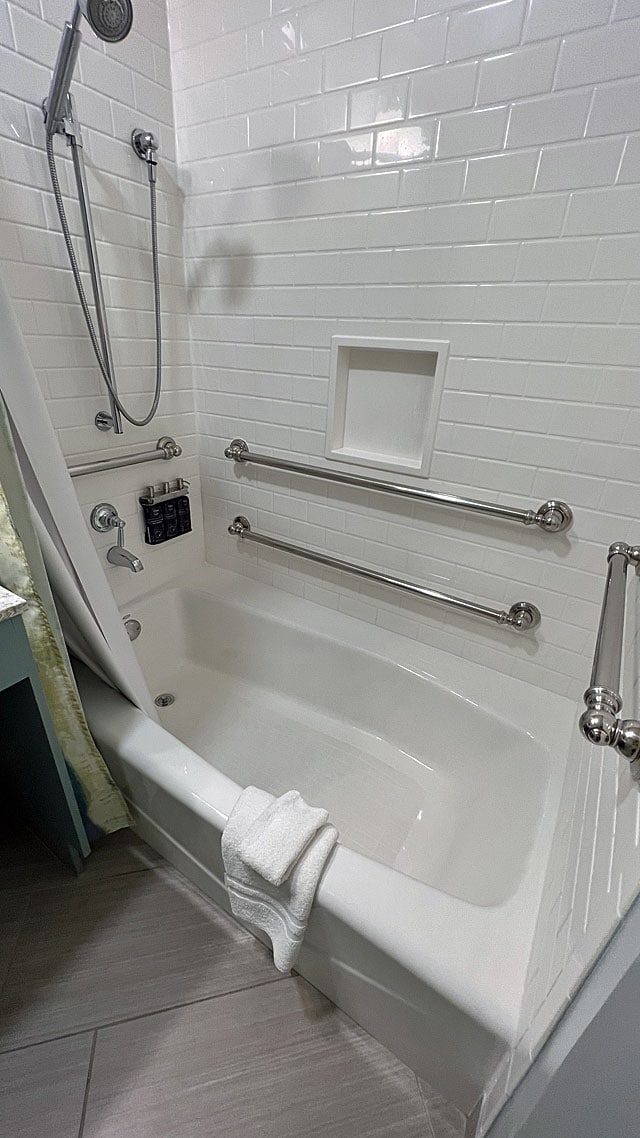 Next, the picture above shows the accessible shower/tub combination at Disney's Old Key West. While most features, including tub control and soap are lowered, there are some items that may be too tall to reach independently. For instance, the hand held sprayer sits high.
Here, you'll also find the addition of handrails. We preferred the updated design at Saratoga Springs.
Toilet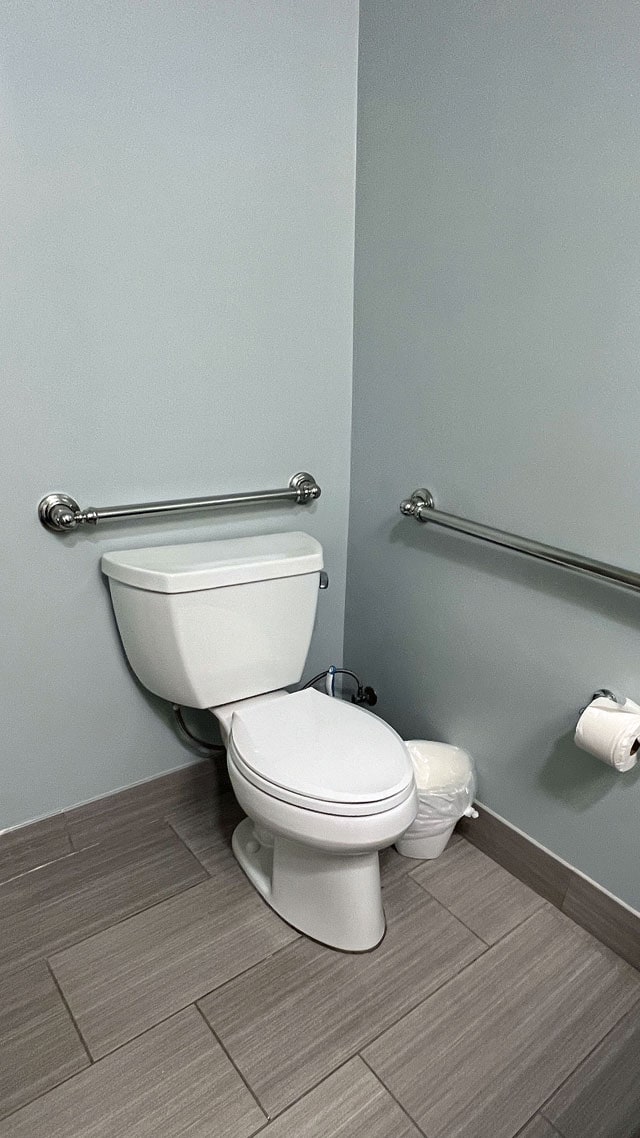 In both locations, the toilets were wheelchair accessible height, meaning they sit higher than traditional toilets.
Revised Safe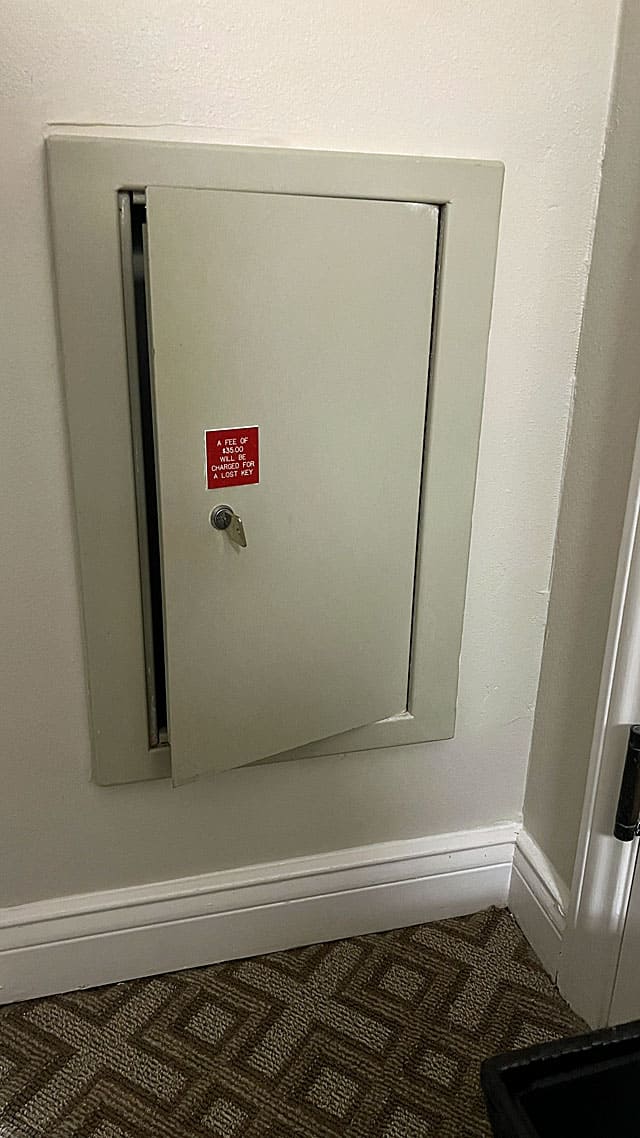 All Disney rooms offer guests a safe to store valuables. In non-accessible rooms, they're typically located inside the closet. However, check out the larger safe located just above the floor.
Additionally, accessible rooms give guests a key rather than creating a number combination lock. You can see that lost keys will cost guests $35.00.
Curtains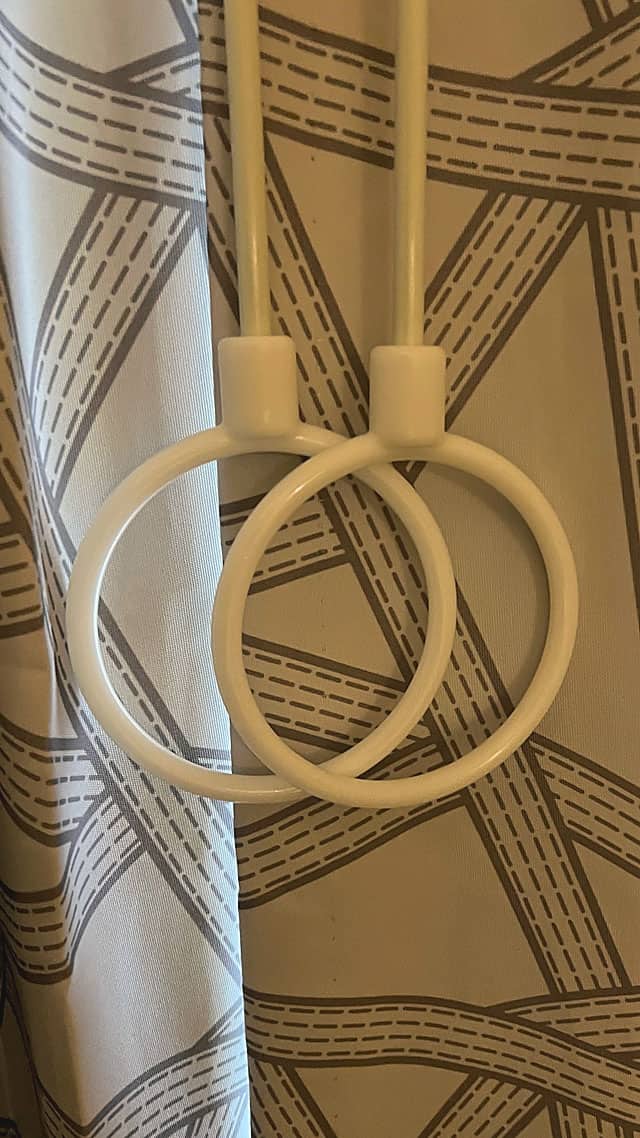 Instead of the traditional straight rod to open and close curtains, Disney's Saratoga Springs includes lower pulls with a circle handle on each side. This was so much more convenient!
Booking Accessible Rooms
Select the "Accessible Rooms" checkbox when booking your vacation online at the Disney World website to see available accessible rooms. On Disney's website, you'll see this option on the "Check Availability" screen.
After entering check in and check out dates, look right below there and select "Accessible Rooms." If you would prefer to book over the phone, please call Disney at (407) 939-1936.
Maps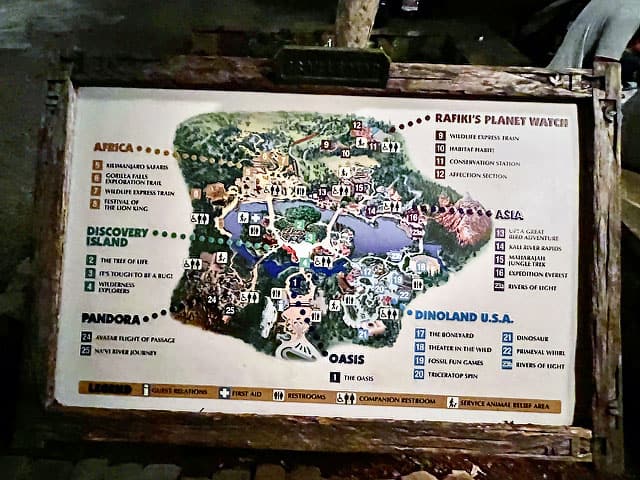 Inside each Disney World theme park, you'll find Braille park maps. We located this one between the stores at the front of the Tree of Life.
Disability Access Service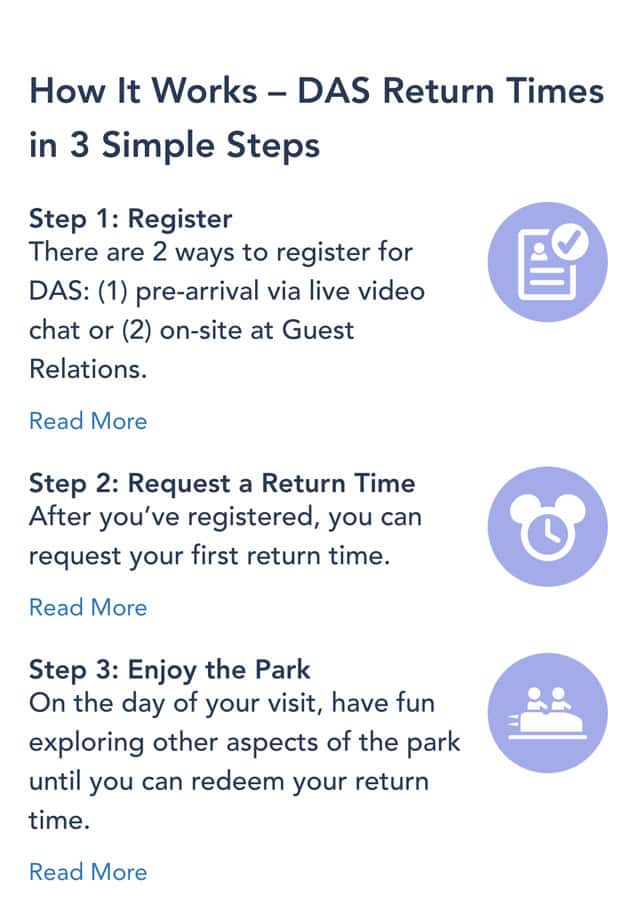 Disney offers Disability Access Service (DAS) to assist those guests who cannot wait in traditional ride and show queues. Rather than waiting inside the queue, those who qualify for a DAS book a return time of 10 minutes less than the current posted wait time. To learn more about this service, read our recent post HERE.
Have you stayed in an accessible room before or used Disney's services for disabilities/accessibilities? If so, did you find your needs met? Please share your thoughts below or on our KtP Facebook group.