Read on to find out why Old Key West is a favorite for many guests who regularly frequent the Walt Disney World Resort!
Resort Overview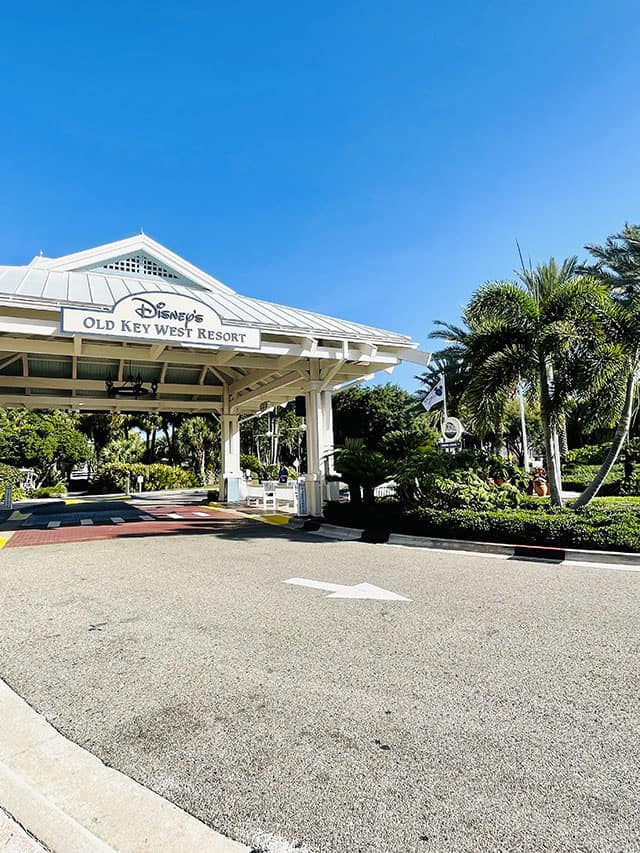 At Disney's Old Key West, guests are able to experience a vacation within a vacation. Designed after the relaxing and tranquil vibes of the Florida Keys, guests are whisked away to Conch Flats, a fictional community known for relaxation, happiness, and fun.
Here, guests can experience the "sprawling island with shimmering waterways, swaying palm trees and manicured golf-course fairways."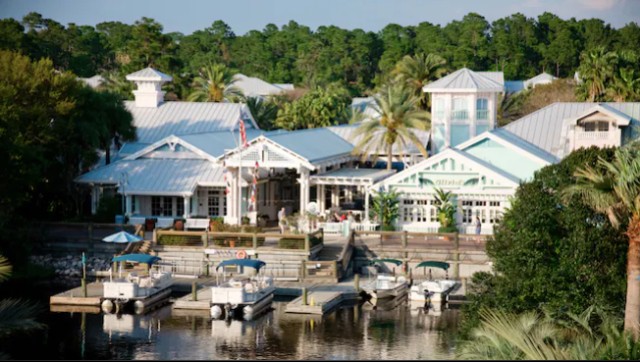 Disney's Old Key West is the original Disney Vacation Club (DVC) resort. The resort opened on October 1, 1991 and was renamed Old Key West in January of 1996.
Old Key West resort boasts the largest DVC rooms on property. The accommodations are spacious, comfortable, cheerful, and perfect for bigger families or longer stays.
There is just something magically nostalgic about the Old Key West resort that adds an extra layer of comfort and relaxation to a sometimes very busy Disney resort stay. This extra magic makes the resort an excellent option to consider!
Location and Resort Sections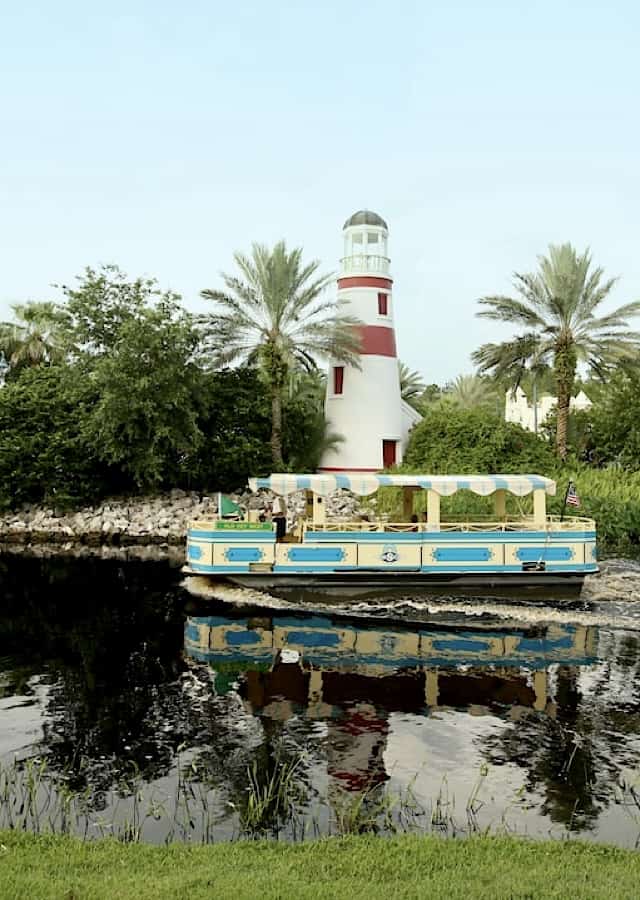 Old Key West is located in the Disney Springs resort area. It is closest to Saratoga Springs resort. When it comes to the four Disney theme parks, it is closest to Epcot Center.
The resort is sprawling and has many different buildings. This provides a quiet feel that is reminiscent of a vacation community. There are five different sections for guests to visit:
Hospitality House: this is the lobby/resort check-in space and houses many of the resort's amenities
Miller's Road
South Point
Old Turtle Pond Road
Peninsular Road
Room Categories
Old Key West offers deluxe studios as well as one, two, and three bedroom grand villa bookings. Additionally, each size room has a "Near Hospitality House" booking category included as well. This booking category allows your room to be close to the main lobby/resort amenities.
The deluxe studio at Disney's Old Key West includes a kitchenette and two queen beds. This is the only DVC deluxe studio type that includes two full real beds for guests, which is a huge perk!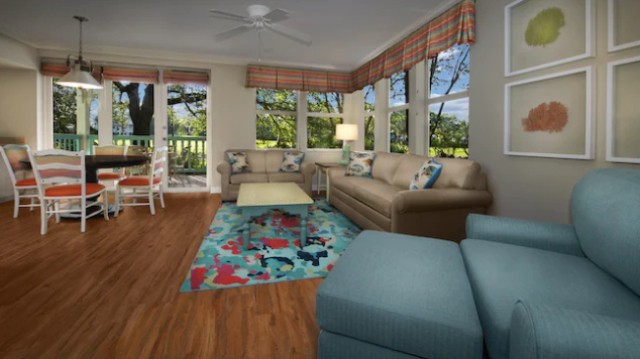 The one, two, and three bedroom options include a full kitchen, spacious living and dining areas, separate bedrooms, and a washer and dryer. Here's a review of the two bedroom villa I stayed in with my extended family in 2019.
Check In and Hospitality House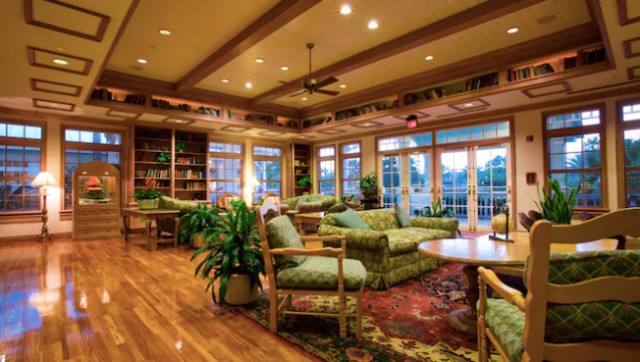 The Hospitality House is the hub of activity at Old Key West. This is where you will find the check in area and front desk cast members available to assist you during your stay. Hospitality House also is the home to several amenities including an ATM, banking for foreign currency exchange, mail services, and other amenities.
During our 2019 stay, we completed an online check in and did not have to go to the Hospitality House to check in, but stopped in to pick up our grocery delivery and our "I'm Celebrating…" pins!
Shopping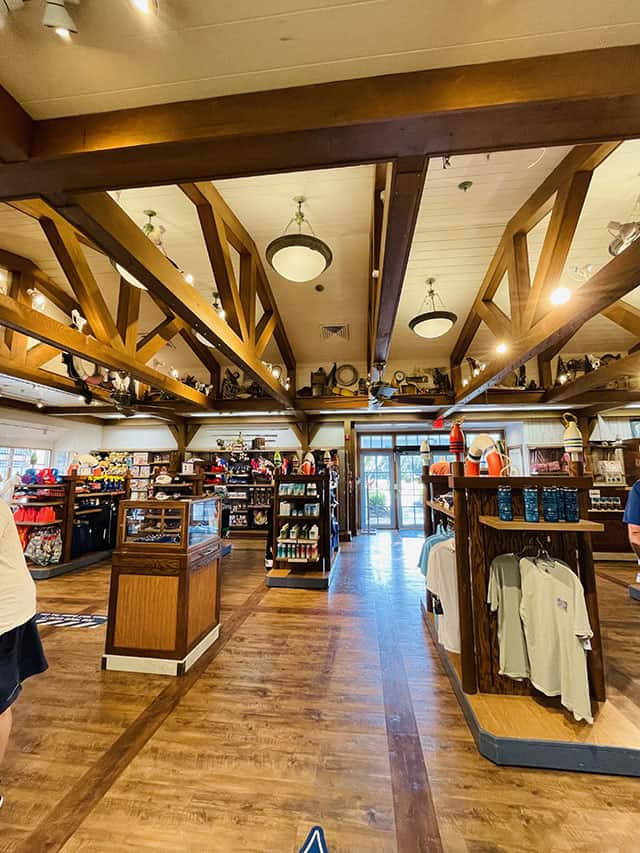 For your shopping needs at Old Key West, visit Conch Flats General Store. This store provides options for "groceries, snacks, sundries, beverages, and hotel logo items."
Though the store is somewhat small, there are many great souvenir options, especially if you are looking for something that celebrates the resort itself!
Dining
There are four different dining options at Old Key West resort: one table service, one quick service, and two pool bars.
Olivia's Cafe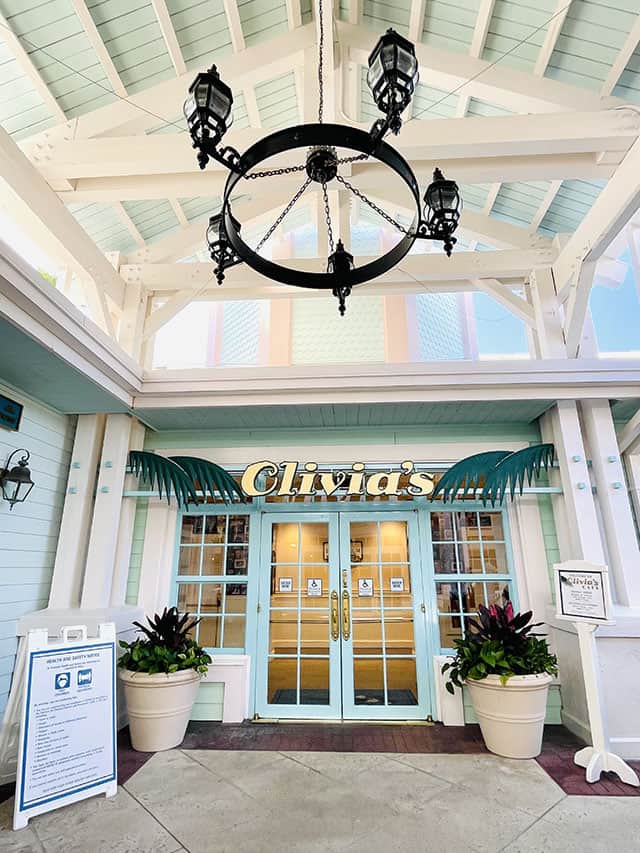 Olivia's Cafe offers home style comfort food for breakfast, lunch, and dinner. This is a hidden gem restaurant that I (Jaelyn) would personally travel to even if I wasn't staying at Old Key West!
According to the Disney World website:
"Olivia Farnsworth lived in a small cottage along Turtle Krawl, upwind of the strip. Almost daily, she would invite curious passerby who smelled her cooking to come on in and pull up a chair. People loved her vibrant flavors and earthy personality, and, before long, she found herself setting more tables.

Eventually, Olivia opened the doors to her eponymous cafe, which has been a haven for locals and a must-visit for out-of-towners ever since."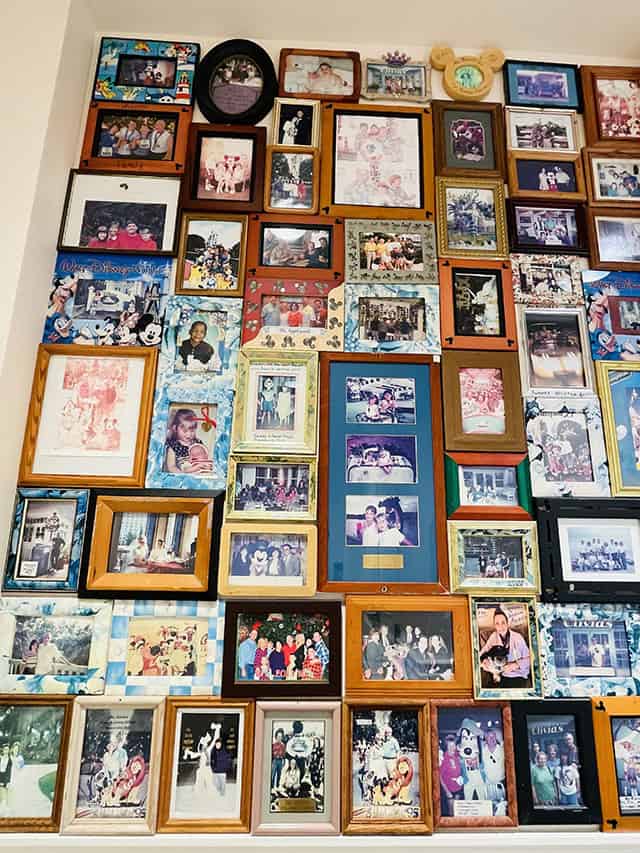 The restaurant has a nautical themed decor and celebrates the Disney Vacation Club family by prominently displaying DVC family photos from owners from years past. Looking through these photos is one of my favorite parts of visiting Olivia's Cafe!
Breakfast includes traditional fare alongside signature items like the Banana Bread French Toast that is absolutely delicious and cannot be missed. The lunch menu celebrates the Conch Flats club sandwich and Havana Beef sandwich, while the dinner menu includes delectable Southernmost Buttermilk Chicken and prime rib.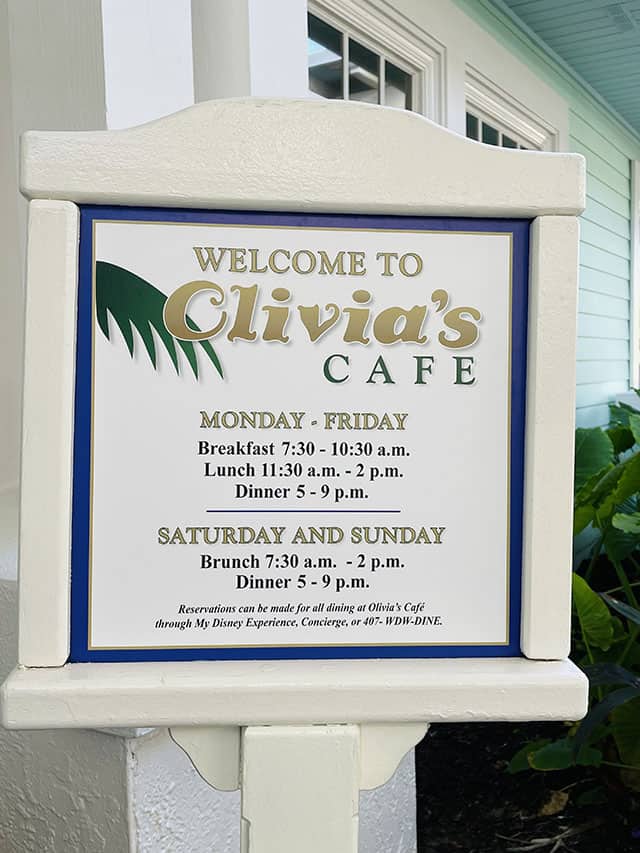 To top it off, the restaurant offers delicious desserts fit for a vacation to the Florida Keys like the Key Lime Tart and the warm Banana Bread Pudding Sundae with bananas foster topping.
Brunch is also offered on the weekends and is the best of both worlds!
Good's Food to Go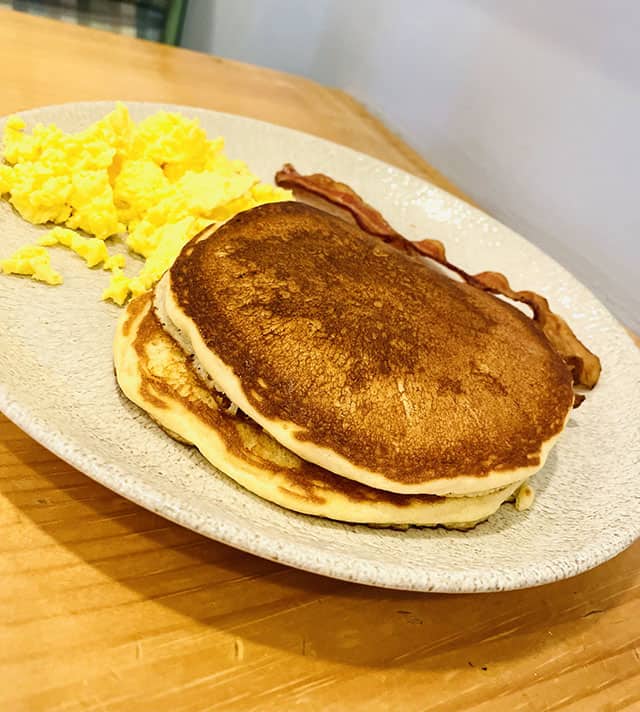 Good's Food to Go, the quick service location at Disney's Old Key West resort, is located close to the main pool and Hospitality House.
Offering breakfast, lunch, and dinner options, food choices include traditional fare, coffee, and other speciality beverages.
Gurgling Suitcase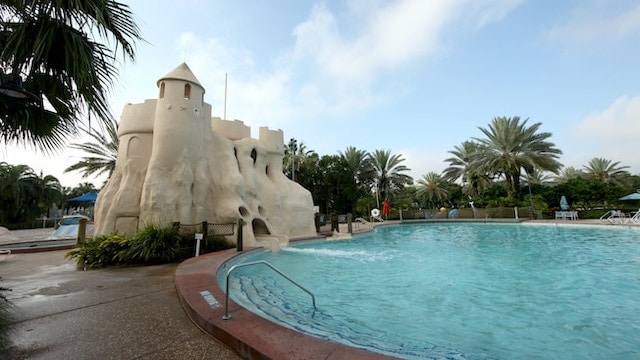 Also located adjacent to the Hospitality House and main pool, Gurgling Suitcase is a Key West-style bar. Specialty drinks are offered like the Turtle Krawl, a Siesta Key White Rum with Coconut Rum, Sailor Jerry Spiced Rum, Grenadine, and juices of key lime, orange, and pineapple.
Many many different cocktails, beers, and wines are available for purchase. The best part of Gurgling Suitcase, however, is that you can get some of the most delicious items off of the Olivia's menu (read: Southernmost Buttermilk Chicken) without a reservation!
Turtle Shack Poolside Snacks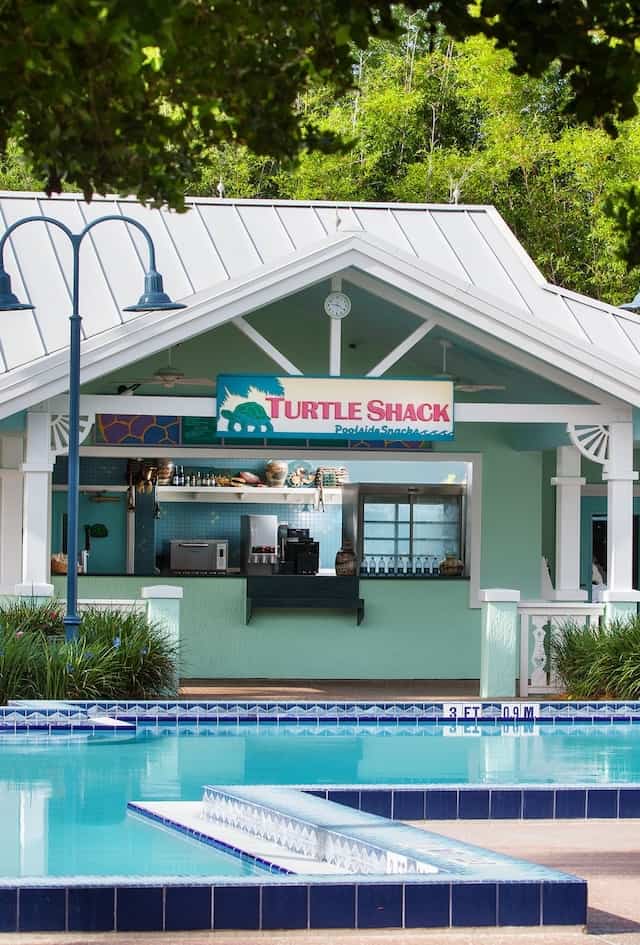 Located near the pool on Old Turtle Pond Road, Turtle Shack Poolside Snacks is a pool bar and food establishment on the back side of the Old Key West resort.
The menu here offers pizza, sandwiches, salads, and kids' meals as well as sweet treats, soft drinks, wine, and draft and bottled beer. This area also has a shuffleboard court and game room for further entertainment.
Pools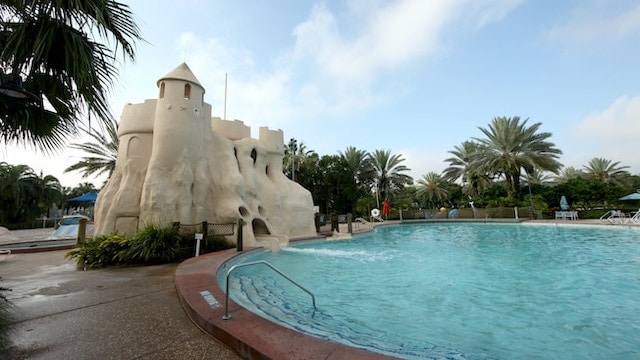 There are four pools available at Old Key West for guests to enjoy. First, the Sandcastle pool, is the main pool for the resort. It boasts a 125-foot long waterslide through a giant sandcastle and a sand beach on which to sunbathe.
This area also includes a whirlpool spa, dry sauna, and a kiddie pool for little ones.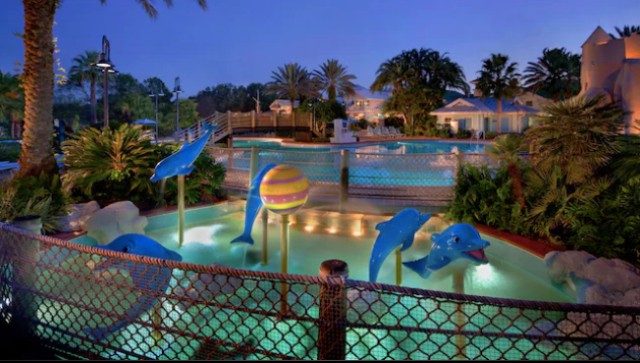 Additionally, there are three leisure pools located in the Old Turtle Pond, South Point, and Miller's Road areas. These areas also include a whirlpool spa.
We spent the majority of our swimming time at the pool outside of the Miller's Road area and enjoyed having the pool to ourselves almost every time we swam, even in the heat of the middle of June!
Recreation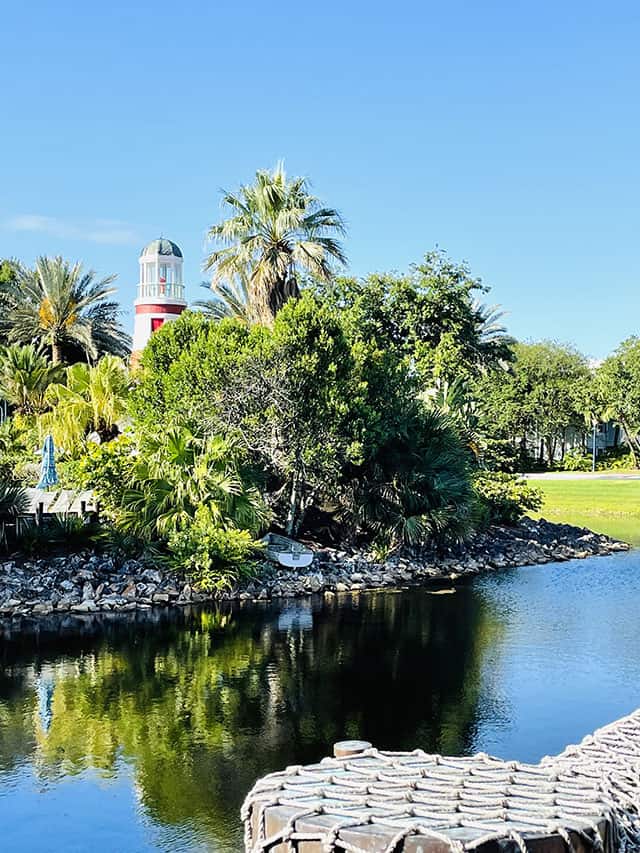 Beyond swimming, Old Key West offers many excellent opportunities for entertainment! From exercising in the exercise room to playing foosball, pool, video games, and more at the Conch Flats Community Hall, there is something for everyone in your travel group to enjoy.
The resort also offers campfire activities, movies under the stars near the Sandcastle Pool deck, bike rentals, surrey bike rentals, fishing, tennis, basketball, volleyball, a jogging path, three playgrounds, and two game rooms: one near Hospitality House and one near Turtle Shack Poolside Snacks.
Transportation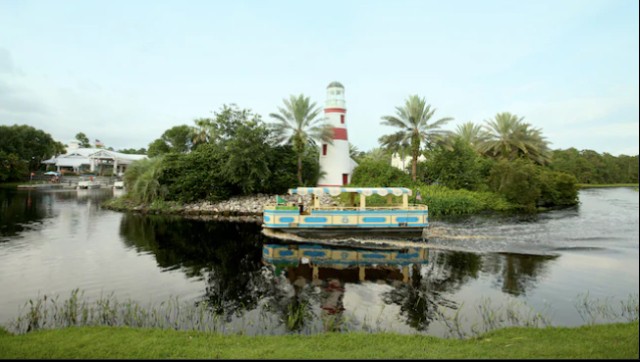 There are five different bus stops at this resort. Buses start at the Peninsular Road stop, then head to the Old Turtle Pond Road stop, then on to the South Point stop, then to the Miller's Road stop, and end at the Hospitality House before heading into the park.
It does take approximately 15 minutes or so to loop around all of these stops at the resort. Once a bus has completed its loop around the resort, it takes 10-15 minute to arrive at Epcot or Disney's Hollywood Studios and 15-20 minutes to arrive at the Magic Kingdom or Animal Kingdom.
Old Key West also offers a bus and a boat option to Disney Springs. The boat is an excellent perk for guests of this resort!
Contact Information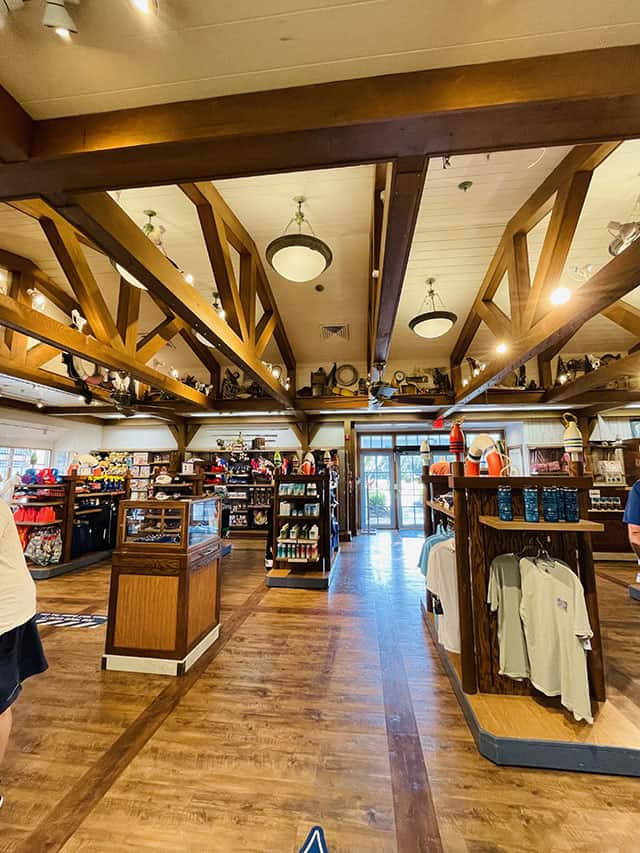 The mailing address and phone number for the resort is:
1510 North Cove Road
Lake Buena Vista, Florida, 32830-8421
(407) 827-7700
Final Thoughts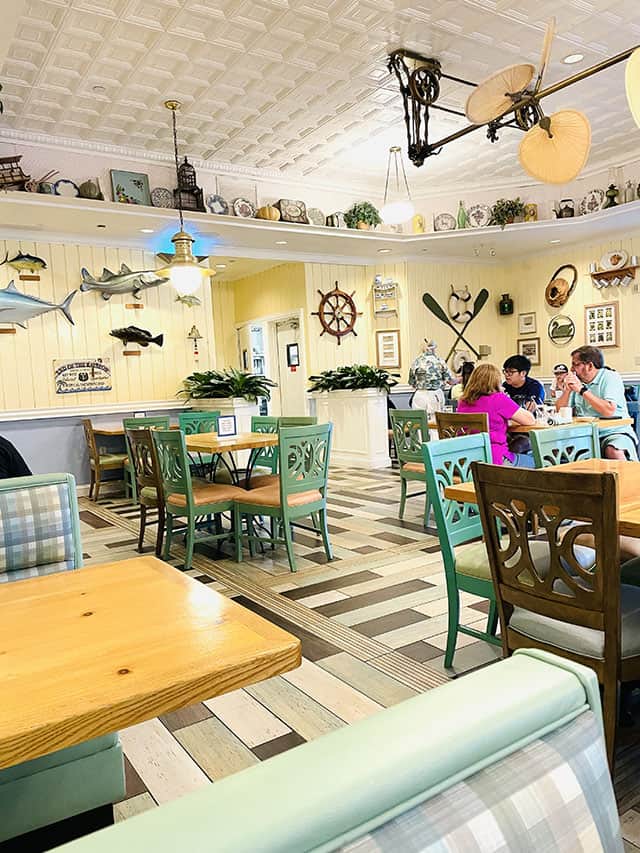 Old Key West is an excellent resort for those looking to relax and enjoy a vacation that feels more like a beach getaway when not in the parks. Plus, guests of this deluxe resort get to enjoy the extra evening hours for deluxe resort guests only, which is a huge perk!
The one caveat about this resort is that, because of its sprawling nature, transportation is not the easiest or most convenient between the resort and the parks or on the resort itself. This is a resort where it might almost be easier to have your own car!
Have you ever stayed at Old Key West resort? What are your thoughts and opinions about this original DVC resort? Comment below or on our Facebook page!
-Jaelyn Winkle