Looking for a cozy dining experience nestled in a quiet area of the Disney World resort? Look no further than Olivia's Cafe.
Booking and Arrival
During our family's most recent Disney World stay, we had a free night with nothing planned. We hopped onto My Disney Experience to find a dining reservation for 7 people. Our original plan was to find somewhere to eat in Disney Springs.
While browsing our options, we saw that there was a dinner reservation available at Olivia's Cafe located in the main building area of the Old Key West resort. This was perfect, as we were staying at Old Key West and wanted to get some pool time in before dinner.
I had heard great things about Olivia's, so I was definitely looking forward to trying it out. The sprawling layout of Old Key West required us to drive up to the Hospitality House where Olivia's is located.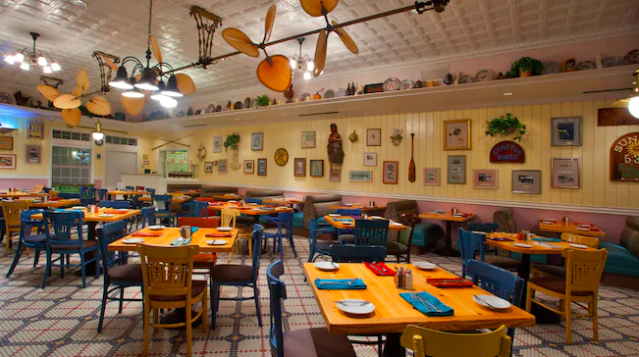 We arrived and immediately noticed something unique about this restaurant. While very small, the restaurant's walls were covered in hundreds of photos of various families on Disney vacations.
Old Key West is Disney's first Disney Vacation Club resort. We found out from our server that the photos covering the restaurant's walls are of various DVC families on Disney vacations. This was charming and added a special "homey" feeling to the restaurant.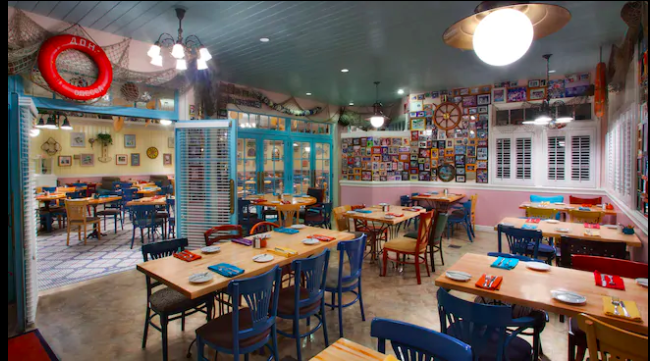 The rest of the decor fit in perfectly with the casual charm of Old Key West. The decorations selected celebrated all of South Florida's charm: various nautical decor hung proudly on the walls while pastel teals and bright yellows brought cheer and warmth to the space.
Adult's Menu
The waitress showed us to our seats and gave us the dinner menus. The food offered was a great mix of seafood and traditional southern food. Appetizers included crab cake and conch fritters.
The Southernmost Buttermilk Chicken, Tortuga Seafood Stew, and the Cayo Hueso Shrimp Pasta entrees looked delicious and were highly recommended by our waitress.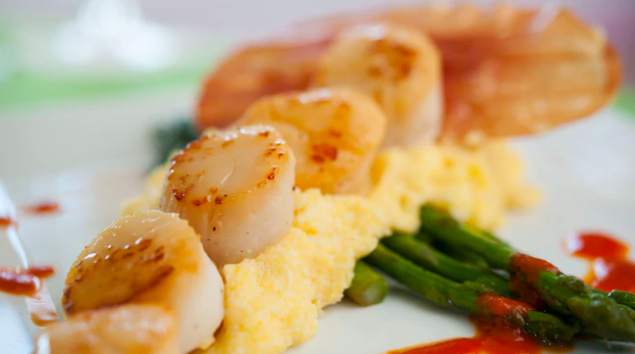 In the end, five of the six adults ordered the Southernmost Buttermilk Chicken. Olivia's is known for their chicken, and I just knew I had to try some. The entree came with mashed potatoes, southern gravy, a biscuit, and seasonal vegetables.
Kid's Menu
My then 2.5 year old son had many options for appetizers and entrees as well. Appetizer selections included grapes, celery and carrot sticks, and sliced apples.
Entree selections included more adventurous choices like spaghetti squash and turkey meatballs, seasonal grilled fish, and chickpea sliders. Safer choices for picky eaters included buttermilk fried chicken tenders and Mickey Pasta.
My son, a picky eater, ended up with the chicken tenders served with his two side selections: french fries (not even on the menu but delivered especially by our waitress) and the specialty dessert option (more details later).
Service and Taste
Our waitress at Olivia's was absolutely phenomenal. She was friendly, helpful, and welcoming. Our waitress made sure that my son's food came out very quickly, which made the dining experience much more enjoyable for me.
When our food came, it was obvious that Olivia's deserved praise. Every single bite of the buttermilk chicken was absolutely delicious. The mashed potatoes melted in my mouth. The biscuit was the perfect combination of buttery, flaky goodness.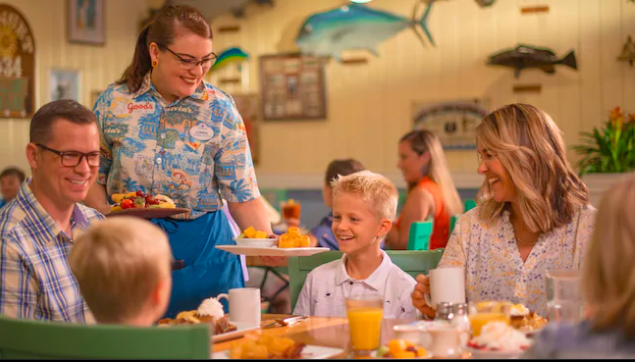 Dessert
Even though I was so full, I grabbed a dessert menu. While the Mascarpone Cheesecake and Key Lime Tart sounded amazing, our waitress suggested the Banana Bread Pudding Sundae.
The Banana Bread Pudding Sundae is a hunk of banana bread served warm with Bananas Foster topping and vanilla bean ice cream. This was the most delicious dessert I ate on property during our June stay. Don't leave without grabbing this dessert!
My son's dessert was a make-your-own sundae with ice cream and various toppings. He loved getting messy and making his own ice cream creation! As our waitress said, it was the perfect entertainment option that allowed the adults to enjoy their desserts as well!
Cost
Appetizers run anywhere from $8 for the soup of the day to $15 for a caesar salad with chicken.
Entrees run from $21 for the Buttermilk Chicken (my recommendation!) to $37 for the Slow-cooked Prime Rib.
Desserts are anywhere from $7-$9 each.
Overall, I'd say that the value of the food is definitely worth the cost of the meal. You can also use your table-service credits here if you are on the Dining Plan.
Discounts are available for Annual Passholders, DVC Members, Disney Visa cardholders, and Tables in Wonderland members.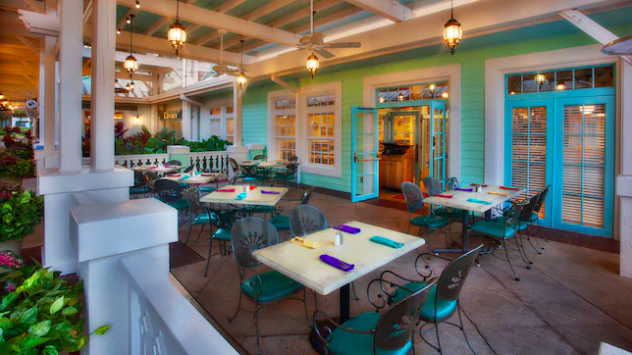 Overall Experience
Olivia's Cafe is a restaurant that needs to make your Advanced Dining Reservation list for your next Disney World trip, even if you aren't staying at Old Key West! The delicious food, casual charm, and friendly atmosphere make this restaurant top notch.
Typically, it is relatively easy to pick up a reservation even on the day of dining. So, if you find yourself looking for a dinner (or breakfast or lunch) option, be sure to check out Olivia's Cafe at Old Key West Resort.
Don't forget to order the Southernmost Buttermilk Chicken and the Banana Bread Pudding Sundae!
Have you been to Olivia's Cafe? What was your experience? What is your favorite "hidden gem" restaurant on property? Be sure to let us know by commenting below or by sharing on the KTP Facebook page!
-Jaelyn Winkle