Saratoga Springs guests enjoy shopping, golfing, swimming, dining and so much more. See everything it has to offer in our guide.
Overview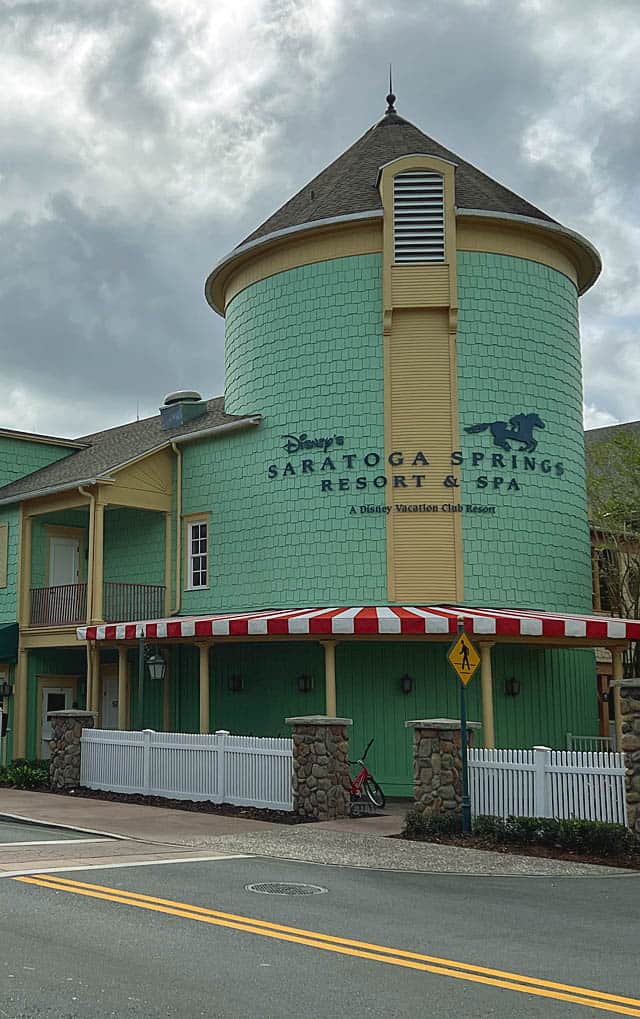 Disney's Saratoga Springs is inspired by historic Saratoga Springs, a late-1800's New York retreat famous for its spas and horse racing. At this Disney Deluxe resort, guests enjoy this charming, Victorian-style Resort hotel is nestled between rolling golf course greens and Lake Buena Vista.
Disney's Saratoga Springs resort covers over 65 acres, contains 18 guests room buildings, and is the largest resort on Disney property. I (Susan) love all the subtle nods to Disney horses here. The entire check-in area features larger than life portraits of our favorite Disney horses. If you visit here, be sure to check them out!
Location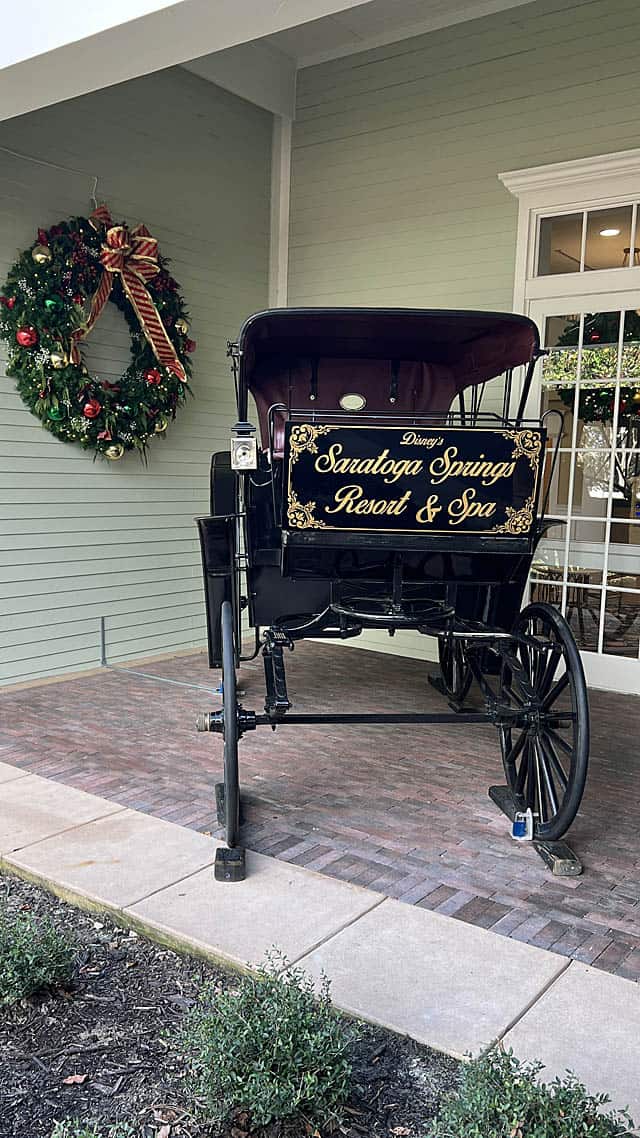 Disney's Saratoga Springs is located next to Disney Springs. Staying here, guests can either take the boat or a short walk to Disney Springs. This resort has a quiet, upscale feel with a walking bridge to Disney Springs. The Treehouse Villas are located in a beautiful wooded area along the Sassagoula River.
Carriage House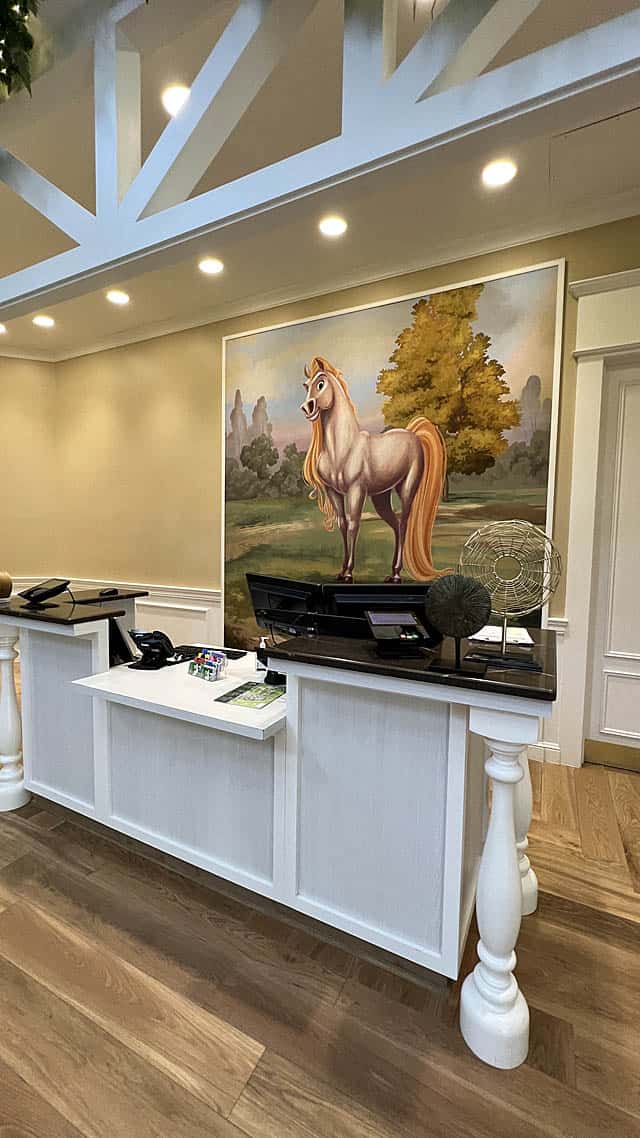 The Carriage House is the main building at Disney's Saratoga Springs. In this building and just outside, you'll find check-in, bell services, restaurants, shops, and more! Staying in the Springs section puts you closest to all this and the main pool, spa, and arcade.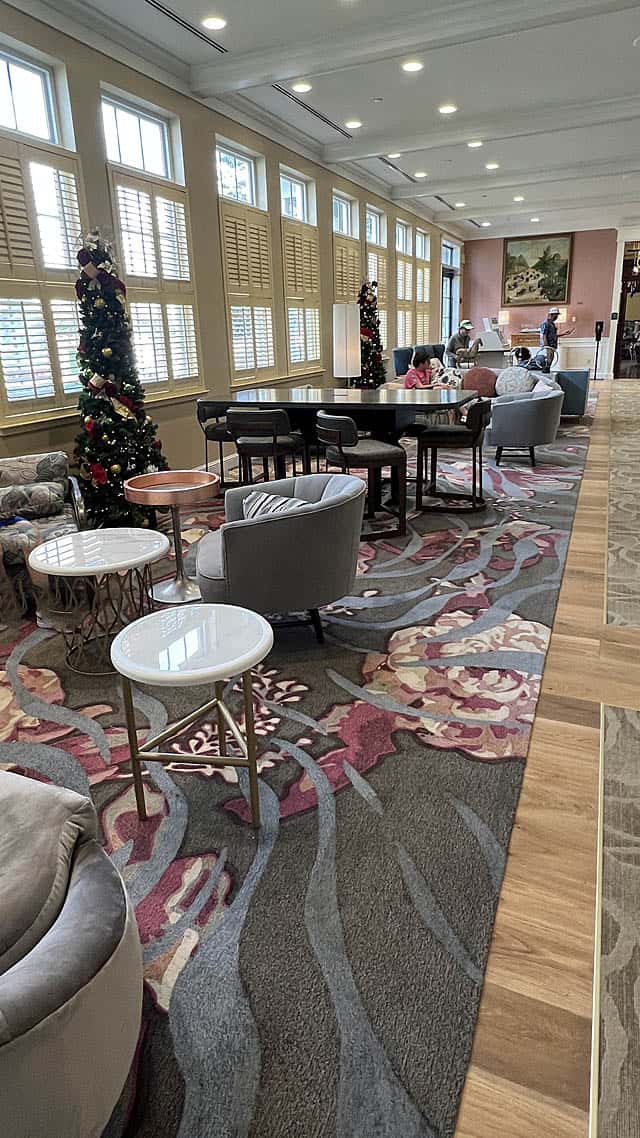 In addition, adjacent to check-in, relax in the oversized seating area shown above. I (Susan) love the relaxing seating found at Disney DVC resorts.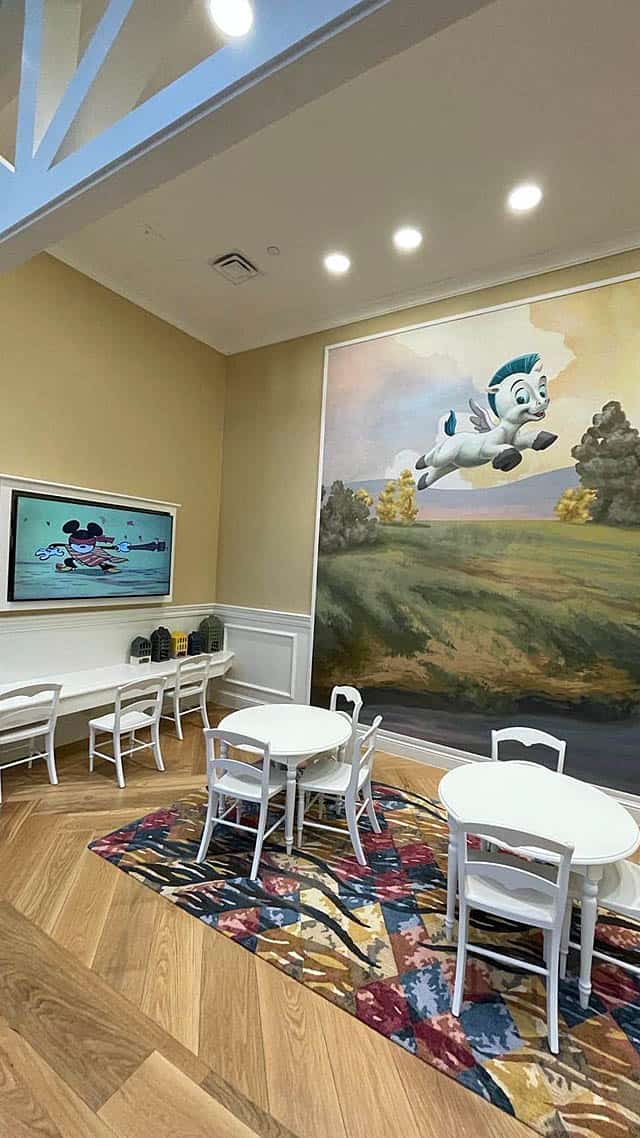 Not only can adults relax in the Carriage House, but there's a dedicated children's area too. Check it out in the photo above.
Resort Sections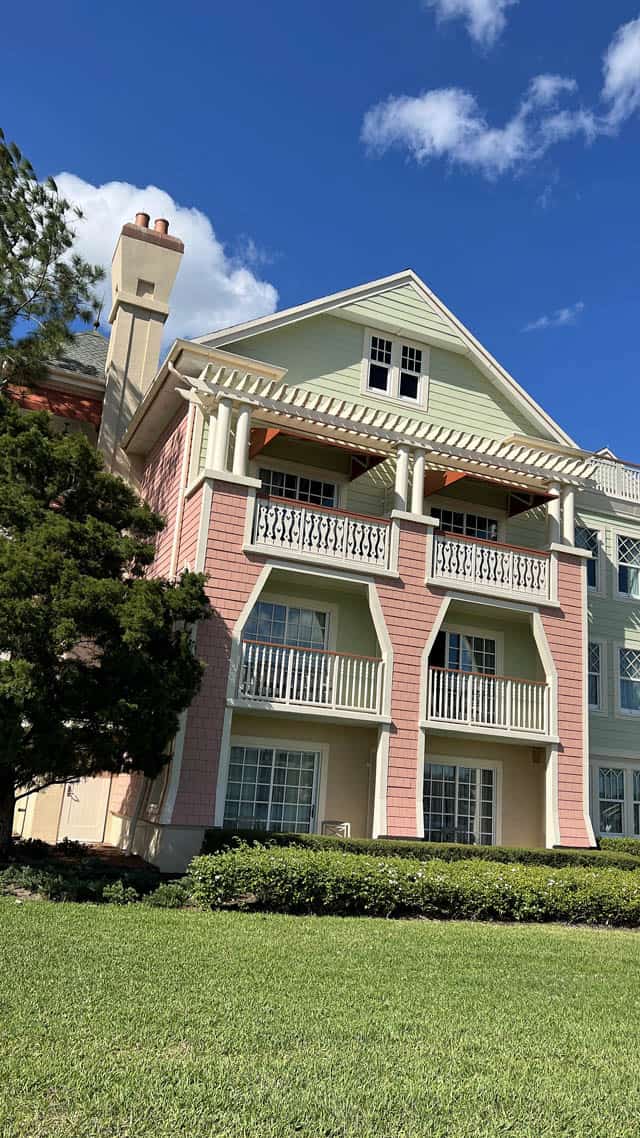 Saratoga Springs has 5 sections and Treehouses to accommodate guests. It's the largest Disney resort making it easier to book, but at times harder to navigate.
Grandstand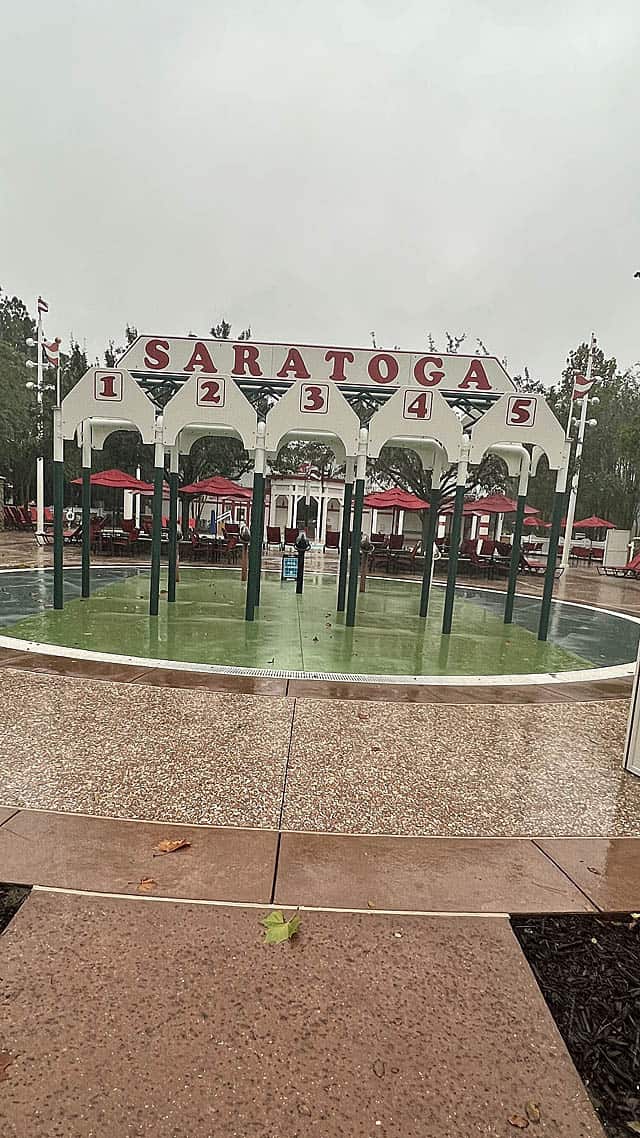 Heading to the parks and Disney Springs and back to the resort, the Grandstand is the first bus stop. This virtually guarantees guests being picked up here will get a seat on the bus. Many rooms in this section face the quiet golf course. Not only that, but the Grandstand boasts its own pool, picnic area, and pool snack bar.
However, this bar is only open seasonally. Rooms in this section are non-preferred which are less expensive than the preferred buildings. Keep in mind, however, the Grandstand section is the farthest from Disney Springs.
Carousel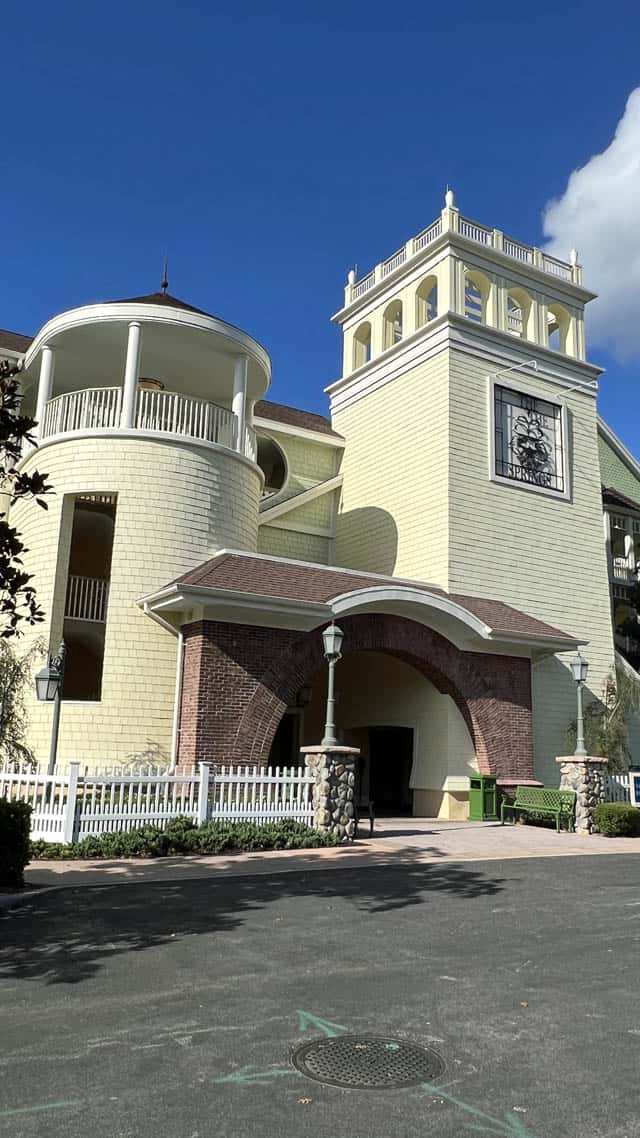 These buildings are also non-preferred which may save you money. However, this is the only section at Saratoga Springs without a pool. Keep this in mind if you want easy access to swimming. A unique feature found here is a small carousel. Keep in mind though, that it is not a working carousel. It does, however, give guests a unique picnic area.
Also, this section is the closest to the front gate, making it easier to come and go by car at this massive resort. With its location, guests may hear noise from the main gate. In addition, the Carousel section is the farthest from the Disney Springs walking path. Carousel section is the second bus stop at Saratoga Springs.
Paddock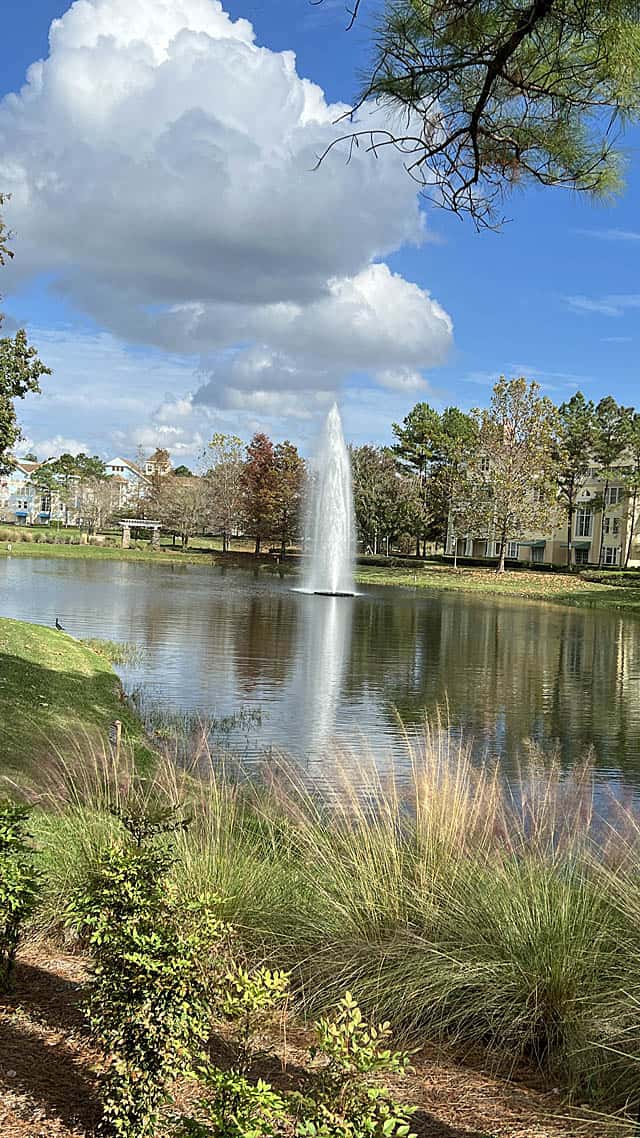 Next, the third bus stop is Paddock. In addition to a pool with water slide, there's also a children's splash area. The bridge to the Springs section gives guests easier access to the Carriage House main building.
Certain rooms in this section may be noisy. Rooms facing the parking areas and outside perimeter of the resort may hear sounds from the adjacent Reedy Creek fire station. Note that this section is also non-preferred.
The Springs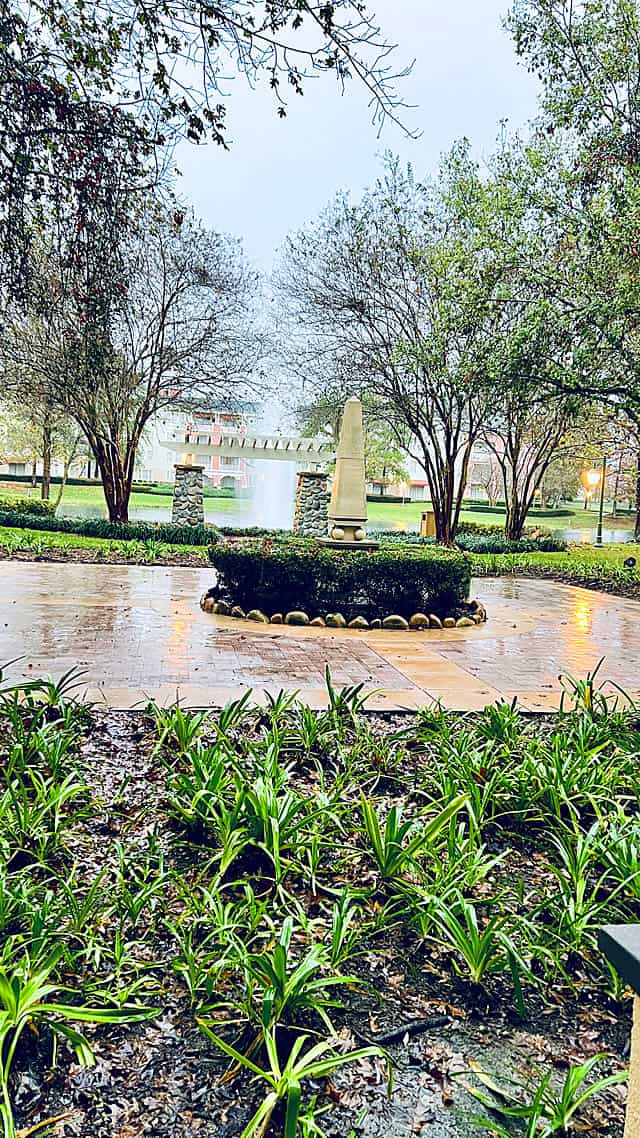 The greatest advantage to staying at The Springs is its close proximity to the main pool and Carriage House main building. We (Susan and husband, Larry), and found it very convenient, not only to the bus stop, but also to quick service dining, shopping, the arcade, laundry, and more.
However, one of the biggest downsides to this section is being the last bus stop on the route.
One morning we trekked early to the bus stop only to be passed over 3 times because buses were already full! Because of this, we ended up taking an Uber to the parks and/or the Transportation and Ticket Center each morning. These rooms are preferred and come at a slightly higher price.
Congress Park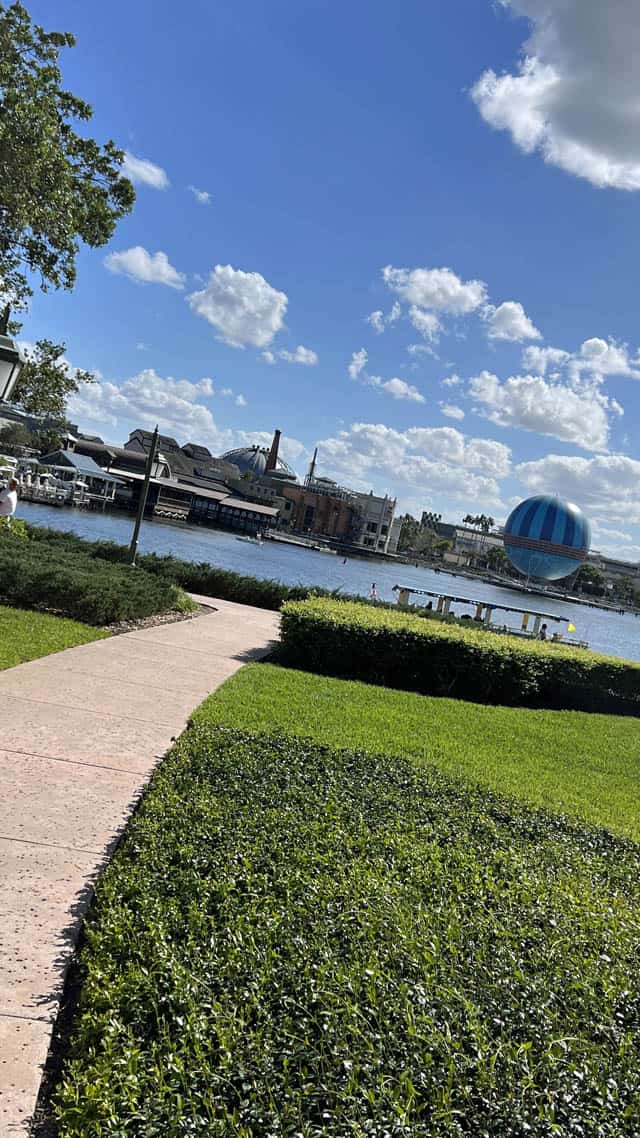 The best thing about staying in the Congress Park section is the close proximity to Disney Springs. You can walk to Disney Springs within 5 minutes from any building in Congress park. Not only is there a pool here but the only actual playground in Disney's Saratoga Springs.
This is a huge benefit for families with children! Also, these rooms are preferred and come at a slightly higher price. Check out the path to Disney Springs above!
Shops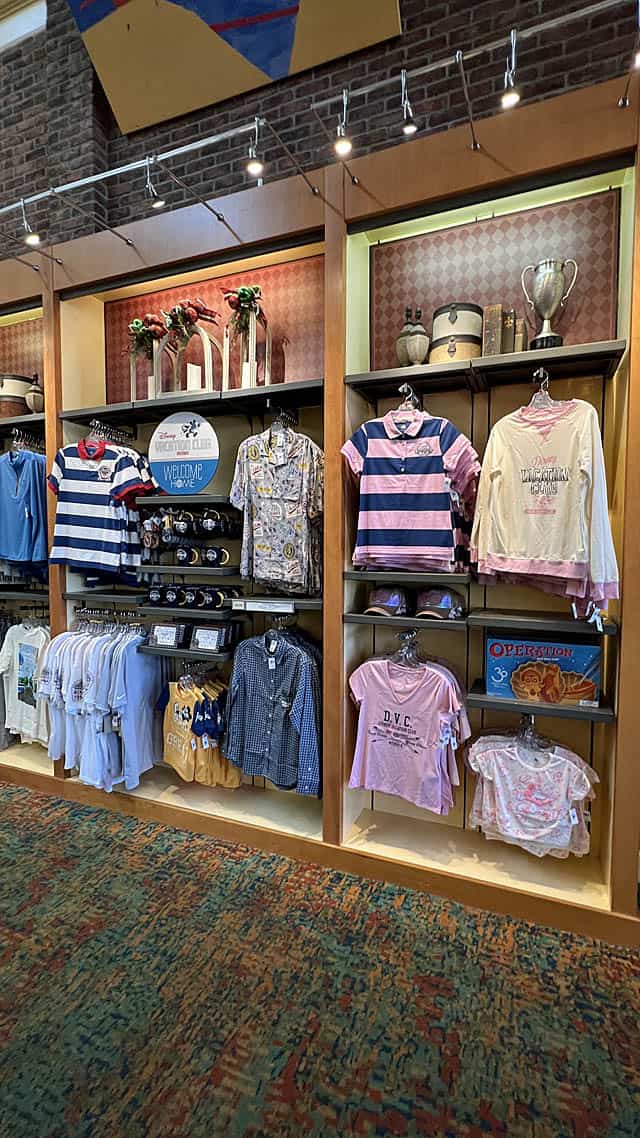 To be such a large resort, it's kind of crazy there's only 2 shops at Saratoga Springs. Not only that, but one of them is a golf shop!
The Artist's Palette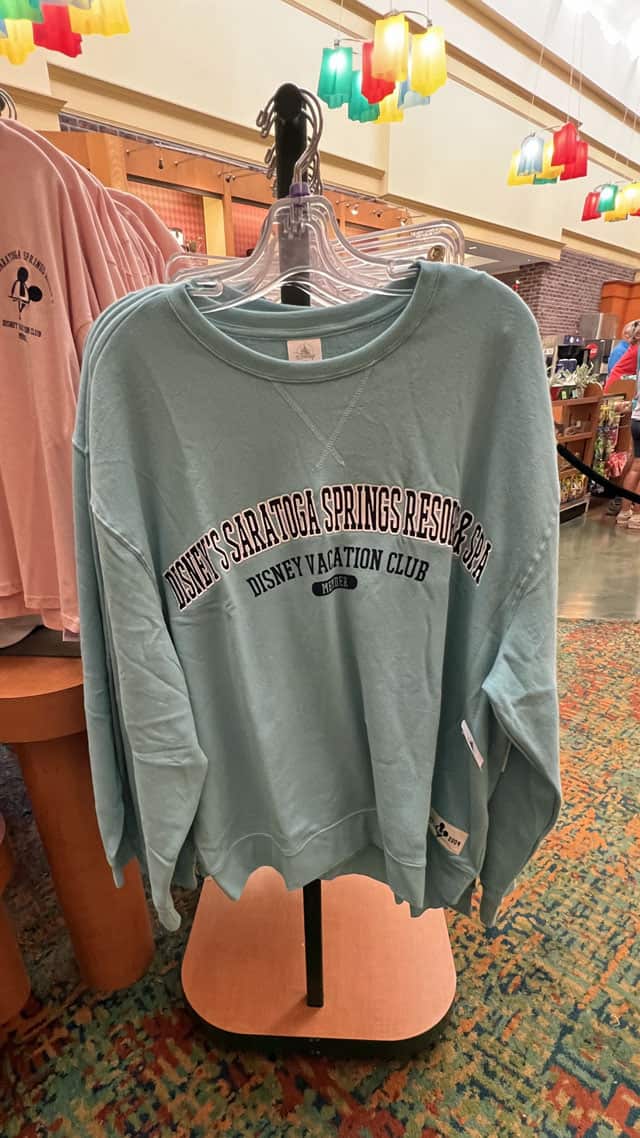 I enjoyed shopping at The Artist's Palette at Saratoga Springs. Here, I found a large variety of Disney merchandise including apparel, toiletries, groceries, and DVC Saratoga Springs items. Although Saratoga Springs is a huge resort, it wasn't overcrowded shopping here.
You'll also find seasonal merchandise here as well as bath and body products. There's something for Disney fans of all ages.
Disney's Lake Buena Vista Golf Pro Shop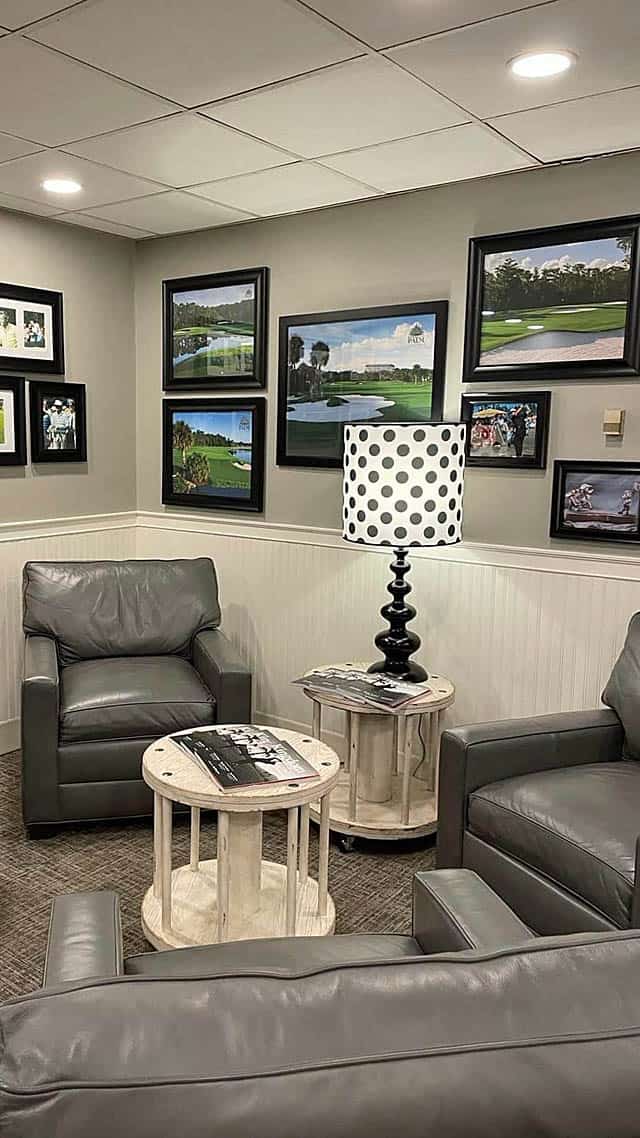 The Pro Shop at Saratoga Springs has the latest styles and fashions from the top names in golf. In addition, pick up any equipment needed for your day of golf. Here, shoppers enjoy your favorite Disney characters like Mickey, Minnie, Goofy, Donald, Pluto and even Grumpy dressed in their golf attire.
Most of the merchandise you will find in this shop is exclusive and cannot be found online, in stores, or even in other Disney shops.
Accommodations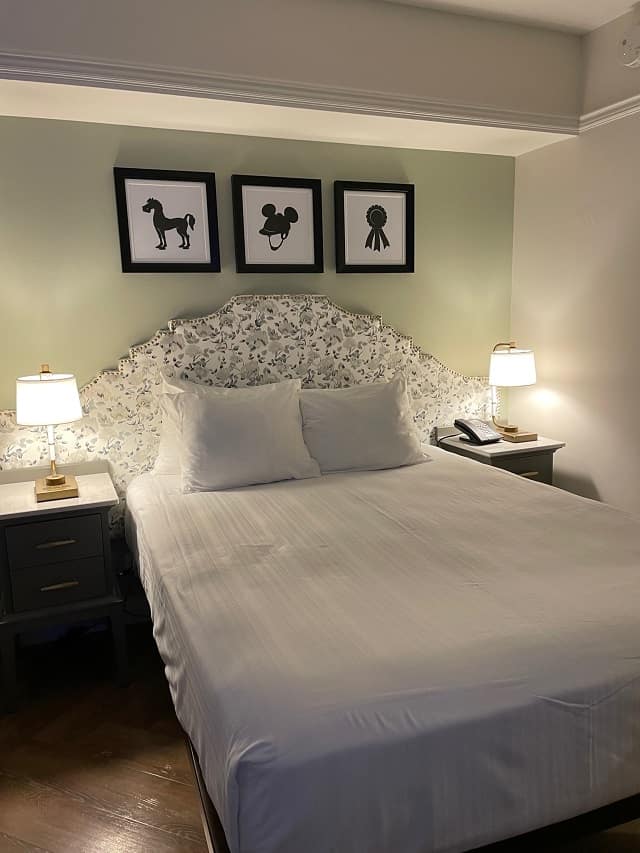 Disney's Saratoga Springs Resort and Spa offers a wide variety of room choices including deluxe studios that sleep up to four and even a three-bedroom Grand Villa that sleeps up to 12 adults! Looking for a completely different resort stay experience?
Checkout the three-bedroom Treehouse Villa that sleeps up to nine adults. Although only minutes away from the magic, it feels like a world away with spectacular woodlands views. Check out Kate's Saratoga Springs studio review HERE.
Transportation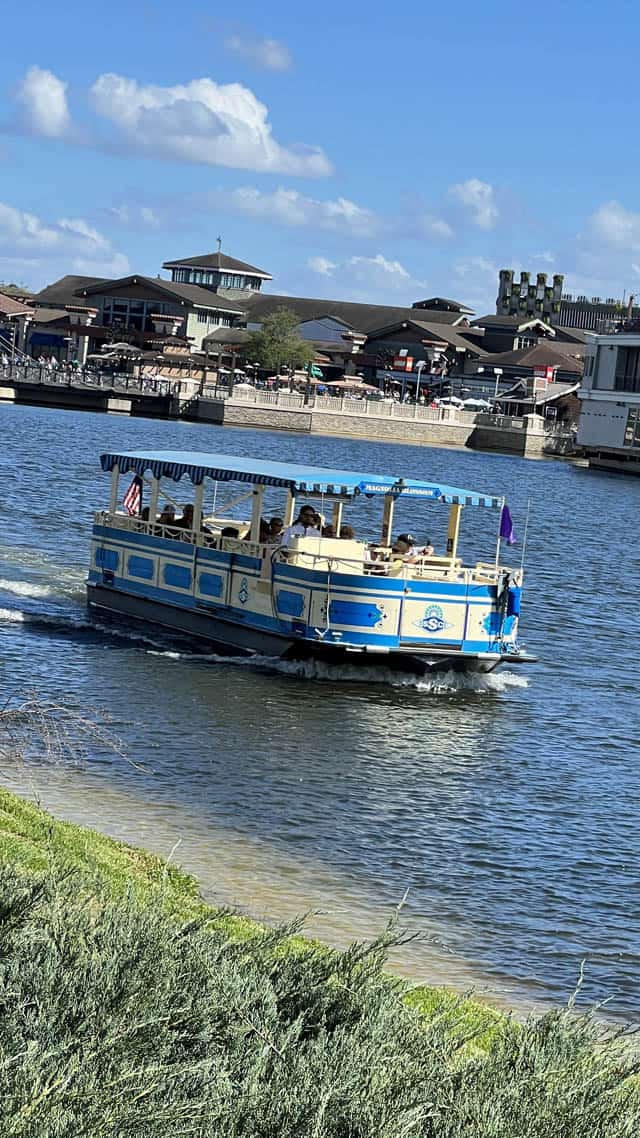 Buses are available to each of the Disney theme parks as well as Disney Springs. Not only that, but there's an internal bus that takes guests to various stops along the resort. Guests can also take the boat to Disney Springs, but it's easier to just walk there from the Paddock section.
Restaurants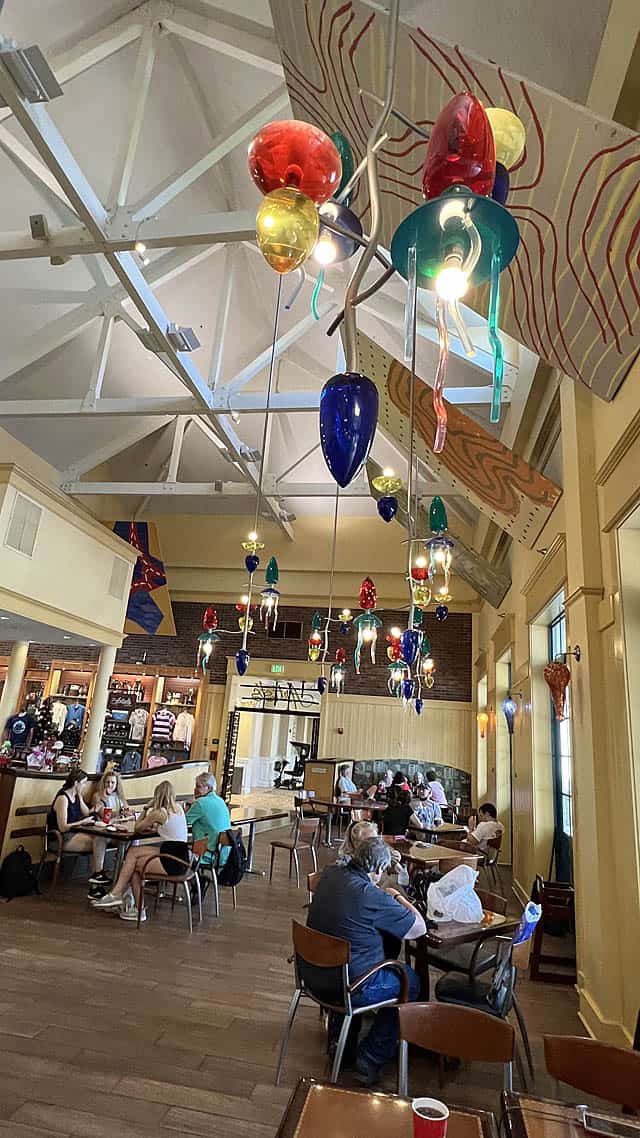 The Turf Club Bar and Grill – Savor classic American cuisine in a racetrack clubhouse setting with gorgeous golf course and lake views in this table service dining location. Here, guests feast on steak, chicken, lamb, and so much more. Note: This location is only open for dinner. You'll find this restaurant in the Carriage House building.
The Artist's Palette – Also located in the Carriage House building, be sure to check out The Artist's Palette. Stop in at this quick service location for lunch or dinner with gourmet sandwiches, salads and grab 'n' go items. Or, start your day with a delicious hot breakfast. One of my favorite dishes I (Susan) tried was the shrimp and grits.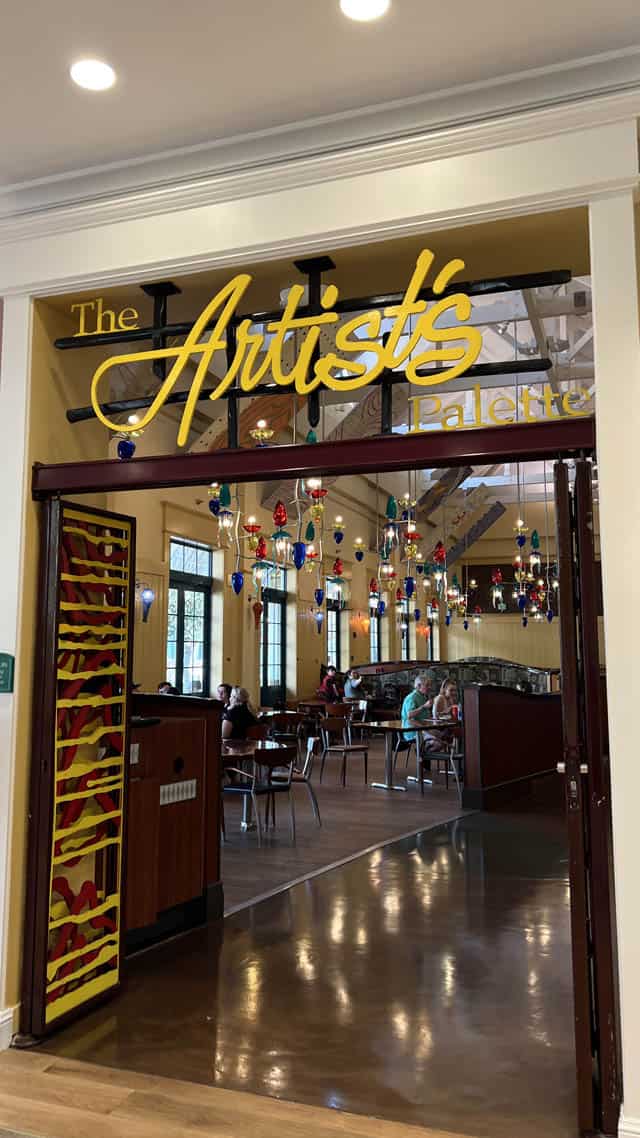 Turf Club Lounge – Take in views of Disney's Lake Buena Vista Golf Course and Disney Springs at this casual bar inside The Turf Club Bar and Grill. Featuring a light menu, it's the perfect place to unwind after a busy park or golf day.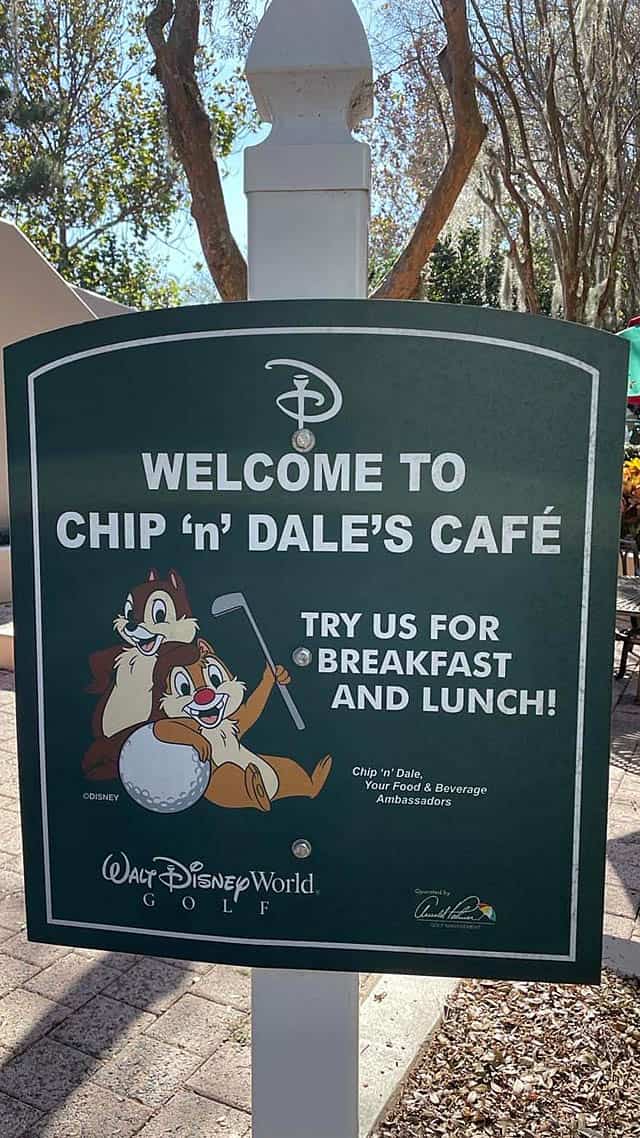 Chip 'n' Dale's Cafe – Help your game stay above par with a refueling stop at this convenient snack stand at Disney's Lake Buena Vista Golf Course. Choose from a variety of deli-style sandwiches, snacks and refreshing beverages—combos available.
Performance Hall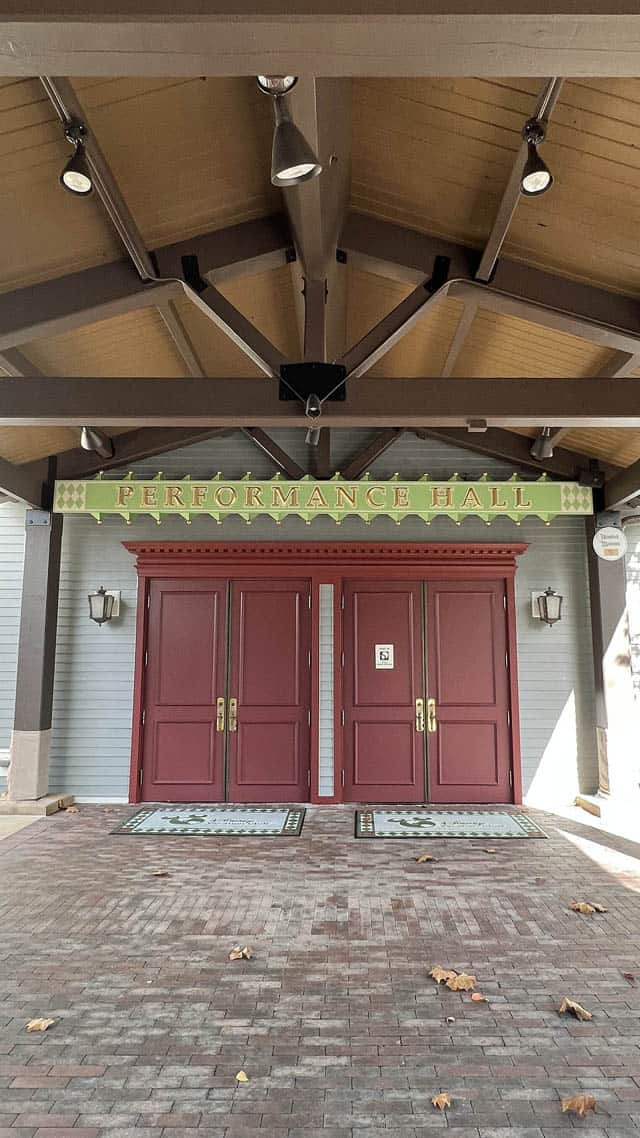 When checking in or walking about, you can't miss this huge building, the Performance Hall. When I stayed there, I imagined so many wonderful performances here. There's even a stage door in the back!
However, it's been about a decade since this building has been open to the public. When open, it staged vocal competitions. I hope Disney finds a way to bring back entertainment here.
Poolside Bars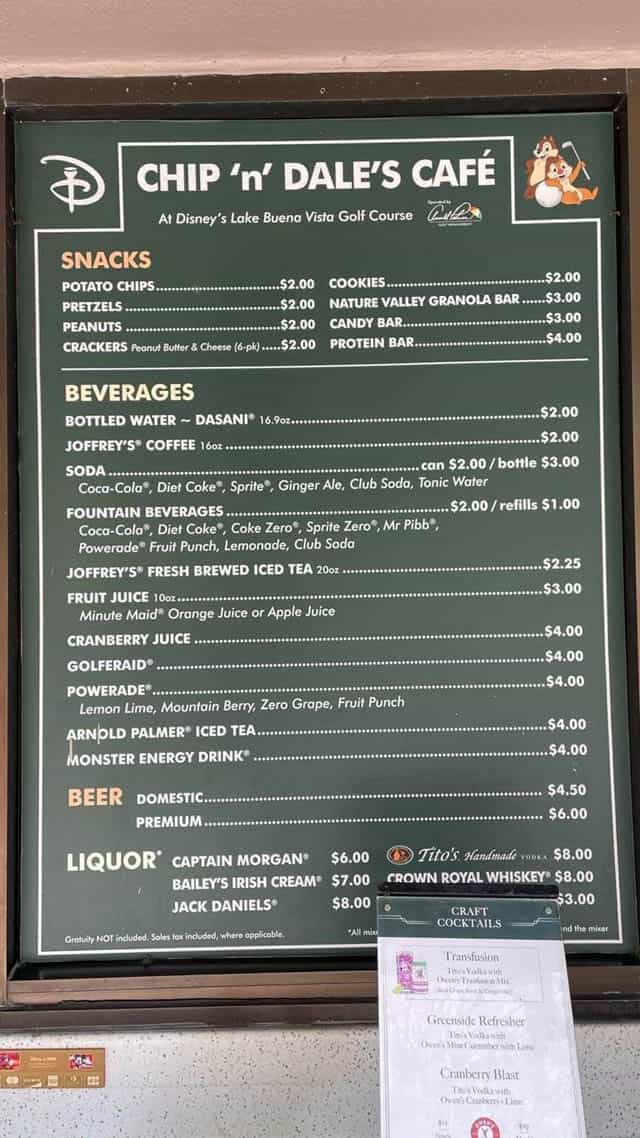 Backstretch Pool Bar – Located behind the Grand Stand section, check out this refreshing pool bar. Along with drinks, you can purchase a selection of poolside snacks including ice cream, pretzels and pizzas.
On the Rocks – Relax by the High Rock Springs pool with a thirst-quenching libation—like frozen or on-the-rocks cocktails, draft beer, sangria or wine along with non-alcoholic beverages.
The Paddock Grill – If you're staying in the Paddock section, start your day with classic breakfast fare. Later, try classic American favorites like the Saratoga Burger, cobb salad and sandwiches.
Pools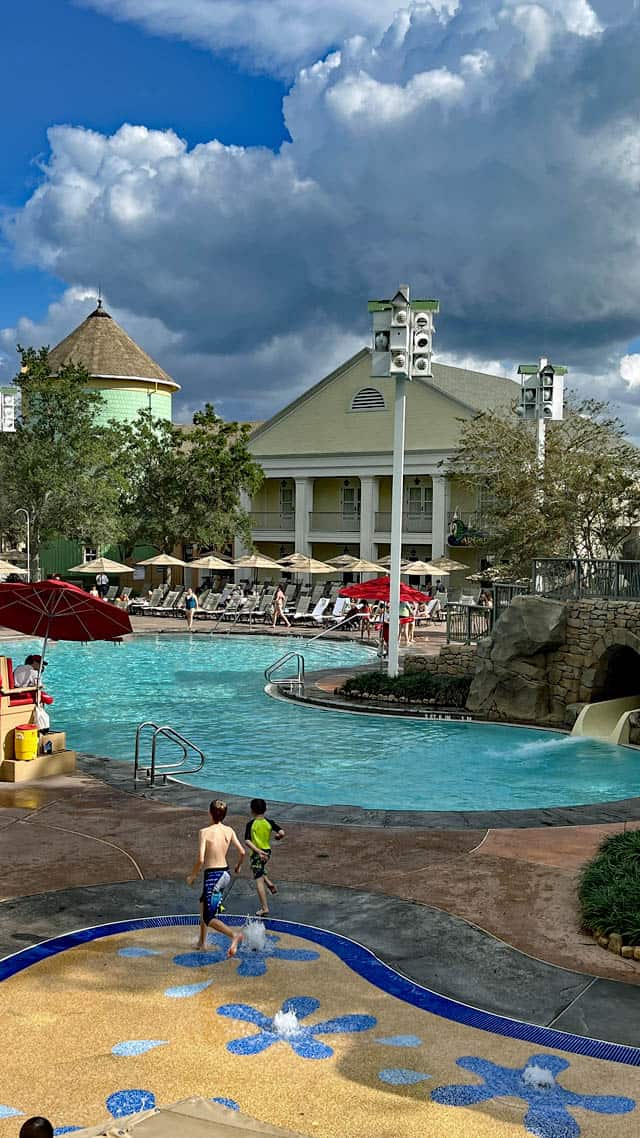 Discover 2 exciting feature pools, plus waterslides, whirlpool spas, aqua-play areas at this fun resort.
At The Paddock Pool, breeze down a 146-foot-long waterslide, relax in a horseshoe-shaped whirlpool spa and wade into the pool via a gently sloping, zero-depth entry point. There are even 2 miniature waterslides built just for kids.
At High Rock Spring Pool, delight in cascading waterfalls, a zero-depth entry point and a waterslide built into the rocks. Children can splash through bubbling geysers at the Donald Duck play area and glide down the pint-sized waterslide.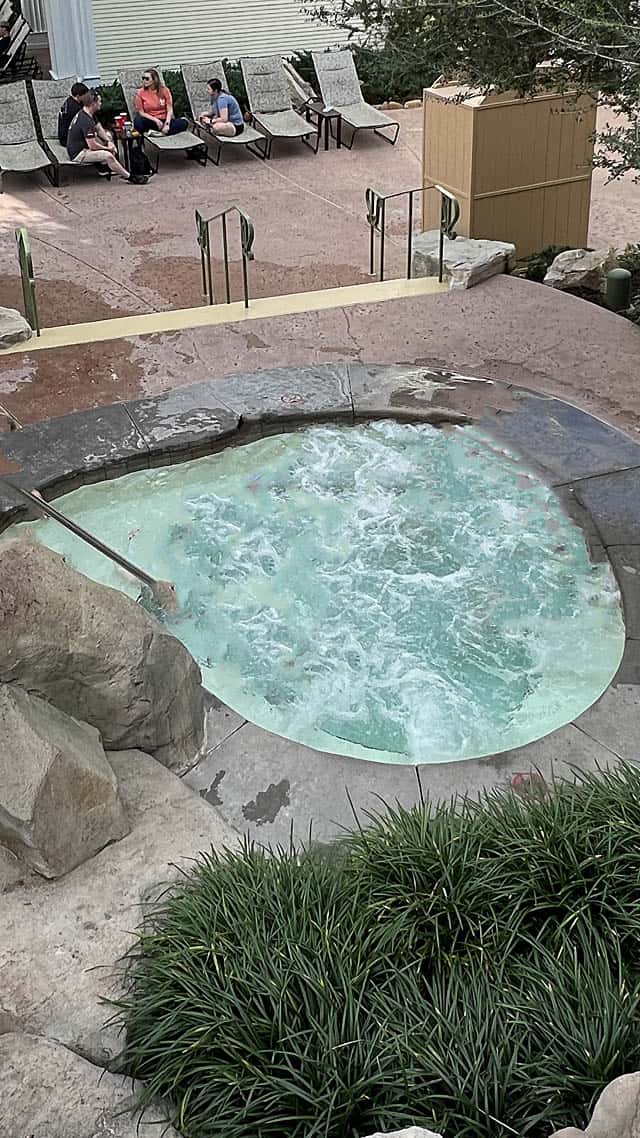 You can also explore 3 additional, all-ages leisure pools and whirlpool spas at each of these.
Lake Buena Vista Golf Course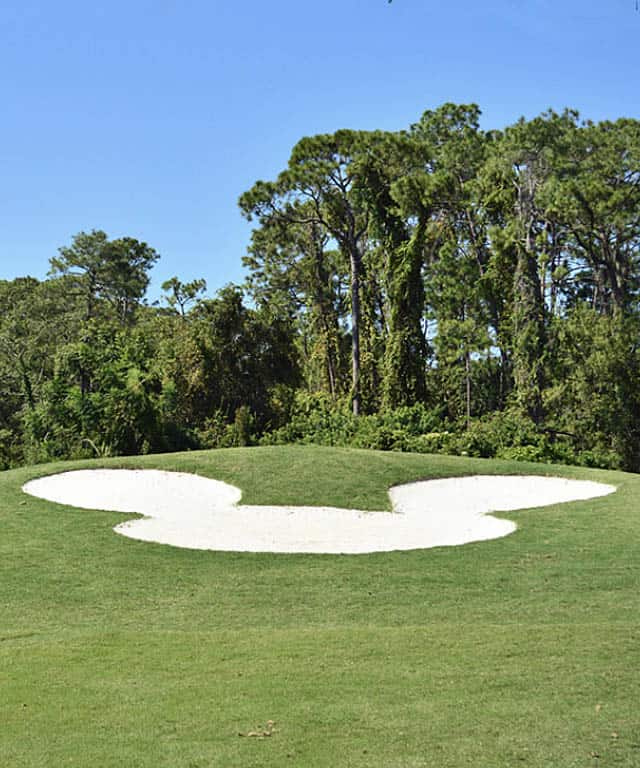 Saratoga Springs provides guests a classic country-club course winds through pastel villas, pine trees, palmettos and beautiful lakes. The use of a golf cart is included in your greens fee. Carts are designed to be shared by 2 Guests and are equipped with a small cooler, a sand bucket to fill divots, front windshields and rear pull-down club covers, in case of a passing shower.
To provide the best possible putting surfaces, Disney's Lake Buena Vista Golf Course is a non-metal spike facility. Golfers may wear shoes with metal spike alternatives or tennis shoes. Proper golf attire is also required; denim jeans or shorts are not permitted.
Amenities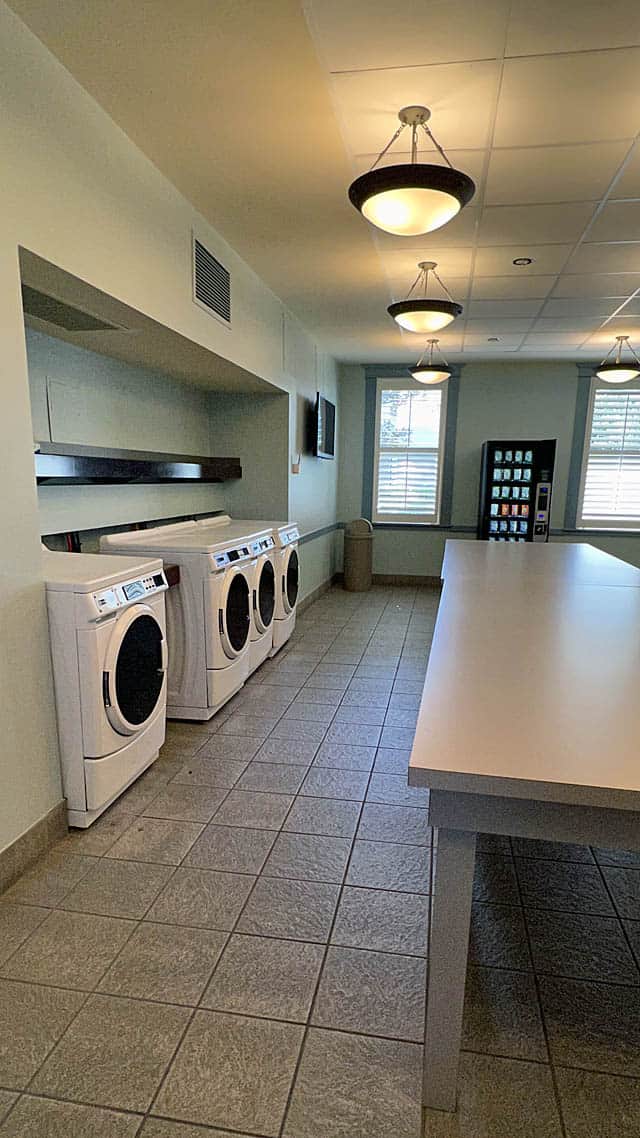 Disney Deluxe Resorts, including Disney's Saratoga Springs, offer many amenities. Check out the list below:
banking and ATM
laundry and dry cleaning services
designated smoking areas
mail services
valet parking
resort concierge
drink and ice machines
Recreation Activities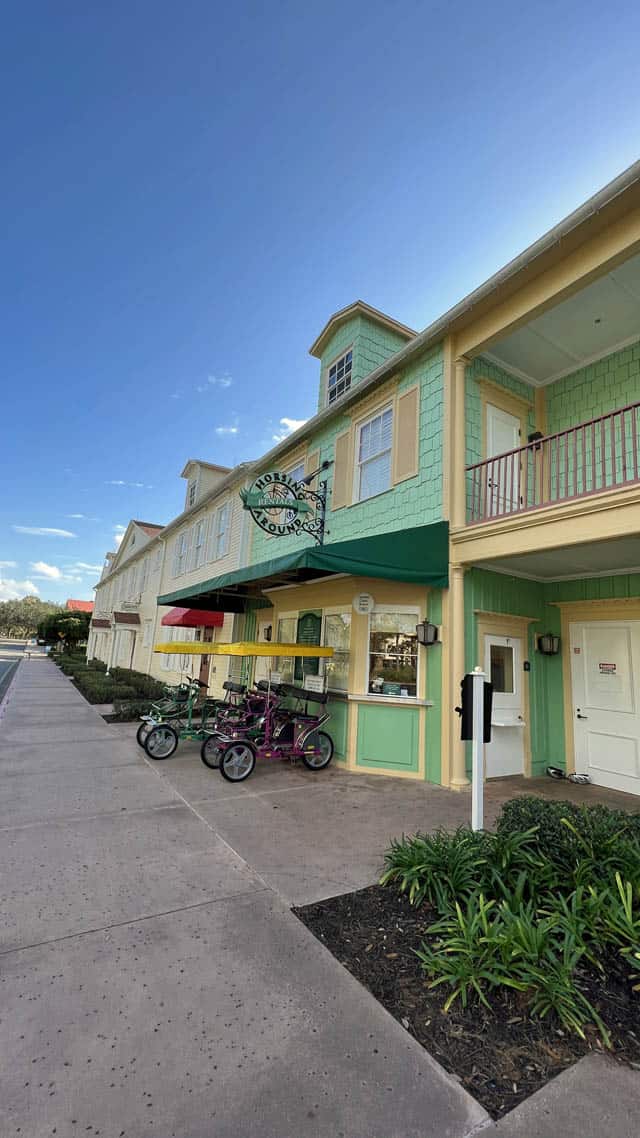 There are fun outdoor and indoor activities at Disney's Saratoga Springs. Like other DVC resorts, you'll also find a Community Hall room where children can take part in fun activities throughout the day. Check with the resort for current happenings. See list below of activities:
arcade
basketball court
spa
gym
bicycle rentals
golf
walking/jogging trail
Address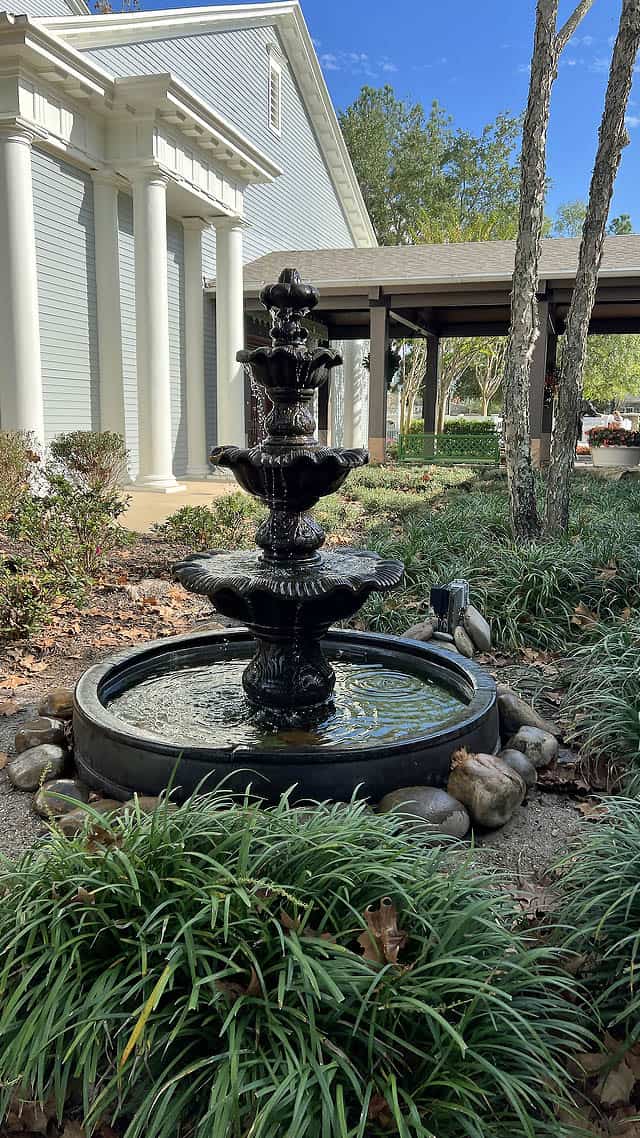 Are you wanting to send a package to Disney's Saratoga Springs ahead of time? If so use the following address: 1960 Broadway, Lake Buena Vista, FL 32830.
Final Thoughts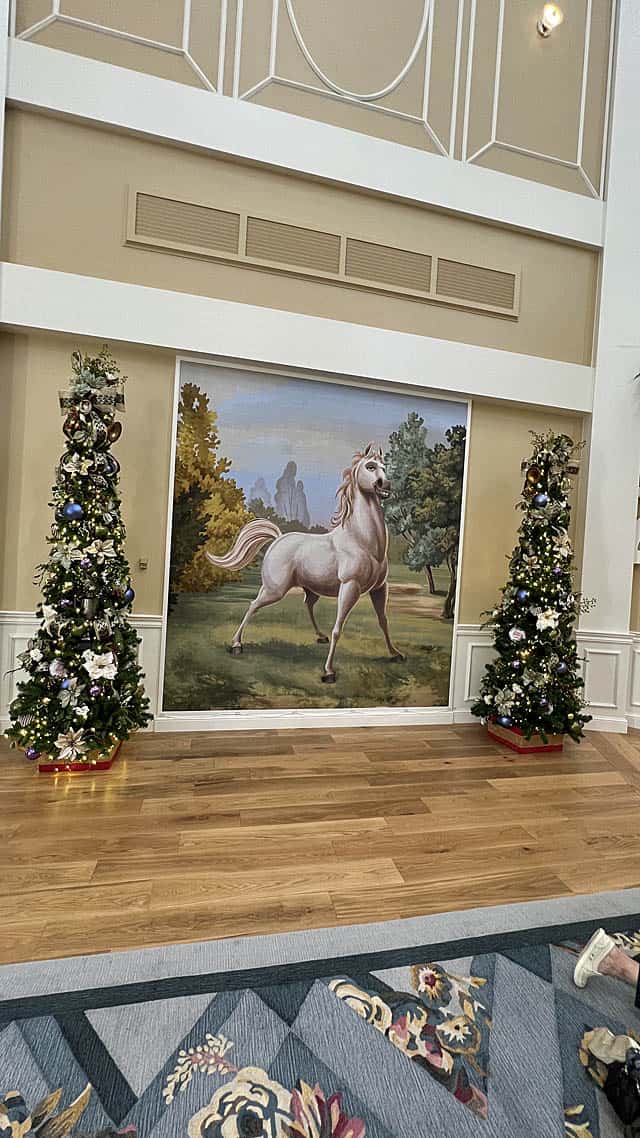 First, Saratoga Springs resort is so spread out! This is a definite downside for me as I prefer smaller resorts. However, this resort has so much to offer! It's quiet, has newly remodeled room, and is close to Disney Springs! Because it is so large, renting points is easier at this resort than other DVC resorts.
Also, not only does bell services deliver your luggage to your room via golf carts, they also deliver guests on these same golf carts. Oversized golf carts are everywhere! And cast member service is top notch!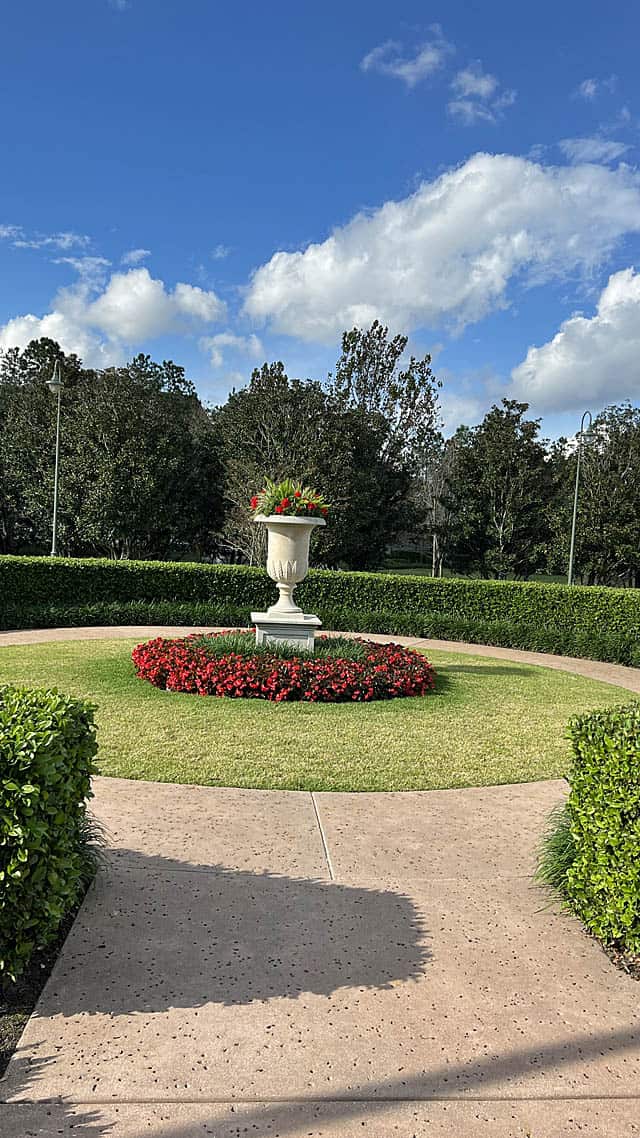 When I stayed here, we paid a little more than we would have at renting a value resort directly through Disney. Even though we spent a little on Uber rides to parks, we would definitely stay here again! We would stay at the Springs section again for close proximity to everything.
Have you ever stayed at the Saratoga Springs or would you consider staying here? Please share your thoughts with us on Facebook.