I recently stayed in a DVC Studio at Disney's Saratoga Springs Resort. Here is an honest review of the experience.
DVC Resorts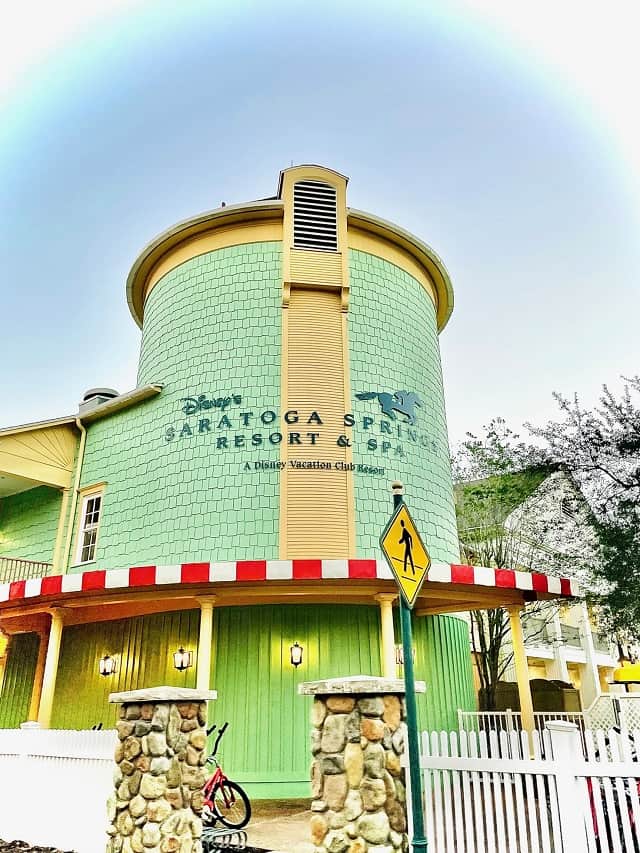 If you are new to the Disney community, DVC resorts may be a bit of a curiosity to you. These are the resorts where Disney Vacation Club owners have purchased vacation points. However, DVC owners do not always use all of their points, and sometimes rent them, either through a company or themselves to others to use.
I (KatieP) am not a DVC owner, but I do frequently stay in DVC resorts through renting points. Here is a guide to points rentals. Additionally, here are advantages and disadvantages to consider.
Saratoga Springs Resort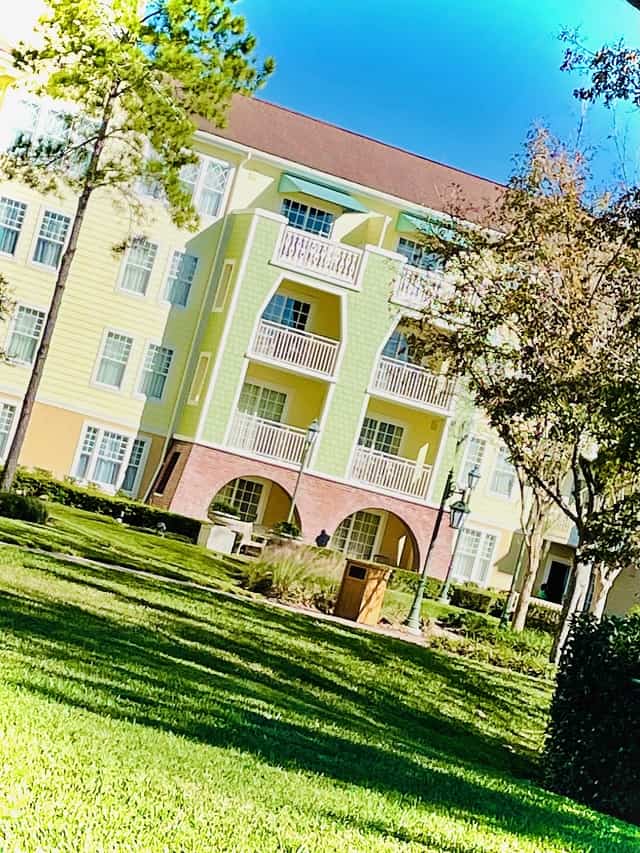 I recently got to stay at Saratoga Springs Resort for the first time. I generally prefer to stay on the Monorail, the Skyliner, or in Epcot Area Resorts. However, this was a last minute trip during the peak holiday season, so I had to grab what I could get, and what we got was Saratoga.
Saratoga Springs is a Disney Springs area resort. It is a large, sprawling property. Because of this, there are multiple bus stops for each of the resort's areas. It also has an internal bus to carry guests to the amenities. My family typically avoids such resorts. We like to be able to walk to everything we want to access at the resort: pools, restaurants, shops, and transportation.
I have found Saratoga Resort doesn't get a ton of love compared to other DVC resorts, probably for the reasons I mentioned. However, we were honestly not disappointed. In fact, we really enjoyed our preferred studio and the resort itself. We ended up with a room in a great location within the resort that fit our travel style wonderfully.
Theming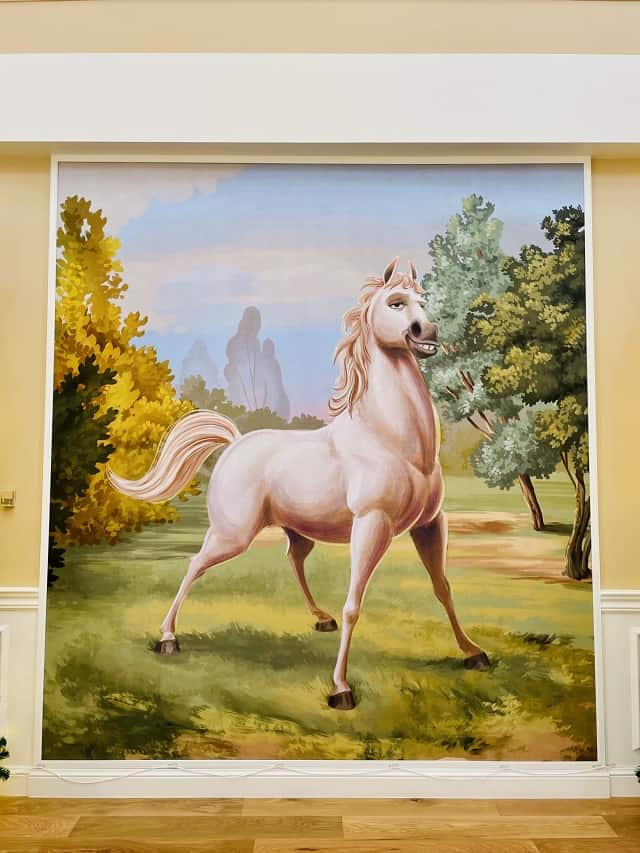 Saratoga Springs is modeled after the tranquil towns of upstate New York in the 1800. It also has equine theming because it is with the real Saratoga Springs in New York, horses are a part of the story.
My little one and I love horses. So, we appreciated being able to find them all over the resort. In fact, we took a stroll around the main building just to have a look.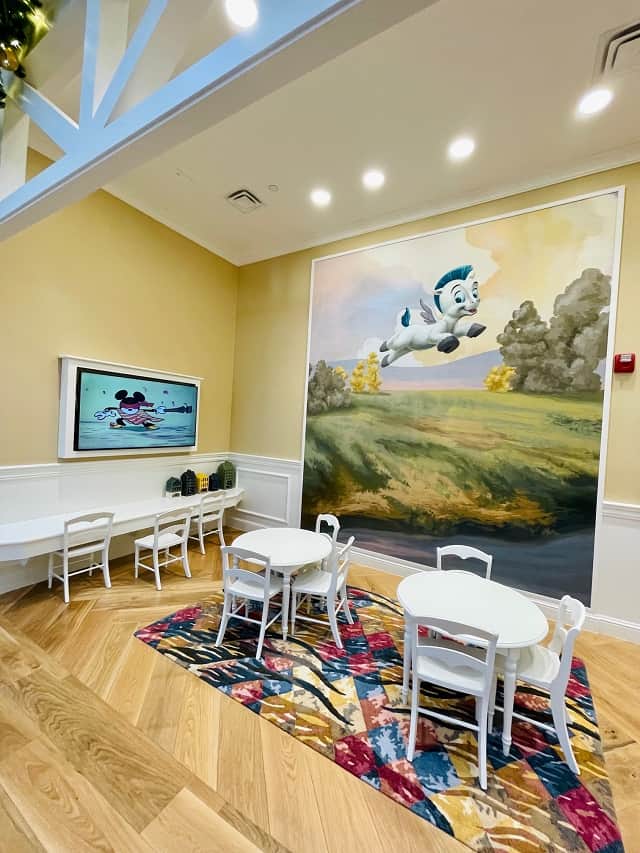 The lobby is chock full of floor to ceiling portraits of horses from animated Disney classics. You can find Maximus, Pegasus, and other fan favorites hanging there.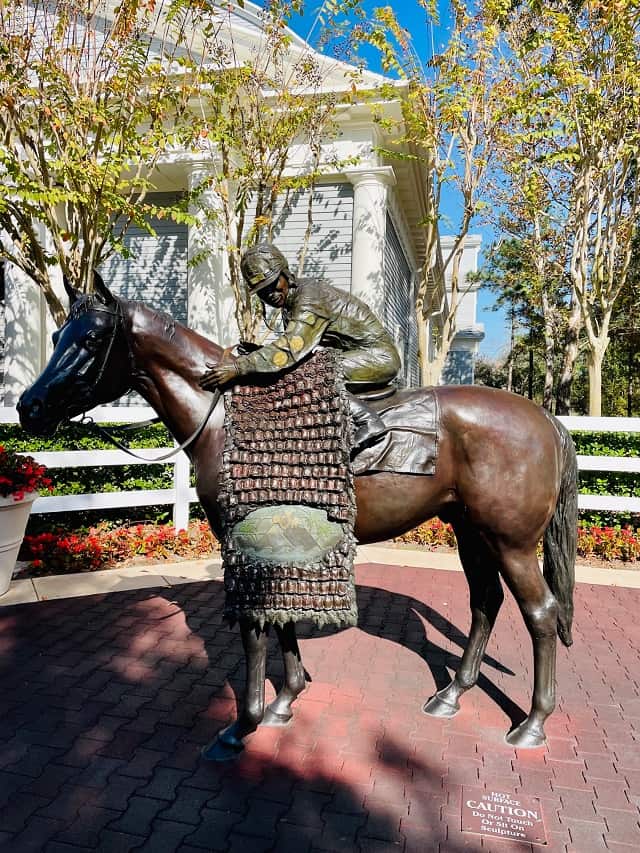 Speaking of horses, you will also find a sculpture of a horse and jockey in the winner's circle just outside the lobby. If you look carefully at the sculpture, you will find hidden Mickeys horsing around! HIDDEN MICKEY SPOILERS IN THE NEXT PARAGRAPH! Skip down to "Perks" if you don't want to see them.
One is on either side his bridle, made from his bit. One is hidden on each side of his blanket of roses. Another is on his chest, formed from his muscles, but it is harder to see.
Current Perks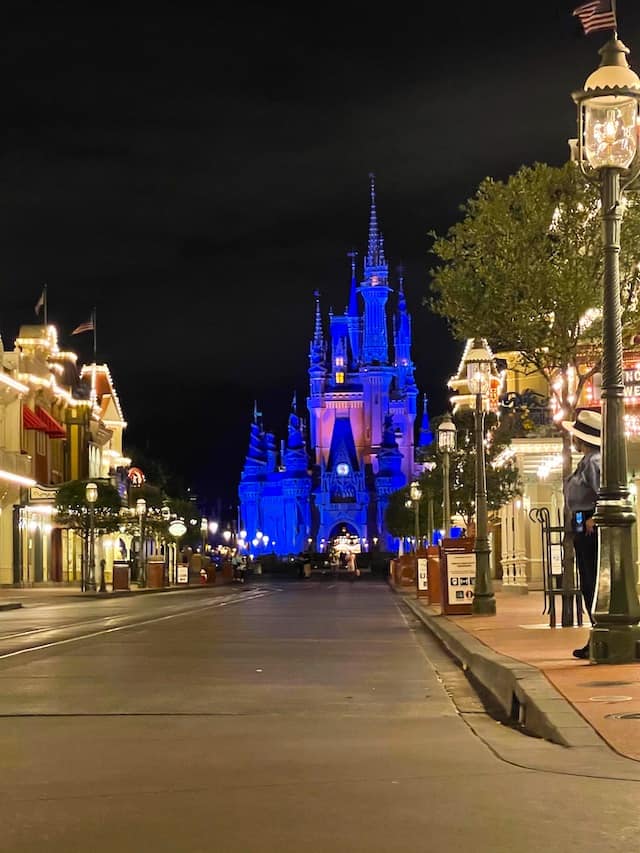 Like all DVC Resorts, Saratoga Springs currently (as of early 2022) comes with several perks for those staying there. We truly enjoyed these perks.
For one thing, guests of all Disney resorts currently enjoy early entry to the parks. Additionally, Deluxe guests get Extended Evening Theme Park Hours at Epcot and Magic Kingdom. These extended hours are amazing! We slept in a bit on days when we wanted to enjoy them, and it was well worth it.
Our Room Location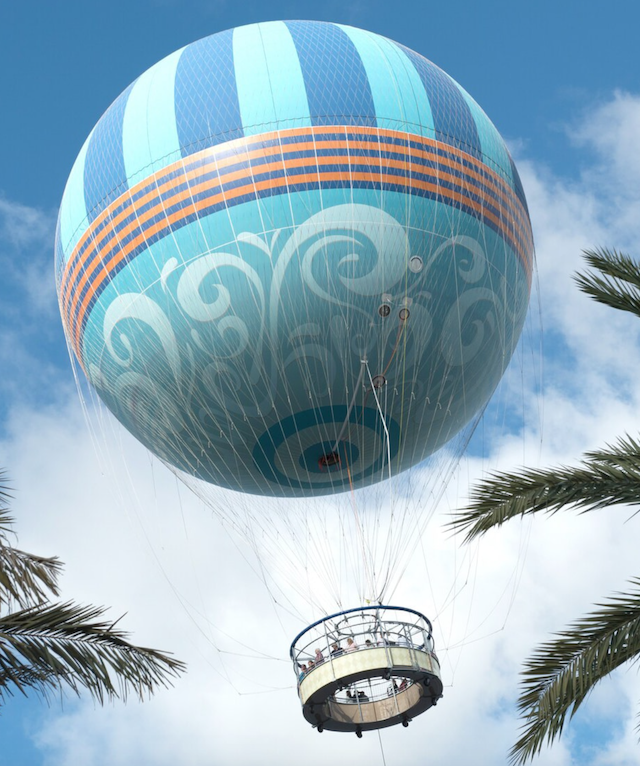 Saratoga Springs Resort has five areas, two of which are preferred locations. One is the Congress Park, and the other is the Springs. Congress Park is within walking distance to Disney Springs. It does have a pool and a pool grill. If you like visiting Disney Springs, this is a great place for you to stay.
The Springs is the other preferred section. It is near the lobby, the main pool, restaurants, and amenities. If you prefer to be able to walk to the pool or to breakfast or to refill your drink mugs, this is the area for you. This is where we were hoping to be as we waited for our room assignment.
Once the assignment arrived, we found that were initially assigned to stay at Congress Park, which would have been fine, but since it never hurts to ask, we inquired about switching. A little bit of Pixie Dust got us moved to a lovely first floor studio in the Springs, just minutes from all the area's amenities.
The Studio Rooms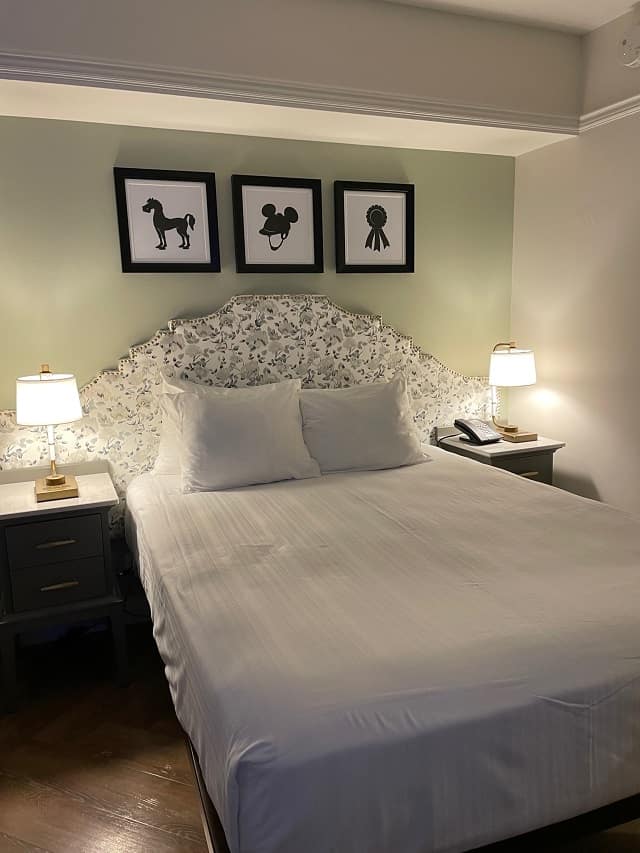 The rooms at Saratoga Springs Resort recently received a refurbishment. We loved the charming look of the newly refreshed rooms. We appreciated that the rooms, like the resort, are decorated with equine themed touches.
Each studio has an entryway and hallway that is flanked by the bathroom on one side and the kitchenette on the other. The entryway was large enough for us to park our stroller without having to fold it.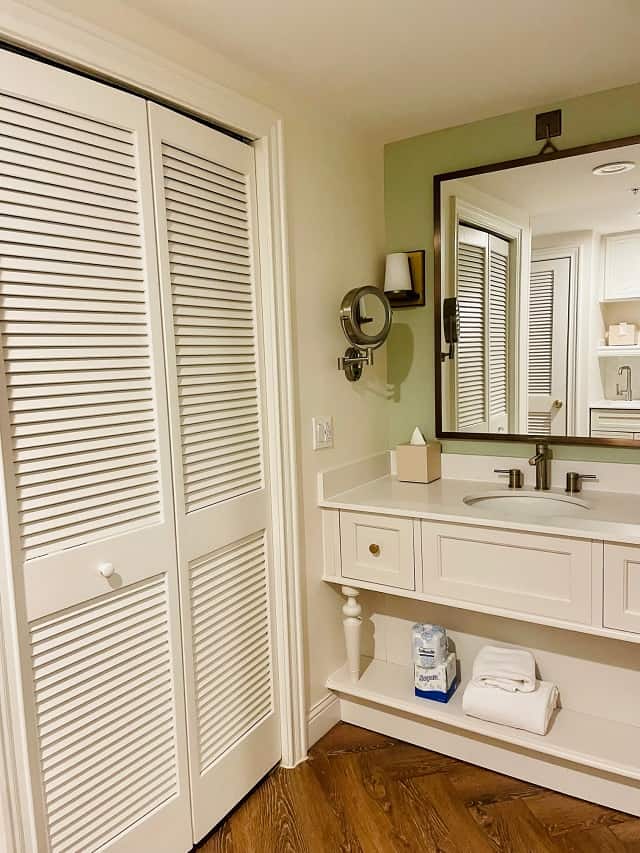 The sink area is separate from the bathroom. This area has a relatively large closet with enough space to store suitcases and hang plenty of clothing. You will also find a safe in the closet.
The bathroom itself has a toilet and a shower/tub combination with a sliding door. It is simple, but functional. I thought the tiles were pretty, and we enjoyed the removable showerhead as it makes bathing little ones easy.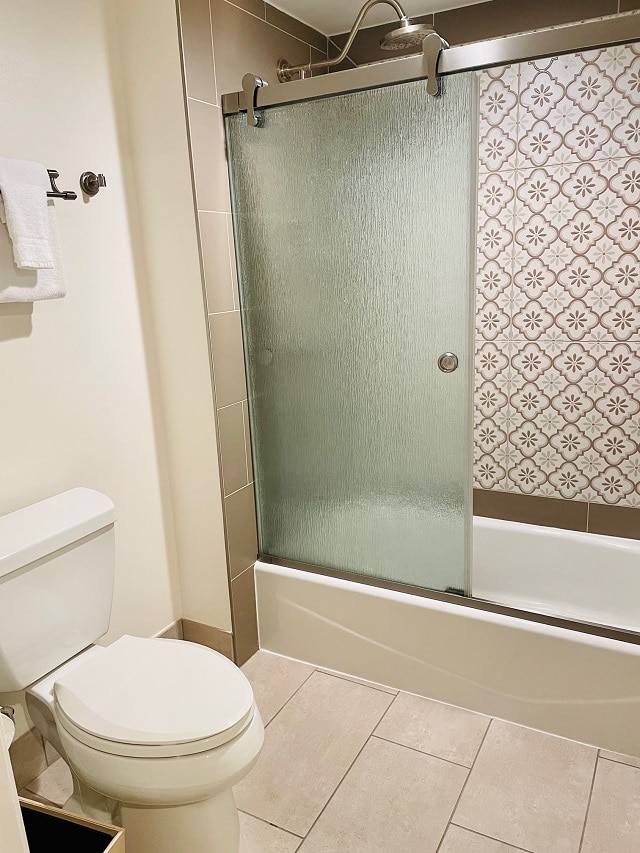 We found the kitchenette adequate for our purposes for a week long stay. It has a microwave, mini fridge, and sink.
There are also cabinets where we could stash the snacks and food we brought from home. And, of course, there is a coffee maker.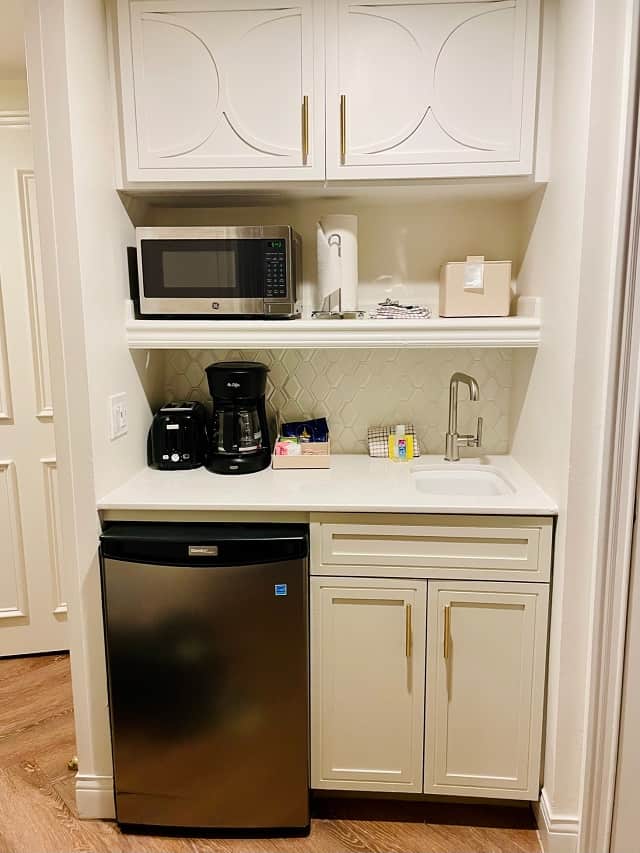 The bedroom has one queen bed that we found very comfortable. It is high enough off the ground for storing suitcases.
The second sleeping space is hiding behind the sofa. A bed pulls down from the wall. Pulling it down even reveals an adorable surprise detail: a picture of a horse and its foal resting.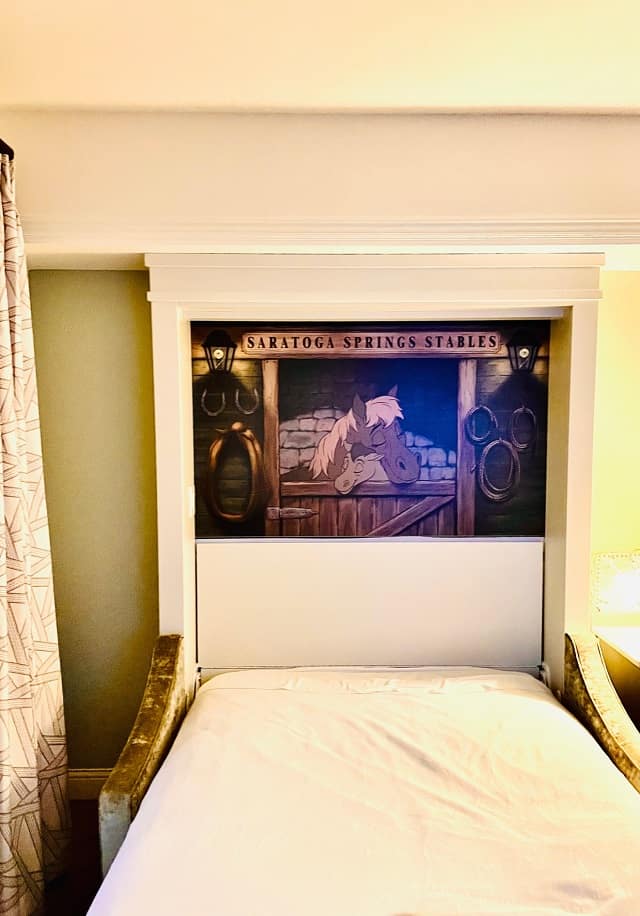 My children loved this bed. They had no problem sharing it and slept comfortably.
The room also has a large flat screen television. It sits atop a dresser with 6 drawers for storage.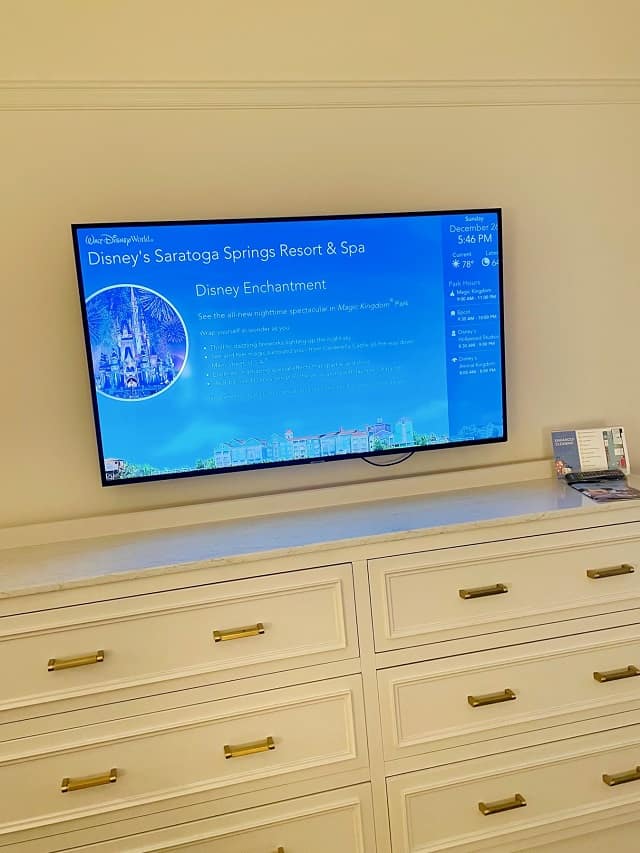 Let's be honest. Is there anything better to have on while you unpack than the resort channel, playing Disney Parks music?
Another fun touch is the coffee table. It pops up to turn into a table just the right height for eating. Opening it also reveals storage within that my little ones used to store their treasures.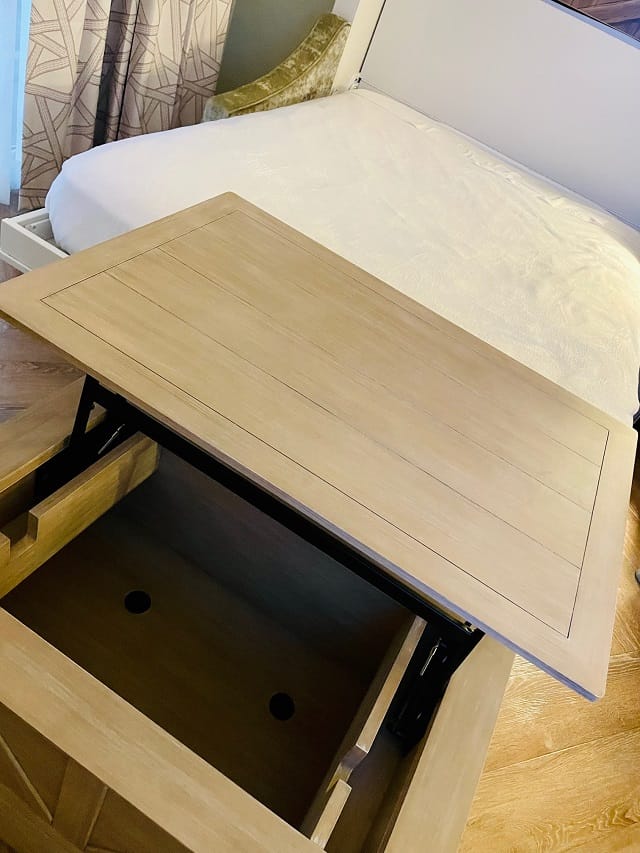 They got a huge kick out of that pop up table. They loved having a few snacks and meals while seated there. In fact, they wish we could have such a table at home!
Since we were on the ground floor, our sliding doors opened up onto a patio. On it rest two chairs and a table. Our particular room had a view of the lake, and we enjoyed watching the ducks and other water birds that visited.
Resort Restaurants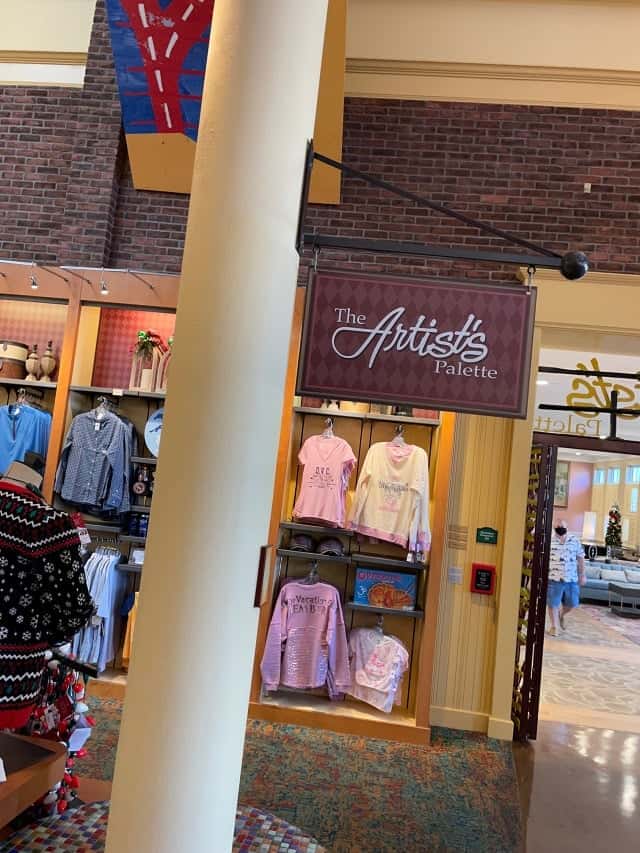 While we were there, the Turf Club, the table service restaurant at Saratoga springs remained closed. It does open soon though-read about it here. However, we did have a chance to enjoy the quick service options in the main building.
One of them, Artist's Palate is a quick service restaurant and gift shop. My husband came here several times to pick up breakfast for the family before we headed to the parks.
Hence, we enjoyed breakfast sandwiches, Mickey Waffles, bacon, eggs, and French toast at various points throughout our week there. All of them were tasty. I did prefer the Mickey Waffles to the French toast.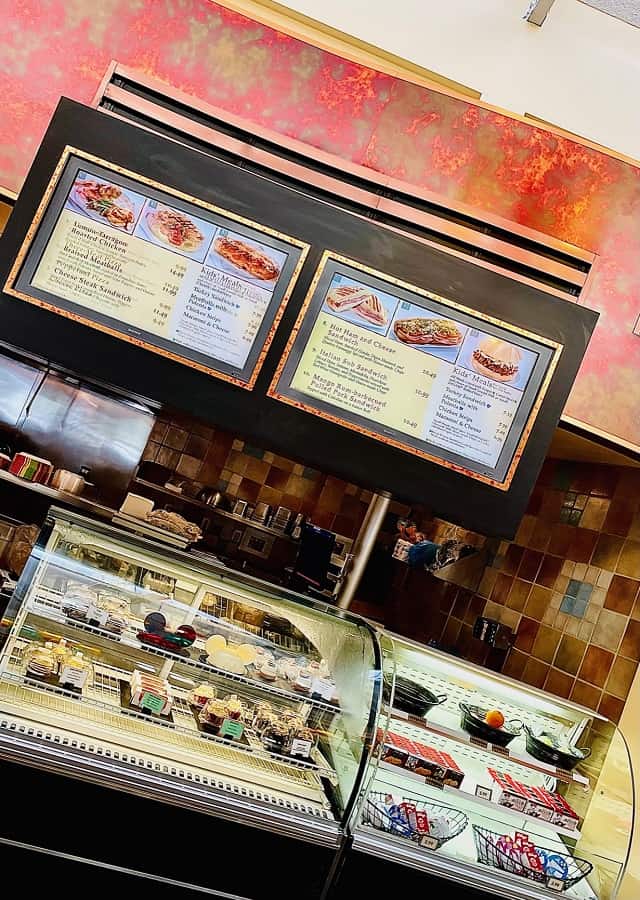 We also had an early dinner from Artist's Palate one day. It had a good variety of options, and everyone in the family found something to eat easily.
We tried the salad, hot ham and cheese, and the kid's chicken tenders. All of them were pretty good.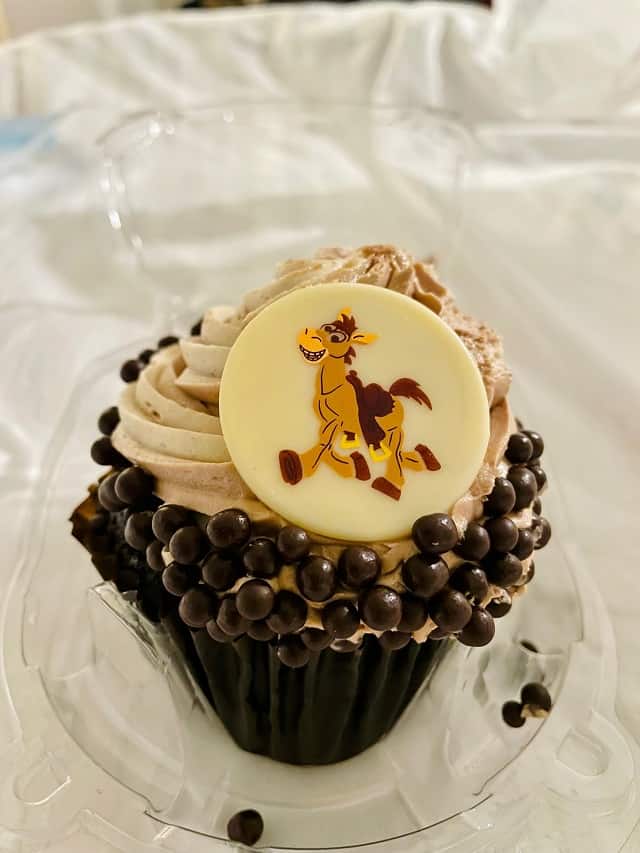 I also had the best cupcake I have ever eaten in Walt Disney World at the recommendation of fellow writer Susan. The Bullseye cupcake is chocolate peanut butter perfection.
I usually find Disney cupcakes dry and overly sweet. Not so with this one. It is amazing, and I find myself craving it.
Chip 'n' Dale's Café
While we were at Saratoga Springs, we also enjoyed the restaurant at the resort's golf course. Actually, this was the star of the quick service show.
It had the best grilled cheese I have ever eaten at Walt Disney World. I am a huge fan of the grilled cheese at Woody's Lunch Box, but this was superior. My children agreed that the hotdog was very good as well. And all was a great value as well compared to much of what Disney offers.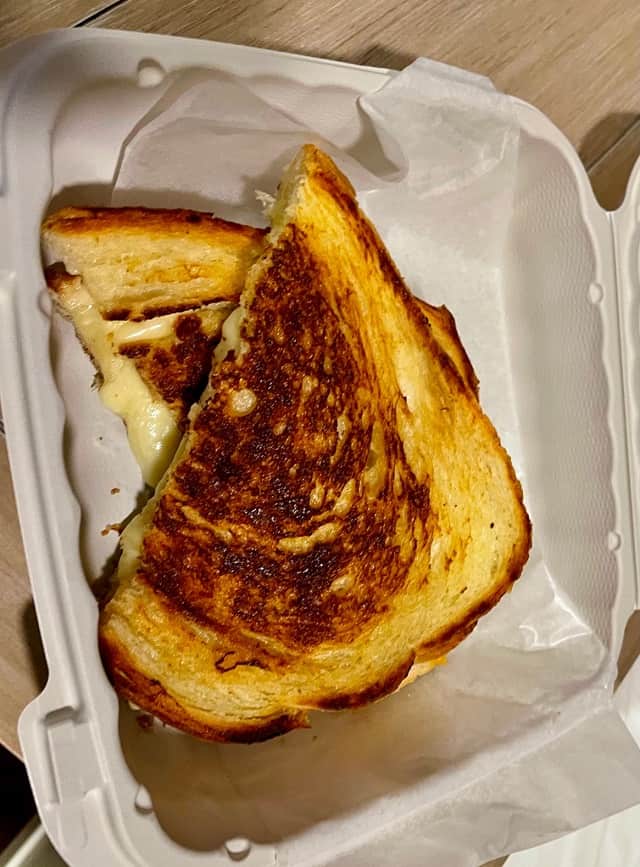 I also had a chance to taste the chicken salad sandwich; however, I did not like it as much as I thought I would. It had too strong of an onion flavor for me. I do not care for raw onion, particularly not in my chicken salad, but if you like onion, you might enjoy if better than I did.
All that is to say, if you dine at Saratoga Springs, do not overlook the golf club as a place to get food. It is very good.
Main Resort Pool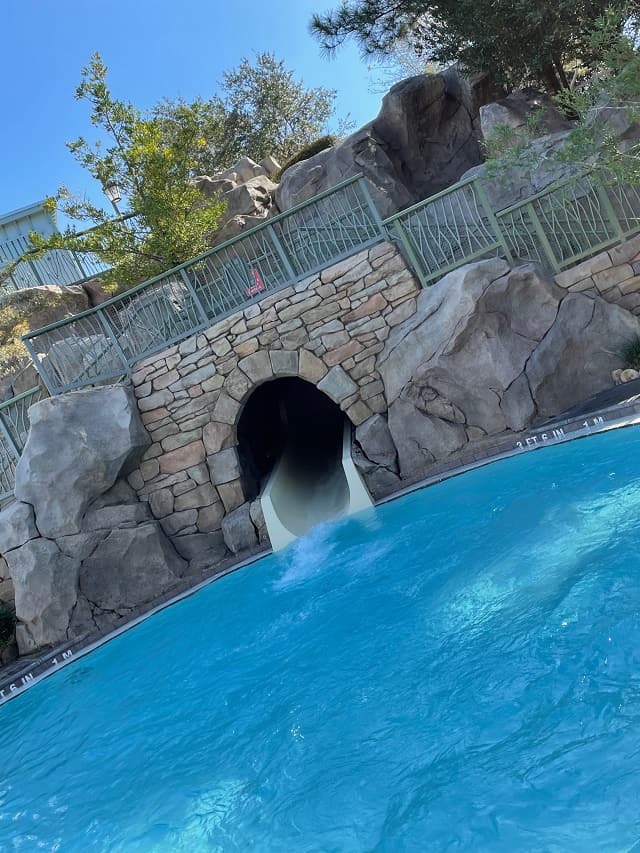 My children love to visit Disney resort pools. They especially love it in the dead of winter when it is too cold at home to use the pool. We find time at the pool adds magic to our trip. The main pool was just a few minutes from our room. It was great to be able to walk over.
It was also nice that the pool has lockers. We could put our things away and enjoy the swim with less to keep up with.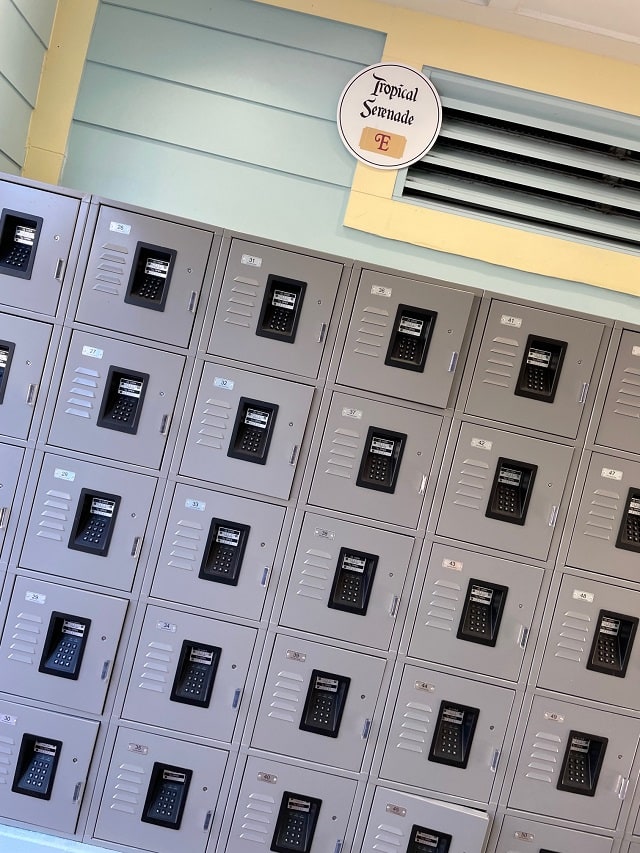 The pool has a great waterslide. I know from first hand experience. It is a slow ride and has lots of twists and turns. The whole family took a turn, and some of us took many, many turns.
There is also a very small kiddie slide, which our littlest traveler loved. Additionally, there is a little play area with little geysers for kids to splash in.
The end of the pool opposite the slide has zero-entry style access. The gentle slope is also flanked by fish fountains that spray water into the pool. I love a zero entry pool, and I can't even explain why.
There is also a hot tub available. This was nice at the midway point of our trip when I was beginning to feel my biological age.
We also enjoyed the pool bar. I had a strawberry smoothie, which was nothing particularly special, but it was tasty and refreshing.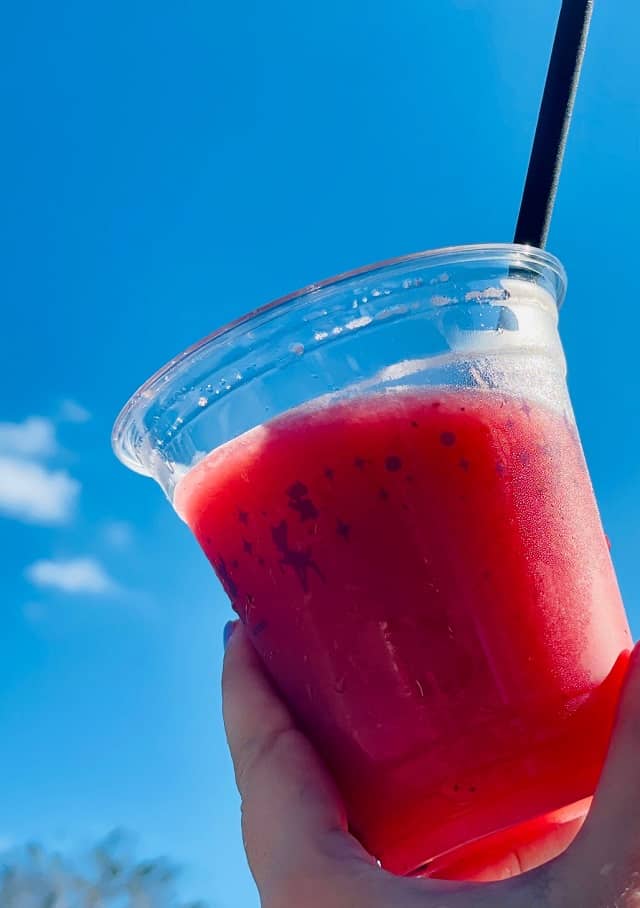 The pool was crowded while we visited. It was tough to find chairs to use. We never did find more than two together, but that was fine since the children stayed in the water until it was time to dry off and leave.
We did not have a chance to explore the other pools at the resort. However, I would like to someday.
Resort Transportation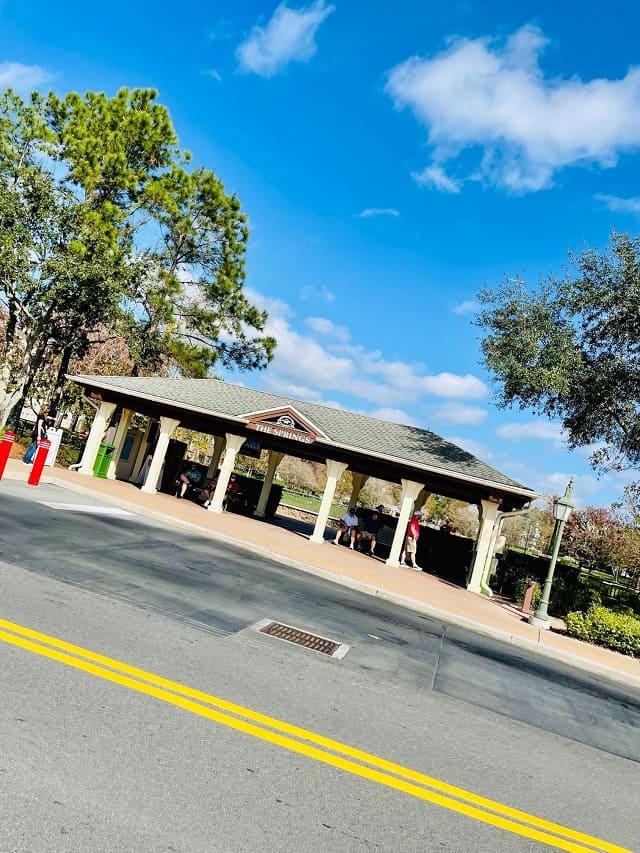 One drawback of the resort is that buses are really the only Disney transportation option. My family had a car, so we were able to drive if we needed to get somewhere quickly. We also used the buses some, and we seldom found them crowded. However, that is because we used them strategically and tried to take them only when there would be no crowds waiting with us.
The way the SSR bus system works, the Springs is one of the last stops along the route. This means that if a bus filled up at the other stops, it would zip by, leaving guests at the Springs to have to wait for another.
If you stay here, you will want to keep this in mind as it can be a problem for those looking to take advantage of early entry! It is possible to drive to another stop, park, and take a bus from there. You might also consider rideshare if you are in a rush.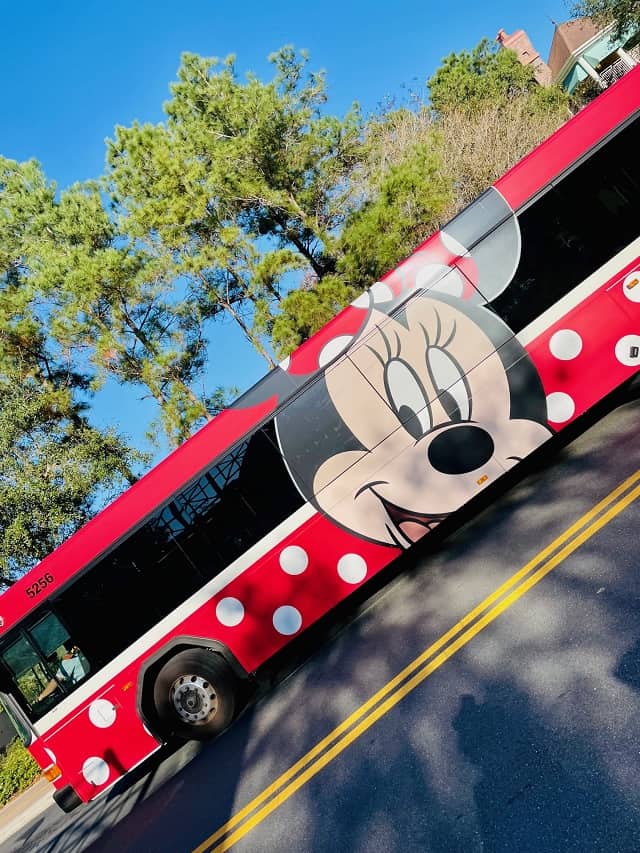 If we timed it right, we could also take the bus back from the parks with little crowding. This was not true when we watched the preview of Fantasy in the Sky in Magic Kingdom. We left right afterwards, and the bus was, of course, packed. However, it was okay for one night.
We had much less trouble on subsequent evenings. In fact, I would say our bus experience went rather smoothly for the most part.
One Word Of Caution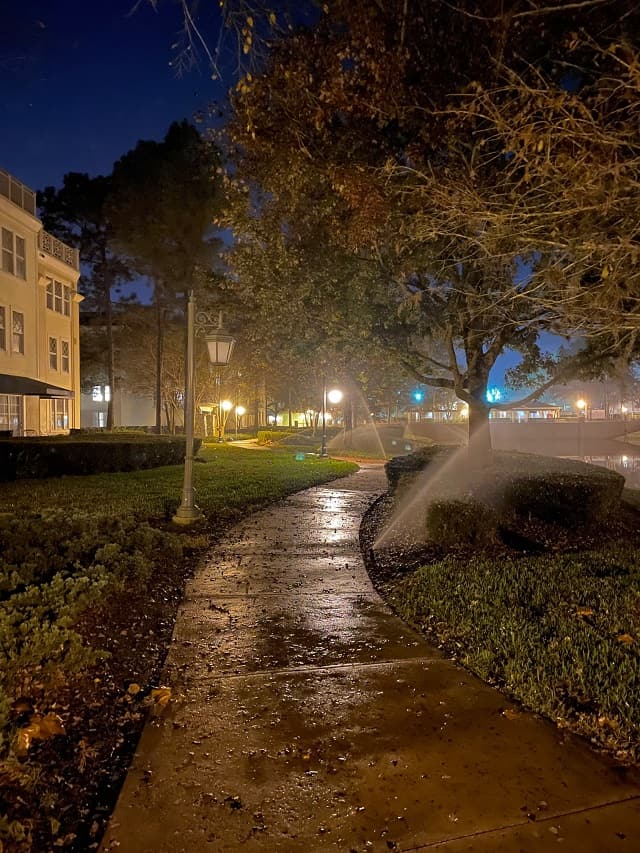 If you are getting back late by bus, and the path to your room requires a walk along the sidewalks, you might find yourself up against the resort's sprinkler system. The sprinklers rotate, so making your way through them without a bit of a soaking is tricky.
I think that the intent, of course, is to run the sprinklers after the parks close so that guests do not get drenched. BUT the schedule did not seem to take into account deluxe Extended Evening Hours. Fortunately, we didn't have any slips. But, do be careful if you are on the way back to your room late and need to walk near grass.
Overall Impressions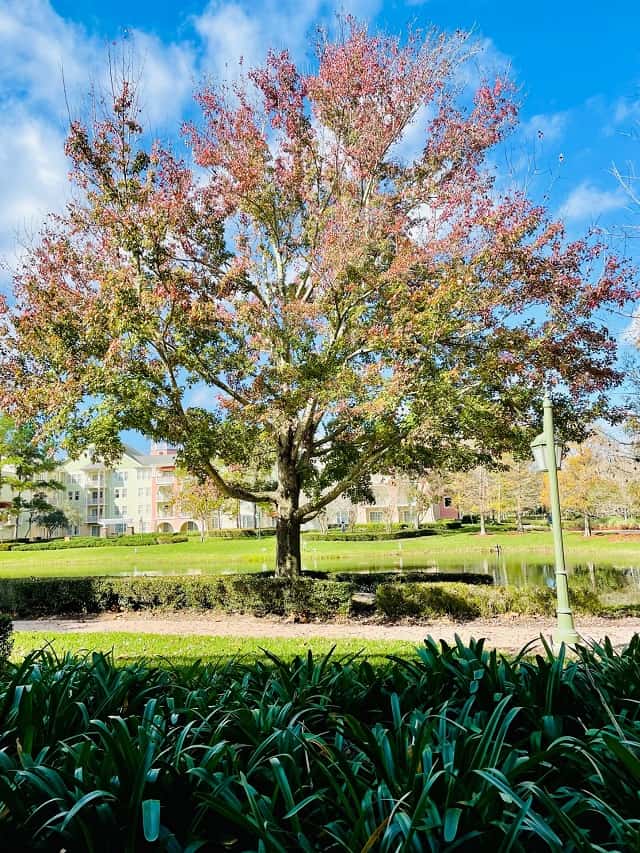 While at first I was sad not to be able to find a smaller resort that isn't reliant on the bus, Saratoga Springs quickly grew on me. We found it to be quiet and relaxing, and it made a great place to spend time away from the parks.
In fact, due to the excellent location of our room, we were able to make the resort feel small! We could access dining, shops, a pool, and the bus stops all with a quick walk of no more than a few minutes.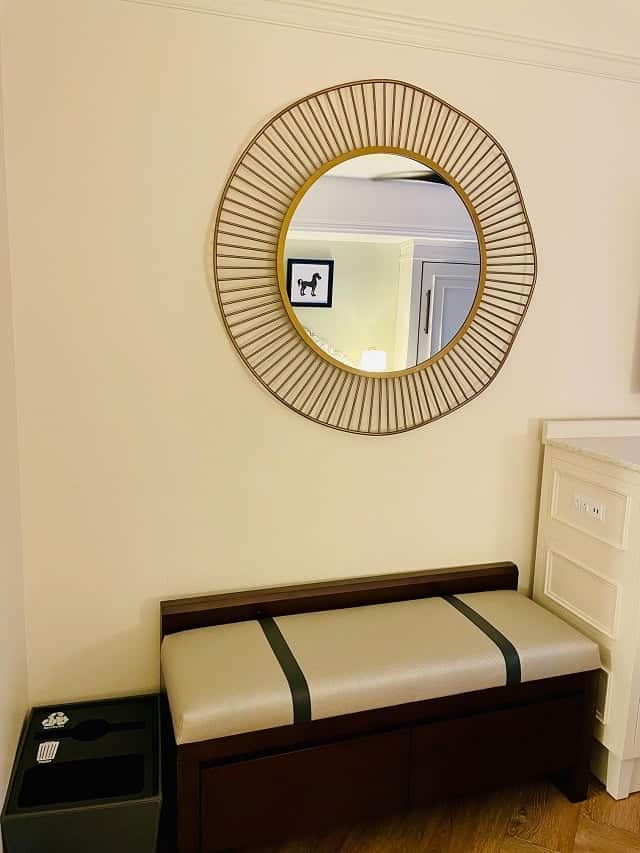 Additionally, acquiring the points for this resort was an excellent value considering the dates and length of travel. The savings freed up a bit of our vacation budget to allow for spending on other activities.
Is Saratoga Springs going to be my first choice for a DVC stay at Walt Disney World? No, I still prefer a Skyliner or Monorail Resort if I can get one. However, I did very much enjoy my time here with my family, and I would not hesitate to stay in the absence of preferable availability.
Have you ever stayed at Disney's Saratoga Springs Resort. Do you have plans to? Let us know in the comments or continue the conversation on our Facebook page.