Do you or someone you love use Disney's DAS service? Here is how to pre-register for the service. There is also a new update that might benefit you!
Disney DAS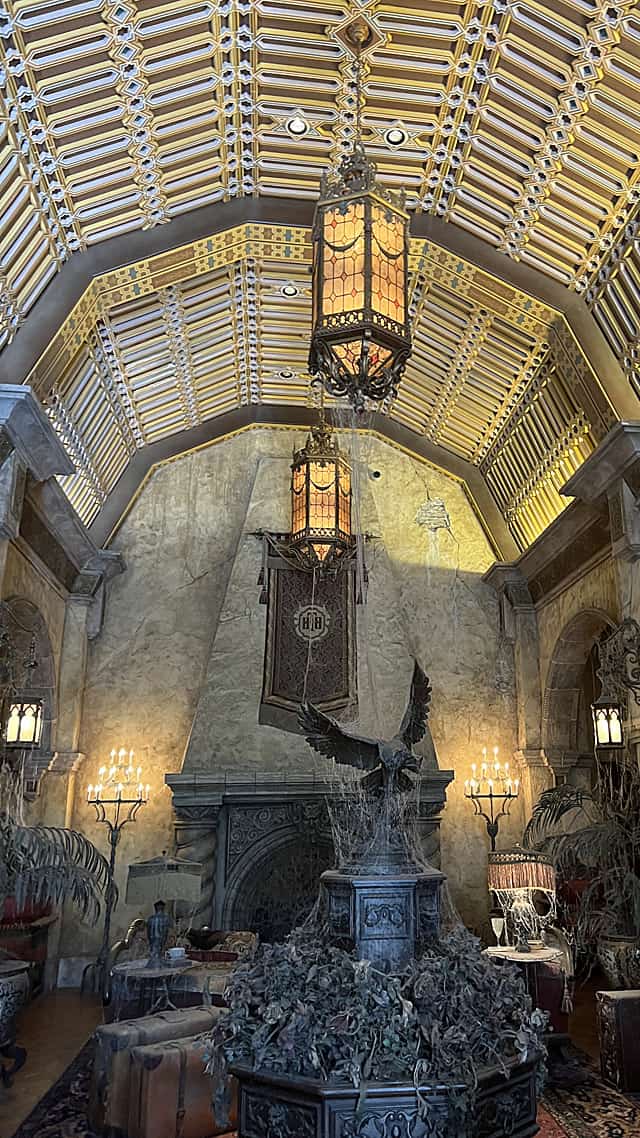 Disney's DAS is the resort's Disability Access Service. Contrary to popular belief, this is not a "skip the line" pass.
Rather, DAS allows guests who cannot wait in ride or show queues with a return time equal to the ride's posted wait time minus 10 minutes. This way the guest can wait somewhere more suitable for his/her needs.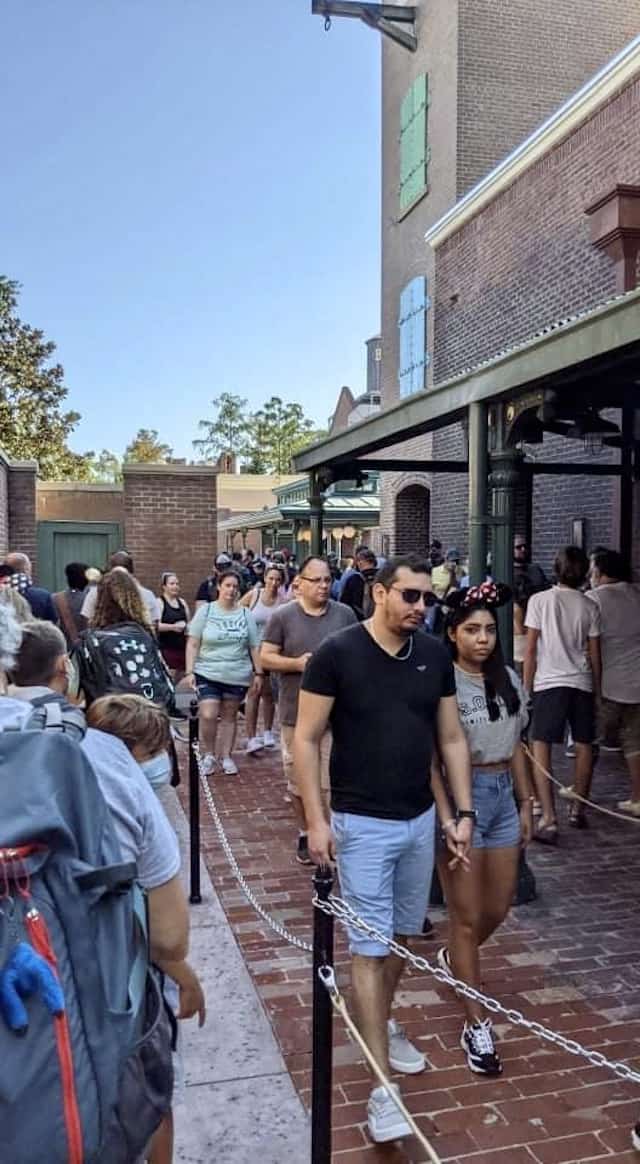 Note that DAS does not include mobility access. Guests needing to use a wheelchair or scooter will find that most attraction queues are wheelchair or scooter accessible or that they have special entrances that make accessibility possible.
This service often helps guests with disabilities that are invisible to the casual observer. It can be a true blessing for guests who cannot otherwise experience attractions.
Registering in Person for DAS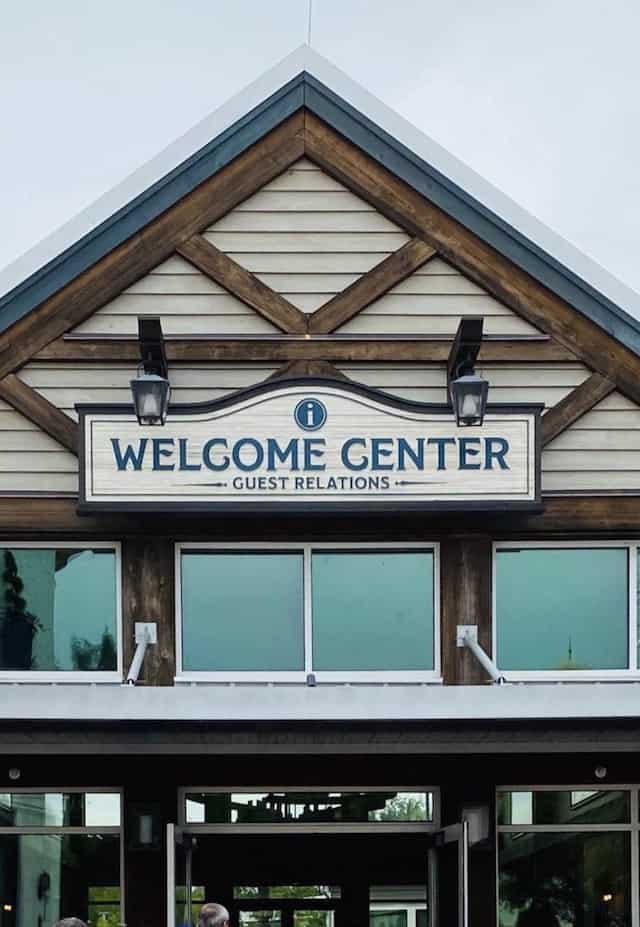 If you or a member of your travel party has a need for the DAS service, you can register in one of two ways. The simplest is to register in person at any guest relations area in or just outside of the parks.
You can register the day of your visit. You can then use the app to begin scheduling one DAS return time for one attraction at the time upon entry into the parks.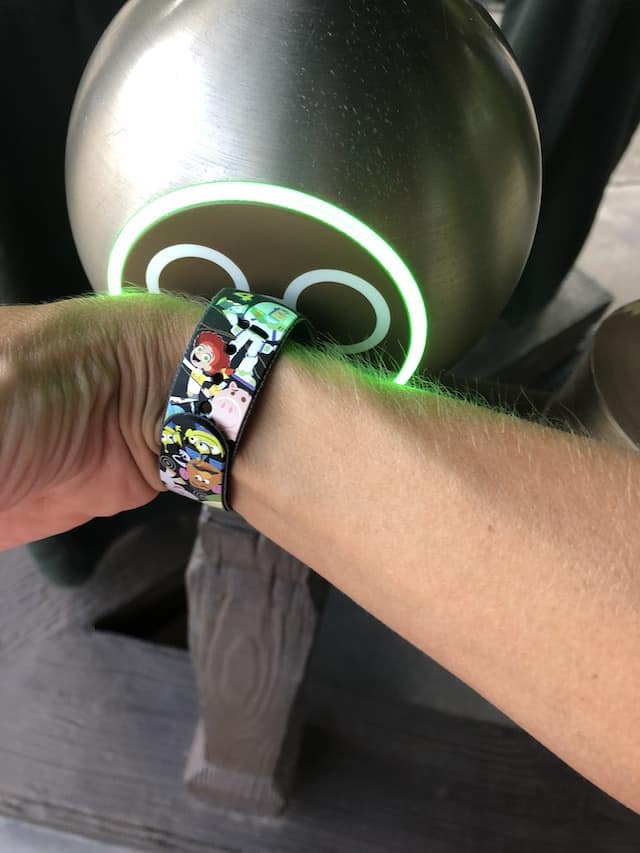 Once you tap into your first experience, you are able to register for another. Note that attractions with a virtual queue such as Remy's Ratatouille Adventure require you to obtain a boarding group prior to using the service.
Pre-Registering Online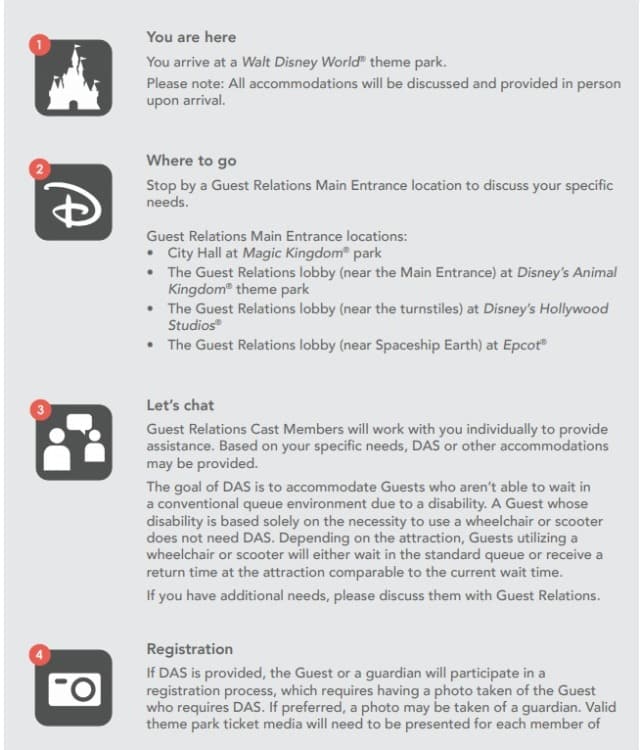 Guests can also pre-register for DAS online. However, the process is a bit more complicated.
Guests will need to use the system to pre register between 2 and 30 days from their park visit. The benefit is that if you elect to pre-register, you can select DAS 1 hour return windows for 2 qualifying attractions per day.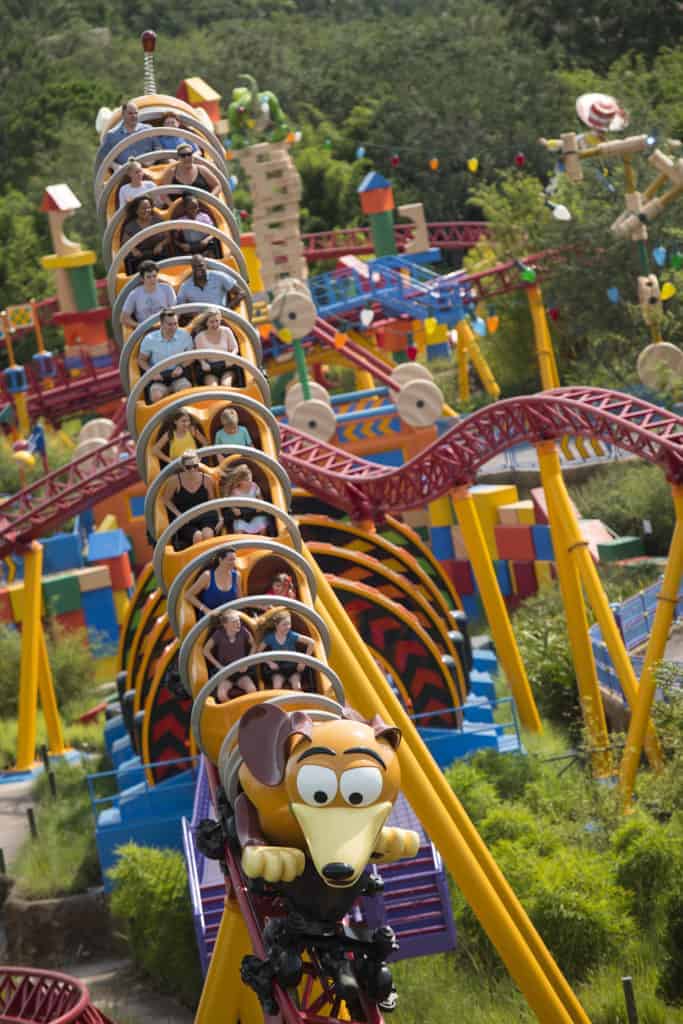 Note that these 1 hour return windows are not like normal DAS return times. You must return within that hour. With typical DAS selections you can return any time AFTER the wait time elapses.
The biggest catch to pre-registering is that this process is currently extremely lengthy! It requires hours of monitoring your computer or device, and the member of your travel party needing DAS must be present at the time of the pre-registration conversation.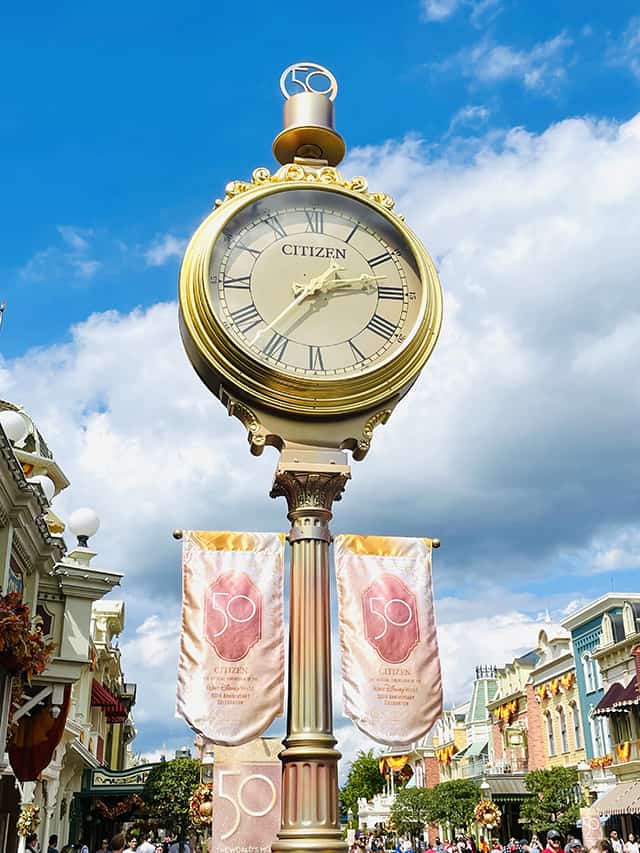 For example, I (Katie P) logged in to pre-register a member of my travel party just before 1 PM 29 days prior to my first park date. I finally reached the pre-registration person just after 9 PM.
The process has not been particularly smooth for most anyone. You can also read about Joe's not so magical experiences with the registration process here and here. He includes excellent advice to help with the process such as turning off pop-up blockers.
The Process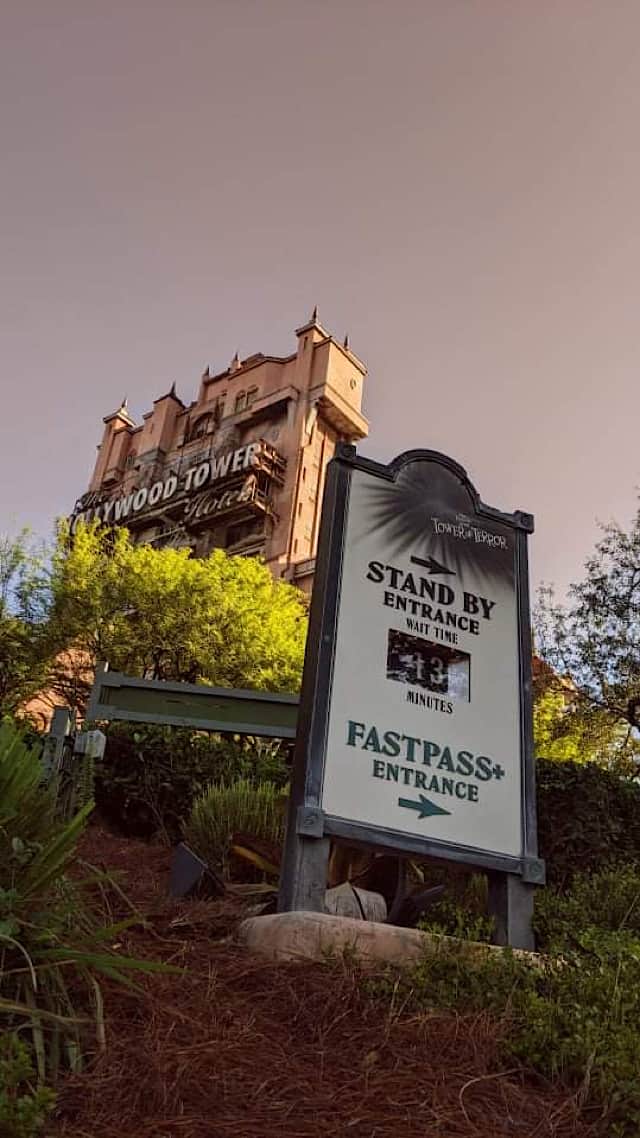 The process has 3 parts. First you call and wait to be connected (this takes the longest). Then you receive notification that it is time to connect with the video chat representative to register yourself or your DAS user.
I was giving a time frame of 45 min give or take to receive the call. The Cast Member messaged me to make sure I was available with the member of my travel party for the call.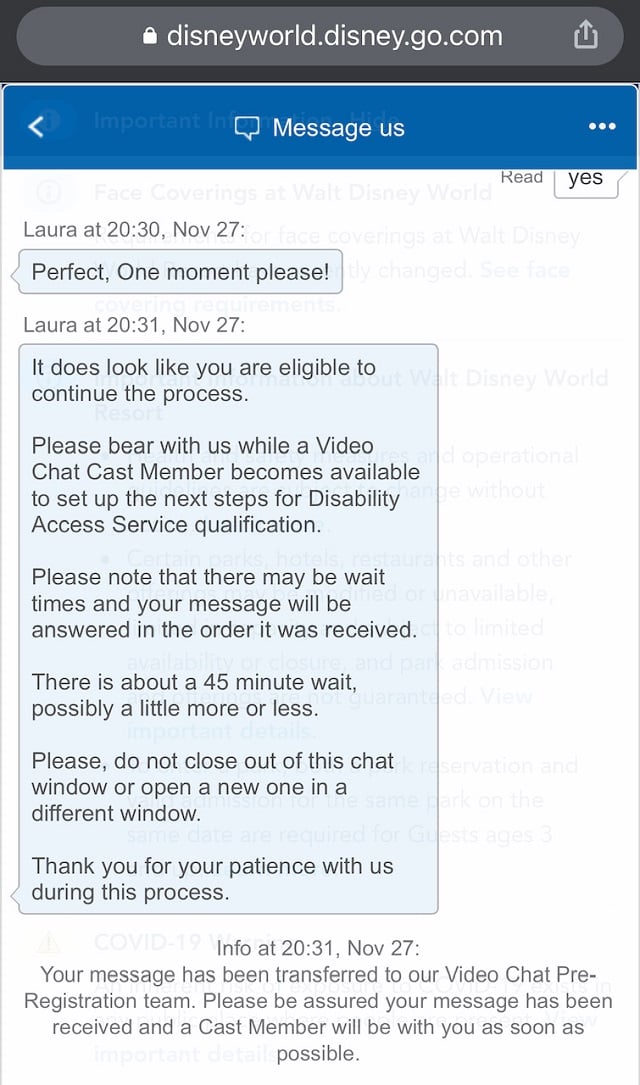 During the call, the member of your party needing DAS or a guardian will explain the nature of the need (not the diagnosis). Then the Cast Member takes a photo. That is it!
The final step is being connected with another Cast Member for planning. This Cast Member will set up your DAS selection 1 hour return windows for 2 qualifying attractions per day.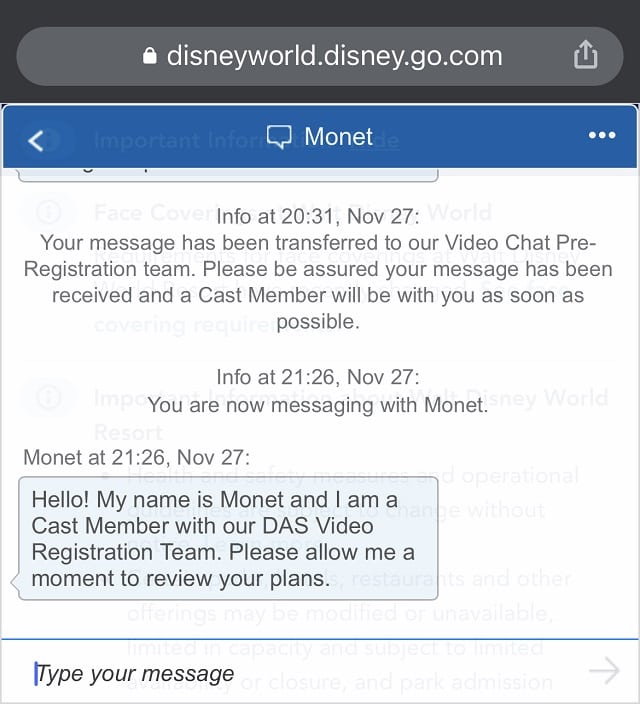 Note that the attractions with paid Individual Lightning Lanes are NOT eligible for return windows through pre-registration. You can see a list of those attractions and pricing here.
These attractions are eligible for in person DAS. However, the selections must be made on the day of your visit as part of the regular DAS service.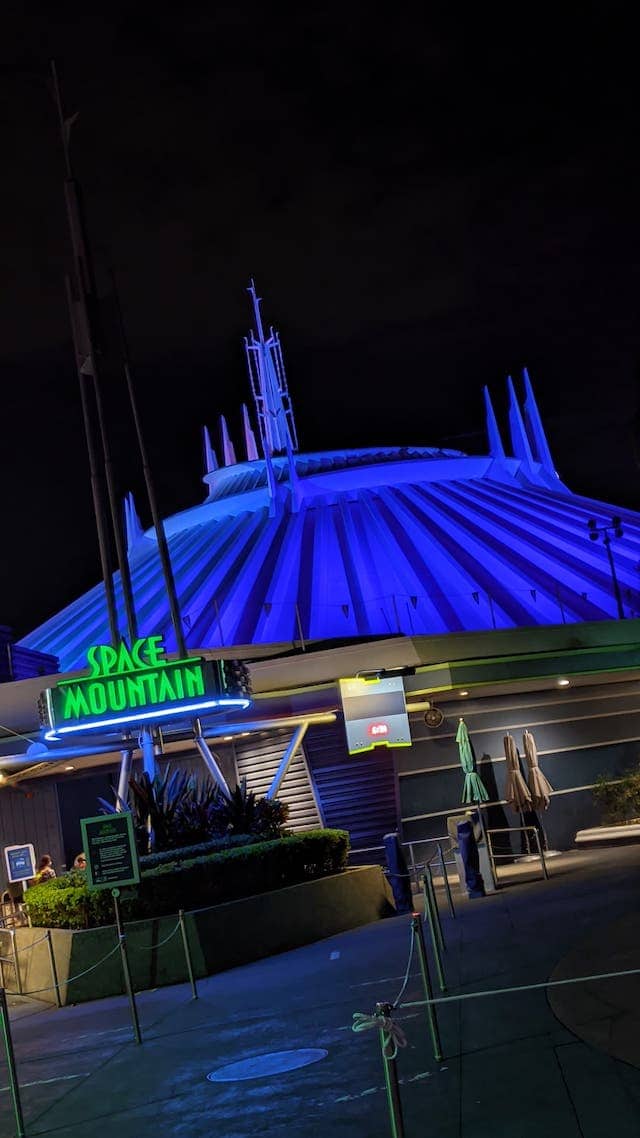 The whole thing was a stressful not just because it required continual monitoring but also because MDE logged me out a number of times. Note, if this happens, you can log right back in and pick up where you left off.
Also, Disney's desktop site went down for a while. Thankfully, I was able to switch to a mobile device.
NEW BENNEFITS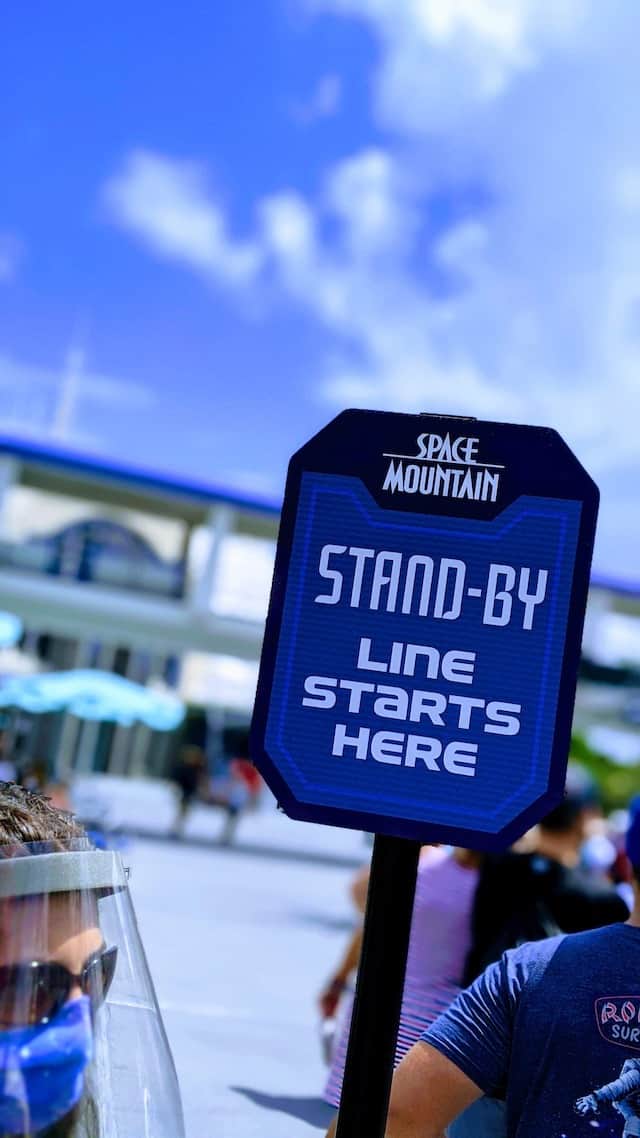 One exciting thing that I learned as part of the process is that now there is a benefit for guests staying on site at Walt Disney World who utilize DAS. It seems that Disney is ironing out wrinkles as they go with this change.
The Walt Disney World Web site states that guests need to pre-register between 2-30 days of each park visit. This means that in theory, you need to wait until 30 days from the LAST day of your visit to pre-register for DAS and make pre-registration selections.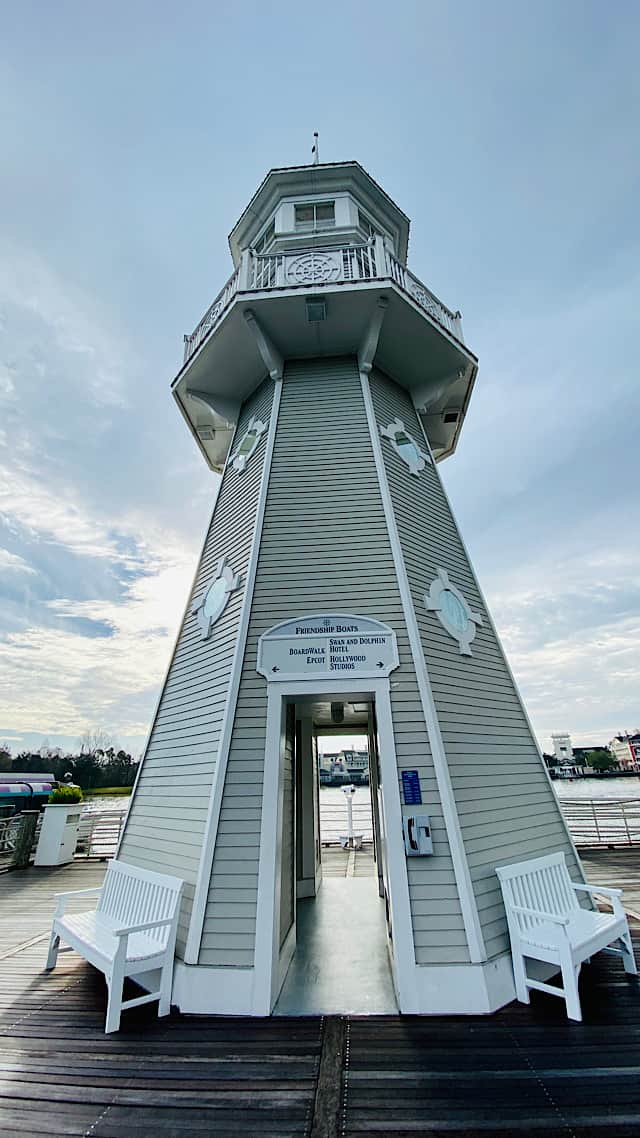 However, when I spoke to a cast member for pre-registration, I was only 30 days out for 2 of my 7 park days. The Cast Member kindly explained that for on-site guests, DAS works like dining reservations, and guests are able to register their first park visit day +10 days.
NOTE, this date is measured from your first park day. It is not measured from the check in day of your hotel stay. So if you are not visiting a park on arrival day, you need to wait until 30 days prior to your first actual park day.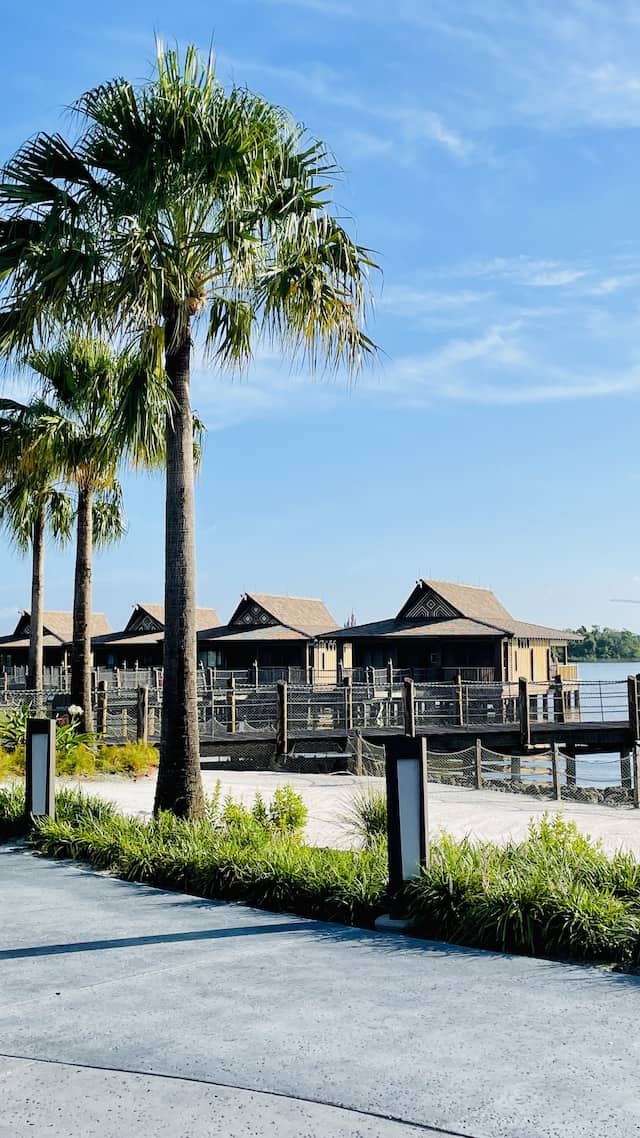 On-site guests are able to register DAS 30 dats prior to their first park visit day +10 days.
This was GREAT news as I was worried I would have to call back later for my other park days. I also confirmed with the registration Cast Member just to make sure the video chat Cast Member had the same information.
I was able to make selections for my park days easily. And I am glad because it seems like the pre-registration DAS return windows fill up! Some times and attractions were not available for pre-registration.
What's An Off-Site Guest to Do?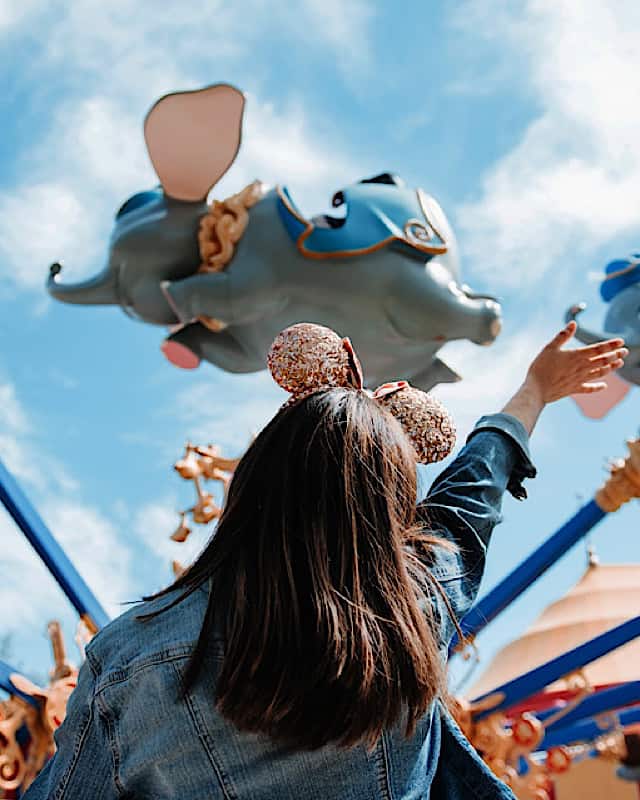 Off-site Guests, take heart! You can still pre-register for DAS 2-30 days prior to your first park day.
The nice thing that I also discovered is that once you pre-register, you get to skip that step of the process. You can go straight to the "Planning" phase every day after that.
I needed to do that the morning after I managed to register my traveler for DAS. During the return time selection planning process, MDE logged me out, and I was unable to get back in prior to the 10 PM closing time.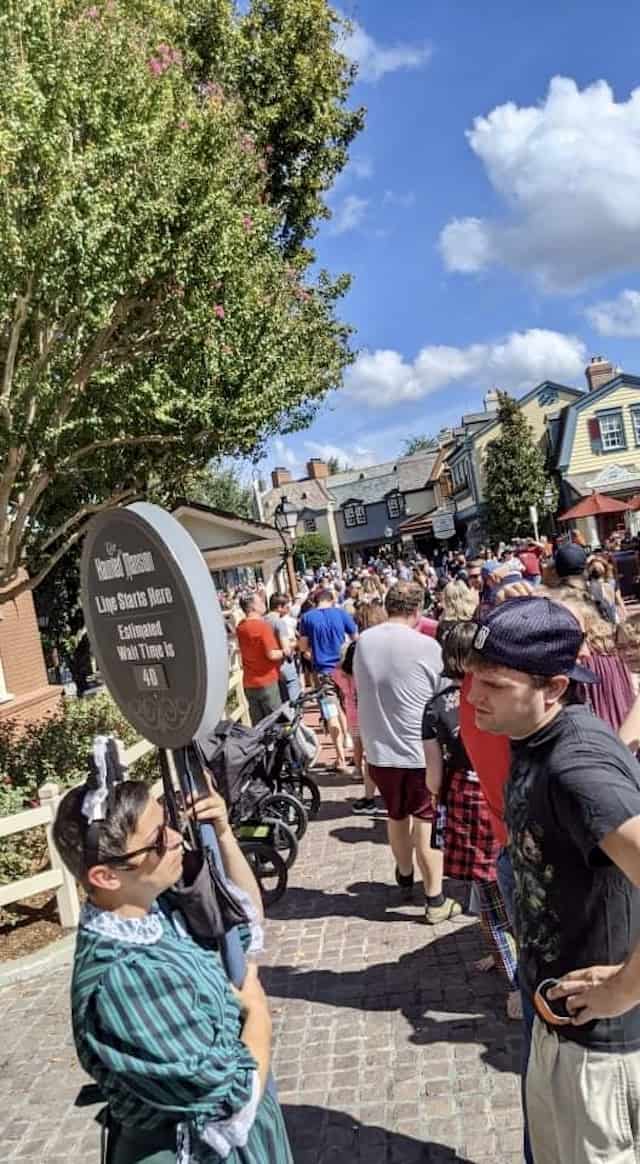 However, the next morning, I logged in around 7 for planning and was connected with a Cast Member within minutes. I was able to make selections within about 15 minutes.
So, if you need to go ahead and register at 30 days, you can. You can then connect whenever you want to get the daily planning complete.
Pre Registration vs. In Person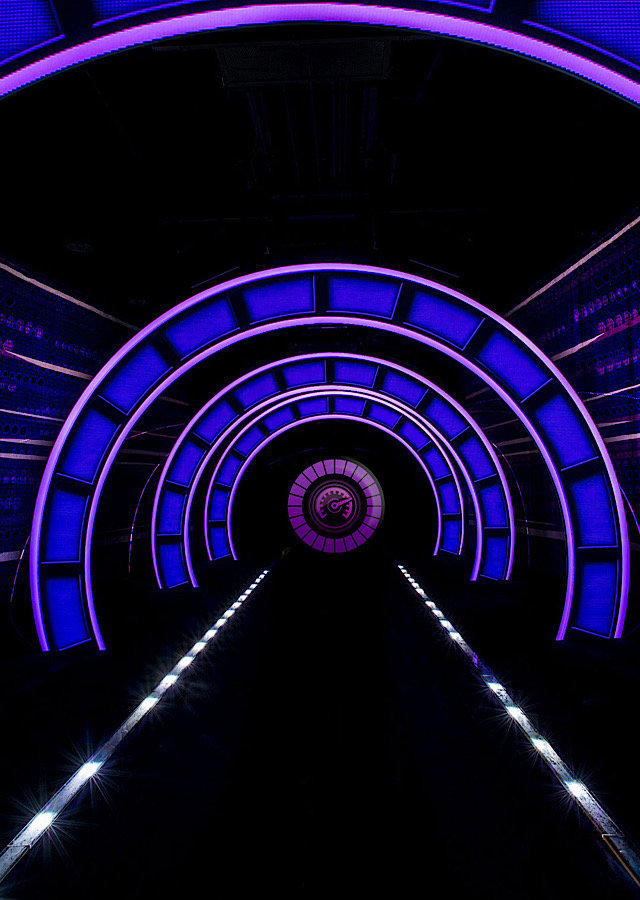 All this said, many DAS users I have spoken with have decided just to go with in person registration and skip the 2 pre-selection one hour return windows. Dealing with the long process isn't worth it for everyone.
The primary rational is that having a one hour return window may prove to be too restrictive for their specific needs. Therefore, for many it is not worth waiting through the pre-registration process.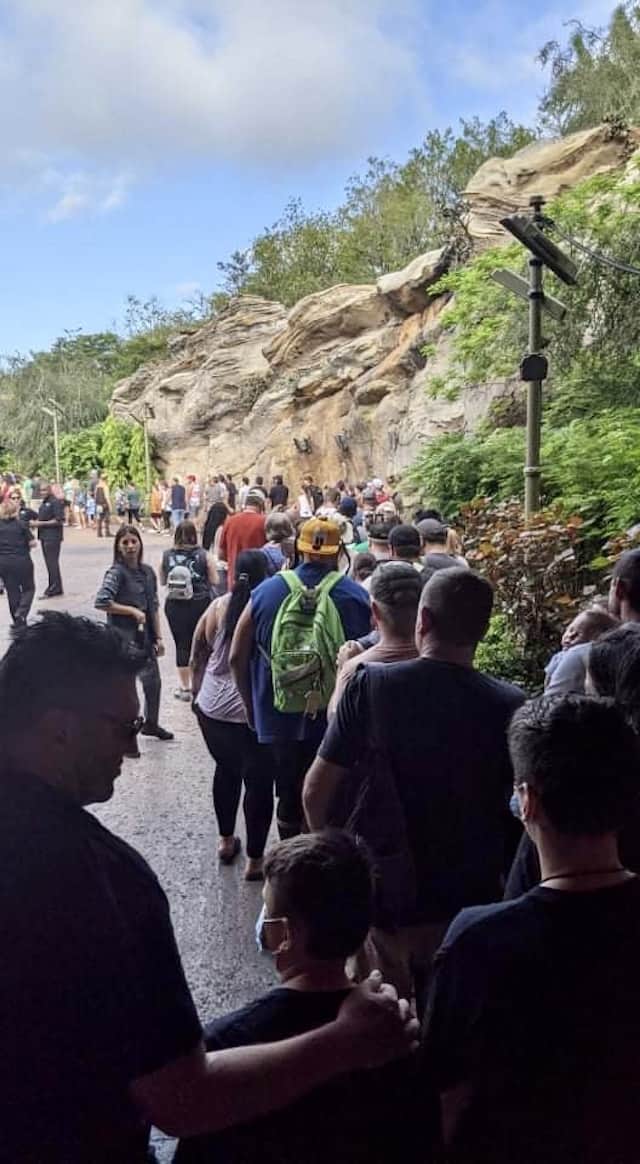 I have to say I may not pre-register in the future. My own party may find these windows too restrictive to be useful for us, in which case we do not want to reserve them and keep someone who may be able to utilize them effectively from getting them.
However, I will reserve judgement until we see how it goes! After all, time in Disney is better than no time in Disney, and my little party is grateful Disney is continuing to make the parks accessible for unique and specific needs.
Does a member of your travel party use DAS? Are you planning to pre-register for DAS, or does the general in person registration process hold more appeal for you? Let us know on Kenny the Pirate's Facebook Page, or join our Crew and continue the discussion.